If you're into MOBA/MMO gaming, the Corsair Scimitar Elite is a game-changer. With a whopping 16 programmable buttons, it's designed for serious gamers. But it's not just about the buttons; this mouse packs some serious tech.
First off, it boasts a native resolution of 26,000DPI, allowing for precise control. It's also lightning-fast, with a maximum speed of 650 IPS and up to 50G acceleration. Plus, you won't be constantly hunting for your charger, as it offers an impressive 150 hours of gameplay on a single charge.
But what sets it apart is Corsair's Slipstream technology. This nifty feature ensures lightning-quick responsiveness by using a 2.4GHz USB dongle for wireless connectivity. And if you're in it for the long haul, the Scimitar Elite also offers Bluetooth connectivity. You can also switch to wired mode using the included USB Type-A to Type-C cable for uninterrupted gaming.
Specifications
| | |
| --- | --- |
| Sensor | Corsair Marksman 26,000 DPI Optical Sensor |
| Sensor Type | Optical |
| DPI | 26,000 DPI |
| IPS | 650 |
| Max Acceleration (G) | 50G |
| Polling Rate | 2000Hz |
| Buttons | 16 |
| Mouse Button Switches | Optical |
| Mouse Button Durability | 10M L/R Click |
| Led Zones | 2-Zone RGB |
| Connectivity | Wireless, Wired |
| Battery Life | 2.4GHz SLIPSTREAM: Up to 120hrs continuous use BLUETOOTH: Up to 150hrs continuous use without RGB |
| Compatibility | Windows, Mac, Xbox, and Linux. USB port required. |
| Cable | 1.8m Braided Fiber |
| Measurements (LXWXH) | 119.23 x 73.48 x 42.17mm |
| Weight | 114g |
| Software | iCUE |
View full specifications here.
Packaging
The packaging comes in a newly designed stylish yellow-black packaging with photos and specifications on the sides. The box is durable and the mouse is well protected. Inside the box, we find the Corsair Scimitar Elite Wireless, accessories and the product information guide. You have to download the Corsair iCUE software manually.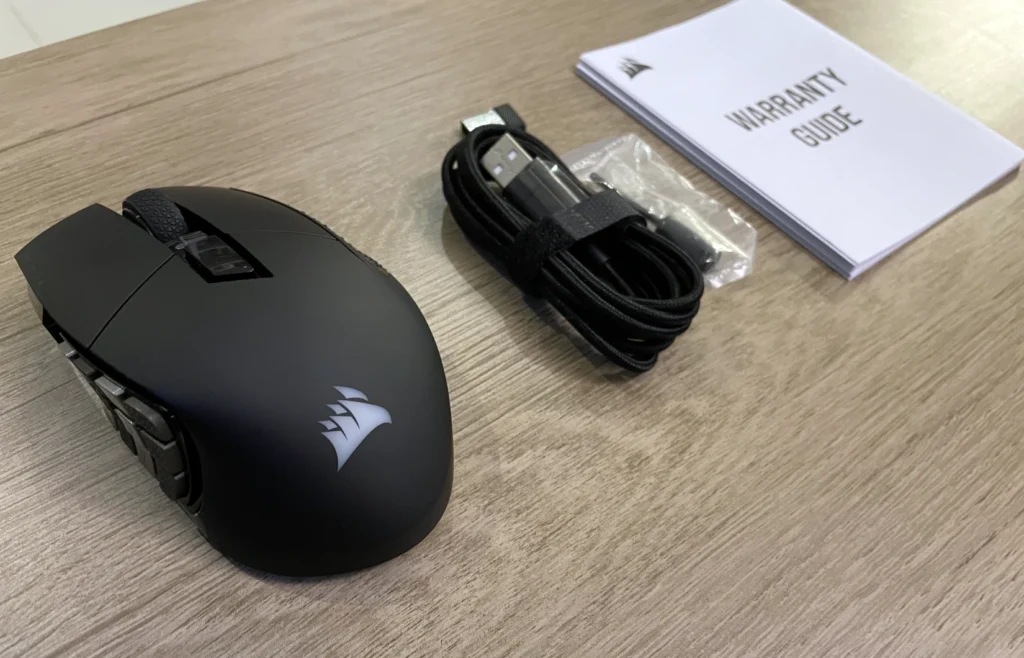 Corsair Scimitar Elite Wireless Gaming Mouse
USB Type-A to Type-C cable
2 .4-GHz wireless USB-A dongle
Hex key to reposition the side panel
Quick Start Guide
Warranty card
Design
The Corsair Scimitar Elite Wireless boasts a design that's in line with Corsair's recent mice offerings. Sporting a sleek matte-black finish with strategically placed glossy accents, it looks sophisticated. Crafted from high-quality ABS plastic, this mouse not only looks premium but also feels sturdy in your hand.
Designed with right-handed users in mind, it's tailored for a palm grip, ensuring comfortable extended gaming sessions. Measuring at 119.23 x 73.48 x 42.17mm (LxWxH) and weighing in at 114g, it's a sizeable mouse, ideally suited for larger hands. This size becomes essential when you consider the multitude of buttons.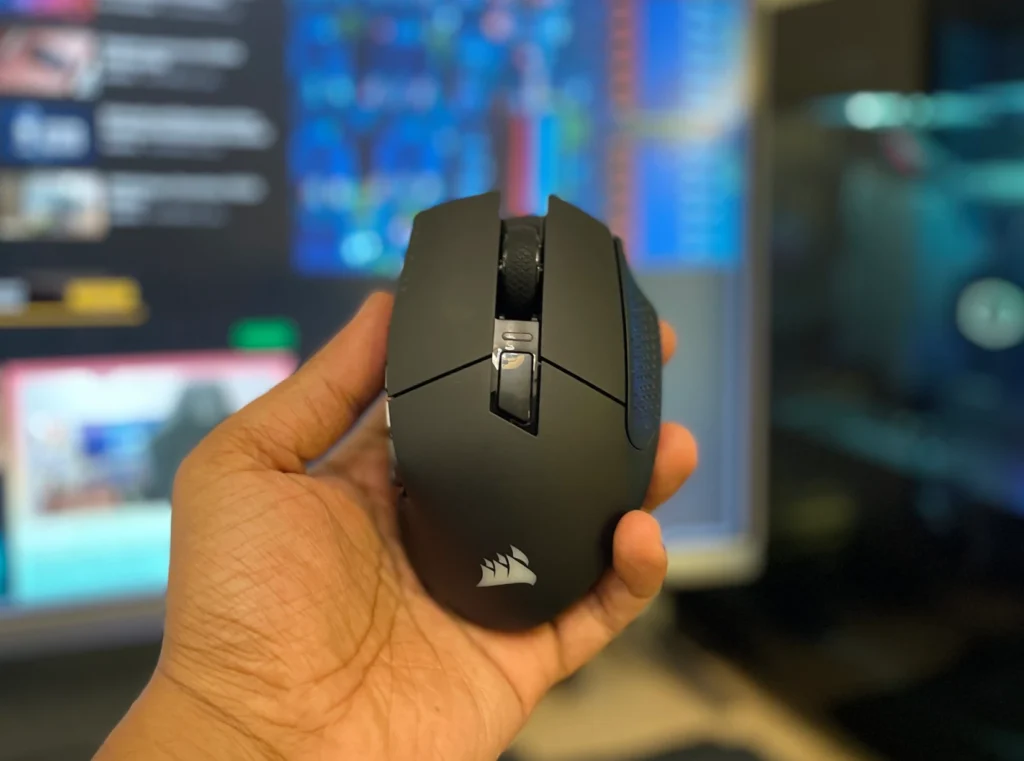 Speaking of buttons, the Corsair Scimitar Elite Wireless packs a whopping 16 programmable buttons, allowing gamers to adapt to a variety of games effortlessly. This versatility makes it a practical choice for all genres, especially those demanding numerous commands, such as MOBA, MMO, and RTS games. Surprisingly, despite its size and button abundance, it maintains a high level of comfort during use.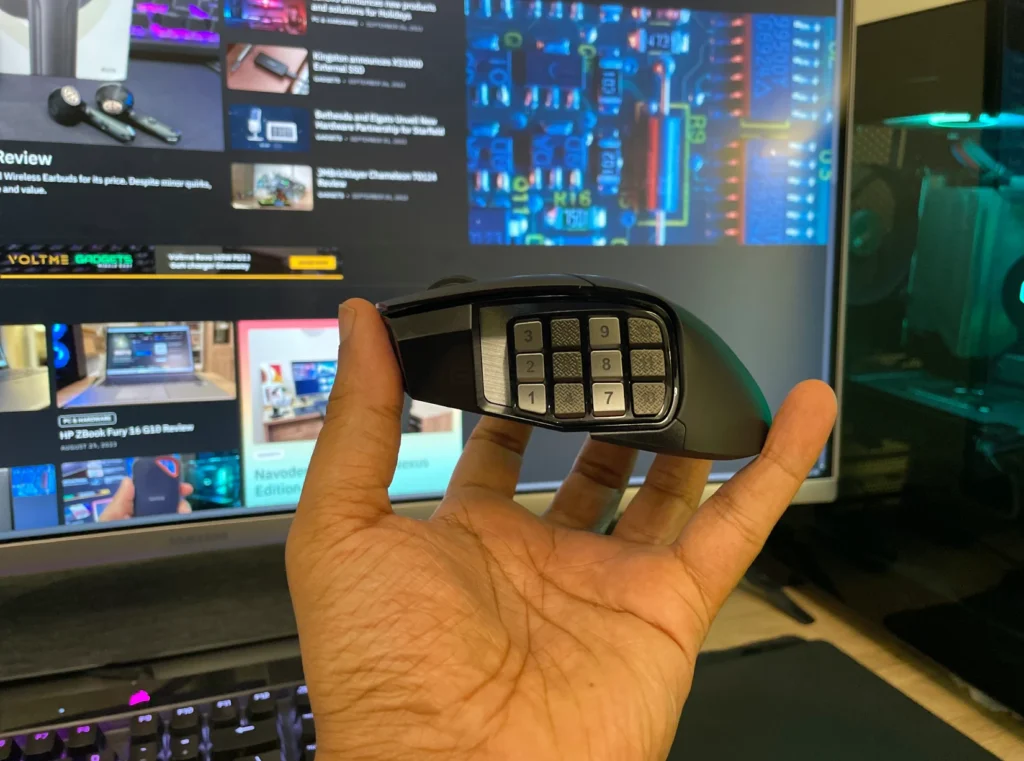 At the top, the left and right click buttons employ optical switches with a lifespan of 100 million clicks. They provide precision and crisp feedback, albeit a little loud. The rubber mouse wheel offers smooth scrolling with a satisfying resistance to clicks.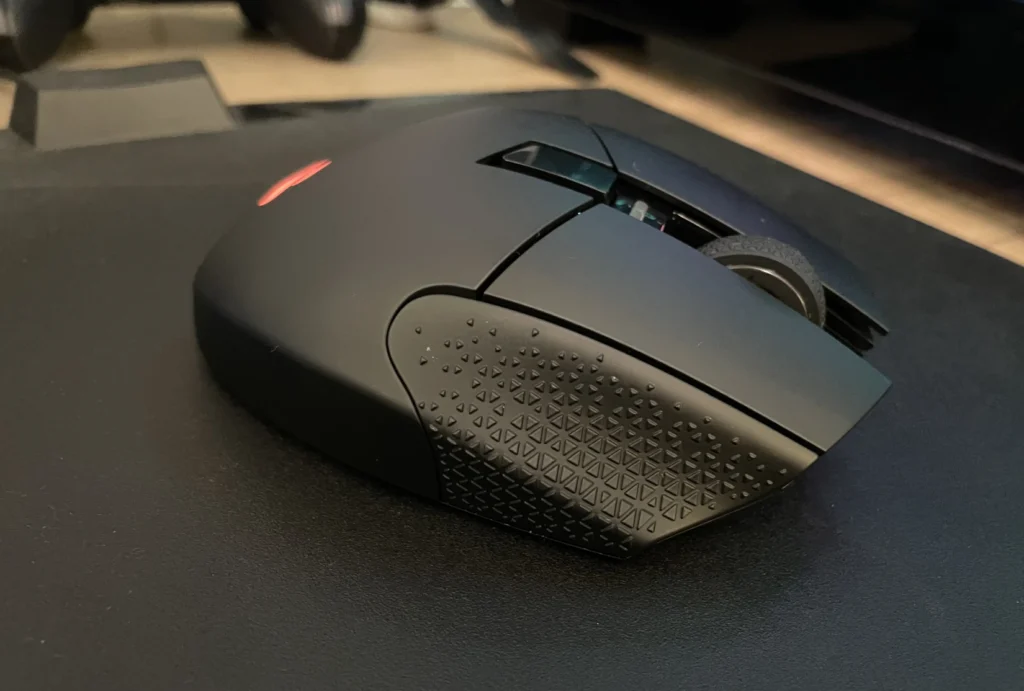 Just below the scroll wheel, you'll find a button for on-the-fly DPI adjustments, supporting up to five fully customizable presets. On the left side is the distinctive 12-button keypad, which can be repositioned to better suit your hand, thanks to the included hex key. These buttons are arranged in a convenient three-by-four grid, with textured columns for easier identification.
All 16 buttons are fully programmable through the Corsair iCUE software, giving you the freedom to tailor them to your preferences. Additionally, the Corsair logo at the base and the 12 side buttons are RGB zones, allowing for personalized lighting effects.
Turning our attention to the base of the mouse, you'll find a button for toggling between three user profiles. These profiles store lighting configurations, macros, and DPI settings. A noteworthy feature here is the compartment to securely store the USB dongle, ensuring you don't misplace it. To facilitate smooth, gliding movements, there are four generously-sized PTFE feet, one in each corner.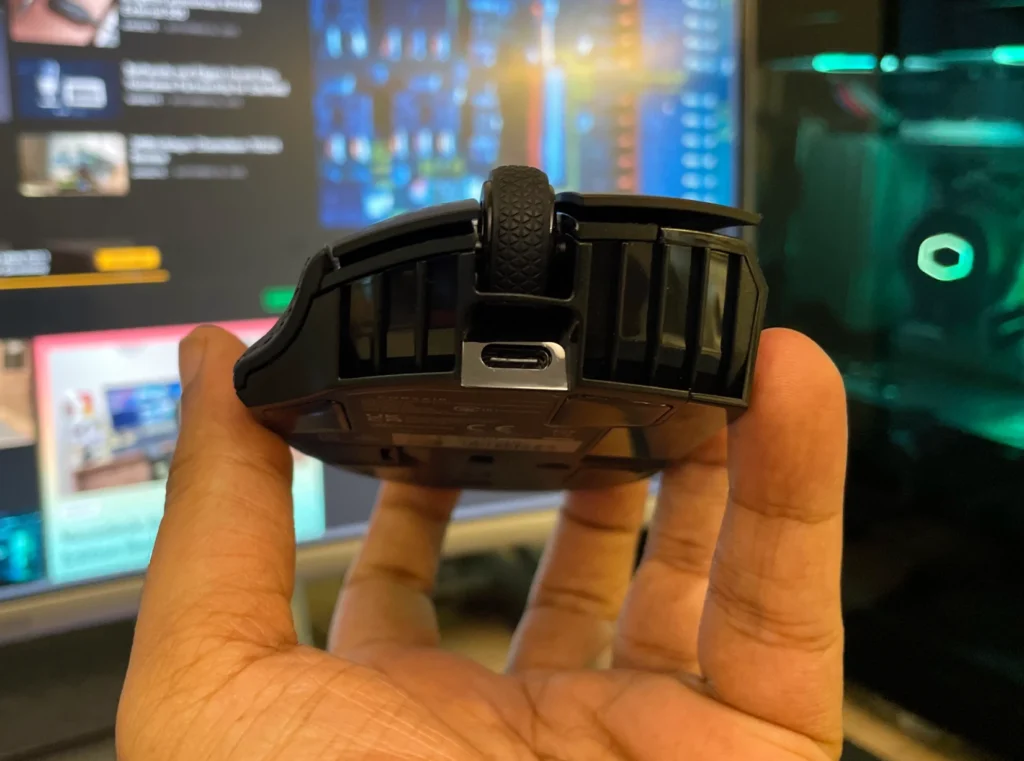 Data transmission occurs via a USB Type-A dongle, which can be directly connected to your PC. Furthermore, a USB-C port located on the front allows for easy recharging or wired mode usage.
The Corsair Scimitar Elite Wireless showcases great construction and a premium and sophisticated aesthetic. Its ergonomic design ensures comfortable usage, and it effortlessly glides across surfaces. Notably, its generous size is best suited for those with larger hands, making it a compelling choice for gamers seeking a versatile and comfortable gaming mouse.
Features & Performance
At the heart of this gaming mouse is the "MARKSMAN 26K" optical sensor, offering an impressive maximum DPI of 26,000, a swift 650 IPS, and 50G acceleration. With a blazing 2000 Hz polling rate, it ensures ultra-responsive tracking. What sets it apart is the remarkable sensitivity adjustment, allowing precise increments of 1 DPI. The default DPI settings can be effortlessly personalized using the iCUE software. Plus, there's a handy DPI button below the scroll wheel for quick manual adjustments.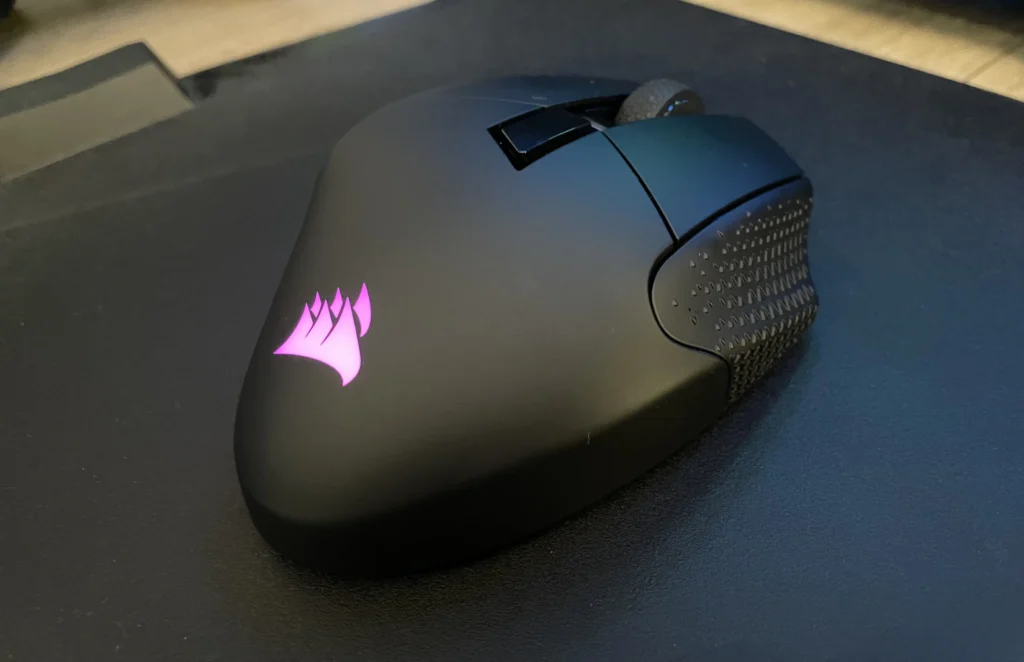 The Scimitar Elite Wireless incorporates optical switches with a durability of 100 million clicks. These switches provide precise and crisp feedback, making every click count.
Unlike mice with replaceable batteries, this mouse opts for a built-in battery, keeping it lightweight. The USB-C port on the front serves a dual purpose – recharging the mouse or switching to wired mode when needed.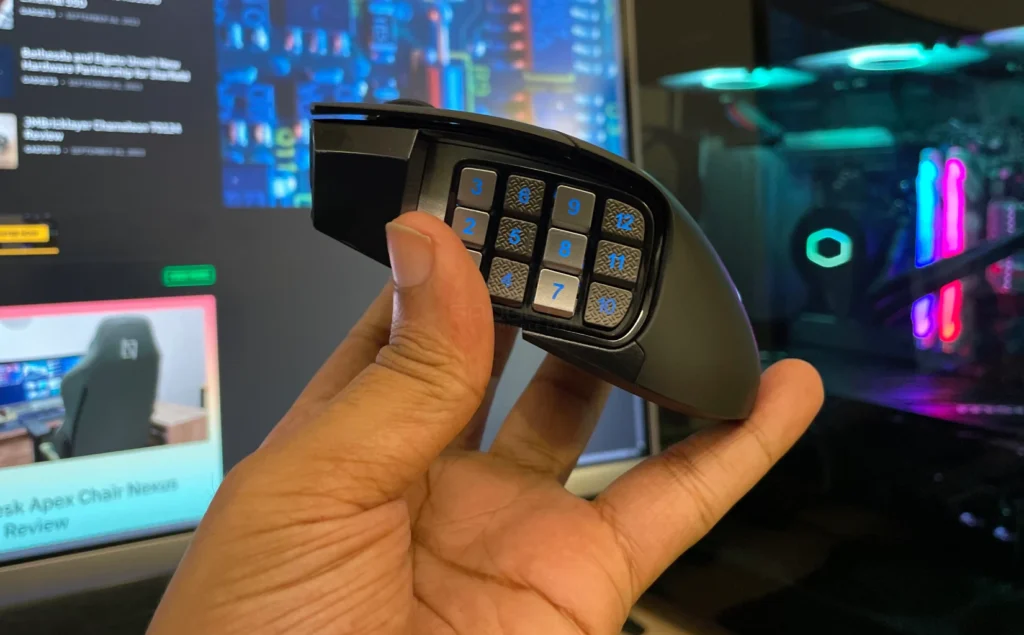 In our testing, the Scimitar Elite Wireless left us with very good impressions. While it may not be the go-to choice for FPS enthusiasts due to its weight, it excels in MMO/MOBA/RTS gaming. Thanks to the iCUE software, you can effortlessly fine-tune it to match your gaming style and preferences.
Connectivity was a breeze, with no noticeable issues or delays. The primary buttons are responsive and offer a satisfyingly light and crisp click. The matte surface provides an excellent grip, ensuring control even during intense gaming sessions.
The standout feature here is the side keypad, easily accessible and customizable. What's more, it's repositionable to cater to your comfort, thanks to the included hex key.
Software
Lighting and mouse settings can be adjusted via the iCUE software which can be downloaded from Corsair's website. This software allows you to create multiple profiles, fine-tune settings like DPI, polling rate, lighting, battery optimization, and even calibrate it to your preferred surface.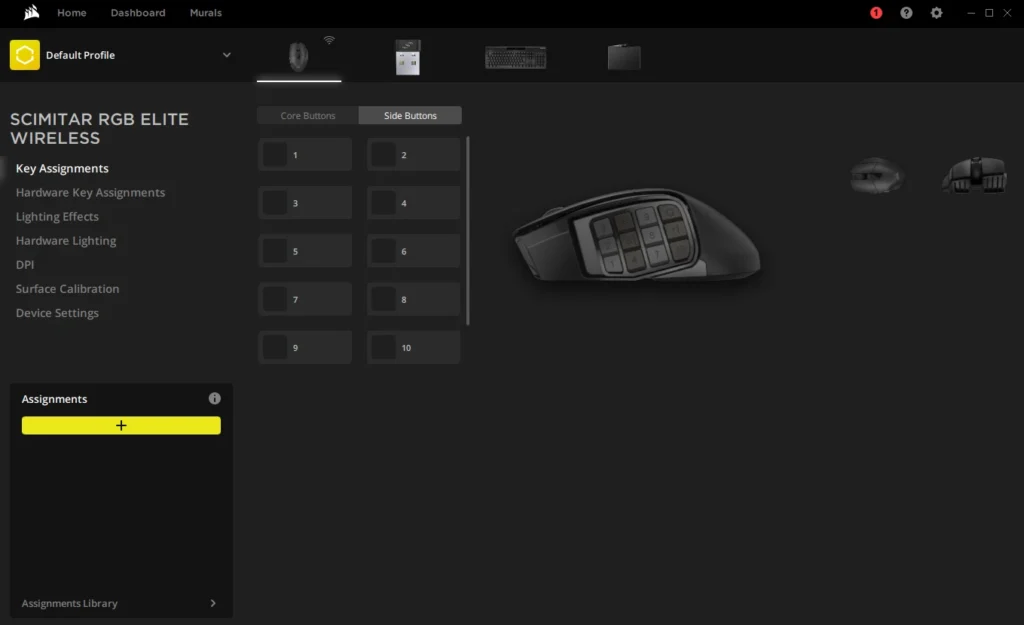 Plus, if you've got other Corsair gear, iCUE allows seamless synchronization across your supported peripherals. A standout feature is the ability to monitor your mouse's battery status directly from the Windows taskbar, ensuring you're always in the know about your remaining gaming time.
Battery & Charging
When it comes to battery life, Corsair doesn't disappoint. They promise up to 150 hours of use in Bluetooth mode and 120 hours in Wireless 2.4GHz mode (both with the lighting off). Plus, you've got the flexibility to connect up to three different wireless Corsair devices to a single dongle receiver for added convenience.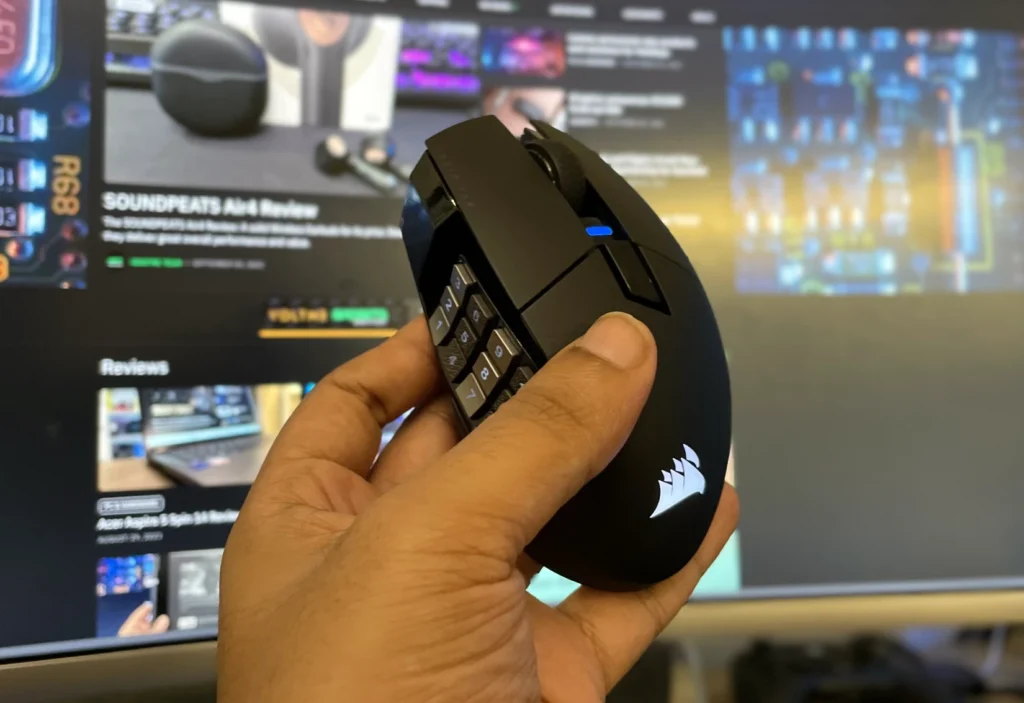 In our testing, the mouse held up admirably, lasting around six days with RGB lighting on and connected via the 2.4GHz dongle. That's about 8 to 10 hours of use each day, which is respectable. However, it's worth noting that the mouse doesn't support fast charging, so it takes roughly 90 minutes to reach a full charge.
Verdict
The Corsair Scimitar Elite Wireless is a feature-rich gaming mouse that delivers outstanding performance. Its precision, durability, and customization options make it a solid choice for gamers, particularly those into MMO, MOBA, and RTS titles. While it may not be the top pick for FPS gaming due to its weight, it excels where it's meant to, and its ergonomic design ensures a comfortable and responsive gaming experience.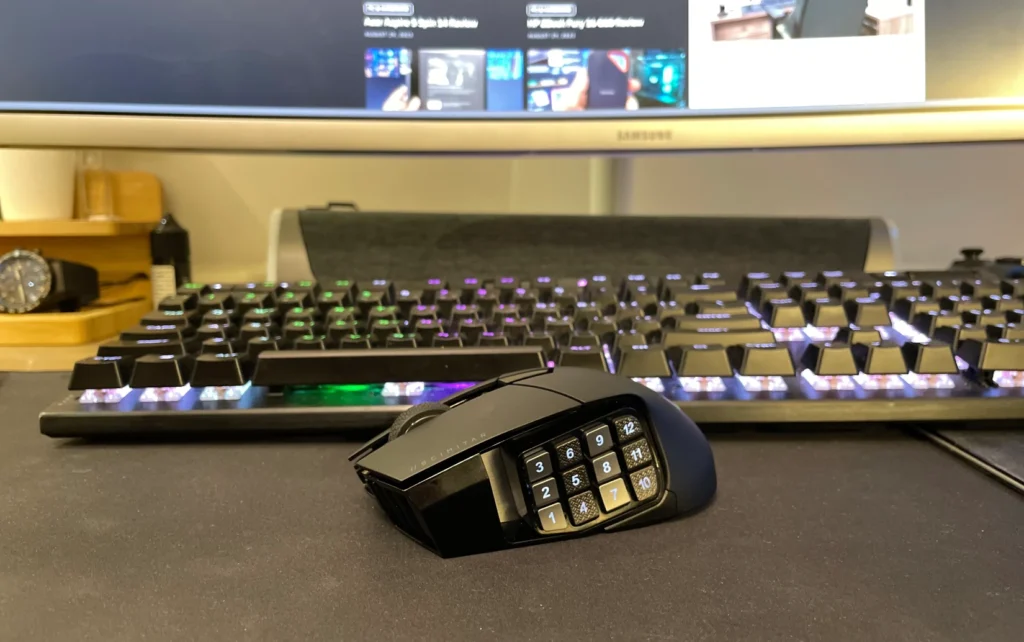 Three standout features steal the show: the multitude of programmable buttons, impressive battery life, and the versatility to use it wired or wirelessly. If you're on the hunt for a high-end, ergonomic wireless gaming mouse tailored for competitive MOBA/MMO gaming, this one's a winner.
Of course, it's not without its quirks. Fast charging isn't on the menu, and the larger size might not suit those with smaller hands. However, the mouse's impressive features and specifications more than make up for these minor drawbacks.