The Corsair M75 Air is a wireless gaming mouse designed with esports and competitive gaming in mind. What sets it apart immediately is its feather-light weight, just 60 grams on the scale.
When it comes to performance, this mouse boasts a MARKSMAN 26,000 DPI high-precision sensor. This translates to exceptional accuracy and ultra-fine control, ensuring you're always on target. Additionally, it offers with up to 100 hours of usage on a single charge.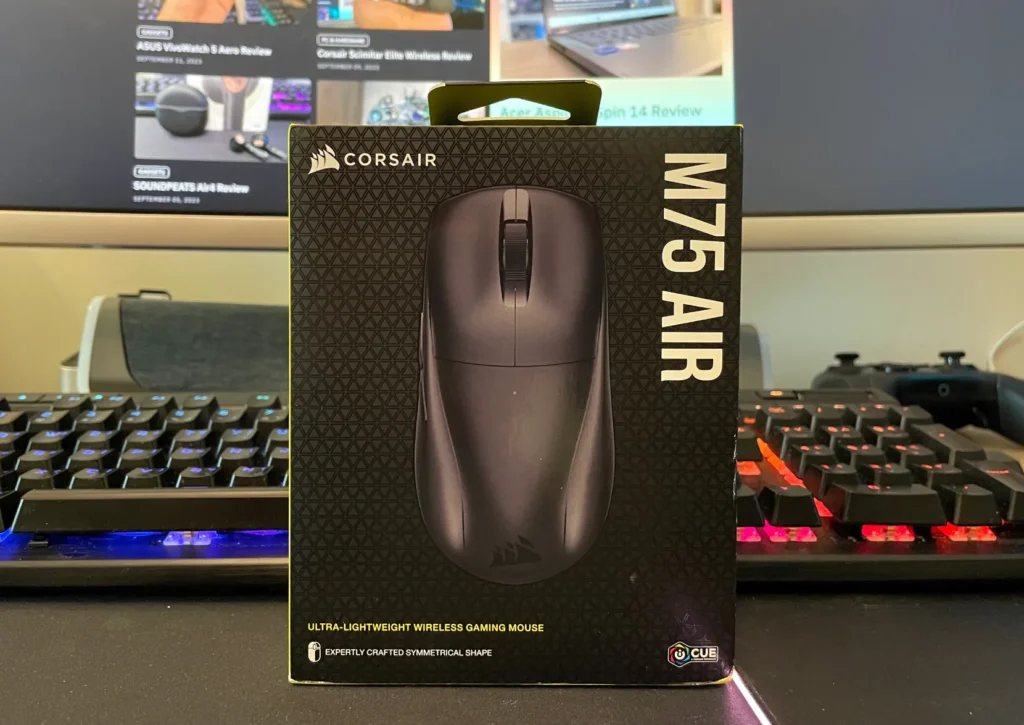 For connectivity, it relies on a 2.4GHz USB dongle, delivering quick responsiveness and precision. And it also supports Bluetooth 4.2 and wired connectivity when you are low on charge. The Corsair M75 Air isn't just about function; it offers a comfortable shape and design that fits right into your gaming style. The inclusion of excellent PTFE glide pads makes it perfect for those rapid movements in fast-paced gaming scenarios.
Highlights
26,000 DPI sensor
Up to 100 hours battery life
Five buttons
2.4GHz wireless + Bluetooth connectivity
Specifications
Sensor
CORSAIR MARKSMAN
26,000 DPI with 1 DPI resolution steps, 650 IPS tracking, up to 50G acceleration
DPI
100 – 26,000 dpi
Polling rate
2,000 Hz
Buttons
5
Connectivity
2.4GHz SLIPSTREAM CORSAIR WIRELESS
Bluetooth 4.2 + LE
Battery
Rechargeable Li-Po battery
Battery Life
2.4GHz: Up to 34hrs
Bluetooth: Up to 100hrs
Measurements (LXWXH)
128 x 41.6 x 65 mm
Weight
60g
Software
Corsair iCue
Compatibility
Windows 8 or later macOS 10.11 or later
View full specifications here.
Packaging
The packaging comes in a newly designed stylish yellow-black packaging with photos and specifications on the sides. The box is durable and the mouse is well protected. Inside the box, we find the Corsair M75 Air, accessories and the product information guide. You have to download the Corsair iCUE software manually.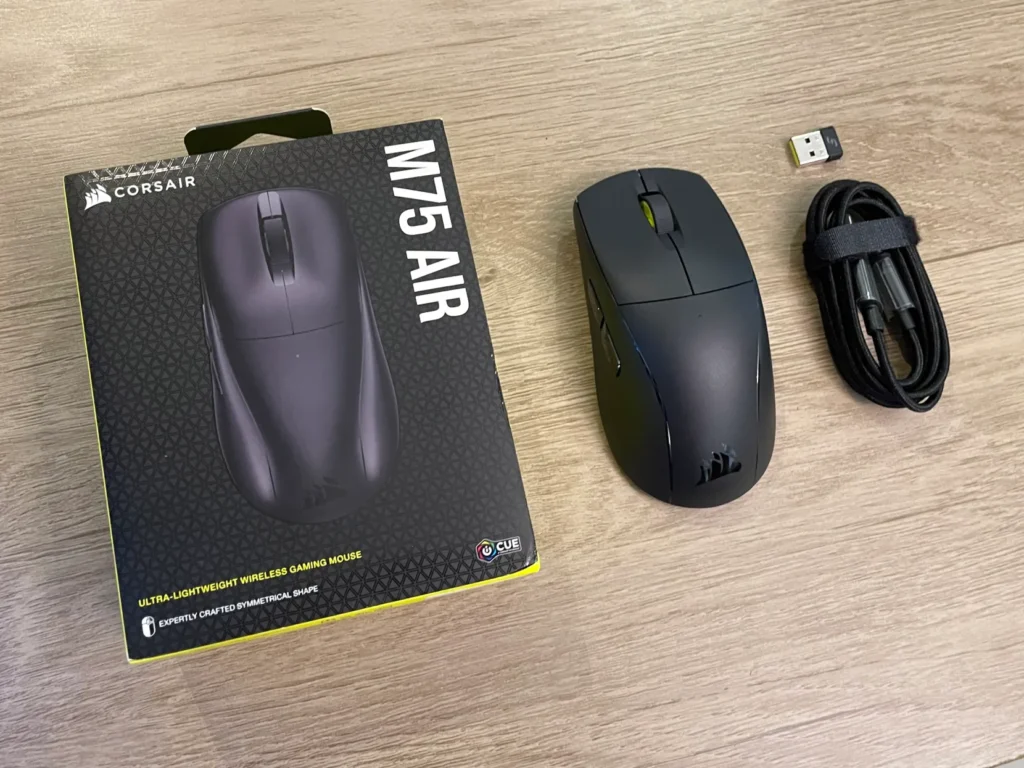 Corsair M75 Air Mouse
LIGHTSPEED wireless receiver
Charging/data cable
User documentation
Design
The Corsair M75 Air boasts a sleek and minimalist design. It's compact, measuring 128 x 41.6 x 65 mm (HxWxD), and feather-light at 60g, it's one of the nimblest mice in its class. This compact size makes it a dream to handle, allowing for agile movements, sweeps, and effortless recenters, enhancing your gaming experience.
Crafted from high-quality plastic, this mouse features a matte-textured finish and an ambidextrous design, ensuring a comfortable grip for gamers of all hand sizes and grip types. Its symmetrical design not only feels natural but also aids in those crucial gaming maneuvers.
In terms of connectivity, the Corsair M75 Air utilizes a USB dongle for data transmission, offering a quick and reliable connection directly to your PC. Alternatively, it can be paired with Bluetooth for added convenience. The mouse is also equipped with a USB-C port on the front, simplifying the recharging process while letting you use it in wired mode.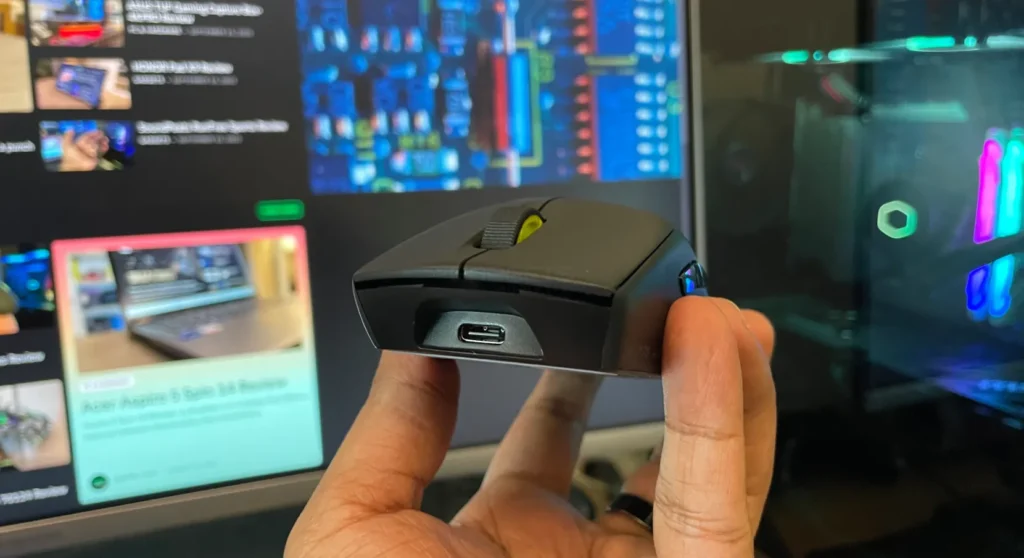 Navigating is made effortless with five buttons, all customizable through the intuitive iCue software. The left and right click buttons at the top offer precision and a satisfying crisp sound during use. The scroll wheel is not only quick and precise but also boasts good resistance, ensuring precise control. It's clickable too, allowing you to assign functions seamlessly. An LED indicator at the top provides subtle visual cues.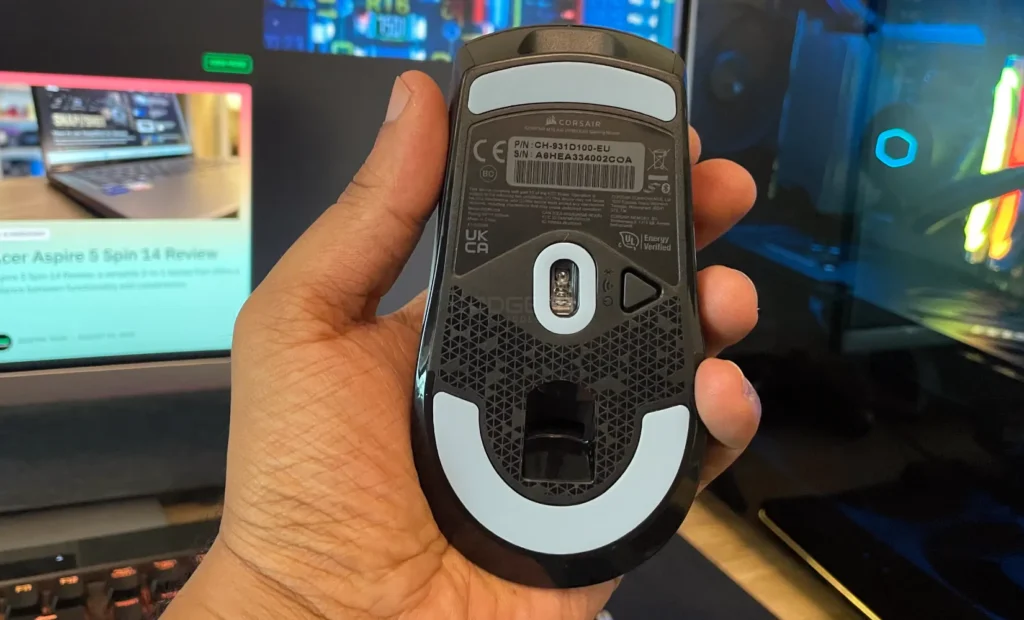 On the left side, you'll find two additional buttons for forward and backward actions, enhancing your in-game control. The base of the mouse features a power switch and a push-to-open removable panel, revealing a storage slot for the USB dongle. The inclusion of two large PTFE glide pads guarantees smooth, gliding movements during intense gaming sessions.
Externally, the Corsair M75 Air sports a non-lit Corsair logo on its back and the understated "M75 Air" inscription on the top left side. The construction is top-notch, with a premium and ergonomic feel. When you hold it, you'll immediately notice the comfort it offers, and its smooth glide further enhances your overall gaming experience.
Features & Performance
The Corsair M75 Air comes equipped with the MARKSMAN sensor. It offers an adjustable DPI of up to 25,600, a tracking speed of 650 IPS, and can handle up to 50g of acceleration. This sensor delivers incredibly accurate tracking with customizable sensitivity settings to cater to your specific needs.
A standout feature is the built-in battery, eliminating the need for replaceable ones. Recharging the mouse is a breeze, thanks to the USB-C port on the front side, which also offers the option to use the mouse in wired mode if you prefer.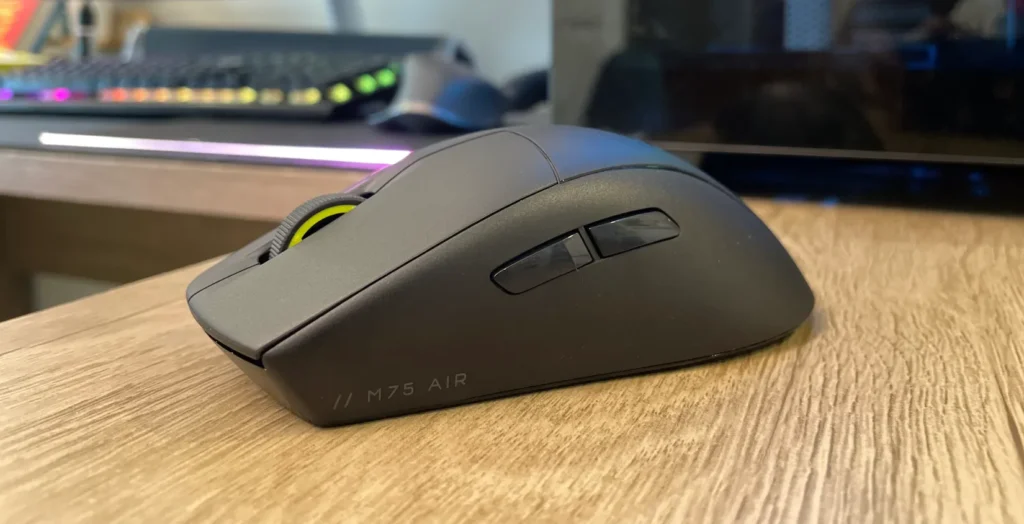 Customization are plenty with the Corsair iCue software. You can fine-tune the default DPI settings and even switch between them manually via one of the programmable buttons, once configured through the software.
In our day-to-day testing, the Corsair M75 Air performed admirably, leaving us with very positive impressions. Its feather-lightweight design allows for swift movements with minimal effort, although it might lead to some discomfort during extended use due to it being lightweight. Thankfully, it's highly adaptable, allowing you to tweak it to suit your preferences and gaming skills through the iCue software.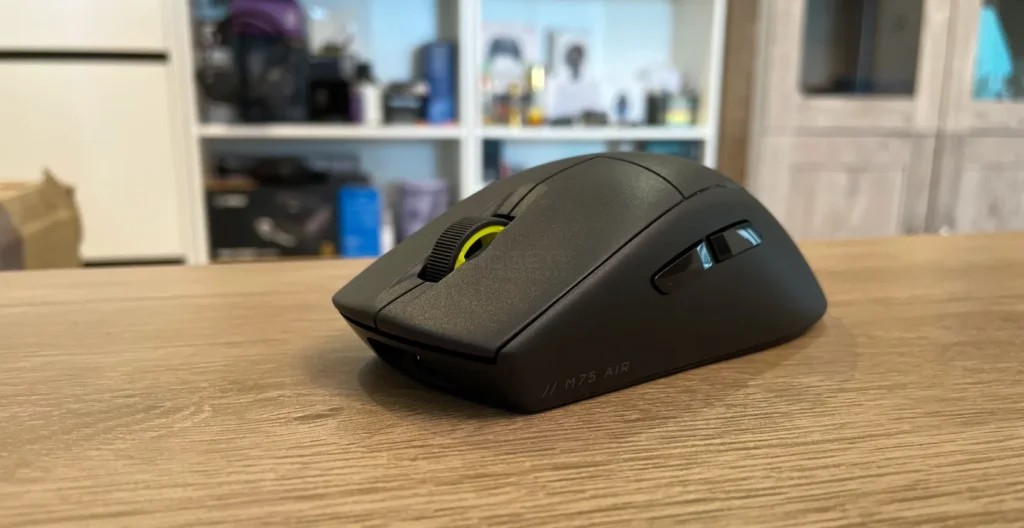 Moreover, we experienced zero connection or delay issues, ensuring a seamless gaming experience. The main buttons, left and right click, provide precision and crisp feedback without being overly loud. The side buttons are conveniently placed and the matte, textured surface offers excellent grip. The scroll wheel not only provides fantastic resistance but also precise control, making it a valuable addition to this high-performance gaming mouse.
Corsair iCue Software
To make the most of your Corsair M75 Air experience, the Corsair iCue software steps in as your control center. You can easily download it from the Corsair website. This intuitive software provides a host of customization options, allowing you to fine-tune your mouse settings according to your preferences.
Battery Life
Corsair delivers on its promise of impressive battery life with the Corsair M75 Air. In Bluetooth mode, you can expect up to 100 hours of uninterrupted use on a full charge. When operating in 2.4GHz wireless mode, the mouse offers around 34 hours of gaming or productivity before needing a recharge.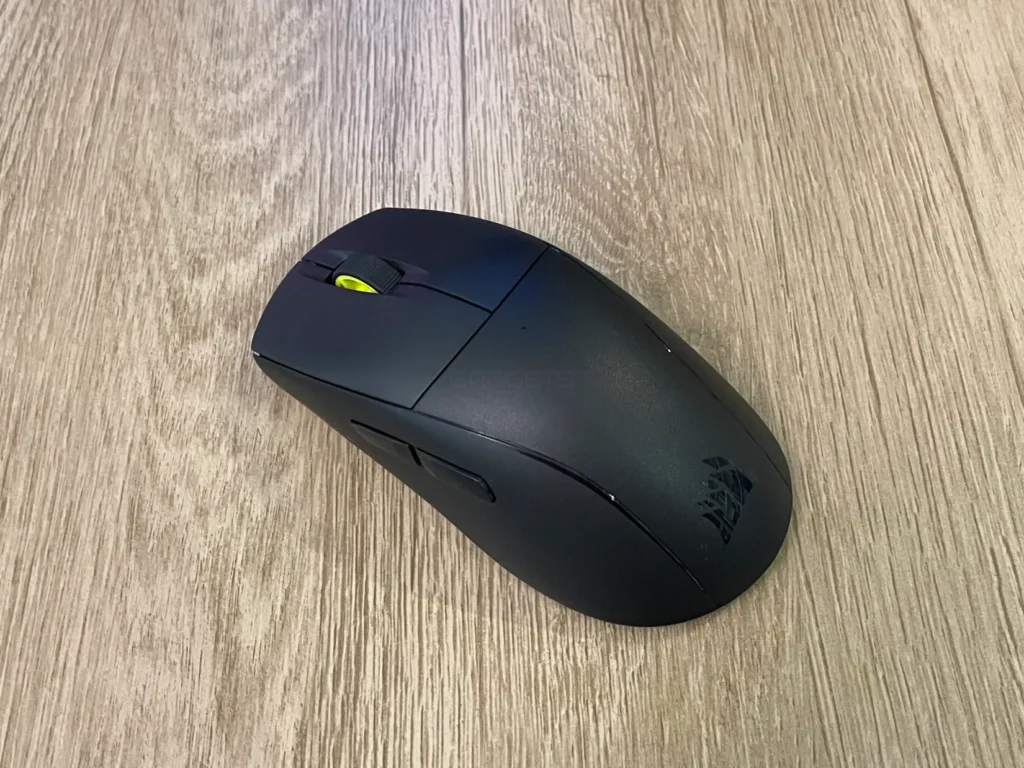 In our hands-on tests, we found that the M75 Air held up exceptionally well, providing full functionality throughout a full day's use on a single charge. Even when it's time to recharge, the Corsair M75 Air bounces back quickly, taking just about 80 minutes to get back to full power.
Corsair M75 Air Verdict
The Corsair M75 Air is a premium, ultra-lightweight wireless gaming mouse designed for competitive gaming and precision. With its adjustable 26K DPI sensor, built-in battery, and wireless connectivity, it's a versatile choice. While it accommodates various hand sizes and grip types, thanks to its design and high-quality PTFE feet, the trade-off includes average battery life and potential discomfort during prolonged use due to its extreme lightness. Overall, it's a premium gaming mouse that offers versatility and precision, making it a solid choice for gamers.