We've had the pleasure of gaming on the CORSAIR XENEON 27QHD240, this 27-inch 1440p OLED gaming monitor is all about delivering a top-notch gaming experience.
First off, the 240Hz refresh rate and a lightning-fast 0.03ms response time make gaming buttery smooth. And it's not just about performance; Corsair's collaboration with LG's OLED technology ensures stunning visuals. Gamers will love the fact that it supports both NVIDIA G-SYNC and AMD FreeSync for PC gaming. And if you're gaming on Xbox Series X or PlayStation 5, it's got you covered with VRR support.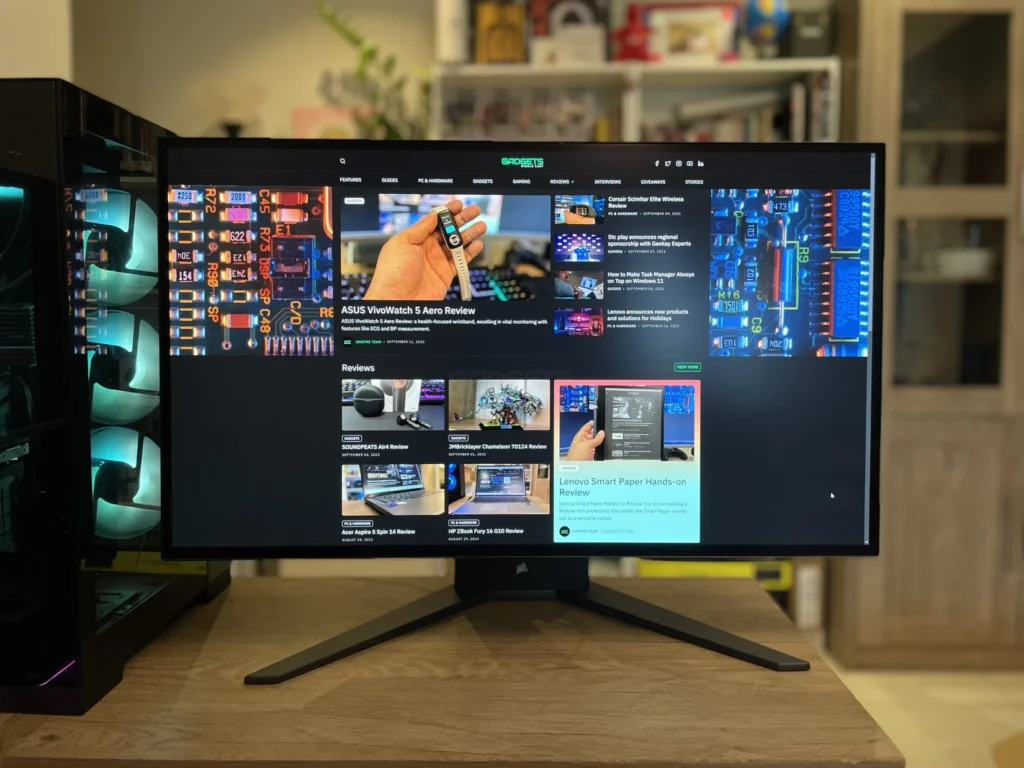 This monitor boasts a peak brightness of 1000 nits, which makes everything pop. With 98.5% DCI-P3 coverage, the colors are rich and true to life with a massive 1,500,000:1 contrast ratio.
When it comes to comfort, the XENEON 27QHD240 has you covered. It's incredibly easy to adjust to your preferred height and orientation, thanks to its ergonomic design. You can tilt, swivel, and pivot. Plus, it's VESA compatible for hassle-free mounting.
Specifications
Size
27 inches
Connectivity
2x HDMI 2.1
1x DisplayPort 1.4
1x Type-C DP Alt-Mode
4x USB Type-A hub with KVM
1x 3.5mm headphone jack
Resolution
2560×1440
Panel Type
OLED
Native Contrast
1,500,000:1
Peak Brightness
450 nit peak brightness
800 nit @10%APL
1,000 nit@3% APL
Max Refresh Rate
240Hz
Response Time
0.03ms(GTG)
Display Colors
1.07 billion colors (10 bit)
Color Gamut
98.5% DCI-P3 100% sRGB
Built-in Speaker
None
Ergonomics
Tilt: Yes (+15° ~ -7°)
Swivel: Yes (+30° ~ -30°)
Pivot: Yes (+90° ~ -90°)
Height Adjustment: 0~100mm
VESA Wall Mounting: 100x100mm
Weight
9.1 Kg
View full specifications here.
Packaging
The CORSAIR XENEON 27QHD240 OLED arrives neatly packed in a Corsair-branded box. On the front, you get a clear view of the monitor, and the sides and back provide all the specs and features you need to know. Foam padding cradles the monitor and accessories, keeping them securely in place during transit. The package includes the monitor itself, along with the following items:
Monitor
Stand Base
AC Adapter & Power Cord
1.5m DisplayPort Cable
1.5m HDMI Cable
1.5m USB Type-C to C Cable
1.8M USB Type-A to C Cable
Design & Connectivity
Let's talk about the design of the CORSAIR XENEON 27QHD240 OLED. It boasts a sleek finish and a sturdy build, giving it a premium look and feel. The monitor itself is impressively thin, while the robust stand provides excellent support for the 27-inch display and allows for smooth adjustments.
Speaking of adjustments, you've got options. Once it's securely attached to the base, you can tilt it from 7 to 15 degrees, pivot it to +90 degrees, and swivel it 30 degrees in each direction. Plus, you can slide the monitor up to 100mm to find that perfect viewing position. And if you prefer a different mounting setup, it's VESA mount compatible.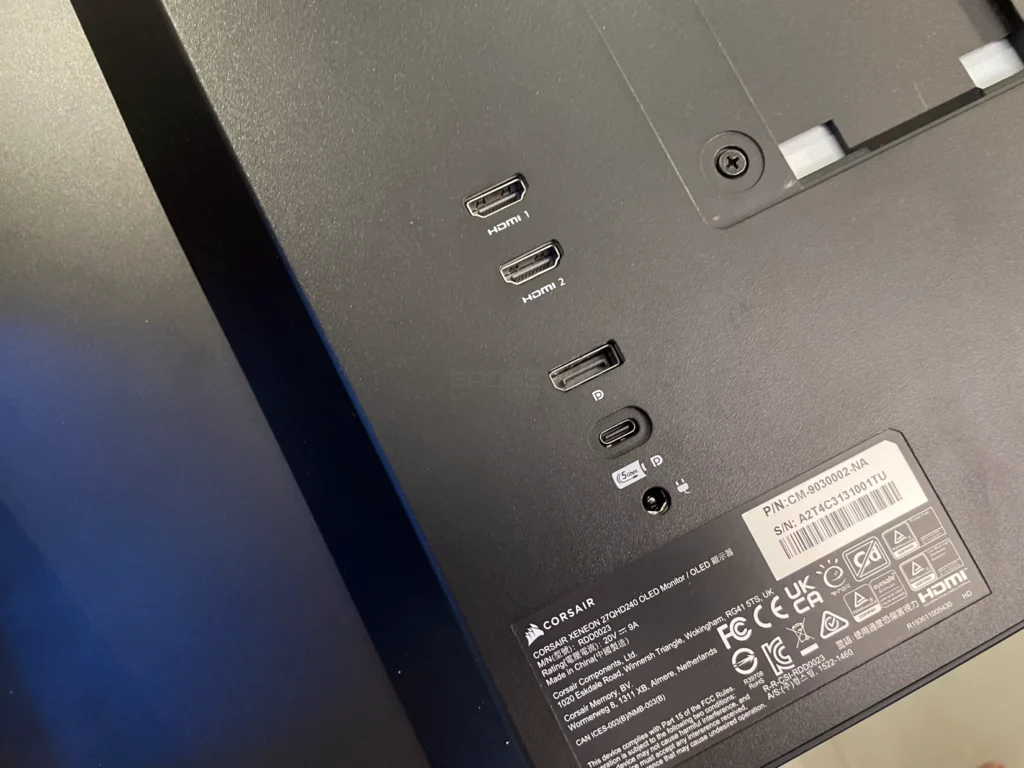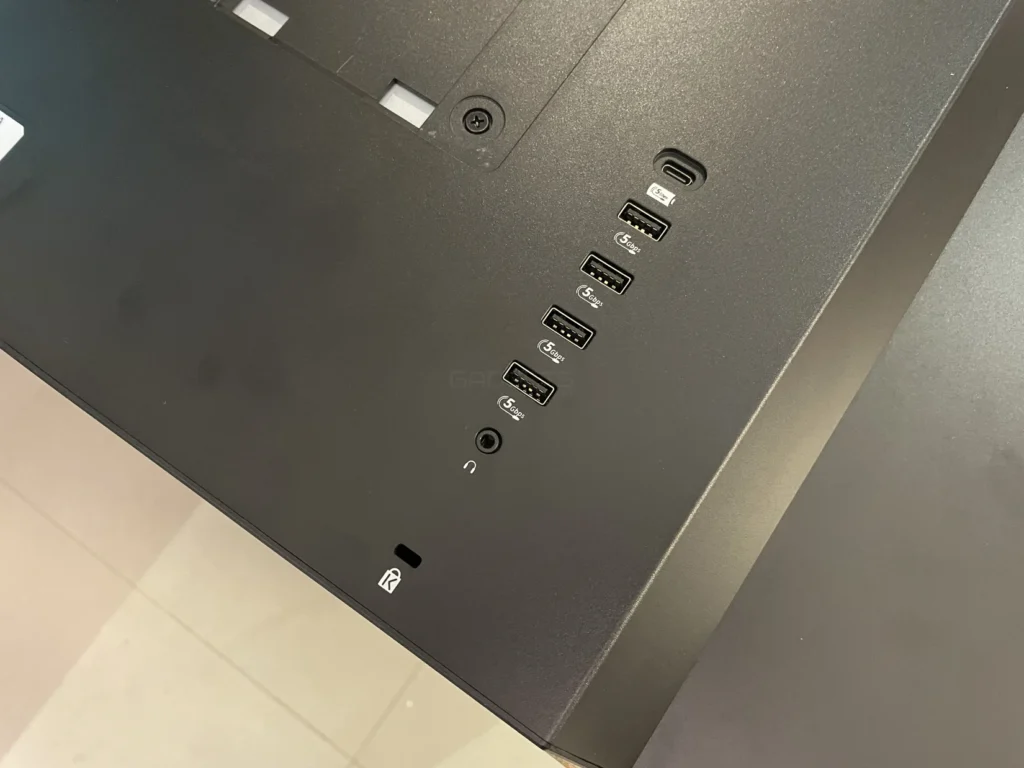 In terms of connectivity, the XENEON 27QHD240 packs plenty of ports. On the left, you'll find 1x DisplayPort 1.4, 2x HDMI 2.1, and 1x USB Type-C port for PD (Power Delivery). Over on the right, there's 1x USB Type-C upstream port, 4x USB Type-A hub with KVM, and a 3.5mm headphone jack for audio output. Just a heads up, all these ports are on the rear panel, which might require a bit of reaching. But don't worry; there's a handy cable management slot built into the stand to keep things tidy.
OSD & Features
Navigating the OSD is simple with a discreet joystick button located at the back of the monitor's base. What's neat is that the OSD activates when your hand approaches the bottom side, thanks to a proximity sensor.
The initial OSD menu provides quick access to essential settings, while a more detailed main menu offers a wide range of customization options. Plus, it's worth mentioning that this monitor is Certified by TÜV Rheinland for blue light filtering, helping reduce eye strain during those long gaming sessions.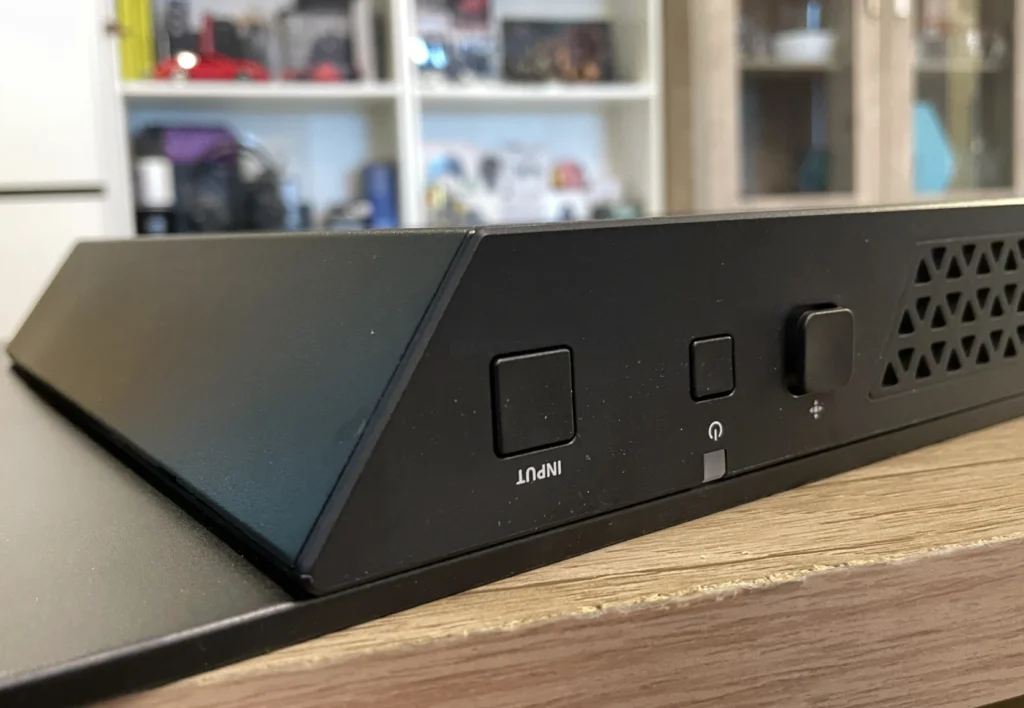 Speaking of gaming, the XENEON 27QHD240 OLED shines here. It supports both AMD FreeSync and NVIDIA G-SYNC technologies, which, when paired with a compatible graphics card, eliminate screen tearing and stuttering, giving you remarkably smooth gameplay.
There's also a Brightness Stabilizer, which tames the swings in brightness that can be an issue with OLED monitors. But, there's a trade-off; it limits overall brightness significantly, resulting in a somewhat dull image.
Finally, the monitor employs LG's Meta technology to enhance viewing angles and brightness. With every OLED pixel self-lit and a micro lens array (MLA) in play, you'll notice improved brightness and clarity, especially in naturally lit scenes.
Display & Performance
The CORSAIR XENEON 27QHD240 OLED brings gaming to a whole new level with its remarkable display. Engineered by LG, it boasts a jaw-dropping contrast ratio of 1,500,000:1 and a blazing peak brightness of 1000 nits. Whether you're looking from the side, above, or below, this monitor delivers exceptional visual clarity.
With a lightning-fast 0.03ms (GTG) response time and a stunning 240Hz refresh rate, there is minimal motion blur; this monitor keeps up with your fastest moves. When it comes to o,agomg, the XENEON 27QHD240 OLED doesn't disappoint. With HDR support, a contrast ratio of 1,500,000:1, and 98.5% DCI-P3 gamut coverage, it excels in color reproduction and image quality. Expect deep blacks, vibrant colors, and outstanding brightness right out of the box.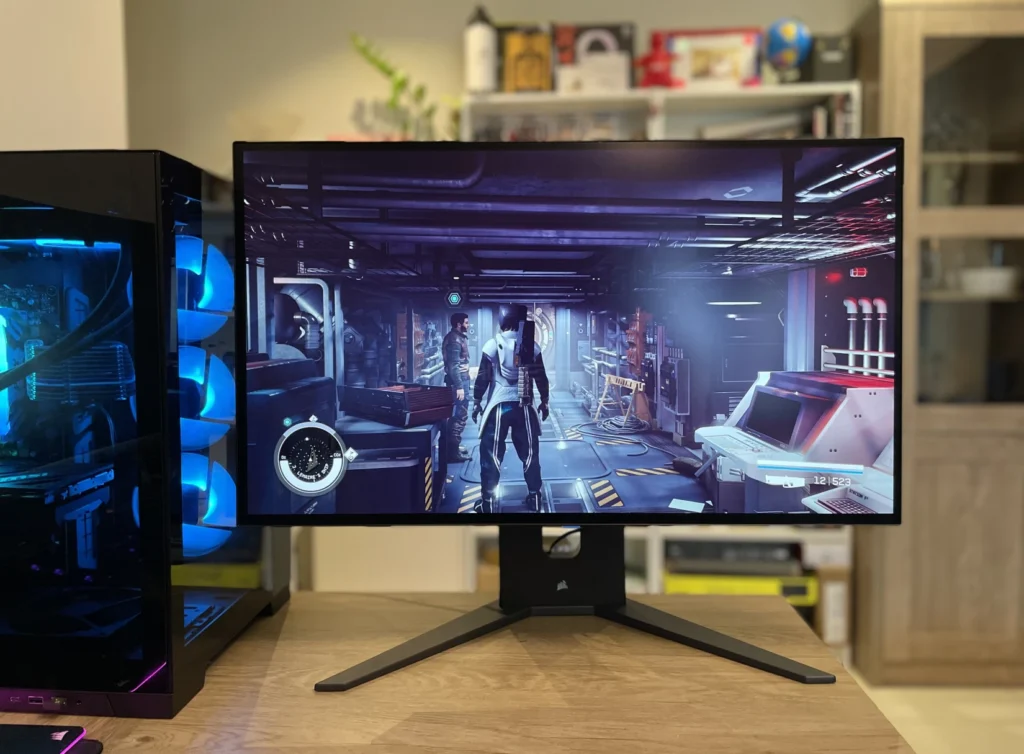 Speaking of out of the box, this monitor comes pre-calibrated for excellent color accuracy. And with its 1440 resolution and 240Hz refresh rate, it works well for immersive PC gaming.
HDR is impressive, but there's a slight catch. While it claims a maximum brightness of 1,000 nits, it achieves that only when a tiny fraction of the display is in use. In practical terms, it drops to 800 nits at 10 percent and 450 nits at 25 percent display coverage. When the entire screen lights up, you're looking at a maximum of 150 nits. That's still good, especially for OLED, but some very bright scenes might appear slightly dim.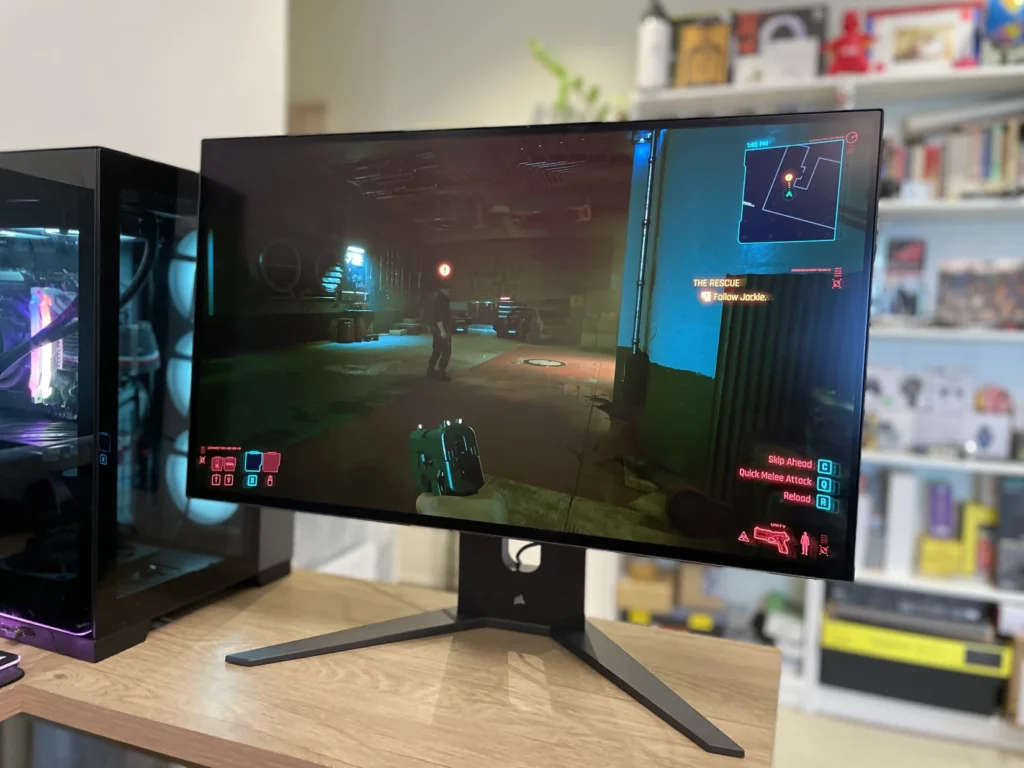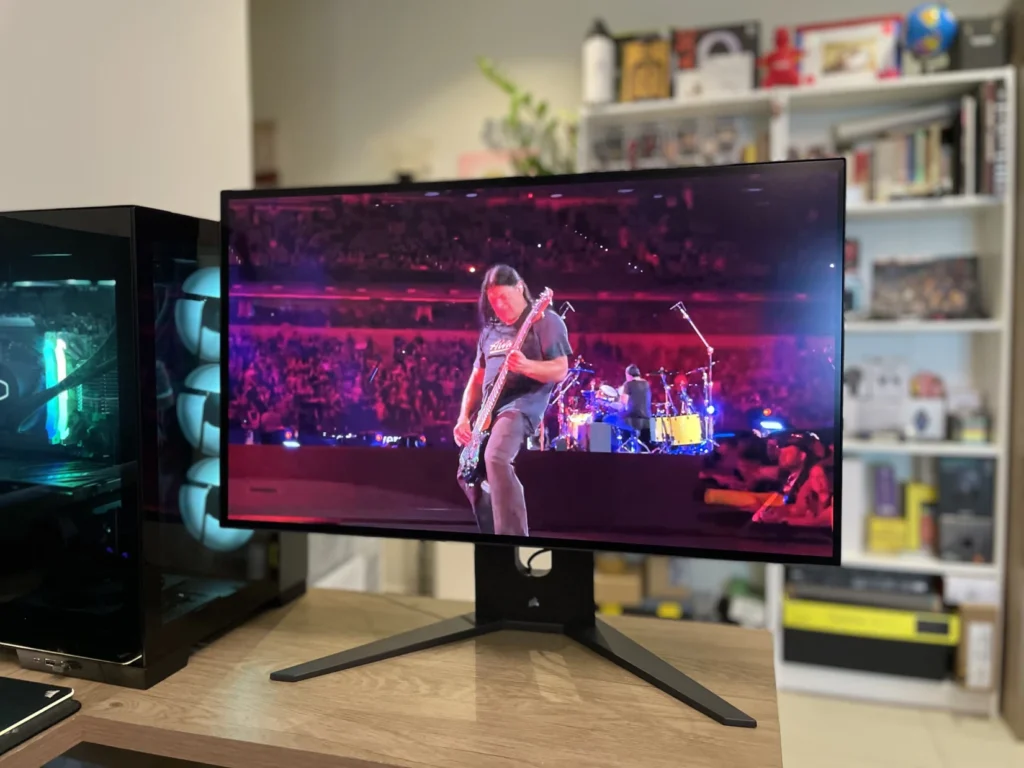 On the plus side, OLED maintains contrast even with lower overall brightness, making it great for darker rooms. Bright rooms shouldn't be a problem either. Beyond the brilliant display, the XENEON 27QHD240 OLED includes technologies to prevent OLED burn-in and ensure the display's longevity. The OLED META Technology keeps peak brightness consistent for optimal viewing.
For your comfort, it's got Flicker-Free tech to reduce eye strain during marathon gaming sessions. Plus, Low Blue Light tech offers four filter settings to control blue light emission, making for a more comfortable viewing experience.
Corsair XENEON 27QHD240 OLED Review Verdict
The CORSAIR XENEON 27QHD240 OLED impresses with its stellar display, delivering exceptional visuals and speed for gamers and content creators alike. While HDR has its quirks, the overall performance is top-notch. Plus, it comes with handy features for comfort and longevity. If you're after a versatile gaming monitor with stunning visuals, this one's worth considering. The XENEON 27QHD240 OLED also boasts a futuristic design and thoughtful cable management features, adding a touch of sophistication to your gaming setup.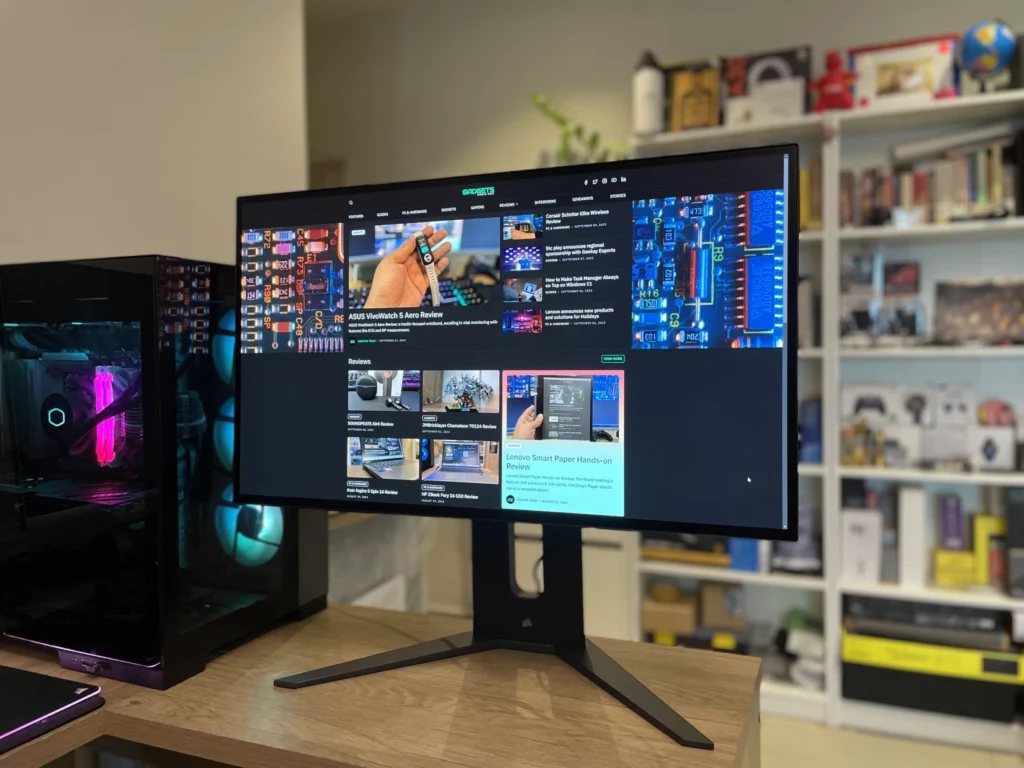 However, it is important to note that the monitor's steep pricing may be a deterrent for some, and lack of built-in speakers are minor downsides to consider.