Grounded by extensive research and in-depth understanding of gamers' needs and behavior, Huawei officially launched the HUAWEI MateView GT – its first immersive surround screen monitor that is designed for gamers and users seeking next level audio and visual entertainment.
An immersive viewing experience ablaze with colours
The HUAWEI MateView GT features a 34-inch screen with a screen resolution of 3440 x 1440 and an ultra-wide aspect ratio of 21:9, giving approximately 33 percent more viewing area than most mainstream 16:9 screens. With a 1500R super-curved design, the screen provides an immersive gaming experience with its significantly larger field-of-view. The HUAWEI MateView GT empowers users with a level of clarity and detail beyond the capabilities of the naked eye, allowing them to enjoy the thrill of the game like never before.
The depth of gameplay immersion hinges on the colour gamut of the display. The HUAWEI MateView GT supports a cinematic 90 percent P3 colour gamut and 10-bit colour depth, covering 1.07 billion vibrant colours. With a professional-grade colour accuracy of ΔE<2, the monitor also allows gamers to indulge in a gorgeous and hyper-realistic visuals.
Gain a competitive edge in games with a blazing 165Hz display
The HUAWEI MateView GT boasts an impressive 165Hz refresh rate, effectively eliminates display flicker for a buttery-smooth gaming experience for its users. Furthermore, in genres like FPS where a split-second decision can determine the outcome, a higher refresh rate can offer users invaluable advantages to help them pull ahead of their competitors.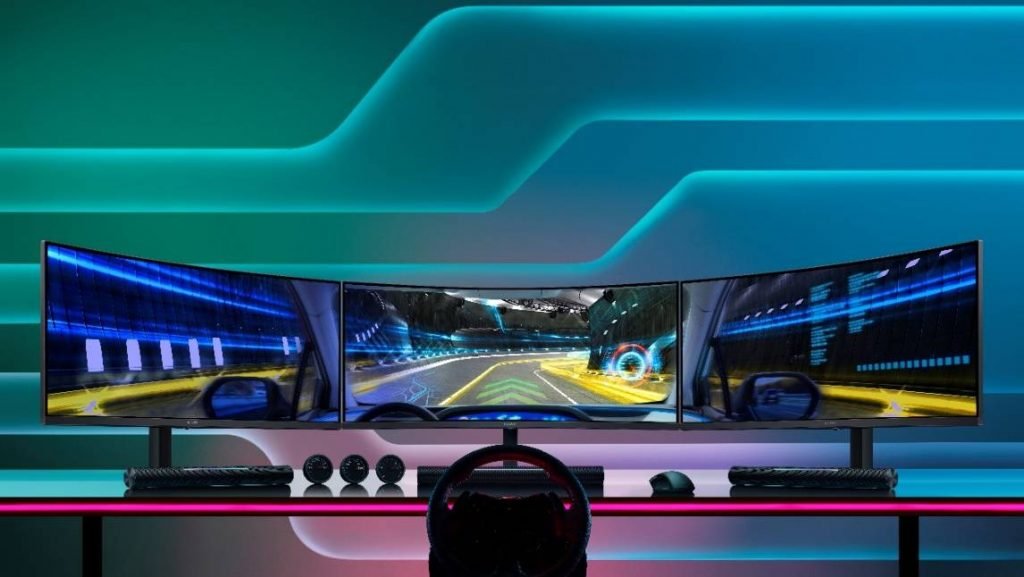 A universal dread among the gaming community is to experience the dizzying screen tearing, which would compromise gaming experience. what's worse, severe tearing can even cause mild headache. To offer a tear-free experience, the HUAWEI MateView GT supports a variable refresh rate by leveraging an adaptive synchronization technology, eliminating screen-tearing, stuttering, and latency issue for a fluid gameplay experience.
The HUAWEI MateView GT also comes with the Dark Field Control and Crosshairs feature to elevate their FPS gameplay experience. Leveraging the Dark Field Control, users can adjust the display brightness and contrast at any single moment to help them gain an edge over their hidden in-game enemies. Users can also take advantage of the Crosshairs feature to overlay their game with a crosshair and help them drastically improve their aiming.
Innovative and meticulous design that powers up gameplay
The HUAWEI MateView GT sports an innovative and functional unibody SoundBar design which serves as a monitor base as well as powerful dual speakers. The Soundbar supports touch control for the volume, highly convenient and intuitive even during gameplay. It also features an RGB lighting hub with 36 individually addressable RGB lights, offering an extensive range of colour-changing options. What's more, users can customise their favourite lighting effects. Coupled with the intelligent noise-cancelling microphone at the top of the monitor, HUAWEI MateView GT can create an ultimate atmosphere for gamers.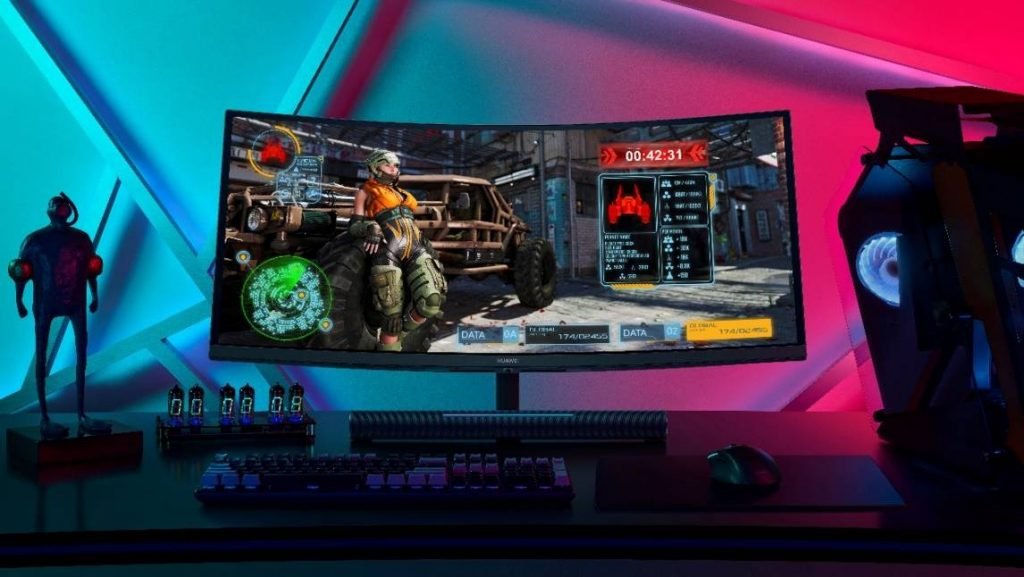 Extended gaming sessions may cause damage to the eye. The MateView GT has passed the TÜV Rheinland Low Blue Light certification, meaning it is more than capable of filtering out harmful blue light during games. The monitor also supports DC Dimming technology, eliminating screen flickering which accelerates cause eye fatigue.
The newly launched monitor series also include MateView, a standalone monitor that puts special emphasis on its design without compromising on quality, resulting in a display with pleasing aesthetics and performance. The HUAWEI MateView features a 28.2-inch display with a 4K+ 3850 x 2560 resolution that brings incredible colour reproduction. Its 3:2 aspect ratio means that users have more vertical room to see documents and web pages in a taller view. The ultra-thin bezels deliver a more immersive feel, achieving an impressive screen-to-body ratio of 94% and a screen that's as thin as 9.3mm.
The MateView series bring a forward-thinking approach that complements Huawei's Super Device experience, letting users enjoy seamless collaboration across displays, laptops, smartphones, tablets and etc.
Price and availability in the UAE
| | | |
| --- | --- | --- |
| HUAWEI MateView | 2,999 AED | August 5th 2021 onwards. Includes HUAWEI Watch GT 2 Black 46mm and HUAWEI Bluetooth Mouse AF30 |
| HUAWEI MateView GT | 2,299 AED | August 5th 2021 onwards |