Lenovo's Legion 5i is a gaming laptop that's abundant in its quality of design and performance. A clean minimalist design, improved cooling with "Coldfront 2.0" and an impressive "truestrike" keyboard seems to be the formula for a great gaming laptop that can take almost anything you throw at it. It does have its faults but they are few and far in between to degrade the overall experience.
Here are the specifications:
CPU
Intel(R) Core(TM) i7-10750H CPU @ 2.60GHz
RAM
16 GB DDR4 2933MHz
GPU
NVIDIA GeForce RTX 2060
Storage
1 TB HDD + 256 GB SSD
Display
15.6″ FHD IPS (1920 x 1080), 500 nits
144Hz, <1ms response time
100% sRGB, VESA DisplayHDR 400 certified, Dolby Vision
Ports
USB-A 3.1 Gen 1 (always on)
3 x USB-A 3.1 Gen 1
USB-C 3.1 (DisplayPort)
HDMI 2.0
RJ45 ethernet
Mic / headphone combo
Kensington lock slot
Connectivity
Intel WiFi 6 (802.11 ax)
Bluetooth 5.0
Camera
720p HD
Audio
2 x 2W Harman Kardon speaker system
Battery
Li-Polymer 80Wh Battery
230W AC Adapter
Dimensions
363.06mm x 259.61mm x 23.57 – 26.1mm (WxDxH)
Weight: 2.3kg
Packaging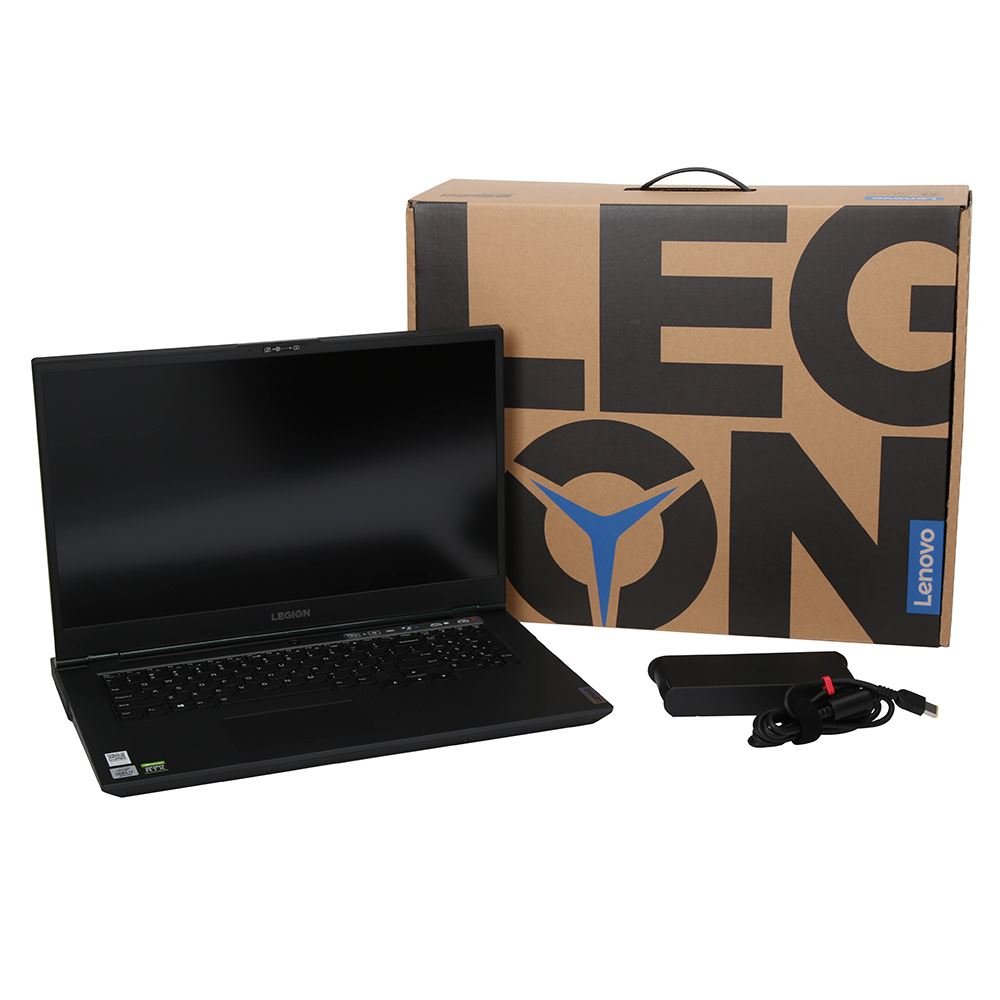 The Lenovo Legion 5i 15 comes in a Lenovo branded carboard box. Inside, you'll find the carefully protected laptop, chargers, the Legion M300 RGB gaming mouse, a user guide and warranty.
Here is everything in the box:
The Legion 5i 15IMH05H
Lenovo Legion M300 RGB Gaming Mouse
Laptop Sleeve
Charger
Setup Guide
Safety and Warranty Guide
Design, Build Quality & Ports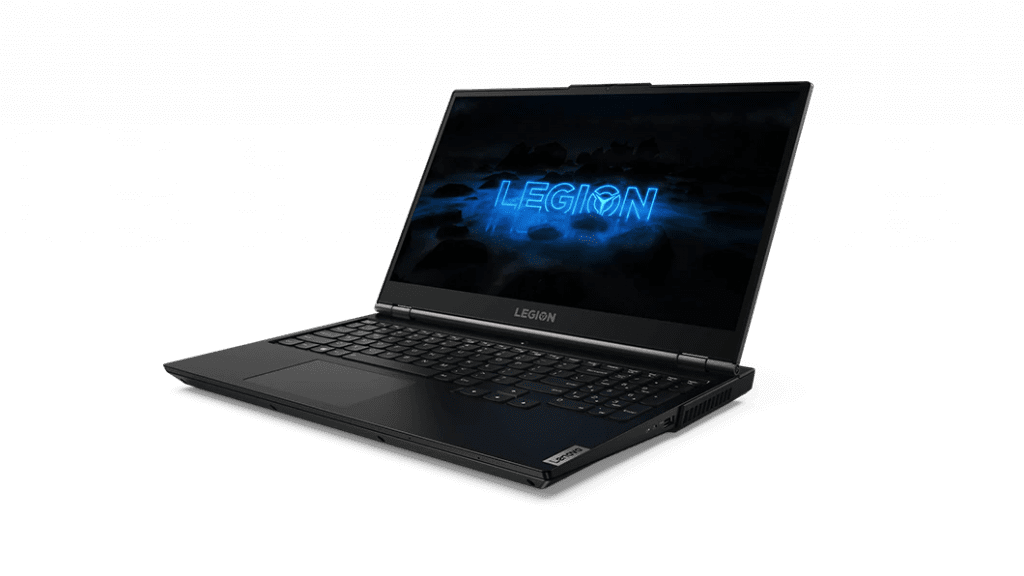 The design of the laptop strikes a balance of ruggedness and minimalism. The build quality is great, it feels reasonably heavy and is thoughtfully set up. Most of the ports are set to the back, completely out of view, and just seeing the number of air vents gives you confidence in its cooling ability. There are two on the sides, two on the back, and a big one at the bottom. All these changes bring a refreshing sense of practicality that's often on the back foot with modern laptops. The display is also offset from the back of the base, which makes the laptop look much cleaner and sturdier.
While it's mostly a minimalist design, you can still find some aggressiveness if you look for it, you can notice this in the design of the vents and tapered finishing of the display edges. The keyboard, a chicklet style keyboard with a full numeric pad, is incredibly well-made. From layout choices to feel, the keyboard is definitely a strong suit for the Legion 5i. It feels buttery smooth to write on and already makes you "feel at home" in terms of typing accuracy and speed. The touchpad isn't anything special but doesn't feel like an afterthought either, it's smooth and responds well, which is everything you ask from a touchpad anyway. The backlit keyboard has 4 modes that can be customized with the Lenovo Vantage software. The RGB wave effect however felt very stuttery.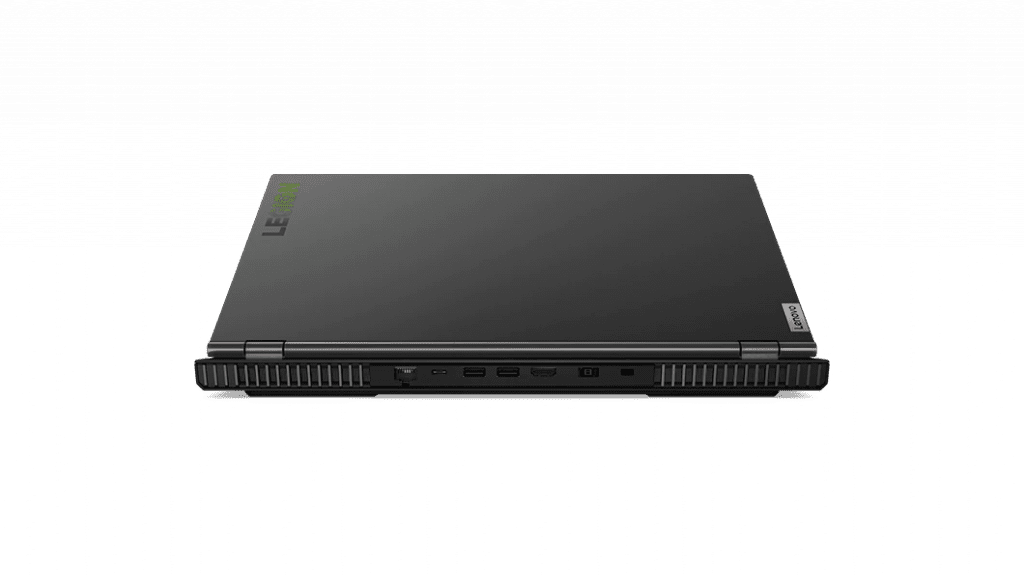 Like I mentioned before, most of the ports are set to the back of the laptop base. This means that the cables are completely out of view and cleans up your setup especially if you have a desk grommet. It includes ports for: RJ45 ethernet, USB-C 3.1 (DisplayPort), 2x USB-A 3.1 Gen 1, HDMI, power input, and a Kensington lock slot. Two additional USB ports and a headphone jack are placed on the sides, a great decision in my opinion.
Display
The display is another home run on this laptop. The hinge feels sturdy and can be tilted 180 degrees on either side, why you would need to? I don't know, but it's there. The bezel is minimally designed, and sports the Legion logo on the bottom. The webcam casing features a slider that enables/disables the webcam, a great feature for privacy.
As for the display itself, its a 15.6″ FHD IPS (1920 x 1080) display with 500 nits of brightness, 144Hz refresh rate, <1ms response time, 100% sRGB, VESA DisplayHDR 400 certified, and Dolby Vision enabled. The brightness range is more than adequate and the colors looks like pure eye-candy thanks to Dolby Vision and 100% sRGB
Performance
With the Intel Core i7-10750H, the NVIDIA GeForce RTX 2060 and 16GB's of DDR4 RAM. The Legion 5i is set for amazing performance out of the box, and it's reflected on the benchmark scores.
| | |
| --- | --- |
| 3DMark (TimeSpy) | 6,327 |
| PCMark 10 | 6,283 |
| Cinebench R20 (Multi-Core) | 3,087 |
| Cinebench R20 (Single-Core) | 464 |
Gaming
The Intel i7-10750H and Nvidia RTX 2060 together provide great gaming performance. The Legion 5i is able to run modern games easily above 6-fps on high to ultra settings. Although you would want to lower some of the settings to take advantage of the Legion 5i's refresh rate.
| | |
| --- | --- |
| | Average FPS |
| Far Cry 5 | 84 FPS |
| Shadow of the Tomb Raider | 72 FPS |
| AC: Odyssey | 46 FPS |
Storage
In terms of storage, the Legion 5i has a 5400RPM 1TB HDD for general storage and a 256GB SSD for windows.
Here are the read and write speeds for both: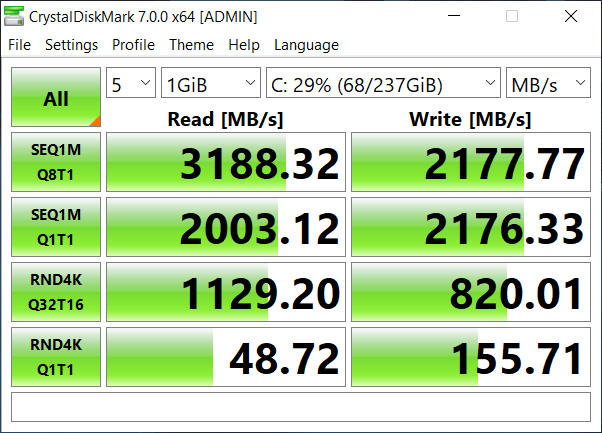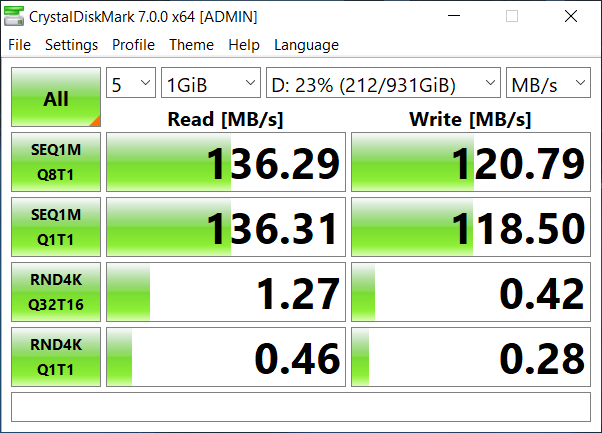 Software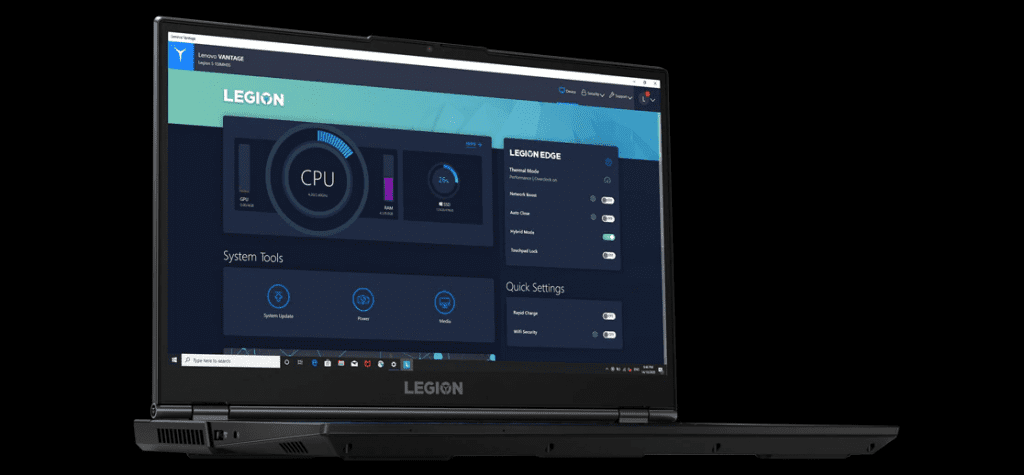 Thankfully, the only major preloaded software that comes with the Legion 5i is McAfee LiveSafe and Lenovo Vantage. Vantage is Lenovo's well-designed program which lets you change and tweak aspects of the laptop, some of its settings include: hardware usage, system tools, quick settings, backlight customization, and other settings with Legion Edge. The UI is gorgeous and everything is intuitive to use.
Thermal Performance & Noise
The Legion 5i is cooled with Lenovo's "Coldfront 2.0" technology, and although that sounds gimmicky, it works. I spent long stints of time playing resource-intensive games that would have definitely overheated a normal gaming laptop over time, but it didn't affect the Legion 5i.
My biggest pet peeve with playing on a laptop has always been the keyboard getting hot after a while, and this is almost completely non-existent with the Legion 5i. Lenovo achieves this using a dual-channel thermal mechanism of 67 liquid crystal polymer-coated fan blades and copper pipes.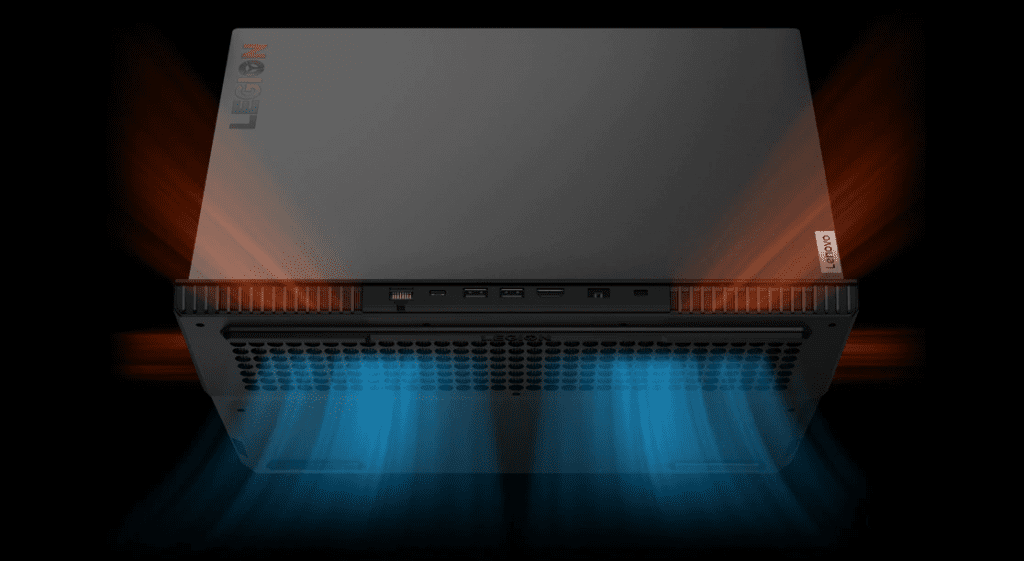 If you don't want the laptop to decide when to run the fans, you can do it manually using Q Control 3.0 which allows you to manually select between Quiet, Balance, and Performance thermal modes. But in my experience just letting the laptop do its thing didn't make me face any problems. During testing however the CPU temps did reach a dangerous 89 degrees Celcius, but it was just during the CPU-specific stress test, so it shouldn't be anything you have to worry about.
However, this perfect cooling does come at a cost. The noise the fans make is very loud, too loud. Sadly, It's the price you have to pay for the cooling but it could be remedied by using some headphones.
Audio, Video & Battery
The webcam and microphone are unfortunately very disappointing. The microphone is unusable due to its quality and the webcam is very basic as well. Investing in a higher quality webcam and microphone will be a necessity if you plan on doing any form of streaming on this laptop.
The audio however is great, the Legion 5i uses a 2 x 2 watt Harman Kardon speaker system and features Dolby Atmos headphone support. The volume is more than enough to fill a small or medium-sized room.
The legion 5i is powered by a polymer 80Wh battery. On the spec sheet, it mentions a battery life of 7.7 hours, but obviously, it depends on how you use it. So I tested the following: time taken to use up the battery life on causal use, gaming, and also time it takes to recharge it back to 100% as well.
Here are the results:
| | |
| --- | --- |
| Casual use (Web Browsing & Audio) | 3h 20 min |
| Gaming | 1h 30 min |
| 0% – 100% recharge | 1h 40 min |
So, from the results, we can see that the battery life is a bit of a stretch from the aforementioned 7.7 hours. But it can probably be achieved if you set everything to power saving and turn down the brightness real low. However in reality no one ever does that, so you can expect to see the same numbers I got if you plan to get it.
Verdict
The Lenovo Legion 5i is a well-built performance-packed gaming laptop that provides great cooling and practicality. From the smooth-to-type keyboard to the gorgeous display, Lenovo shows that the Legion 5i is purpose made to be the perfect gaming laptop.
It does have it's drawbacks, like the subpar webcam and microphone quality and the loud fan noises while cooling. But these drawbacks don't hold a candle to the benefits this laptop provides. So, if you're looking for a capable gaming laptop that won't leave you disappointed, this is a great option.
If you want to see more gaming laptop reviews, click here.