The MSI Cyborg 15 A12VF is a new line-up of portable gaming laptops built for gamers seeking solid performance for cost-performance value. Boasting a cyberpunk-inspired design, this portable gaming laptop comes with translucent keyboard and chassis parts that add a touch of futuristic elegance. With a weight of just 1.98kg and a thickness of 21.95mm, the Cyborg 15 is the great choice for on-the-go gaming.
To create the perfect cyberpunk-style character, MSI teamed up with Romanian concept artist Paul Cheptea, who specializes in sci-fi and cyberpunk-themed artwork. Cheptea's works, heavily influenced by Blade Runner and Dune, have been featured in numerous popular games such as the Battlefield series.
When it comes to performance, the MSI Cyborg 15 A12VF is specifically built for 1080p gaming. Powered by Intel's 12th Gen i7-12650H processor, a 1920×1080 144Hz IPS panel, and an Nvidia RTX 4060 with 8GB GDDR6 VRAM with a TDP of 455 watts, the laptop works well for smooth gameplay and seamless multitasking. The Cyborg 15 A12VF also comes with 16GB DDR5 4800MHz RAM and a 1TB PCIe NVMe SSD.
Specifications
CPU
12th Gen Intel Core 12650H i7 Processor
RAM
16GB DDR5-4800 2 Slots
GPU
NVIDIA GeForce RTX 4060 Laptop GPU
8GB GDDR6 Up to 2250MHz Boost Clock
45W Maximum Graphics Power with Dynamic Boost
Storage
1x M.2 SSD slot (NVMe PCIe Gen4)
Display
15.6″ FHD (1920×1080), 144Hz, IPS-Level
Ports
1x Type-C (USB3.2 Gen1 / DP)
2x Type-A USB3.2 Gen1
1x HDMI 2.1 (4K @ 60Hz)
1x RJ45 1x Mic-in/Headphone-out Combo Jack
Connectivity
Gb LAN 802.11 ax
Wi-Fi 6
Bluetooth v5.2
Camera
HD type (30fps@720p)
Audio
2x 2W Speaker
Battery
3-Cell 53.5 Battery (Whr)
120W adapter
Dimensions
359.36 x 250.34 x 21.95~22.9 mm Approx. 1.98 kg
View full specifications here.
Packaging
The MSI Cyborg 15 A12VF comes securely packaged in a standard brown cardboard box, with an additional box inside to protect the laptop and accessories during transit. Inside the box, you'll find the following accessories included with the laptop: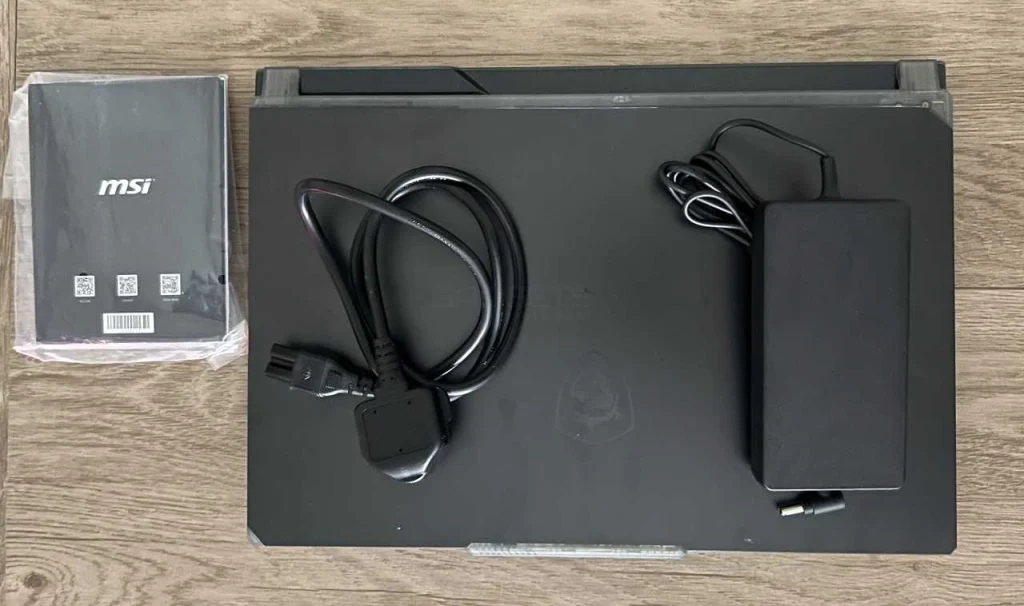 The MSI Cyborg 15 A12VF laptop
120W power brick
Power cable
User guides and warranty
Build Quality
The MSI Cyborg 15 A12VF flaunts a sleek matte grey design. Its lid is crafted with metal, while the rest of the chassis is constructed with high-quality plastic for maximum durability.
This laptop's cyberpunk-inspired design is adorned with translucent parts on the keyboard and chassis, featuring intricate geometric lines, shapes, and stylized texts throughout the design. The sturdy hinges keep the lid securely in place and can be easily opened with a single hand. Its 15.6″ matte display is surrounded by thin bezels and houses a 720p webcam and microphones.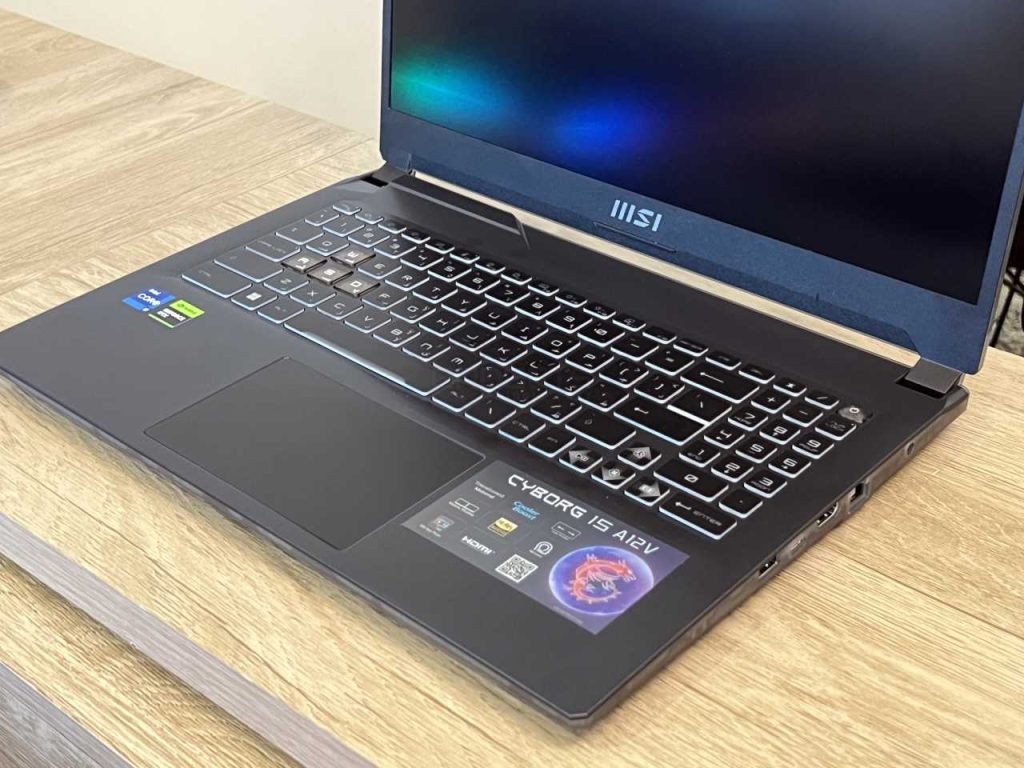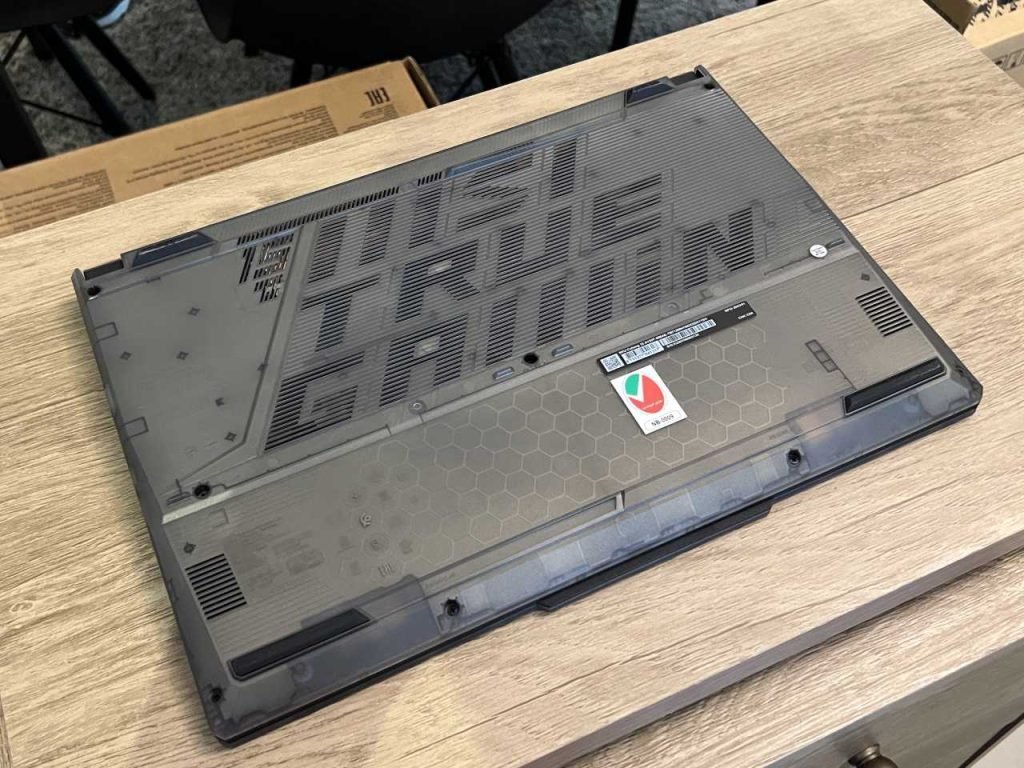 The MSI Cyborg 15 A12VF has an impressive selection of ports on both sides, but it doesn't offer support for SD-card and Thunderbolt 4. The sides and base feature large openings for cooling, while the laptop's speakers are housed on the left and right sides.
Built for durability, the chassis of this laptop is rigid and provides a solid feel, thanks to being MIL-STD-810G tested for military-grade durability certification. The Cyborg 15 A12VF is built to withstand drops, vibrations, and extreme weather conditions, making it an ideal choice for gamers who require a reliable and durable machine.
With dimensions measuring 359.36 x 250.34 x 21.95~22.9 mm and weighing less than 2kg, the Cyborg 15 A12VF is incredibly portable and can easily fit in a laptop bag or backpack, making it perfect for gamers on-the-go.
Ports
The MSI Cyborg 15 A12VF boasts a decent selection of ports, located on both the left and right sides for easy access. On the left side, you'll find an Audio Combo jack, USB3.2 Gen1 Type-A, and a Kensington Lock for added security.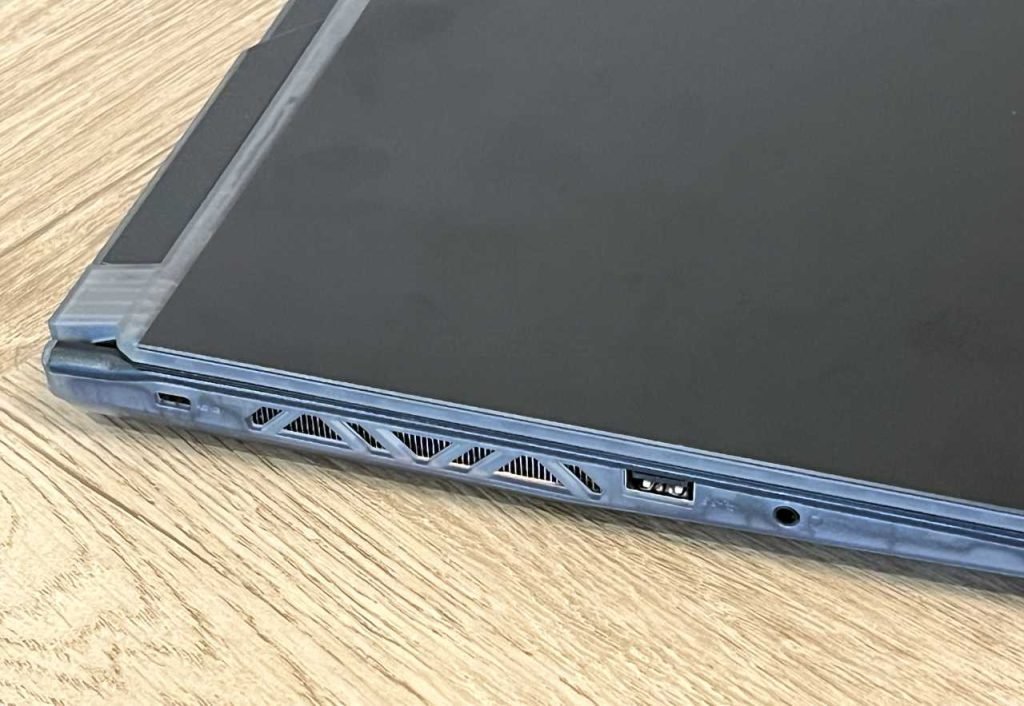 The right side houses a DC-in, RJ45, HDMI 2.1 (4K@60Hz), USB 3.2 Gen1 Type-C / DP, and a USB 3.2 Gen1 Type-A, giving you a range of options for connecting peripherals, external displays, and other devices.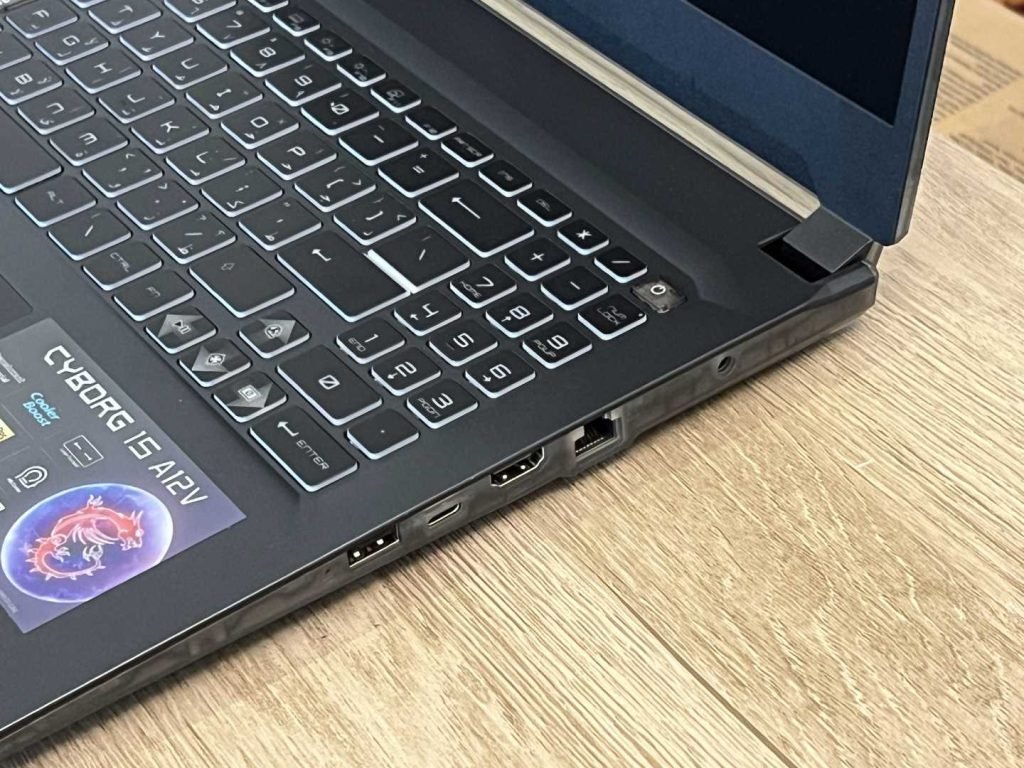 In addition, the MSI Cyborg 15 A12VF features an 802.11ax Wi-Fi 6 wireless connectivity technology and Bluetooth 5.2 onboard, ensuring seamless connectivity for all your wireless devices.
Display
The MSI Cyborg 15 A12VF features a 15.6″ Full HD (1920 x 1080) IPS panel with an impressive 144 Hz refresh rate, making it a great choice for gaming enthusiasts.
The laptop's top bezel houses a 720p webcam that's capable of recording at 30 FPS, along with dual microphones, ensuring clear video and audio for online meetings or streaming.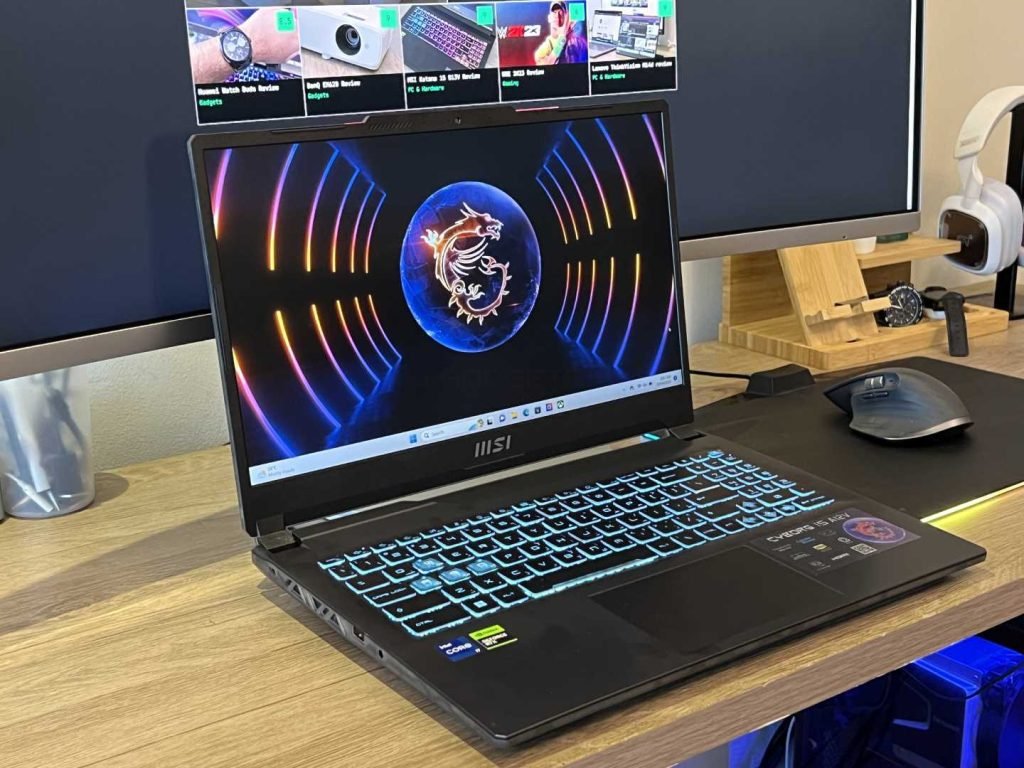 While the display of the MSI Cyborg 15 A12VF offers good colors and works well for gaming, it may not be suitable for creative work due to its limited sRGB color coverage of about 55%.
The screen's maximum brightness is sufficient for indoor use, but may be challenging to view in bright outdoor environments. Nonetheless, the glare-free viewing angles provide a comfortable experience for the user, allowing for extended periods of use without eye strain.
Keyboard & Trackpad
The MSI Cyborg 15 A12VF features a blue single tone backlight keyboard. The WASD and arrow keys are specially highlighted for gamers. Additionally, there are dedicated shortcut buttons and a dedicated numpad, making it easy to work with numbers.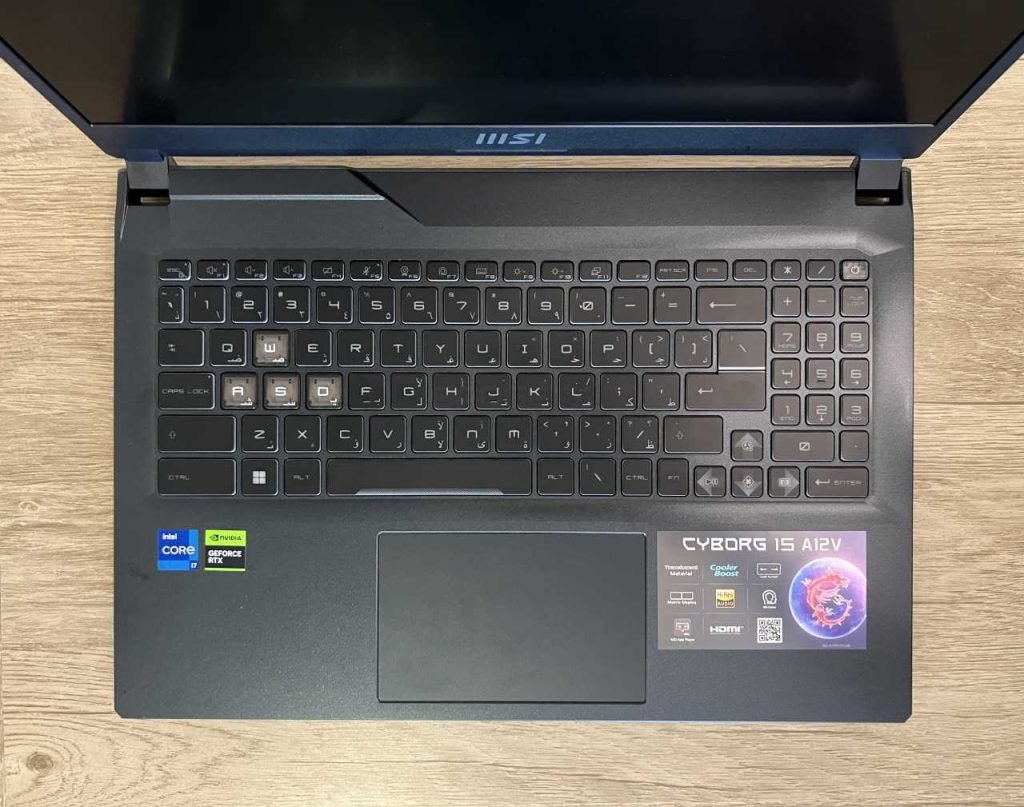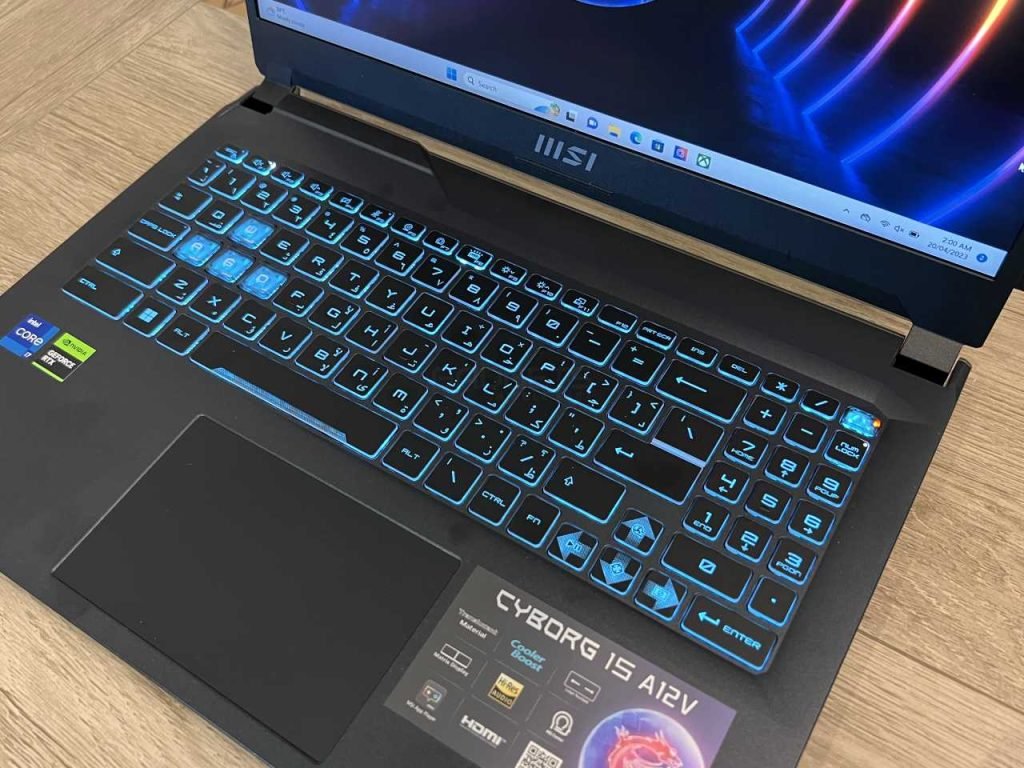 Typing on the keyboard feels comfortable and responsive with decent key travel distance and feedback. The top row of function keys can also be used for additional shortcuts when combined with the Fn keys, allowing for greater flexibility.
The touchpad is located below the keyboard on the left side and features separate physical left and right clickers. Despite its large size, the touchpad remains precise and comfortable to use. Overall, the keyboard and touchpad of the MSI Cyborg 15 A12VF offer an enjoyable and user-friendly experience, ideal for both gamers and casual users.
Performance & Benchmarks
Our test model boasts a powerful 12th Gen Intel Core i7 12650H processor with 10 cores and 16 threads, offering a maximum clock frequency of 4.70GHz. This is paired with a NVIDIA GeForce RTX 4060 graphics card with 8GB GDDR6 VRAM and 16GB DDR4 4800MHz RAM, which can be upgraded to 64GB for even greater performance.
In terms of storage, the MSI Cyborg 15 A12VF comes with a 1TB M.2 NVMe PCIe SSD onboard, and some models offer an additional M.2 expansion slot for even more storage capacity. With this powerful combination of hardware, the MSI Cyborg 15 A12VF can easily handle demanding tasks such as gaming, video editing, and other high-performance applications.
CPU
The 12th Gen Alder Lake chips features two sets of performance and efficiency cores, providing unprecedented boost in multitasking. The Core i7-12650H processor in the MSI Cyborg 15 A12VF model offers impressive performance, especially in multithreaded workloads, thanks to the 10 cores and 16 threads. The high clock speed and large cache also contribute to a smoother and faster experience.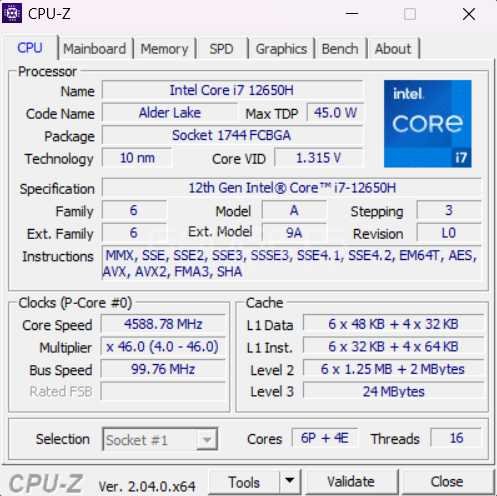 The Core i7-12650H comes with 6 performance cores and 4 efficient cores for a total of 10 cores, 16 threads and 24 MB of cache. These new chips also support memory types up to DDR5 5200.
GPU
The MSI Cyborg 15 A12VF boasts a dedicated NVIDIA RTX 4060 GPU, designed for laptops and featuring improved raytracing and tensor cores with a TDP of up to 45W. Manufactured on a 4 nm process, the RTX 4060 offers 8GB of GDDR6 graphics memory with a 128-bit memory bus. It is based on the AD107 core and boasts 3072 CUDA cores, 24 RT cores, and 96 Tensor cores.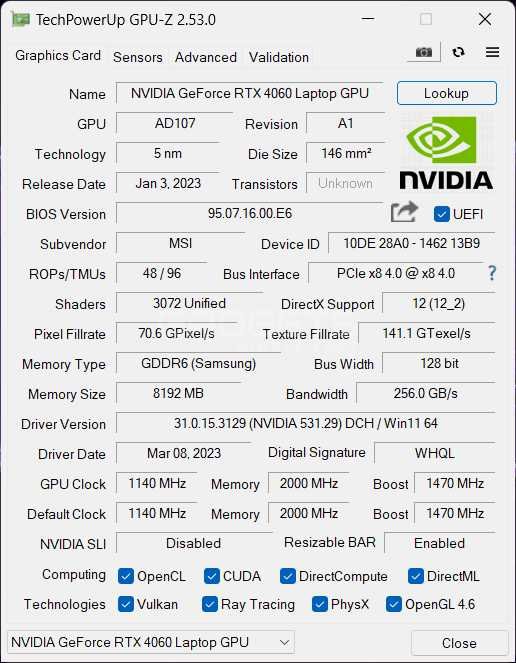 The latest NVIDIA RTX 4060 GPUs for laptops no longer have a separate Max-Q variant that was designed for energy efficiency in thin and portable laptops to extend battery life. Instead, OEMs can choose to incorporate Max-Q technologies such as Dynamic Boost and Whisper mode to optimize performance and power consumption. However, the performance of the same 4060 GPU can vary on different laptops based on their thermal design.
RAM
The MSI Cyborg 15 A12VF is equipped with 16 GB of 4800MHz DDR4 RAM in dual channel in the SO-DIMM slots. It can be further upgraded to 64GB maximum.
STORAGE
Our reviewed MSI Cyborg 15 A12VF model was equipped with a 1TB M.2 NVMe SSD, although this may vary depending on the region. The SSD provides good performance, with read speeds of up to 3,623MB per second and write speeds of up to 2,491MB/s.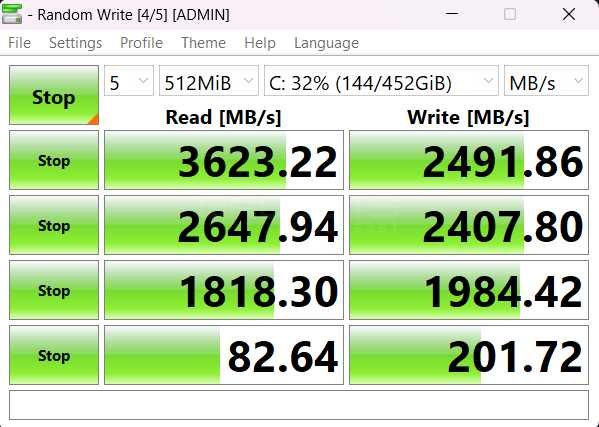 BENCHMARKS
In Cinebench R20 tests, the Intel Core i7-13620H scored 700 in single core benchmark and 6,334 in multi-core benchmark. In PCMark 10 Benchmark, the Cyborg 15 A12VF scored 7,905. These scores are very impressive and one of the best CPU scores we've benchmarked.
| | |
| --- | --- |
| Cinebench R20 single core | 655 |
| Cinebench R20 multi core | 5,306 |
| PCMark 10 Benchmark | 5,714 |
| 3DMark Time Spy | 7,696 |
| 3DMark Fire Strike | 17,151 |
| 3DMark Night Raid | 36,652 |
GAMING
The combination of the Nvidia GeForce RTX 4060 and Intel Core i7-13620H offers a great gaming experience at FHD resolution with high quality settings in most games. With this setup, modern games can be run easily above 60fps with no stuttering or lag. Although the graphics card's maximum TDP is capped at 45W, it delivers sufficient performance for FHD gaming.
| | |
| --- | --- |
| Shadow of the Tomb Raider | 95+ |
| Far Cry 5 | 105+ |
| Hogwarts Legacy | 70+ |
Temperature & Noise
The MSI Cyborg 15 A12VF utilizes MSI's Cooler Boost technology for cooling. There are a total of 3 copper heat pipes that are designed to distribute heat evenly across a single fan. Hot air is efficiently dissipated through the back, and the laptop barely feels hot to the touch. While the fan noise is almost silent when the laptop is idle, it is somewhat audible when the system is under heavy load.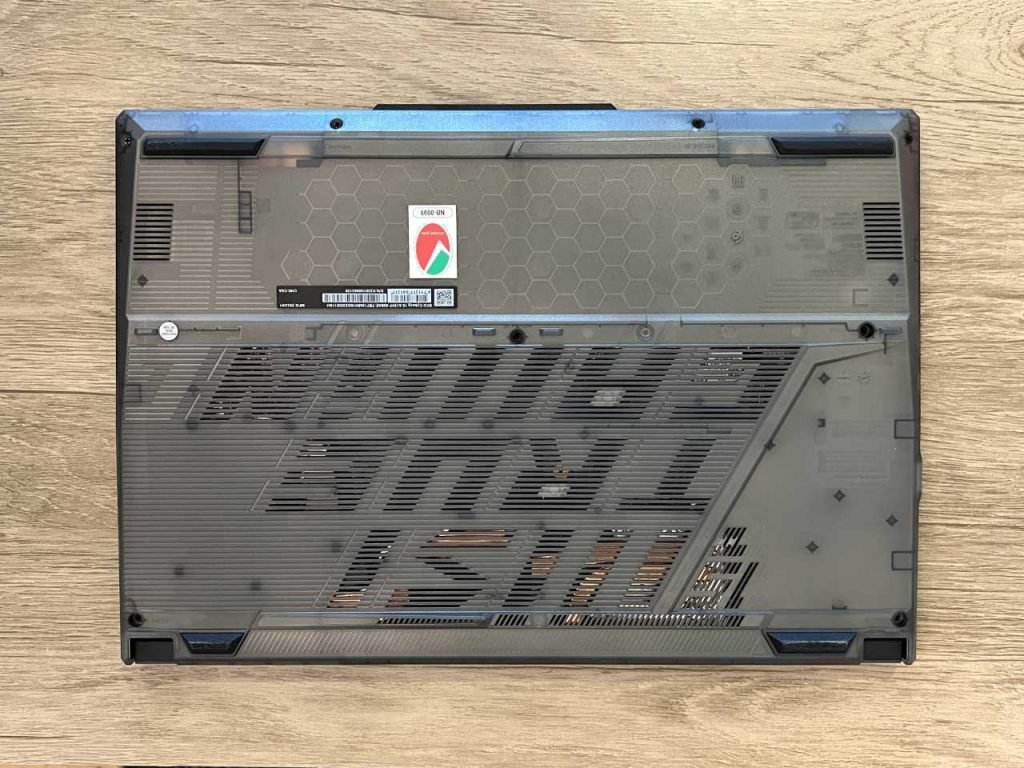 Upgradeability
In terms of upgradeability, the MSI Cyborg 15 A12VF can be upgraded up to 64GB of RAM.
Battery & Audio
The battery life of the Cyborg 15 A12VF is quite short due to its small 53.5Whr battery, making it unsuitable for mobile work. When fully charged, the laptop can last four to five hours, depending on usage and screen brightness. However, during gaming sessions, the battery life is reduced to about an hour.
The laptop's audio system features 2x2W stereo speakers, Nahimic Sound Technology, Hi-Res Audio, and MSI Audio Boost technology. Although the sound quality is decent, it is recommended to use a headset for the best audio experience, as is typical with most gaming laptops.
Software
Most of the performance and display settings can be controlled via the MSI Center. It provides a wide range of settings and features, including the ability to adjust user profiles, switch between display color modes, and modify preferences.
In addition, the app enables users to control and customize various aspects of the system, such as the keyboard lighting and fan speed. Overall, the MSI Center is an intuitive and powerful tool that can help users get the most out of their Cyborg 15 A12VF gaming laptop.
Conclusion
The MSI Cyborg 15 A12VF presents a viable option for gamers seeking an entry-level laptop. With its notable features, including a 144Hz display, 12th Gen Intel CPUs, Nvidia RTX 4060 graphics card, and expandable RAM, the laptop offers smooth multitasking and an impressive 1080p gaming experience at a reasonable price point. Although the graphics card's maximum TDP is capped at 45W, it delivers sufficient performance for FHD gaming. Overall, the MSI Cyborg 15 A12VF is a competitive choice for gamers on a budget.