On the 1st of September, Nvidia kicked off its RTX 30 series launch event. Besides the exciting all new graphics card lineup, Nvidia showed off new game footage showcasing RTX technologies as well as brand new software like Nvidia Reflex and Nvidia Broadcast. The forty minute event was presented by Nvidia CEO, Jensen Huang.
Nvidia Reflex: Low Latency Technology
Nvidia introduced NvidiaReflex, a suite of GPU, G-SYNC display, and software technologies that allow gamers to measure and optimize system latency. Input lag (also known as system latency), makes games less responsive, increasing the time it takes for your inputs to be reflected in-game. This input lag makes a lot of difference in fast-paced competitive games like Valorant or Fortnite.
NVIDIA Nvidia comprises of two main technologies;
Nvidia Reflex SDK: A new set of APIs for game developers to reduce and measure rendering latency. By integrating directly with the game, Reflex Low Latency Mode aligns game engine work to complete just-in-time for rendering, eliminating the GPU render queue and reducing CPU back pressure in GPU intensive scenes. This delivers latency reductions above and beyond existing driver-only techniques, such as NVIDIA Ultra Low Latency Mode.
Nvidia Reflex Latency Analyzer: A revolutionary system latency measurement tool integrated into new 360Hz G-SYNC Esports displays from Acer, ASUS, MSI, and Dell, and supported by top esports peripherals from ASUS, Logitech, Razer, and SteelSeries. Reflex Latency Analyzer detects clicks coming from your mouse and then measures the time it takes for the resulting pixels (i.e. a gun muzzle flash) to change on screen. This type of measurement has been virtually impossible for gamers to do before now, requiring over $7000 in specialized high-speed cameras and equipment.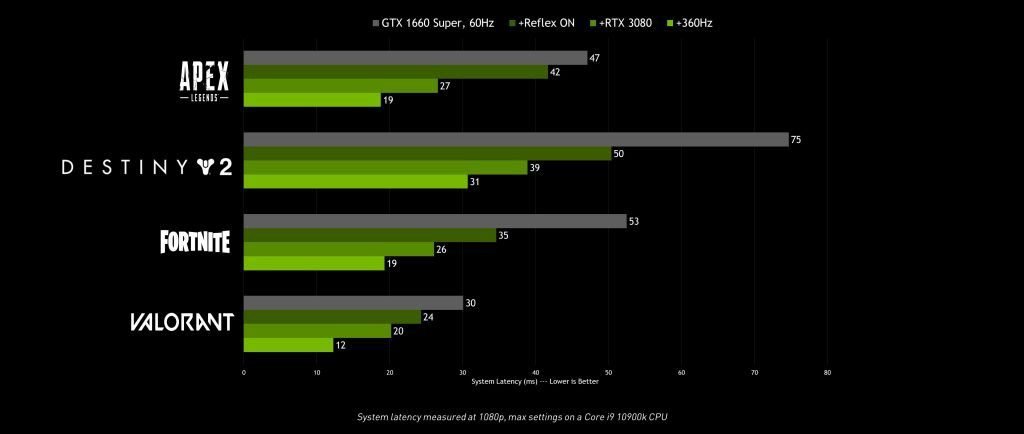 With a popular mid-range graphics card like the GeForce GTX 1660 Super, you can expect up to a 33% improvement in input lag with Reflex. Adding in a GeForce RTX 3080 and a 360Hz G-SYNC esports display will allow you to get the very lowest latency possible. Support for the Nvidia Reflex Low Latency Mode is coming soon for competitive titles, including Apex Legends, Call of Duty: Black Ops Cold War, Call of Duty: Modern Warfare, Call of Duty: Warzone, Destiny 2, Fortnite, and Valorant.
Nvidia Broadcast App
The Nvidia Broadcast app is a universal plugin that works with most popular live streaming, voice chat and video conferencing apps. It's supported by any Nvidia GeForce, TITAN or Quadro RTX GPU, and uses dedicated AI processors on RTX GPUs called Tensor Cores to help the app's AI networks run in real-time.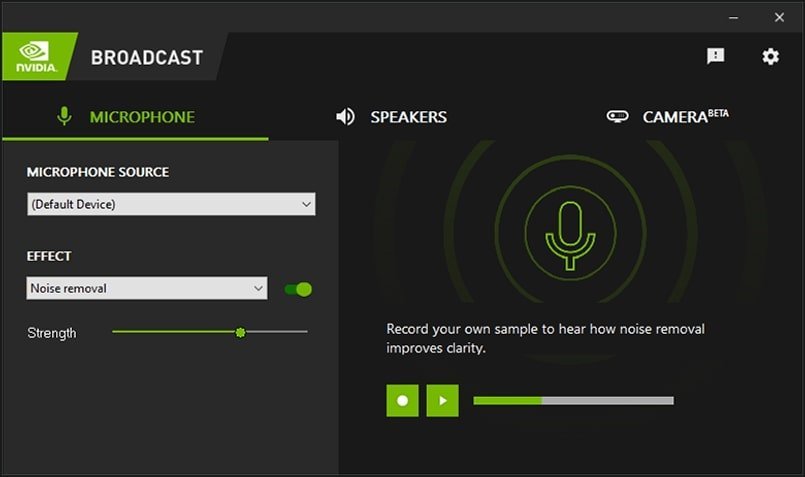 Its uses the power of AI and Tensor Cores on Nvidia RTX GPUs to enhance voice and video communication by offering the following AI-powered features;
Noise Removal: remove background noise from your microphone feed – be it a dog barking or the doorbell ringing. The AI network can even be used on incoming audio feeds to mute that one keyboard-mashing friend who won't turn on push-to-talk.
Virtual Background: remove the background of your webcam feed and replace it with game footage, a replacement image, or even a subtle blur.
Auto Frame: zooms in on you and uses AI to track your head movements, keeping you at the center of the action even as you shift from side to side. It's like having your own cameraperson.
Nvidia Omniverse Machinima
Machinima is a term used to describe the use of real-time computer graphics engines to create cinematic productions, these videos are made by repurposing video game assets to generate animated films.
You might remember a famous machinima called "Red vs Blue", made with Halo assets that was very popular in the 2000s and is widely credited to bringing machinima to public attention.
Now, Nvidia has introduced Nvidia Omniverse Machinima, a storytelling app for gamers. The app – built on the Nvidia Omniverse platform – transforms the traditional Machinima workflow with four key Nvidia technologies: MDL/materials, Audio to Facial Animation, Physics/VFX, and AI Pose Estimation.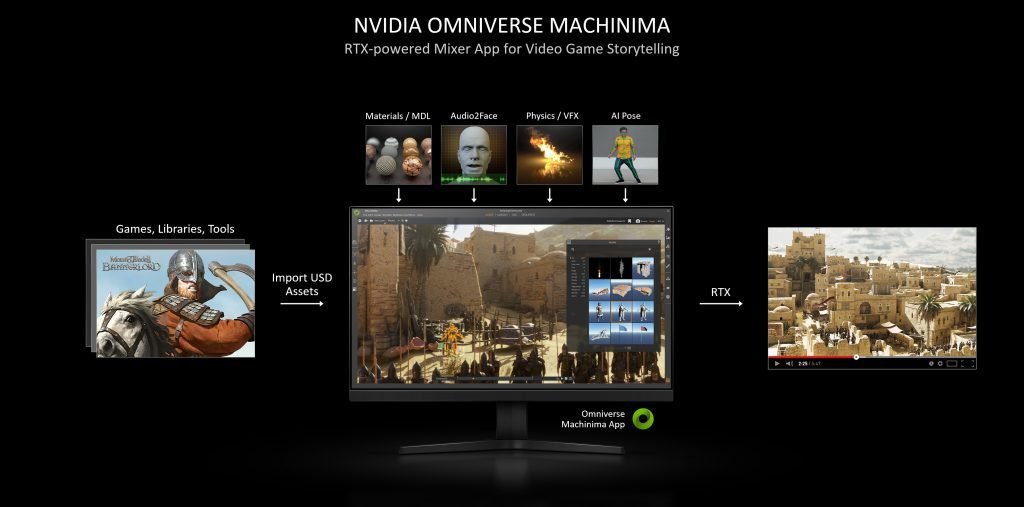 Through Nvidia Omniverse, creators import assets from supported games or most 3rd party asset libraries into the platform, then they can automatically animate characters using an AI-based pose estimator and footage from their webcam.
The characters' faces can come to life with a voice recording using Nvidia's new Audio2Face technology. Then reality is effortlessly recreated with high-fidelity physics like particles and fluids, and physically accurate materials.
After mixing, playing, and composing the scenes, path-traced rendering technology is enabled with one-click to final output with the highest fidelity using Omniverse RTX Renderer.
Here we have a machinima demo made using assets from TaleWorlds Entertainment's popular Mount & Blade II: Bannerlord as well as the behind the scenes of how it was made using Nvidia Omniverse Machinima.
RTX IO
Instant game loading and seamless navigation through expansive open worlds have been goals of gamers and developers alike. But even with the performance of Gen4 NVMe SSDs, this goal has remained out of reach.
This is where Nvidia RTX IO comes in, a suite of technologies that enable rapid GPU-based loading and game asset decompression, accelerating I/O performance by up to 100x compared to hard drives and traditional storage APIs.
When used with Microsoft's DirectStorage for Windows API, RTX IO offloads dozens of CPU cores worth of work to the GeForce RTX GPU, improving frame rates, enabling next to instant game loading.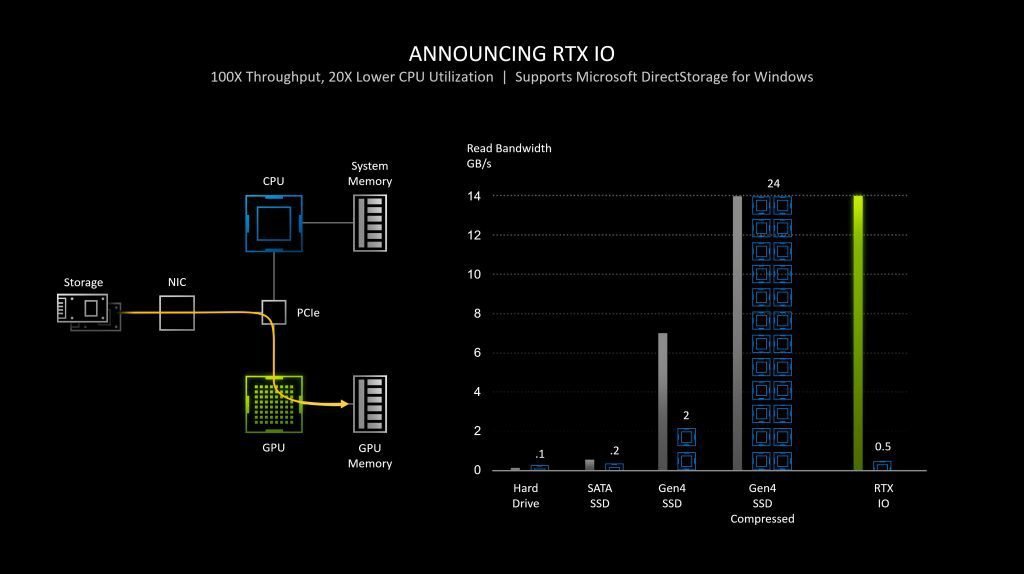 "Microsoft is delighted to partner with NVIDIA to bring the benefits of next generation I/O to Windows gamers. DirectStorage for Windows will let games leverage NVIDIA's cutting-edge RTX IO and provide game developers with a highly efficient and standard way to get the best possible performance from the GPU and I/O system. With DirectStorage, game sizes are minimized, load times reduced, and virtual worlds are free to become more expansive and detailed, with smooth & seamless streaming."

Bryan Langley – Group Program Manager for Windows Graphics and Gaming
This means that object pop-ins and stutter can be reduced and high-quality textures can be streamed at incredible rates (so more photo-realistic games?). In addition, with lossless compression, game download install sizes can be reduced, which means you can store more games on your SSD while also improving performance.
GeForce RTX 30 Series: The Lineup
Starting September 17th, Nvidia and their partners will release the GeForce RTX 3090, GeForce RTX 3080, and GeForce RTX 3070;
| | | | |
| --- | --- | --- | --- |
| | GeForce RTX 3070 | GeForce RTX 3080 | GeForce RTX 3090 |
| CUDA Cores | 5,888 | 8,704 | 10,496 |
| VRAM | 8 GB GDDR6 | 10 GB GDDR6X | 24 GB GDDR6X |
| Architecture | Ampere | Ampere | Ampere |
| Release Date | Available October | September 17 | September 24 |
| Prices Starting At | $499 | $699 | $1499 |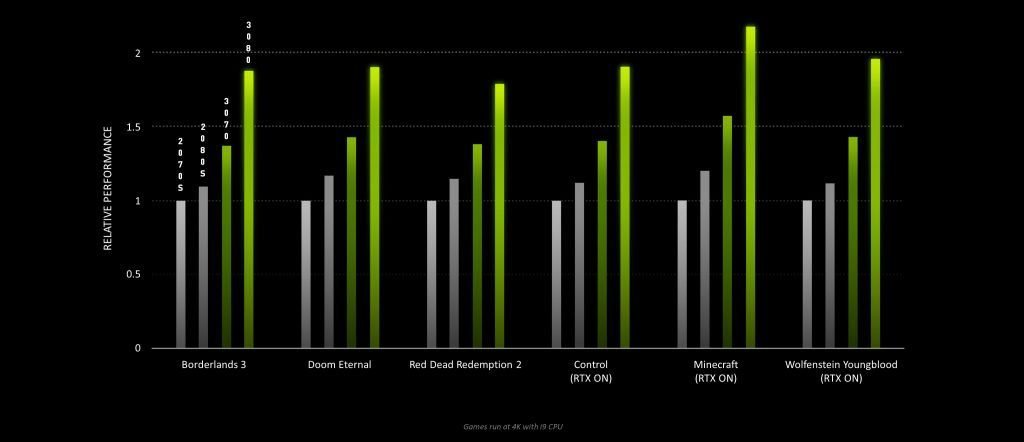 Let's start with the most affordable model, the GeForce RTX 3070, Nvidia claims that the 3070 is 60% faster on average than the GeForce RTX 2070. Not only does that make it faster than the GeForce RTX 2080 Ti, it also costs half as much. Clearly winning over fans in that regard. It will have the all new Ampere Nvidia architecture, 5,888 CUDA cores (RTX 2070 has 2,304), 8GBs of GDDR6 memory (RTX 2070 has the same) and costs $499
The GeForce RTX 3080, the "ultimate gaming GPU", is the one to buy. It's twice as fast as the GeForce RTX 2080 and Nvidia claims buyers can expect 60 fps consistently at 4K. The RTX 3080 comes with 8,704 CUDA cores (RTX 2080 has 2,944), 10GBs of GDDR6x memory (RTX 2080 has 8GB of GDDR6) and costs $699.
The new flagship for Nvidia is the GeForce RTX 3090, the successor of the GeForce Titan RTX. It's a mammoth GPU that Nvidia has added to their RTX lineup. The Founder's Edition comes with a silencer, a three slot dual-axial flow-through design, which keeps it 10 times quieter and keeps the GPU 30 degrees cooler than the Titan RTX design.
Nvidia claims you can expect to play games at 60fps per second in face-melting 8K. Along with Nvidia's Ampere architecture, it has 10,496 CUDA cores (Titan RTX has 4608), 24GBs of GDDR6x memory (Titan RTX has 24GBs of GDDR6) and costs $1499.
GeForce RTX 30 Series: Founders Edition Cards
Nvidias Founder's Edition GeForce graphics cards claim to feature excellent cooling and a stunning design (which I agree with). It has a dual axial flow through cooling solution, featuring two fans – one at the left front, and another on the right rear that draws air through the card.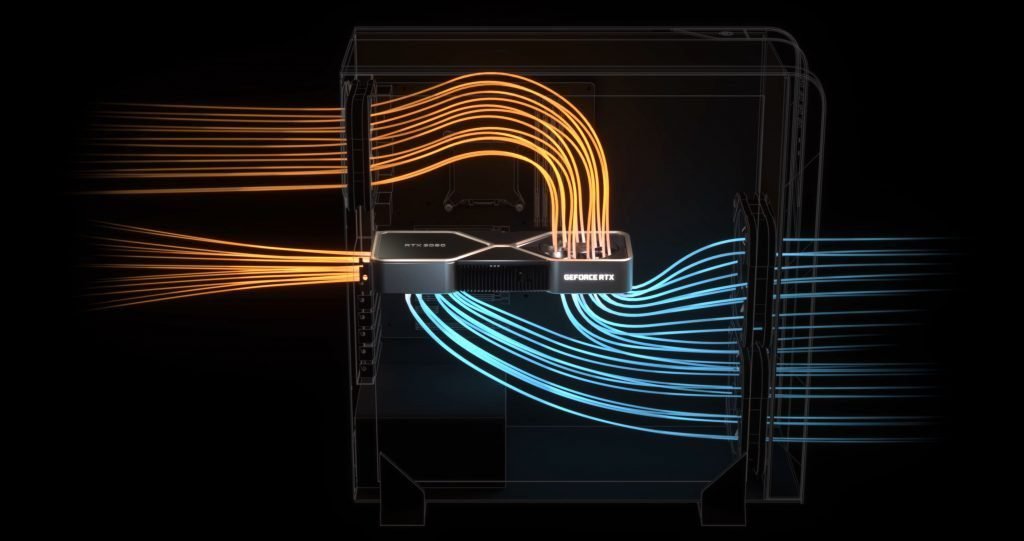 Heat is drawn away from components into the hybrid vapor chamber, it is distributed across the length of the card and throughout the massive aluminum fin stack. The left fan pushes air heated by the fin stack out through extra-large GPU bracket vents, while the right fan draws the air towards the top chassis exhaust.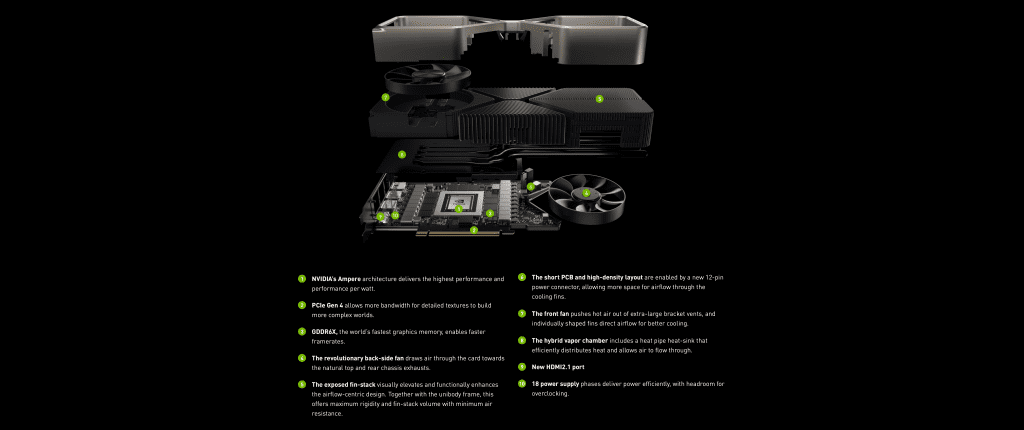 The Founder's Edition design claims to be quieter than traditional dual axial coolers, while still being able to deliver nearly 2x the cooling performance of previous generation solutions.
New NVLink and power design changes help create more space for airflow through the largest fin stack, and the larger bracket vents improve airflow in concert with individually shaped shroud fins.
All in all, these card-wide cooling innovations will hopefully allow for more performance without an increase in temperature or noise over previous generation graphics cards.
GeForce RTX 30 Series: The Hardware
All the aforementioned graphics cards have Nvidias new Ampere architecture, which has 28 billion Transistors, 30 Shader-TFLOPS, 58 RT-TFLOPS, 238 Tensor-TFLOPS, Micron G6X (world's fastest memory) and a Samsung 8N Nvidia custom process.
Compared to Turing-architecture on the GeForce RTX 2080 Ti, Ampere architecture SMs offer 2x FP32 throughput for superior performance.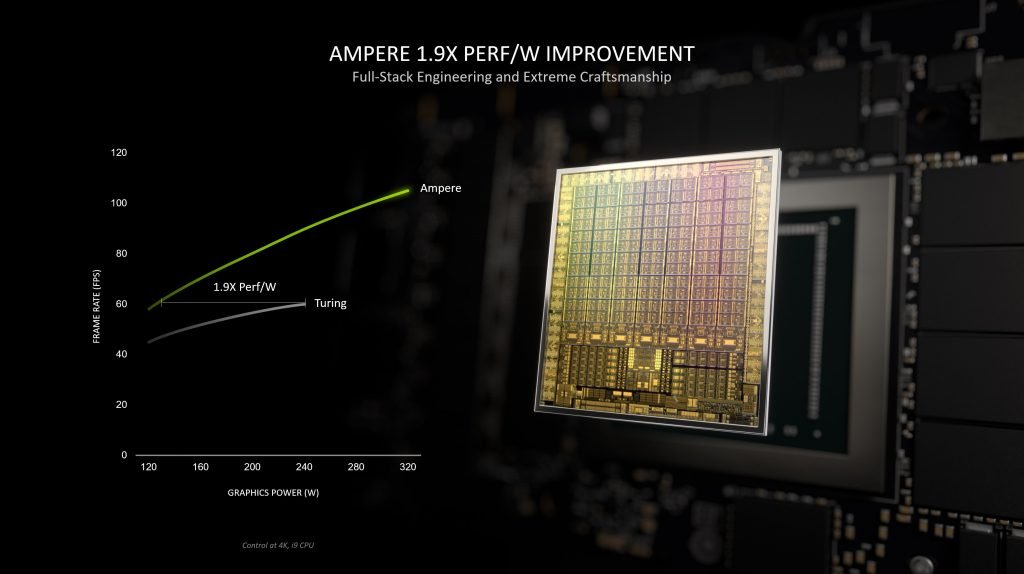 Nvidia has also claimed to have increased performance per watt, which allows for even higher framerates. All of this, along with PCIE 4.0 support, improved cooling and an eighteen-phase power supply give promise to Nvidia's claim that the RTX 30 series can deliver new performance records even before overclocking.
As you might have seen on the spec sheet, memory manufacturer Micron is debuting its new GDDR6X memory on the GeForce RTX 3090 and GeForce RTX 3080.
GDDR6X uses PAM4 signal transmission technology to double the data rate per clock. The enhancements made will hopefully ensure the GPU's compute cores and other components receive a constant stream of data, rather than stalling while they wait.
The GeForce RTX 30 Series will also be the first to support HDMI 2.1 and AV1 decoders. So now with a certified HDMI 2.1 monitor with DSC (Display Stream Compression), 4K can run at high refresh rates without compromise and apparently 8K single-cable TVs are now a reality.
As for AV1, it is a royalty-free, highly efficient video codec that reduces the bandwidth required to stream high resolution video by up to 50% compared to H.264, and makes 4K and 8K high resolution streams feasible for more customers.
Advances in RTX ray tracing and DLSS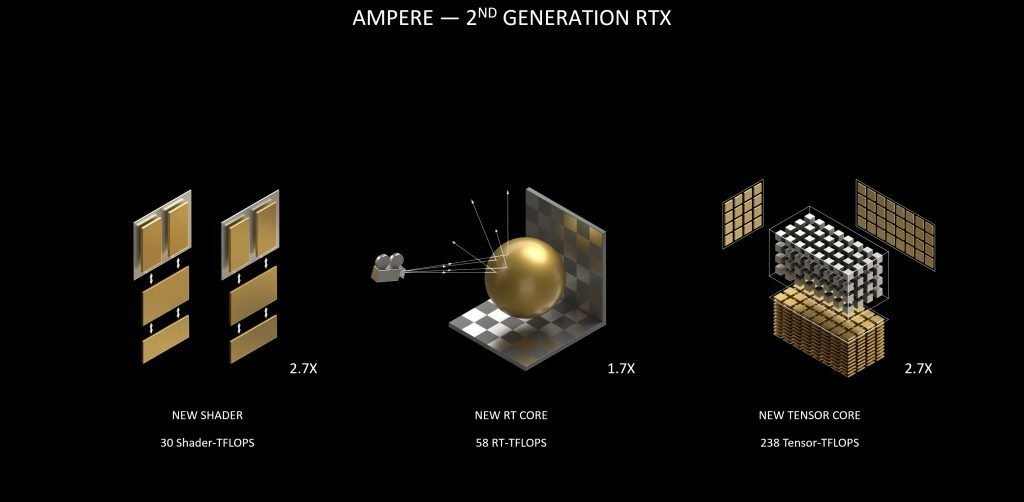 In the past, Nvidia made ray tracing a reality with the invention of Ray Tracing Cores, which were dedicated processing cores on the GPU specifically designed to tackle performance-intensive ray tracing workloads. In the GeForce RTX 30 Series GPUs, Nvidia introduces their 2nd generation RT Cores, which have up to 2x the performance.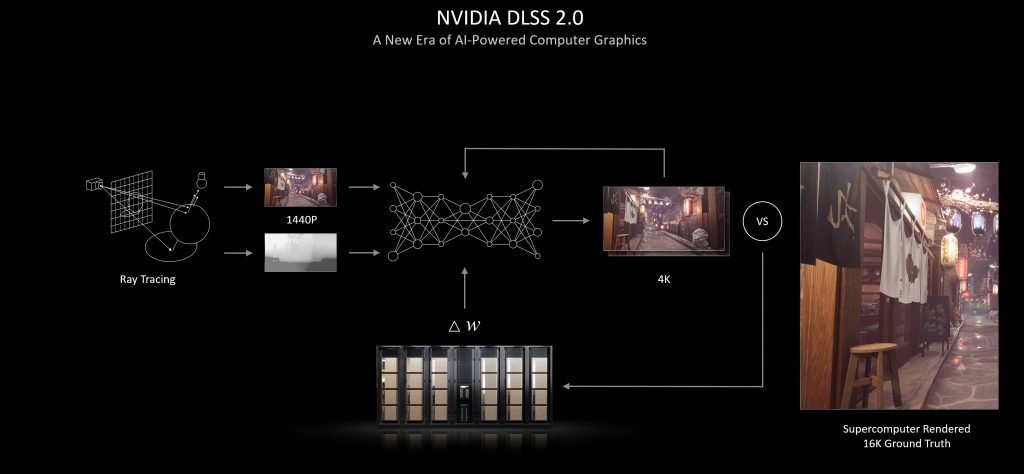 To further accelerate performance in rasterized and ray-traced games, Nvidia invented DLSS. This deep learning neural network, powered by dedicated AI processors called Tensor Cores, boosts frame rates while maintaining crisp, clear image quality. For 8K gaming on the GeForce RTX 3090, Nvidia created a new Ultra Performance mode that accelerates performance at 8K.
Nvidia RTX Game Showcases
Throughout the event, NVIDIA showcased three game demos, all showcasing RTX capabilities. Firstly an announcement for Fortnite, then a Cyberpunk 2077 RTX Trailer and finally a Call of Duty: Cold War ray tracing reveal.