The Razer DeathAdder V2 Pro is the latest addition to the popular DeathAdder series, one of the most successful gaming mice of all time. The new DeathAdder V2 Pro is wireless, comes with 8 programmable buttons that are fully configurable via Razer Synapse 3 and features Razer Chroma RGB lighting.
One of the main features is its Focus+ sensor, an optical sensor with a sensitivity of up to 20,000 DPI, offering an accuracy of 99.6%, 650 IPS and 50G of acceleration.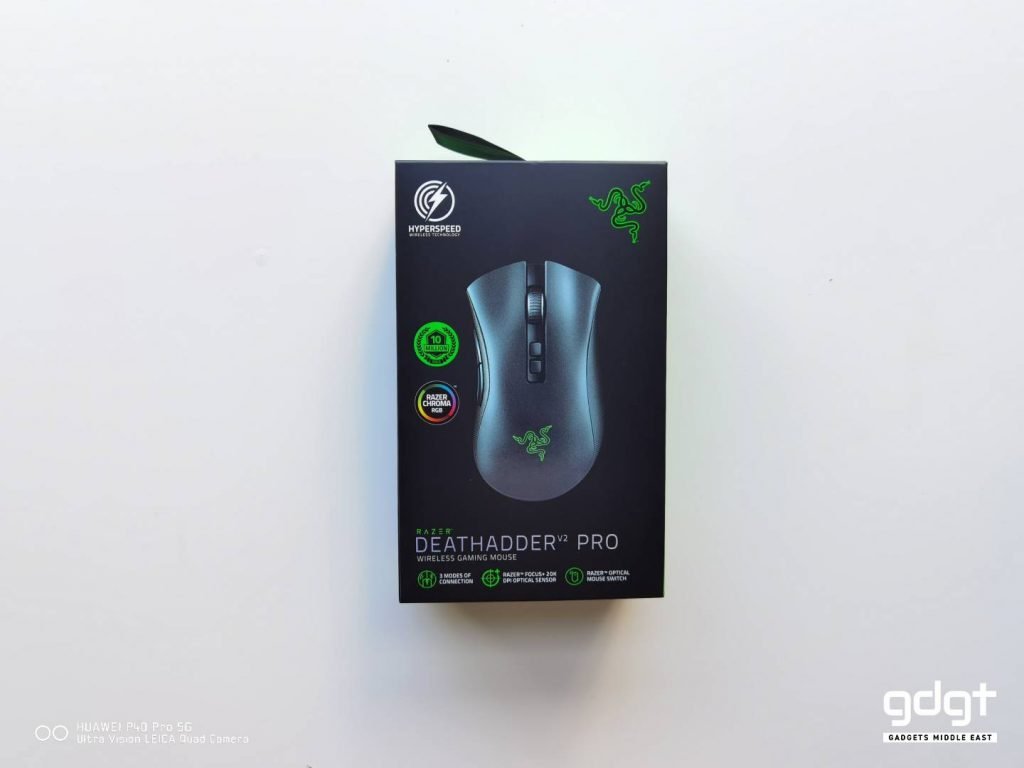 The DeathAdder V2 Pro also comes with the 2nd gen Razer optical switches instead of mechanical ones, reducing response times and increasing durability. As no mechanical contact is needed for the transmission of electrical signals, it has a durability of more than 70 million clicks and a response time of 0.2 seconds, making the DeathAdder V2 Pro one of the fastest in the market.
Highlights:
Razer Focus+ optical sensor with 20K DPI and 650 IPS
Razer Optical Switches
Razer HyperSpeed ​​Wireless
Speedflex cable
Eight programmable buttons
Improved ergonomic shape
Five on-board memory profiles
Sensor
Optical
Sensor Model
Razer Focus+
Max Sensitivity
20,000 DPI
Max Speed (IPS)
650
Max Acceleration (G)
50
Polling Rate
1,000 Hz
Programmable Buttons
8
Switch Lifecycle
70 Million Clicks
Connectivity
2.4 GHz USB Type-A dongle (Razer HyperSpeed)
Bluetooth
Wired – Speedflex Cable

Measurements (LxWxH)
127 mm x 61.7 mm x 42.7 mm
Weight
88g
Software
Razer Synapse 3
Packaging & Design
The Razer DeathAdder V2 mouse comes in the usual Razer black and green cardboard box, like the rest of their products, and everything is well protected.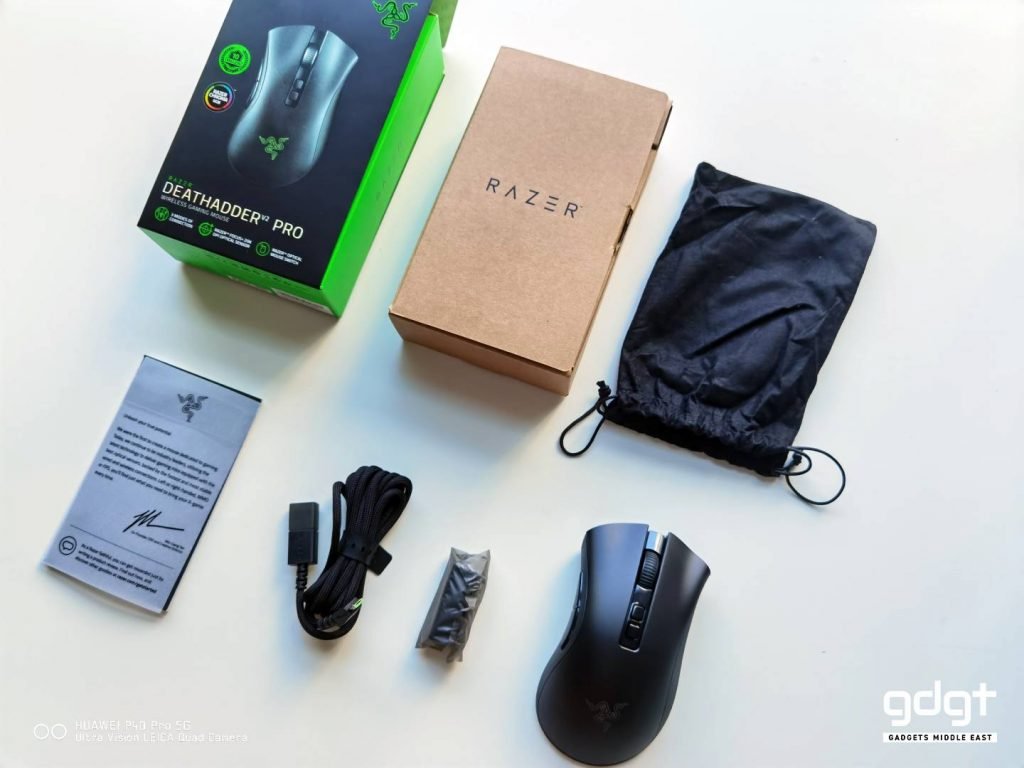 The package includes:
Razer Deathadder V2 Pro
Razer Speedflex Cable
Razer HyperSpeed dongle
Quick start manual
A Thank you Letter
The DeathAdder V2 Pro is designed for right-handed users. It is made of black plastic with a matte finish, measures 127 x 61.7 x 42.7 mm and has a weight of 88 grams.
The new Razer DeathAdder V2 has a total of 8 programmable buttons which can be configured through Razer Synapse 3, giving you access to macros and secondary functions.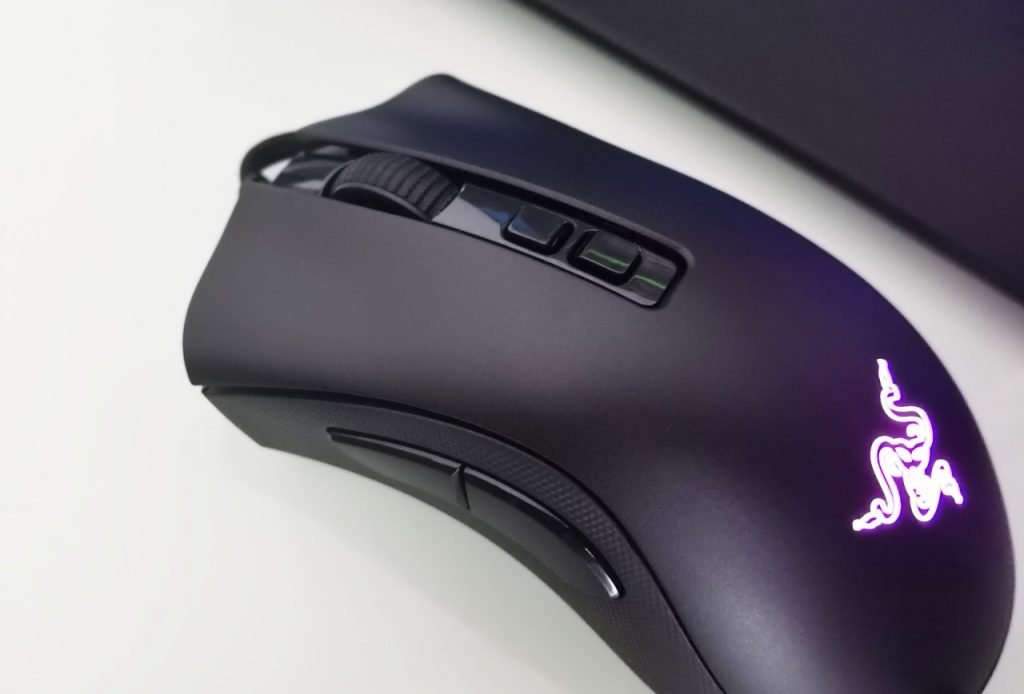 At the top are the two click Razer Optical Mouse Switches made of a single piece, in addition to the new touch wheel. Below the wheel are two buttons for DPI control and a RGB Razer logo on the palm rest.
The two sides of the mouse are made of textured rubber for better grip and ergonomics. There are two customizable buttons on the left side.
At the base are 100% PTFE feet for a smoother glide across any surface, the Focus+ sensor, a button to switch between on-board memory profiles and a toggle for wireless, Bluetooth or wired mode.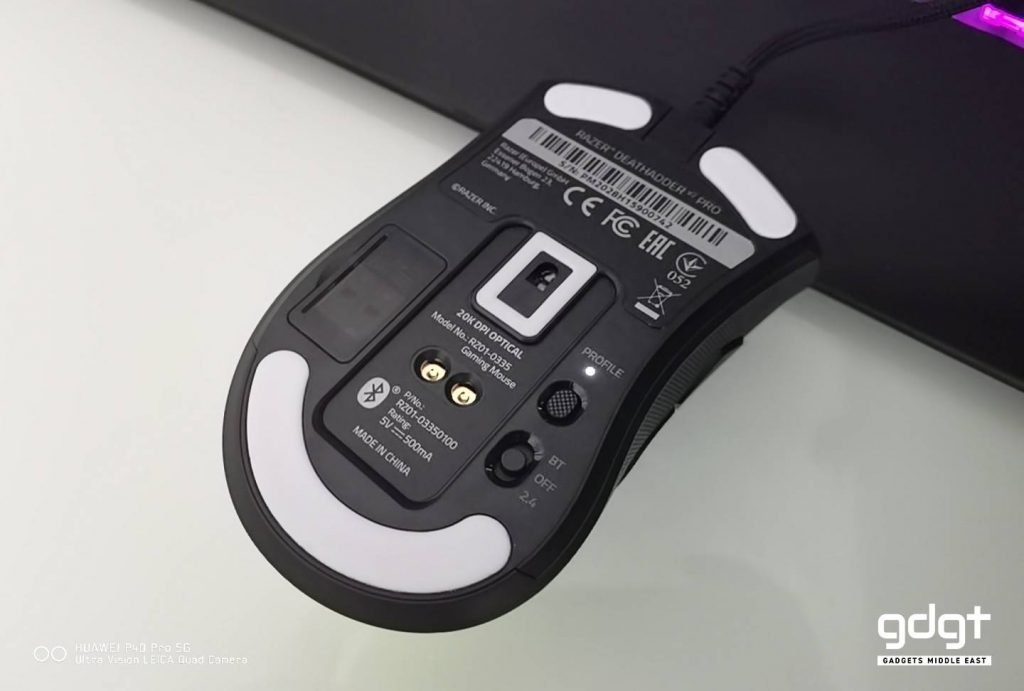 There are also two gold connectors here for connecting to the charging base, the Razer Mouse Dock Chroma dock (sold separately). The charging base is connected to the PC through a micro-USB connector and works as the wireless receiver.
At the front is the micro USB Type A to charge the mouse using the SpeedFlex cable or to use it in wired mode. The DeathAdder also supports Bluetooth or 2.4 GHz wireless using the included USB dongle.
Features & Performance
The Deathadder V2 features the Razer Focus + optical sensor with a 20,000 DPI, 650 IPS and acceleration of 50G. It also uses optical switches, which are much faster than mechanical ones. Razer's leading optical sensor boasts one of the highest specs, including smart features like Motion Sync, which tracks mouse movements flawlessly and can be calibrated according to preferences.
There are three modes of operation – via WiFi (2.4 GHz), Bluetooth or cable. All settings can be programmed with Razer Hypershift via the Razer Synapse software. This also applies to the available RGB lighting.
The DeathAdder V2 Pro also features HyperSpeed ​​Wireless technology, which ensures a lightning-fast and stable wireless connection. The existing battery lasts up to 120 hours with on Bluetooth and 70 hours on HyperSpeed before it needs to be charged. This can be done via the included Razer SpeedFlex cable, but also via Razer Mouse Dock Chroma (sold separately).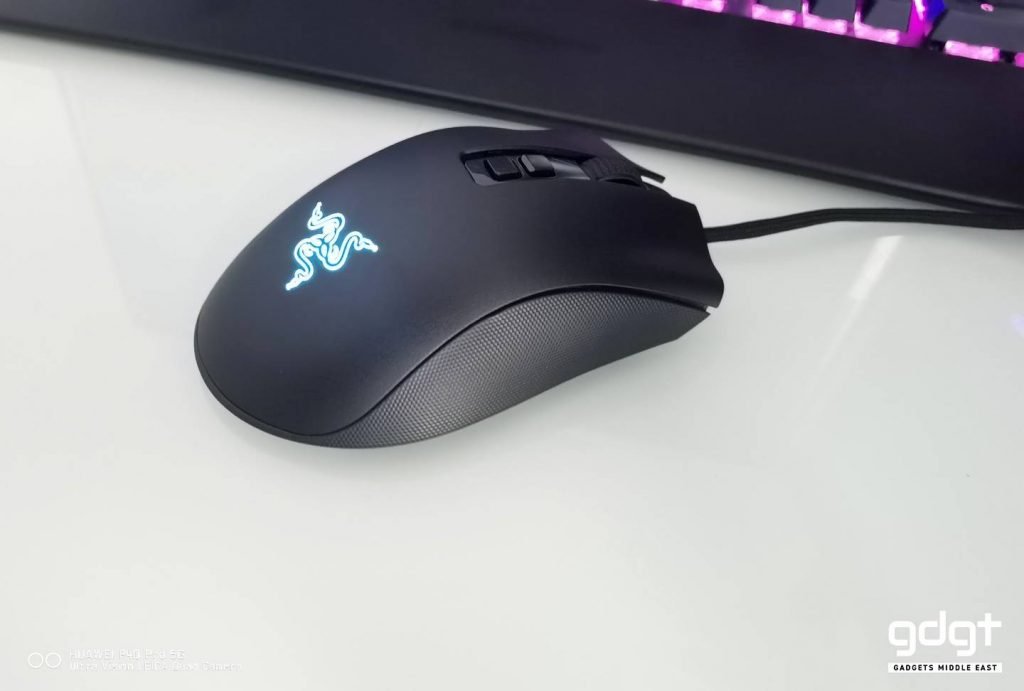 Each button can also be programmed through Razer Synapse 3 software. For quick access, the DeathAdder V2 Pro can save up to five profiles to its internal memory without any software.
During our two weeks of testing with several games and a suite of editing tools, the DeathAdder V2 Pro felt very responsive with no noticeable lags or delays on wired and 2.4Ghz HyperSpeed mode. However, we did notice occasional lags on Bluetooth mode.
Battery
The Razer DeathAdder V2 Pro offers an extended battery life up to 70 hours of continuous gaming on 2.4Ghz or up to 120 hours on Bluetooth mode. It can also be charged while gaming via the wired connection with the included Razer SpeedFlex cable, or via the Razer Mouse Dock Chroma (sold separately).
During our use, we found the battery to last nearly 50-60 hours with RGB lighting on.
Software
The Razer Synapse software helps with tweaking and adjusting lighting, performance, macros and profiles.
Performance, sensitivity, acceleration and polling rate can be adjusted along with lighting effects from 16.8 million colors that Chroma offers. There are also power options letting you select when to automatically turn off the mouse depending on inactivity
Verdict
The DeathAdder V2 Pro is a high-performance mouse with a design that prioritizes comfort and ergonomics. The sturdy build, high precision and minimal response time make this mouse perfect for enthusiast gamers for those long sessions.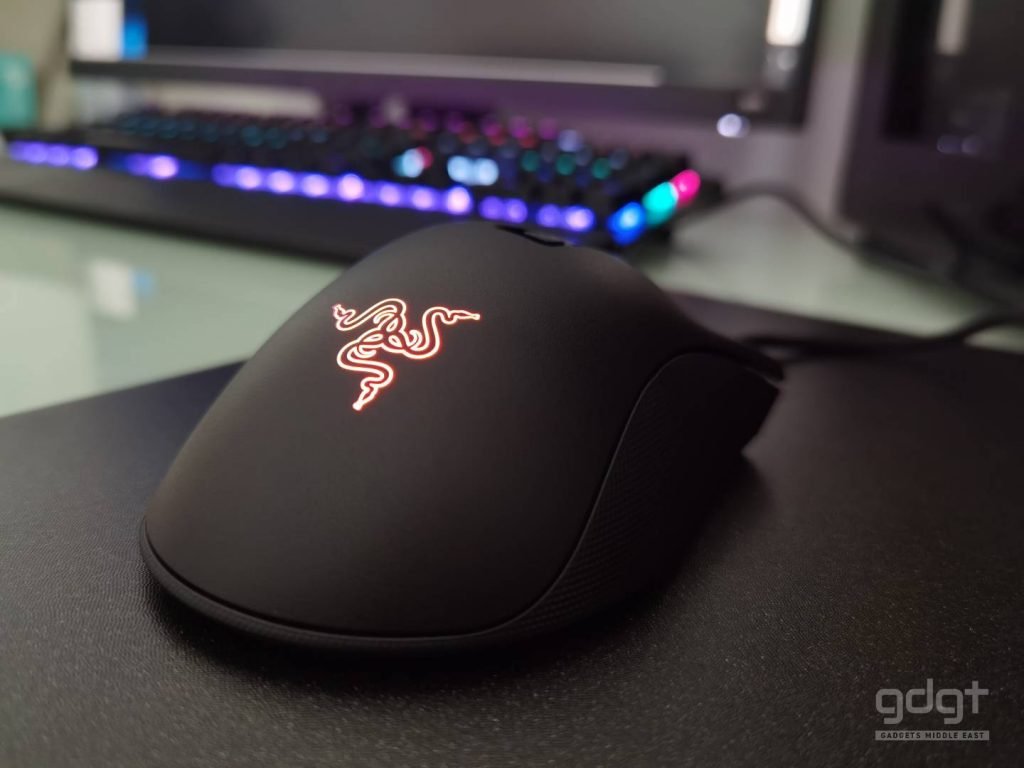 The excellent ergonomics of the original are now improved with the new Focus+ sensor with up to 20,000 DPI along with the new optical switches offers great precision and control.
The Razer DeathAdder V2 Pro is available in stores and costs 529 AED. To purchase, you can either visit the Razer website or participating retail stores.