Razer has been quietly testing out an 8000Hz polling-rate gaming mice behind the scenes. The final product is the Razer Viper 8K, an ambidextrous wired gaming mouse with an 8000KHz polling rate, eight programmable buttons, a new Razer Focus+ Sensor with a sensitivity of up to 20,000 DPI and 99.6% resolution accuracy, 650 IPS and 50G of acceleration for the highest possible precision.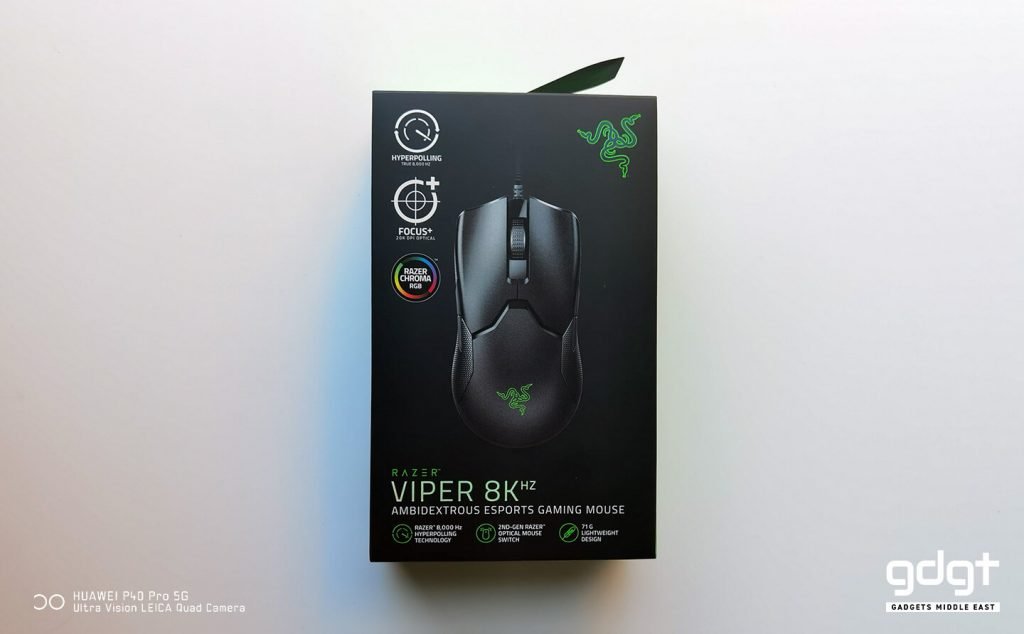 Polling rate refers to the rate at which a device checks, or polls for inputs and positional changes, and sends information back to your computer. Most mice have polling rate of 1000Hz, which means they can send instructions to your computer 1000 times per second. Razer Viper 8K offers a polling rate of 8000Hz, reducing delay to 1/8th of a millisecond (0.125ms); that's eight times better than the current best.
Apart from the upgraded internals, the Razer Viper 8K looks near identical same to its predecessor on the outside.
Highlights:
Razer 8000Hz HyperPolling Technology
Razer Focus+ 20K DPI Optical Sensor fine-tuned for pixel-perfect aim
2nd-gen Razer™ Optical Mouse Switch
71g lightweight design
On-board Memory for personalized settings
100% PTFE Mouse Feet
| | |
| --- | --- |
| SENSOR | Optical |
| SENSOR MODEL | Razer 5G Optical Sensor |
| MAX SENSITIVITY | 20,000 DPI |
| Max Speed (IPS) | 650 |
| Max Acceleration (G) | 50 |
| POLLING RATE | 8,000 Hz |
| PROGRAMMABLE BUTTONS | 8 |
| Switch Lifecycle | 70 Million Clicks |
| CONNECTIVITY | Wired – Speedflex Cable |
| MEASUREMENTS (LXWXH) | 126.73 mm x 57.6 mm x 37.81 mm |
| WEIGHT | 71g |
| SOFTWARE | Razer Synapse 3 |
Packaging & Design
The Razer Viper 8K mouse comes in the usual Razer black and green cardboard box and everything is well protected.
The package includes:
Razer Viper 8K mouse
Carry pouch
Quick start manual
A Thank you Letter
Razer stickers
Watch our quick unboxing video:
The Razer Viper has an ambidextrous, low-profile design with an aggressive look. It has RGB lighting on the Razer logo, but not around the scroll wheel. There are a total of eight buttons on the Razer Viper 8K and all of them can programmed via the Razer Synapse 3 software.
The mouse is built entirely using high-quality plastic with a matte finish and has injection-molded rubber grips that fully cover its left and right side to improve grip. With measurements of 126.73 mm x 57.6 mm x 37.81 mm and a weight of 71 grams, Its light and compact for quick, effortless movements.
The top part of the mouse looks simple but aggressive. There are the two main mouse buttons and the wheel. The mouse wheel is larger than usual and is covered with dotted rubber to improve grip, but does not feature a tilt click. We'd like to have seen the DPI switch here but instead it's placed at the base of the mouse, making it a bit difficult to access.
The mouse click buttons are satisfying and uses 2nd gen Razer Optical Switches to register clicks. With Razer's Optical Switches, no physical contact is required to send an electrical signal – it uses an infrared light beam that passes through a shutter to fire an electrical signal to the computer, the switches respond instantaneously to every finger press. And as no mechanical contact is needed, it allows for a durability of up to 70 million clicks.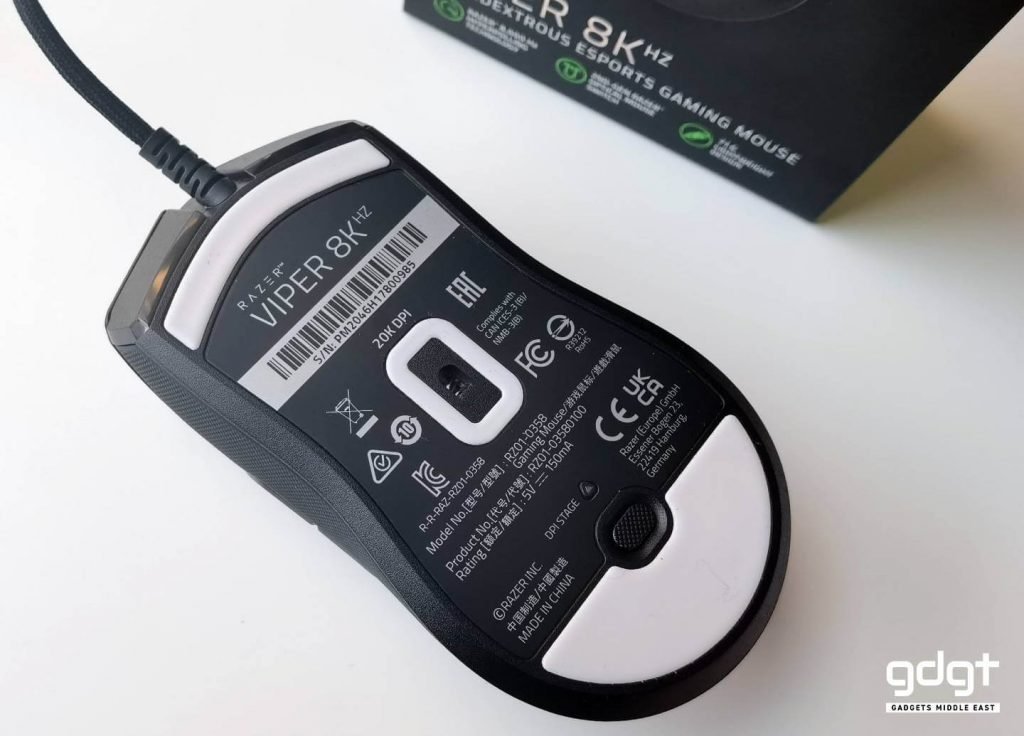 At the base are two high-quality 100% PTFE feet in white for smooth gliding, covering the entire width of the mouse. The optical sensor area also has a PTFE border. At the lower end are two buttons – one for switching between DPI modes and one for toggling between different onboard profiles saved onto the mouse.
The Razer Viper 8K is symmetrically designed and the mouse is perfect for both left and right-handed users. The two side buttons on either side are programmable, have a curved design and are easy to reach.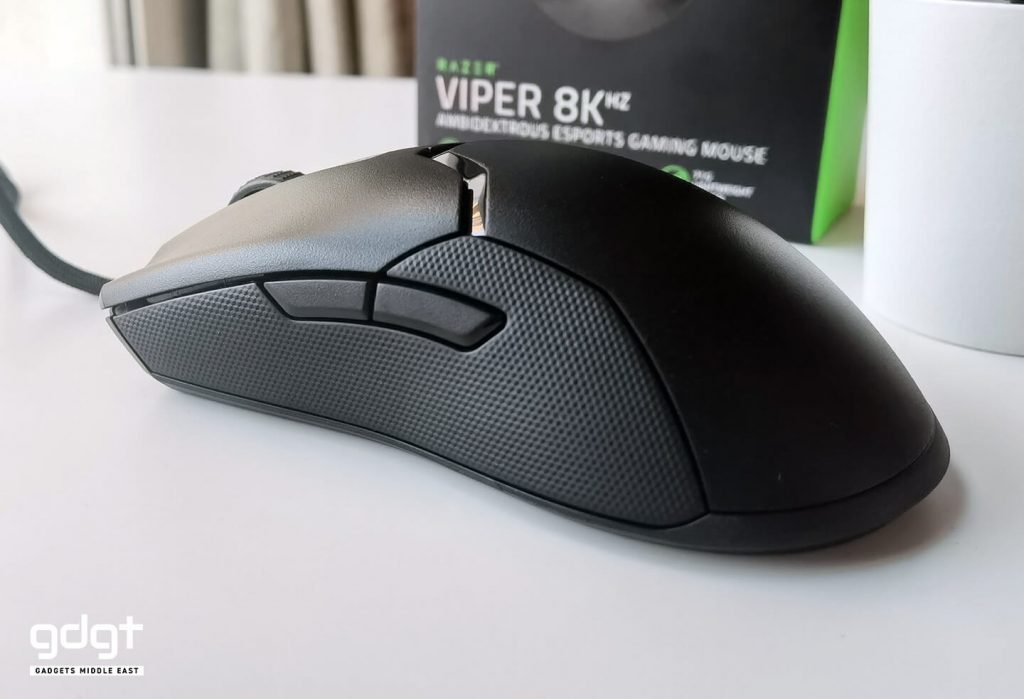 Overall, it looks and feels like a high-end gaming mouse, feels durable and well-built. Also, the curved shape at lower part of the mouse helps with better grip for fast movements.
Performance
Razer says true 8000Hz polling rate becomes more important with high refresh rate monitors, as it's able to send more current data to match the display's faster frequency. Mice with lower polling rates are less likely to keep up, which can result in annoying micro-stutters.
Because Razer HyperPolling Technology provides up to 8 times more frequent data reports per second, the delay between its latest report and your monitor's frame rendering is much less compared to that of a 1000Hz polling rate, resulting in smoother and more up-to-date cursor positions.
However, 8000Hz is overkill unless you have a monitor with an extremely high refresh, but the mouse can switch through different modes from 1000Hz-8000Hz and find the sweet spot for your use.
For the best experience, Razer recommends the minimum following specs:
Intel Core i5-8600K or AMD Ryzen 5 3600 processor
Nvidia GTX 1080 or AMD Radeon RX 5700
A high refresh-rate monitor at 144Hz or above with Adaptive-Sync (Nvidia G-Sync or AMD FreeSync) off
If you have an older system with a 60Hz or 120Hz monitor, its likely you're not going to notice a difference. But if you have a high-end GPU and a high refresh-rate monitor, the difference is noticeable.
The 144Hz refresh rate for the monitor is just the minimum recommendation. The faster your screen, the more you should notice the Viper 8K's benefits as the cursor's position gets updated more often and takes better advantage of the extra data.
In terms of performance, we noticed the cursor movements to be smoother and more precise compared to the DeathAdder V2 Pro, which led to small gameplay improvements. Even during daily use, we found the mouse to be very responsive and it did make a slight difference compared to 1000Hz mice.
Software
The Razer Viper 8K can be used out of the box and the default polling rate is set to 1000Hz and DPI to 400/800/1600/240/3200. These can be tweaked by installing the Razer Synapse 3 software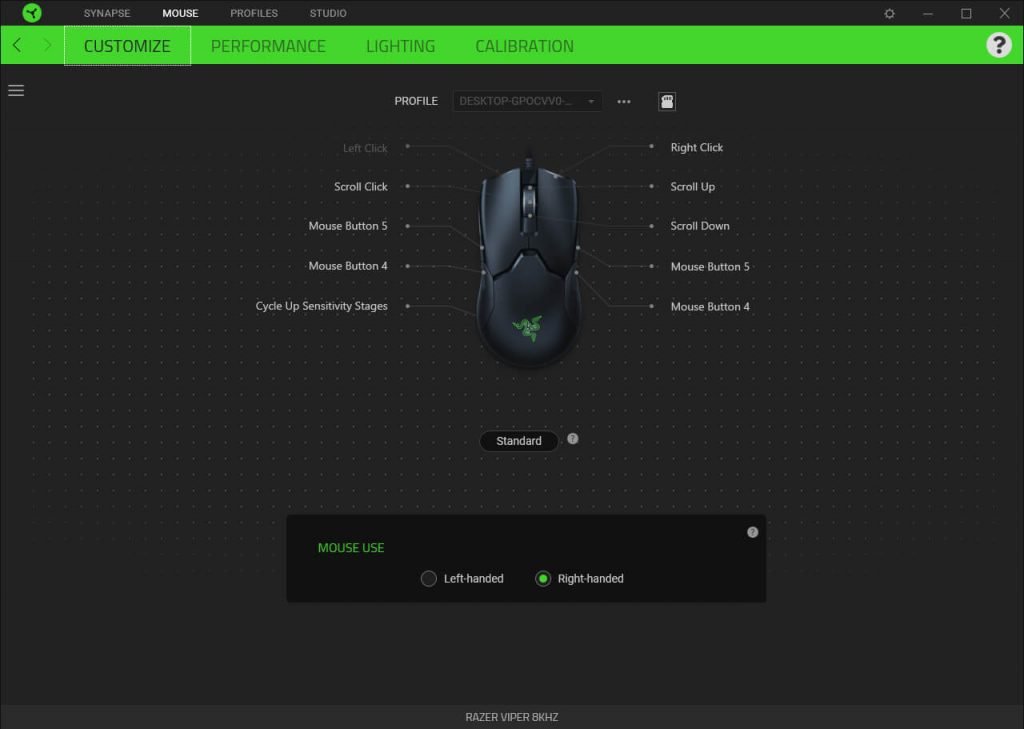 Once installed you can set left- or right-hand use, configure button mappings, lighting, adjust DPI settings, polling and calibrate for a specific mouse mat. The Viper 8K can also store up to five customized profiles via onboard memory that give you access to keybinds, macros, and secondary functions via the Razer HyperShift function.
Verdict
The Razer Viper 8K is a lightweight gaming mouse that's designed for speed and accuracy. It is designed from the ground up for Esports, to boost performance in fast-paced games and it is one of the fastest, most responsive gaming mice we've tested.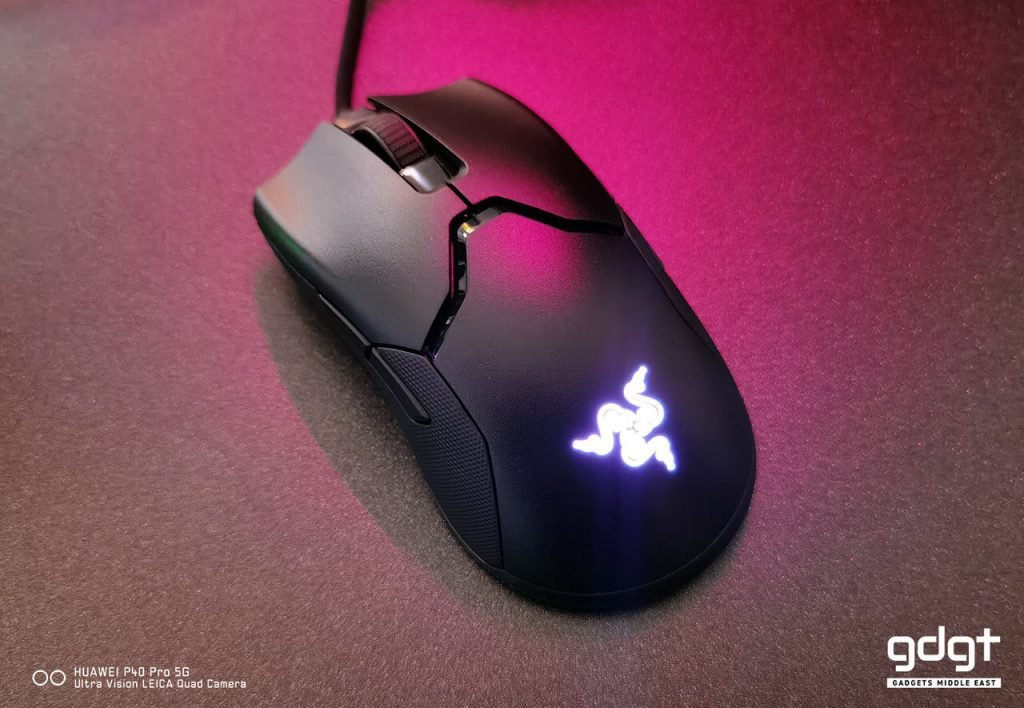 If Esports is not your forte and you just need a high-end gaming mouse, there are plenty of cheaper gaming mice out there. With that said, this is a mouse made for the future: 360Hz Esports monitors, Nvidia Reflex and the new Nvidia RTX 30 and AMD RDNA 2 GPUs. And since the Razer Viper 8K replaces the original Viper at the same price of $79.99, it's an easy recommendation for competitive players.
To purchase, you can either visit the Razer website or participating retail stores.