The Razer Naga Pro is the newest addition to the Razer HyperSpeed ​​wireless line with a modular three-in-one design, first introduced by the Naga Trinity.
The Naga Pro allows gamers to adapt to different games with its modular, magnetically interchangeable side panels, with layouts of two, six or twelve programmable buttons. This makes it a practical option for all genres, especially those that require multiple commands in MOBA, MMO, and RTS games.
The Naga Pro also comes with well-known Razer technologies such as the 2.4 GHz HyperSpeed connection, through which the latency is be kept to a minimum even without cables; Razer Synapse for tweaking settings and Razer Chroma for syncing the RGB lighting with other accessories.
In terms of performance, the Razer Focus+ optical sensor with its 20,000 DPI resolution assures the highest possible precision, while the buttons should withstand 70 million clicks. The battery lasts 100 or 150 hours depending on the connection method but the mouse can be charged and used at the same time.
Highlights
3 interchangeable side panels for custom configuration
Razer HyperSpeed ​​Wireless for a faster connection than wired mice
19 + 1 programmable buttons for extended controls
Razer Focus + 20K DPI Optical
Razer Optical Mouse Switch
3 connection modes – HyperSpeed ​​Wireless / Bluetooth / Wired.
Packaging & Design
The Naga Pro measures 119 x 75 x 43 mm and weighs 120 grams. It certainly is not a small mouse but easily adapts to different kinds of hand sizes and has great ergonomics.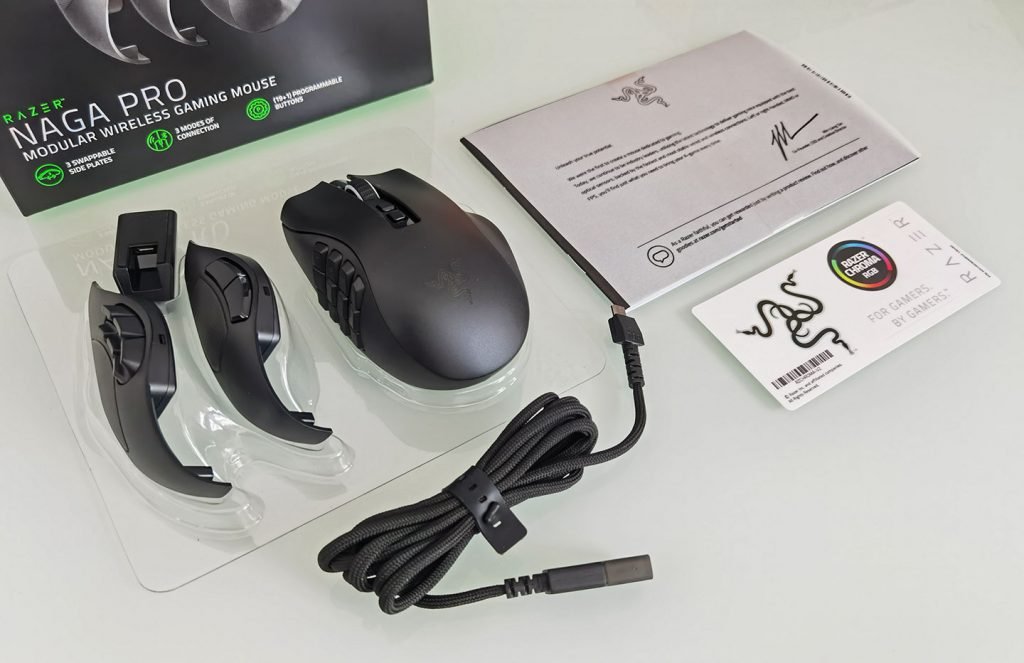 At the front is the micro USB connector which can be used to charge the mouse or to use it in wired mode.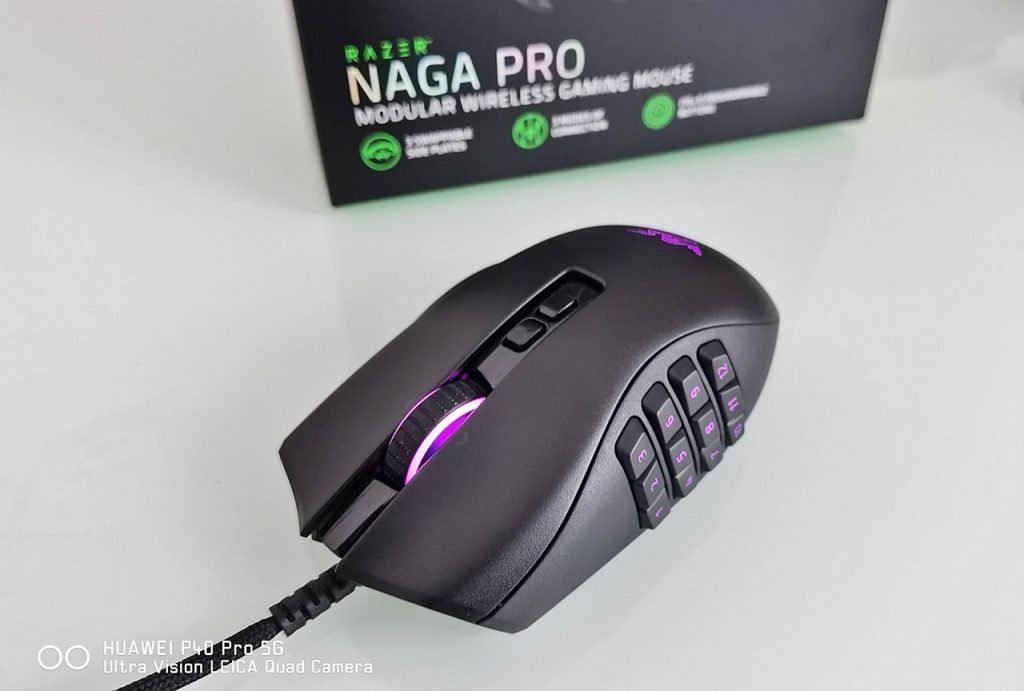 On the top are the two main buttons, illuminated scroll wheel which can be tilted left and right, and two more buttons which are programmable.
At the base of the Razer Naga Pro is the laser sensor with up to 20,00 DPI. Next to the sensor is the switch to toggle between, wireless, bluetooth and wired mode.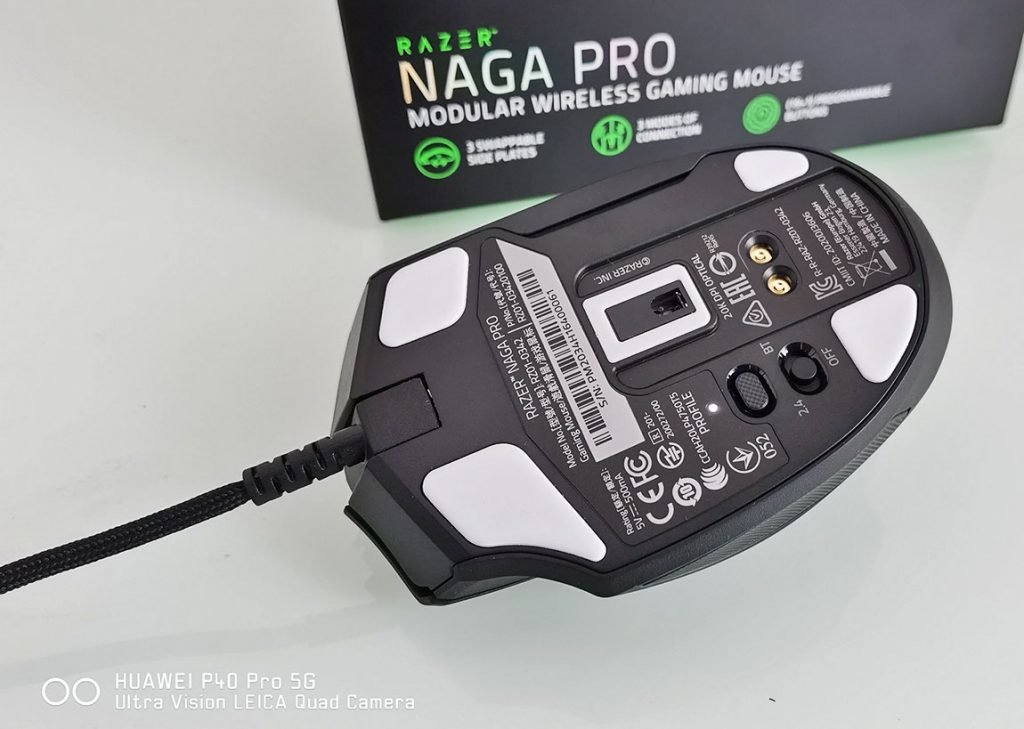 There are also two gold connectors for connecting to the charging base. The charging base is connected to the PC through a micro-USB connector and works as the wireless receiver. The Naga Pro also has space within the mouse to store the USB adapter, which is handy.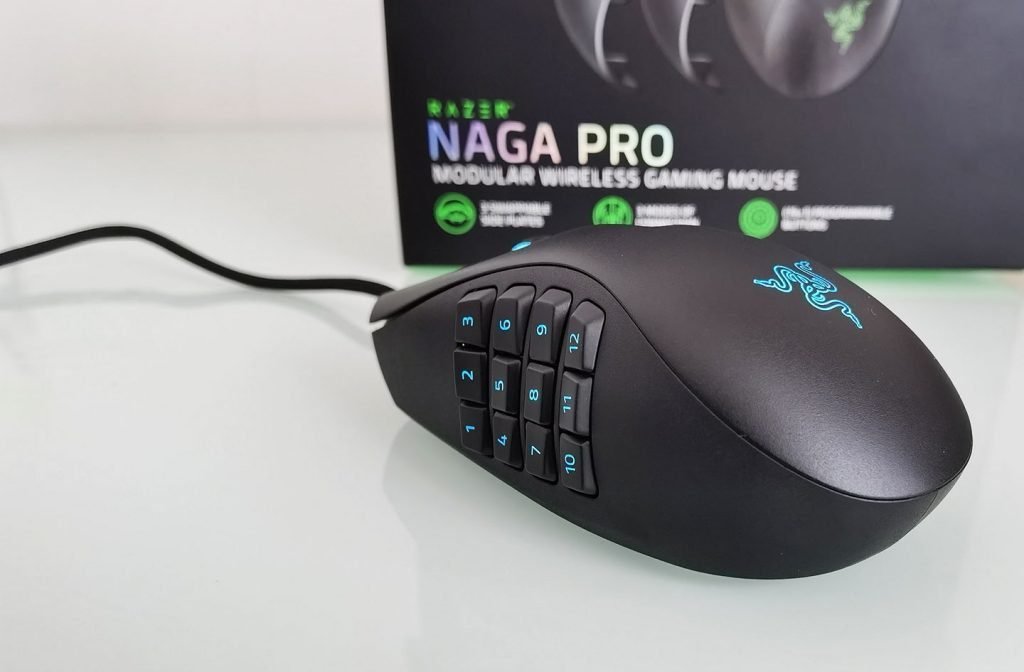 The revamped modular design features three attachable magnetic side panels with two, six, and twelve programmable buttons. Each side panel is designed with button layouts for specific game types: the 12-button panel for MMO / RTS games, the six-button for MOBA and two button panel forFPS games.
With Razer Hypershift which accessible via Razer Synapse software, each button can also be assigned a secondary function for maximum control and customization
Features & Peformance
The 12-button side panel features the most buttons to optimize macro and skill rotation, and are ergonomically positioned for instant access.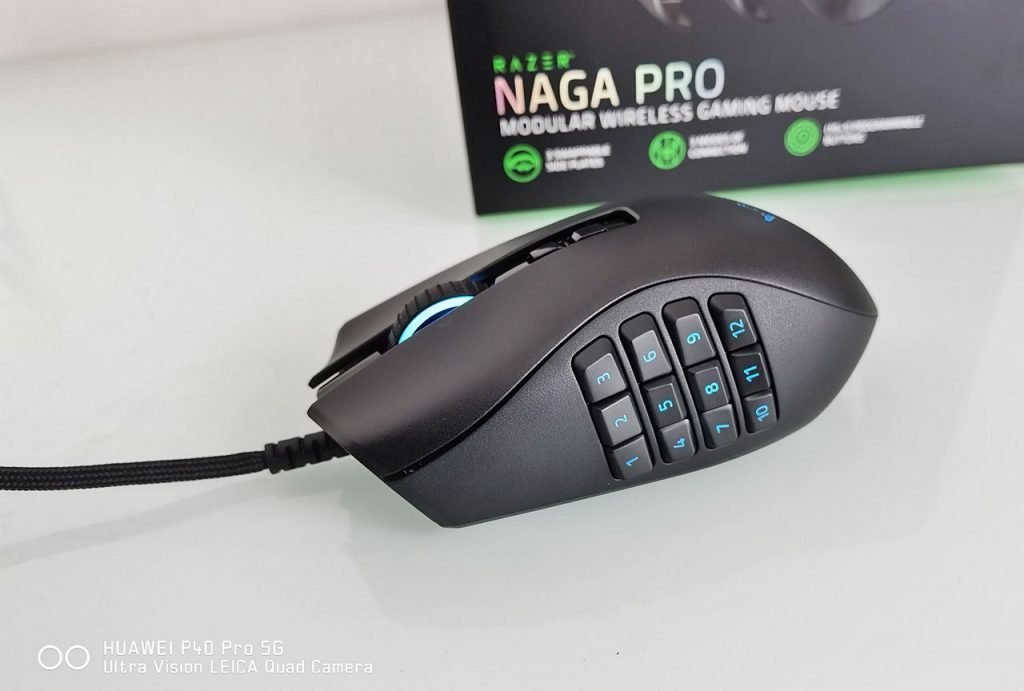 The 6-button side panel offers a balance of control and accessibility. The buttons are arranged in two rows for quick access to skills and items, and it comes with a side grip.
The 2-button side panel is the standard setting for FPS games. Its larger rubber grip provides maximum and is complemented by two buttons for essential commands such as crouching or sniping.
There are three modes of operation of the Razer Naga Pro, via WiFi (2.4 GHz), Bluetooth or via cable. All settings can be programmed with Razer Hypershift via the Razer Synapse software. This also applies to the available RGB lighting.
The Razer Naga Pro also features HyperSpeed ​​Wireless technology, which ensures a lightning-fast and stable wireless connection. The existing battery lasts up to 150 hours with a Bluetooth connection before it needs to be charged. This can be done via the included Razer SpeedFlex cable, but also via Razer Mouse Dock Chroma (sold separately).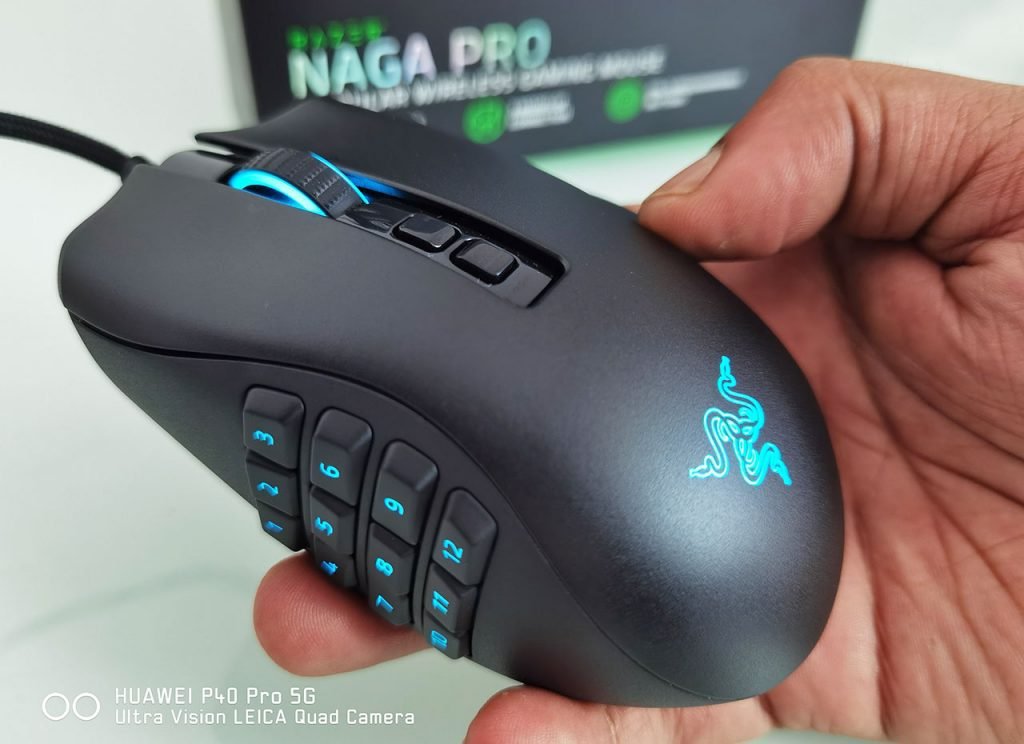 The Naga Pro features the Razer Focus + 20K DPI optical sensor. It also uses optical switches, which are much faster than mechanical ones. Razer's leading optical sensor boasts one of the highest specs, including smart features like Motion Sync, which tracks mouse movements flawlessly and can be calibrated according to preferences.
Each button can also be configured with a secondary function for better control and customization, through Razer Synapse 3 software. For quick access, the Naga Pro can save up to five profiles to its internal memory without any software.
The 6-button and 2-button side panels felt the most comfortable and practical as there is enough room between the buttons for precise clicks. The 12-button layout is a bit tricky to use and can take some time getting used to. The Naga Pro felt very responsive with no noticeable lags or delays in wired and 2.4Ghz Hyperspeed mode. However, we did notice occasional lags on Bluetooth mode.
Battery
The Naga Pro offers an extended battery life up to 100 hours of continuous gaming on 2.4Ghz or up to 150 hours on Bluetooth mode. The Naga Pro can also be charged while gaming via the wired connection with the included Razer SpeedFlex cable. Additionally, the Naga Pro can be charged wireless via the Razer Mouse Dock Chroma (sold separately).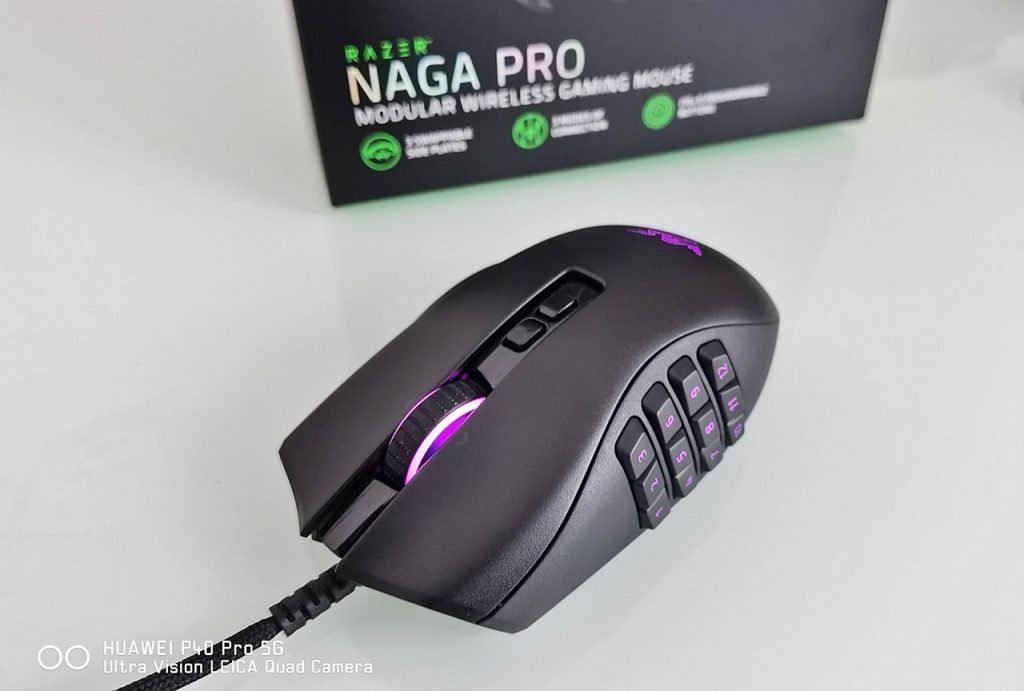 During our week long of use, we found the battery to last nearly 60 hours with RGB lighting and are still left with about 20% of battery. However, it is possible to play and charge the Razer Naga Pro at the same time.
Software
The Razer Synapse software helps with tweaking and adjusting lighting, performance, macros and profiles.
Performance, sensitivity, acceleration and polling rate can be adjusted along with lighting effects from 16.8 million colors that Chroma offers. There are also power options letting you select when to automatically turn off the mouse depending on inactivity.
Conclusion
The newly introduced Razer Naga Pro is an innovative three-in-one gaming mouse.
The ability to use it wireless or wired along with the three interchangeable side panels and the Razer Synapse software makes it one of the most adaptable and versatile gaming mice available today.
In total, you can program up to 20 buttons to customize the Naga Pro to your needs. Each key can also be assigned a secondary function via Razer software. The Naga Pro also has five on-board memory profiles for quick access, without the need for software.
The Razer Naga Pro is available in stores and costs 550 AED. To purchase, you can either visit the Razer website or participating retail stores.