The Razer Huntsman Tournament Edition is a new tenkeyless keyboard (doesn't feature a number pad) powered by infrared-light Opto-Mechanical switches. This keyboard is part of Razer's lineup that includes the Huntsman and the Razer Huntsman Elite.
Specifications
Switches
Razer Linear Optical Switch
Lighting
Razer Chroma backlighting with 16.8 million customizable color options
Connectivity
Wired – Detachable Type-C
Onboard memory
Hybrid onboard storage – up to 5 profiles
Other Features
Razer™ Linear Optical Switch with 40 G actuation force 100 million keystroke lifespan
Standard Bottom Row Layout
Compact form factor
Wired – Detachable USB-C Braided Fiber Cable
Fully programmable keys with on-the-fly macro recording N-key roll-over with built-in anti-ghosting Gaming mode option
1000 Hz Ultrapolling
Aluminum matte top plate
Packaging
The Razer Huntsman Tournament Edition comes in a Razer branded black and green box. The packaging includes: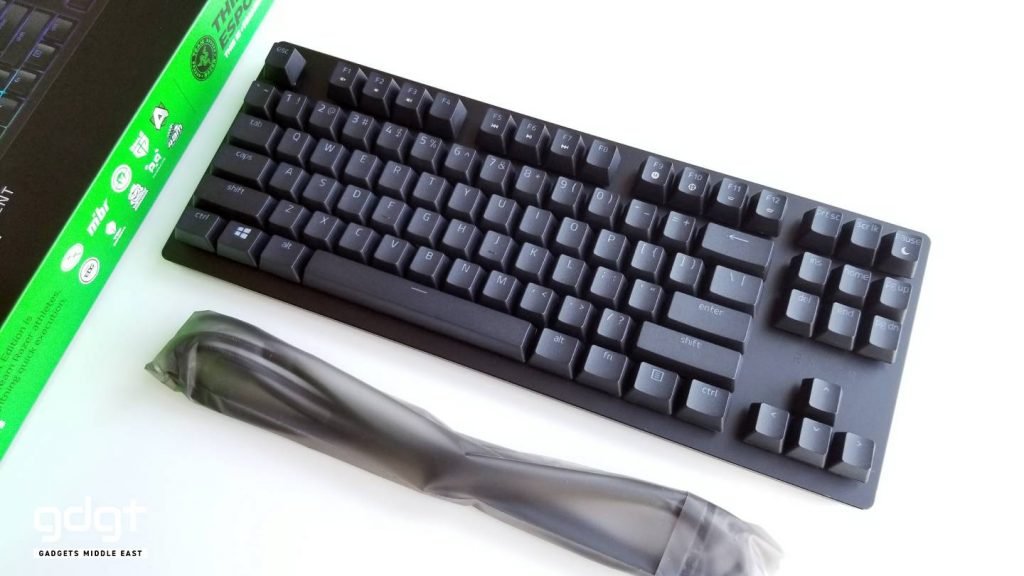 Razer Hunstman Tournament Edition keyboard
Detachable USB-C cable
User guide
Razer stickers
Design & Features
The Razer Huntsman Tournament Edition is a tenkeyless keyboard, which means that it doesn't have a numpad and is really compact which makes it perfect for small workspaces.
The keyboard feels solid without being too heavy and features Razer's proprietary Linear Optical Switches. In terms of connectivity, the keyboard uses a braided, detachable USB-C cable which is great for portability and can be easily replaced. There are no dedicated media keys here either, instead they are integrated with function keys.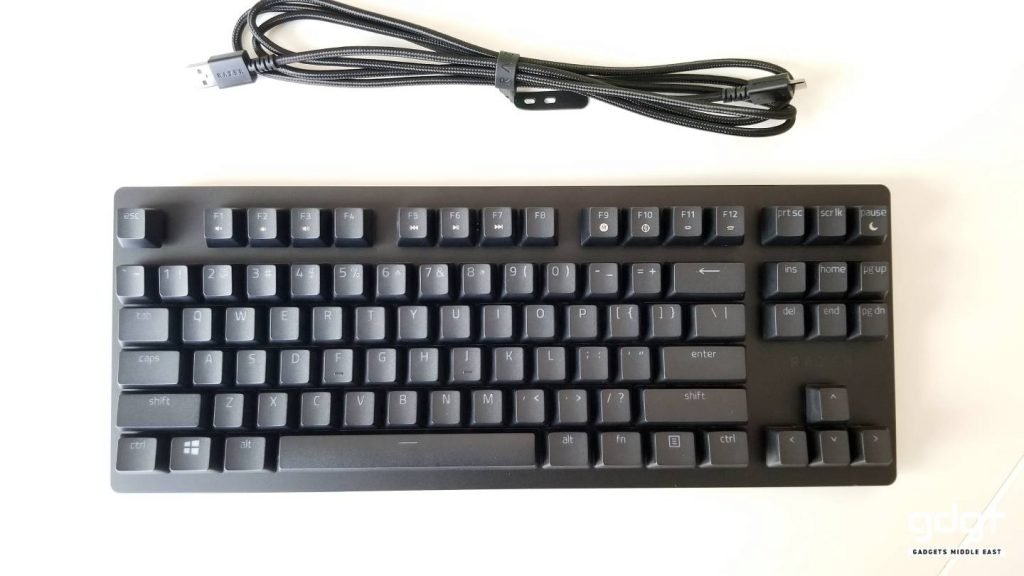 The keycaps are made of PBT – harder and more durable than ABS or PVC, PBT is a thermoplastic that gives the keycaps their premium feel and quality along with a tough, textured finish that holds up well against intense use.
The Razer Huntsman TE also features full RGB backlighting, which can be easily customized via Razer's Synapse 3 software. The lighting looks a bit dim but is still visible and not too over the top.
The overall build quality is excellent, it is mostly made out of hard plastic with an aluminum top frame for rigidity. The keyboard supports two incline modes but it does not come with a wrist rest.
Performance
The Razer Huntsman TE is the first keyboard to feature Razer's new Linear Optical Switches. It's incredibly fast with an actuation distance of just 1 mm. While this gives a very responsive feel, it causes accidental keystrokes to register when typing. However, they are great for gaming and registers keystrokes extremely fast.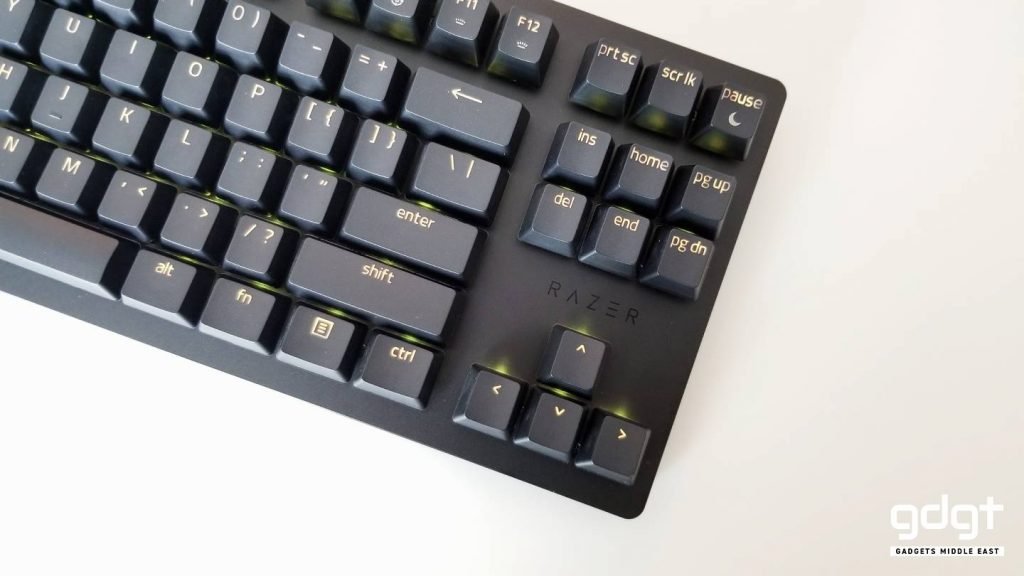 Unlike traditional mechanical switches that have a lot of moving parts and actuate via a contact, Razers Optical Switch enables actuation via light. When you press a key and a light beam instantly passes through the switch stem and sends a corresponding signal to the computer. Since Optical Switches eliminate switch degradation almost entirely, Razer rates this for a durability of up to 100 million keystrokes, compared to the industry standard of 50 million.
The PBT keycaps have a textured feel to them and the typing experience feels very responsive and the typing noise on this keyboard is quiet.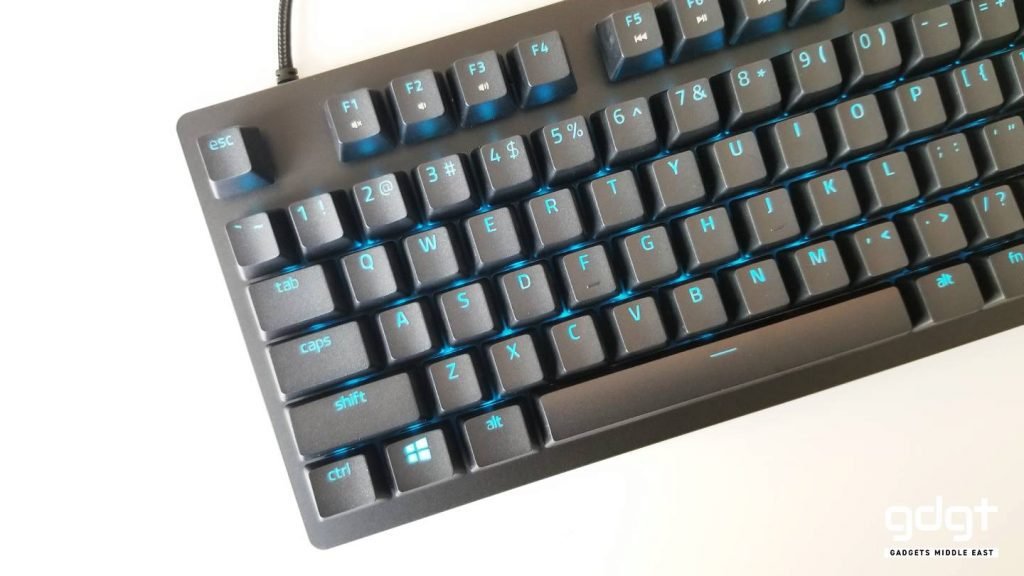 Software
The Razer Huntsman TE has full RGB backlighting and it can be customized via Razer's Synapse 3 software. Every key on the keyboard can be customized individually and the keyboard has on-board memory to store up to five profiles.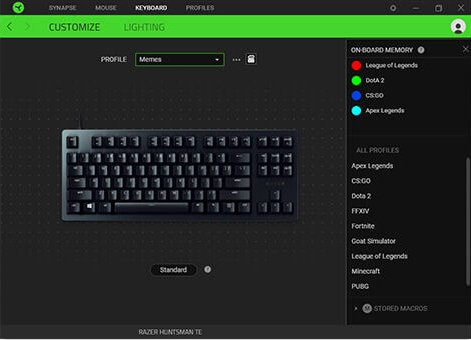 Verdict
Razer's Huntsman Tournament Edition is a solid keyboard designed with esports in mind. If you're looking for a keyboard that's quick, reliable and portable for competitive gaming, this is an easy recommendation. The only downside is that there is no wrist rest and it is somewhat expensive.