ASUS Republic of Gamers (ROG) today announced the Zephyrus Duo 15 SE, a special edition of its dual-screen gaming laptop. The new gaming laptop combines an upgraded 15.6-inch main display with the critically acclaimed ROG ScreenPad Plus, which provides touchscreen controls on a 14.1-inch secondary display that enhances everything from gaming and streaming to content creation and multitasking.
The new Zephyrus Duo 15 SE also incorporates up to a next-generation AMD Ryzen 9 5900HX Mobile Processor and an NVIDIA GeForce RTX 3080 GPU. Its innovative AAS Plus cooling system features redesigned fans that help dissipate up to 165W of combined processor power. A premium 4K 120 Hz panel displays uncompromising visuals for both gaming and creative work.
A broader range of configurations makes the Zephyrus Duo 15 SE's secondary screen accessible to a larger audience. All models incorporate quad speakers with Dolby Atmos to enhance audio output, advanced noise canceling to clean up voice communication, a microSD slot that simplifies accessing media, and fast-charging support that boosts real-world mobility. They also share an all-metal body with a new Dot Insight aesthetic that blends professional looks with subtle, laser-polished accents.
KEY POINTS
ROG ScreenPad Plus: 14.1" second screen with touch and stylus support opens up new possibilities for streaming, content creation, and multitasking.
Next-gen GPU and CPU: Up to a GeForce RTX 3080 laptop GPU and AMD Ryzen 9 5900HX Mobile Processor provide unmatched horsepower.
Upgraded main display: 120 Hz 4K 100% Adobe RGB offers high refresh rates with Adaptive-Sync and Pantone Validated color.
Innovative cooling: Upgraded AAS Plus thermal module with liquid metal allows more power to be fed to processors without increasing noise levels.
ROG ScreenPad Plus
The ROG Zephyrus Duo 15 SE puts the same ScreenPad Plus secondary display on a tilting platform that enhances comfort and utility while also opening a large intake that improves airflow for the cooling system. When the laptop is opened, the ROG ScreenPad Plus rises up at a 13° angle for easy viewing and touchscreen interaction. This motion is fluid and carefully choreographed by a custom hinge that staggers the rise of the displays.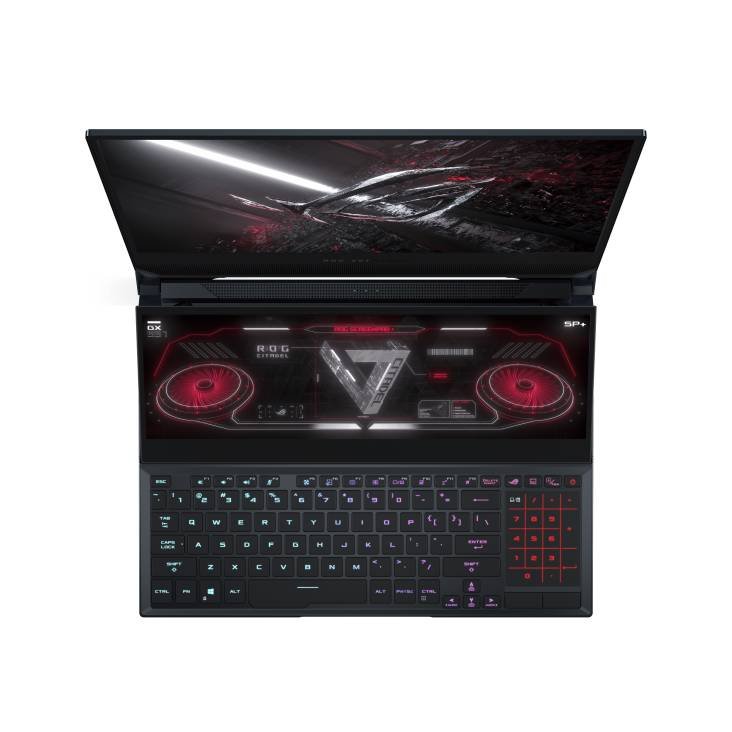 At 14.1″, this is the largest second display available in a production gaming laptop. The IPS panel stretches wide viewing angles across the full width of the body and provides large amounts of extra space. Gamers can enjoy a smoother experience by playing on the main screen while keeping chats and broadcast controls accessible below. Content creators can work on the primary display without clutter, keeping their toolbars, timelines, and reference materials on the second screen. Other types of multitasking also benefit from an extension of the desktop. The touchscreen even works with the ASUS Pen active stylus, allowing users to handwrite and sketch.
Next-gen GPU and CPU
The Zephyrus Duo 15 SE backs up its high-refresh display options with up to a GeForce RTX 3080 laptop GPU. Thanks to advanced cooling and ROG Boost, the chip is able to run up to 1645 MHz at 115W with ROG Boost, with another 15W available from Dynamic Boost — a higher power envelope than similarly slim laptops can match.
More power helps the GPU deliver fast and fluid gameplay in everything from intense shooters to cinematic RPGs. This GPU is based on a new NVIDIA Ampere architecture with updated CUDA cores for programmable shading, enhanced RT cores for real-time ray tracing, and upgraded Tensor cores for accelerating AI. This versatile combination enhances gaming performance and graphics in addition to speeding up other workloads like image processing, 3D modeling, and deep learning. It's also backed by up to a massive 16GB of GDDR6 VRAM reserved exclusively for the GPU.
An AMD Ryzen 9 5900HX Mobile Processor with 8 cores and 16 threads provides a substantial boost to any workload. Built on cutting-edge 7nm fabrication technology, which is designed to deliver a more immersive laptop gaming experience, and it also powers through serious work like 3D rendering, content creation, and intensive multitasking.
With up to 32GB of combined onboard and SO-DIMM memory, there's plenty of DDR4-3200 RAM for multitasking across multiple displays. Users have the freedom to broadcast high-quality streams while using chat software, to work on large projects and datasets, and to open as many browser tabs as needed without delay.
Upgraded main display
The Zephyrus Duo 15 SE takes its main screen into a new Ultra HD era with a 4K panel that refreshes at 120 Hz and has an esports-grade 3ms gray-to-gray response time. With full coverage of the wide-gamut Adobe RGB color space, this premium display option balances professional-grade content creation with smooth and sharp gaming.
Adaptive-Sync technology is implemented to match the refresh rate of the panel with the frame rate of the GPU. Closely coordinating these components enhances gaming immersion by eliminating visual tearing, minimizing perceptible stuttering, and reducing input lag.
The IPS-level displays are also calibrated at the factory to comply with stringent Pantone validation requirements. This process guarantees color accuracy, giving creators the fidelity they need and allowing gamers to experience graphics as the developers and artists intended.
Innovative cooling
ROG redefined ultra-slim laptop cooling with the original ROG Zephyrus, whose Active Aerodynamic System (AAS) improved airflow by exposing a 7–10mm intake across the bottom of the laptop when the user lifts the lid, allowing more power to be fed to the processors without an increase in noise levels.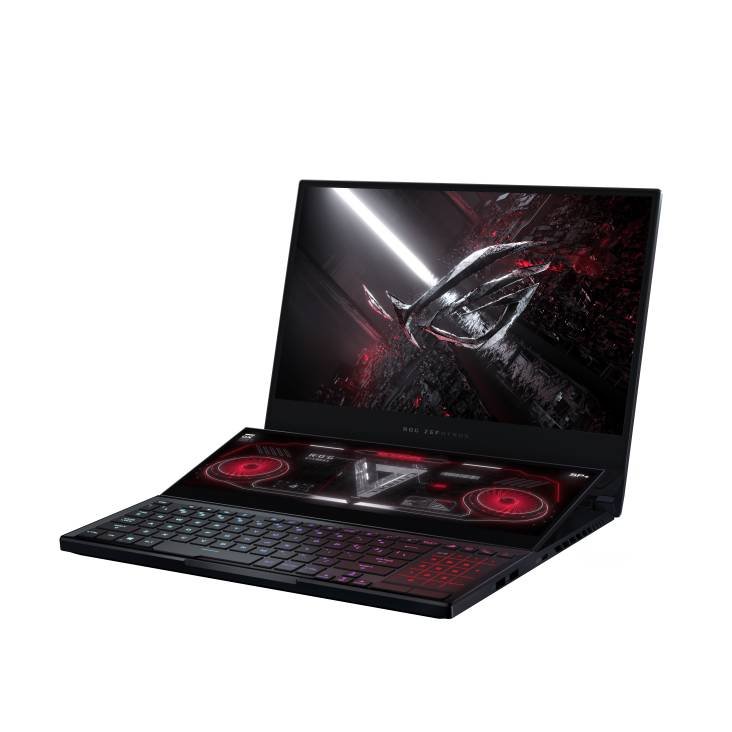 To add further cooling headroom, the CPU is covered with Thermal Grizzly's liquid metal compound, which reduces processor temperatures by as much as 10°C compared to standard thermal paste. The cooling module's five heat pipes draw thermal energy away from the CPU, GPU, VRAM, and VRM. They distribute it across four heatsinks filled with ultra-thin fins that maximize the area for thermal dissipation while decreasing resistance to airflow.
Cooling requirements change based on the task, so ROG offers multiple modes tuned for different situations. Silent mode reduces speed slightly to keep acoustics low, which is ideal for everyday tasks. Performance mode provides the horsepower required to push high frame rates in games without excessive noise.
Turbo mode overclocks the CPU by 200 MHz to enable even higher performance with a louder fan profile. Users can switch between operating modes manually with a quick keyboard shortcut or automatically with Scenario Profiles.
All the I/O needed for gaming on the go
Extensive connectivity lets the Zephyrus Duo 15 SE power a full battlestation or serious workstation. The USB 3.2 Gen 2 port supports DisplayPort™ 1.4 for desktop monitors, and an HDMI 2.0b output can drive a 4K monitor or TV at 60 Hz. Three Type-A USB ports accommodate additional peripherals, including a mouse, gamepad, and VR gear. ROG has also added an ultra-fast microSD 4.0 reader capable of speeds up to 312MB/s, so users can quickly load footage from drones, action cameras, and other portable devices.
ROG gives users high-speed wireless connectivity with Wi-Fi 6, also known as 802.11ax. When combined with a compatible router, Wi-Fi 6 increases peak interface bandwidth up to 2.4Gbps and improves efficiency for crowded networks like those found in busy offices and coffee shops. It also lowers latency, which reduces lag for sensitive activities like online gaming, and it expands upstream capacity, which provides more bandwidth for livestreaming. For users who would rather plug in, the Gigabit Ethernet jack at the back of the system provides the lowest possible latency for serious multiplayer gameplay.
AVAILABILITY & PRICING
ASUS ROG Zephyrus Duo 15 SE will be available from 22th April 2021 in UAE from Virgin Megastore, Jumbo, Sharaf DG, and Computronic. Pricing starts at 17,999 AED
The 300hz FHD display edition will be available on 6th May priced also at 17,999 AED.