The Sablute SG is a mechanical gaming keyboard that offers an extensive range of features, making it a versatile option suitable for gamers, professionals, and tech enthusiasts. Its compact design adds to its appeal, providing convenience without compromising functionality.
A notable highlight of the Sablute SG is its triple-mode keyboard functionality. Equipped with Bluetooth, a 2.4GHz wireless connection, and a USB-C wired mode, this keyboard seamlessly connects to a diverse array of devices, including smartphones, laptops, tablets, and Apple Mac computers. This versatility ensures compatibility across multiple platforms.
The Sablute SG features a 60% compact form factor that proves to be an ideal choice for FPS gaming. By removing the numpad, this keyboard creates more space for precise mouse movements.
In addition to its impressive functionality, the Sablute SG is equipped with a high-capacity battery that delivers exceptional performance. With the backlight feature turned off, the keyboard provides up to 600 hours of continuous usage, ensuring extended gaming or work sessions without the need for frequent recharging. Moreover, the keyboard boasts an impressive standby time of up to 360 days, guaranteeing that it remains ready for action whenever you need it.
Available at a regular retail price of $69.99, the Sablute SG 60% RGB Gaming Mechanical Keyboard can now be purchased at a discounted price of $44.99 on Amazon.
Specifications
Material
Metal Backplate
Key caps
ABS
Key switches
SABLUTE red switches
Lighting
20 unique lighting effects 4 levels of adjustable backlight brightness 4 levels of dynamic backlight speed
Connectivity
2.4GHz Wireless
Bluetooth
Detachable Type-A
Keystroke lifespan
50 million
Battery life
1600 mAH
Weight
0.53kg
Dimensions
291mm*102mm*39 (L*W*H)
Packaging
The packaging comes in a black packaging with photos and specifications on the sides. The box is durable and the keyboard and accessories are well protected.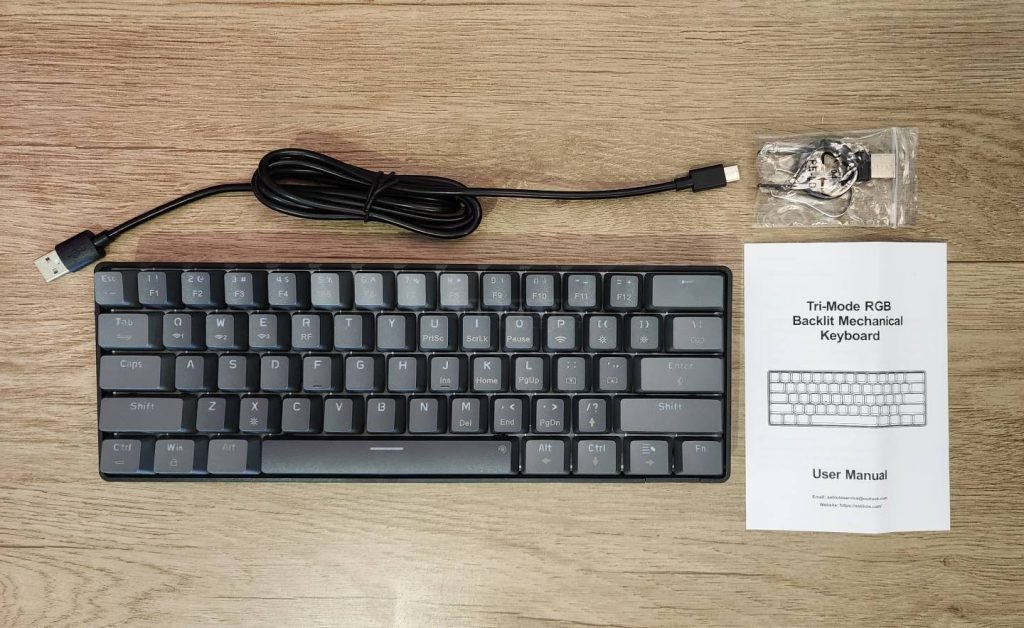 The packaging includes
SABLUTE SG Mechanical Gaming Keyboard
User manual
Keycap puller
Switch puller
USB Type-A to Type-C cable
Design
The highlight of the SG Keyboard is its compact form-factor, with a total of 61 keys with a length of approximately 29mm. This smaller form factor caters specifically to gamers who desire reduced spacing between keys, while also freeing up valuable desk real estate.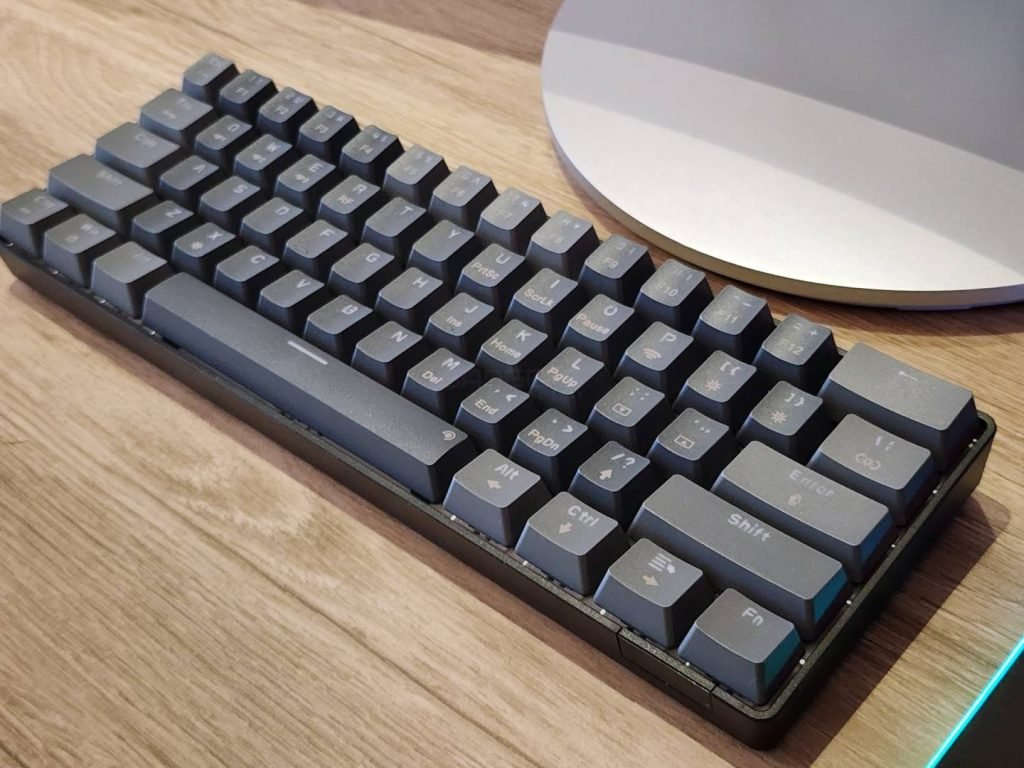 With its stepped design, this keyboard presents an ergonomic layout that effectively reduces hand pressure and minimizes fatigue, enabling extended gaming or work sessions without discomfort. Constructed primarily of plastic, the keyboard features a sleek matte black texture finish. It includes a keyboard riser and is equipped with six rubber feet, ensuring stability and preventing any unwanted movement during intense usage. A metal backplate is integrated to safeguard the PCB from potential bending.
The keycaps of the SG Keyboard are made of ABS double-shot plastic, a textured material similar to the keyboard's body but with a distinct colour scheme. The switches, known as Red Axis switches, utilize three-pin connectors and provide a satisfying typing experience, however it has a soft feedback.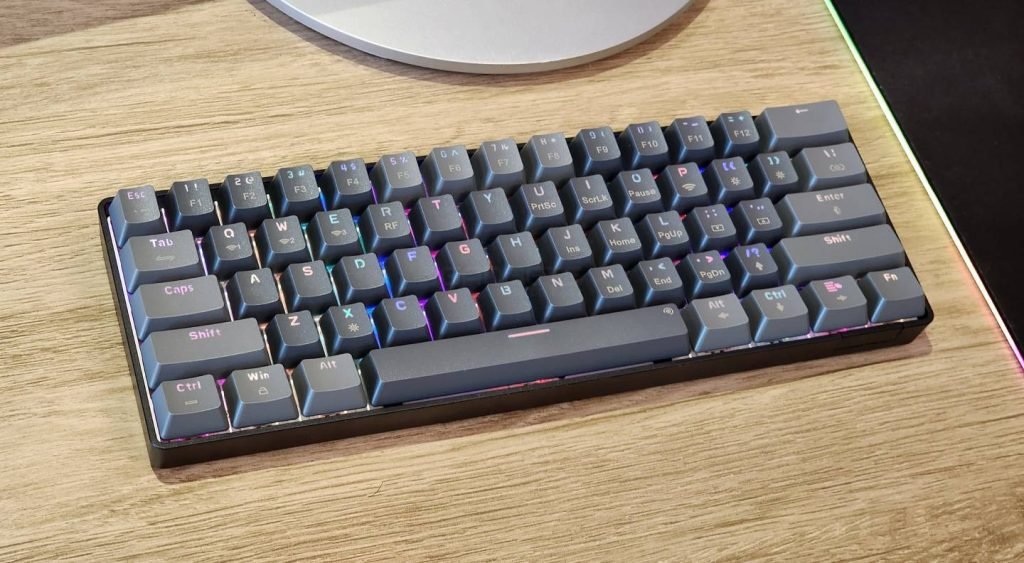 The SG offers both wired and wireless functionality, offering a versatile range of connectivity options. It supports Bluetooth and 2.4GHz wireless connectivity, as well as USB-C wired mode, ensuring a fast and reliable connection across various setups. Notably, the SG Keyboard incorporates a Hot Swap PCB, granting users the freedom to replace switches effortlessly without encountering any soldering issues. Additionally, the keyboard houses a sizable battery, providing an impressive runtime of up to 600 hours on a full charge.
Located at the rear is an on/off button and a slot to securely store the USB dongle. For users who prefer an elevated typing angle, the SG Keyboard features two adjustable kickstands. At the top of the keyboard, a Type-C port facilitates wired connectivity for added convenience.
When it comes to RGB lighting, the keyboard delivers a multitude of customization options. With its 20 unique lighting effects, four levels of adjustable backlight brightness, and four levels of dynamic backlight speed, the SG Keyboard allows users to create a myriad of personalized visual experiences. This compact keyboard truly empowers individuals to curate their desired ambiance.
Connectivity
The SABLUTE SG has three different mode connections, Bluetooth, 2.4 Ghz or wired. It also comes with a 1600 mAH battery for a long battery life. You can connect three different Bluetooth devices all at the same time and switching between those devices is quite easy using the function keys. The multi-platform functionality means it can be used with Windows, Mac OS or any Android devices.
Battery
SABLUTE promises the keyboard can last 600 hours or 25 days with RGB off. With backlighting turned up to max brightness, the keyboard lasted us a week before having to recharge again. For battery saving, the keyboard enters sleep mode when the keyboard's been inactive for 1 minute. In terms of charging, it only needs 4 hours to fully charge the keyboard.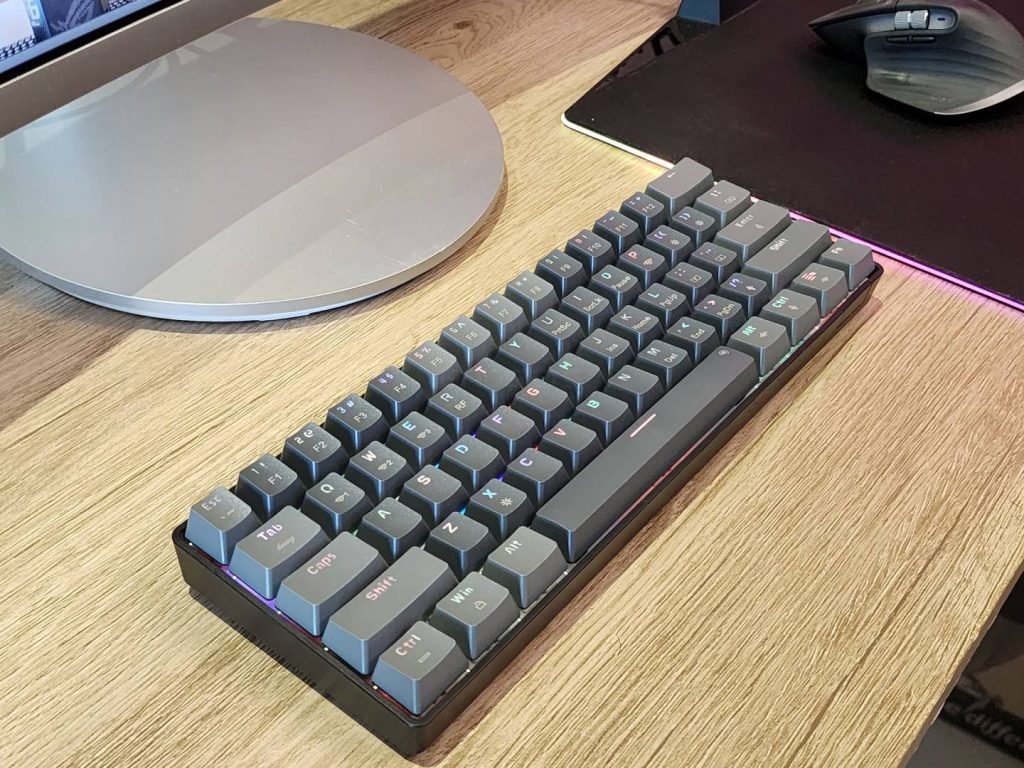 Features & Performance
One notable feature of the SABLUTE SG keyboard is its hot-swappable switches, which helps with effortless replacement of keycaps and switches using the provided switch puller. This feature enables users to personalize their keyboard according to their preferences, resulting in a truly unique and customized typing experience.
The SABLUTE SG utilizes red switches for smooth and linear keystrokes. The SABLUTE red switches offer a seamless 4ms typing experience and boast an impressive lifespan of 50 million keystrokes. These switches require minimal force to actuate, enabling faster and more precise typing, which proves advantageous for both gaming and productivity.

In terms of performance, the SABLUTE SG excels with its quiet keystrokes that produce a dampened click sound. While the keys themselves are sturdy, it may take some time to adjust to the spacing, particularly for those accustomed to standard layouts. However, for gaming purposes, the gently curved keys facilitate accurate key presses, ensuring a comfortable and enjoyable gaming experience.
The click sound is quieter in comparison to other mechanical keyboards we've tested. Despite the soft feedback, the keyboard delivers a pleasant typing experience. In our typing test, we were able to achieve a score of 74 words per minute (WPM) after a few attempts.
Convenience is further enhanced by the SABLUTE SG's ability to charge while in use or during idle periods, thanks to the Type-C data cable. The keyboard incorporates a built-in 60-second intelligent sleep mode, effectively conserving energy and extending the battery life. This feature ensures uninterrupted usage whenever you need it, making it particularly beneficial for individuals who require prolonged periods of operation.
SABLUTE SG Mechanical Gaming Keyboard Verdict
The SABLUTE SG gaming mechanical keyboard offers a sleek design and impressive connectivity options at an affordable price point, making it a good choice for casual gamers and people on-the-go. This is a good option for those looking for an affordable, mechanical mini-keyboard with multiplatform connectivity.
However, the keyboard falls short in terms of dedicated software, and its absence limits the keyboard's customization potential.