The WD Black SN750 NVMe SSD, Western Digital's top-of-the-range SSD, is aimed at gamers and creative professionals. It comes in a M.2 2280 form factor with PCIe 3.0 x4 interface, based on proprietary 64-layer 3D NAND TLC chips and a triple-core controller.
There are two different versions available, with and without an aluminum heatsink and in different storage capacities of 500GB, 1TB, and 2TB. The variant without the heatsink is aimed at laptops and smaller desktop cases which include their own heatsinks.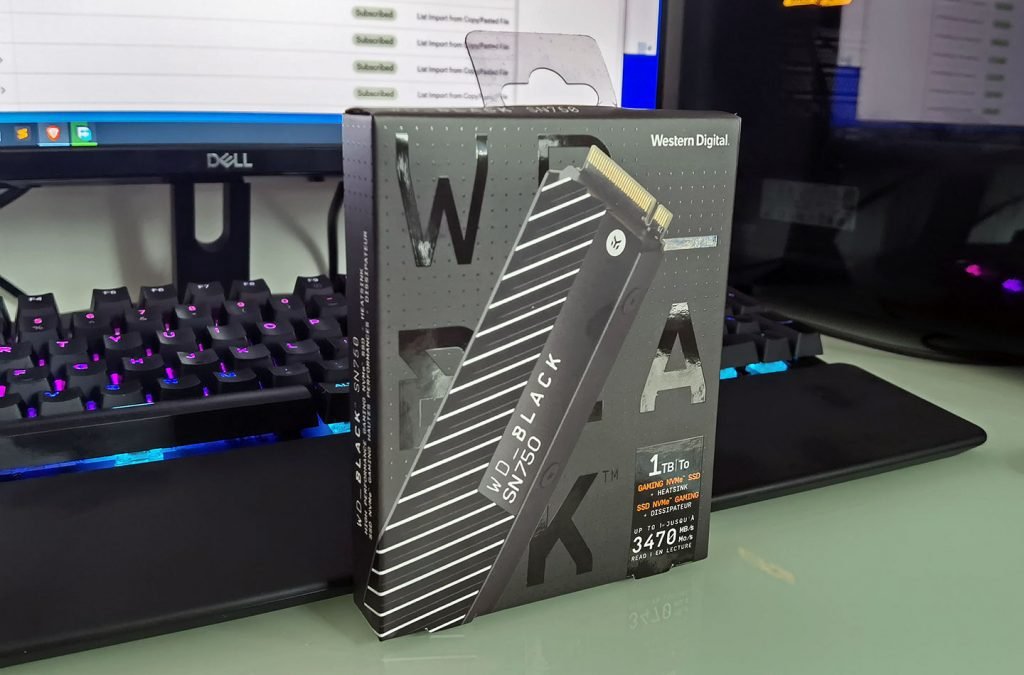 Our review model is the 1TB version with the integrated heat sink. WD claims sequential read speeds that can reach upto 3,470 MBps and sequential write speeds of 3,000 Mbps on this model.
The SSD is rated for an MTTF (Meant time to failure) of 1,750,000 hours, with operating temperatures of 0 to 70 degrees Celsius and is backed by a 5-year warranty.
Specifications
| | |
| --- | --- |
| Model | WDBGMP0010BNC-WRSN |
| Capacity | 1000 GB (931 GB usable) |
| Form Factor | M.2 2280 |
| Dimensions | 80mm x 22mm x 8.1mm |
| Operating Temperature | 0°C ~ 70°C |
| Endurance | 600 TBW |
| MTTF | 1,750,000 hours |
| Interface | PCIe Gen3 8Gb/s, up to 4 lanes |
| Warranty | 5 years |
Packaging & Design
The WD Black SN750 comes in an glossy cardboard box with a photo of the SSD on the front and details, descriptions on the sides. There is also a small viewing window at the back.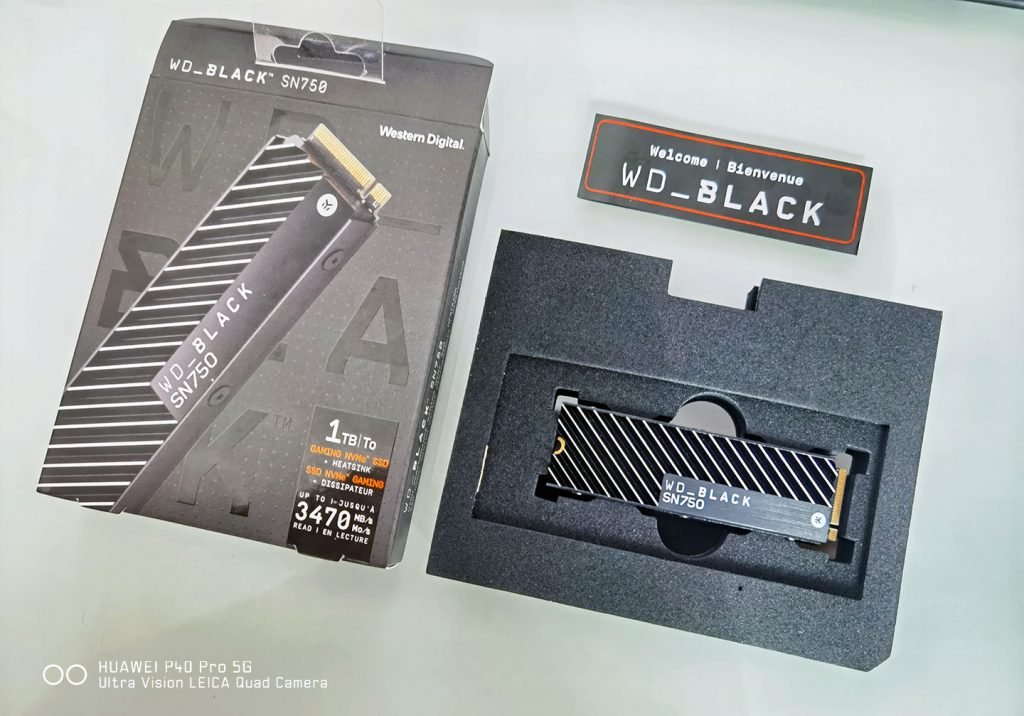 Inside the box, The SSD is protected by a foam packaging to prevent any damage. The box also includes the warranty card. The SN750 measure 80 x 24.2 x 8.10 mm, with a weight of 33.2 grams including the heatsink.
In terms of design, the SN750 is very sleek and with its all-black PCB and aluminium heat-sink fins. It's blends in nicely with the other components and feels great look at if you own a case with a glass side panel.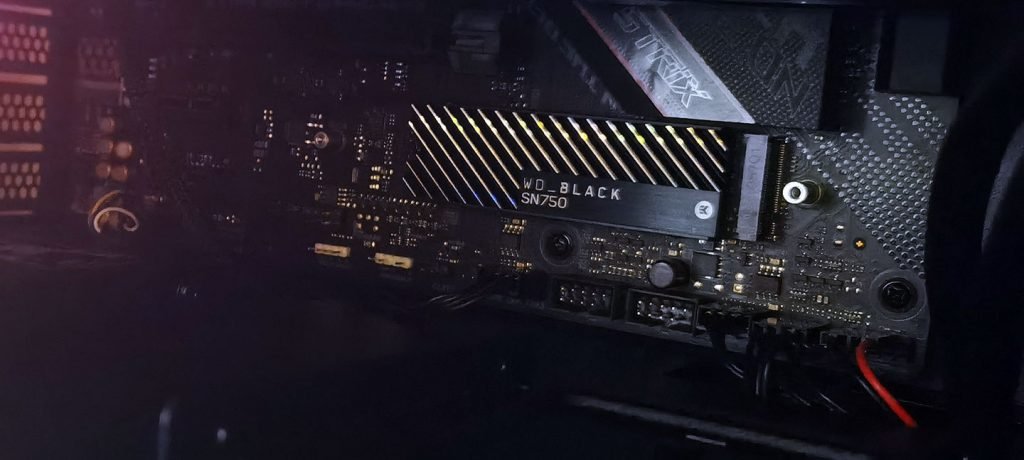 Performance
Test Bench
Thermaltake H200 Case
ASUS B550-F Wifi Motherboard
ASUS Ryzen 5 3600
BeQuiet Dark Rock Pro 3
MSI 5700 XT Gaming X
Cougar GX-F AURUM 650W PSU
Corsair Vengance 16GB DDR4 RAM
WD Black SN750 SSD
In our CrystalDiskMark benchmark, the WD Black SN750 nearly matches the speed advertised by WD and performs well with reading and writing operations.
| | |
| --- | --- |
| CrystalDiskmark Read | 3,287 MB/s |
| CrystalDiskmark Write | 2,941 MB/s |
| ATTODisk Read | 3,260 MB/s |
| ATTODisk Write | 2,915MB/s |
| PCMark 8 Bandwidth Score | 548 MB/s |
When copying files during everyday use, the speeds are in the range of 1500-2000 MB/s. The average bandwidth score during PCMark 8 tests were 554 MB/s.
In our Final Fantasy XIV StormBlood test, a benchmark that simulates game load time, the SN750 came out with an impressive load time of 11.55 seconds.
The SN750 maintained stable temperatures between 43-45 degrees during work tasks. And while gaming it went upto a maximum of 55 degrees, which is excellent for its class.
Software
In additon to the standard options, the WD Black SSD Dashboard now includes a 'gaming mode'. This new mode disables hardware-level power-saving features to reduce latency and increase performance. To enable gaming mode, you will need to restart your PC.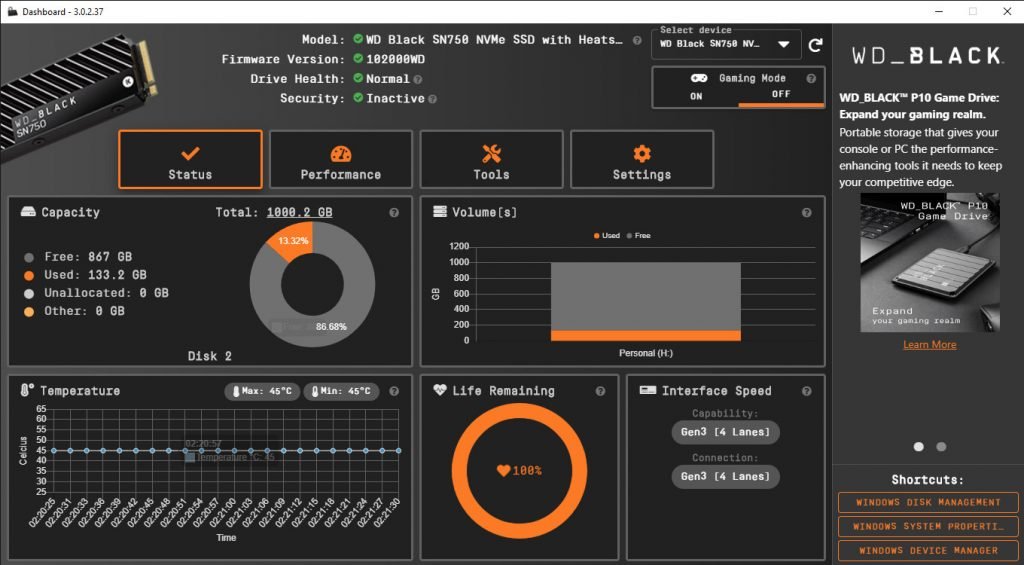 However, it didn't seem to make any difference as we did not see a change during benchmarks. WD also includes Acronis True Image WD Edition which can be downloaded via the WD website.
Conclusion
The SN750 is one of the fastest SSD's with a 3,400 MB/s read speed and 3000 MB /s write speed and claims to have a write durability of up to 600TB.
It was able to perform fast and smooth in our daily tasks and also significantly reduce loading times for the most resource-intensive games while remaining relatively cool.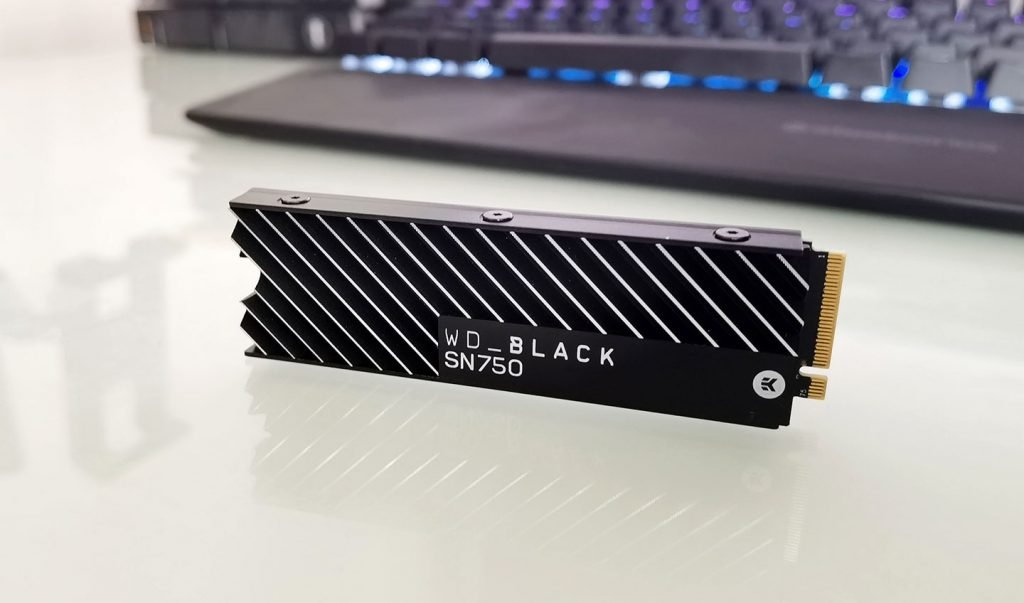 Couple of the downsides here are the expensive price and lack of hardware encryption, which might be a deal-breaker for some. But when it comes to performance and aesthetics, the SN750 is one of our top recommendations.