The ASUS VivoWatch 5 Aero is more than just a fitness wristband; it's a compact, lightweight powerhouse that brings innovation to the table. Notably, it's the world's first wristband capable of detecting Pulse Transit Time, delivering real-time measurements with a simple touch of your finger on the sensor.
Weighing in at less than 30 grams, this wristband is equipped with medical-grade ECG and PPG sensors, ensuring continuous vital monitoring throughout your day. It's your 24/7 health companion, providing comprehensive data on blood pressure, electrocardiogram readings, Pulse Transit Time index, heart rate, blood-oxygen (SpO2) levels, and even stress levels, giving you valuable insights into your overall health.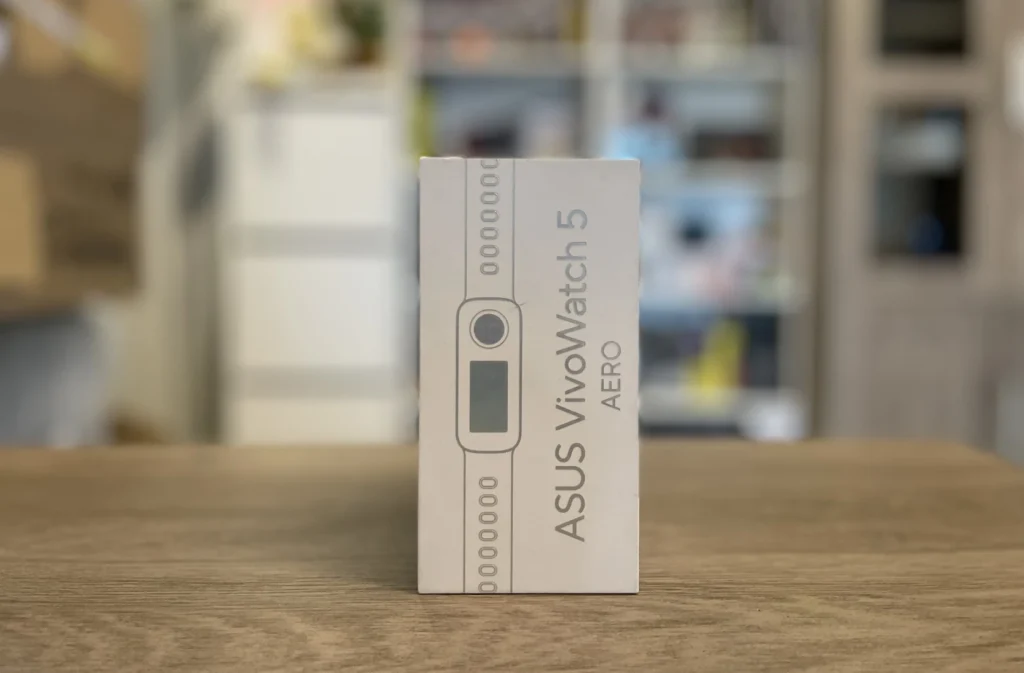 But that's not all – the ASUS VivoWatch 5 Aero goes beyond the basics. It tracks your sleep duration, stages, snoring patterns, and body movement, providing a deep understanding of your sleep quality. With support for nine popular sports modes, daily step counts, and calorie tracking, it's your ideal workout companion. You can even view activity maps and stats to stay motivated and in top shape.
When it comes to hardware, the VivoWatch 5 Aero boasts a 0.96-inch Passive Matrix OLED display. With a 140mAh battery and built-in GPS, you can rely on its accuracy for sports tracking, even when you leave your phone behind.
For compatibility, it syncs seamlessly with both Android and iOS devices. And with a battery life of up to 7 days in power-saving mode or 3 days in typical use, you can count on it to keep up with your active lifestyle.
Specifications
| | |
| --- | --- |
| Display | 0.96inch Passive matrix OLED |
| Connectivity | Bluetooth 4.2 or Later |
| Sensors | Electricalgraphy (ECG) Sensor Photoplethysmography (PPG) Senor Pulse O2 Sensor G sensor GPS sensor |
| Water Resistance | 5 ATM water-resistant |
| OS Compatibility | Android 4.4 or Later iOS 11.0 or Later |
| Battery | Capacity: 140mA, charging cable connected by USB. Typical usage: 3 days Power saving mode: 7 days |
| Weight | 15g without strap |
View full specifications here.
Packaging
The ASUS VivoWatch 5 AERO comes in a compact, white ASUS branded cardboard box.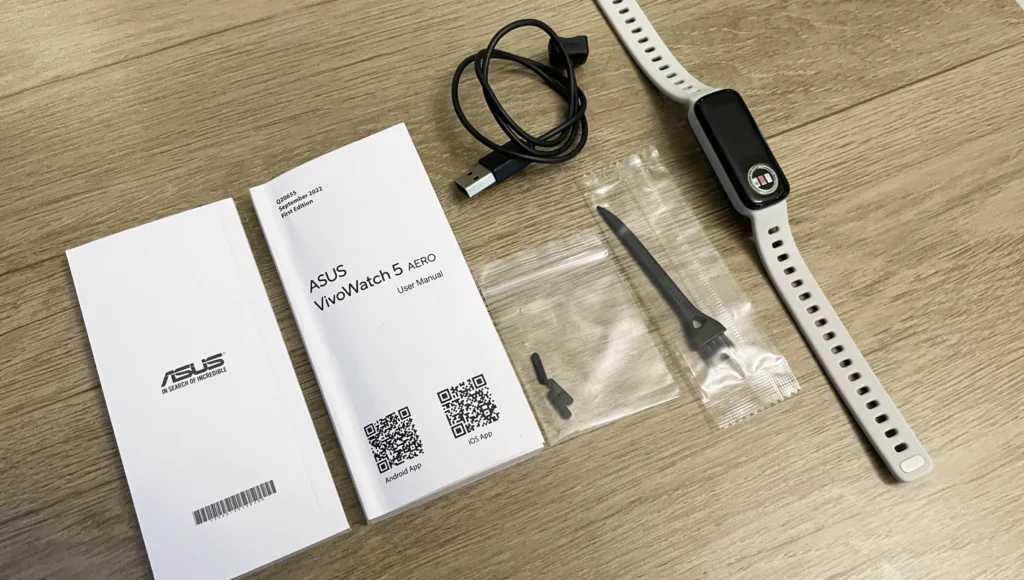 Inside the packing are:
The ASUS VivoWatch 5 AERO
Charging Cradle
Cleaning Brush
Rubber covers for protecting the charging connectors
User manual & warranty card
Design & Display
Taking a closer look at the ASUS VivoWatch 5 Aero's design, you'll find a body crafted from plastic polymer, while the strap is made from a soft-touch silicone material that can be adjusted to comfortably fit even smaller wrists.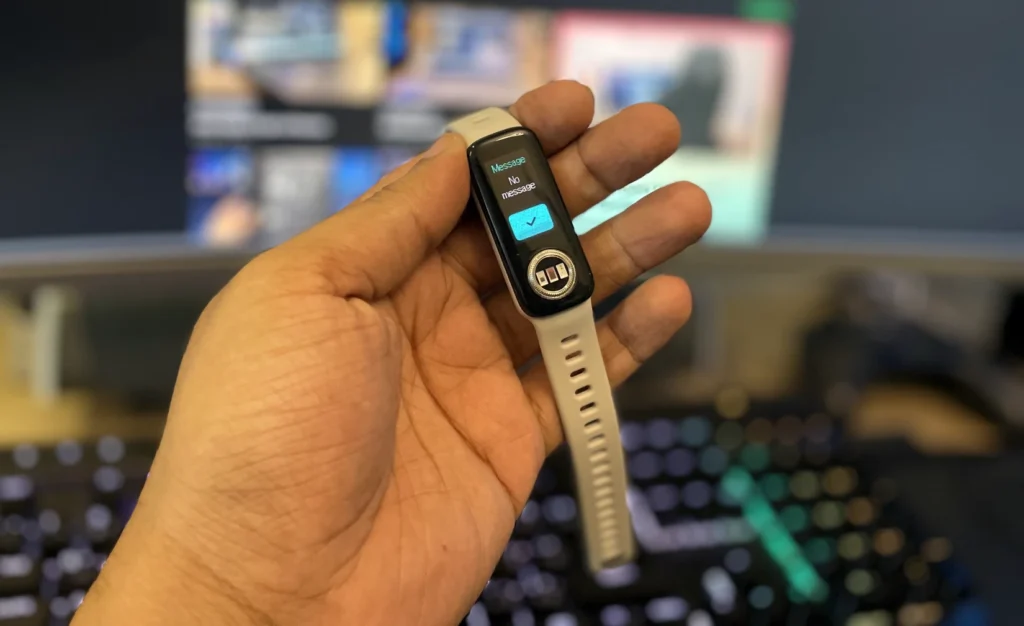 On the front, it features a 0.96-inch Passive Matrix OLED touch display, and you'll notice a small ring housing ECG and PPG sensors. Interestingly, there are no physical buttons on the VivoWatch 5 Aero – all interactions happen through taps, swipes, and scrolling on the screen.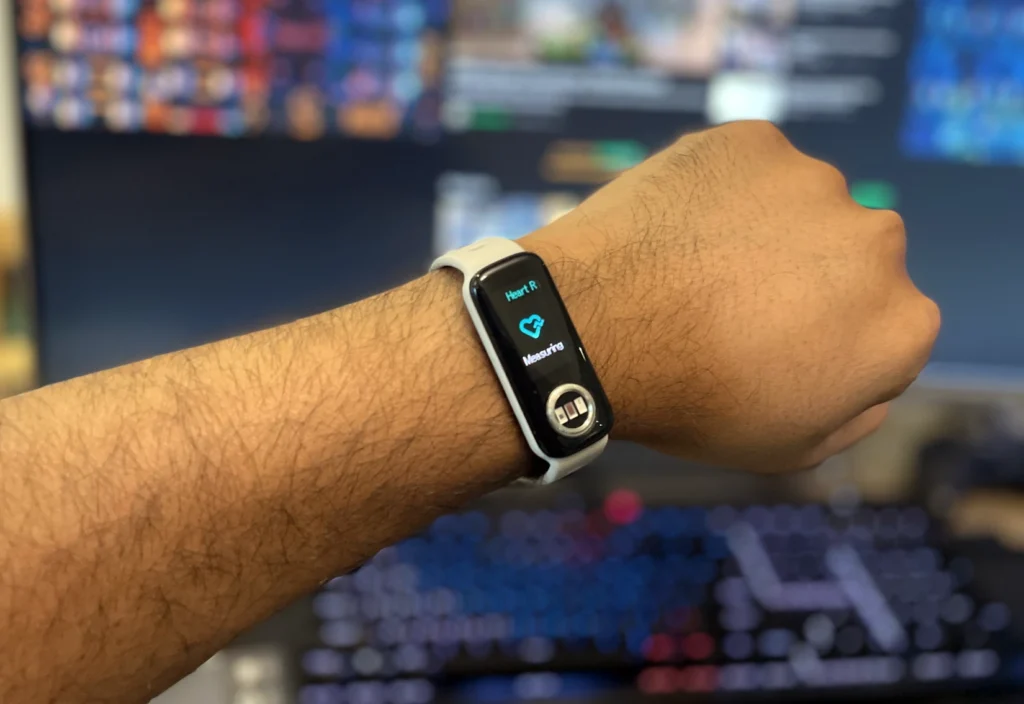 The display quality is decent but falls short in outdoor visibility. While the colors and viewing angles hold up well, the limited screen real estate leaves little room for displaying notifications. Furthermore, it's worth noting that notifications are read-only; you won't be able to reply to messages directly from the VivoWatch 5 Aero.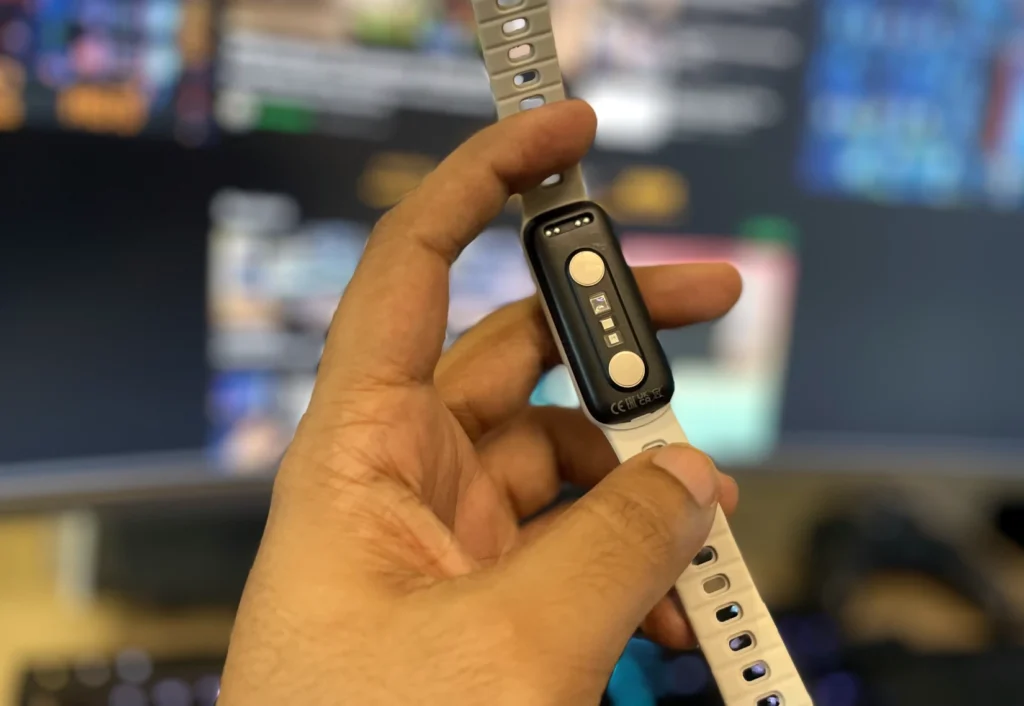 Turning it over, you'll find the charging connectors along with the same ECG and PPG sensors as on the front. These sensors work continuously to monitor your vital signs. However, for more precise readings, it's advisable to occasionally take manual readings using with the front sensors as they tend to provide more accurate measurements.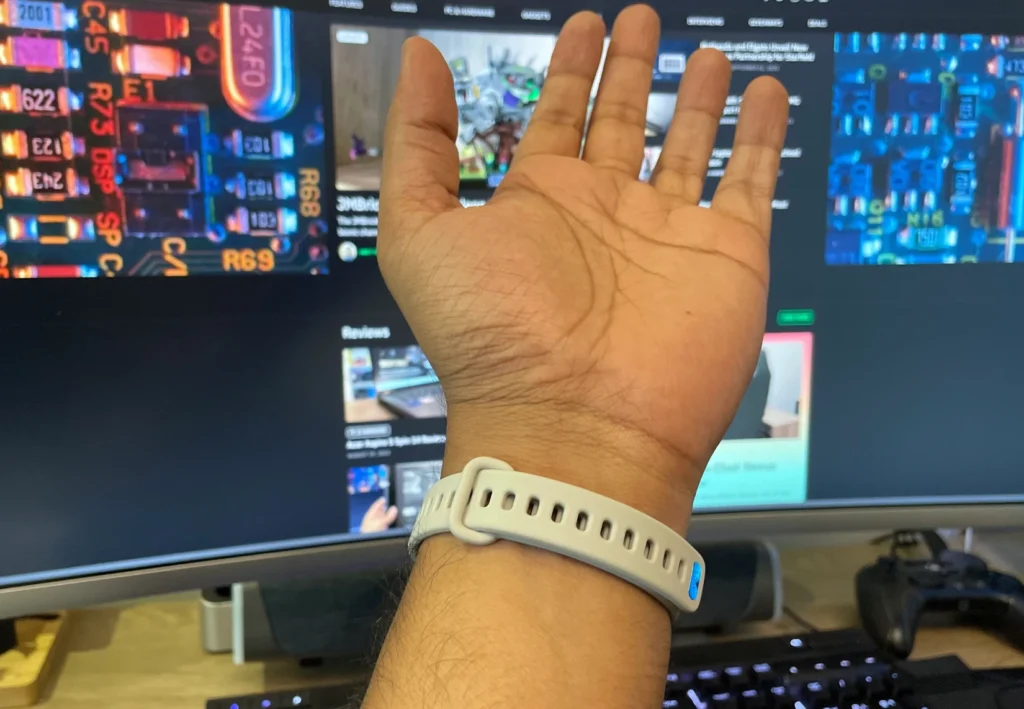 In terms of personalization, the options are somewhat limited. There are just 13 watch faces available, and most of them are constrained by the limited screen space and the passive matrix OLED display.
In summary, the ASUS VivoWatch 5 Aero is impressively lightweight, weighing in at a mere 15 grams (excluding the straps). It's exceptionally comfortable for all-day wear, and the build quality is reassuringly solid, steering clear of any cheap feel. Additionally, this smartwatch boasts a 5 ATM water resistance rating, allowing you to take it for a dive up to 50 meters for a duration of 10 minutes without a worry.
Connectivity & OS
The ASUS VivoWatch 5 Aero keeps it simple with Bluetooth for device pairing. It plays well with both Android and iOS, but you'll need to snag the ASUS HealthConnect app for the initial setup.
Once you've got the app up and running, it seamlessly syncs with the VivoWatch 5 Aero, collecting your data and keeping you in the loop about any available firmware updates.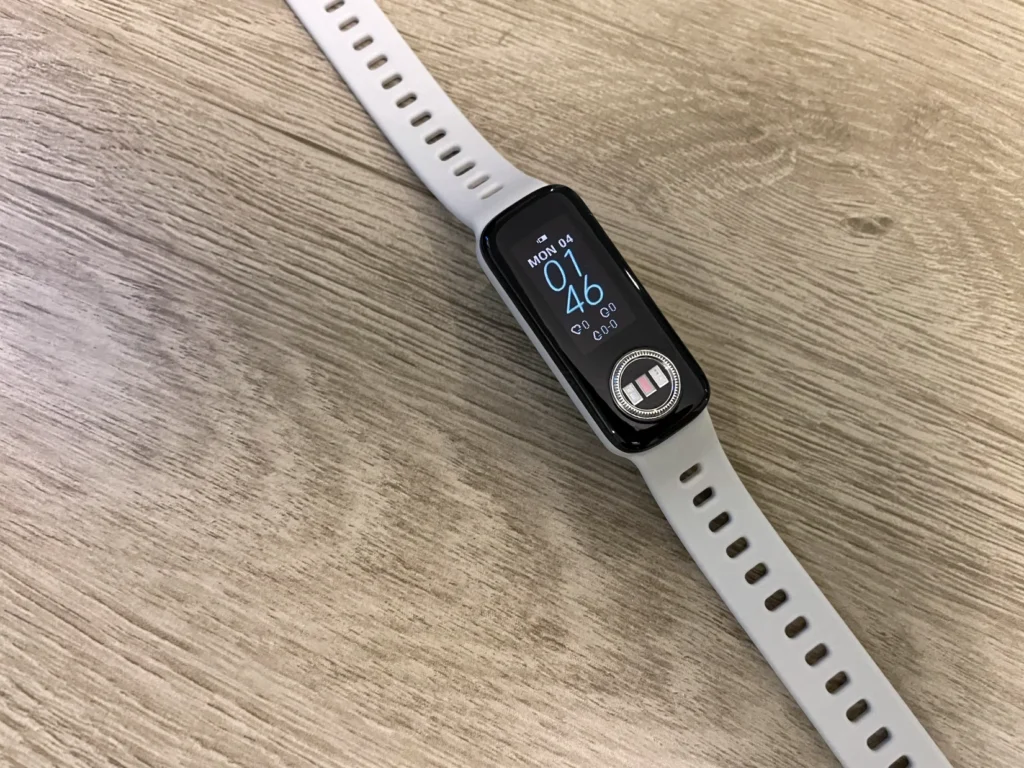 A noteworthy feature of the HealthConnect app is its ability to export ECG data as a PDF file. This handy function allows you to easily share your ECG readings with medical professionals during checkups. ASUS assures us that the VivoWatch 5 Aero delivers precise Lead 1 ECGs and holds medical device certification approved by the Taiwan Food & Drug Administration (TFDA).
Hardware & Features
The ASUS VivoWatch 5 Aero is equipped with an array of sensors to take charge of your health, including ECG and PPG sensors that diligently monitor your well-being around the clock. It provides comprehensive health data, covering blood pressure, electrocardiogram (ECG), Pulse Transit Time index, heart rate, blood-oxygen (SpO2) levels, and stress levels, giving you a clear picture of your overall health.
Here's a quick rundown of its health features:
ECG: Records your heart's electrical signals, useful for detecting issues like arrhythmias and coronary artery disease, but it's available only in specific markets.
Pulse Transit Time (PTT) Index: Measures arterial pulse wave travel time, indicating arterial stiffness and offering insights into blood pressure and emotional states.
Heart Rate: Provides automatic heart rate tracking, accompanied by detailed daily graphs and key statistics.
Pulse O2 (SpO2): Measures oxygen levels in your blood, aiding in the detection of various health conditions.
De-stress Level: Estimates your stress levels, presenting daily and weekly graphs and average, minimum, and maximum stress levels.
Sleep Analysis: Delivers insights into your sleep patterns, including time spent in different sleep stages, movement, wakefulness, heart rate, Pulse O2 levels, and a sleep score.
Health AI: After a week of data collection, ASUS HealthConnect offers personalized health tips to help you improve your lifestyle.
Female Period Tracking: Allows women to track and predict their menstrual cycles.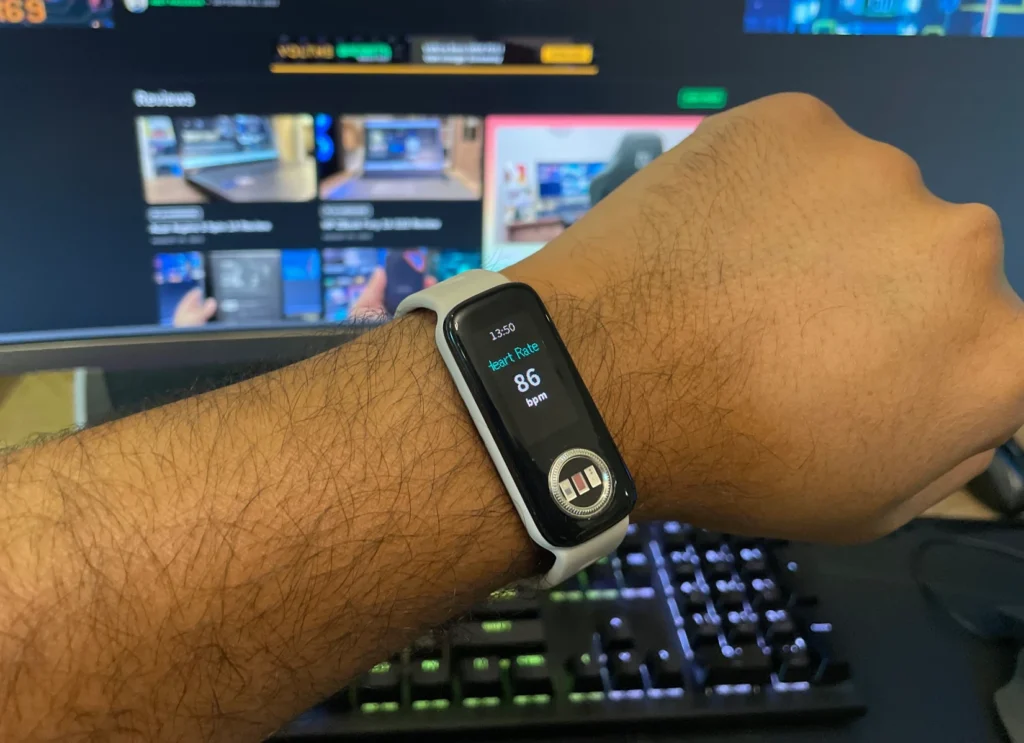 When it comes to fitness tracking, the VivoWatch 5 Aero has some limitations compared to rival fitness trackers. It can monitor activities like jogging, treadmill, swimming, walking, cycling, yoga, stretching, core exercises, dancing, gym workouts, and exercise biking. While the data presented in the app is detailed and useful, it could be more user-friendly compared to competitors like Fitbit, HUAWEI, or Xiaomi.
The sensors on the VivoWatch 5 Aero generally deliver accurate readings from your finger. However, when using PTT, you might need to wait for around 30 seconds. Navigating through the band's options works reasonably well. It's worth noting that the device primarily focuses on unique health features like ECG and blood pressure measurements rather than offering an extensive range of fitness tracking activities or on-device apps.
Regarding smartwatch features, you'll find the basics. You can receive notifications on the band, manage which apps send them, and even handle incoming phone calls (though your smartphone needs to be nearby). Music player control is also available. Additionally, you'll have access to alarm, stopwatch, and timer apps for added convenience.
Battery
The ASUS VivoWatch 5 Aero packs a 140mAh battery. ASUS claims it can go up to 10 days in power-saving mode or around 3 days with typical use.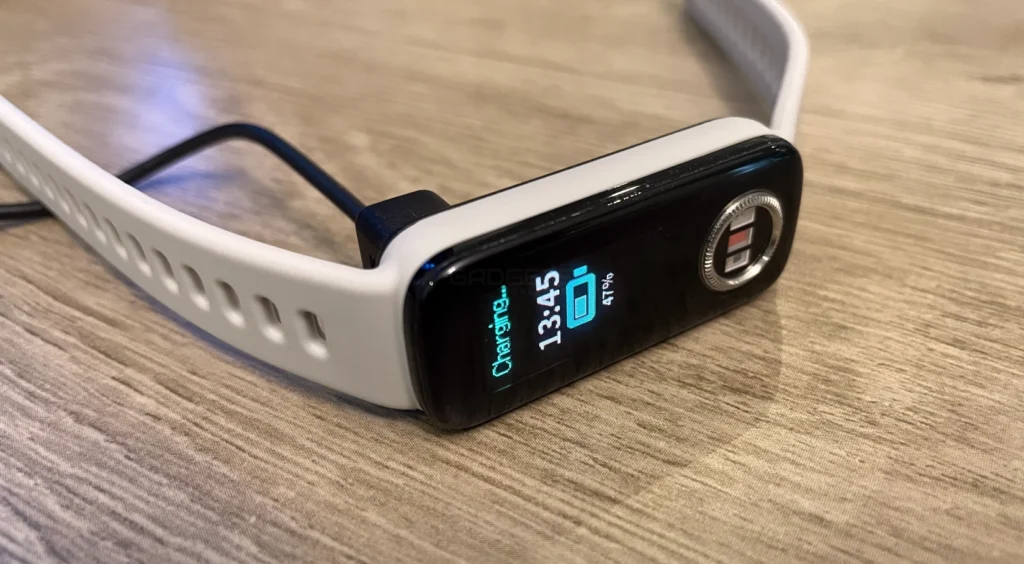 In real-world usage, battery life varies depending on display activity and monitoring. In our testing, it held up for about four days on a single charge. Charging the VivoWatch 5 Aero is hassle-free, thanks to the USB-A cable with a magnetic connector that securely clips onto the device. It went from 0% to 50% in approximately thirty minutes and fully charged in about an hour and 15 minutes.
ASUS VivoWatch 5 Aero Review Verdict
The ASUS VivoWatch 5 Aero shines as a health-focused wristband, excelling in vital monitoring with features like ECG and blood pressure measurement. These capabilities offer valuable insights into your well-being, though note that ECG and blood pressure functions are limited to specific markets with medical certifications. Its sports tracking and personalization options, however, lag behind competitors.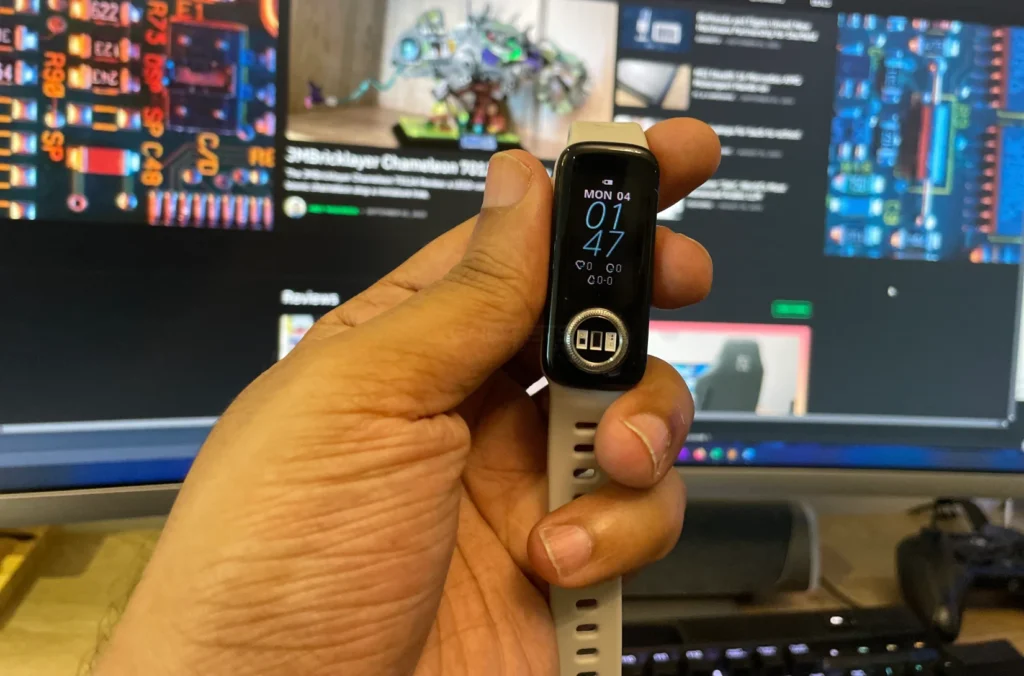 If you prioritize comprehensive health tracking with real-time insights, the VivoWatch 5 Aero is a strong choice. Battery life is decent, providing about four days of real-world usage, and the magnetic charger is convenient. It's comfortable and suitable for serious health tracking. However, for a broader range of fitness activities, alternatives in the market might better suit your needs.