The BenQ EH620 is an professional projector that comes with a built-in Windows OS, allowing it to operate without the need for a PC or laptop. This projector is ideal for video conferences, featuring a FullHD resolution of 1920×1080, 30-bit color support, and a brightness of up to 3,400 lumens. With built-in Edge and Chrome browsers, accessing presentation files in OneDrive and Microsoft Teams has never been easier, eliminating the need for a laptop and streamlining meeting preparation time.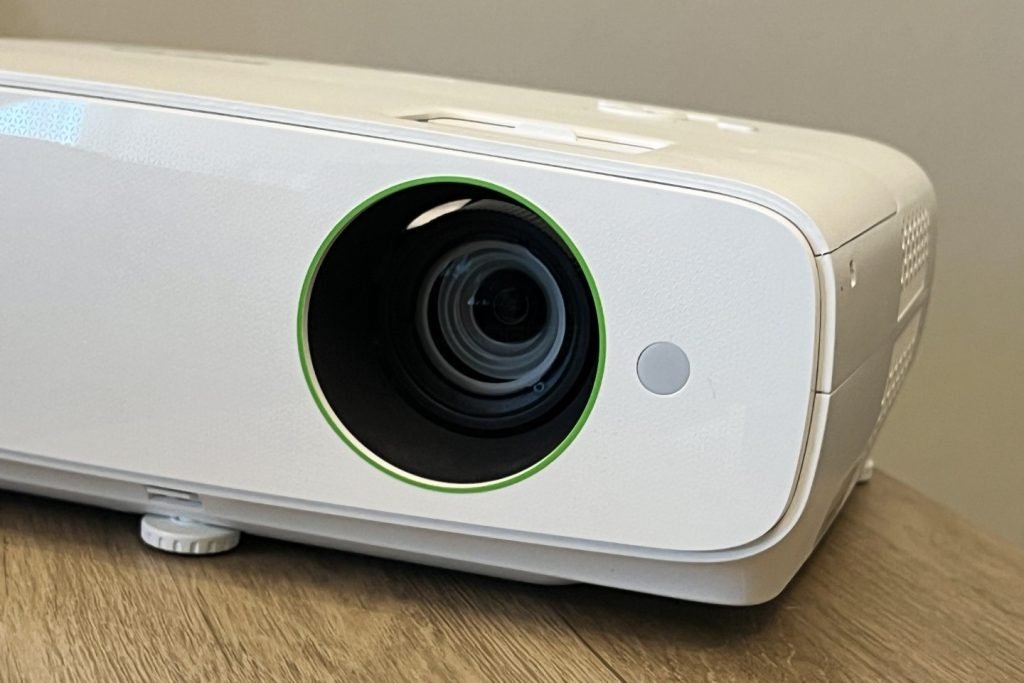 This powerful projector also offers the convenience of using preloaded meeting apps such as Google Meet, Skype for Business, and TeamViewer directly on the device. This frees up personal devices from public use and enables seamless presentations. Plus, with Miracast, Airplay, Google Cast, and BenQ InstaShare wireless casting technologies, team members can easily share their presentations and collaborate from 4-way split windows on a big screen without the need for extra apps or Wi-Fi dongles.
Overall, the BenQ EH620 is a game-changer for professional presentations and video conferences, providing outstanding performance and versatility in one device.
Highlights
A hybrid meeting solution with Windows 11 IoT Enterprise OS built-in
Enterprise-grade WPA2 certified and AES-128 encryption security
Preloaded with Google Meet, Skype and TeamViewer meeting apps
Support Miracast, Airplay, Google Cast and BenQ InstaShare screen casting
Auto firmware scan & upgrade via OTA
What is a Windows Projector?
A PC-less projector comes with an operating system built into the device, eliminating the need for a separate PC to provide content. Generally, PC-less projectors feature either Android or Windows operating systems and are pre-loaded with various software and apps, allowing them to perform a range of tasks from productivity-related jobs to streaming media.
In addition, these projectors are equipped with the ability to connect to the Internet, either through wired or wireless connections, making it easy to access content on the web, download files stored in the cloud, install additional software and apps, and support wireless casting from BYOD mobile devices.
Overall, a PC-less projector is a versatile and efficient device that simplifies the presentation process, allowing for seamless access to a variety of multimedia content. Whether you're presenting at the office or streaming media at home, a PC-less projector is an excellent choice for those seeking a streamlined, all-in-one solution.
Specifications
| | |
| --- | --- |
| Brightness | 3400 ANSI lumens |
| Contrast Ratio | 15,000:1 |
| Display Color | 30-bit (1.07 billion colors) |
| Light Source | Lamp |
| Native Resolution | 1080P (1920×1080) |
| Max Image Size | 150″ |
| Throw Ratio | 1.13 ~ 1.47 |
| Zoom Ratio | 1.3x |
| Aspect Ratio | 16:9 |
| Lens | F/# = 1.84 ~ 2.47, f = 12 ~ 15.6 mm |
| Ports | 1x PC-in 1x Monitor-out 2x HDMI (1.4a/HDCP1.4) 3x USB Type A-1 (3.0) 2x USB Type A(2.0) 1x USB Type Mini B 1x RS232-in |
| Built-in Speaker | 2x 5W Chamber |
| OS & Smart Features | Built-in Win11 OS and Chrome/Edge browsers Bluetooth 4.2 Wi-Fi 802.11 a/b/g/n/ac (2.4G/5G) Miracast / Airplay / Google Cast / BenQ InstaShare Skype for business Teamviewer Meeting |
| Product Dimensions (WxHxD) | 380 x 127 x 263 mm |
| Product Weight | 4.2 kg |
| Keystone | 1D, (Auto) Vertical ± 40 degrees |
View full specifications here.
Packaging
The packaging comes in a plain brown cardboard box with very little details except for the BenQ logo, product name and some specs. Inside the box we find the EH620 projector, remote, USB Wireless Dongle, power cables and a quick start guide.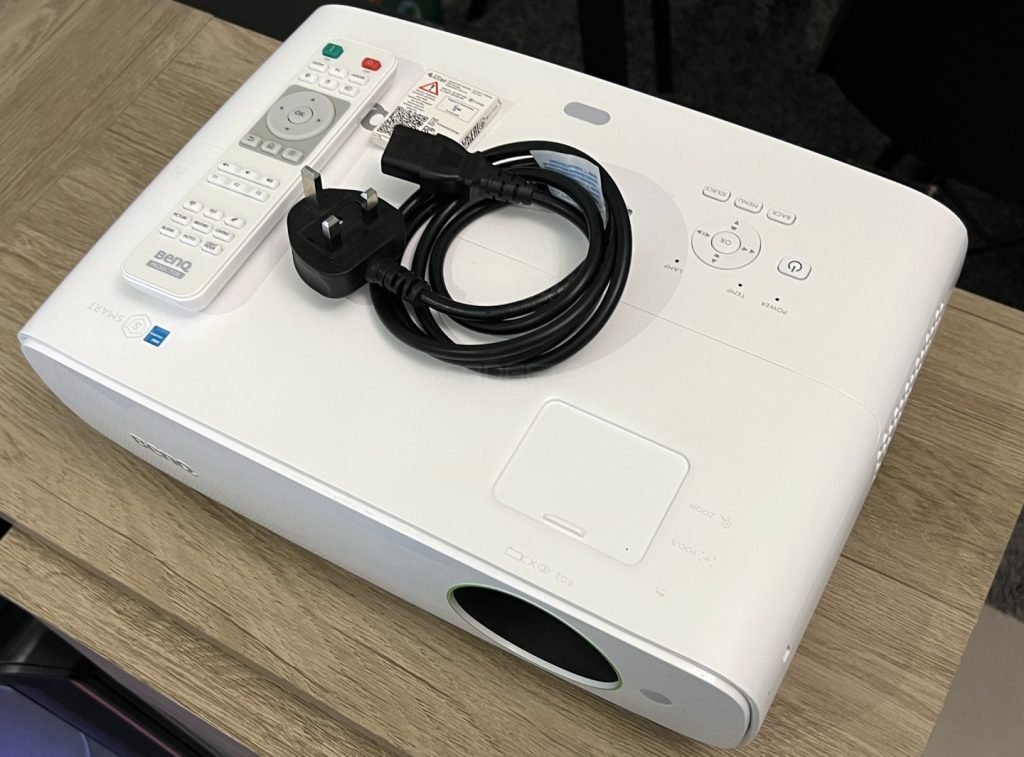 Design & Build
The BenQ EH620 is a sturdy and sleek projector that measures 380 x 127 x 263 mm (WxHxD) and weighs 4.2kg. Its standout feature is its large lens, which ensures clear and vibrant images. The projector boasts a sleek all-white design, with a white plastic body that has a fingerprint-proof texture and airflow vents on either side. The top of the projector is home to the manual focus wheel for the lens and control buttons, while all ports are located at the back.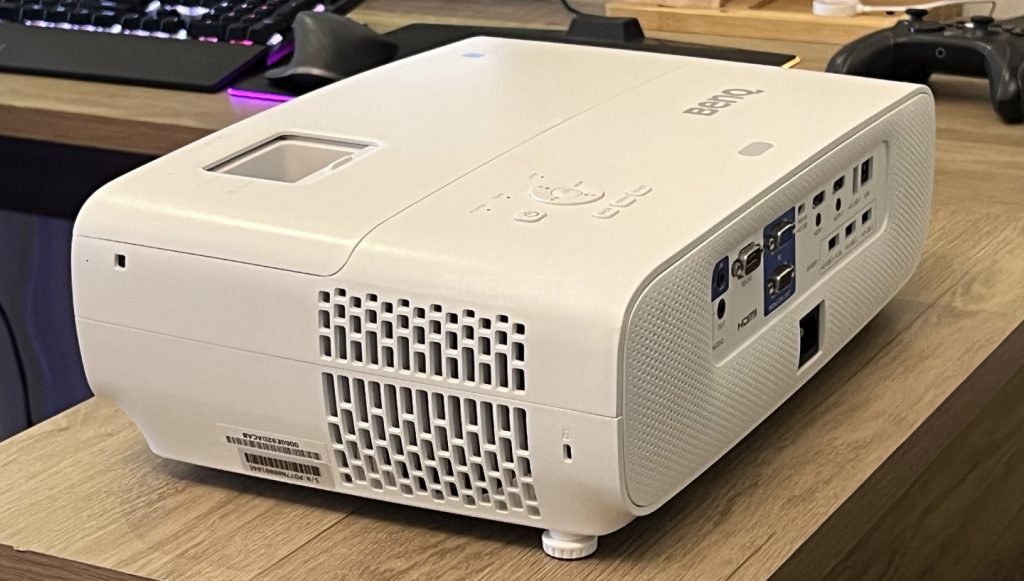 With ports including 1x PC-in, 1x Monitor-out, 2x HDMI (1.4a/HDCP1.4), 3x USB Type A-1 3.0, 2x USB Type A 2.0, 1x USB Type Mini B, and 1x RS232-in, the BenQ EH620 offers extensive connectivity options. The two USB ports can be used to connect a pen drive or external HDD, supporting a wide range of file formats, including JPEG, PDF, Microsoft Word, Excel, and PowerPoint files, without the need for a laptop or PC. Users can also connect a keyboard and mouse for easy browsing through the Windows OS.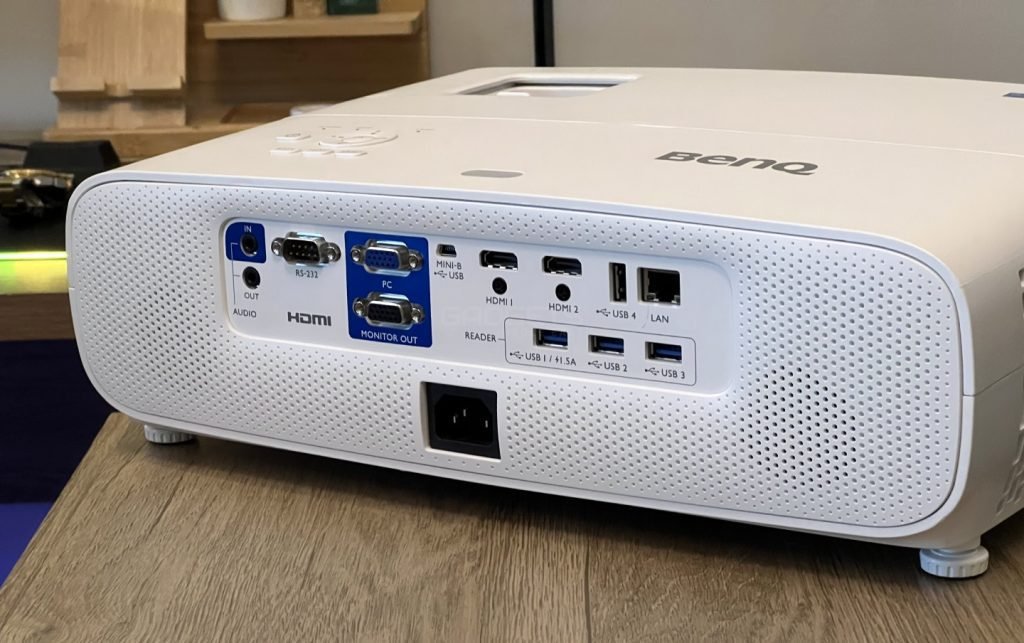 In addition to its various ports, the BenQ EH620 supports Wi-Fi and Bluetooth connections via a wireless USB dongle, enabling wireless projection from a tablet, smartphone, or PC. The dongle is easily installed by removing the upper case.
The base of the projector has three adjustable feet, one at the front and two at the rear, while the vertical keystone function makes it easy to adjust the image vertically for projection in different positions. The BenQ EH620 also features a color correction feature to ensure accurate color reproduction.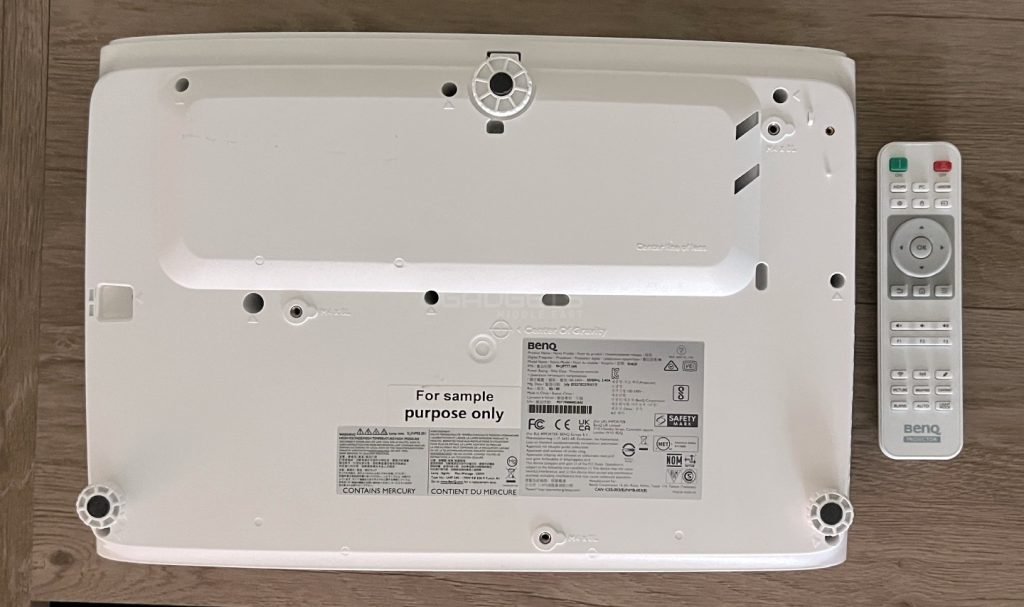 For added convenience, the projector can be mounted to the ceiling, with all controls accessible via the remote control. The remote is well-designed and lightweight, with visible buttons that can be used in dark rooms. It provides quick access to settings such as picture modes, brightness, contrast, and input sources.
OS & Features
The projector runs on a Windows 11 Enterprise OS and is powered by an Intel Celeron 4205 CPU paired with 4GB of RAM, providing a smooth and reliable performance. Preloaded apps include Chrome/Edge browsers, making it a convenient PC-less option. There are also meeting apps like Google Meet, Skype, and TeamViewer for seamless video conferencing. Additionally, it supports multiple screen casting technologies such as Miracast, Airplay, Google Cast, and BenQ InstaShare, allowing users to share content from up to four devices simultaneously.
The EH620 can be connected to various cloud accounts like Google Drive, OneDrive, and Dropbox, allowing users to easily access and edit files directly from the projector. Firmware updates can also be performed wirelessly over the air. Additionally, users can download a variety of smart apps through the BenQ Suggest app store.
Image Quality
The image quality of the BenQ EH620 projector seems to be suitable for its intended use as a business and education projector. The native resolution of 1920×1080 at 60Hz, coupled with a brightness of 3400 lumens and a contrast ratio of 15,000:1, provides a clear and sharp image.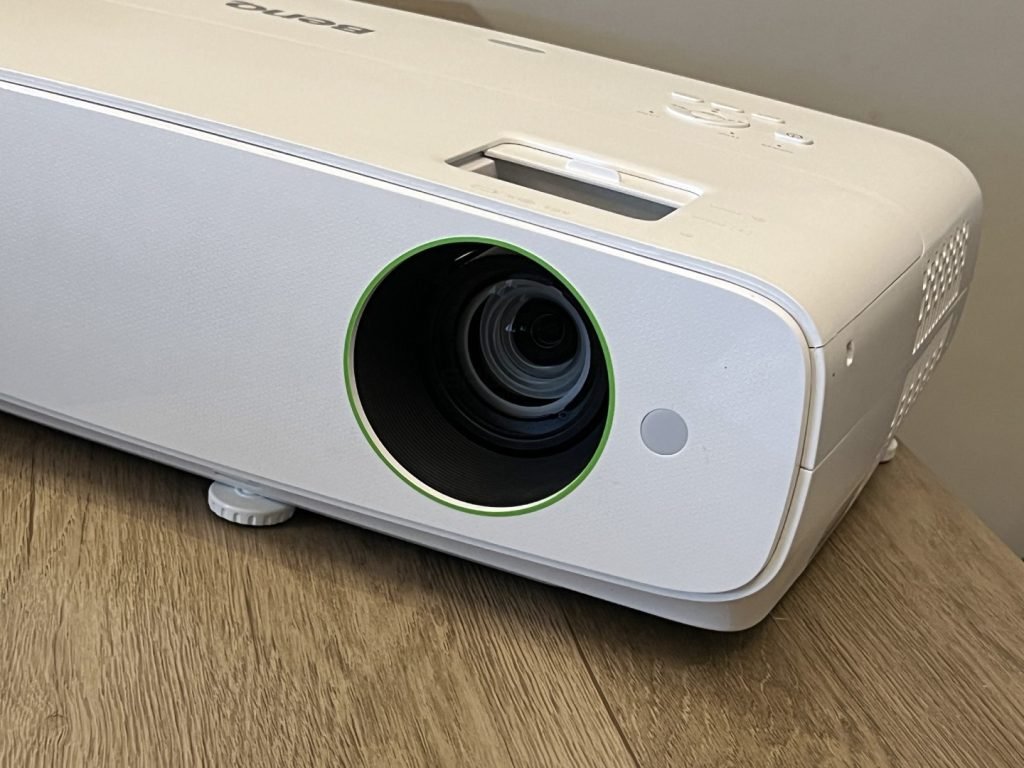 The flexible projection sizes up to 150 inches also make it suitable for most meeting rooms and crowds. The preset color modes and the auto keystone feature help to optimize the image quality according to the content being displayed. While the projector may not be ideal for watching photos and videos due to slightly less vibrant colors, it seems to be a good choice for presentations where text needs to be clear, sharp, and readable.
Auto Keystone is a unique feature of the EH620 that automatically corrects the image and optimizes the projection according to the content being displayed, making it easy to set up and use.
Audio
For audio, EH620 offers two 5W speakers and a voice-enhanced Vocal Mode to let every remote or in-person attendee hear meeting details clearly for effective collaboration. Sound quality is good and works well for large-sized rooms.
Conclusion
In conclusion, the BenQ EH620 projector is a great choice for business users and educators looking for a reliable and feature-packed device for meetings, presentations, and remote collaboration. The projector offers good image quality with its native resolution of 1920×1080, a brightness of 3400 lumens, and a contrast ratio of 15,000:1. Its built-in Windows 11 OS, cloud integration, smart features, wireless projection, and 4-way split windows capabilities make it a unique and versatile device.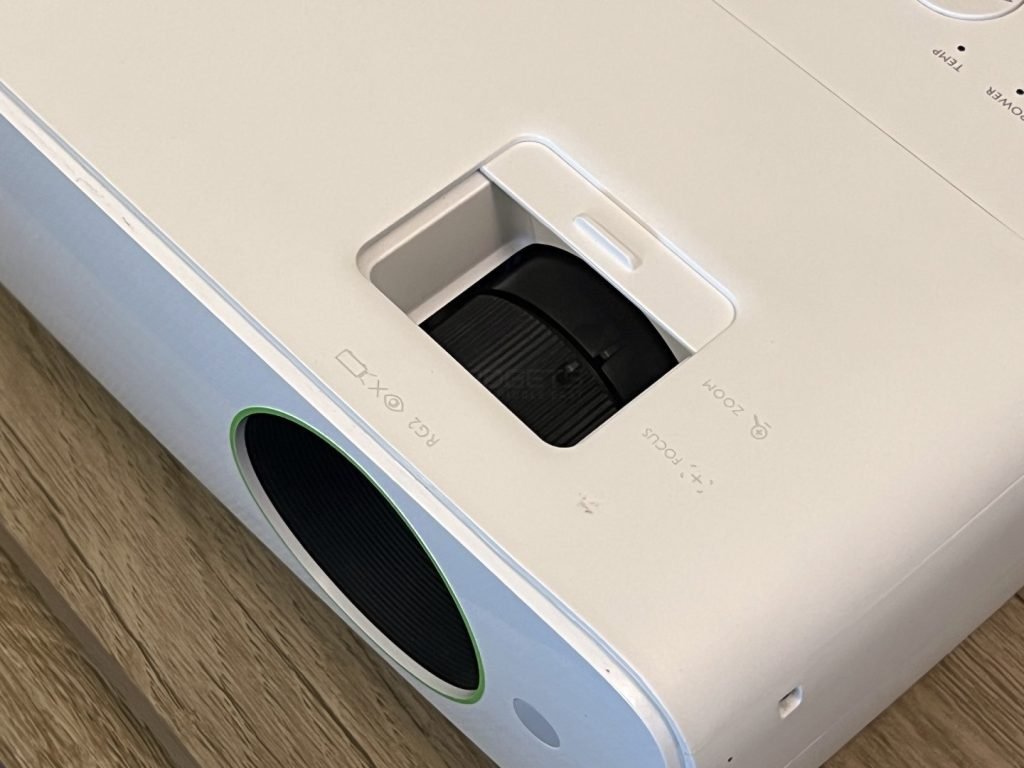 The EH620 is easy to set up and works straight out of the box, and its auto-keystone feature and vocal mode make it a convenient and efficient tool for collaboration. The only downside is its higher price point, which may be a consideration for some small-scale businesses. However, considering the benefits of reduced device clutter and increased capabilities, the EH620 is a great value proposition for those looking for a high-quality projector for their business or educational needs.