The BenQ W4000i 4K HDR 4LED home theater projector is the latest addition to BenQ's home cinema lineup. This projector packs some serious tech, including BenQ's own 100% DCI-P3 CinematicColor and HDR-PRO technologies. These features promise true 4K image quality with spot-on HDR color accuracy for an immersive viewing experience.
With 4K UHD resolution, a bright 3200 lumens, and a crisp 2,000,000:1 contrast ratio with Dynamic Black algorithms, the W4000i means business. It's supports HDR formats like HDR10, HDR10+, and HLG. And it comes factory calibrated to faithfully reproduce those stunning CinematicColor visuals in both 100% DCI-P3 and 100% Rec.709 color spaces.
Highlights
100% DCI-P3 and 100% Rec.709 color space
3200lm brightness HDR10 compatibility
Dual HDMI 2.0b (HDCP 2.2), SPDIF, and eARC for 7.1 channel and Dolby Atmos audio pass through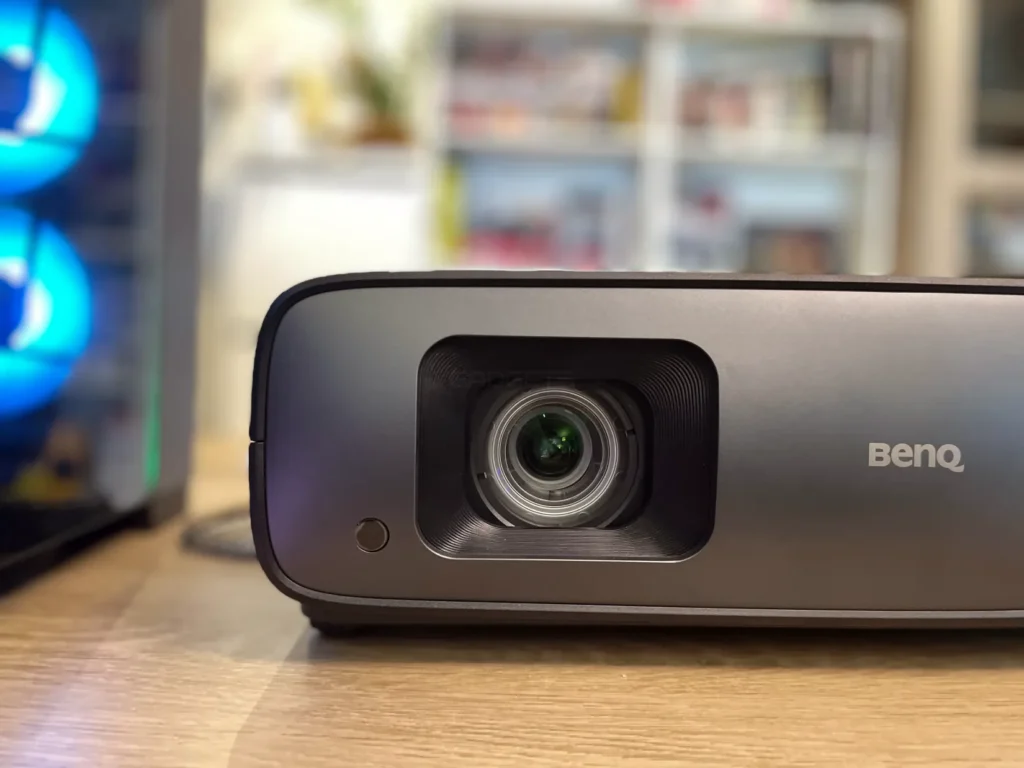 Specifications
Brightness
3200 ANSI lumens
Contrast Ratio
2,000,000:1
Display Color
30-bit (1.07 billion colors)
Light Source
4LED
Native Resolution
4K UHD (3840×2160)
Input Lag
17.9ms (1080P 60Hz), 17.9ms (4K 60Hz), 21ms (1080p120Hz), 8.7ms (1080P 240Hz)
Resolution Support
VGA (640 x 480) to 4K UHD (3840 x 2160)
Image Size
100″~150″
Throw Ratio
1.15 ~ 1.50
Zoom Ratio
1.3x
Aspect Ratio
16:9
Lens
F/# 1.8 – 2.25 mm, f 17.02 (Wide)~22.21(Tele)
Ports
1x S/PDIF
1x 3.5mm Mini Jack
2x USB Type A-1 (2.0/Power Supply2.5A/Service), USB Type A-2 (2.0/Power Supply1.5A/Reader)
2x HDMI-1 (2.0b/HDCP2.2), HDMI-2 (2.0b/HDCP2.2), HDMI-Internal (2.0b/HDCP2.2)
1x RS232 in (DB-9pin)
1x LAN (RJ45) 10/100 Mbps
1x DC 12V Trigger
Built-in Speaker
2x 5W Chamber
OS & Smart Features
Android 11.0
Bluetooth 5.0
Wi-Fi 802.11 a/b/g/n/ac (2.4G/5G)
AirPlay, Google Cast
Product Dimensions (WxHxD)
420.5 x135 x 312mm (w/o Adjustment Feet)
Product Weight
6.6 kg
Keystone
2D, Vertical ± 30 degrees; Horizontal ± 30 degrees
Lens Shift
Lens Shift Vertical
Vertical 0%-60% (@ Horizontal 0%)

Lens Shift Horizontal
Horizontal max. ±15% (@ Vertical 20.9%)
Read full specifications here.
Packaging
The BenQ W4000i comes in a cardboard box with product graphics and logos on the sides. The packaging includes:
BenQ W4000i projector main unit
Projector remote
BenQ QS02 Android TV dongle
QS02 Android TV remote (pre-installed)
AAA Batteries
Quick Start Guide
Color Calibration Report
Warranty card
AC power cord
Design & Build
Let's take a closer look at the design and build of the BenQ W4000i projector. In terms of dimensions, it measures 420.5 x 135 x 312mm (WxHxD) and has a weight of 6.6kg, making it quite a sizable device.
The projector sports an elegant appearance with its black textured color and matte finish. Its cube-shaped body features rounded edges, giving it a sleek and modern look. One notable aspect is its fingerprint-proof texture, which helps maintain its premium appearance.
A standout feature is the projector's large lens, complete with a detachable cover. The top of the projector houses controls for lens adjustments, including zoom and focus. On the right side, you'll find intake airflow vents, along with onboard controls and indicator lights for convenient access.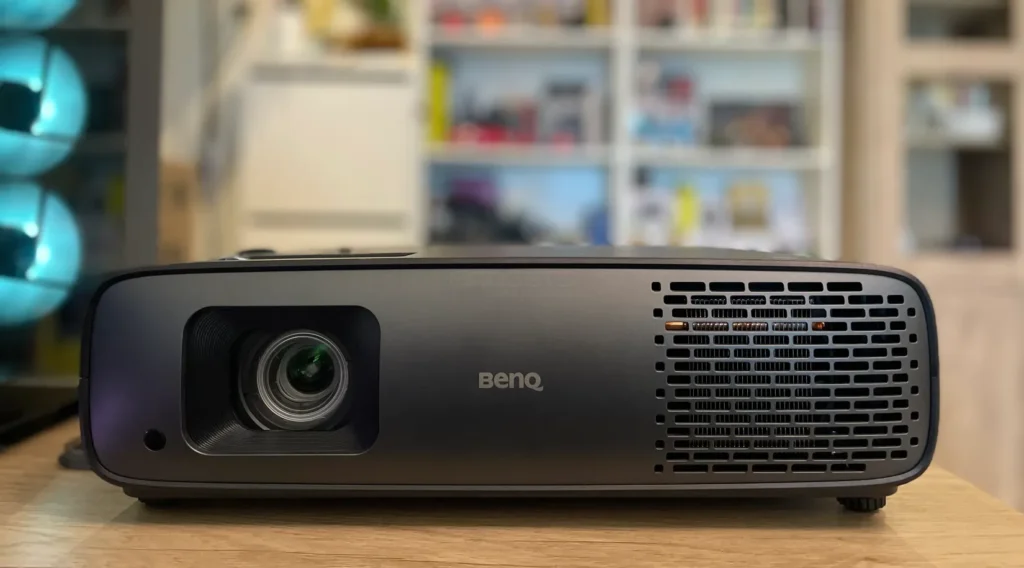 All the ports are neatly tucked away at the back of the projector. You'll find two HDMI ports, with HDMI 2 supporting eARC functionality that allows transmitting the original full-resolution audio signal. Additionally, there are two USB ports, one for servicing and another for media access. For audio, there are two types of outputs available – 3.5mm and S/PDIF optical out.
Other connectivity options include a 10/100Mbps LAN port, an RS-232 serial port, and a 12V trigger jack, which simplifies powering multiple devices simultaneously when connected within the same circuit. The USB port is versatile, allowing you to connect a pen drive or external HDD, supporting various file formats like JPEG, PDF, Microsoft Word, Excel, and PowerPoint files, eliminating the need for a laptop or PC.
Beyond these physical connections, the BenQ W4000i projector offers modern wireless capabilities. It supports Wi-Fi, Google Cast, and Bluetooth connections via a wireless USB dongle. This means you can effortlessly connect your tablet, smartphone, or PC to project photos, movies, or presentations wirelessly. Installing the dongle is hassle-free – it's located at the back, secured in a dedicated housing containing a third USB port.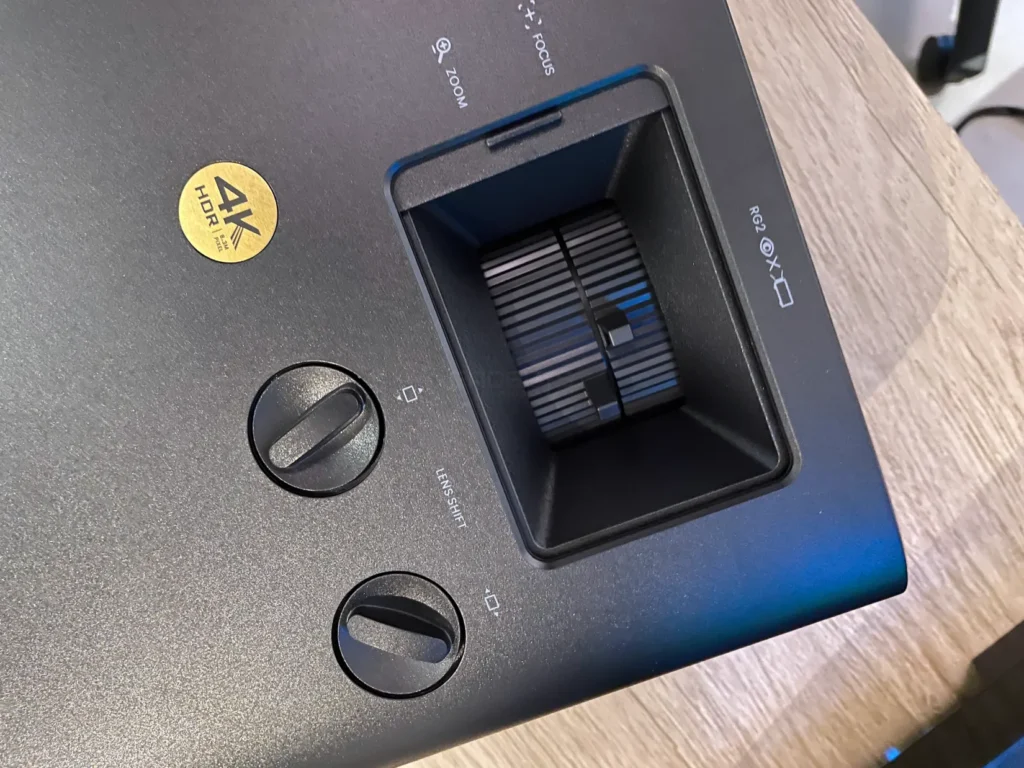 To ensure optimal positioning, the projector's base features two adjustable feet, both at the front. Additionally, the vertical keystone function makes it easy to adjust the image vertically, accommodating various projection angles. Color calibration is another valuable feature, guaranteeing that the projected image maintains the most accurate colors possible.
If ceiling mounting is your preference, rest assured that all the controls are accessible via the included remote control. The remote, designed in a clean white color, is both user-friendly and lightweight. Its well-lit buttons make it easy to navigate even in dimly lit rooms, allowing quick access to settings like picture modes, brightness, contrast, and input source selection. It's a handy companion for seamless operation.
Hardware & OS
Operating on Android 11.0, the projector comes pre-installed with streaming services such as Netflix and Amazon Prime. This means that right out of the box, you can start enjoying your favorite content without the need for additional setup.
For those who crave a wider array of entertainment, the Google Play Store is at your disposal. It offers access to a vast library of apps and content, allowing you to tailor your viewing experience to your preferences.
Staying up to date is hassle-free, as the W4000i supports over-the-air firmware updates. This means that whenever a new firmware becomes available, you can easily keep your projector up to speed without any complicated processes.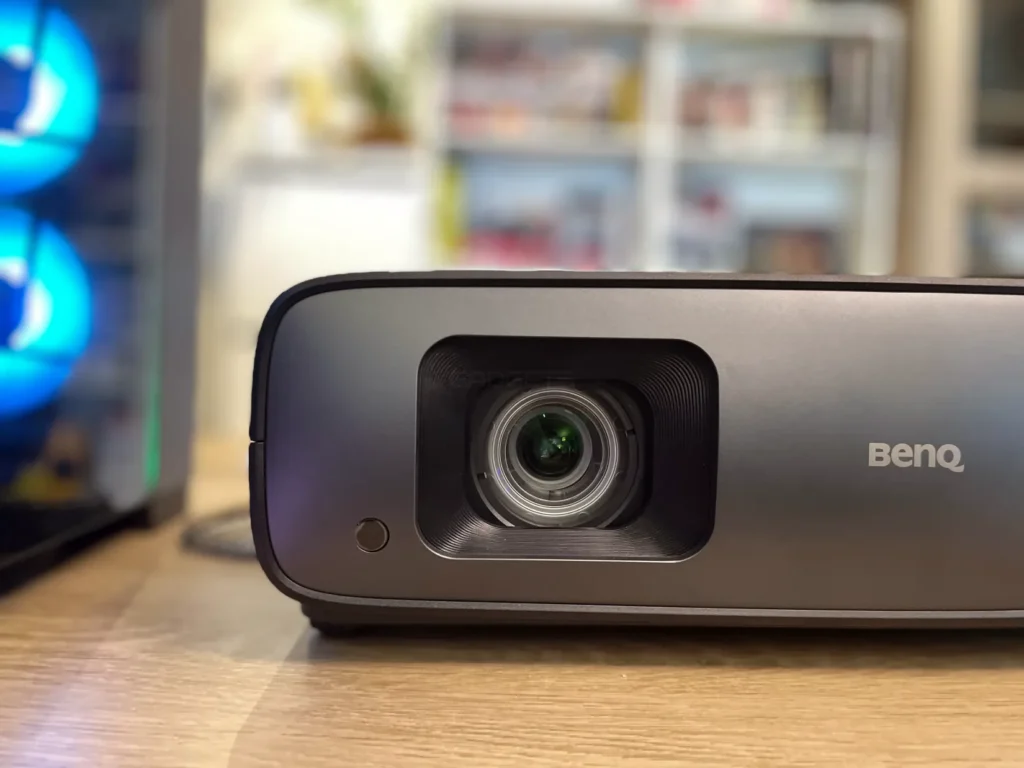 Image Quality
The W4000i features a native resolution of 4K UHD (3840×2160) at 60Hz, offering crisp and detailed visuals. With a brightness of 3200 lumens, it ensures that your content shines even in moderately lit environments. Complementing this, the high contrast ratio of 2,000,000:1 results in deep blacks and bright whites, contributing to an overall excellent video quality right out of the box. You can also fine-tune your image settings to match your specific viewing environment. This means you can customize your experience to get the best out of your content.
One of its standout features is the use of 4 LED light sources (RGBB). These not only result in faster start-up times but also offer a significantly longer lifespan compared to traditional lamps. This longevity adds value to your investment, reducing the need for frequent lamp replacements.
BenQ's HDR-PRO technology takes image quality a step further. It incorporates Optimal HDR Tone Mapping, Leading Local Contrast Enhancer, and Dynamic Black to overcome brightness limitations and optimize contrast, delivering authentic HDR performance.
Speaking of colors, the projector supports 100% DCI-P3 coverage with HDR10 support. This ensures that your visuals are not only bright and sharp but also richly colored, even in the presence of ambient light. In Cinema mode, colors are particularly vivid and bright, making your cinematic experience truly immersive. However, it's worth noting that black levels could be improved, as dark image areas may appear somewhat grayed out. Nevertheless, for most cinema enthusiasts, the picture quality of the W4000i is likely to satisfy.
Flexibility is another strength of this projector. It offers a range of projection sizes, making it suitable for almost any room size. You can project a 100″ video from a distance of just 2.5 meters, ensuring that it adapts to your space seamlessly.
Audio
This projector comes equipped with a single 5W speaker. While it delivers clear and loud sound suitable for medium-sized rooms, it's important to note that the bass is somewhat limited. In a typical home theater environment or smaller gatherings, this built-in speaker can suffice to enhance your viewing experience.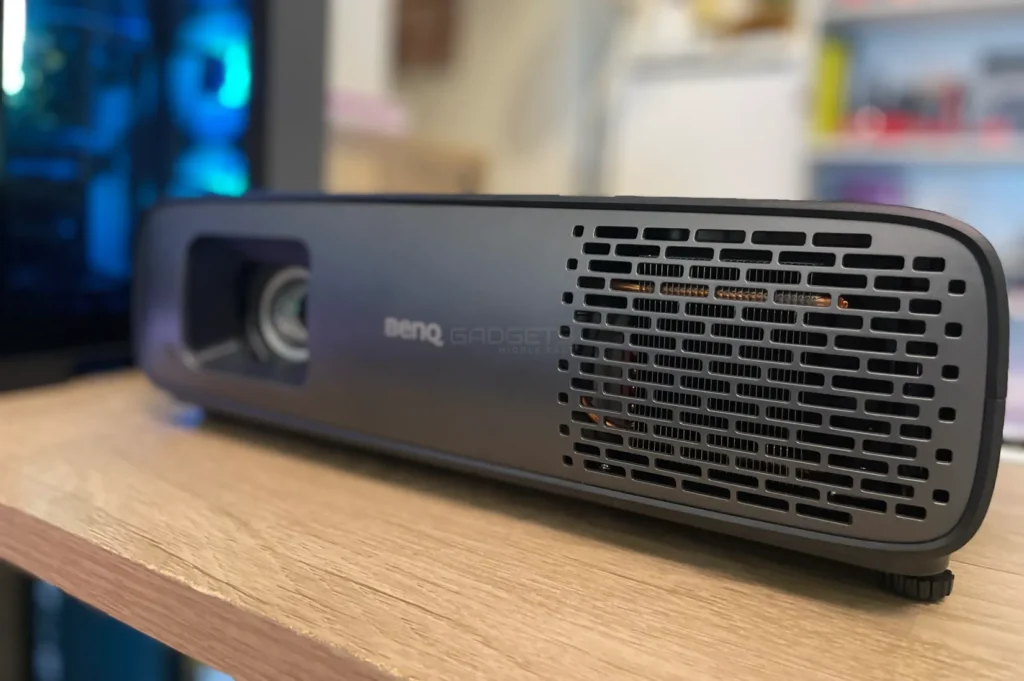 However, for larger rooms or when you have a bigger crowd, it's advisable to connect the projector to an external sound system. By doing so, you can achieve a well-balanced audiovisual setup that caters to a wider audience without compromising on audio quality.
BenQ W4000i Review Conclusion
In conclusion, the BenQ W4000i projector stands as a formidable addition to the world of home cinema. With its native 4K UHD resolution, high brightness, and remarkable contrast ratio, it delivers a visual feast that's hard to match. The ability to fine-tune image settings ensures that you can tailor your viewing experience to perfection.
The inclusion of 4 LED light sources not only guarantees faster start-up times but also significantly prolongs the projector's lifespan, saving you from frequent lamp replacements. BenQ's HDR-PRO technology elevates image quality by optimizing contrast and ensuring vibrant colors, especially in Cinema mode.
While the built-in 5W speaker provides clear and loud sound suitable for medium-sized rooms, audiophiles may want to consider an external sound system for larger gatherings and bigger spaces to fully complement the stellar visual experience.
Overall, the BenQ W4000i projector strikes a balance between impressive image quality and user-friendly features. Its versatility in accommodating various room sizes makes it a solid choice for home theater enthusiasts. So, whether you're settling in for a solo movie night or hosting a screening for friends and family, the W4000i is ready to deliver an exceptional cinematic experience.