The Corsair Virtuoso Pro is a wired open-back streaming/gaming headset that packs a punch with its impressive features. Boasting 50mm Graphene drivers and an aluminum construction, this headset is designed for both durability and performance. Its lightweight open-back design enhances comfort during long gaming sessions.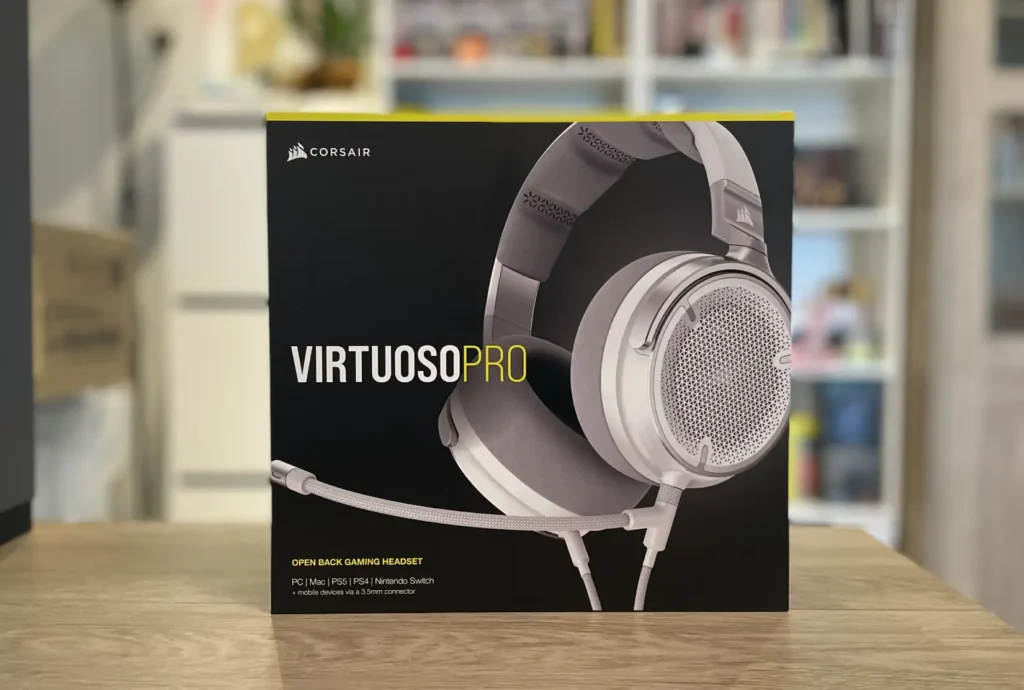 What sets the Virtuoso Pro apart are its pioneering 50mm Graphene Drivers, promising crystal-clear, precise sound reproduction that elevates your audio experience with rich, detailed nuances. This headset ensures cross-platform connectivity with its dual L/R 3.5mm audio jack, catering to consoles, laptops, PCs, and mobile devices. Whether you need to connect to amps and DACs or prefer using it with or without the mic boom, the included Y-splitter cable and optional 4.4mm balanced cable (available separately) provide flexibility.
The Virtuoso Pro offers fine-tuning of sound settings through Elgato Wave Link, compatible with Wave microphones, Wave XLR, and Stream Deck +. Additionally, it supports the integration of various VST plugins and even includes NVIDIA Broadcast for real-time background noise and echo reduction.
Specifications
Connectivity:
Wired L/R 3.5mm
Drivers:
Custom 50mm Graphene
Frequency Response:
20Hz – 40kHz
Impedance
32 Ohms @ 1kHz
Sensitivity
117dB (± 3dB)
Uni-directional Mic
Impedance: 2.2k Ohms
Mic Frequency Response: 100Hz – 10kHz
Mic Sensitivity: 41dB (± 3dB)
Weight:
338g
Microphone Type:
Removable mic
Pick-up Pattern:
Uni-Directional
Packaging
The packaging comes in a newly designed stylish yellow-black packaging with photos and specifications on the sides. The box is durable and the headset is well protected. Inside the box, we find the Corsair headset, accessories and the product information guide. You have to download the Corsair iCUE software manually. The packaging includes the below: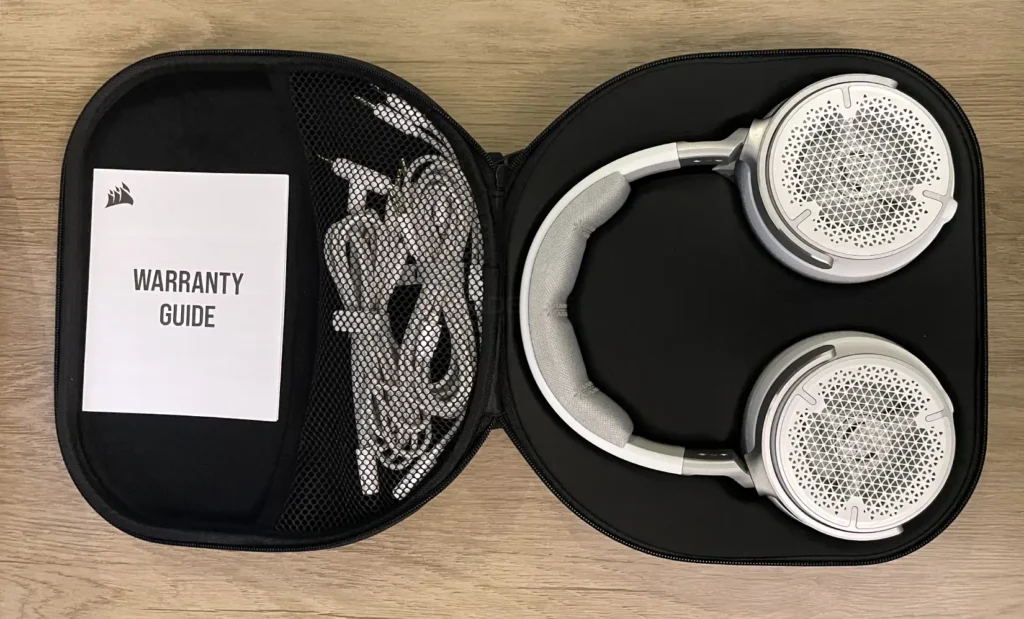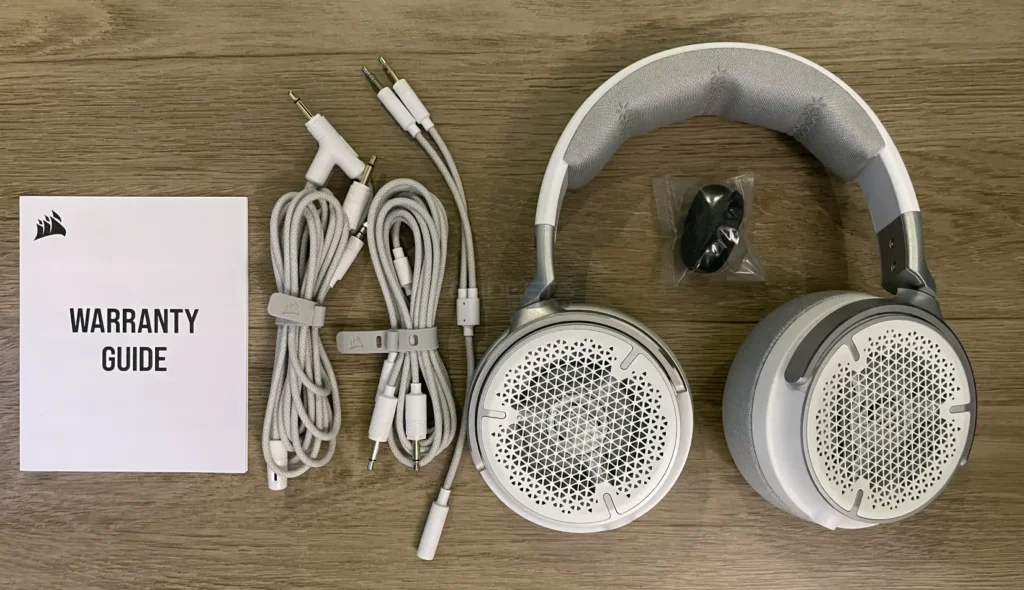 Corsair Virtuoso Pro
3.5mm to dual 3.5mm audio cable with mic boom
3.5mm to dual 3.5mm audio cable
Y-adapter cable
Warrant and product information guide
Design
The Corsair Virtuoso Pro headset is available in two classic color schemes: sleek black or pristine white. Its design is both stylish and functional, catering to gamers of all preferences. One standout feature is the aluminum -reinforced headband, which easily adjusts to different head sizes, ensuring a comfortable fit even during extended gaming sessions.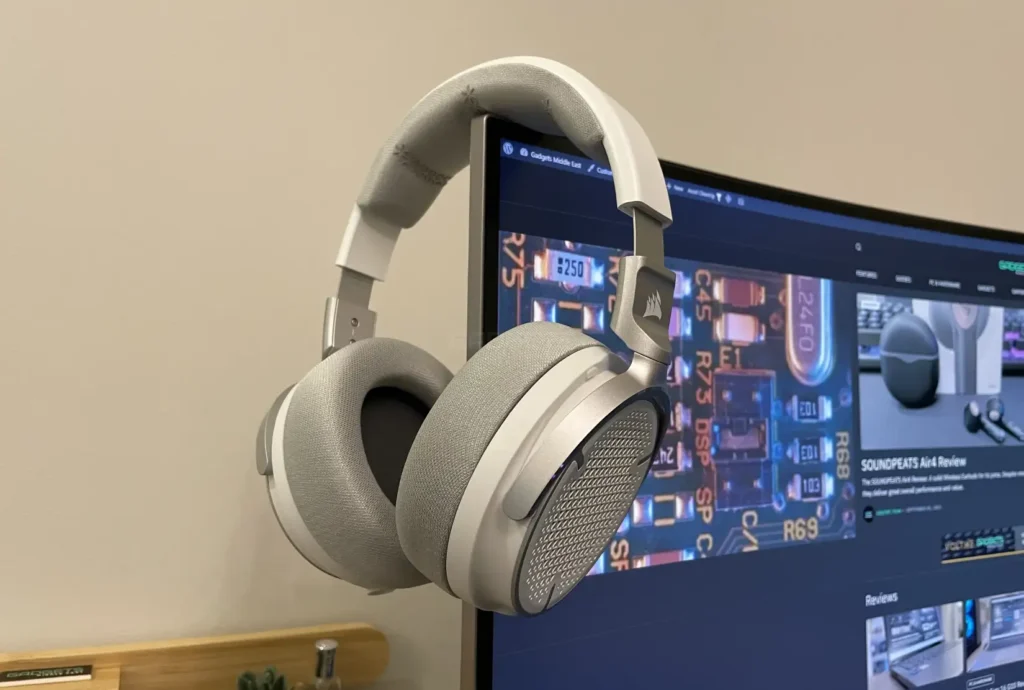 The rest of the headset is constructed from high-quality matte plastic, seamlessly blending into the overall design. Notably, the ear cups can rotate up to 90 degrees, adding to the headset's versatility. In terms of controls, there are no physical buttons on the Corsair Virtuoso Pro. Instead, it relies on dual 3.5mm L & R audio ports, one on each earcup, both of which are essential for its operation.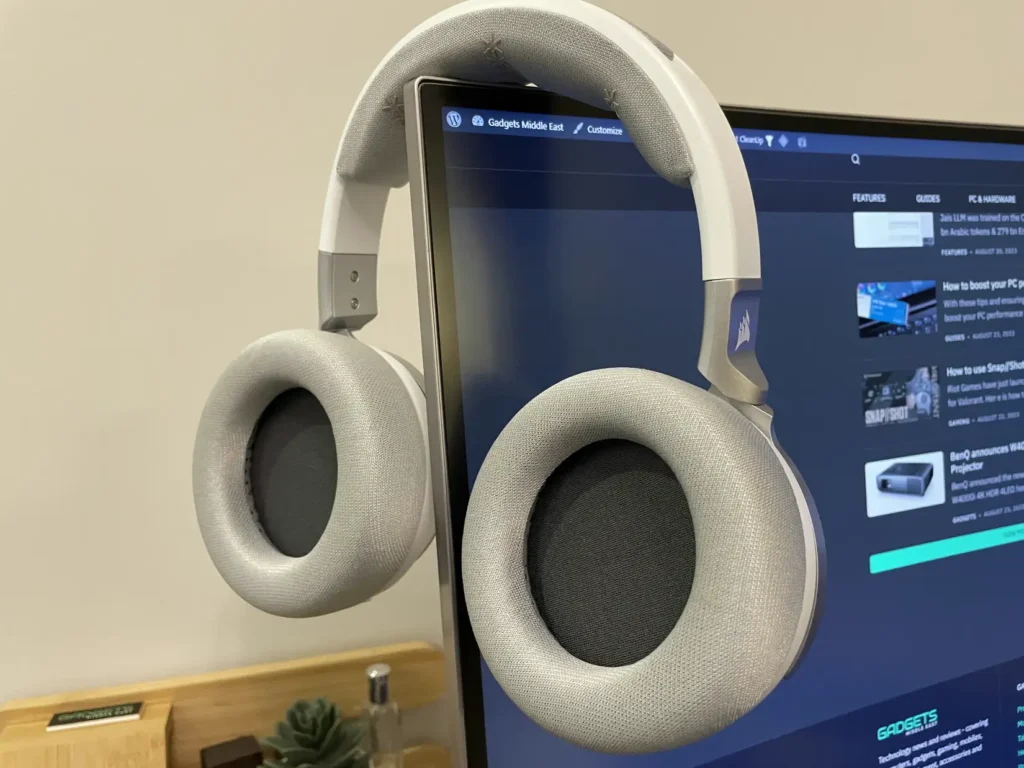 The comfort factor is taken up a notch with soft, breathable cloth ear pads featuring memory foam. These not only enhance comfort but also promote better airflow to and from your ears. In terms of build quality, the Corsair Virtuoso Pro is nothing short of sturdy, striking a perfect balance between practicality and comfort.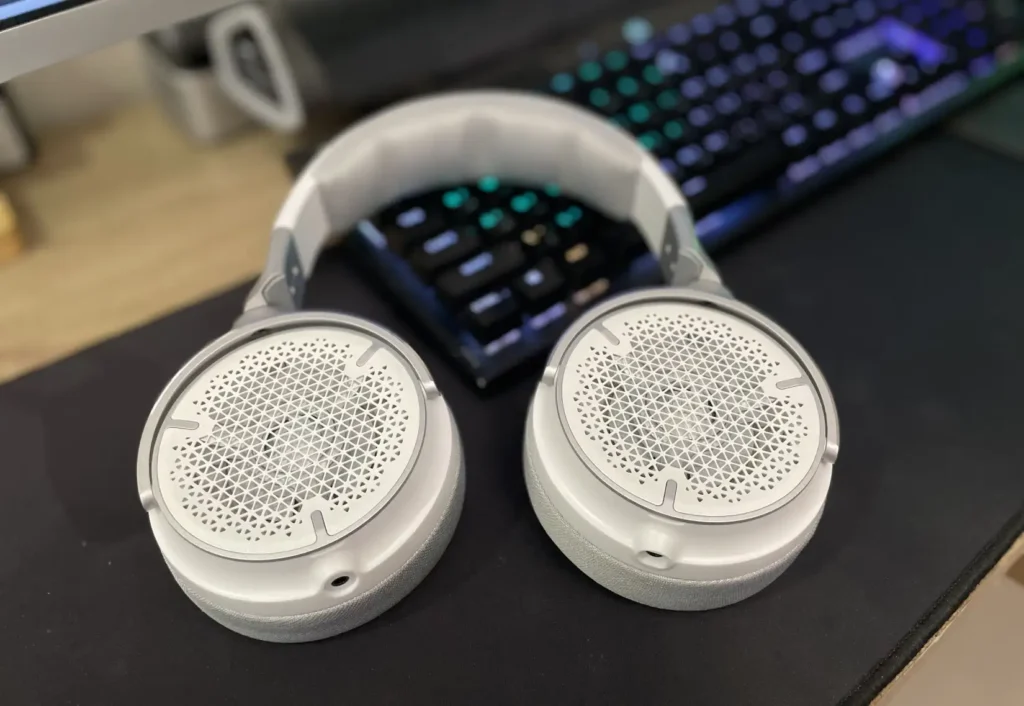 One impressive aspect is the headset's modularity, with numerous replaceable parts, including earpads, speaker tags, and the headband cushion. The package also includes an optional audio cable without a microphone, perfect for those who prefer a standalone microphone setup. For audiophiles, a balanced audio cable is available separately, enabling connection to a 4.4mm balanced audio source like an amp or DAC. Additionally, for devices with separate headphone and microphone inputs, the included Y-adapter cable comes in handy.
To customize the Virtuoso Pro, Corsair has made the process straightforward:
To replace the ear pads, a simple twist to the left detaches the earcup, and twisting it to the right secures it back in place.
For changing the open-back speaker tags, a gentle pull or press at the notch at the bottom of the headphone cup is all it takes.
Swapping out the headband is hassle-free: compress the headband and push or pull the headband cushion in the respective directions.
Corsair has thoughtfully designed the Virtuoso Pro, ensuring not only top-notch performance but also user-friendly maintenance and customization options.
Performance
The Corsair Virtuoso Pro is all about delivering an exceptional audio experience, thanks to its two custom 50mm Graphene drivers. Corsair's choice of Graphene diaphragms for these drivers is noteworthy, as Graphene is renowned for its durability and rigidity. This choice translates to reduced audio distortion, ensuring that audio is enjoyed without any loss in quality.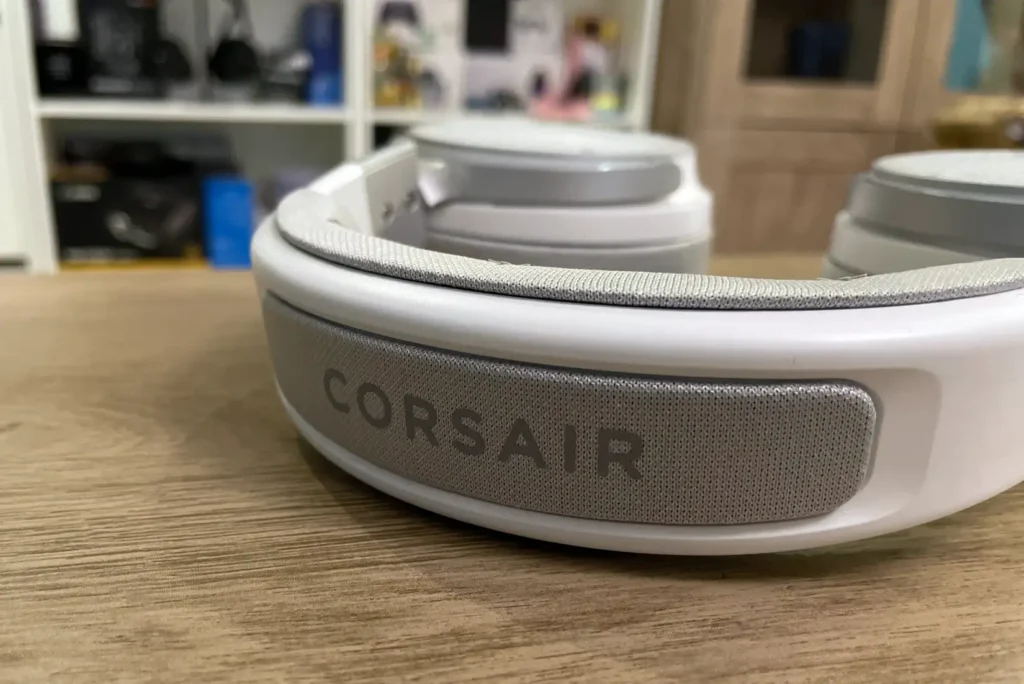 One key feature of the Virtuoso Pro is its open-back design, which lends a more natural feel to the sound. The audio quality is impressive, making it a versatile choice for both gaming and music enthusiasts. When used in conjunction with a DAC, this headset truly shines, creating an immersive soundstage that elevates your audio experience. There is good bass, precise handling of voices and mid-range frequencies, and powerful overall sound quality, even at high volumes.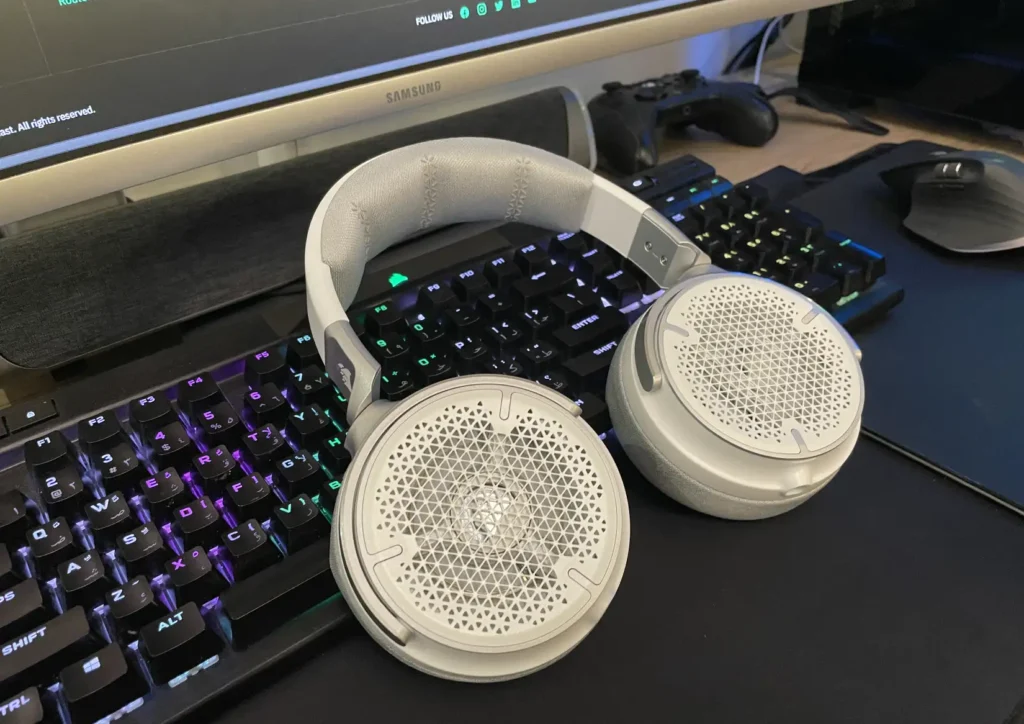 The combination of a lightweight build and an open-back design enhances the headset's natural sound, and it comes with the added benefit of being able to monitor your microphone voice without the need for sidetone.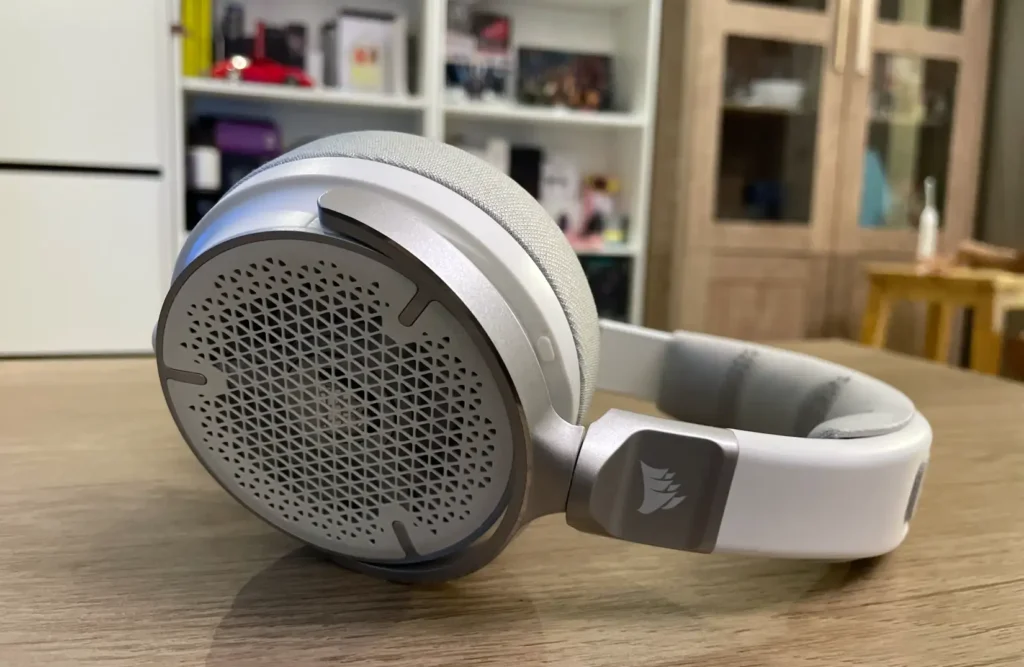 Turning to the microphone capabilities, the Virtuoso Pro doesn't disappoint. It includes a 3.5mm to dual 3.5mm audio cable with a detachable mic boom. The uni-directional microphone performs well, capturing your voice effectively. Additionally, the included pop filter does an excellent job reducing external noises. For convenience, there's a dedicated toggle button to mute and unmute the microphone, ensuring seamless communication during your gaming sessions or virtual meetings.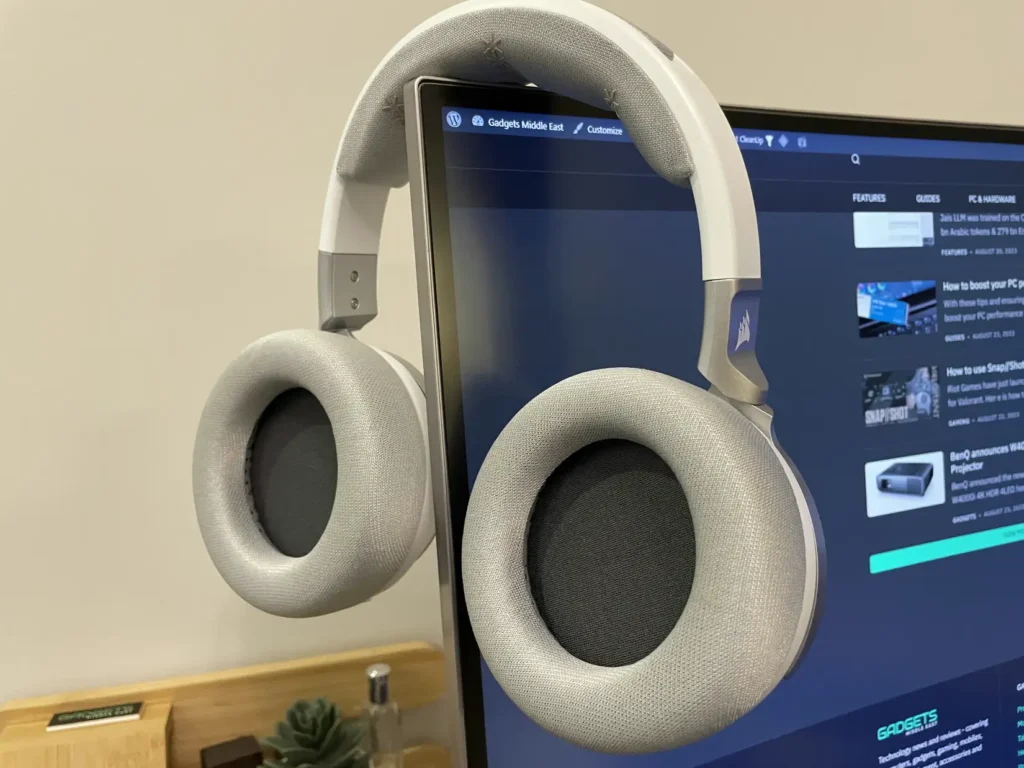 Overall, the Corsair Virtuoso Pro impresses not only with its audio performance but also with its versatile microphone capabilities, making it a well-rounded choice for gamers and audio enthusiasts alike.
Verdict
The Corsair Virtuoso Pro ticks a lot of boxes for gamers and audio enthusiasts. Its Graphene drivers deliver clean, immersive sound with powerful bass, making games and audio sound fantastic. The open-back design adds a natural touch, and the detachable mic is a handy perk. Plus, the build quality is solid, and you can easily customize parts. If you're after quality audio without the fuss, this headset is worth a look.