The Razer Opus is a wireless THX-certified headset with advanced active noise cancellation (ANC) technology. Tested and optimized by THX, these headphones are tuned to ensure high frequencies, vocals, and bass levels are well balanced to ensure ensures movies and vocals in music are clear, while maintaining deep, impactful bass output that doesn't overpower the listening experience.
Highlights:
THX Certified Headphones
Advanced Active Noise Cancellation (ANC) Technology
Bluetooth and 3.5 mm connectivity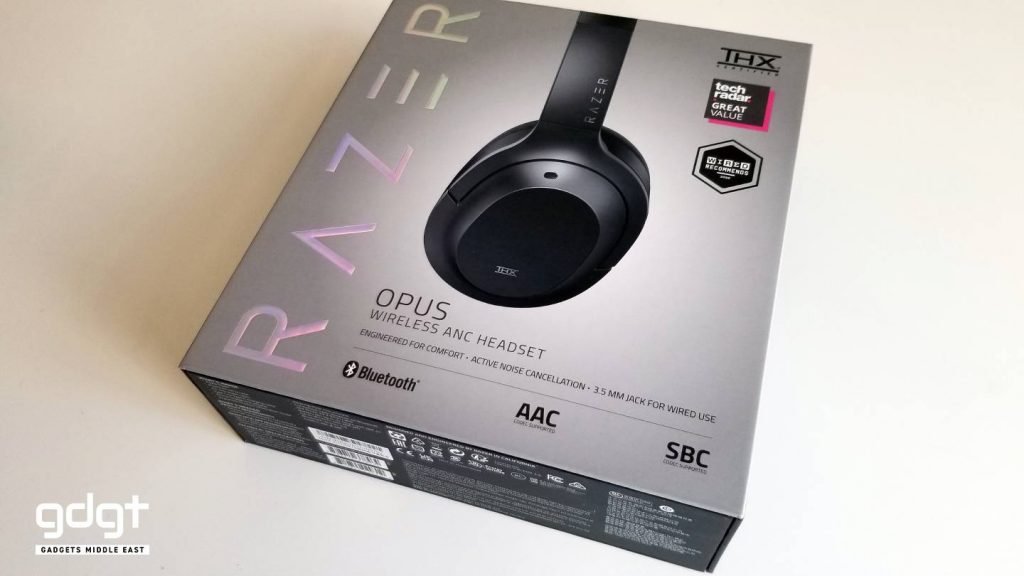 Specifications
| | |
| --- | --- |
| Drivers: | 40mm Dynamic Driver |
| Frequency Response: | 20 Hz – 20 kHz |
| Impedance: | 12 Ohm |
| Sensitivity | 105 dB/mW by HATS (1kHz) |
| Connectivity: | Bluetooth and 3.5 mm connections |
| Wireless Range: | 40ft / 12m |
| Wireless Battery Life: | Up to 25 hours with ANC on |
| Weight: | 265g |
| Microphone Type: | MEMS |
| Microphone Frequency Response: | 100 Hz – 10 kHz |
| Pick-up Pattern: | Omni-directional |
Packaging
The Razer Opus comes in an unusual packaging compared to the other product lines. There is no usual Razer color scheme or designs here, there's not even the company's tri-snake logo. Instead, it comes in a unique looking white and black box with product images and descriptions.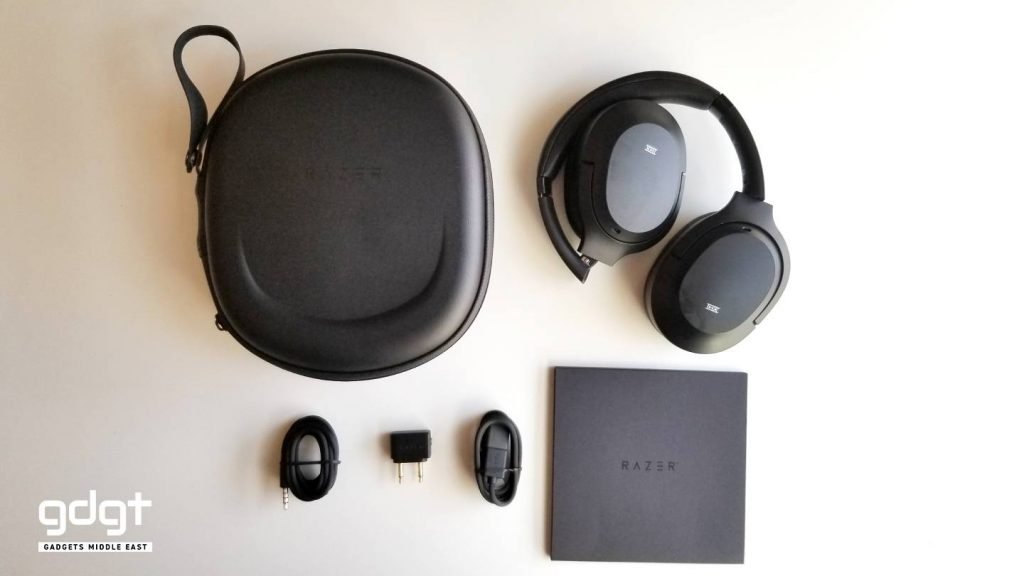 Inside, there is a hard carrying case and accessories to use the headset. The packaging includes:
Razer Opus headphones
USB-C / A charging cable
Airline adapter
Manuals
Hard carrying case
Small soft pouch for cables
3.5mm cable
Design & Build
The Razer Opus has a sleek and minimal design that is symmetrical with oval-shaped ear cups. They're headset is mostly made of high-quality plastic with a plush memory foam ear cushions and padded leatherette headband.
On either side of the headbands are minimal Razer logos and the THX logos on the ear cup exterior. In terms of ports, there is a USB-C for charging, a 3.5mm headphone jack to practically connect to any audio source, a power button, up/down volume control buttons and a multi-function button.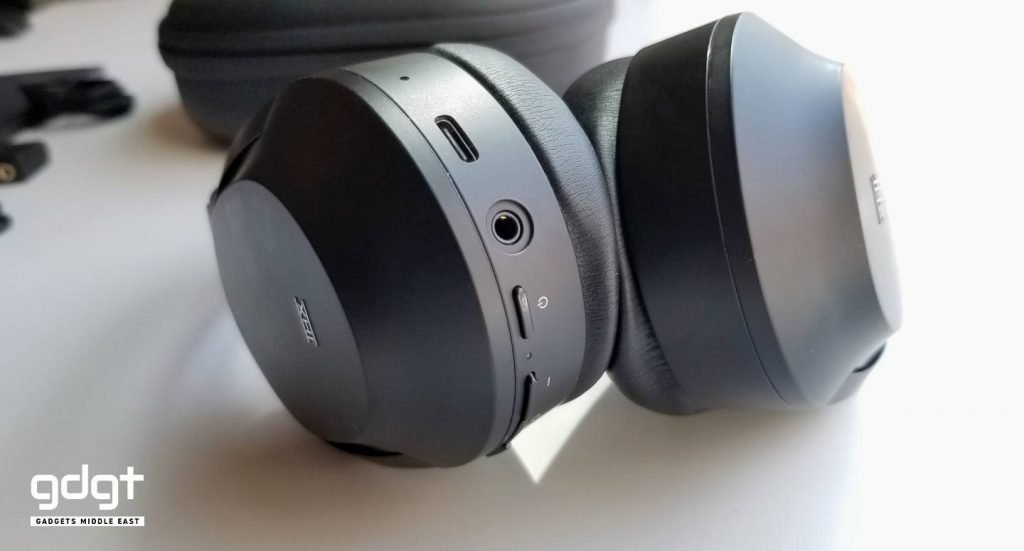 With a well-balanced weight and a tight fit, the Razer Opus can be worn for long periods of time comfortably without worrying about heat, sweat or use of glasses. The ear can also be folded towards the headband for storing inside the hard carry case.
In terms of connectivity, the Opus can be used wirelessly via Bluetooth. There is also a 3.5mm audio jack to connect to most audio sources.
Performance & Audio Quality
Two 40 mm dynamic drivers are responsible for the audio conversion, which according to Razer, covers a frequency range from 20Hz to 20kHz. The headphones have an impedance of 12 ohms and a sensitivity of 105 decibels.
The microphone has a frequency response from 100Hz to about 10 kHz. The microphone quality is average and there is a slight static when speaking.
The Razer Opus delivers a well-balanced clean and clear sound, although the maximum volume is a bit lacking. The mids and treble are clear and the bass is good with depth and clarity, even at full volume. However, fans of bass-heavy music may find they lack a bit of bass compared to most competing headsets. In addition to the overall audio quality, the noise-cancelling feature also works well.
The headset comes with an useful usage detection feature which automatically stops playback when the headsets are removed and resumes once back on. Speaking of ANC, the Razer Opus offers four microphones dedicated to active noise cancellation in a hybrid setup with two on the outside and two on the inside. There is a quick attention feature that amplifies ambient noise, simply press and hold the ANC button, letting you hear essential sounds and people talking around you.
Three main ANC modes here:
FEEDFORWARD ANC
In a feedforward setup, active noise cancellation comes from an externally facing microphone that is positioned towards the environment around you. This microphone is more sensitive to low/mid frequencies and can isolate sounds such as human speech, traffic, and other ambient noises.
FEEDBACK ANC
In a feedback setup, active noise cancellation comes from an internally facing microphone that is positioned closer to your ears. This microphone is more sensitive to low frequencies and hears what the wearer hears. If needed, it can correct audio signals before you actually hear them.
HYBRID ANC
In a hybrid setup, active noise cancellation comes from both an externally and internally facing microphone, combining the techniques used in feedforward and feedback systems.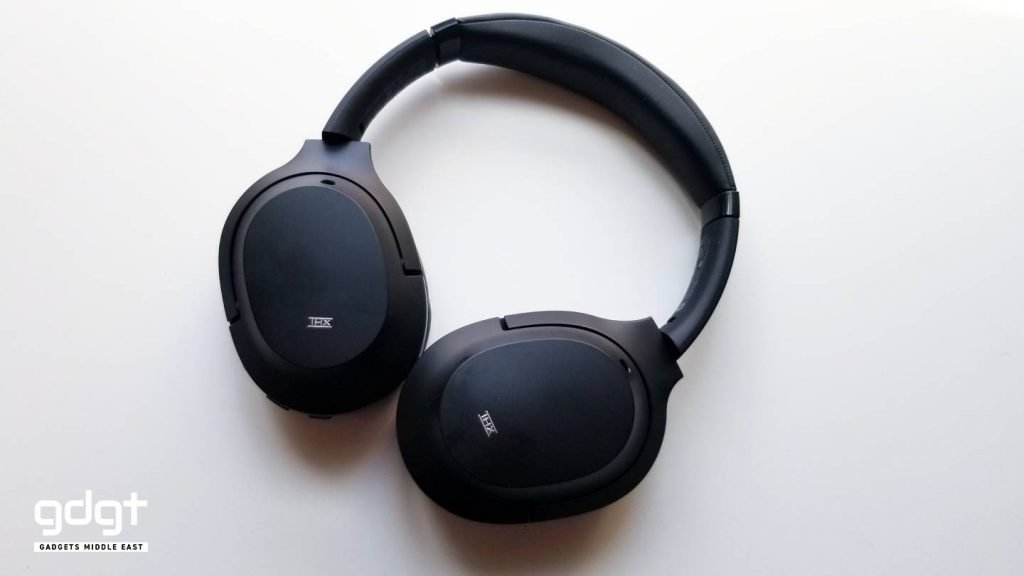 Battery
When it comes to battery life, Razer promises up to 25 hours with ANC on. During our test we are able to use it for roughly 30 hours with mixed ANC usage. Battery status can monitored with the Razer Opus companion app. Unfortunately, there is no quick-charge feature on the Opus and takes about 4 hours for a full recharge from 0%.
Software
The Razer Opus features a very simple companion app that is available on both Android and iOS. The customization options are limited and you can select only between five audio presets: THX (default), Amplified, Vocal, Enhanced Bass and Enhanced Clarity. There is no option here to create a custom EQ preset.
Verdict
The Razer Opus packs premium features found in more expensive headsets, such as the immersive THX audio, active noise cancellation, decent battery life and wired/wireless connectivity options. The design is also high-end and the headset comes with a stylish carry case for easy portability.
On the downside, the microphones are just average and there is no quick-charge support. The maximum volume may also feel less for some users.