The Elgato Key Light Mini is a portable, compact, rechargeable studio-quality lighting that can be mounted magnetically to any surface to help streamers and content creators look as professional as possible on camera. The flicker-free LEDs keep cool while edge-lit architecture and multiple diffusion layers provide indirect, ultra-soft illumination.
Powered by battery or mains, the fully wireless box light can be attached to any tripod, camera or magnetic surface for instant, bright illumination.
Key Features
Lighting in the palm of your hand – The Elgato Key Light Mini's small footprint makes it a portable product that can be used both indoors and outdoors without lugging around heavy equipment.
Wide temperature range – From the application or from a small wheel included on one of its sides, we can change the tone of the light that goes from the warm 2900 to the cold tone of 7000K.
Intelligent battery – About 4 hours of battery time with a brightness of approximately 50%. In addition, the charge can be monitored via LED indicators.
Premium Leds – The OSRAM LEDs are capable of achieving 800 lumens constantly and without flickering. In addition, the multi-layer diffusion lighting architecture makes the lighting soft on the eyes.
Complete control – Both brightness and hue can be controlled wirelessly via mobile devices or PC. There is also a physical button for the same function.
Versatility and Compatibility – Compatible with desktop stands as well as tripods for use in conjunction with cameras or smartphones. It is also compatible with the Stream Deck.
Specifications
| | |
| --- | --- |
| BRIGHTNESS | 800 lumens, adjustable |
| COLOR RANGE | 2900 – 7000 K, adjustable CRI > 94 % |
| BATTERY | 3.7 V, 4000 mAh LiPo |
| CHARGING | USB-C, fast charge up to 3 A, 5 V |
| POWER CONSUMPTION | Maximum 15 W |
| DIMENSIONS | 147 x 100 x 17 mm |
| WEIGHT | 300 g / 0.66 lbs |
| WI-FI | 2.4 GHz / 5 GHz, 802.11 a/b/g/n |
| SUPPORTED ENCRYPTION | WPA2 + AES, WPA + TKIP/AES |
| MOUNT COMPATIBILITY | Any mount with a 1/4-inch screw or adapter |
Packaging
The packaging comes in a blue and white box. The packaging contains:
Key Light Mini
Protective Cloth Cover
1x USB-C to USB-A Cable
Quick Start Guide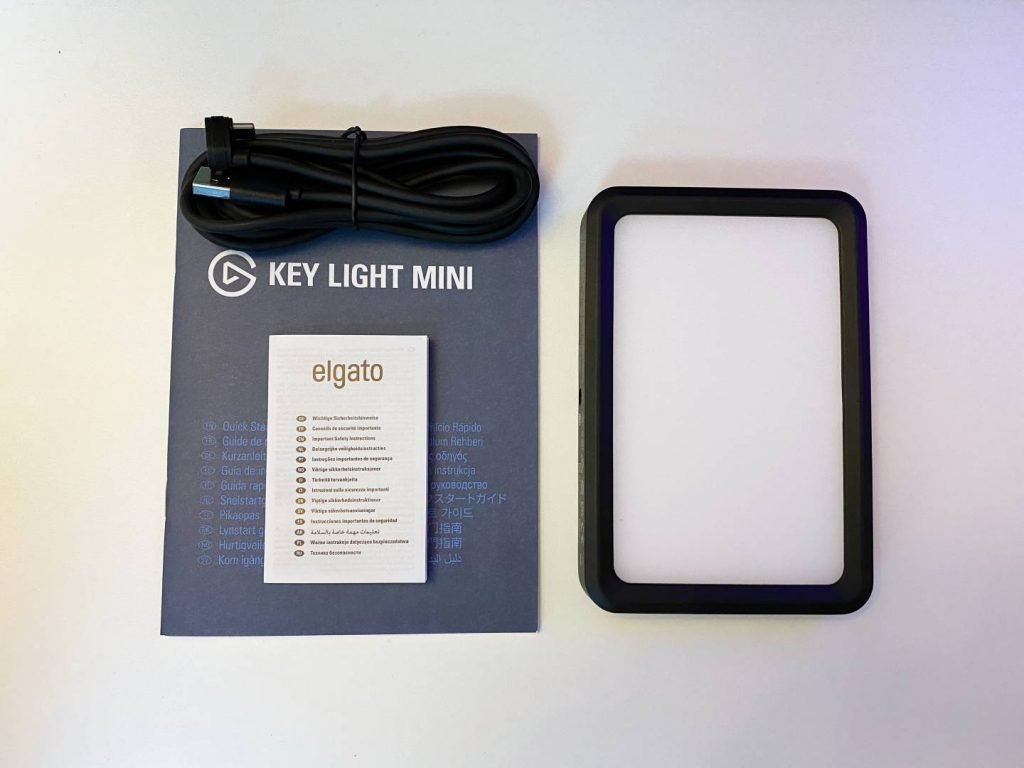 Design & Usage
The Key Light Mini is a compact light box that can attach to magnetic surfaces as well as most tripod mounts. Lighting can be controlled via your mobile device, PC or via Elgato's Stream Deck. The device can last about 4 hours on battery power, or continuously lit wired via USB-C.
The Key Light Mini offers illumination of up to 8000 lumens with a temperature range between 2900K and 7000K. Brightness adjustments can be made from the device itself or through the iOS & Android apps.
The Key Light Mini comes with a built-in 4,000 mAh battery which is enough for about 4 hours of power at 50% brightness. It is also possible to continually power it by connecting it toa power source via USB-C. The Key Light Mini installed on any rig, be it camera mount, tripod or metal surface, making it quite versatile to mount anywhere and for any situation. There are also strong magnets at back which can securely attach to all metallic surfaces.
With dimensions of 147 mm x 100 mm x 17 mm and a weight of 300 grams, the LED light panel can be easily carried in a backpack or bag, making it ideal for outdoor use.
The casing is made of aluminum with a textured pattern and the build quality is excellent of very high-quality level. On the back is one LED for the Wi-Fi connection status and five LEDs to indicate battery status, each LED representing 20 percent.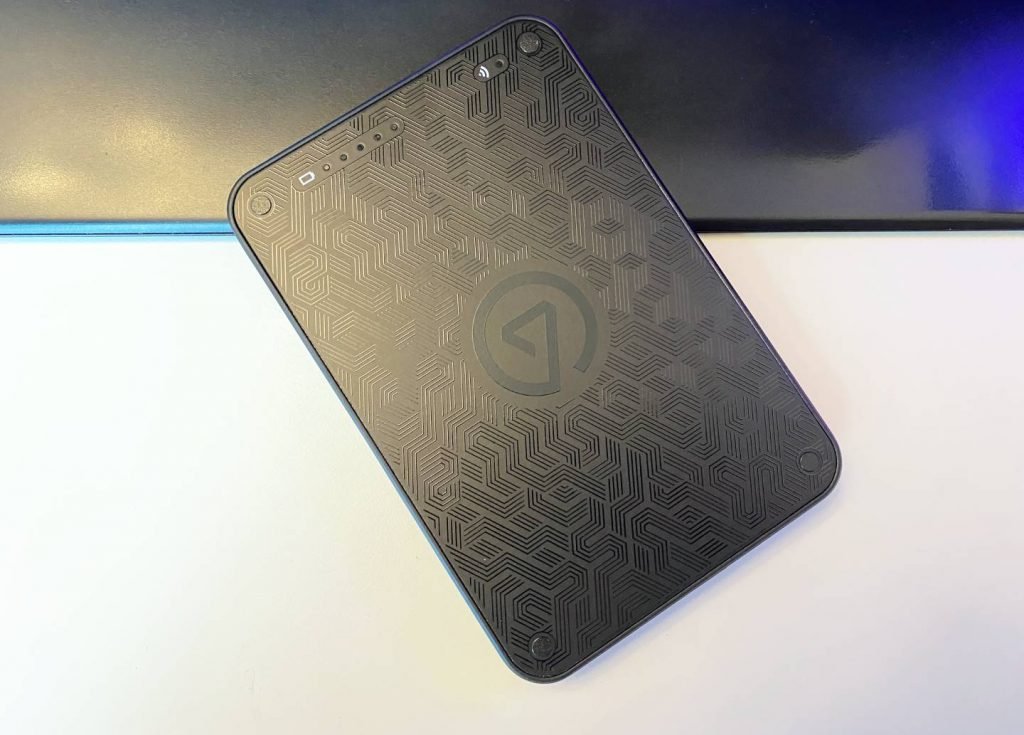 At the bottom is the 1/4-inch thread is located in the to connect the Key Light Mini to tripods and other accessories.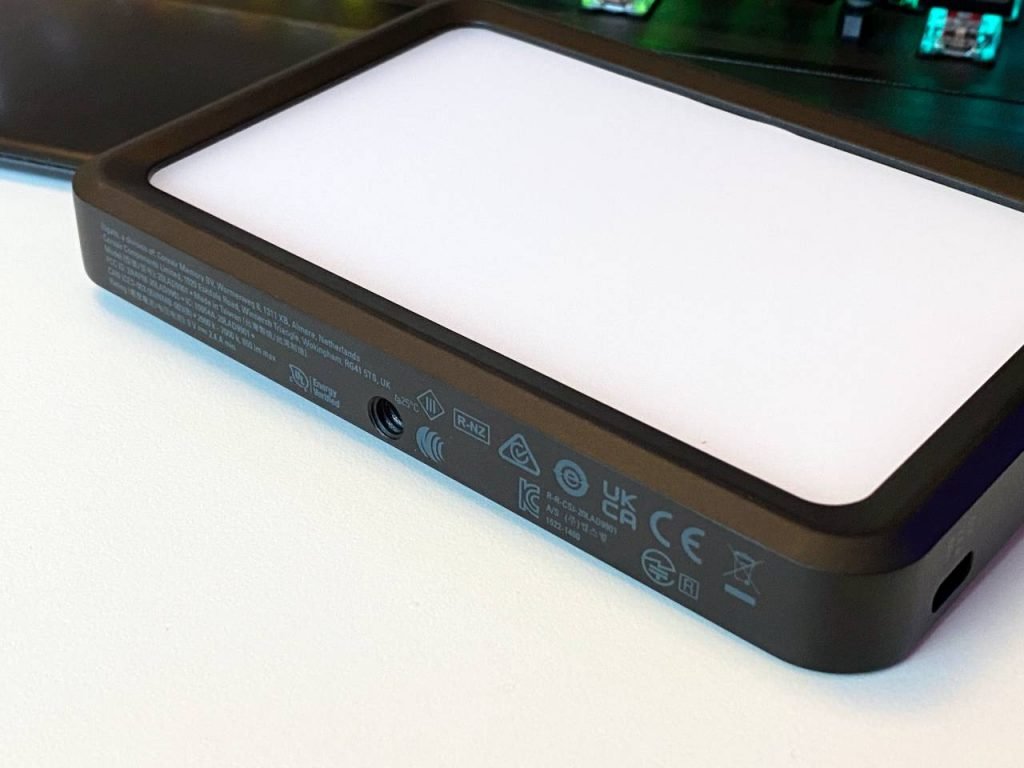 On the left side, is the power switch and USB-C port and a dial to adjust the brightness up to 800 lumens. By pressing the dial for 5 seconds we can also activate or deactivate Wi-Fi.
At the front is the LED panel, which is equipped with high-quality OSRAM LEDs.
The dial can also be pressed to adjust the color temperature. The maximum brightness of 800 lumens is more than sufficient, even in almost completely dark scenarios. At the same time, the color temperature can be controlled between 2900 to 7000 Kelvin which makes the Key Light Mini versatile compared to inexpensive options.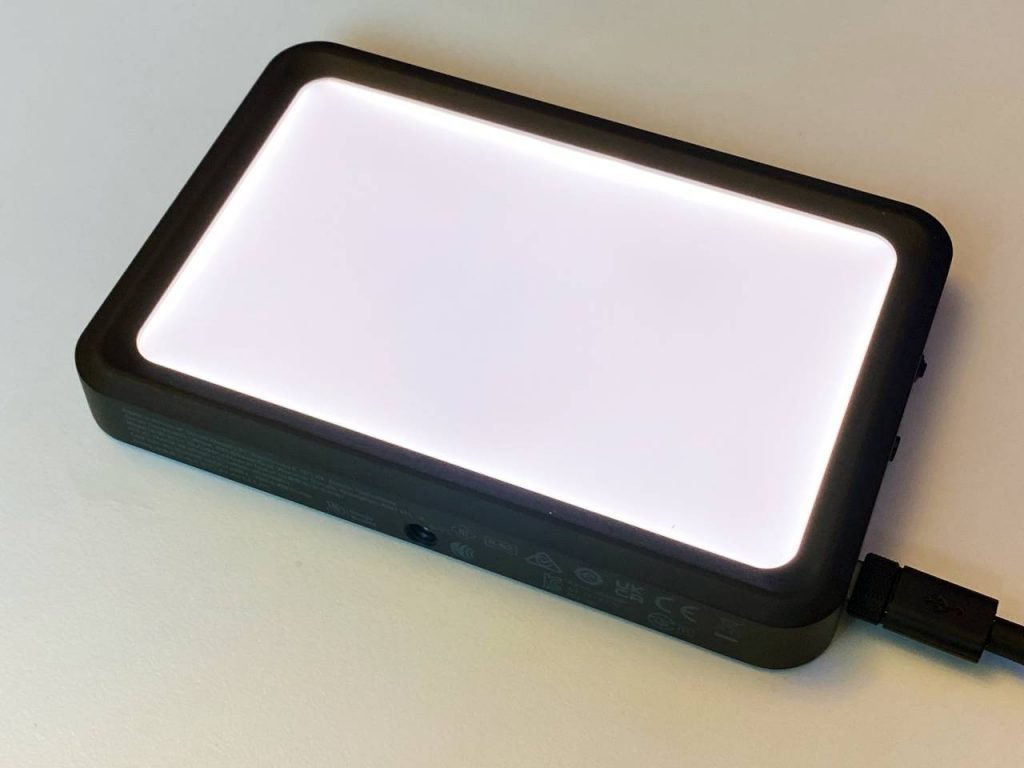 An advantage of OSRAM LEDs is that they do not generate heat even in continuous operation. Even after several hours, the light box remains cool. The battery life is also impressive. At 60 percent brightness, the Elgato Key Light Mini lasted for around four hours.
Software
Once the Key Light Mini is properly configured with the Wi-Fi network, you can control it using Elgato's Control Center app for both iOS and Android devices as well as Mac and Windows computers.
The Elgato Key Light Mini is compatible with Elgato Control Center app on Windows, macOS, iOS and Android. The software can be used to adjust brightness and color temperature levels, update firmware and activate studio mode which bypasses the battery and uses a wired USB-C connection to draw power. Adjustments reflected instantly and without latency.
Elgato Key Light Mini Review Conclusion
The Elgato Key Light Mini is ideal for streamers and content creators looking for a professional, compact and high-quality light box that can also be used on the go. This battery-powered light is fully wireless, rechargeable and can attach to magnetic surfaces, giving it a better advantage over rivals and most cheap ring lights.