The LG PuriCare Wearable Air Purifier is an electronic face mask and has a number of updates compared to the first version.
The second-generation LG PuriCare mask comes with more technology than ever, in addition to being smaller, lighter at 94g, and a more efficient motor. It features dual fans that control air flow automatically by sensing the user's breathing patterns to make breathing easier and natural. According to LG, the mask can be worn comfortably for up to 8 hours, while its 1,000mA which recharges in two hours with the included Easy Charge USB cable.
The new PuriCare comes equipped with a built-in microphone and speaker that uses VoiceON technology. Users are no longer required to pull down or remove their mask to have a conversation, VoiceON automatically recognizes when users are talking and amplifies their voice through the built-in speaker.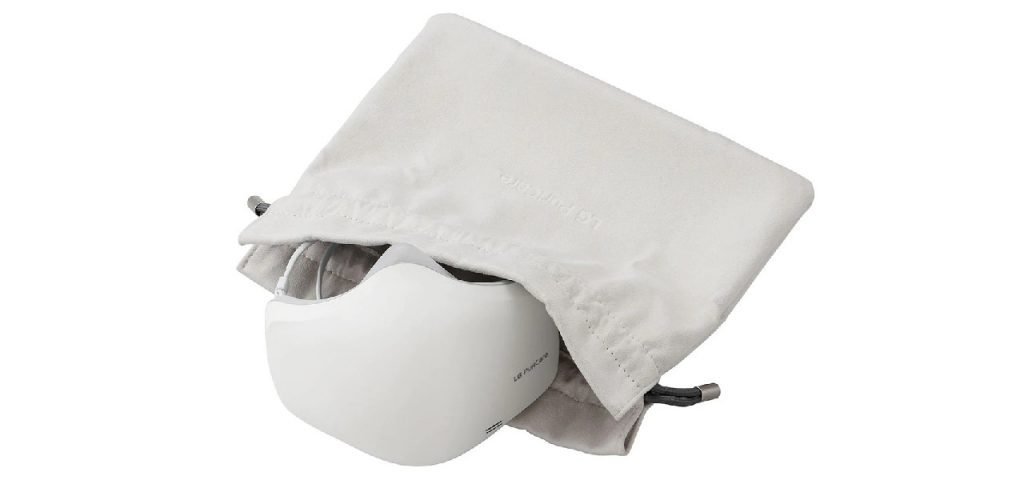 The mask is Bluetooth enabled, which allows you to connect it to the LG PuriCare Wearable Air Purifier app for Android. Once connected, the app allows you to adjust VoiceON volume and airflow, view respiratory data reports, manage filters duration and replacement cycle, check real-time battery information, turn the unit ON/OFF and perform firmware updates.
The LG PuriCare Wearable Air Purifier Gen 2 uses the same H13 HEPA Filters same professional grade filters found in premium air purifiers.
Highlights:
Smaller and quieter Dual Fan motor.
VoiceON Technology
1000 mAh battery lasts 8 hours before having to be recharged.
Can be connected to Android apps via Bluetooth
H13 HEPA Filters
Medical-Grade Materials
Specifications
Color
Ocean Black
Creamy White
Operation Noise (dB)
35dB (Min) ~ 52dB (Max)
Bluetooth
Yes (BLE 5.0)
Fan
Dual Inverter Fan
Air purifier Filter
HEPA13 (2EA) (99.95%)
Sensor
Respiratory Sensor
Usage time
8hr (Max)
Recharge Time
approx. 2 Hours
Battery
Built-in Li on Rechargeable (1000mAh) / USB C Type
Air Volume(LPM)
10~55 (Max)
Dimensions
142 × 109 × 52mm
Weight
94g (112g, including L size Face Guard)
Packaging & Design
The new LG PuriCare comes in a sleek packaging. Inside the box, are two PuriCare HEPA filters, a packet consisting of 15 inner covers and a face guard packed in separate packaging.
The PuriCare is pretty lightweight at around 94 grams and entire unit is made of durable hard plastic. In terms of design, the LG PuriCare looks futuristic. There is a power button located on the bottom of the device, which also houses the status LED and the USB Type-C charging port.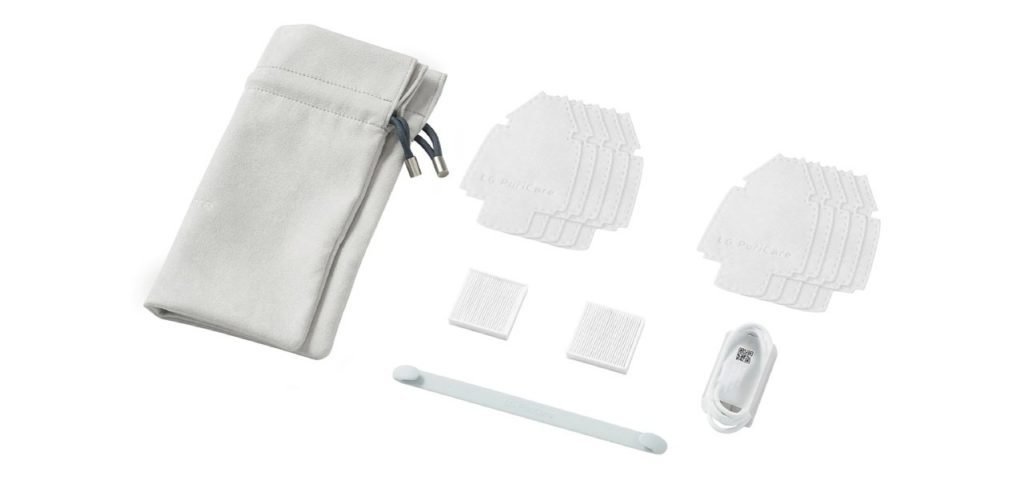 Using the mask requires a little bit of assembly. First, you need to open the filter case on the left and right side to place in the PuriCare filters. Then you insert the inner cover and finally the face guard by just sliding it into place and the built-in magnets holds the face guard in place. The magnets are strong enough to hold the face guard in place while we're wearing it, yet it's easy enough to pull off when it's time to clean it.
The LG PuriCare needs to be charged before you can start using it. It takes about two to three hours to fully charge up the device's 1,000mAh battery. LG says that you can use the PuriCare for eight hours on a single charge, and based on real world usage, we got about six hours of usage before plugging in to recharge.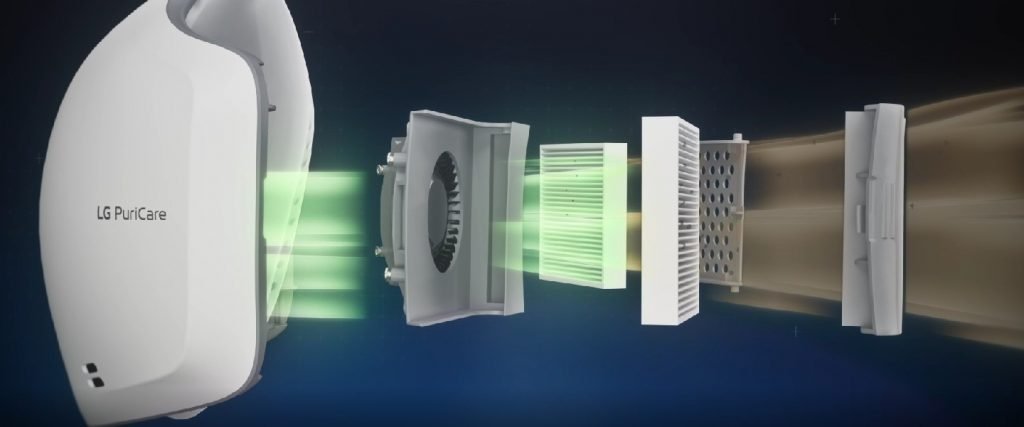 The design of the face mask is cleaner and more streamlined, and makes it comfortable to wear. The smart, ergonomic design was adopted for the shape of any face. It fits and seals the face, comfortable for everyday wear while minimizing air leakage. It also uses medical-grade silicone that has been checked for safety. However, you'll start to feel the strain of wearing the mask after an extended period of time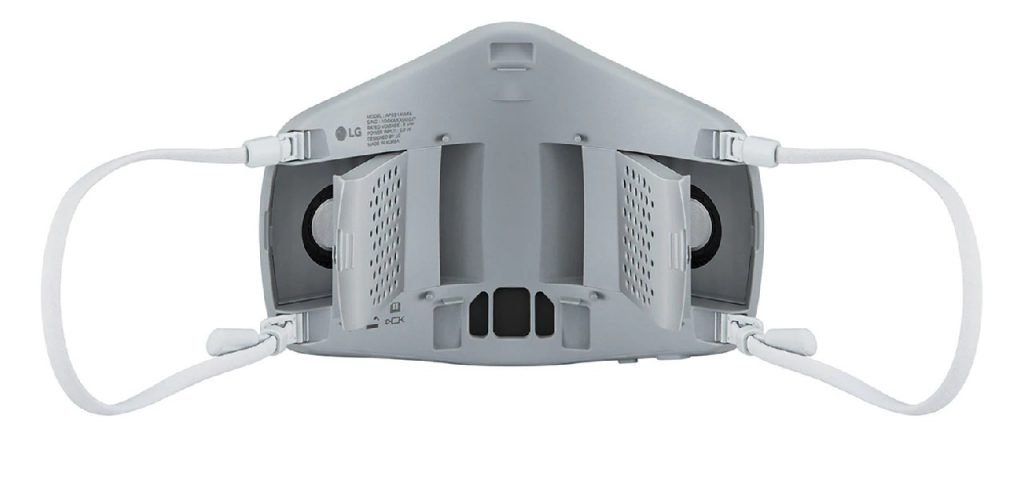 There is also a UNnano dock that can be purchased separate that can charge the device and keep Your wearable air purifier hygienic, LG says the dock can eliminate up to 99.99% of bacteria in 30 minutes using UVnano technology.
Usage
Once the assembly is complete, the PuriCare can be turned on using the power button at the bottom. The fan inside the mask starts to kick in only when you inhale, as there is a respiratory sensor. It detects the cycle and volume of the wearer's breath and adjusts the dual three-speed fans accordingly. The fans automatically speed up to assist air intake and slow down to reduce resistance when exhaling to make breathing effortless.
LG's Dual Fans make breathing in a wearable air purifier more comfortable by blowing air at the speed of your breathing cycle. You won't feel resistance while taking a breath.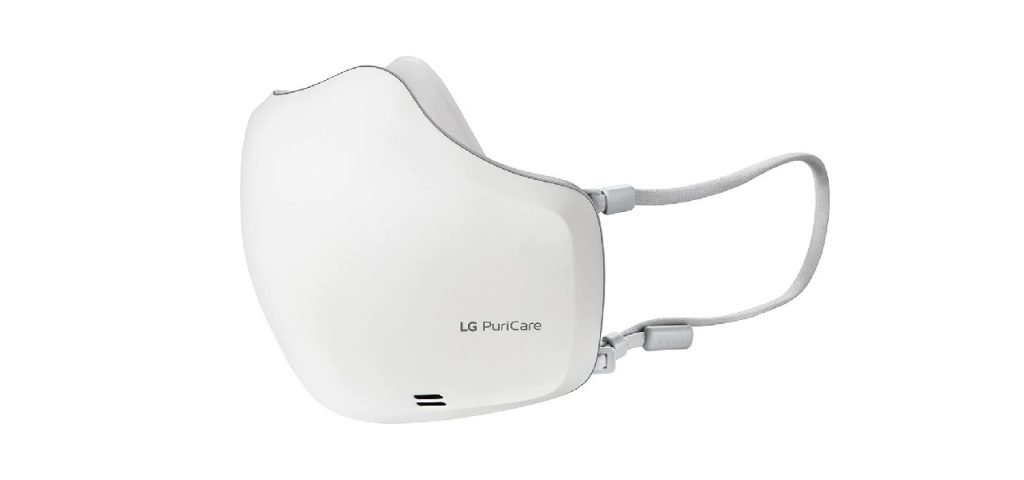 The LG PuriCare is exactly the same as that used by home air purifiers and can filter up to 99.97 percent of dust, powder, mold, bacteria, and airborne particles measuring 0.3 microns.
The new LG PuriCare Wearable Air Purifier is Bluetooth enabled, which allows you to connect it to the LG PuriCare Wearable Air Purifier app for Android. Once connected, the app allows you to adjust VoiceON volume, airflow, usage history, filter management, battery information, breathing tracking by activity and location, power the unit ON/OFF and perform firmware updates.
You can use the new LG PuriCare Wearable Air Purifier without the app, but app-specific functions like Fan Speed and Volume Control are only available through the app.
Another feature of the LG PuriCare is the VoiceON function, which is, essentially, a voice amplifier. When you turn on VoiceON, the device picks up your voice and amplifies it over the speaker slits located at the front of the mask, making it easier to hear your voice.
Verdict
Featuring LG's unique air solution technology, the new LG PuriCare Wearable Air Purifier, delivers enhanced all-around performance with a smaller, lighter, more efficient motor. The built-in, high-capacity battery lasts about 6 hours and recharges in 2 hours for repeated use. This is a great device for those seeking maximum convenience and comfort without compromising style and clean air.
Availability and Pricing
The upgraded PuriCare Wearable offers a sleek and functional look and comes in two colors: creamy white and ocean black. The LG PuriCare Wearable Air Purifier retails for 799 AED.