Huawei has been branching out into the ecosystem of wearables and accessories recently. The latest from the company is the new Huawei Band 6, the next evolution of fitness tracker from its Band Series.
The Huawei Band 6 comes with improved health and fitness monitoring, a design upgrade and extended battery life to provide a smartwatch-like experience a budget friendly price.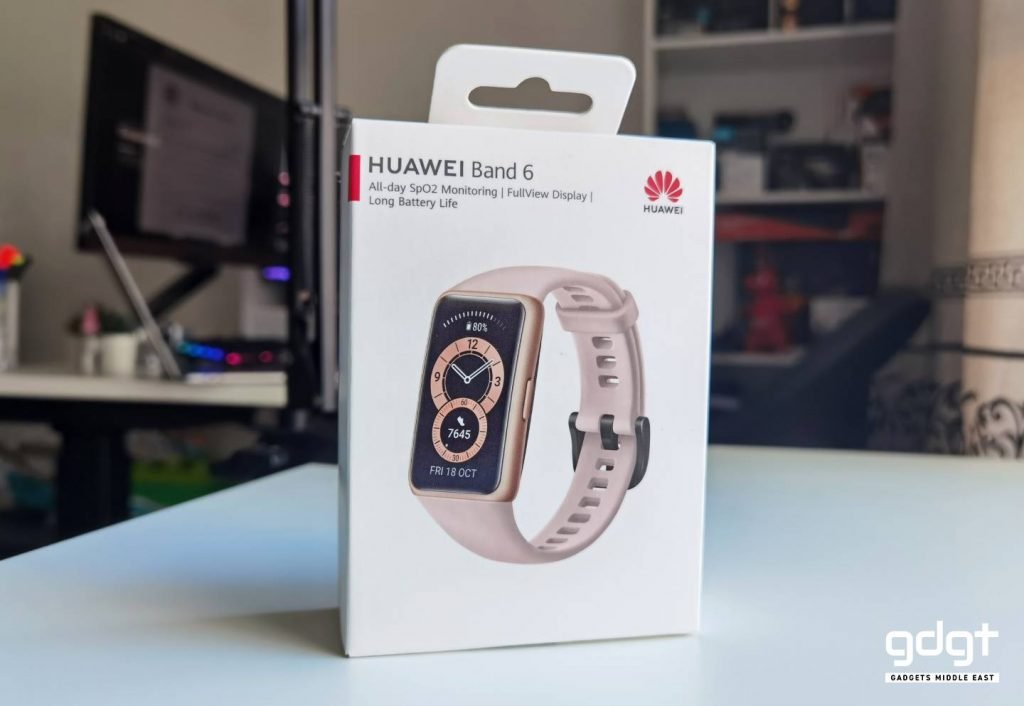 Supported by a high-efficiency chipset and smart power-saving algorithms, the Huawei Band 6 enables continuous heart rate and sleep monitoring with a 14-day battery life for uninterrupted use. On top of this, the device supports fast charging via a magnetic charger. One five-minute charge can sustain the smart band for two days of typical use.
Specifications
Display
1.47 inch AMOLED 194 x 368 pixels
Connectivity
Bluetooth 5.0
Sensors
Accelerometer sensor
Gyroscope sensor
Optical heart rate sensor
Battery
180 mAh
Water Resistance
5 ATM water-resistant
OS Compatibility
Android 6.0 or later iOS 9.1or later
Dimensions
43 x 25.4 x 11 mm
Approximately 18 g
Packaging
1 x Huawei Band 6
1 x Proprietary Charging Cable
1 x Manual
Design & Display
The Huawei Band 6 comes in four colors – Graphite Black, Sakura Pink, Amber Sunrise and Forest Green. The device is 5ATM-rated offering a water resistance rating of 50 meters
The Huawei Band 6's biggest selling point is its display. It uses a 1.47-inch AMOLED FullView display with a resolution of 194 x 368 pixels which makes the experience similar to a smartwatch than a fitness band. The display is bright and works great both indoors and outdoors.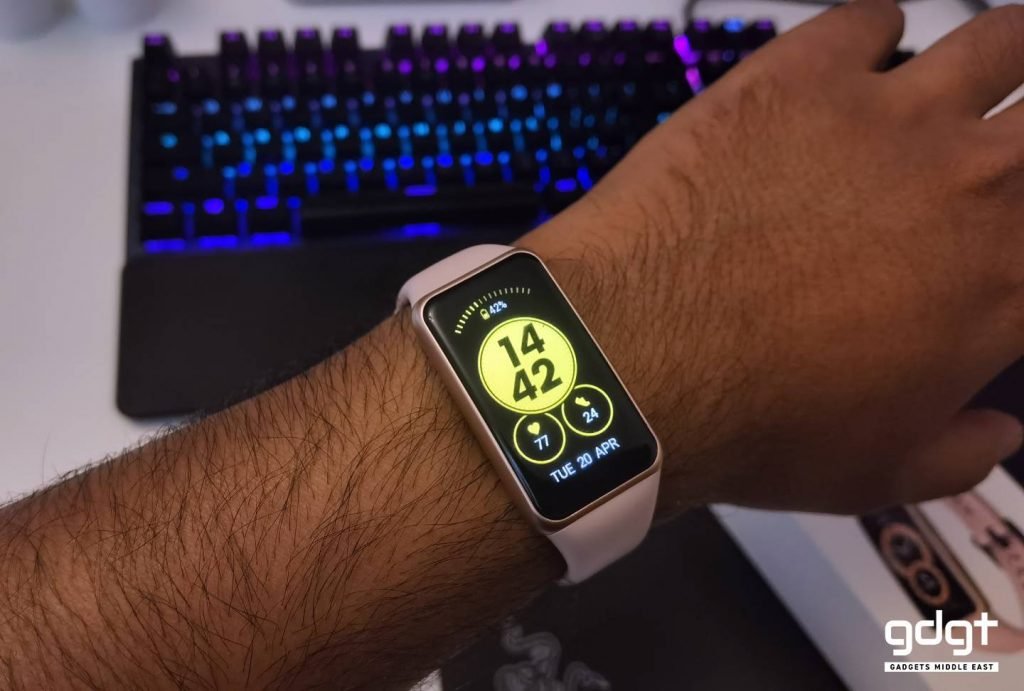 The large 64% screen-to-body ratio display gives you a large display area of the data on screen. The viewing angles are wide, colors are vibrant and the contrast is great with the screen being able to display good black levels.
The main body is made of plastic and the strap is made of soft-touch, UV-treated silicone which can be adjusted to fit even the smallest of wrists. The straps can be swapped but are limited to the ones made by Huawei.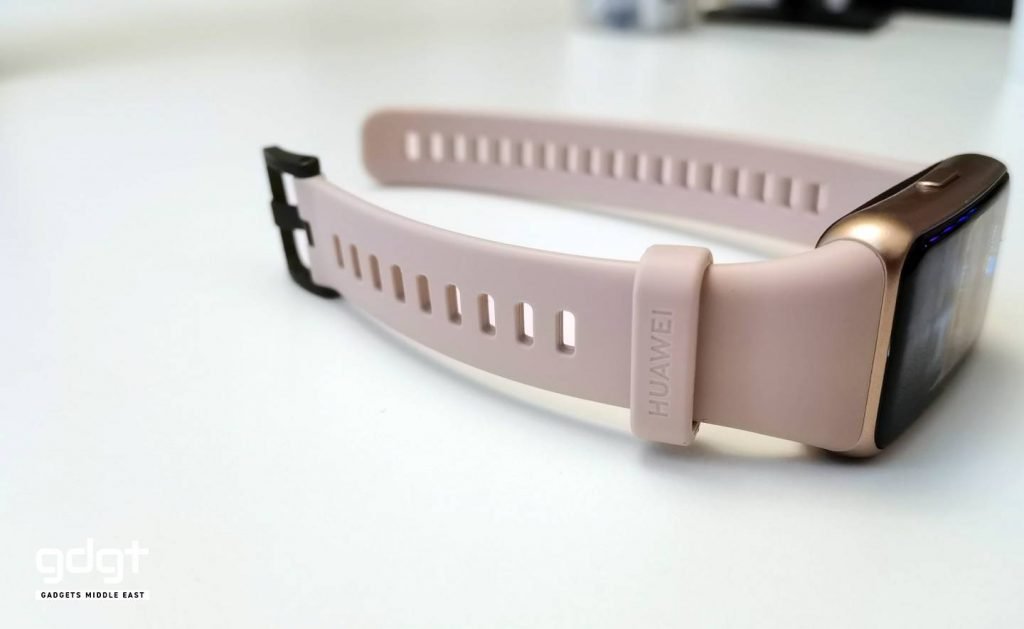 There is only physical button on the Huawei Band 6, which is on the right side. It can be used to power on the device, reboot and to open or close current apps. Rest of the operations are done via swiping and scrolling through the touch screen.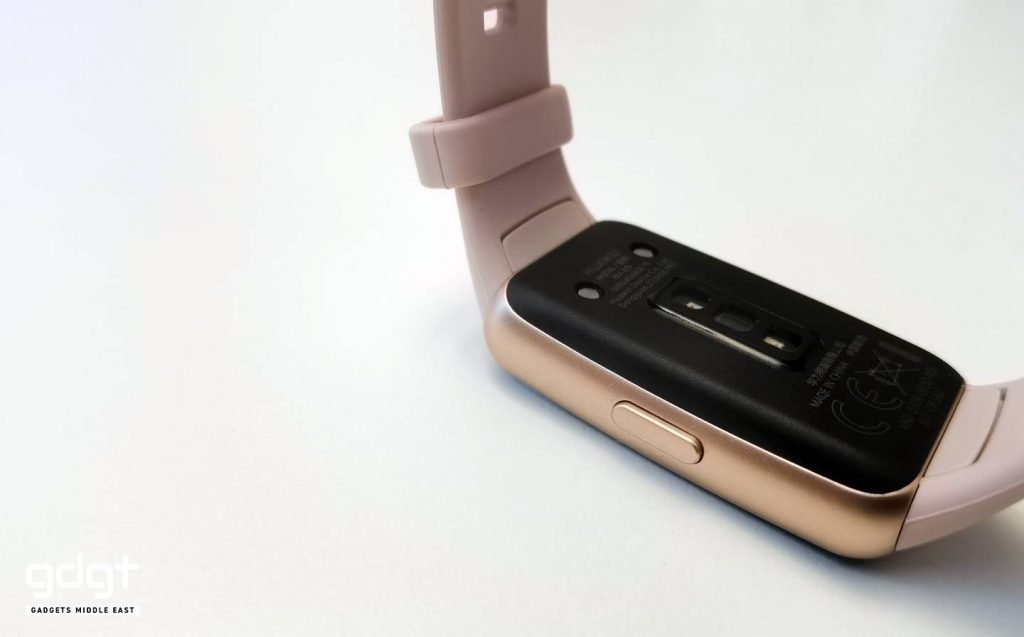 At the back is the optical heart rate sensor, an SpO2 sensor and two charging pins. The device also packs accelerometer and a gyroscope. However, it lacks a built-in GPS sensor.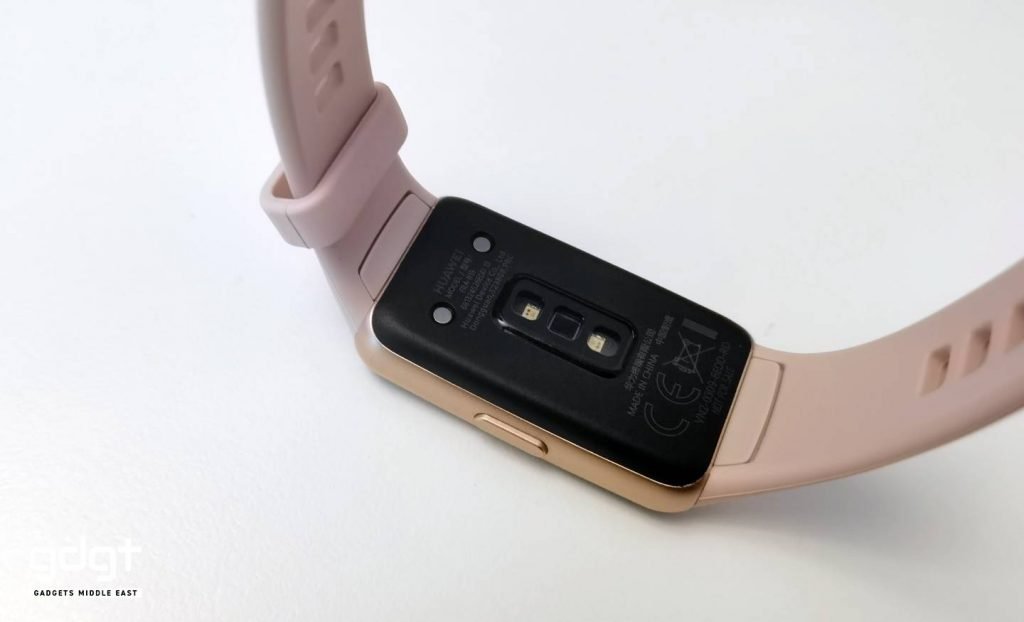 Overall, the Band 6 is lightweight and very comfortable to wear all day and the build quality is pretty solid, it does not feel cheap.
Connectivity
The Band 6 uses Bluetooth to pair with devices. Both Android or iOS devices are compatible with the Band 6, although you'll have to download Huawei Health to be able to pair your phone with it.
Hardware & OS
The Band 6 runs Huawei's own operating system LiteOS, which means you cannot install Wear apps on this watch. There is also no app store for additional apps. However, the watch already comes packed with features and because of Huawei's custom LiteOS, it has a battery life of about about two weeks. Huawei says that even a five-minute wireless charge should allow an additional 2 days of use.
In terms of using the device, most of the operations are done via swiping and scrolling through the touch screen. With regards to customization, There are plenty of face watches you can download from the HUAWEI Watch Face Store and you can even customize them with your favourite photo.
The Band 6 includes a lot of useful features such as continuous TruSeen 4.0 heart rate and SpO2 monitoring, TruRelax Stress Monitoring, TruSleep 2.0 Sleep Tracking and even menstrual cycle tracking for women. The HUAWEI Band 6 can also be used to control music playback and has a remote camera shutter function
The Band 6 can also monitor 96 workout modes and supports accurate data tracking, which include 11 professional workout modes such as indoor and outdoor running, cycling, and rope skipping, and 85 customized modes, including fitness, ball games, and dancing types.
Heart rate monitoring
Huawei's TruSeen 4.0 heart rate monitoring technology uses an optical lens and AI-based data processing to accurately monitor heart rate 24 hours a day. It instantly alerts you when heart rate drops below or rises above safe levels.
SpO2 monitoring
The Band 6 has a built-in SpO2 detection system that monitors blood oxygen saturation 24/7. If it drops too low the band will vibrate, so you can take time out to breathe and regain your equilibrium.
Stress Monitoring
Track stress levels throughout the day with TruRelax stress monitoring. When they get too high, use the built-in breath training guide to return yourself to a relaxed, focused state of mind.
Sleep Tracking
TruSleep 2.0 detects when you're awake, and when you're in one of 4 different sleep states – deep sleep, light sleep, REM and napping. With 96.3% improved accuracy, it records not only how much you've slept, but also your quality of sleep.
HUAWEI TruSport
The Band 6 utlizies Huawei TruSport professional exercise algorithm to deeply analyse users exercise capabilities based on a wide range of parameters such as heart rate variability data and exercise data. This provides users with scientific assessment and suggestions on their exercise capabilities enabling them to improve their performance.
Workout Modes
Despite not having GPS built-in into the smartband, the Huawei Band 6 can still track outdoor runs/walks tracking by pairing it with your smartphone. Choose from up to 96 different exercise modes and keep track of your heart rate, calories and more. All the data is then stored and analysed in easy-to-read graphs.
Smart Notifications
The Huawei Band 6 displays basic notification such as social media notification updates, incoming calls and messages. However, you can't respond to messages or DM without accessing your phone.
You can also view weather updates, control music and take photos through your phone's camera, all from the comfort of your own wrist.
Battery
The 180mAh battery is another highlight of the Huawei Band 6. According to Huawei it's rated to last up to two weeks and for typical use, and 10 days for heavy use. You can get 2 days use from 5 minutes of charging time with the magnetic charger.
In real life usage, this depends on the display usage and the active monitoring. In our tests it's lasted around 10 days on a single charge.
Charging the Huawei Band 6 is done using a USB-A cable with a magnetic connector that clips on to the device.
Verdict
Although there is no internal storage, installable apps or GPS, The Huawei Band 6 offers quite a lot features for it's size and price segment with the biggest two advantages being it's large AMOLED display and incredible battery life.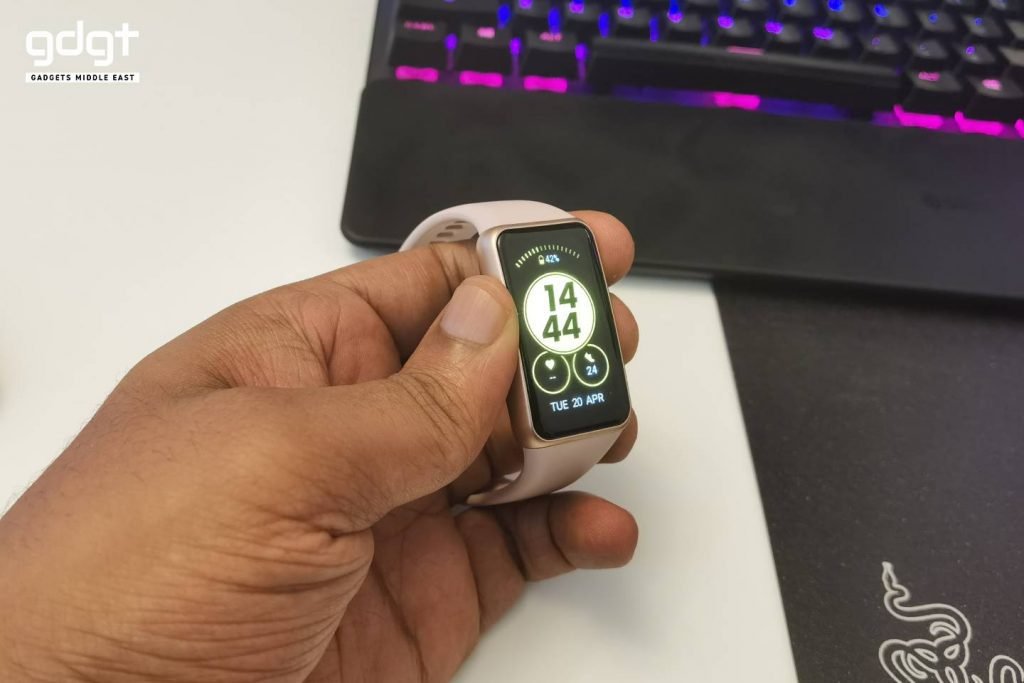 The Huawei Band 6 is very comfortable to wear and is an easy recommendation for those looking for an affordable and lightweight fitness tracker for activity and health monitoring.
Pricing & Availability
The Band 6 comes in four color options – Graphite Black, Sakura Pink, Amber Sunrise and Forest Green. It will available on Huawei's official website, Huawei Experience Stores and in select retailers across the UAE from 29th April, priced at 229AED and includes a Huawei Travel Gift Package worth 59AED.