The Huawei Watch GT 3 Pro, the 2022 upgrade to the GT-series lineup from Huawei comes with an AMOLED display with a display size of 1.43 inches and a resolution of 466 x 466 pixels, high grade materials, better RAM and storage and plenty of features.
The screen is protected by sapphire glass and the Watch GT 3 Pro is available in two different body variants – Titanium and Ceramic. The strap can also be customized in four different types: of the strap – steel, nylon, fluoroelastomer and leather.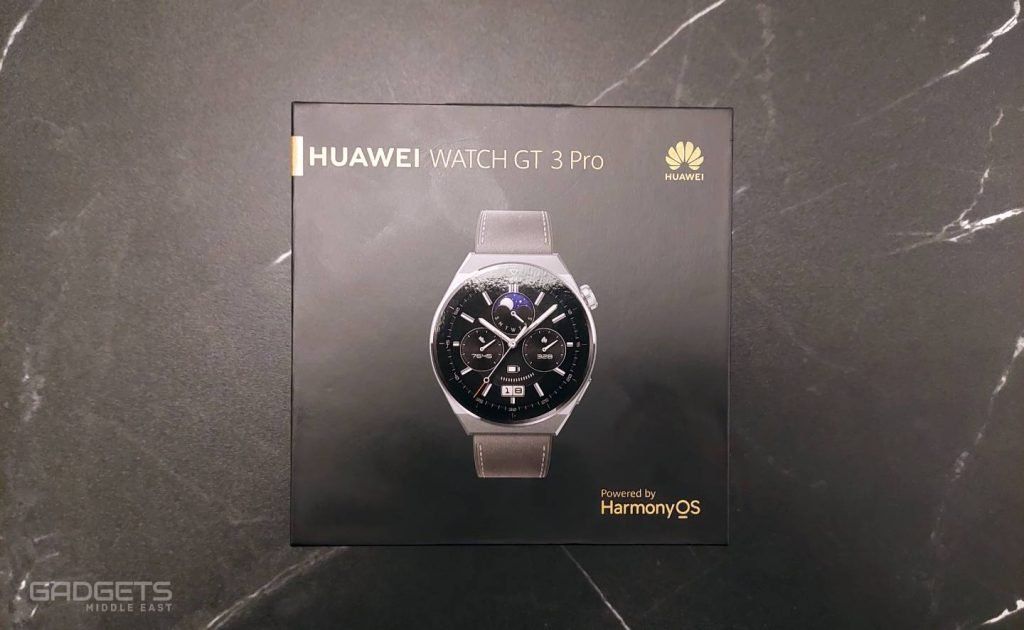 The Huawei Watch GT 3 Pro runs Huawei's own operating system HarmonyOS 2.0. The watch comes packed with features and a 14-day battery life for typical usage. Huawei says that even a 10-minute wireless charge should allow a full day of use.
Apart from compass, weather, flashlight, stopwatch, timer and standard smartwatch features, the GT 3 Pro can also monitor over 100 different fitness activities, measure blood saturation, heart rate and track sleep patterns. It is also 5 ATM water resistant which means you can dive up to 50m for 10 minutes with it.
HUAWEI WATCH GT 3 Pro Specifications
Display
1.43 inch AMOLED 466 x 466 PPI 326
RAM
32MB
Internal ROM
2GB
Connectivity
GPS Supported
Bluetooth 5.2
Sensors
Acceleration sensor
Gyro sensor
Geomagnetic sensor
Optical heart rate sensor
Ambient light sensor
Barometric pressure sensor
Temperature Sensor
Water Resistance
5 ATM
OS Compatibility
Android 6.0 or later
iOS 9.0 or later
Dimensions
46.6 x 46.6 x 10.9 mm
Approximately 54 g
Our review model is the Huawei Watch GT 3 Pro edition with a strap.
Packaging
The Huawei Watch GT 3 Pro comes in a premium, Huawei branded cardboard box.
Inside the packing are:
The Huawei Watch GT 3 Pro
Wireless charging pad
Charging cable
User guide & warranty card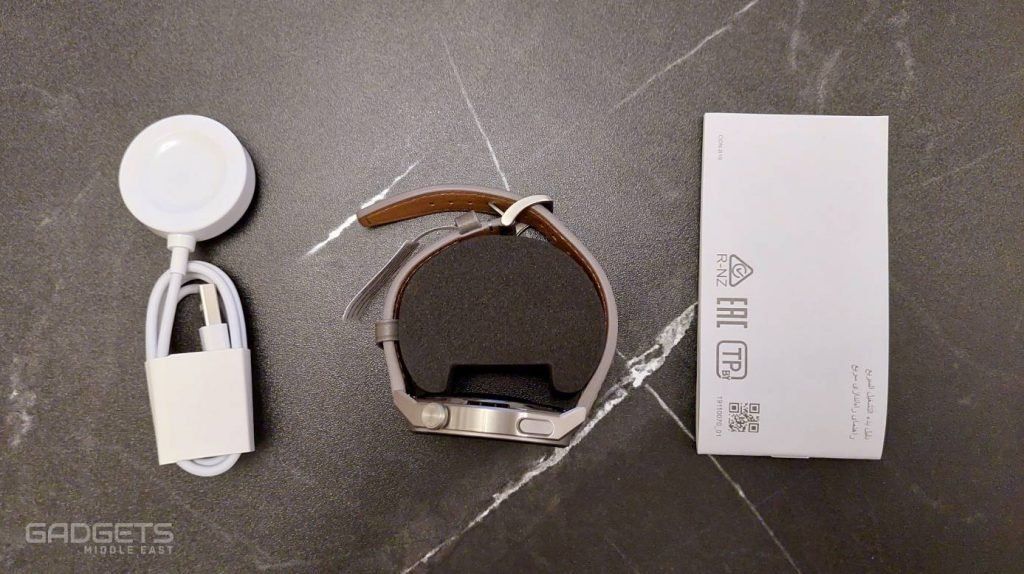 Design
Our review mode is the Huawei Watch GT 3 Pro edition with a leather strap. The Huawei Watch GT 3 Pro has a circular dial. The watch face is made of Sapphire glass, used in high-end watches, and has a tougher, scratch resistant exterior. The housing is made of titanium (a ceramic variant is also available) to make it lightweight and for increased resistance to extreme temperatures.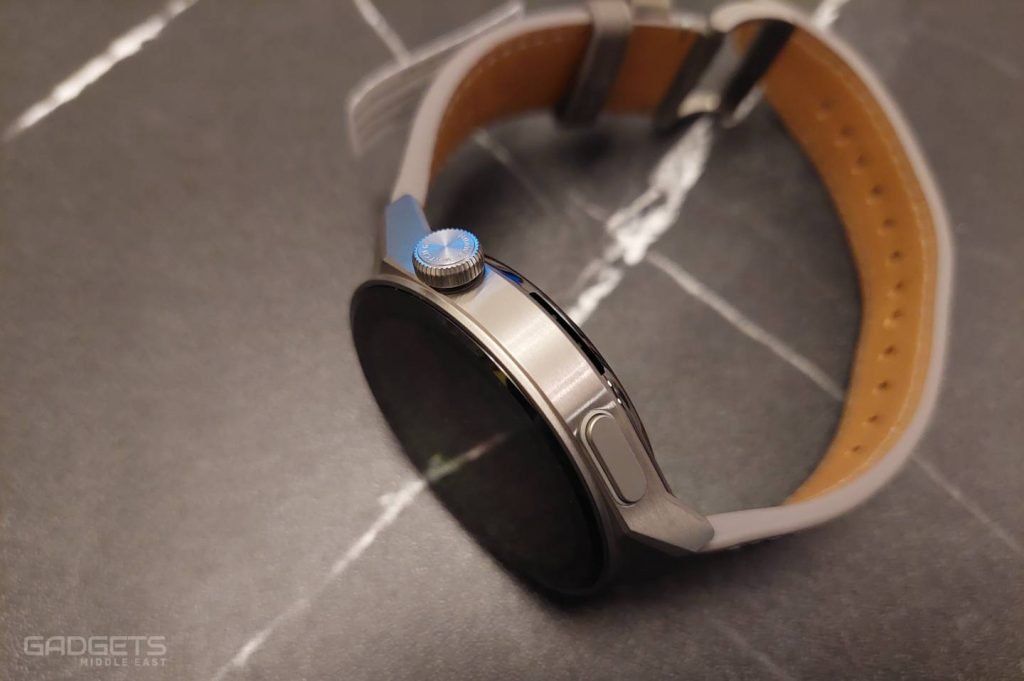 There are two buttons on the right side of the watch's 48mm casing. The top button can be pressed to bring up the application drawer when pressed from the home screen or to go back. The lower button can be configured to go directly to a specific app. Between the two buttons, at the back, is a cutout for the speaker. Rest of the operations are done via swiping and scrolling through the touch screen.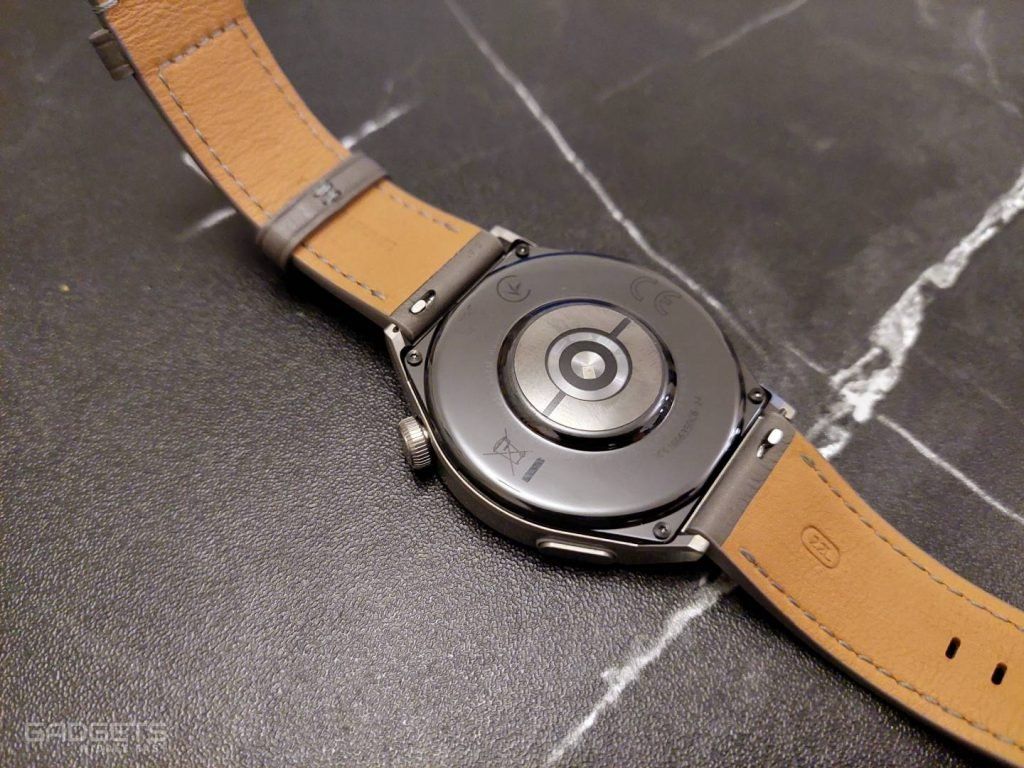 The base of the Huawei Watch GT 3 Pro is made of titanium and the HUAWEI TruSeen 4.5+ enhanced heart rate monitoring sensor provide accurate readings. It emits a red and green light when in use and supports real-time heart rate monitoring and also 24-hour heart rate monitoring. The titanium back slightly protrudes outwards but you do not feel it when wearing the watch, it is very comfortable.
The brown leather strap is of good quality and with enough strap holes to fit comfortably. Huawei Watch GT 3 Pro has excellent build quality, and has the right size and weight for daily use. It looks classy, and only on close inspection you'd realize it is a smartwatch.
Huawei Watch GT 3 Pro is also 5 ATM water resistant which means you can dive up to 50m for 10 minutes with it.
Connectivity
In terms of connectivity, The GT 3 Pro supports Bluetooth 5.2 and GPS. There is also NFC, which can only be used with Huawei smartphones with EMUI 11 or later. However, the NFC cannot be used for payments.
Display
The display is 1.43-inch circular AMOLED touch panel, with a resolution of 466 x 466 pixels and high refresh rate. It comes with enough watch faces to suit any occasion. The display is bright enough to read both indoors and outdoors in the sun and offers different levels of brightness. There are no problems reading even the finest details.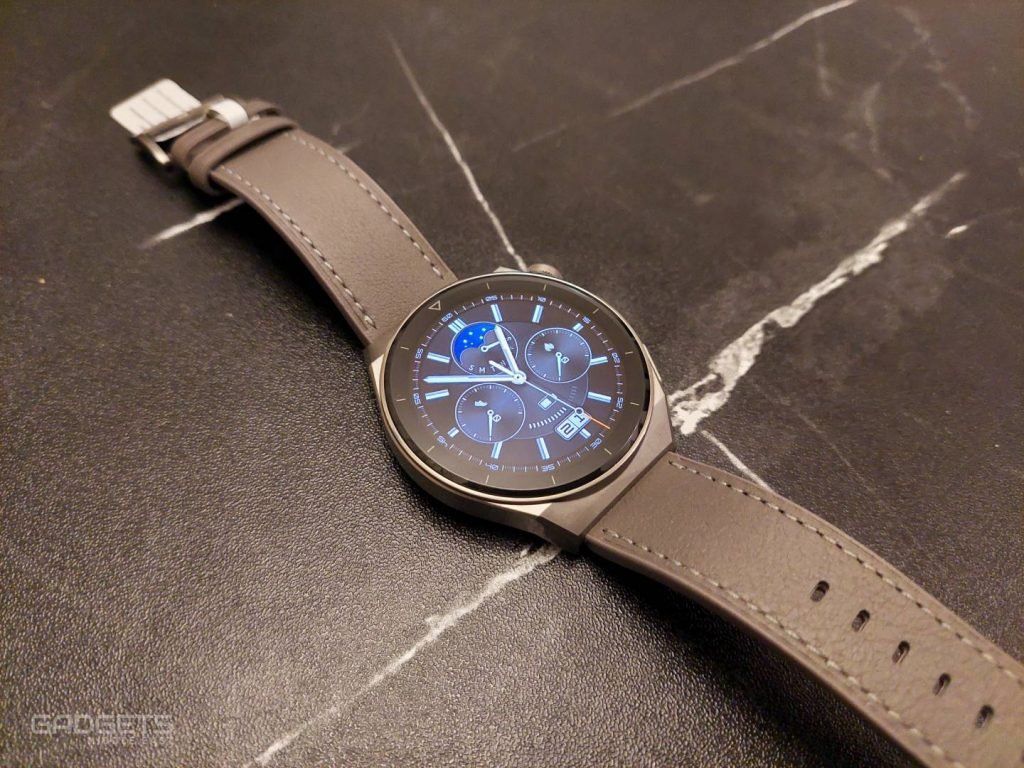 The viewing angles are wide, colors are vibrant and the contrast is great with the screen being able to display good black levels.
There are a lot of watch faces to choose from and for additional customization, Huawei Share allows users to transfer Huawei smartphone photos to the GT 3 Pro's Watch Face via a tap.
A neat feature here is that the display can be turned off using a vertical palm swipe. It also turns off automatically after a few seconds and comes back on when you raise your wrist to look at the time. There is also always on display featured that can be turned on in the settings.
Hardware & OS
The Huawei Watch GT 3 Pro runs Huawei's own operating system HarmonyOS 2.0, which means you install third-party apps on this watch. The watch can connect to the Huawei app for direct-to-device downloads via the on-device HUAWEI AppGallery, HUAWEI's in-house app market.
The Huawei Watch GT 3 Pro integrates many sensors including Electrocardiogram (ECG) analysis, skin temperature, SpO2 and the newly upgraded TruSeen 4.5 heart rate monitoring technology features a 6-in-1 LED and 4 photodiodes for more light intake.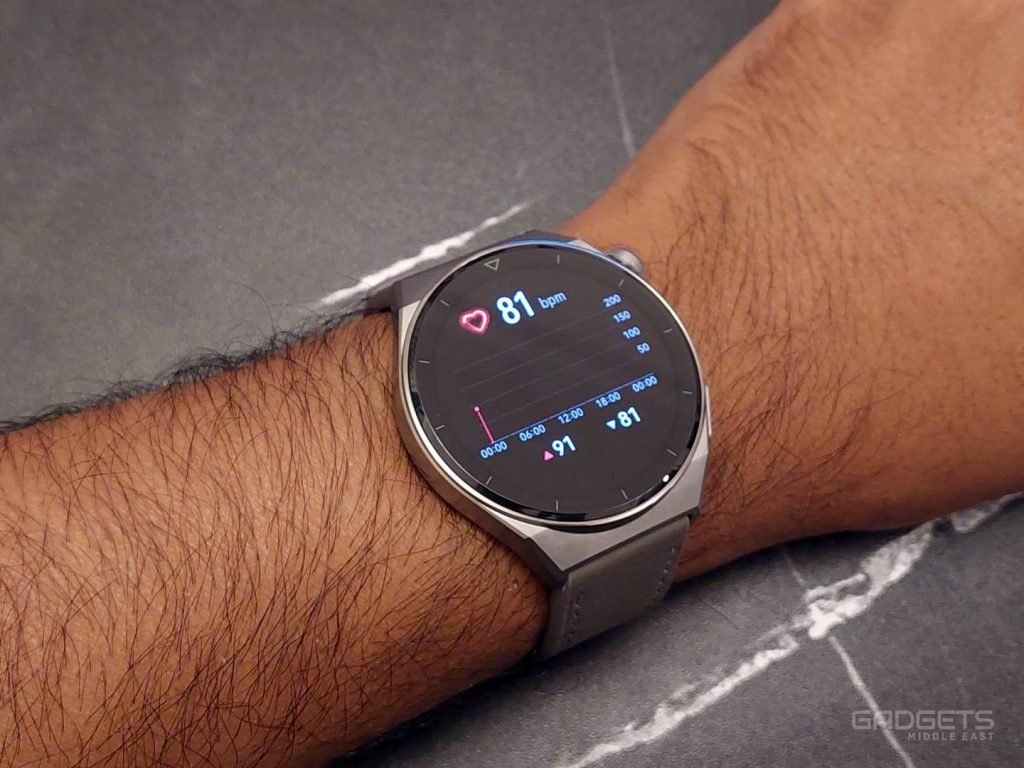 The watch can monitor over 100+ workout modes and supports accurate data tracking. There are even whole running courses built-in with full voice guidance. After training sessions, the watch calculates your ideal recovery time and shows it at the top of the activity menu. And if you sit for too long, the GT 3 Pro reminds you that it is time for a walk.
There is also resting heart rate monitoring, abnormal heart rate notifications, scientific sleep tracking, all-day stress monitoring, and blood oxygen saturation (SpO2) monitoring.
If you sleep with the watch on, you get an overview of your sleep rhythm by light sleep, deep sleep, REM sleep and how long you slept in total. The watch can also determine your stress levels and lets you do breathing exercises that are pre-programmed in the watch.
There is also a "Route Back" function which shows your route back to the starting point at all times. A built-in air altitude barometer detects air pressure changes in real time and alerts you if the air pressure suddenly changes.
Apart from weather forecast the GT 3 Pro can also notify you of sunrise, sunset and 8 types of moon phases such as new moon, full moon, first quarter moon, etc. and tides.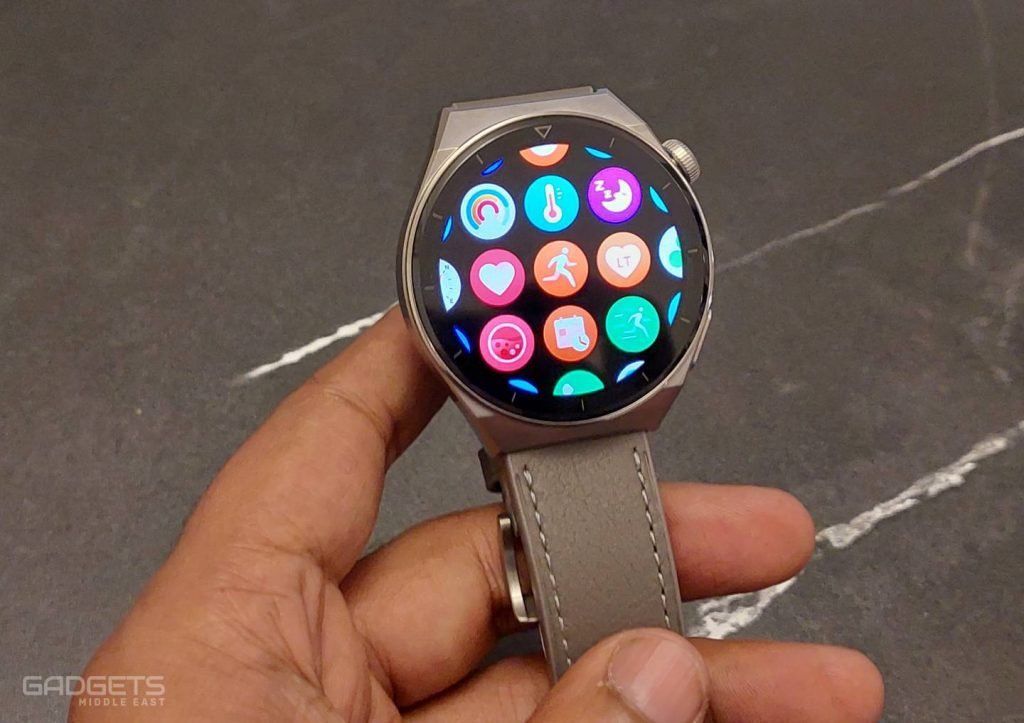 On the notifications side, Huawei Watch GT 3 Pro shows them in real time as soon as they appear on the connected phone. You need to allow what apps can send you notifications via the Huawei Health app. While it is possible to see the notifications, you can't interact or respond to them in any way, you will have to return to your mobile device for the same. You can also use The Watch GT 3 Pro to find your phone.
The Watch 3 Pro also now includes fall detection, the watch prompts if emergency services need to be called. Moreover, the GT 3 Pro also comes with a built-in mic and speaker, which lets you answer calls once paired with your phone via Huawei Health app. Sound quality is good and is loud enough for phone conversations even in noisy environments.
To track the data that the watch stores such as heart rate, sleep monitoring, fitness data etc., it needs to be connected to the dedicated Huawei Health via Bluetooth and you also need HMS installed. The health app can be installed on an iPhone without any problems. However, the Android version also requires the latest version of Huawei Mobile Services (HMS Core) which is not available on the Play Store and needs to be side-loaded via Huawei App Gallery from Huawei's website.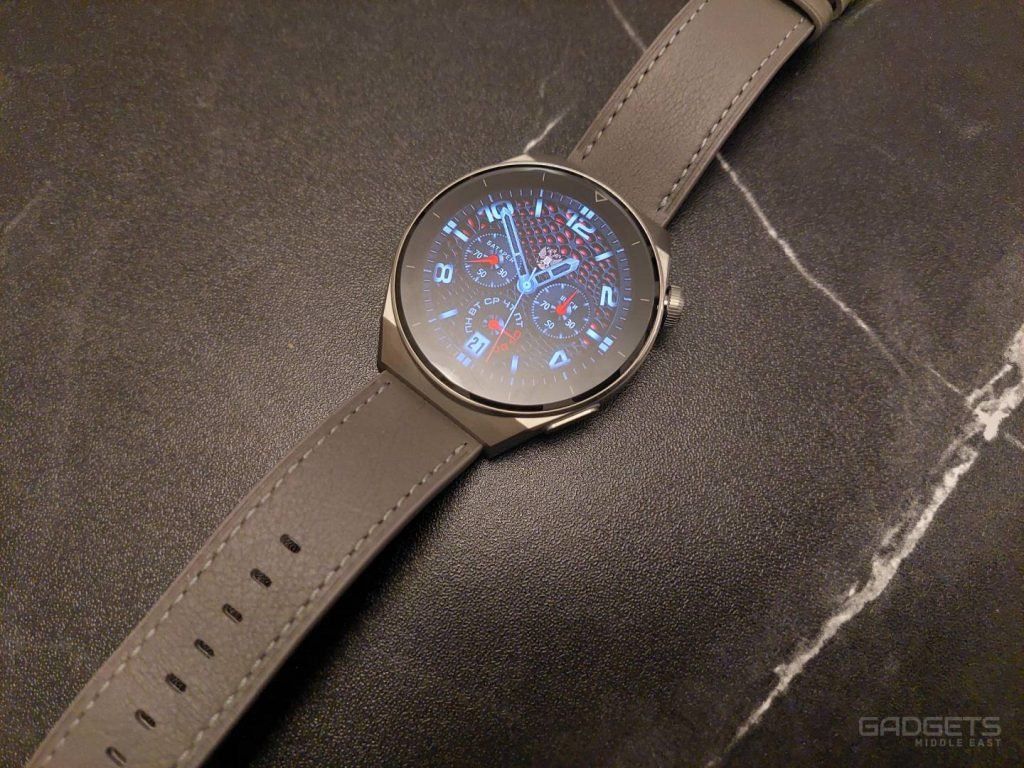 From the Health app, you can see all the collected health information along with graphs and charts of your fitness data, heart rate, sleep and stress. The app also displays stats about sports activities and lets you view previously traveled routes. There is a lot of information here and everything is presented beautifully.
Battery
The Watch GT 3 Pro is features wireless charging, instead of a pin-based connection. The watch now magnetically attaches to the new charging dock in any orientation and is also compatible with phones that offer reverse wireless charging.
Charging is fairly fast and with a full battery charge, the GT 3 Pro lasted about four days during our usage with some fitness activities, active heart rate monitoring, location enabled, Bluetooth on and sleep tracking. A full charge takes about an hour and half. It's also worth mentioning that with just 10 minutes of charging you get a full day of usage.
HUAWEI WATCH GT 3 Pro Verdict
The Huawei Watch GT 3 Pro is a premium smartwatch built using high-grade materials and comes with AMOLED display, better RAM, storage and plenty of features. It can adapt to any scenario – from being a fitness tracker to a high-end watch.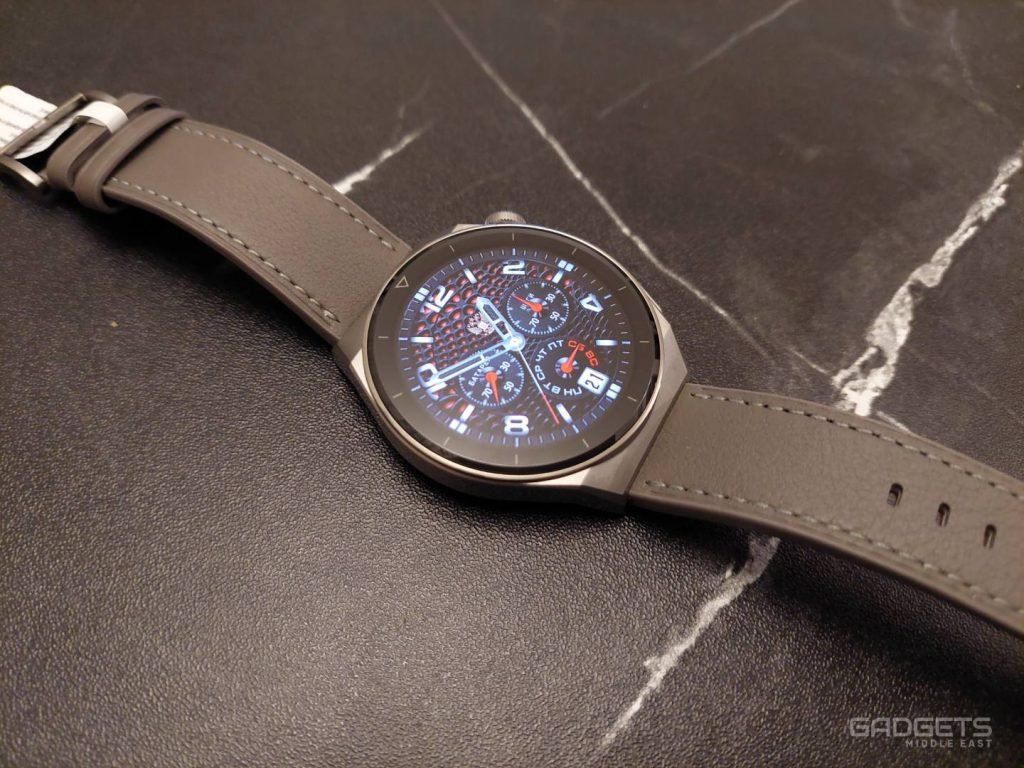 However, it's connectivity with non-Huawei smartphones is limited and could be a deal breaker for some. With that said, the Watch GT 3 Pro is definitely worth considering given its superb build quality, great battery life and fitness and well-being features.
HUAWEI WATCH GT 3 Pro Pricing & Availability
The HUAWEI WATCH GT 3 Pro starts at AED 1999 and will be available in Titanium and Ceramic editions at Huawei Experience Stores, e-commerce stores and across select retailers in the UAE.