The Huawei Freelace Pro is the latest wireless neckband earphones from Huawei. It features a stylish design and offers excellent battery time, dual-mic active noise cancellation, a large 14.2 mm dynamic driver, Bluetooth 5 and and IPX56 certification for splash, water, and dust resistance.
Specifications
Color Options:
Graphite Black, Spruce Green, Dawn White
Dimensions:
Total length:
862.4 mm

Cable length:
814 mm

Weight:
About 34 g
Controls
Sensor control:
Magnetic control earbuds

Physical button:
Multi function, power, volume

Touch button:
Left earphone
Connectivity:
Bluetooth compatibility: BT 5.0
Bluetooth pairing via HUAWEI HiPair
Audio Technology:
Dual-mic Active Noise Cancellation
Triple-mic Noise Cancellation for calls
Driver:
14.2 mm dynamic
Battery:
150 mAh
USB-C charging
Packaging & Design
The Huawei Freelace Pro comes packed in a white box. The packaging includes the earphones, a USB-C charging cable, manuals, warranty card and replacement eartips in three different sizes.
The earphones come in three colors – Graphite Black, Spruce Green and Dawn White. Our review unit is Spruce Green.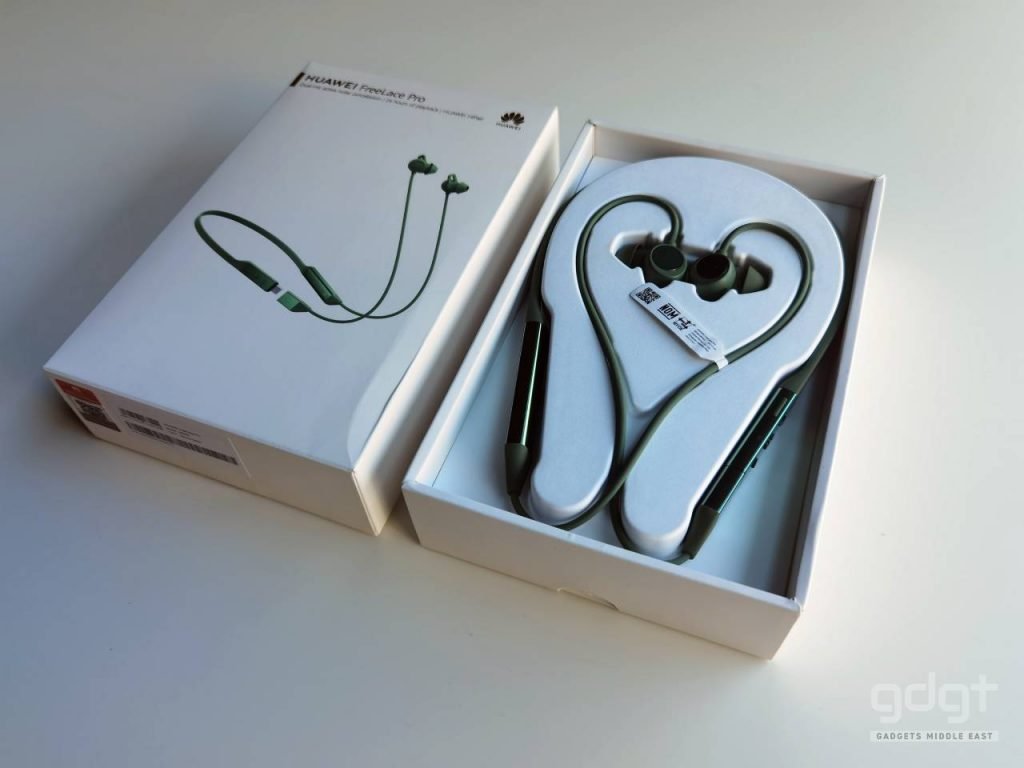 In terms of design, The Huawei Freelace Pro looks minimal and elegant. Designed for a variety of activities, including sports, the earphones connects elastic inline controller for durability and comfort. In order to maintain comfort when used for a long time, the eartips are asymmetrical designed so that it is able to fit the ear properly.
The control buttons work perfectly and blend in perfectly with the rest of the headphones and the construction is excellent. The exterior of the earbuds is magnetic and sticks together when not in use, it also turns off when stuck together for a longer battery life.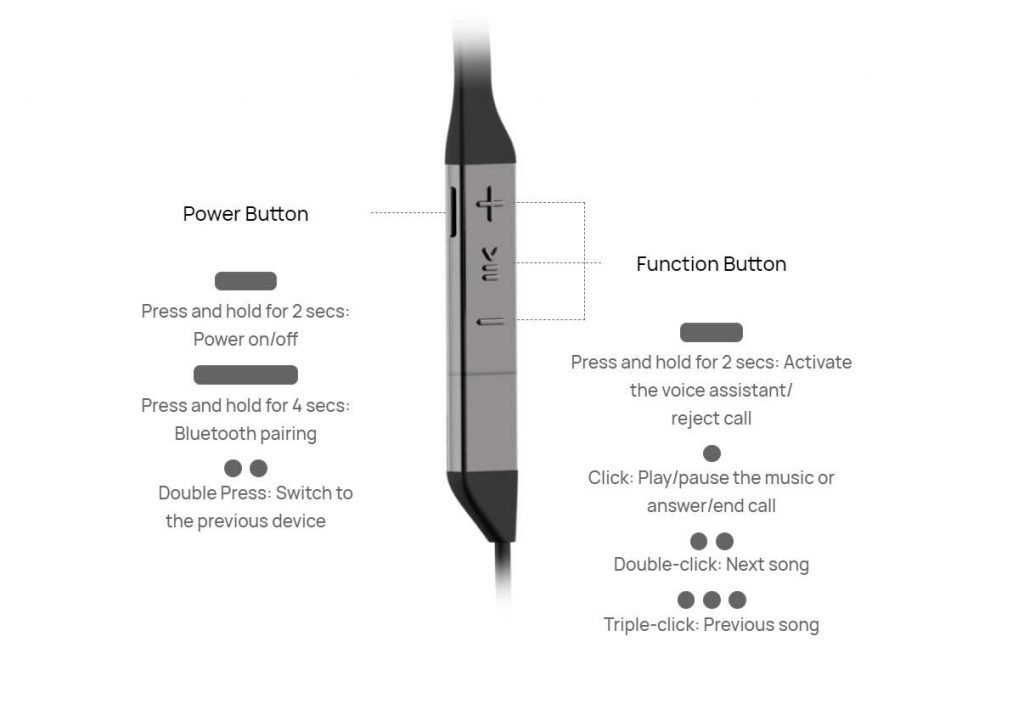 The control buttons include power button, volume up, volume down, and play / pause with secondary functions. To pair with Bluetooth, users can press and hold the power button. And to change the connection to other devices that have been connected, simply press the power button twice.
To charge the headphones, the control panel can be pulled open to reveal the USB-C connector which can be connected to a charger or laptop.
Features & Audio Quality
One of the main features of the Freelace Pro is dual-mic active noise cancellation which reduces ambient sounds up to 40dB. It detects the type of environment you are in using microphones to automatically switch between the three different ANC modes: cozy mode, general mode or ultra mode. Two highly sensitive microphones work together to achieve noise cancellation in and out. The large dynamic drivers generate stronger and deeper anti-noise sound, creating a pure, immersive experience.
The headphones also come with an awareness feature that amplifies the surrounding noise, letting you hear essential sounds and people talking around you.
Another highlight is that it can connect multiple devices so you can have these headphones connected to a PC and a smartphone at the same time. Of course, you won't be able to listen to both audio at the same time but it can switch between the two when needed.
A magnetic switch is embedded into the back of each earbud on the Huawei FreeLace Pro and the earphones automatically power down when the two earbuds are connected together, to conserve battery. And when you separate them, it will reconnect and get you back to music or calls.
By default, the left earbud is touch sensitive and can be used to activate / deactivate the noise canceling feature. The Huawei FreeLace Pro offers good noise cancellation and you hardly notice any external noise when playing content or during calls.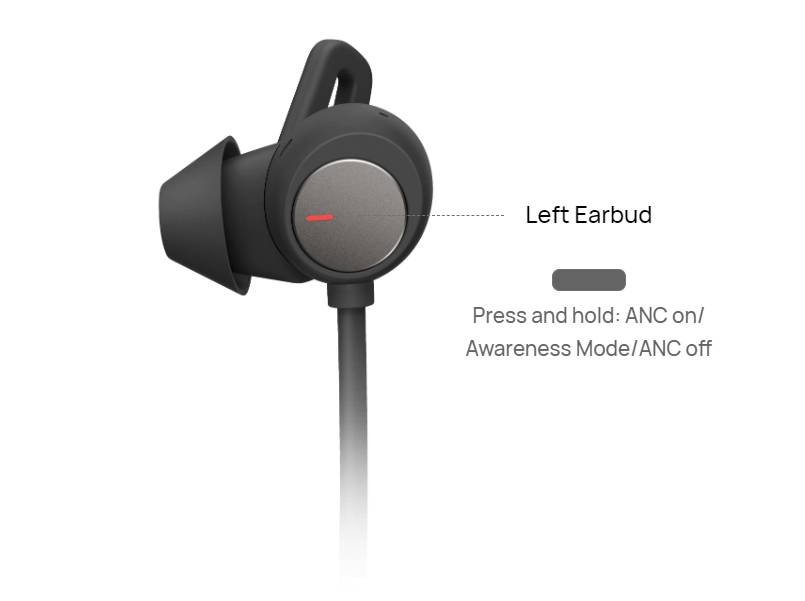 The earphone functions can be controlled through Huawei's AI Life app for Huawei phones. On iOS the app is not available yet. The app lets you see the battery status, update firmware, switch between different ANC modes or detect if you are using the right earplugs for your ears.
The Huawei FreeLace Pro also features a Game Mode where the wireless audio codec is optimized to improve latency up to 150ms and is automatically activated when you start a game. However, Game Mode requires a device running EMUI 9.1.0.170 (or later) or Magic UI 2.1.
In terms of audio performance, the Huawei Freelace Pro have features 14.2 mm dynamic drivers that delivers a balanced bass and clear mids and treble. The performance is immersive and quite satisfactory for all kinds of music. Audio quality does not change based on volume and they offer the same clarity even at high volume levels.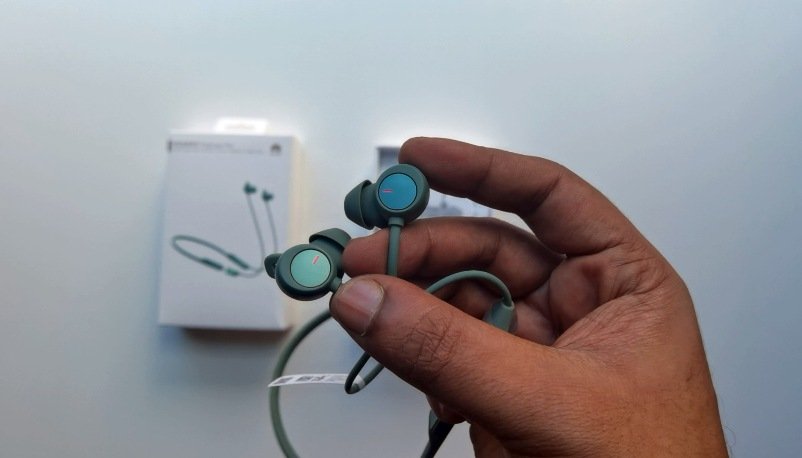 Noise cancellation works very well and is capable of eliminating up to 40 dB and all of the preset modes work perfectly. It allows you to isolate yourself from outside noise to achieve a greater immersion. In addition, you can press the left earbud to activate the microphones and hear what is happening around you with the scan mode so you don't miss anything around you.
The Huawei FreeLace Pro incorporates a triple-mic noise cancellation system for calls. During our test, the earphones delivered a clear, interference-free audio during calls.
Connectivity & Battery
The Huawei Freelace Pro has a 150 mAh battery and connects via USB- for charging and if the connected device is Huawei, it will automatically pair with the headphones.
On paper, the headphones offer us up to 24 hours of playback with noise cancellation deactivated and up to 16 hours when activated. These numbers are approximately the same in our tests.
The earphones also feature magnetic switch and low-power dual-core Bluetooth chip also ensure a long battery life.
With HUAWEI HiPair Technology and a USB-C cable, HUAWEI FreeLace Pro can be paired with a Huawei phone, or a tablet in just one step. You can charge it for a 5-minutes and enjoy five hours of usage if you own a Huawei smartphone.
Verdict
The Huawei FreeLace Pro features premium materials and a lightweight design, providing a comfortable wearing experience. When it comes to audio, the earphone offers a great experience for all kinds of music, combined with a long-lasting battery life. If you are in the market for a neckband wireless earphone for outdoors and sports, this is a good recommendation.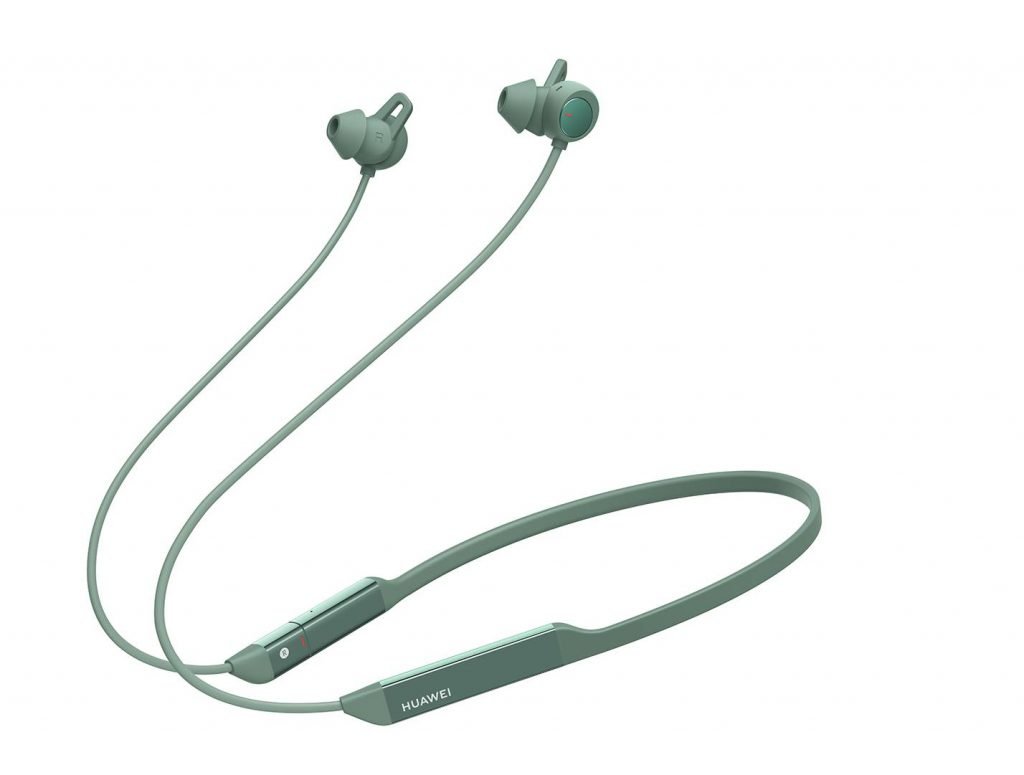 Some of the downsides are that the features such as auto-pairing and game mode are available only on Huawei devices and the AI Life app is not available on iOS.
The Freelace Pro retails for AED 399 and is available in Ceramic White, Silver Frost and Carbon Black colors.