The Huawei Watch Buds offers a solution to the everyday problem of losing or misplacing earbuds. This smartwatch introduces a convenient and lightweight experience by combining the features and functions of a smartwatch and earbuds into one wearable. As the industry's first 2-in-1 high-end smartwatch with a magnetic pop-up cover and earbuds, the Huawei Watch Buds is compatible with both Huawei devices, as well as Android and iOS devices.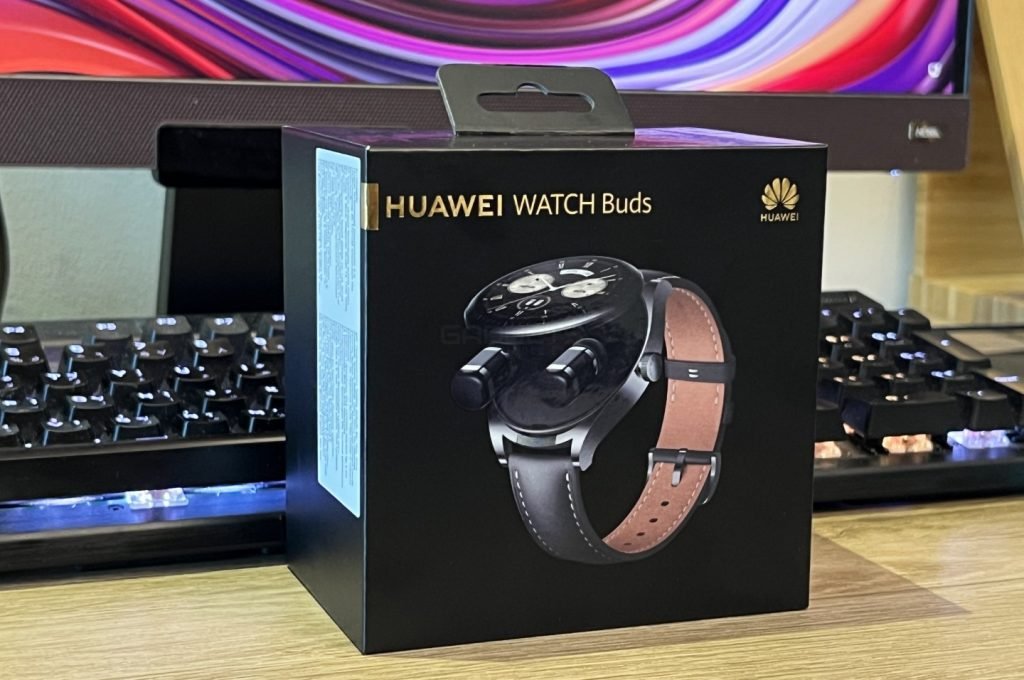 Boasting a stunning 1.43-inch AMOLED display with a resolution of 466 x 466 pixels, high-grade materials, and a plethora of features, the Huawei Watch Buds is available in two sleek variants – Black and Khaki. The watch is powered by Huawei's latest operating system, 'HarmonyOS 3,' and offers a remarkable 3-day battery life for typical usage. Even a quick 10-minute wireless charge can provide a full day of use.
The earbuds provide an impressive 4.0 hours of music playback or 2.5 hours of calling with noise cancellation disabled. With its exceptional features and performance, the Huawei Watch Buds is a perfect choice for those who want to experience the best of both worlds.
Huawei Watch Buds Specifications
Display
1.43 inches
AMOLED colour screen
466 × 466, 326 PPI
Internal ROM
2GB
Connectivity
GPS Supported
NFC Supported
Bluetooth Supported
Sensors
6-axis inertial sensors (acceleration sensor and gyroscope sensor)
Optical heart rate sensor 5.0
Ambient optical sensor
Hall effect sensor
Capacitive sensor
Bone conduction component (VACC)
OS Compatibility
Android 7.0 or later
EMUI 12.0 or later
iOS 9.0 or later
Dimensions
Watch 47 mm × 47.5 mm × 14.99 mm
Earbuds 21.8 mm × 10.3 mm × 10.3 mm
Approximately 66.5 g
View full specifications here.
Packaging
The Huawei Watch Buds comes in a premium, Huawei branded cardboard box.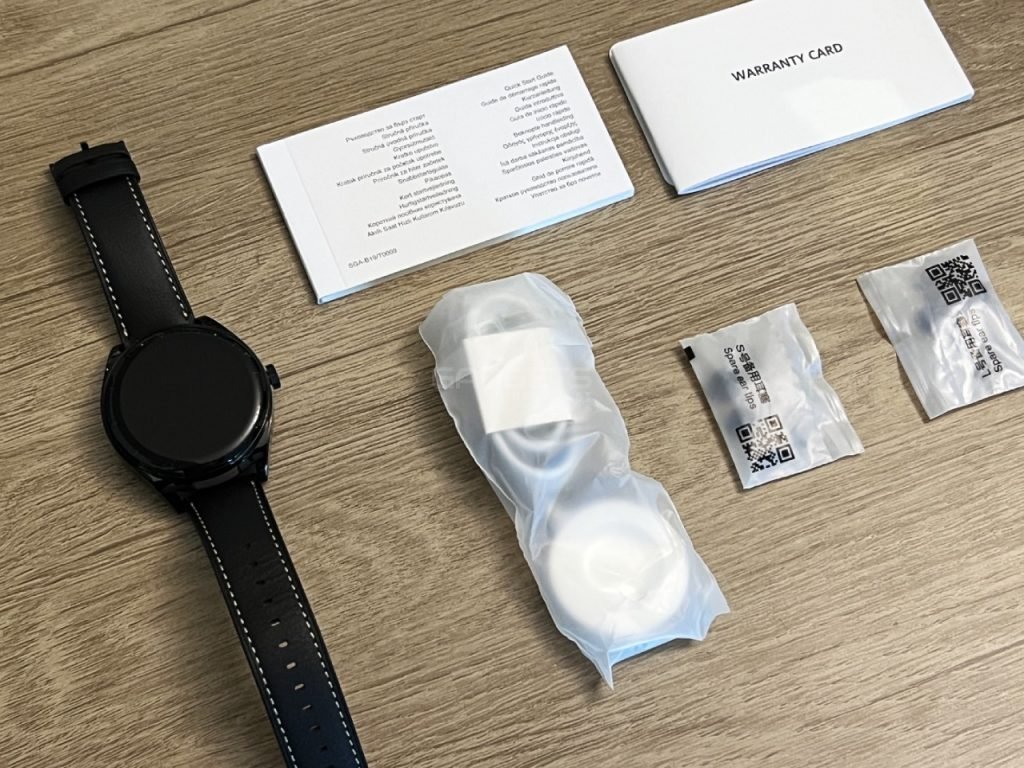 Inside the packing are:
1x Watch
2x Earbuds (with M-sized ear tips)
2x Ear tips (1 L-sized pair + 1 S-sized pair)
1x Charging cradle (with cable)
Quick Start Guide, Safety Information & Warranty Card
Design
Watch
The Huawei Watch Buds may not be a comfortable fit for individuals with smaller wrist sizes due to its relatively large size. Its circular dial features a scratch-resistant 3D curved glass display and is housed in a stainless-steel casing with an IPX7 rating in its closed state. The watch has just one button on the right side of the 47mm casing, which can be pressed to bring up the application drawer, while the rest of the operations are done via swiping and scrolling through the touch screen.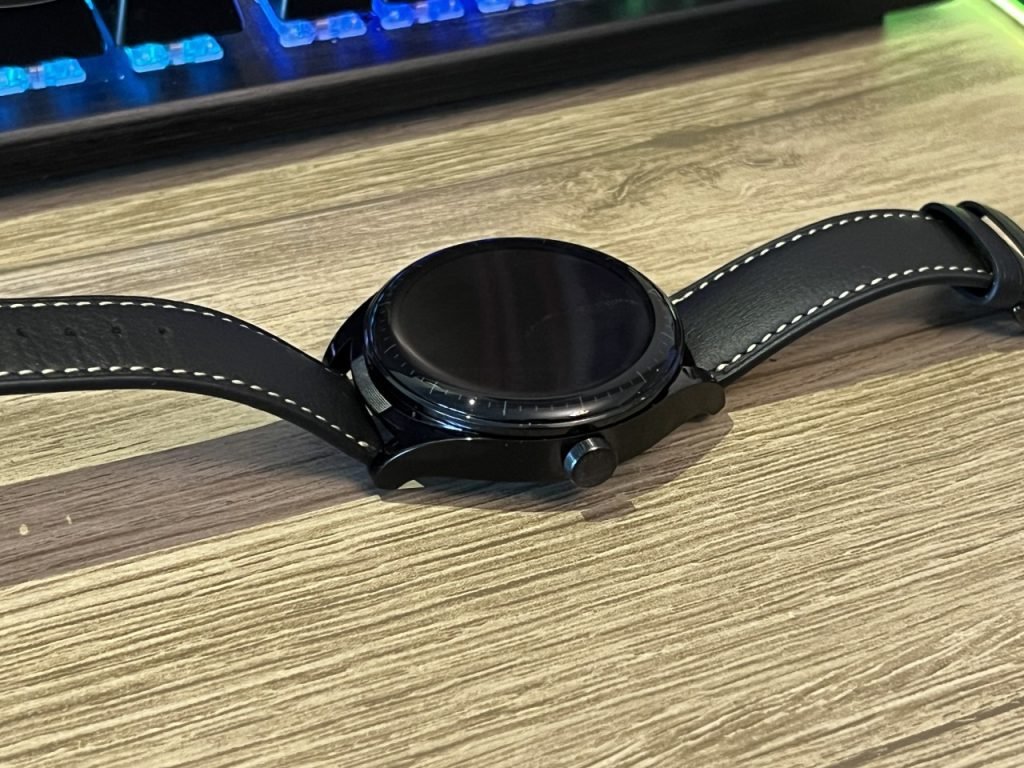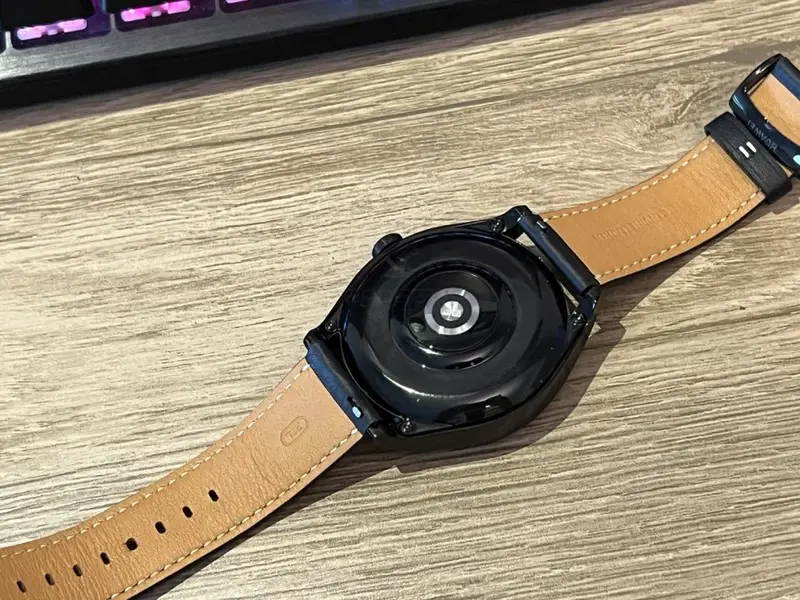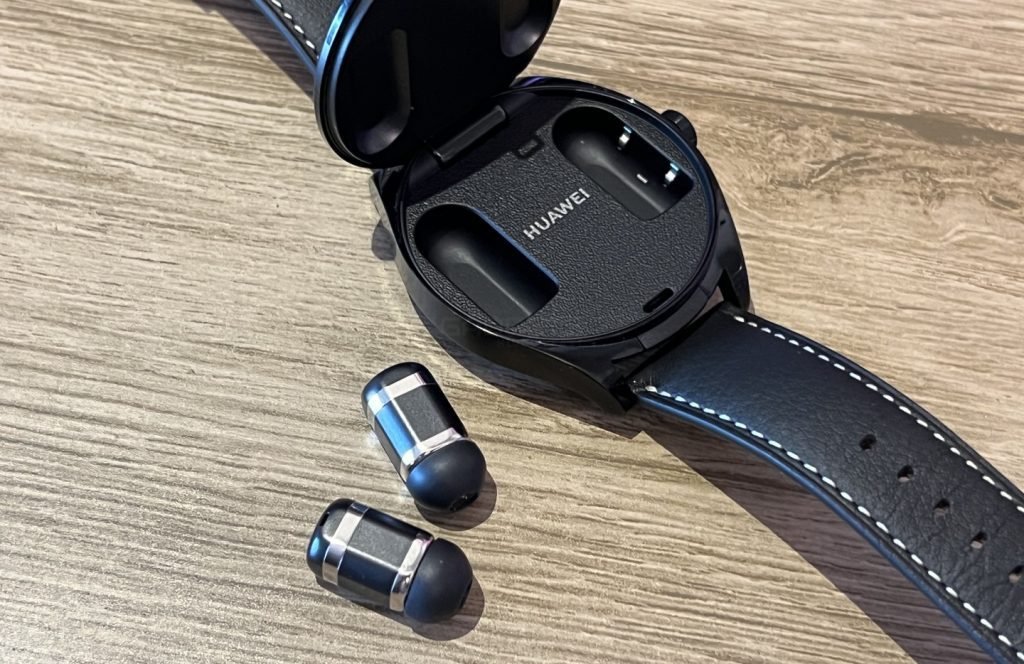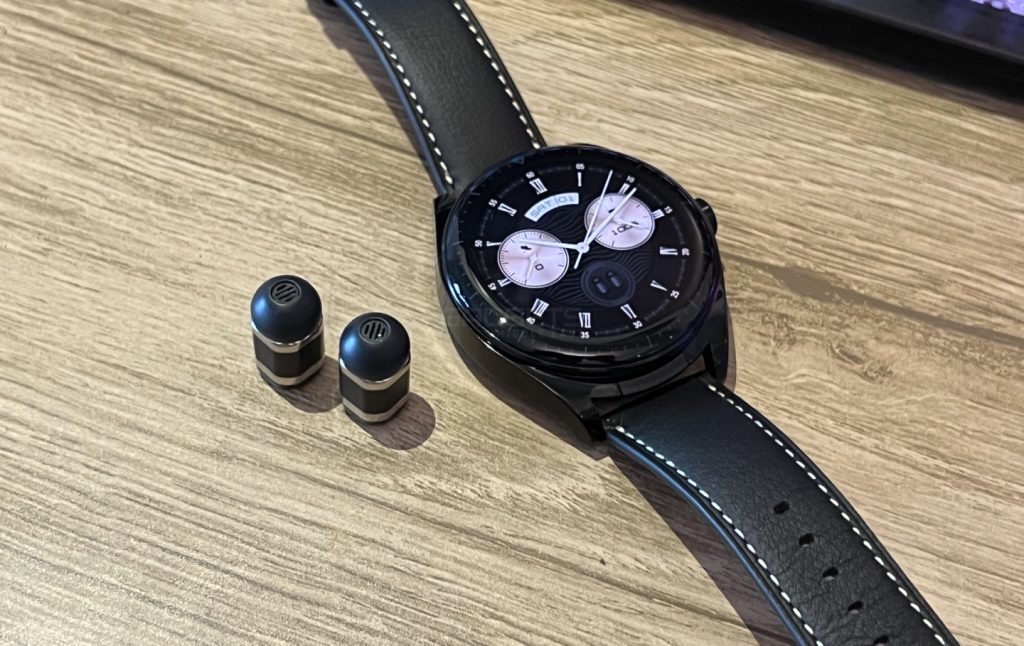 The watches back slightly protrude outwards, but you won't feel it when wearing the watch as it's very comfortable. The full-grain leather strap is of good quality, and there are enough strap holes to fit comfortably. The Huawei Watch Buds has excellent build quality, and the weight is well-balanced for daily use. It looks classy, and it's only on close inspection that you would realize it's a smartwatch.
Buds
The Watch Buds earbuds have a lightweight cylindrical design with dimensions of 21.8×10.3×10.3mm and are IPX4 splash-proof. Each earbud weighs roughly 4g and features an in-ear design without any ear handles. With its cylindrical design, the earbuds provide a comfortable experience. At the same time, the earbuds adopt an in-ear design, and the gravity center is closer to the ear canal, making it more stable and not prone to accidental dislodgment during daily use and exercising.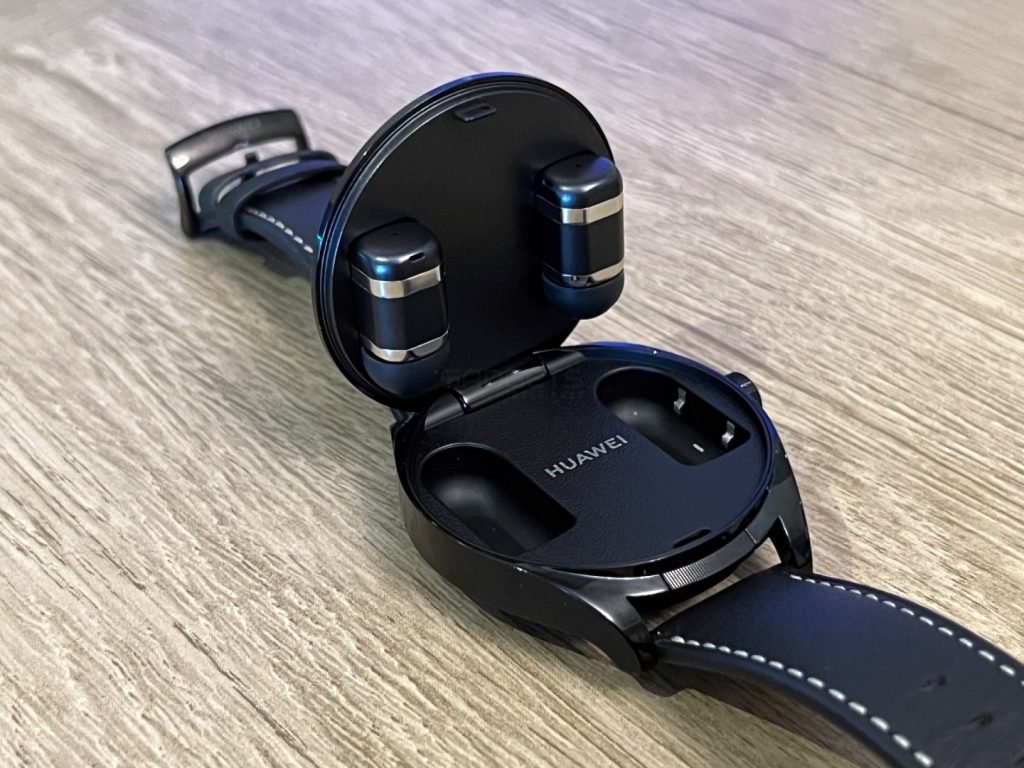 In addition to Adaptive Identification Technology, the Watch Buds' earbuds also support new Wide-Area Auricle Touch Controls. These controls cover the earbuds, auricle, and area in front of the ears, allowing users to access multiple functions by just tapping their ears for a more accurate touch recognition. Double-tap to answer or reject a call, or play or pause a song. Triple-tap to enable or disable noise cancellation. It also supports customization, enabling users to program what they need in just a tap away.
When wearing the earbuds, the Watch Buds Activates the Adaptive Identification Technology, which recognizes the orientation of the earbuds worn during normal conditions. If worn in the wrong orientation, the earbuds will intelligently auto-correct the left and right audio channels, getting rid of the rigid design where left and right earbuds have to be worn and stored in a certain way. In addition, the earbuds are also equipped with Ear Canal Adaptive technology, which adjusts to each user's different ear canal structure.
Display
The Huawei Watch Buds features a stunning 1.43-inch circular AMOLED touch panel with a resolution of 466 x 466 pixels and a high refresh rate. Its bright display is easy to read both indoors and outdoors, even in direct sunlight, thanks to its different levels of brightness. With its wide viewing angles, vibrant colors, and excellent contrast, this watch can display even the finest details with ease.
With numerous watch faces to choose from, the Huawei Watch Buds offers a personalized experience for any occasion. For added customization, Huawei Share allows users to transfer Huawei smartphone photos to the watch face with a simple tap.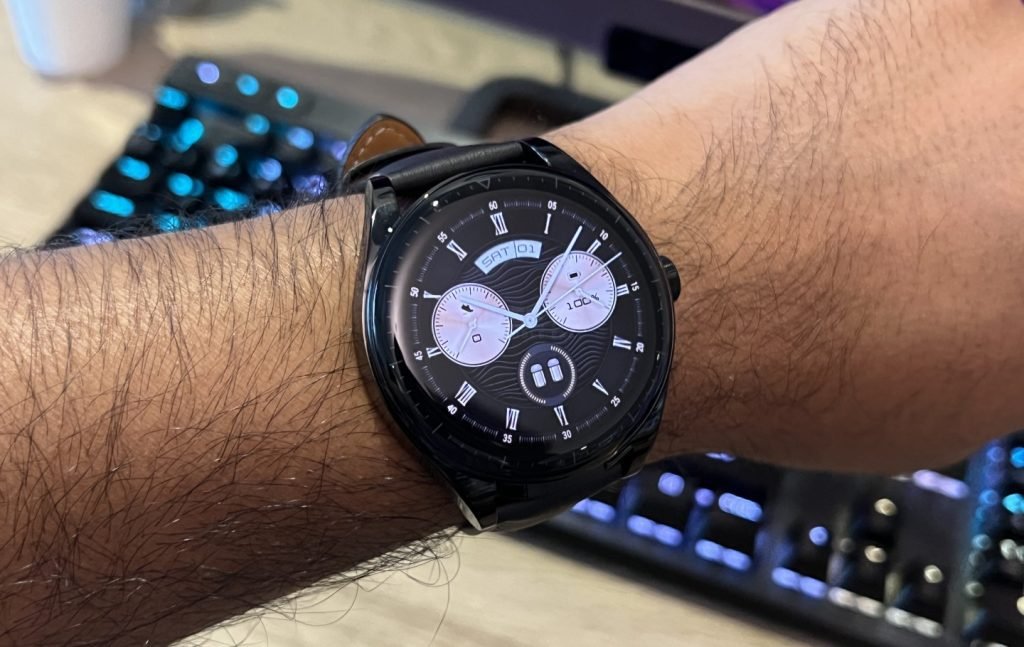 Additionally, a neat feature is the ability to turn off the display using a vertical palm swipe. The watch also automatically turns off after a few seconds and turns back on when you raise your wrist to check the time. Users can even enable the always-on display feature in the settings for added convenience.
Connectivity
When it comes to connectivity, the Huawei Watch Buds Pro is equipped with Bluetooth 5.2 and GPS support. Additionally, NFC is present, and it works seamlessly with Huawei Wallet, although its availability depends on the region.
Hardware & OS
The Huawei Watch Buds is a smart wearable device that runs on Huawei's HarmonyOS 3.0 operating system. The device supports third-party apps and can be connected to the Huawei app for direct-to-device downloads via the on-device HUAWEI AppGallery. To track data such as heart rate, sleep monitoring, and fitness data, the device needs to be connected to the dedicated Huawei Health app via Bluetooth, which requires the latest version of Huawei Mobile Services (HMS Core).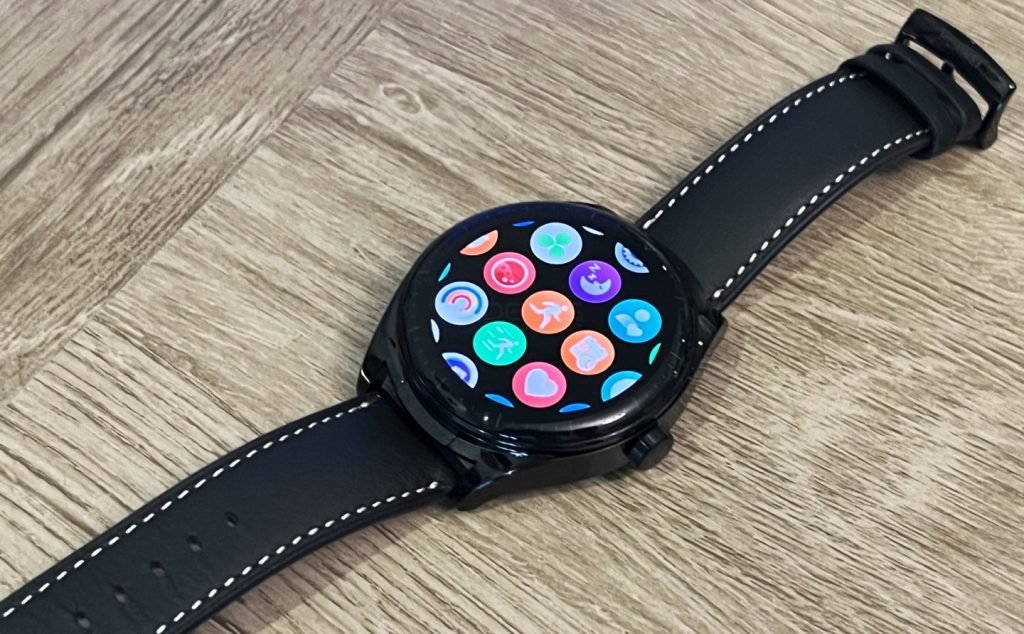 The watch comes with 24/7 heart rate monitoring and SpO2 tracking via Huawei's TruSeen 5.0 optical PPG sensor. It can also monitor over 80+ workout modes and supports accurate data tracking to help users reach their specific goals. The watch has its own GPS module to help users track their runs and walks in real-time, and it also provides Vo2 Max measurements and workout recovery programs.
The watch can determine users' stress levels and lets them do breathing exercises that are pre-programmed in the watch. It also provides resting heart rate monitoring, abnormal heart rate notifications, all-day stress monitoring, sleep monitoring and blood oxygen saturation (SpO2) monitoring. On the notifications side, the watch shows them in real-time as soon as they appear on the connected phone.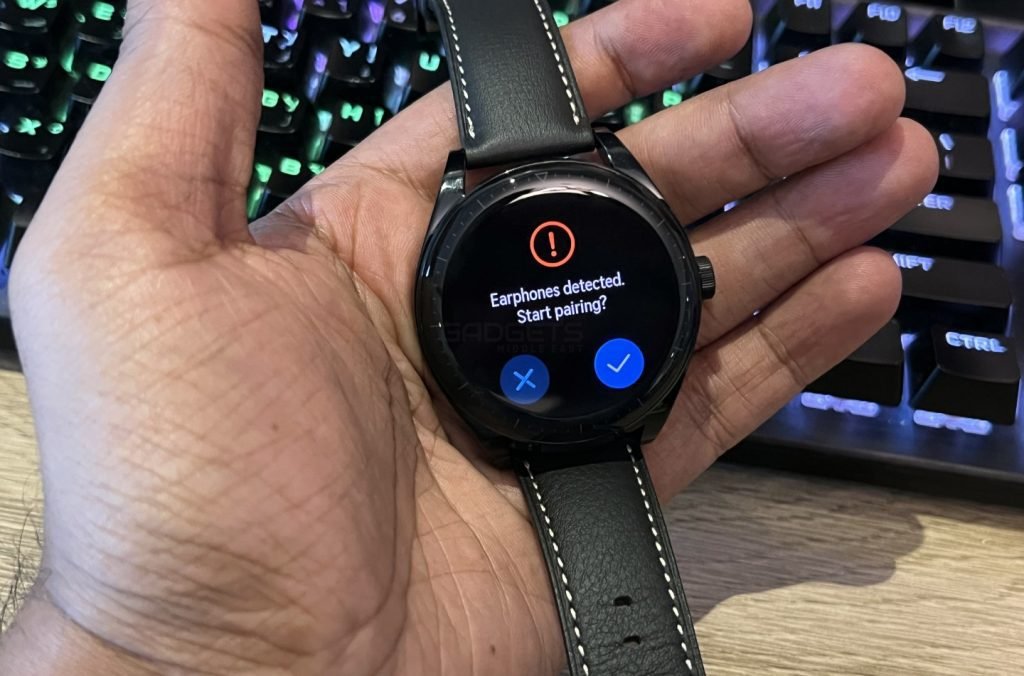 The Huawei Watch Buds come with dual microphones with audio pickup and a bone conduction sensor. The two microphones can pick up both vocals and ambient sound while the bone conduction sensor accurately identifies sounds through reverberations in the user's bones and absorbs their voice, distinguishing it clearly from ambient noises.
The buds are equipped with quad-magnetic full-Range Planar Diaphragm drivers, enabling the small unit to deliver powerful, full-frequency, and high-resolution audio. The buds also support Triple Adaptive EQ and ANC to reduce ambient noise and provide an immersive experience for listening to music or taking calls. The overall sound quality is good. The lows, mids, and highs are all well-balanced, although not as good as the Huawei FreeBuds Pro 2.
Battery
The Huawei Watch Buds comes equipped with wireless charging, making it more convenient to charge the device. The watch can magnetically attach to the new charging dock in any orientation and is compatible with phones that offer reverse wireless charging. Charging is fast and efficient, and a full battery charge takes approximately one and a half hours.
During our testing, the Watch Buds lasted for approximately three days with some fitness activities, active heart rate monitoring, Bluetooth usage, and sleep tracking, making it perfect for those who don't want to charge their device frequently.
As for the earbuds, the battery lasts for approximately three hours of music playback or two hours of calling when noise cancellation is enabled. The battery life may not be as long as some other earbuds, but the device's fast charging feature makes up for it.
HUAWEI Watch Buds Verdict
In conclusion, the Huawei Watch Buds is a smart wearable device that combines the functionality of a smartwatch and earbuds. The watch has many sensors that track fitness data, heart rate, sleep, and stress. It also supports over 80+ workout modes, GPS tracking, and workout recovery programs.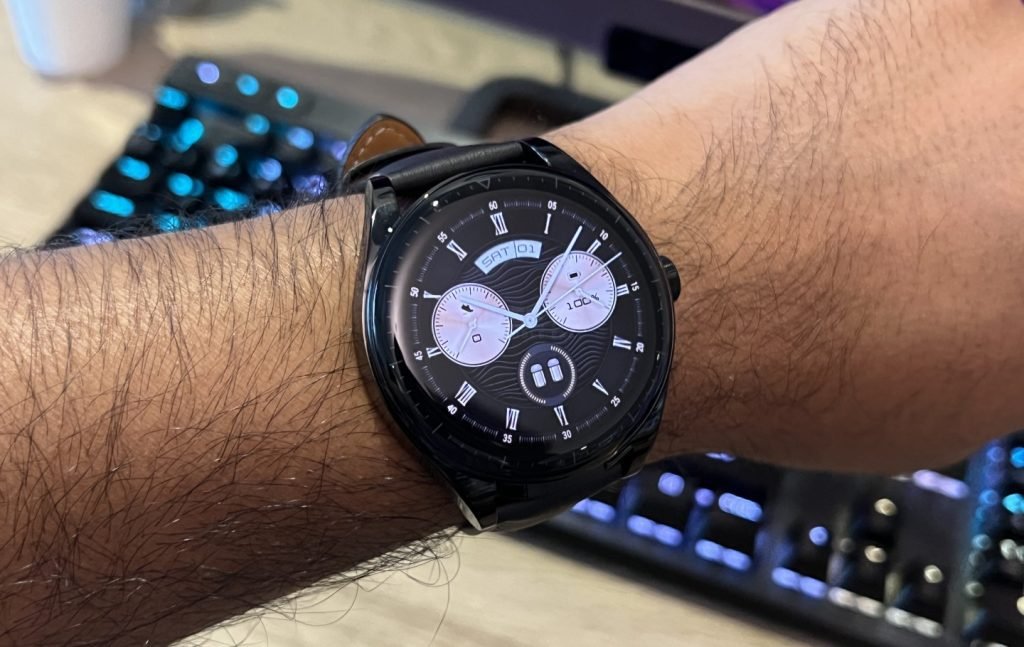 The earbuds come with quad-magnetic full-range planar diaphragm drivers, adaptive EQ, and ANC, providing high-quality audio with noise cancellation. The device's battery life is respectable, with the watch lasting roughly three days on a full charge and the earbuds providing up to three hours of music playback or two hours of calling.
However, watch does not come with cellular connectivity and its connectivity with non-Huawei smartphones is limited which could be a deal breaker for some. With that said, the Watch Buds is definitely worth considering given its superb build quality, built-in magnetic earbuds, fitness and well-being features.
HUAWEI Watch Buds Pricing & Availability
The new Huawei Watch Buds will be available from March 10th at Huawei experience stores, Huawei e-shop and across select retailers in the UAE.
The HUAWEI WATCH Buds in Black Leather Strap at a price of AED 1799 comes with free one year HUAWEI Loss Care for WATCH Buds worth of AED 279.
The HUAWEI WATCH GT Cyber in Space Grey Case and Golden Black Case at a price of AED 899 comes with free gift worth of AED 159 – HUAWEI WATCH GT Cyber Case Midnight Black.