UPDATE: Thanks to Jumbo Electronics, we've recently had the opportunity to wear the HUAWEI Watch Fit 2 to Dubai Fitness Challenge which ran from 29 October to 27 November. During the month-long festival, visitors and residents can enjoy a range of incredible activities, from video workouts to landmark events around the city.
Some of the highlight features we noticed were:
The large 1.74-inch AMOLED HD HUAWEI FullView display worked extremely well in bright outdoor conditions
The battery lasted all day and still had enough charge to last a few days more
The HUAWEI WATCH FIT 2 supports offline music playback. You can also manage music playback through mobile apps, match different playlists to different activities
Lastly, the HUAWEI WATCH FIT 2 is based on Huawei's running ability index (RAI), which can assess user's ability based on height, weight, age and other physical conditions, alongside historical running data to create a customised personal running plan for every user
---
The Huawei Watch Fit 2, the 2022 upgrade to the Watch Fit-series lineup from Huawei comes with an AMOLED display with a display size of 1.74 inches and a resolution of 336 x 480 pixels. The smartwatch features better battery life, bluetooth calling, quick reply for text messages, animated audio fitness workouts and more.
The Watch Fit 2 is available in three different variants – Active, Classic and Elegant editions. The strap can also be customized in seven different colors based on the edition.
Active Edition comes in 3 colourways (Sakura Pink, Isle Blue, and Midnight Black)
Classic Edition comes in 2 colourways (Nebula Gray and Moon White)
Elegant Edition comes in 2 colourways (Premium Gold and Silver Frost)
The Huawei Watch Fit 2 runs the company's own operating system HarmonyOS. The watch comes packed with features has a battery life of about up to 10 days of typical use, or 7 days of heavy use. Huawei says the watch can even get a whole day of use on just a 5-minute charge.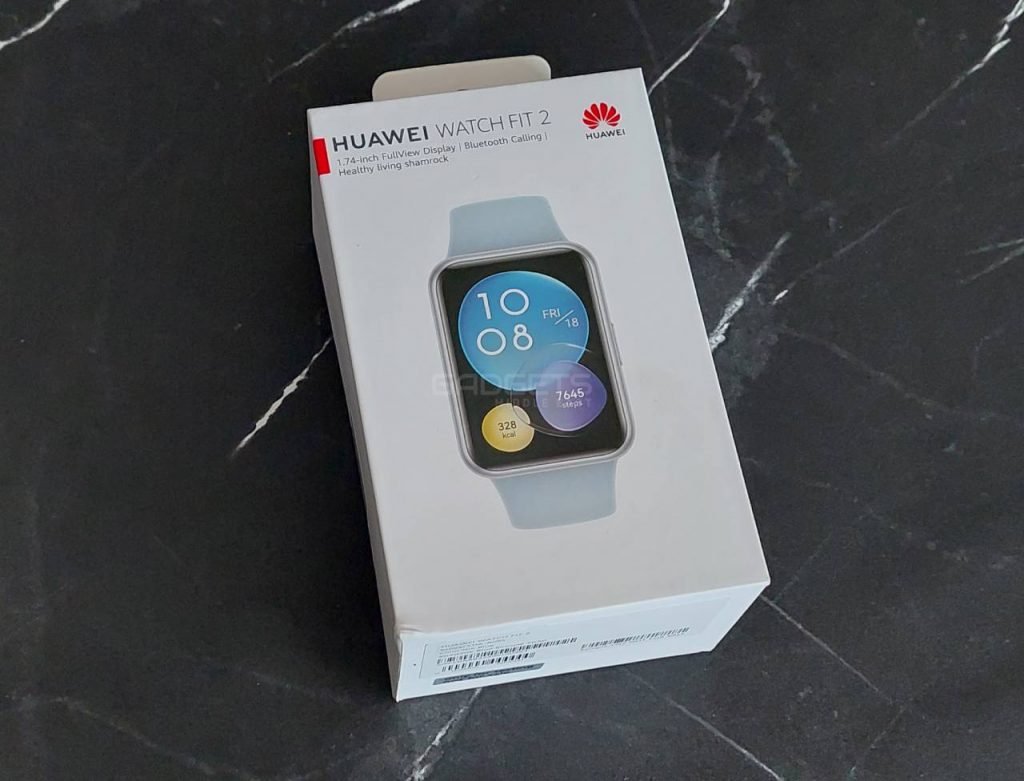 The newly added speakers allow users to answer the call by tapping a button via Bluetooth without taking out the smartphone out, as well as playing music from the watch, and experiencing the brand-new animated audio fitness coach from the wrist.
Apart from the standard smartwatch features, the Watch Fit 2 can also monitor over 97 different workout modes, measure heart rate, blood oxygen (SpO2), stress and sleep patterns. It is also 5 ATM water resistant which means you can dive up to 50m for 10 minutes with it.
The Huawei Watch Fit 2 also supports offline music playback, independent storage, streaming and downloading songs. The watch allows users to manage playback through mobile apps.
Specifications
Display
1.74 inches AMOLED color screen 336 x 480 pixels, PPI 336
Connectivity
GPS Supported
Bluetooth 5.1, BLE/BR
Sensors
9-axis IMU sensor Accelerometer sensor Gyroscope sensor Geomagnetic sensor Optical heart rate sensor
Water Resistance
5 ATM water-resistant
OS Compatibility
Android 6.0 or later
iOS 9.0 or later
Dimensions
46.7 mm x 46.7 mm x 11.4 mm
Approximately 52 g
Packaging
The Huawei Watch Fit 2 comes in a premium, Huawei branded cardboard box.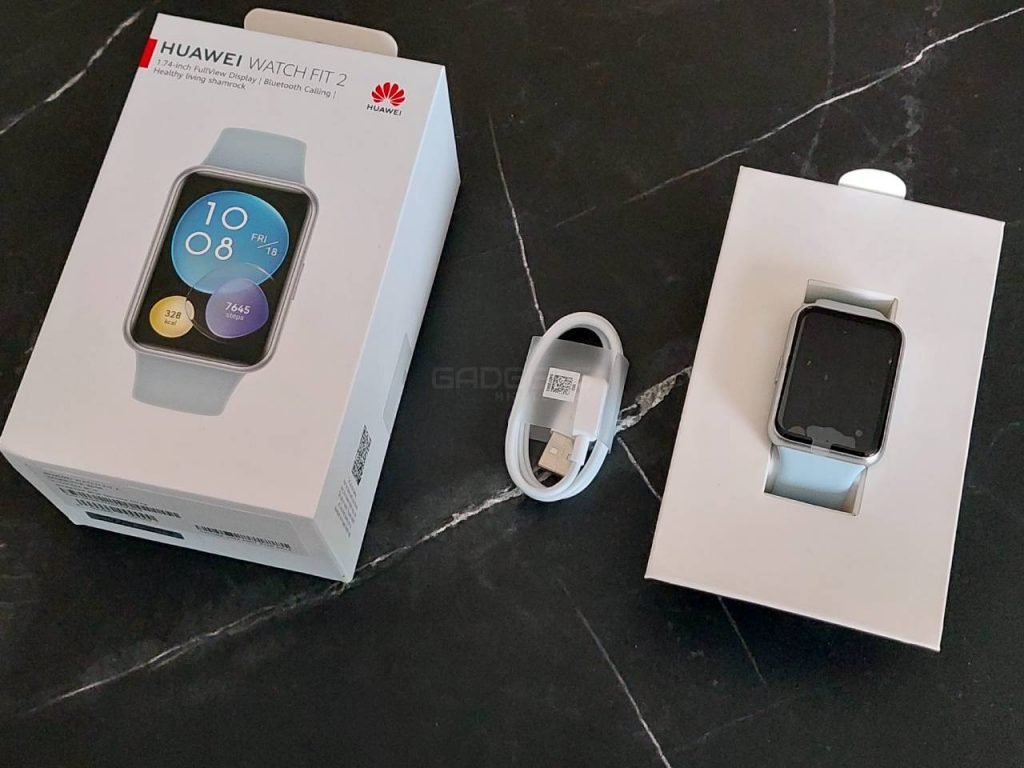 Inside the packing are:
The Huawei Watch Fit 2
Charging Cradle (including the charging cable
Quick Start Guide & Safety Information & Warranty Card
Design & Display
Our review model is the Huawei Watch Fit 2 Active Edition with the Isle Blue leather strap.
The Huawei Watch Fit 2 uses a 1. 74-inch AMOLED FullView display with a resolution of 336 x 480 pixels which makes the experience similar to a smartwatch than a fitness band.
The main body is made of plastic polymer (an aluminum variant is also available) and the strap is made of soft-touch silicone which can be adjusted to fit even the smallest of wrists. The straps can be swapped but are limited to the ones made by Huawei.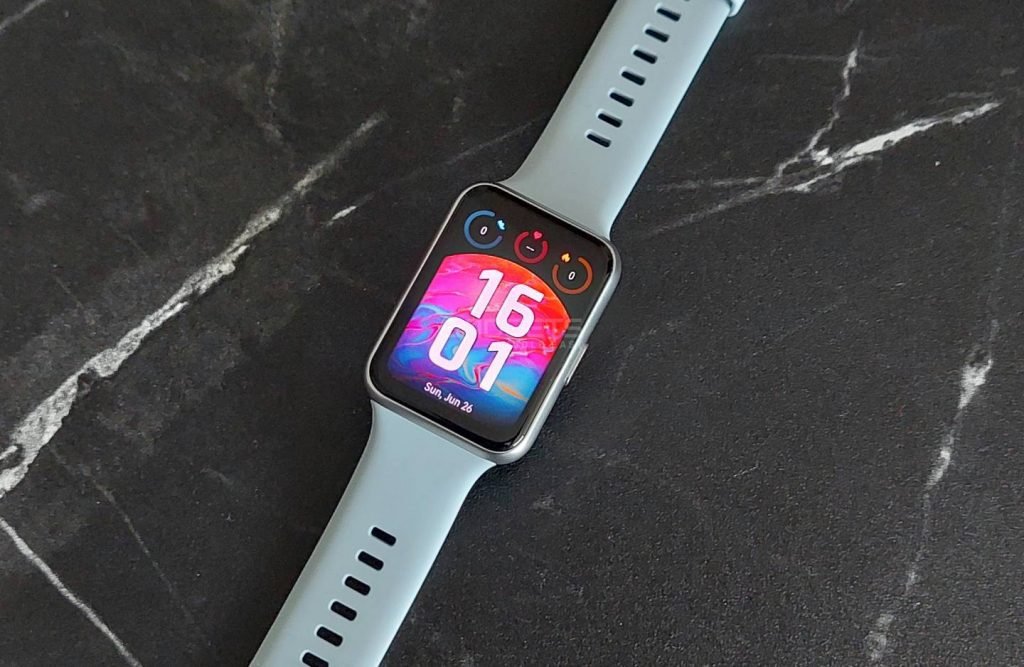 Huawei Watch Fit 2 has good build quality, and has the right size and weight for daily use. The smartwatch is also 5 ATM water resistant which means you can dive up to 50m for 10 minutes with it.
There is only physical button on the Watch Fit 2, which is on the right side. It can be used to power on the device, reboot and to open or close current apps. Rest of the operations are done via swiping and scrolling through the touch screen.
At the back is the optical heart rate sensor, an SpO2 sensor and two charging pins. The device also packs accelerometer, geomagnetic sensor and a gyroscope.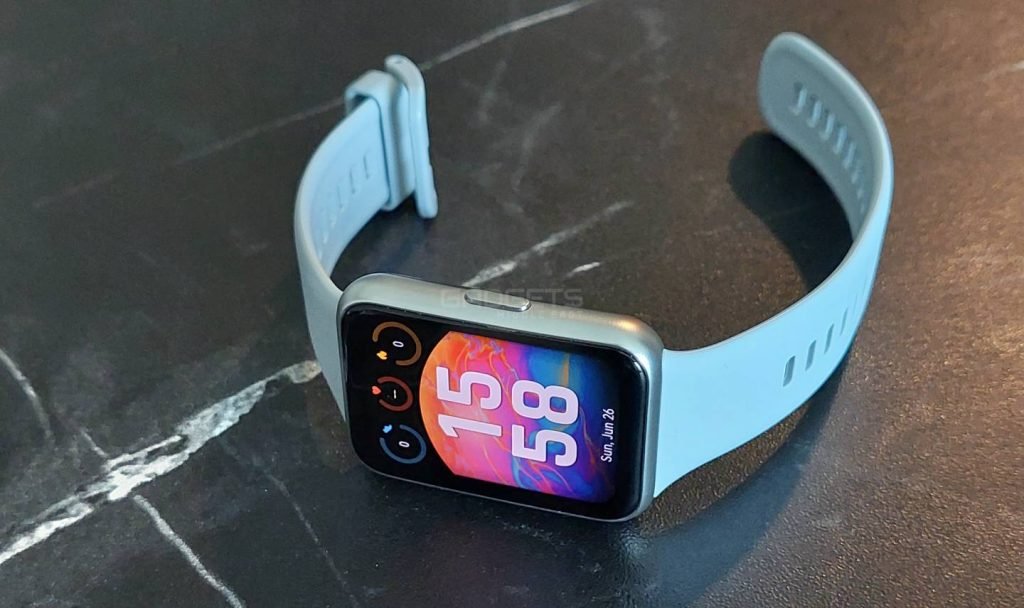 The display is bright and works great both indoors and outdoors. The 72.2% screen-to-body ratio display gives you a large display area of the data on screen. The viewing angles are wide, colors are vibrant and the contrast is great with the screen being able to display good black levels.
There are 12 pre-installed watch faces to choose from and over 200 downloadable watch faces. The always-on watch face display is also customizable.
Overall, the Watch Fit 2 is lightweight and very comfortable to wear all day and the build quality is pretty solid, it does not feel cheap.
Connectivity
The Watch Fit 2 uses Bluetooth to pair with devices. Both Android or iOS devices are compatible with the Watch Fit 2, although you'll have to download Huawei Health app to be able to pair your phone with it.
Pairing
Download the Huawei Health App (or upgrade to the latest version)
Pair with HUAWEI WATCH FIT 2
Hardware & OS
The Huawei Watch Fit 2 runs Huawei's own HarmonyOS though you can't download third-party apps. The watch can connect to the Huawei app for direct-to-device downloads via the on-device HUAWEI AppGallery, HUAWEI's in-house app market.
The Watch Fit 2 integrates many sensors to manage your health, including SpO2, heart rate, sleep, and stress tracking. It continually tracks your heart rate, regardless of whether you're sitting, lying down, or on the move. The watch will send out alerts as soon as it detects that your resting heart rate is too high or too low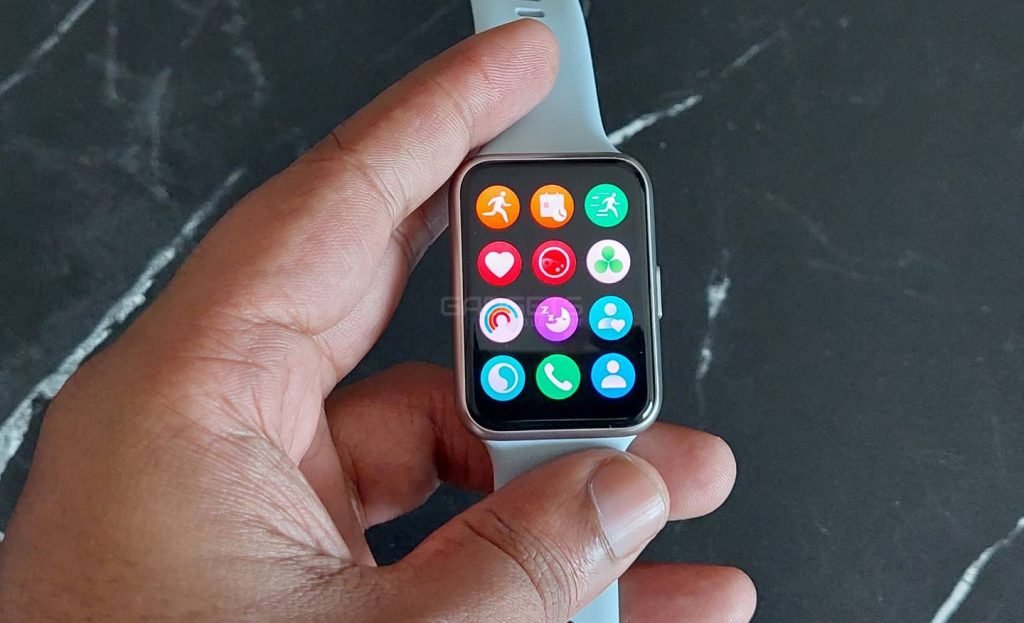 If you sleep with the watch on, you get an overview of your sleep rhythm by light sleep, deep sleep, REM sleep and how long you slept in total. The watch can also determine your stress levels and lets you do breathing exercises that are pre-programmed in the watch.
To track the data that the watch stores such as heart rate, sleep monitoring, fitness data etc., it needs to be connected to the dedicated Huawei Health via Bluetooth and you also need HMS installed. The health app can be installed on an iPhone without any problems. The Android version also requires the latest version of Huawei Mobile Services (HMS Core) which is not available on the Play Store and needs to be side-loaded via Huawei App Gallery from Huawei's website.
The watch can monitor over 97 workout modes and supports accurate data tracking. There are even whole running courses built-in with full voice guidance and animations.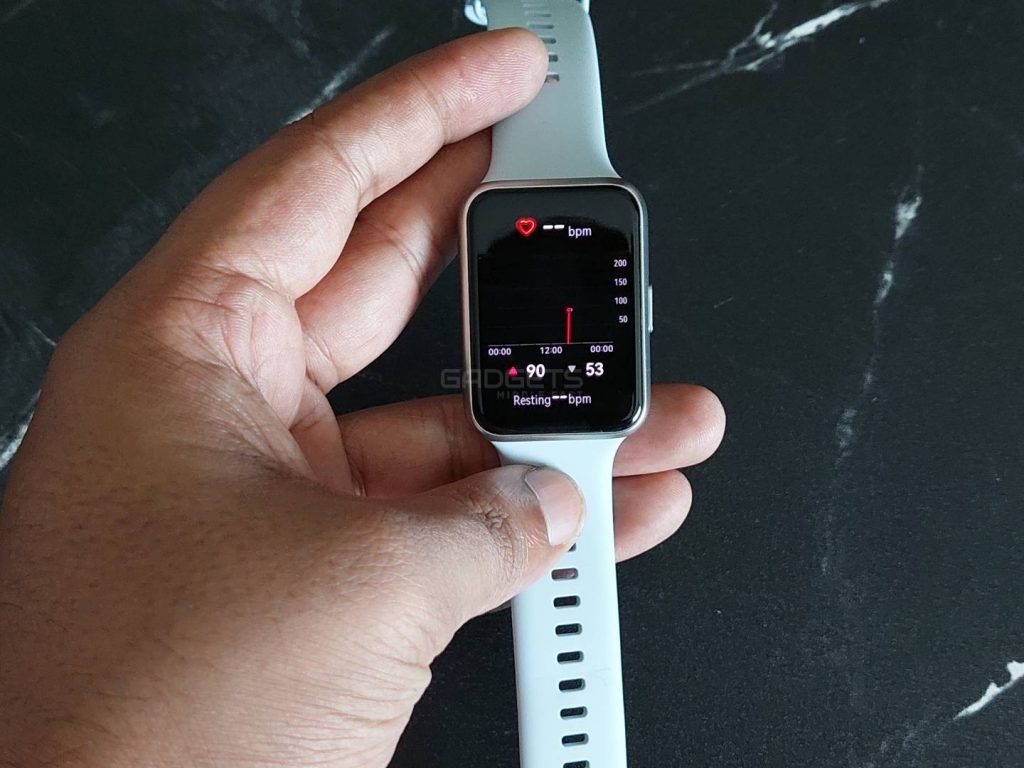 On the notifications side, Huawei Watch Fit 2 shows them in real time as soon as they appear on the connected phone and you can interact with them directly from your wrist with emojis or quick answers. You need to allow what apps can send you notifications via the Huawei Health app.
Moreover, the Watch Fit 2 also comes with a built-in mic and speaker, which lets you answer calls once paired with your phone via Huawei Health app. Sound quality is good and is loud enough for phone conversations even in noisy environments.
From the Health app, you can see all the collected health information along with graphs and charts of your fitness data, heart rate, sleep and stress. There is a lot of information here and everything is presented beautifully.
Battery
The 180mAh battery is another highlight of the Huawei Watch Fit 2. According to Huawei it's rated to last up to 10 days for typical use, 7 days for heavy use. You can get full days use from just 5 minutes of charging time with the magnetic charger.
In real life usage, this depends on the display usage and the active monitoring. In our tests it's lasted around six days on a single charge. Charging the Watch Fit 2 is done using a USB-A cable with a magnetic connector that clips on to the device. It gets zero to full charge in under an hour, although the bundled magnetic charger is a bit loose and come off easily.
HUAWEI Watch Fit 2 Review Verdict
The Huawei Watch Fit 2 looks like a fitness tracker but in reality, is a fully-fledged smartwatch packed with a large AMOLED display, support for Bluetooth calling, great battery life and huge variety of fitness tracking. It is very comfortable to wear and is an easy recommendation for those looking for a lightweight fitness tracker that can double as a smartwatch.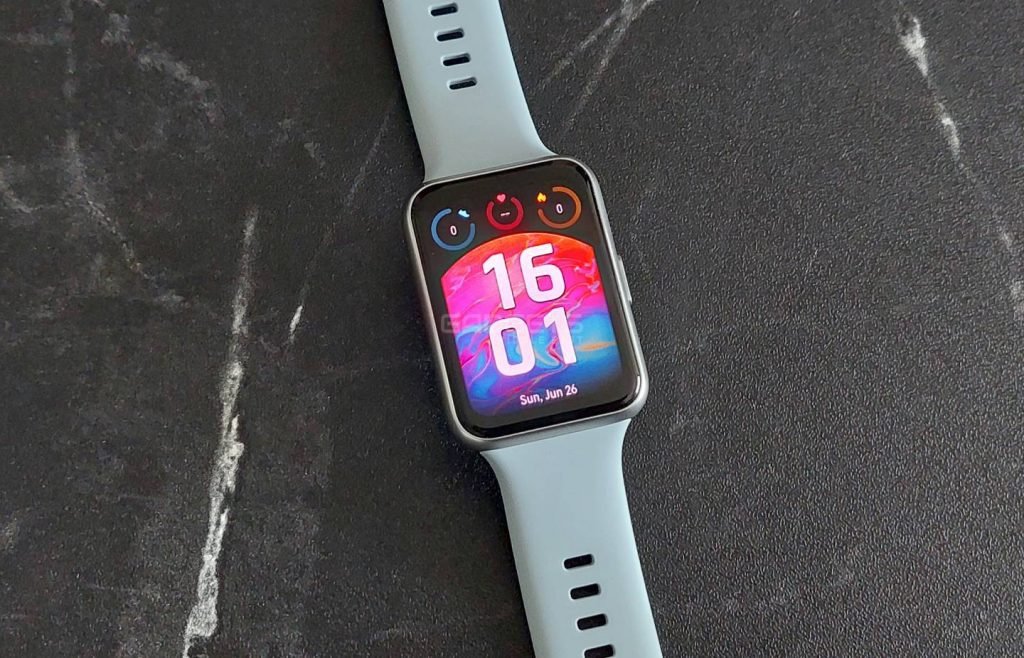 Huawei offers the Watch Fit 2 in three versions – Active, Classic and Elegant. The major difference being addition of NFC and aluminum body on the Classic and Elegant versions.
Pricing & Availability
The HUAWEI Watch Fit 2 starts at AED 599 and is available in 3 different editions at Huawei Experience Stores, e-commerce stores, Jumbo and across select retailers in the UAE.