The myFirst Fone R1S is a 4G LTE watch phone designed for children, with features like real-time chat, voice and video calls. The upgraded version of the R1S retails for $199.
This watch phone can also be paired with the myFirstFone App on a parent's phone, allowing parents to control who their child can talk to and providing real-time updates on their location through an improved GPS tracking system. The app also includes a Geo Fencing Area Alert for setting designated safety zones and a one-touch SOS button for emergencies.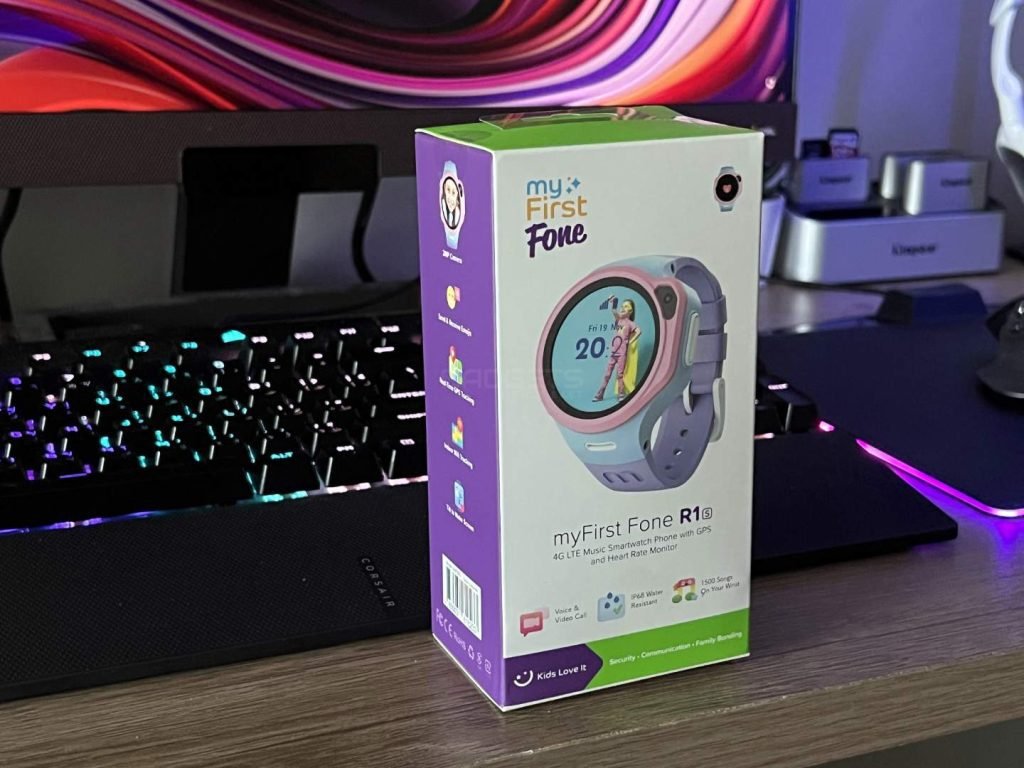 In addition to its connectivity and safety features, the myFirst Fone R1S has a 1.3-inch IPS display with vibrant colors and a choice of animated wallpapers or photos taken with its 2MP camera. The R1S also now includes health and smart features such as heart rate monitoring to help parents monitor their child's well-being.
Specifications
Display
1.3 inch TFT round screen with capacitive touch
Camera
2MP front camera
Battery Capability
580 mAh
Operational Talk Mode Time
6 hours
USB Charging
5V, 1A
Storage
8GB
Product Weight
53g
SIM Card
NANO
Positioning
Wi-Fi, GPS, A-GPS
Wireless Connectivity
GSM, WCDMA, WiFi, GPS
App Supports
iOS 10.0 & Android 5.0 above
Supported Languages
English
Chinese (Simplified)
Chinese (Traditional)
Japanese
Korean
Svenska
Norsk
Suomi
Dansk
Packaging & Design
The myFirst Fone R1S comes in a simple cardboard box with photos and specifications. The packaging includes:
myFirst Fone R1S
USB charging cable
User Manual
Stickers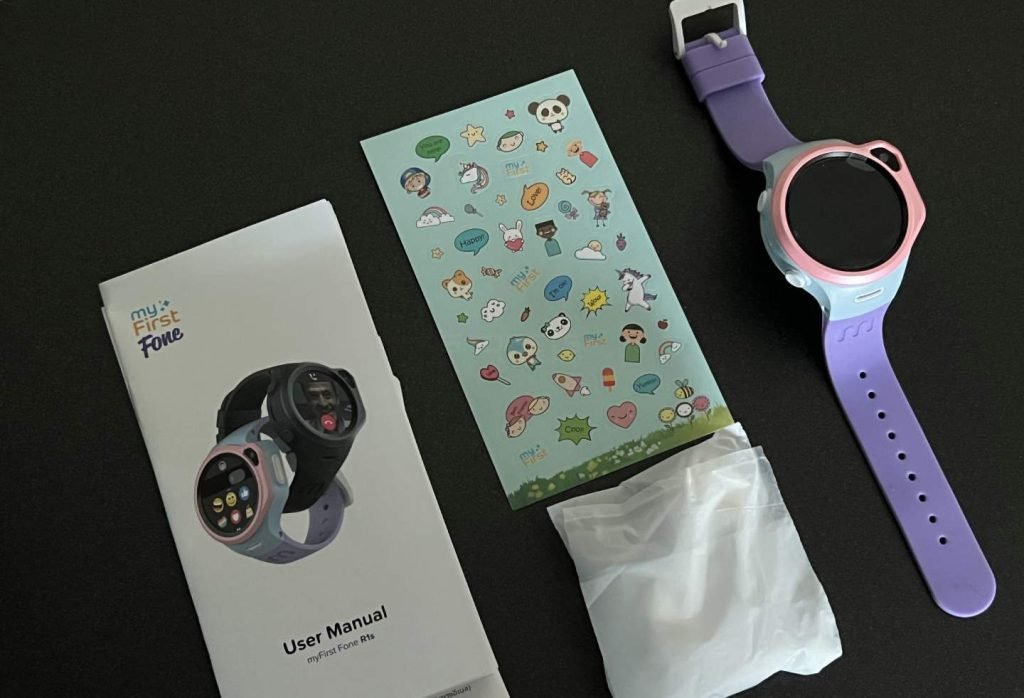 The myFirst Fone R1S comes in two colors: space blue and cotton candy mix, both of which are suitable for kids. Despite being a kids watch, the myFirst Fone R1S has a rather large case, similar in size to a Galaxy Watch 5 40mm. However, it is lightweight at 53g and comes with a lengthy strap that can fit wrist sizes from 125mm to 177mm.
The myFirst Fone R1S comes with a 4cm round touchscreen, encased within a plastic casing with a IP68 water resistance rating.
There are three physical buttons on the Fone R1S, but they are not customizable. The left buttons are used for powering on and going back to the previous screen respectively. In between the two buttons is the micro SIM card tray.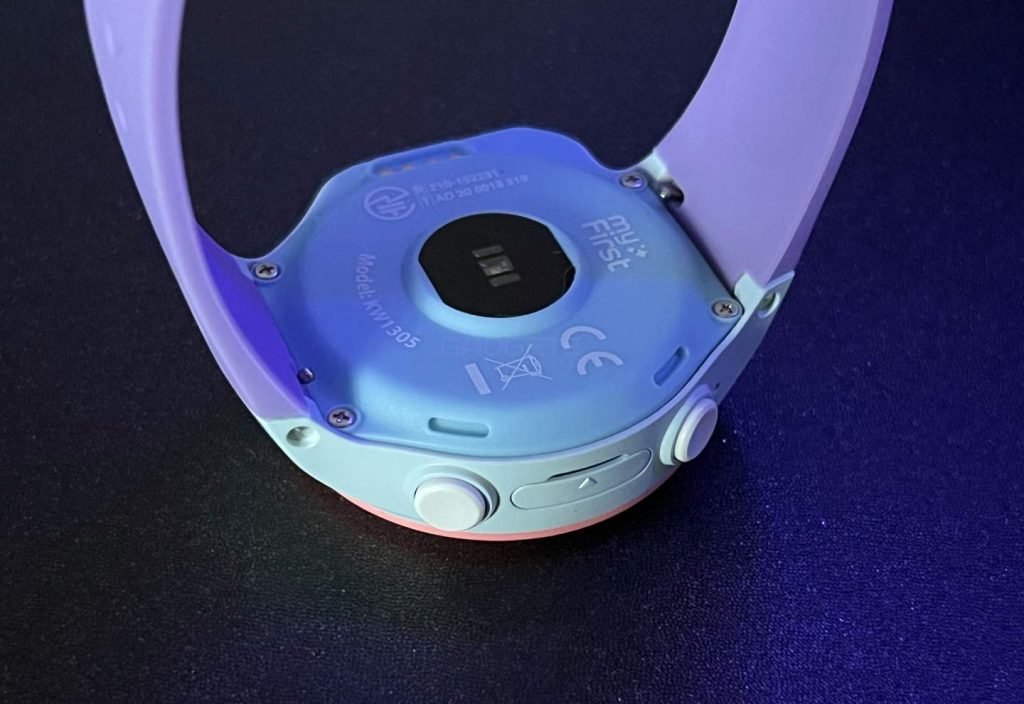 The right button is used for the SOS feature when long-pressed. This will record a 30-second voice clip and send a distress notification to the paired phone if the watch is connected to WiFi or cellular data, but it cannot be used to take photos or videos. Under the watch, there is an optical heart rate sensor and a magnetic 4-pin connector for charging and data transfer.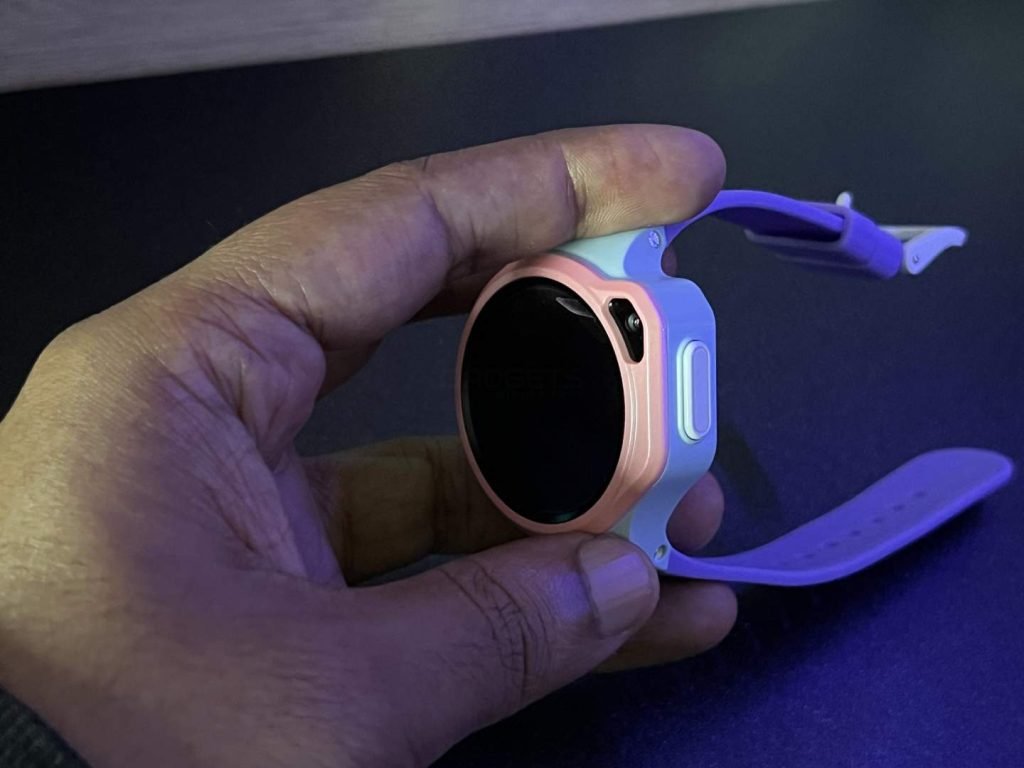 Display, Camera & Storage
The Fone R1S has a 1.3" TFT rounded display that looks nice but can be difficult to see in bright sunlight. There is no mention of any glass protection, but the frame can withstand occasional bumps and drops without scratching.
A 2MP camera is located next to the screen and can be used for taking photos and video calling. The quality may not be the best, but it is sufficient for seeing what is happening around your child. The Fone R1S also has 8GB of storage, though only 6GB can be used for storing music and photos.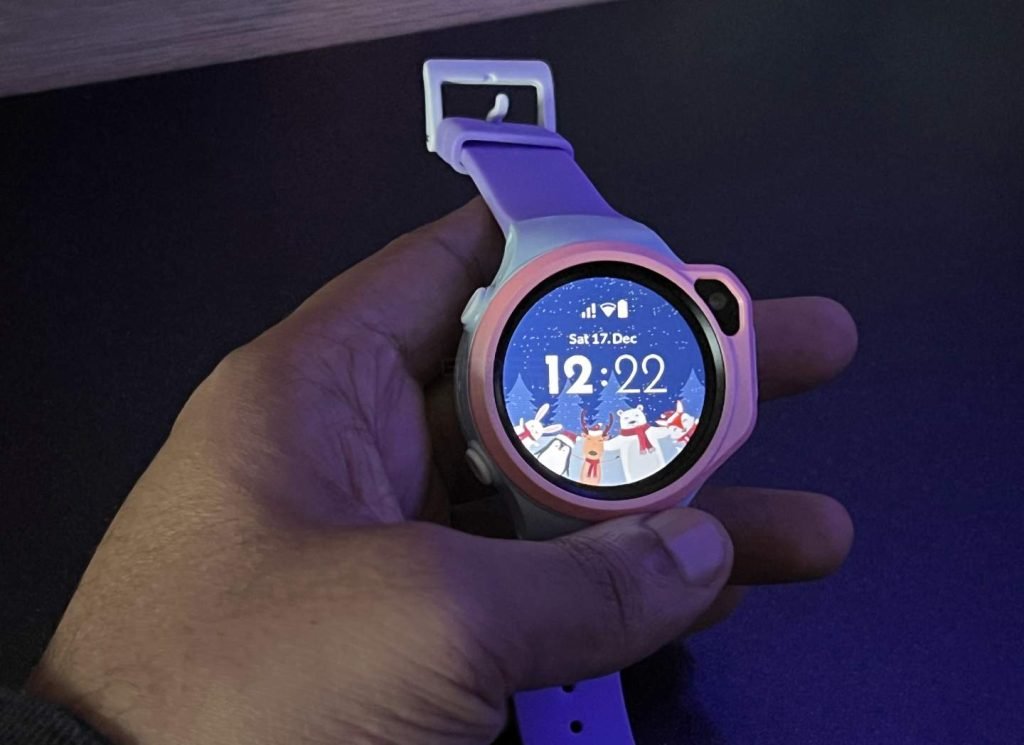 The user interface on the R1S has colorful icons and large menus. Users can scroll through different watch faces and themes, including animated watch faces that will be appealing to kids. There is also the option to use your own image as the watch face.
Navigation is straightforward as it works similarly to other smartwatches, swiping left shows you a list of apps, swiping right reveals a simple fitness tracking progress with steps and heart rate, swiping up shows incoming notifications and messages, and swiping down gets you access to connectivity toggles and other settings.
Usage
Although the myFirst Fone R1S can be used without the accompanying app, most of its main features can only be customized by installing it. Once paired with the app, all functions can be set up from the smartphone and synced to the watch.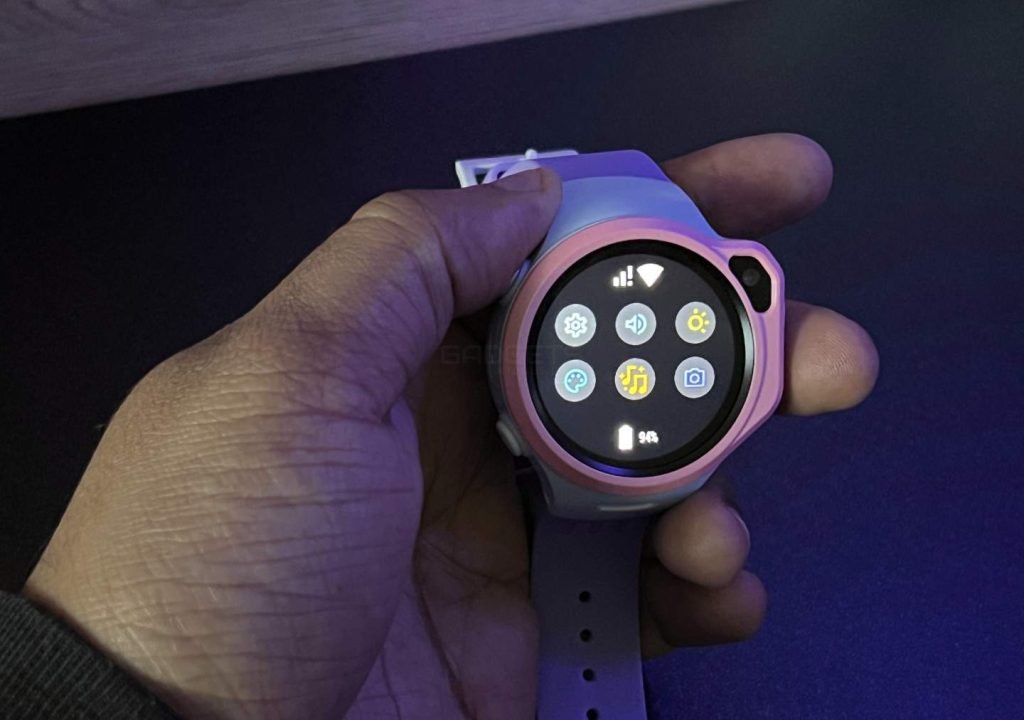 To fully use the functions of the R1S, you will need to activate connectivity through WiFi or 4G LTE. The watch accepts a single Nano SIM card that supports 4G connectivity and VoLTE. It also supports WiFi connectivity if your child is at home, which can help conserve battery.
The R1S is comfortable to wear and has good touch sensitivity, but sometimes the touch may not register because the UI detects a scroll instead of a tap. There are several limitations and restrictions on the watch, as it is designed to be simple and intuitive for kids. For example, there is no option to choose a ringtone or disable vibration, the Contacts app can only view contacts saved by the parent and kids can't add any new contacts through the watch and so on.
Features
One of the main functions of the R1S is its GPS tracking, which uses 4G LTE or WiFi to accurately pinpoint its location on a map. You can set up safe zones or geo fencing with a radius of 200m to 2km, and if the R1S leaves the geo fenced area, the mobile app will send an alert immediately.
The tracking mode allows you to ping the location of the R1S at intervals ranging from 1 minute to 1 hour, which can be useful if your child is taking public transportation and you want to ensure they are on the right route.
myFirst has also included a few other security features, such as sending a notification with the latest location if the watch is removed from the wrist, and displaying a warning on the phone app when the R1S's battery is low. If your child tries to turn off the R1S, you will also receive a notification on your registered phone app. You can even toggle the "Shutdown Forbidden" switch on the app to prevent your child from turning off the R1S. One issue with the myFirst Fone R1S is that sometimes notifications may not appear unless the app is open.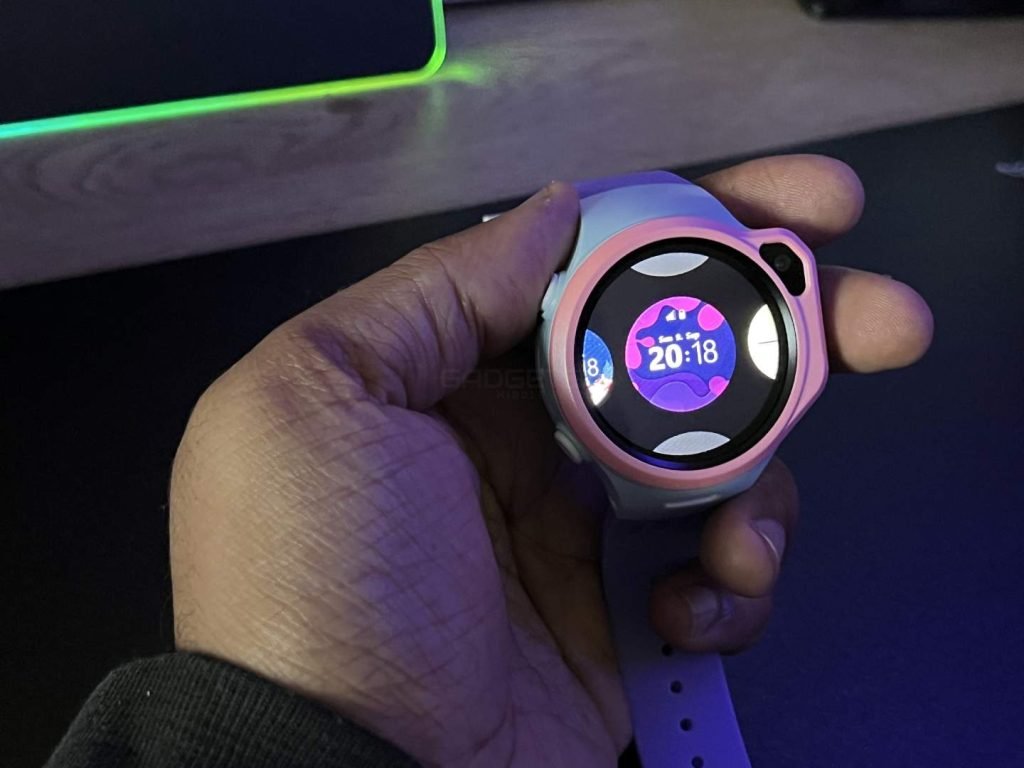 To ensure the safety of the user, both call and message functions are limited to contacts on the authorized contact list. Voice calls were clear on both ends, but the output sounds soft.
Video calls are sufficient with the 2MP camera, but in low light situations, the video may be very dark. One issue with the call function is that you have to call or receive calls through the myFirst Fone app. The messaging function only allows kids to send pre-loaded messages using emojis.
In addition to tracking and calling, the R1S also has a heart rate tracking function and a pedometer. It can track daily steps, calories burned, and distance traveled, and reward users with achievements for distance traveled. To access these functions, just swipe right on the screen to see the pedometer or heart rate tracker.
Battery Life
One downside of the myFirst Fone R1S is its 580 mAh battery life, which does last not very long. The watch will need to be charged daily, and the battery may even run out halfway through the day if it is constantly connected to 4G.
The standby time for a fully charged watch is two days, and the operational talk mode is 6 hours. During our testing, the average battery lifespan was around 8 hours.
myFirst Fone R1S Review Verdict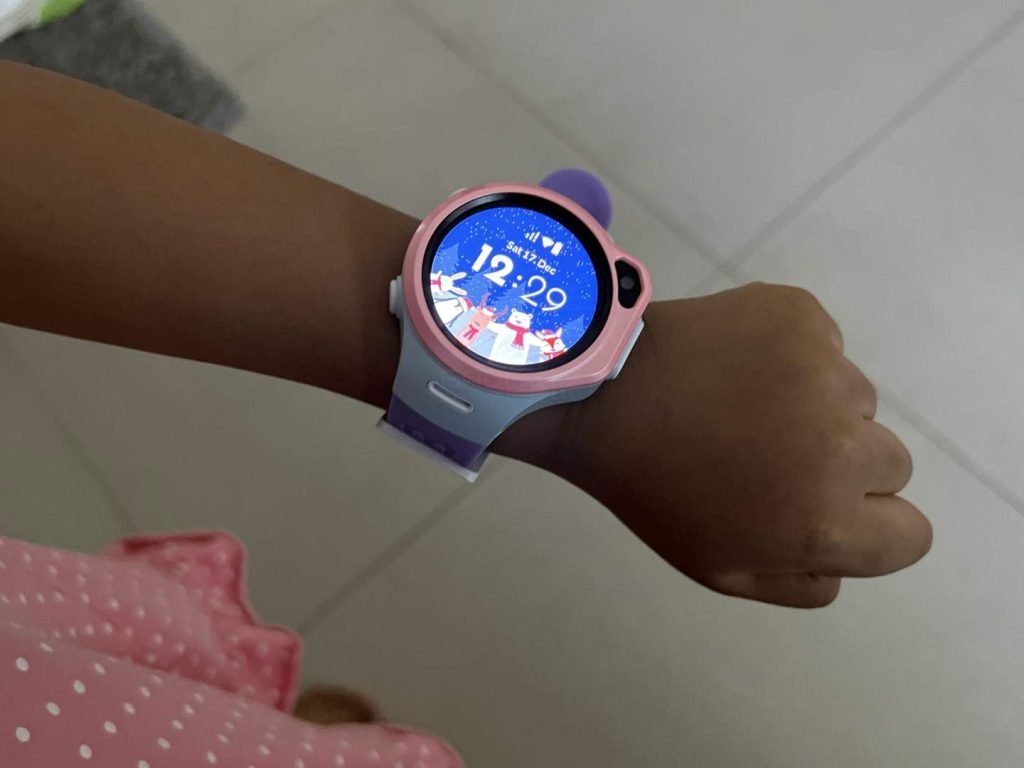 The myFirst Fone R1S is a fun smartwatch that can improve communication between kids and parents and help keep kids safe when they are not nearby. Its high price and average battery life are drawbacks.