The JMBricklayer Chameleon is a LEGO-compatible building block set featuring a bionic chameleon atop a miniature tree. In total, it comprises 827 pieces primarily in gray and green hues, supplemented by a handful of stickers and a single light brick. Notably, most of the components are on the smaller side, with a resemblance to LEGO Technic pieces.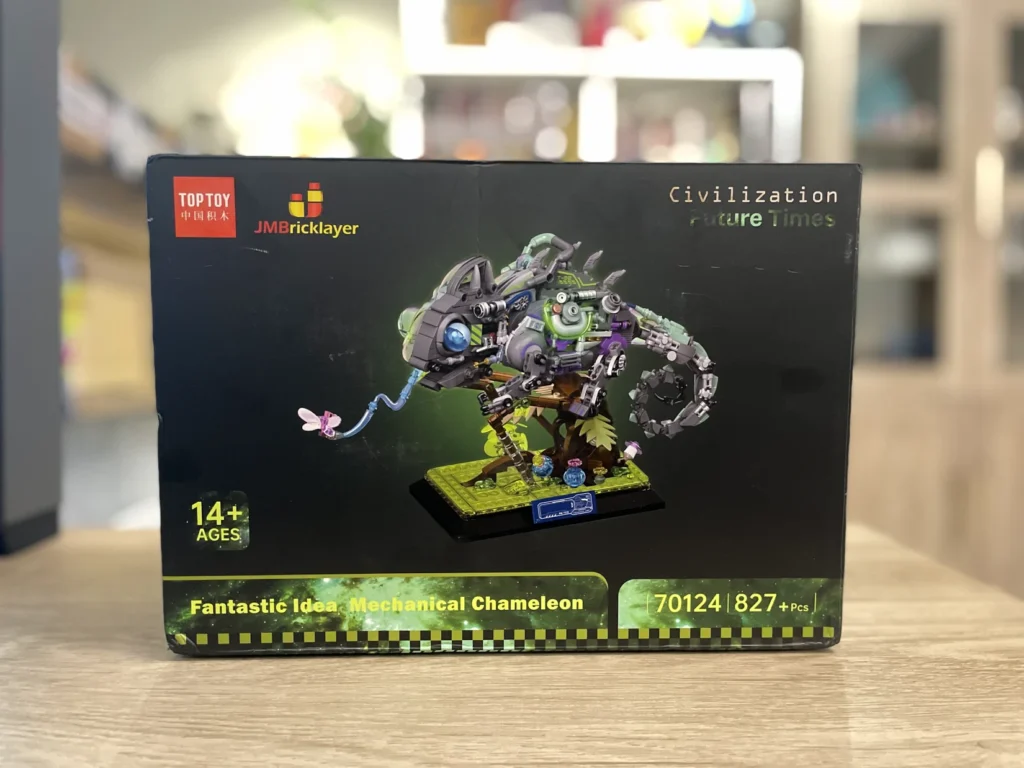 Inside the packaging, you'll find:
827 building bricks
A compact sticker sheet
A single light brick
A practical brick separator
A comprehensive 94-page manual
This set promises a delightful and engaging building experience.
Design & building experience
The packaging of the JMBricklayer Chameleon is minimal. Enclosed within a simple printed carton box with a tab closure, it's featuring an image of the finished product, brand information, SKU number, piece count, and recommended age. While it has a vibe of UCS (Ultimate Collector's Series) style, it's worth noting that the cardboard material could be of better quality.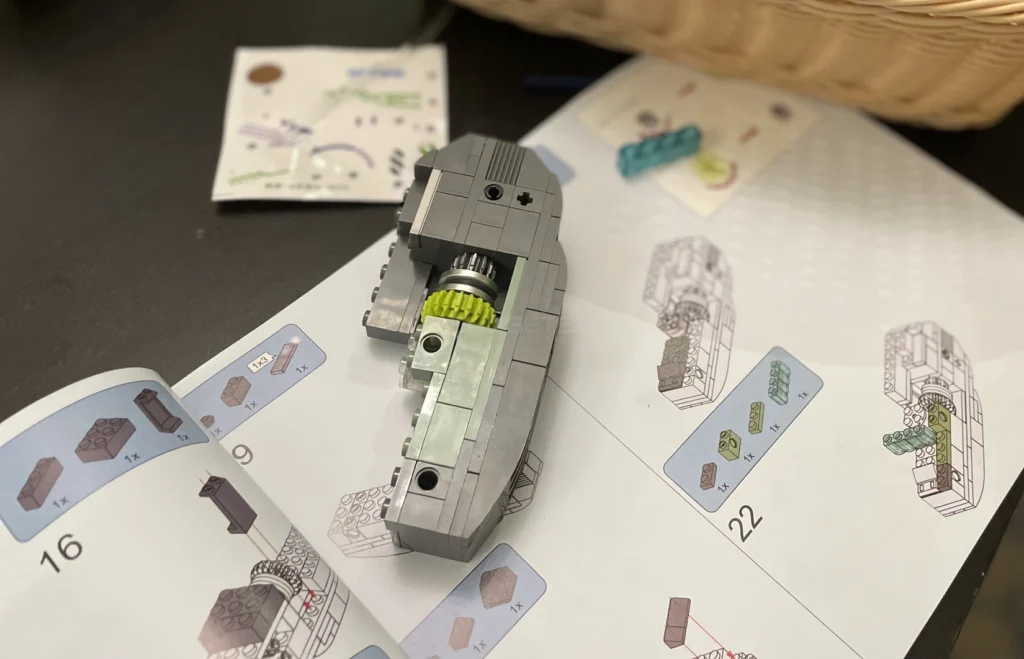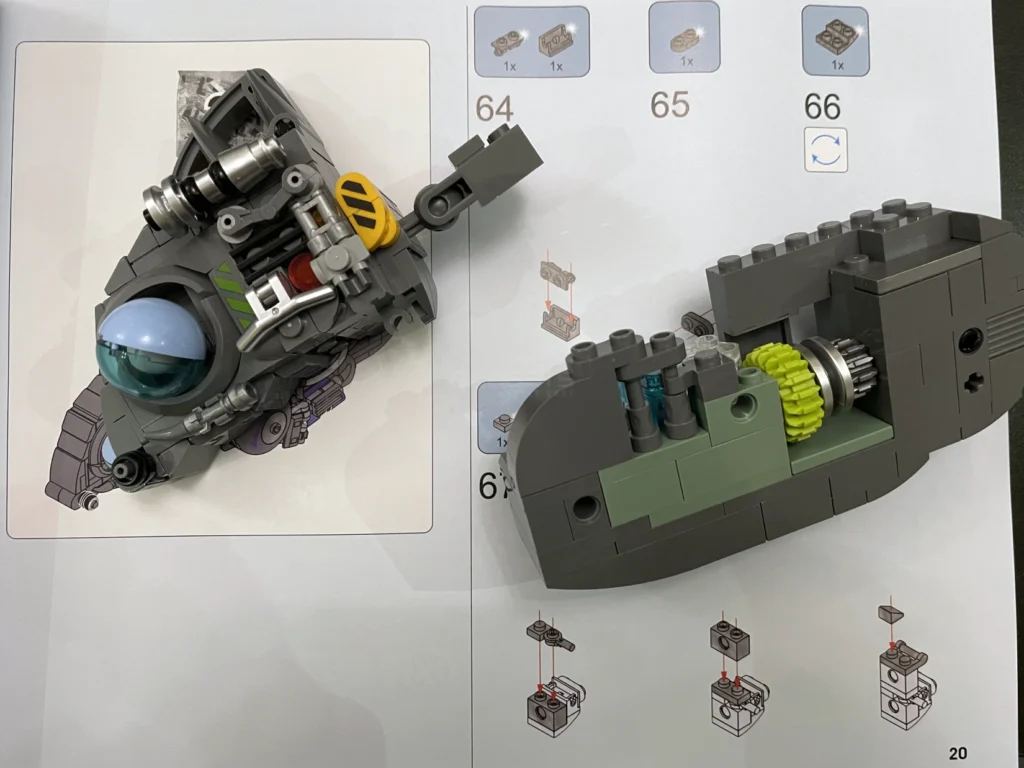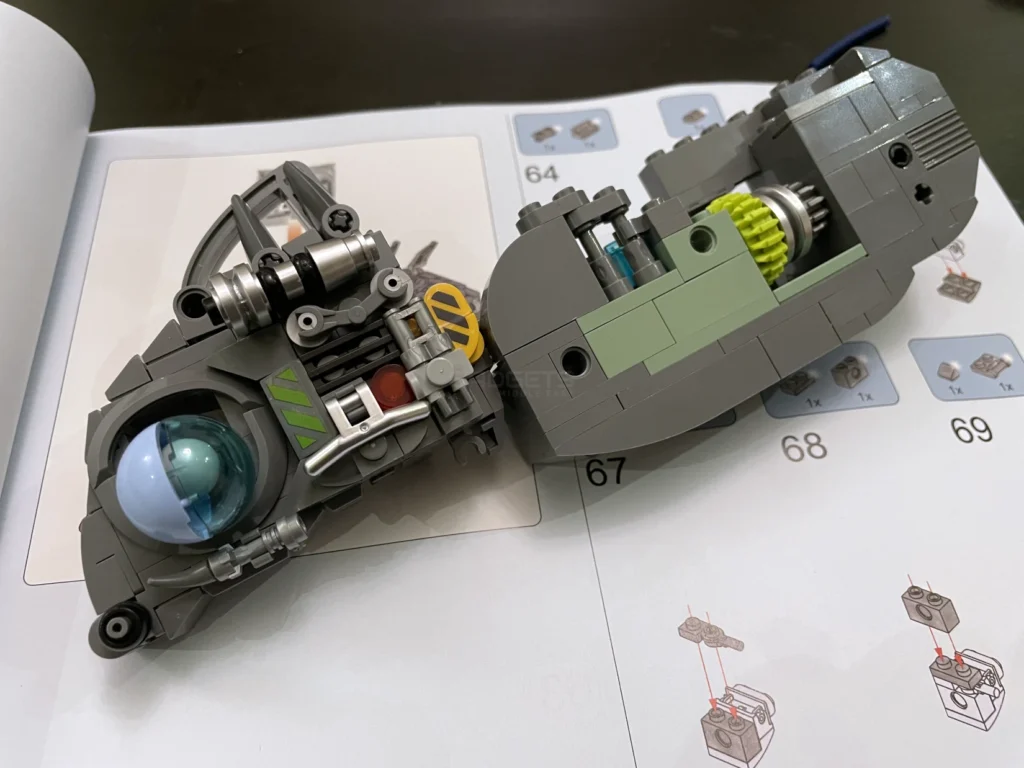 As for the instructions, they offer a clear and user-friendly guide to assembly, featuring a limited number of pieces per step. The use of white shading for previous steps aids in identifying where new bricks should be added. Overall, these instructions are quite commendable, and experienced builders will likely find them easy to follow. Additionally, there's a helpful explanation on how to utilize the brick separator and measure axle piece lengths.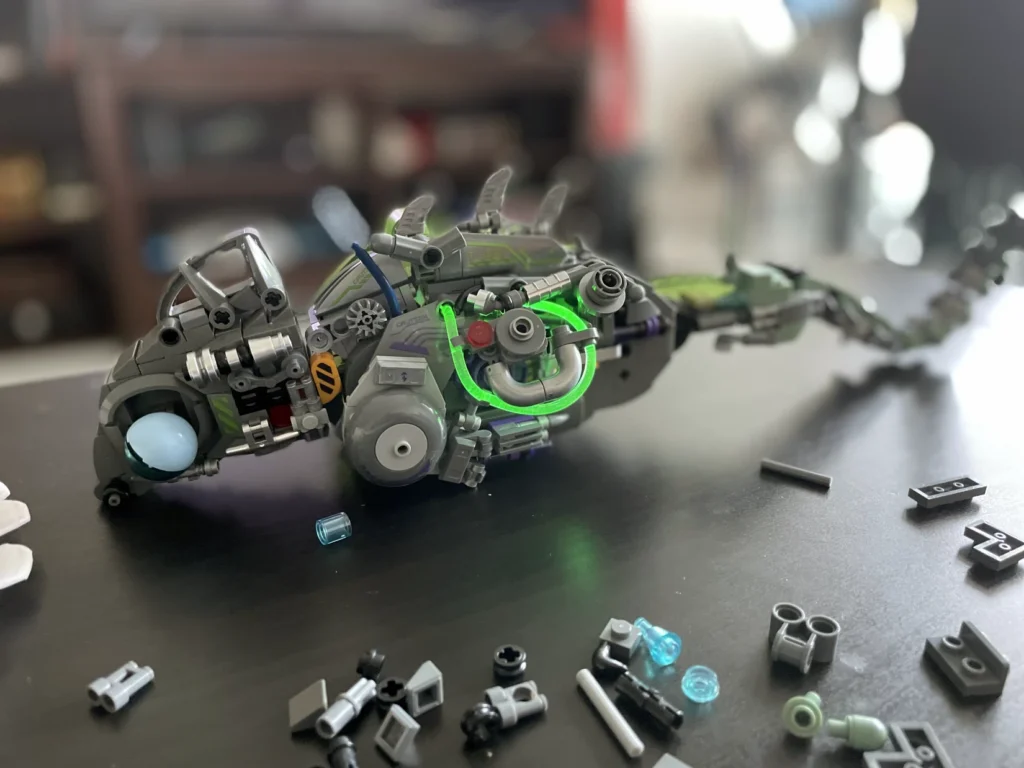 Officially, completion is estimated to take around 3-4 hours. However, in our experience, it surpassed that estimate, requiring a little over 8 hours to finish. In terms of the building bricks themselves, they stand as some of the finest off-brand alternatives. The smaller components bear striking similarity to their LEGO counterparts, while the larger pieces hold their own admirably.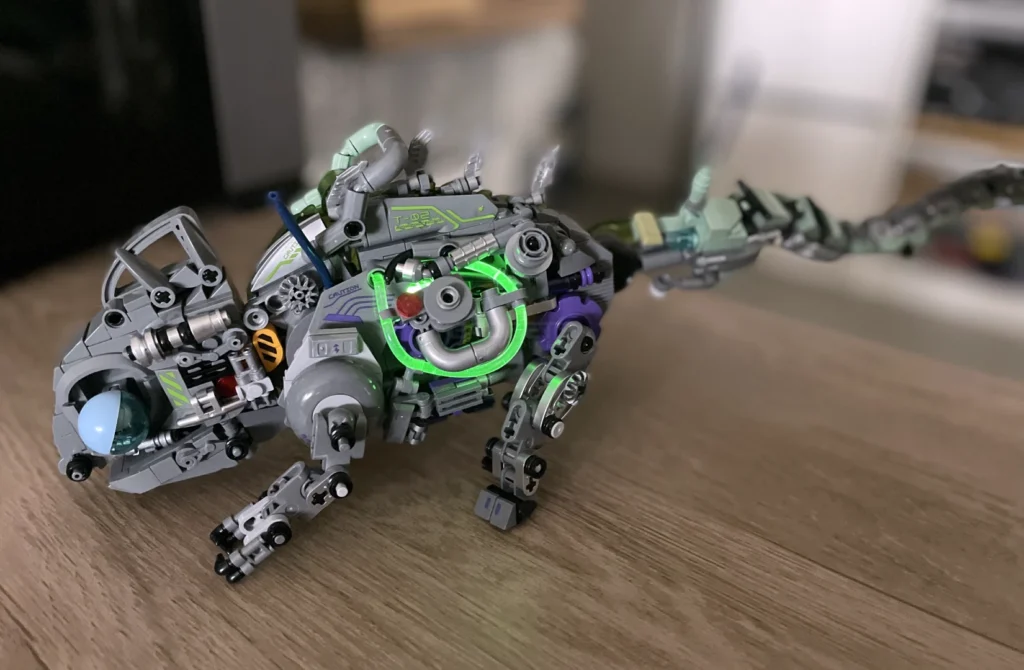 Quality-wise, they are on par with LEGO's offerings. We encountered minimal issues with pieces failing to interlock or spontaneously detaching. The precision of these components is remarkably consistent, with the exception being the segment involving the light tube, which presented a challenge. The instructions directed us to position one end of the tube beneath certain technic elements, but the light-transmitting tube's force proved so strong that it could cause these elements to break apart.
Overall, the JMBricklayer Chameleon presents an engaging building experience with a few minor nuances in packaging quality and the light tube section.
JMBricklayer Chameleon 70124 Review – Final thoughts
The JMBricklayer Chameleon 70124 stands out as a unique build, going beyond just crafting a mechanical reptile. The designer has invested considerable effort in recreating the chameleon's natural habitat and capturing its striking hunting behavior.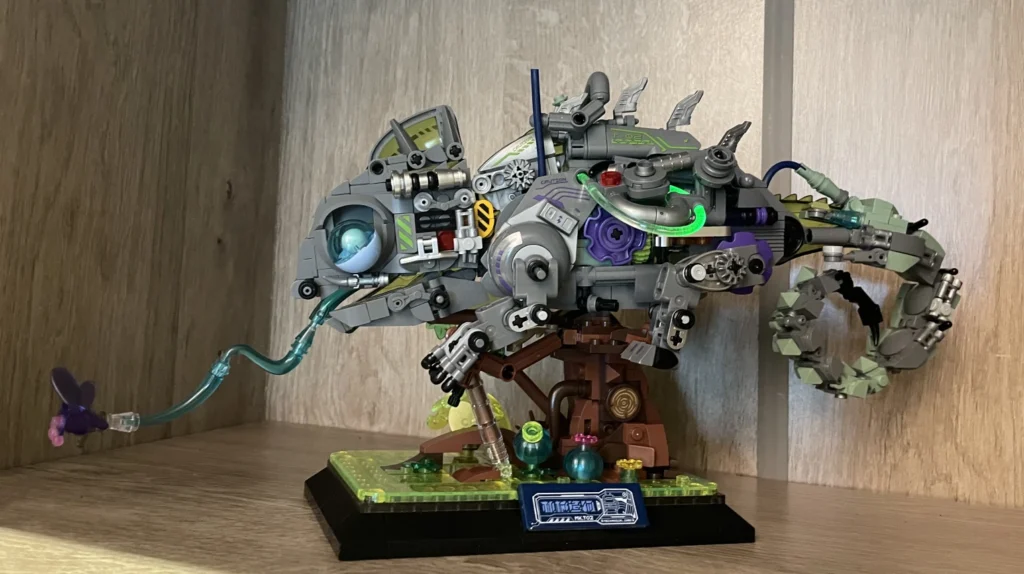 The chameleon itself is a visual treat, boasting an iridescent shell body and the addition of a light brick, which adds a captivating touch. When you turn it around, you can appreciate the intricate internal workings of the mech side. This set not only offers a visually appealing finished product but also incorporates a range of advanced building techniques. It undoubtedly shines as a standout display piece.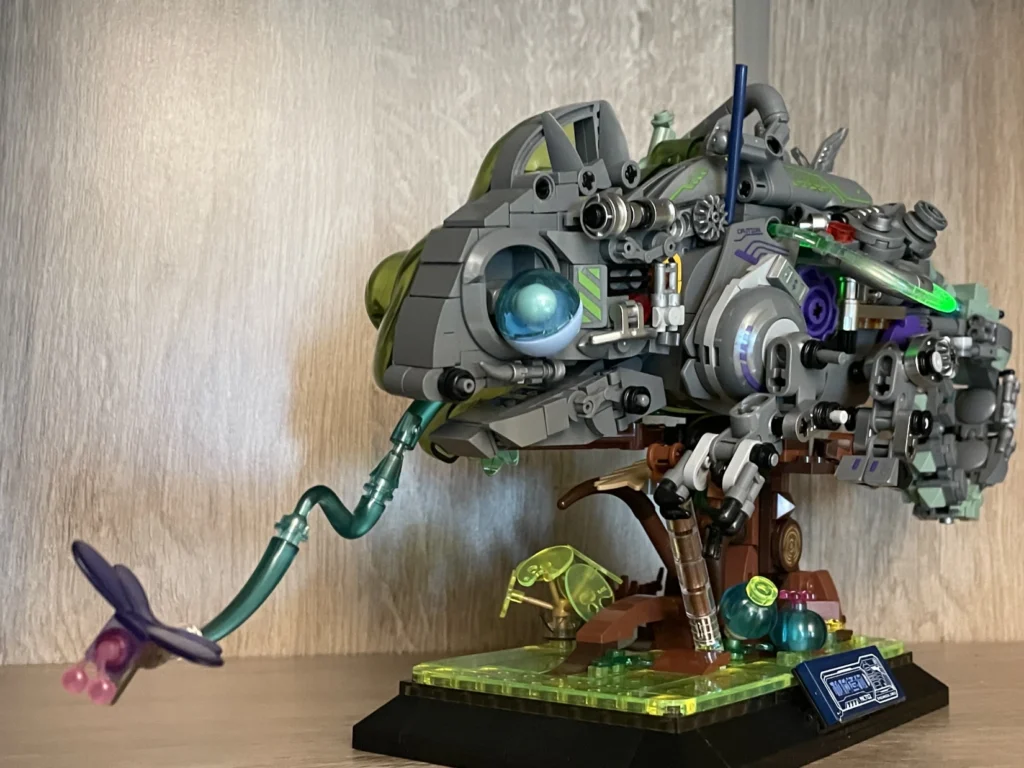 However, it's crucial to note that this set is best suited for experienced builders. Its complexity and time-intensive nature may prove daunting for younger kids, making it less suitable for that age group.
In summary, the JMBricklayer Chameleon 70124 is a remarkable set that combines aesthetics, intricate design, and an engaging build process. While it may not be the ideal choice for younger builders, experienced enthusiasts will relish the challenge it presents and the stunning result it delivers.
The JMBricklayer Chameleon 70124 is available for purchase via Amazon.com and JMBricklayer website for US$59.99. For a limited time, you can enjoy a 15% discount on the Chameleon 70124 building set if you check out with the coupon code VIPGDGTM15. Note that the validity period for the discount is one month on Amazon.com and until December 31, 2023 on JMBricklayer website.