The JMBricklayer Puppet Show 70002 Review: a LEGO-compatible building block set inspired by the world-famous wooden marionette, Pinocchio. It's designed for ages 14 and above and contains a total of 1900 pieces, making it an enjoyable project. Notably, many of the components are similar in size to standard LEGO pieces.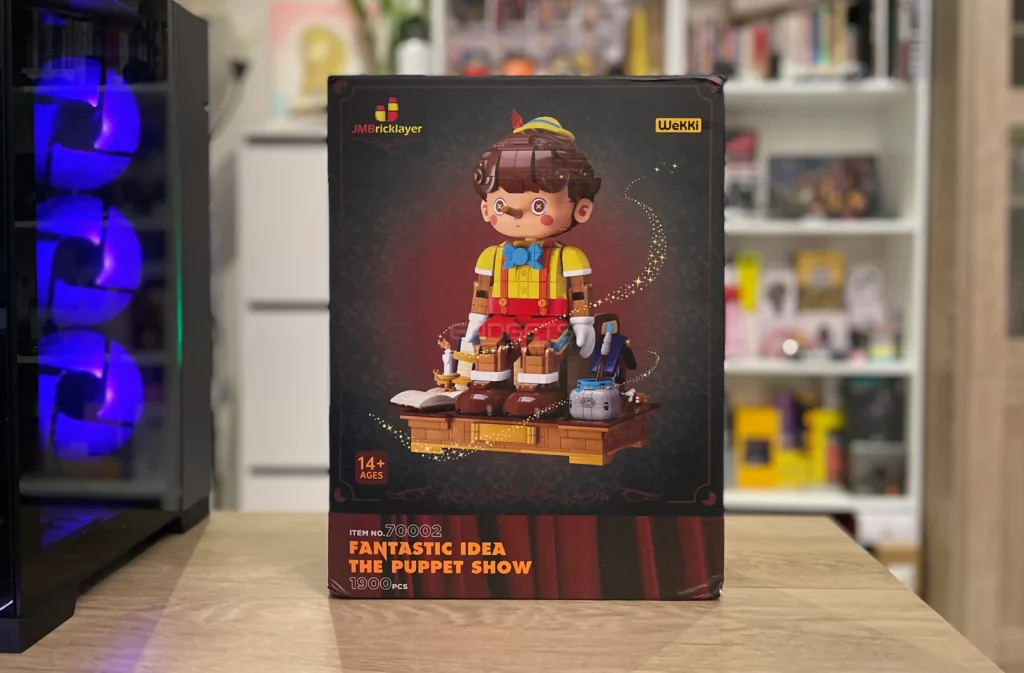 Inside the box, you'll find:
1900 building bricks
A convenient brick separator
A battery brick connected to a small LED brick
Four pieces of string
Stickers
An in-depth 97-page instruction manual
Design & building experience
In terms of design and the building experience, the JMBricklayer Puppet Show 70002 impresses from the start. The packaging arrives in a sturdy carton box with a tab closure, featuring an image of the finished product, brand details, SKU number, piece count, and the recommended age. The cardboard material used is commendably robust.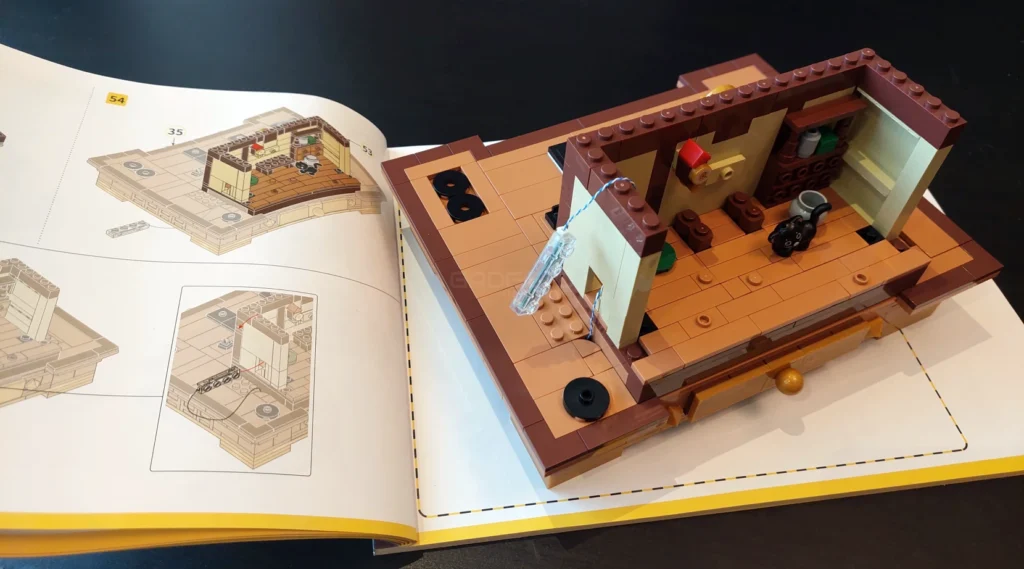 The assembly instructions are user-friendly and divided into 97 pages, providing a clear roadmap for the build. They also incorporate a convenient way to measure out specific bricks, catering to both novice and experienced builders.
The building bricks themselves are crafted from high-quality ABS plastic, ranking among the finest off-brand alternatives. Assembling the entire set takes a little over 10 hours, which is reasonable. The smaller components closely resemble LEGO counterparts, while the larger pieces hold their own impressively. The 1900 pieces are divided into 5 sections and come in 9 individual packages, mostly in shades of brown with bright yellow, red, and blue. Stickers are also included.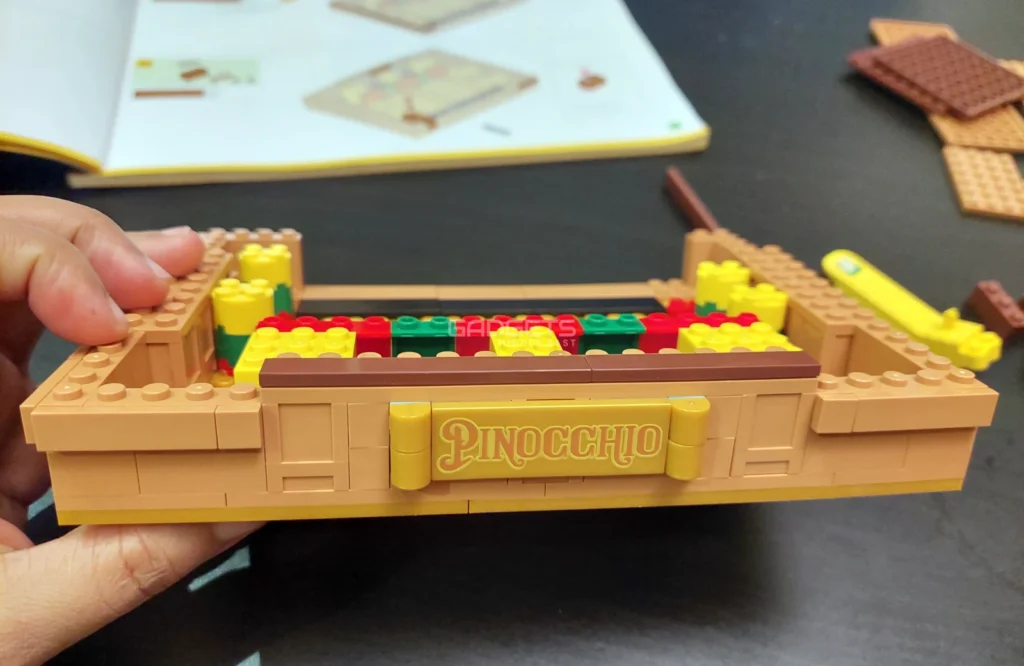 The manual divides the construction journey into five major sections. It begins with building a wooden shelf featuring a small stage on one side and Pinocchio on the other. The next steps involve adding items to the workbench, such as paintbrushes and books, as well as creating a mini puppet stage with intricate details.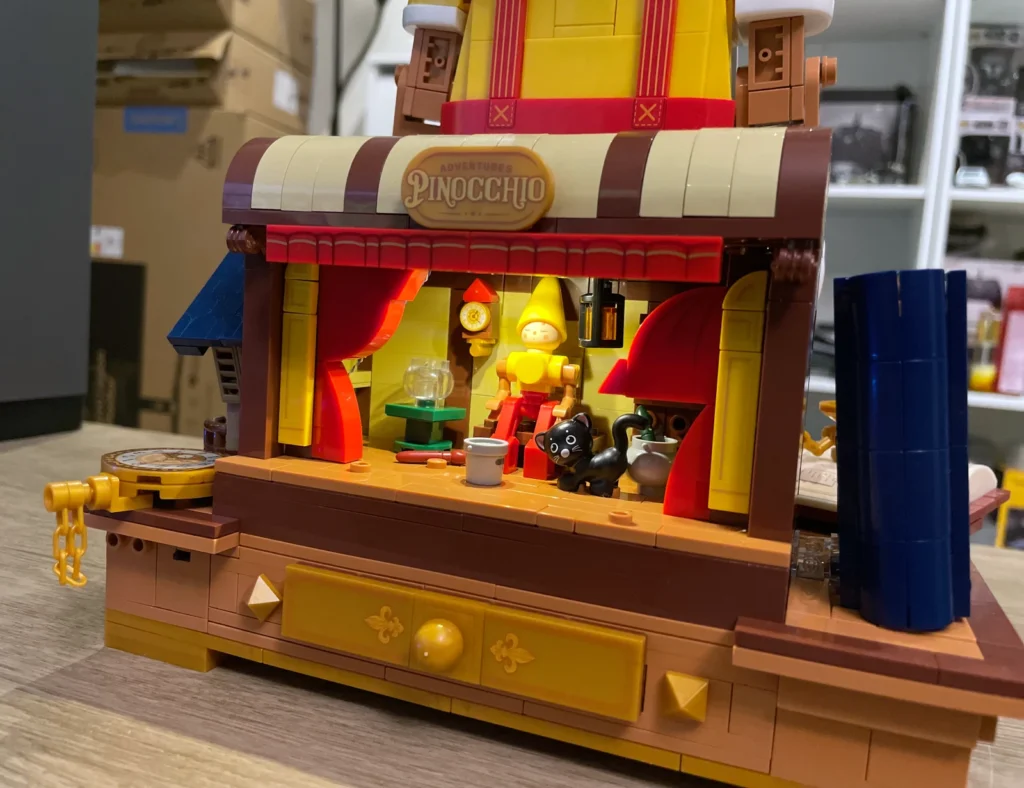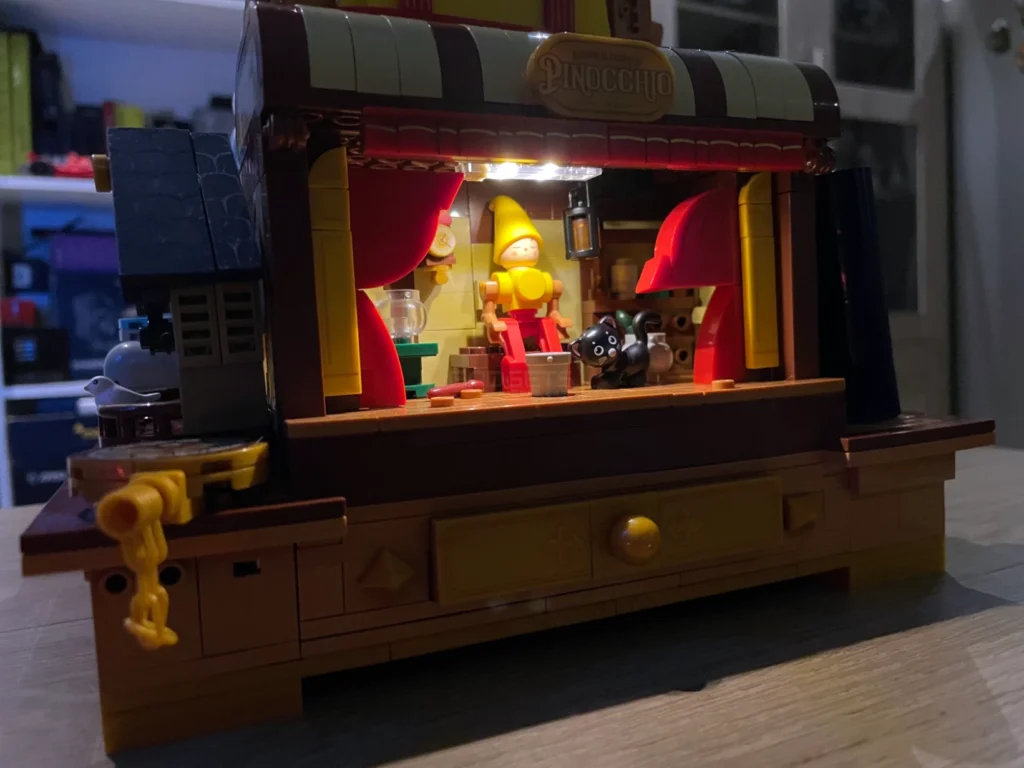 The third part focuses on building Pinocchio's chest and legs, with some pieces featuring printed patterns. The hip and knee joints offer a wide range of motion, making for a realistic appearance.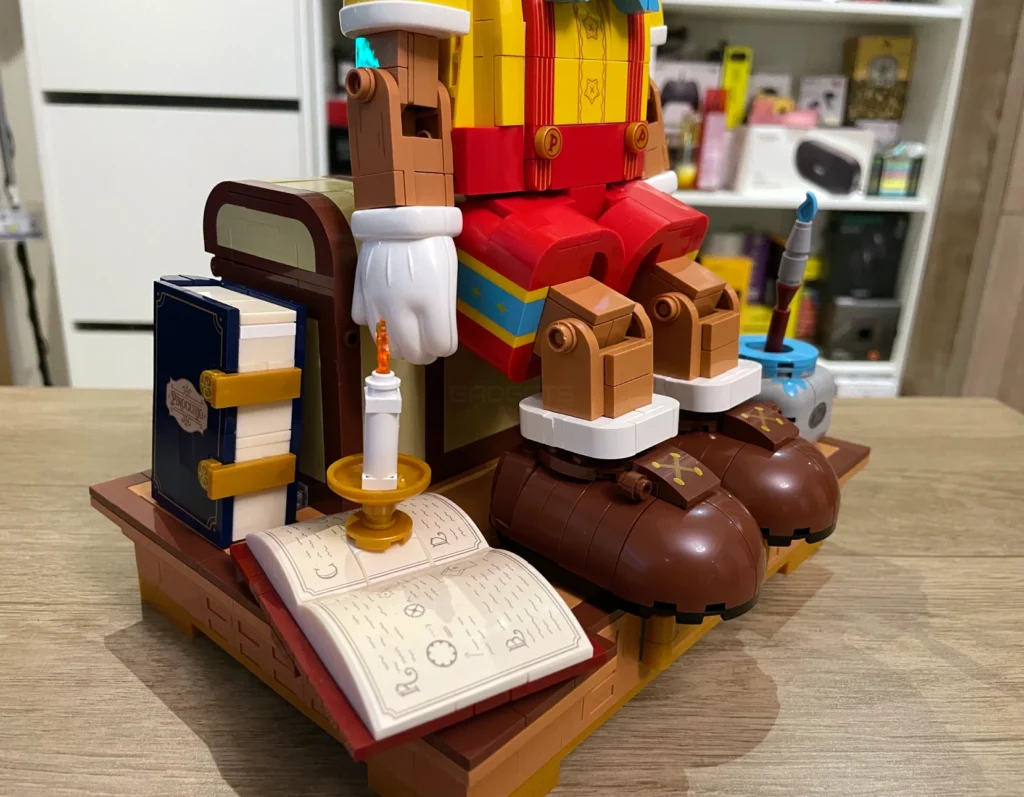 Moving on to the fourth part, we add the arms and feet, with great-looking shoes that come with sockets for motion. The final section involves assembling the face, hands, shoulders, and hat.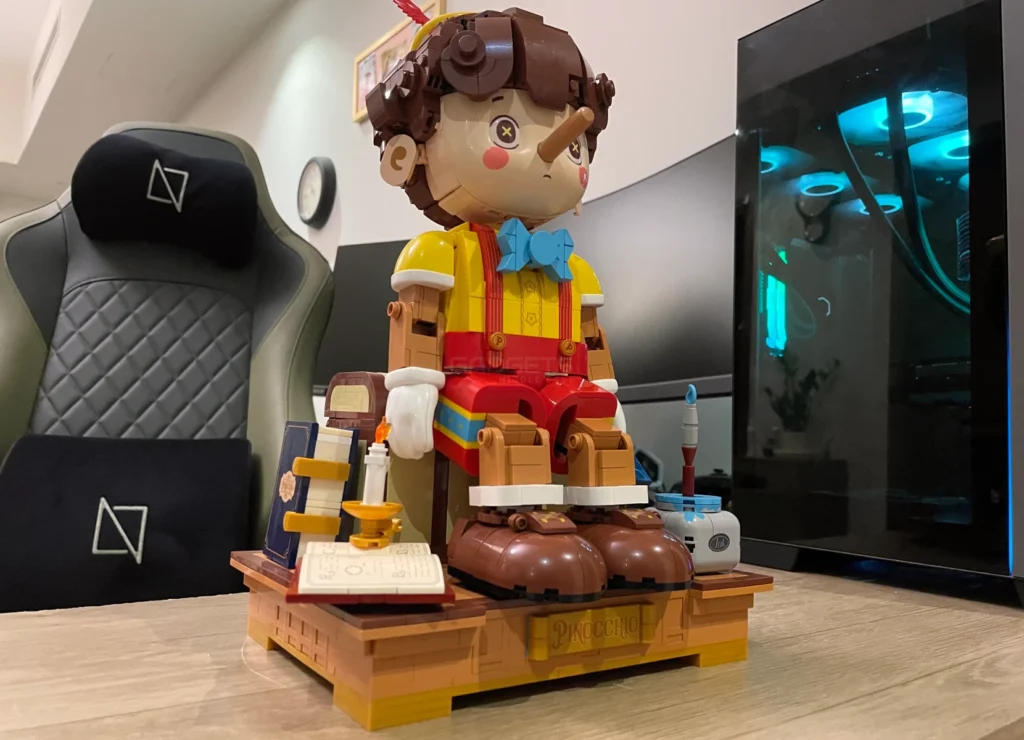 Section five introduces the marionette controller, an optional feature for controlling Pinocchio like a puppet. We chose not to connect it during our build.
In terms of quality, the building bricks are on par with what LEGO offers, with smooth and polished pieces, although we encountered minimal issues with some pieces not clicking together as expected compared to our previous JMBricklayer reviews. However, once the build is complete, the final product looks polished and perfectly in place.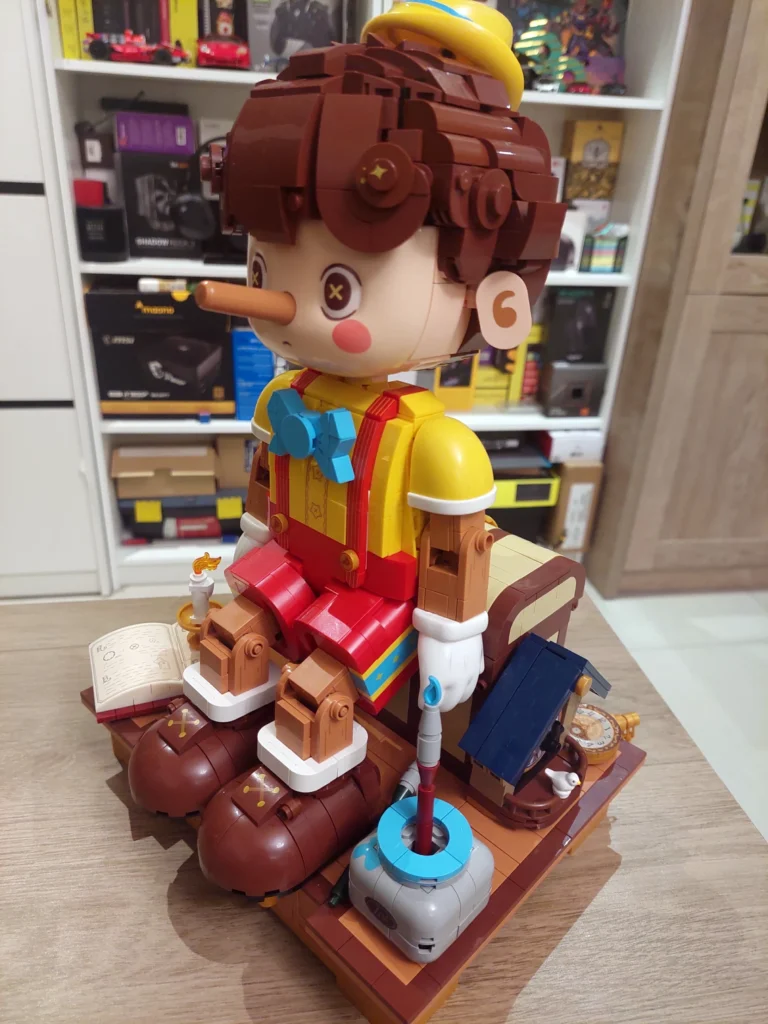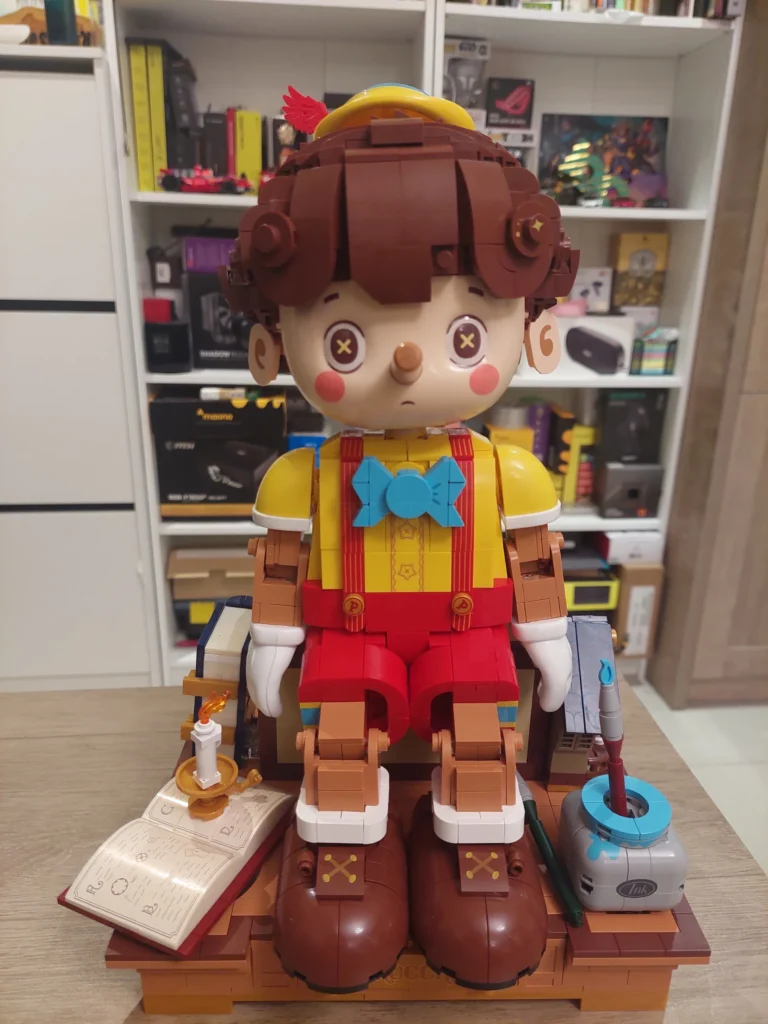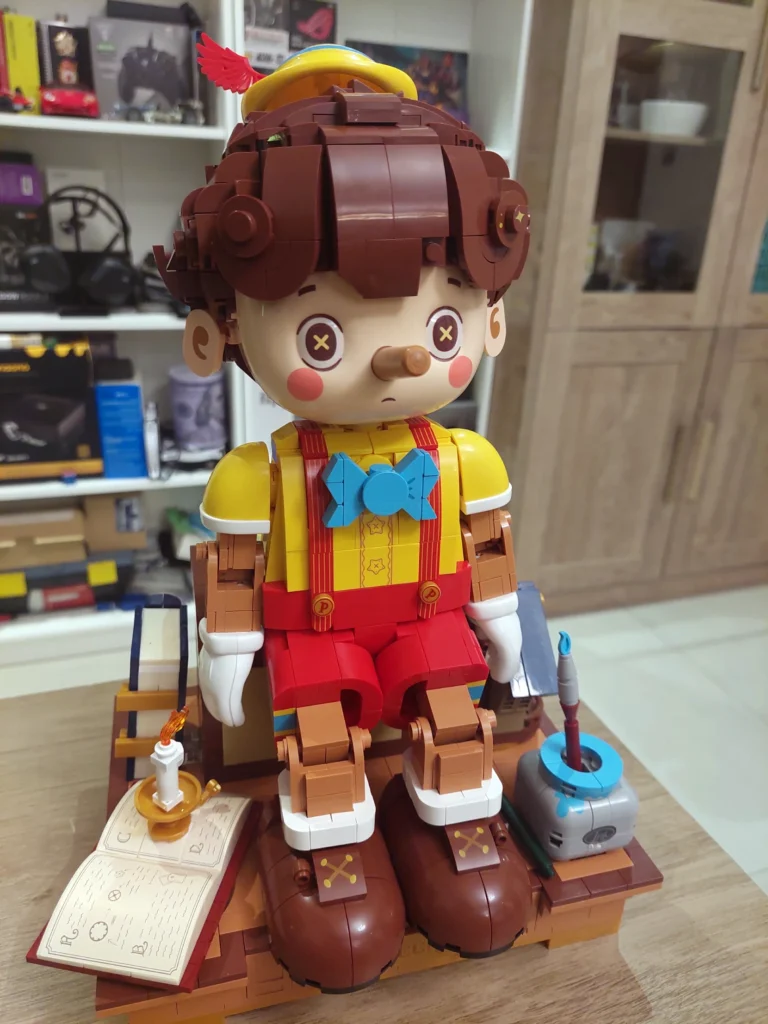 In summary, the JMBricklayer Puppet Show 70002 offers an engaging and enjoyable building experience. The overall model boasts a smooth, masterful design with vibrant splashes of color.
JMBricklayer Puppet Show 70002 – Final thoughts
In conclusion, the JMBricklayer Puppet Show 70002 truly stands out as an adorable build, making it a standout display piece whether showcased on a table or a bookshelf. Its charm is further elevated by the marionette controller, allowing for the movement of arms and legs, adding an extra layer of enjoyment to the set.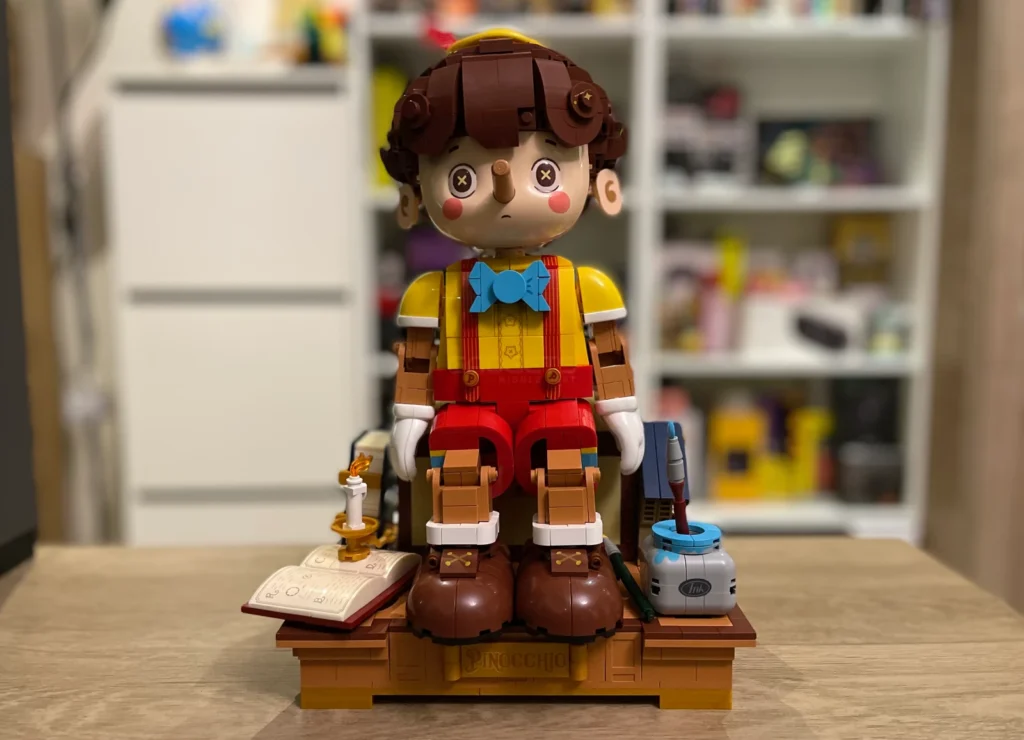 The inclusion of a concealed miniature theatre behind the workbench, complete with a puppet and a cat, is a delightful and detailed feature. However, it may go unnoticed when the model is displayed, and having a rotating base could have enhanced its visibility.
Overall, the JMBricklayer Puppet Show 70002 combines a delightful building experience with a charming final product, perfect for enthusiasts and collectors alike. Its versatility in both play and display options makes it a unique addition to any collection.
It's important to emphasize that this set is best suited for seasoned builders. Its complexity and the time it demands may be a bit overwhelming for younger kids, making it less suitable for that age group.
---
The JMBricklayer Puppet Show 70002 is available for purchase via JMBricklayer website for US$109.99. For a limited time, the coupon code VIPGDGTM15 applies to all non-discounted products and offers a 15% discount and brings the price to US$93.49. The code is valid until December 31, 2023.