The Kingston KC3000 is a high-performance M.2 2280 NVMe PCIe SSD designed for both desktop and laptop PCs. This impressive drive is the successor to last year's KC2500.
The Kingston KC3000 has a compact design, measuring just 80mm x 22mm x 3.5mm and weighing a mere 10 grams. Its slim form factor allows for easy installation in a wide range of PCs, including laptops, thanks to its support for the M.2 2280 slot. It also comes with a generous five-year warranty.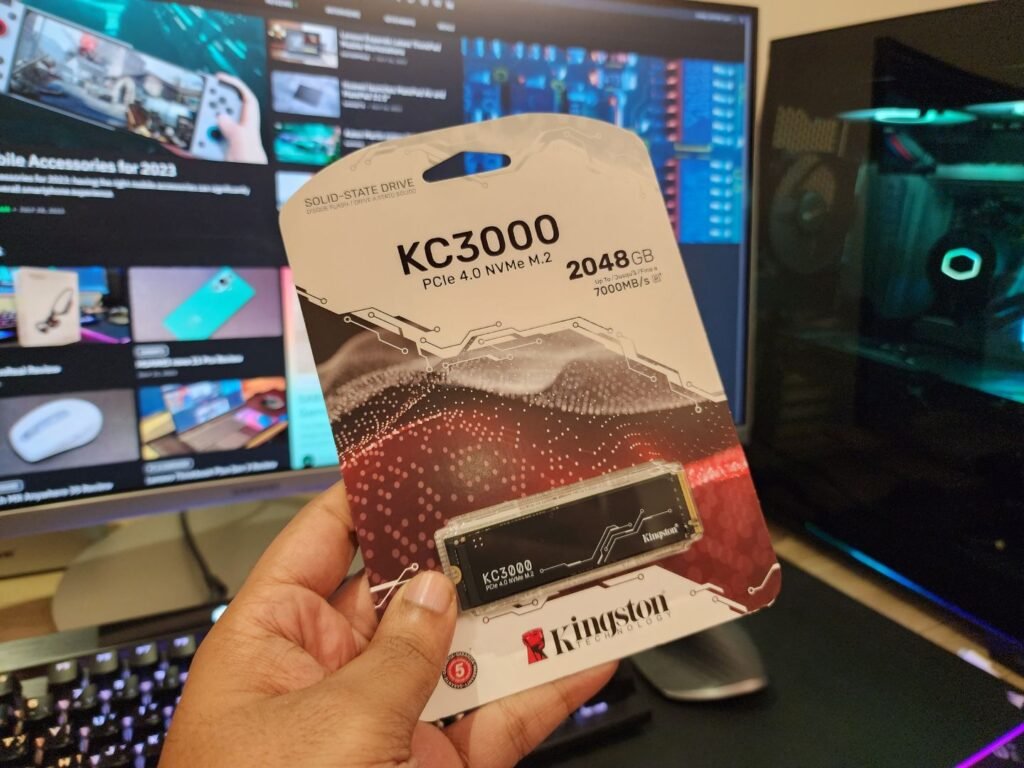 When it comes to performance, the KC3000 uses a Gen 4.0 x4 controller, delivering fast sequential read speeds of up to 7,000 MBps and sequential write speeds of 7,000 Mbps on this model. This SSD offers exceptional durability, capable of handling up to 3.2PBW (Petabytes Written).
Available in a variety of storage capacities, including 512GB, 1TB, 2TB, and a massive 4TB, the Kingston KC3000 provides options to suit your specific needs, whether you're a casual user or a demanding professional.
A big shoutout to Kingston for providing us with this review sample.
Specifications
Form Factor
M.2 2280
Controller
Phison E18
Interface
PCIe 4.0 x4 NVMe
NAND
3D TLC
Capacities
512GB, 1024GB, 2048GB, 4096GB
Sequential Read/Write
512GB – 7,000/3,900MB/s
1024GB – 7,000/6,000MB/s
2048GB – 7,000/7,000MB/s
4096GB – 7,000/7,000MB/s
Total Bytes Written (TBW)
512GB – 400TBW
1024GB – 800TBW
2048GB – 1.6PBW
4096GB – 3.2PBW
Operating Temperature
-40°C~85°C
2,000,000 hours
80mm x 22mm x 2.21mm (512GB-1024GB)
80mm x 22mm x 3.5mm (2048GB-4096GB)

512GB-1024GB – 7g
2048GB-4096GB – 9.7g
Random 4K read/write
512GB – up to 450,000/900,000 IOPS
1024GB – up to 900,000/1,000,000 IOPS
2048GB – up to 1,000,000/1,000,000 IOPS
4096GB – up to 1,000,000/1,000,000 IOPS
MTBF
2,000,000 hours
Warranty Period
5 Years
Packaging & Design
The Kingston KC3000 arrives in standard cardboard packaging, ensuring secure shipping with a plastic blister for added protection. Its M.2 2280 form factor measures 80mm x 22mm x 3.5mm and weighs only 10 grams, making it an effortless fit for desktops and laptops alike.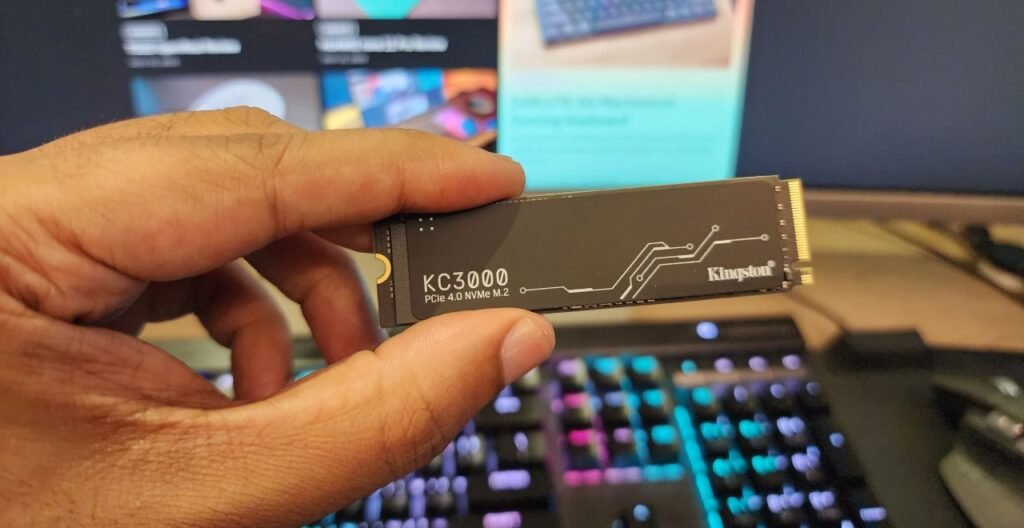 This drive's M.2 format connects via a PCI-Express 4.0 x4 interface and leverages the NVMe interface for improved read and transfer rates, as well as quicker access times. Notably, our 2TB review model features memory chips on both sides of the PCB, encased in a novel low-profile graphene aluminum heat spreader for efficient cooling. Each side of the KC3000 SSD houses multiple NANDs, boosting its performance capabilities.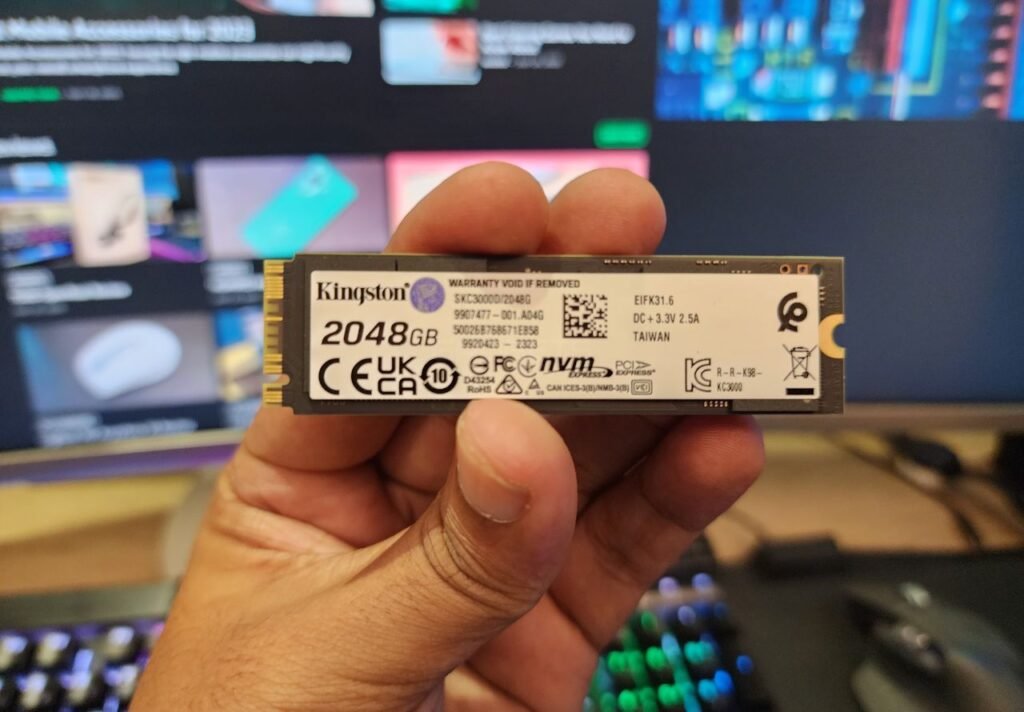 Performance
Test Bench
LIANLI O11 DYNAMIC EVO GREY Middle Tower Case
ASUS PRIME X670-P Motherboard
AMD Ryzen 9 7900X 12-Core, 24-Thread
CoolerMaster MasterLiquid ML360L ARGB V2 AIO
MSI Gaming GeForce RTX 4070 12GB GDRR6X
MSI MPG A750GF UK 750 Watt PSU
Kingston Fury Renegade 32GB DDR5 RGB RAM
Kingston KC3000 SSD
After formatting the drive, we are left with 1.86 TB of free space. During tests, the Kingston KC3000 performed admirably in everyday applications. Transferring and reading files, booting the system and loading games is quick with this SSD.
When copying files during everyday use, the speeds are in the range of 1000-3000 MB/s, depending on the size of files.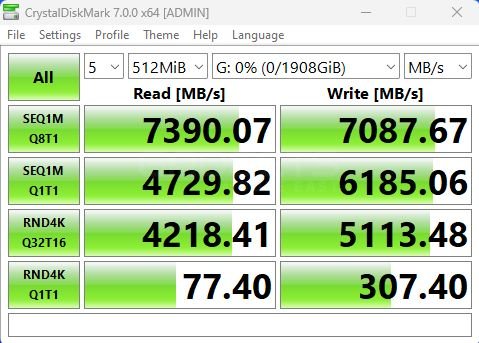 In our Final Fantasy XIV StormBlood test, a benchmark that simulates game load time, the Kingston KC3000 came out with an impressive load time of 10.17 seconds. In our CrystalDiskMark benchmark, the KC3000 nearly matches the speed advertised by Kingston of up to 7,390 MB/s sequential read and 7,087 MB/s for sequential write and performs exceptionally well.
| | |
| --- | --- |
| CrystalDiskmark Read | 7,390MB/s |
| CrystalDiskmark Write | 7,087MB/s |
| PCMark 10 Overall Score | 2,960 |
The Kingston KC3000 maintained stable temperatures between 42-47 degrees during work tasks. And while gaming it went up to a maximum of 60 degrees, which is excellent for its class.
Software
The Kingston SSD Manager can be downloaded from Kingston's website, which can help with monitoring temperature, drive health, status, and disk usage and also update firmware as and when they are released.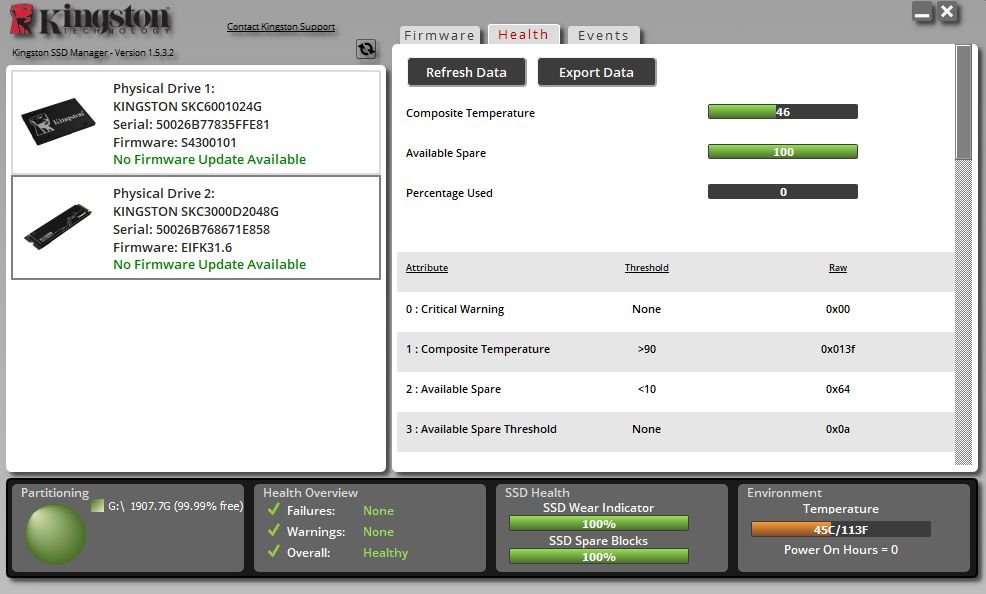 Verdict
The Kingston KC3000 sets a new standard for fast and affordable SSDs, reaching a remarkable 7,000 MB/s read and write speed, fully utilizing PCIe 4.0 capabilities. Its range of capacities, from 512GB to 2TB, caters to a wide range of users, from everyday laptops to high-end gaming PCs.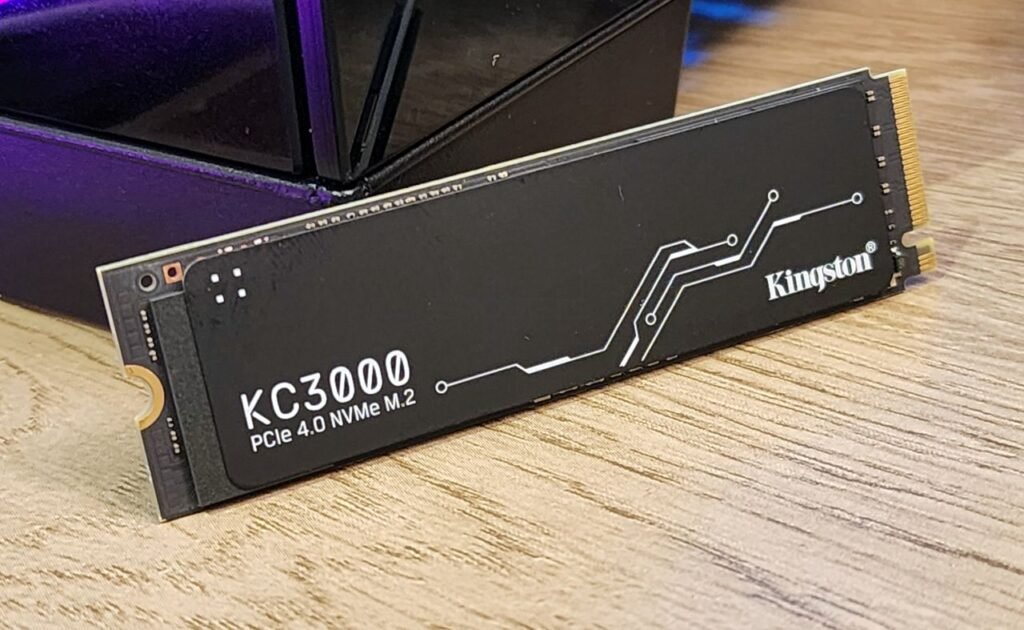 In terms of pricing, the KC3000 stands out by delivering high-end M.2 NVMe SSD performance at a budget-friendly cost, making it an attractive choice for tech enthusiasts seeking top-notch speed without breaking the bank.