Being stuck at home with the ongoing pandemic, one thing that I missed the most was watching movies at the cinema.
Extra loud background music, dimmed down dialogues, we have all faced these issues when it comes to watching a high definition movie on TV. What I wanted was a true cinematic experience while staying at home – the high definition surround sound that pleases your ears when Vin Diesel drops a gear or when fright takes over you and your heart skips a beat as Godzilla roars (you know what I mean).
Two weeks earlier, I purchased a SONY X80G 4K TV and was searching for the ideal home entertainment sound system to go with it.
Enter the LG SN9YG sound bar. Apart from the elegant brushed titanium finish that will add to the look of your décor, it features 5.1.2 channels and 520W of power along with a wireless subwoofer.
LG, partnered with Meridian Technology, the pioneers of high-resolution audio, combines advanced signal processing and refined hardware design. The result is an expanded soundstage with greater height, width and depth. With all this and a lot more, the LG SN9YG is bound to give you a truly breathtaking audio experience.
For the full list of specifications, please click here.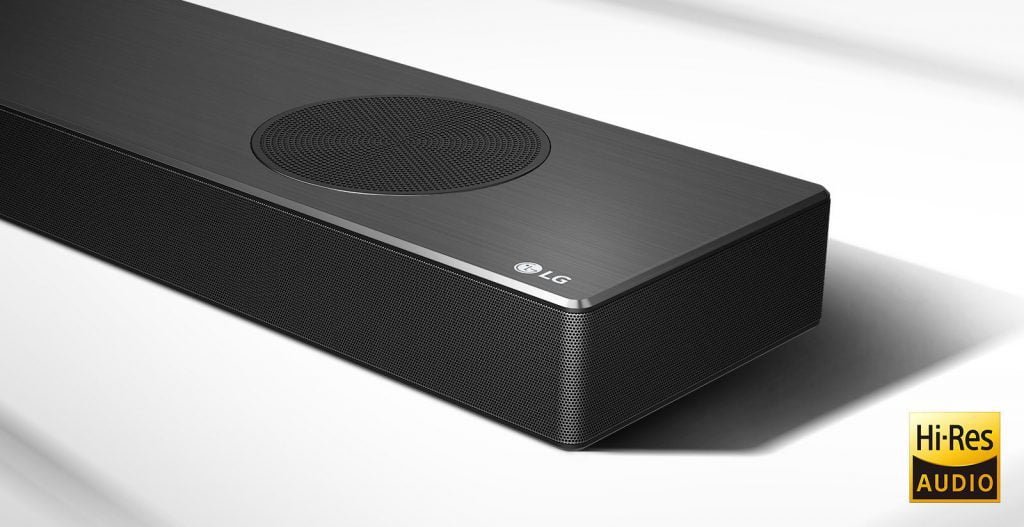 Coming down to what it has to offer, the LG Sound Bar SN9YG is one of the high-end sound bars money can buy which means you get nothing but the best.
Surround Sound
No matter what you watch, be it your favorite movie or a sports match, the LG Sound Bar SN9YG will deliver sound in a 3D-like audio and you can hear the sound move around you. This is thanks to Dolby Atmos and DTS:X, making sure the sound moves in the direction it is supposed to.
The Dolby Atmos, DTS:X, wireless subwoofer combined with the sound bar's up-firing front height channels lets you hear every note, every sound and every word in stunning clarity. It's powerful, moving audio that flows all around you, even overhead.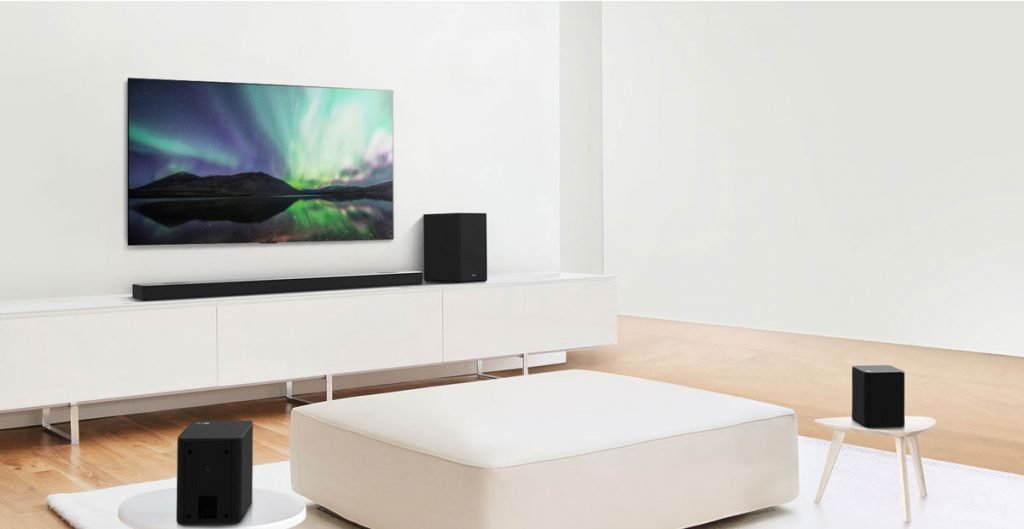 Although it does a great job as it is, having the additional rear speakers will give a true surround sound effect. LG provides 2.0 channel wireless speakers expansion kit that can seamlessly connect with this sound bar giving you a true surround sound experience. (SPK8-S Rear Speaker Kit sold separately)
AI Room Calibration
LG takes pride in their latest and greatest AI Calibration technology which helps you set the sound bar just according to your room and surroundings. Simply run the room calibration function on the smart phone app, it then uses spatial awareness technology to measure your room's unique characteristics and balances the sound bar audio settings to the environment. Enjoy optimized audio in any setup you like giving you the most natural and accurate sound.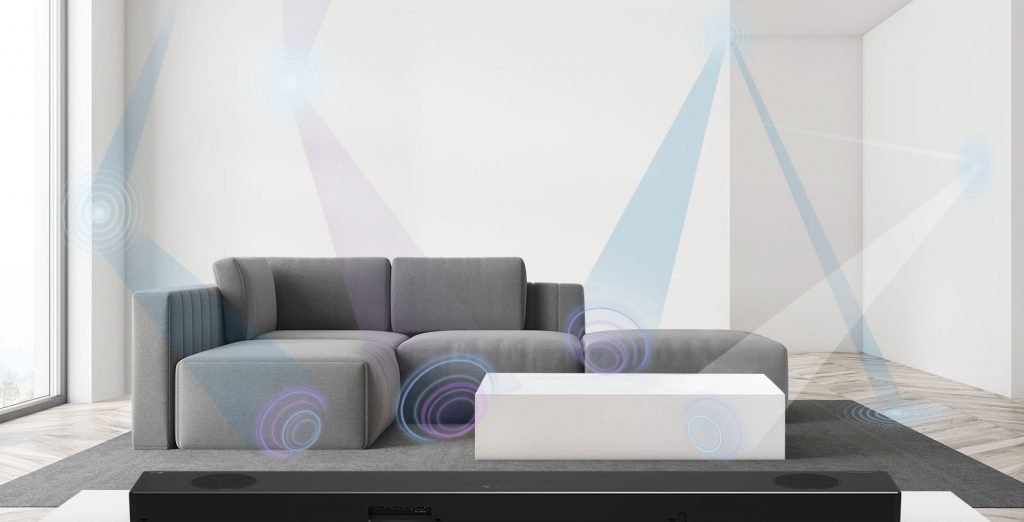 Meridian Audio
LG partnered with Meridian Audio and they brought to the table what they were best at, realistic sound and uncompromising performance. With 24-bit/192kHz high-resolution audio, Enjoy sounds as original as it can get. Higher sampling rates and bit depth provide sound quality that surpasses CDs.
For those who don't know about Meridian, they are the leaders in audio engineering technology for more than forty years, they have pushed boundaries, disrupted norms and delivered products that have shaped the audio industry and redefined how people experience sound.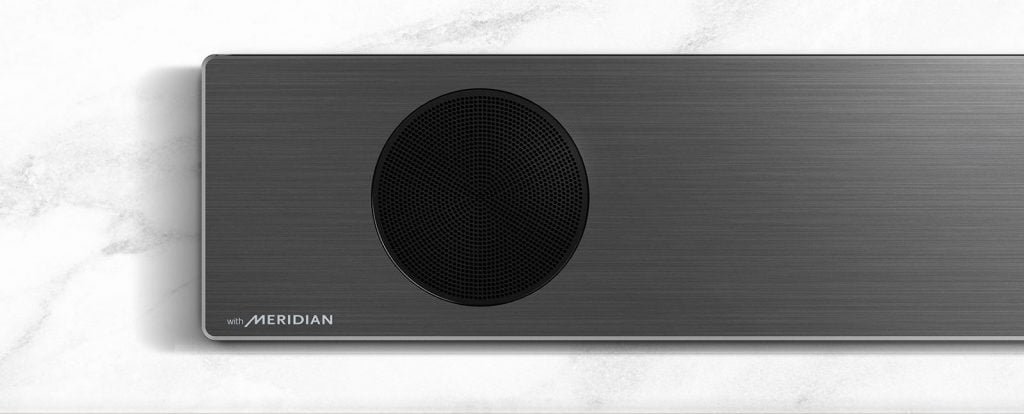 From in-car audio for top luxury cars like Jaguar and Range Rover to in flight audio and architectural speakers, they have done it all. They believe in providing more natural and clearer sound and after trying the SN9YG, I can definitely vouch for that.
Connectivity
The LG Sound Bar SN9YG connects to your TV easily with the help of Bluetooth, optic cable or HDMI eARC and just as easily with your mobile device. It also allows you to adjust all the settings you would like to using a simple mobile app which was very quick to recognize the device and connect.
Connecting the LG Sound bar SN9YG to the wireless subwoofer was as simple as turning the switch-on. It instantly recognized the device and automatically paired with each other. Same goes with the TV, connecting with Bluetooth was fairly simple however in order to get uncompressed HI-RES audio for Dolby ATMOS you will need to connect it with HDMI eARC cable which works the best in this case in terms of sound quality.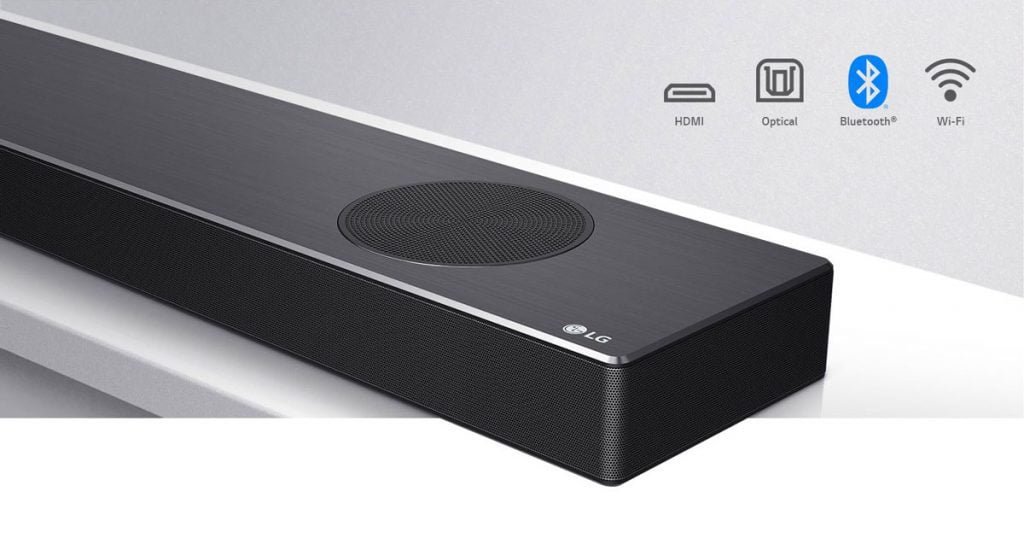 My smartphone app instantly recognized and paired with the sound bar too. This is a great addition to the device as changing the settings and playing around with modes becomes extremely easy using a phone compared to looking at a tiny led screen on the sound bar. The app also helps you use the AI calibration tool in order to set up the sound delivery according to your space.
Google Assistant
The best part about modern smart home entertainment devices is that most of them come with Google Assistant which makes your life easier when you have all your devices under your Google Home account. Simple say "OK Google!" and command what you desire, whether you want to turn up the volume, play a video or lower the volume, Google does it all just by listening to your voice.
Verdict
The LG Sound bar SN9YG is not just a regular modern day sound bar you would want for a Saturday afternoon tea time although you can do that too but it has true potential of a full-fledge home theatre sound system with some of the best and latest tech that most devices cannot match.