When buying a TV, some say it is as simple as going to a store and getting what pleases your eyes. Little do they know the trips to the store end up in endless hours and trips in order to figure out what really pleases your eyes because apart from the display quality the other important aspects of a home entertainment device are the features it offers, the speed it operates at, and the ease of use.
To make this easier for you, in this review, I share my story on hunting for the right TV and what aspects I looked at.
| | |
| --- | --- |
| Screen Size | 55 Inches, TRILUMINOS™ Display |
| Display Resolution | 3840 x 2160 |
| Supported Video Signals | HDMI™ signal :4096x2160p(24,50,60Hz), 3840x2160p(24,25,30,50,60Hz), 1080p(30,50,60Hz), 1080/24p, 1080i(50,60Hz), 720p(30,50,60Hz), 720/24p, 576p, 576i, 480p, 480i |
| HDR | Yes (HDR10, HLG) |
| Connectivity | 4 HDMI Ports, 2 USB Ports, Wi-Fi Certified 802.11a/b/g/n/ac, 1 Ethernet Input, Chromecast built-in |
| Dimensions (W x H x D) with Stand | Approx. 1241 x 785 x 336 mm |
| Dolby audio format support | Dolby™ Audio (Dolby™ Digital, Dolby™ Digital Plus) |
| DTS audio format support | DTS Digital Surround |
| SmartTV | Yes, Android |
| On-board Storage | 16GB |
Read the full specs here: https://www.sony.com/en-ae/electronics/televisions/x8000g-x8077g-series/specifications
To begin with, I was on a fairly moderate budget of under AED 2,000 and definitely not looking to buy a very high-end TV but also didn't want to cheap out on something that won't function properly right at the moment I try to show it off to my friends over a weekend.
Doing some research online and entering an electronic store looking at all the TVs on display is a whole different story. I jumped from Hisense to TCL to Philips to Sony all in a span of 5 minutes. But then the first thought that crossed my mind was "it's Sony, definitely not in my budget!", however, I was immensely surprised after looking at the price tag.
Yes, it was slightly expensive than the other TVs at the store but the fair amount of price difference became very convincing when I was wonderstruck at the 4K HDR display powered by what Sony calls "A TRILUMINOS Display" which basically means they use a wider palette of colors to give out more vivid and real image and the difference is very real.
What makes the Sony 4K television different from any other conventional 4K?
I was curious about the massive difference in the image quality, me being a general consumer, the thought was "4K is 4K regardless of the brand". So I went back home and got into the details on why was Sony X80G's screen display looking so different and better to a layman's eyes compared to other conventional TVs kept next to it.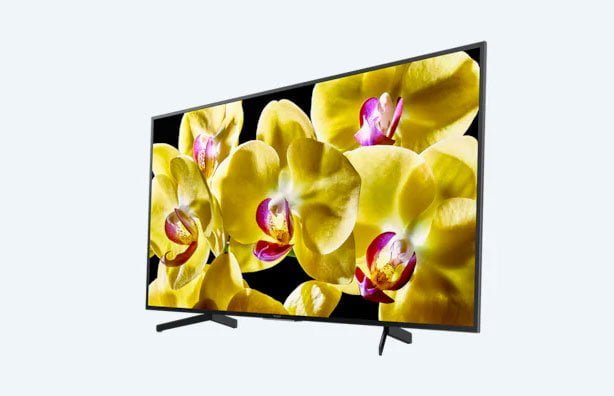 Sony uses a technology they call "4K reality X pro" which is an inbuilt software that enhances the picture quality by upscaling it for true 4K quality and unbelievable clarity at the rate of 50hz using MotionFlowTM XR 200 for a zero lag experience which is a cherry on top for gamers. The difference and I cannot stress enough – is clearly seen when you put a Sony X80G beside any other branded TV from the same league.
I went back to another store just to make sure it wasn't just the general color settings of a TV that made it look different, post this point I was convinced Sony was the one going home with me, but wait, is that all I wanted from a TV? What about the sound quality, it doesn't have Dolby ATMOS like the others, how quick is it at running apps? Will it crash like the fancy new Chinese brands when I try launching a heavy app like Amazon Prime?
The questions ran through my head as well and I am not the person who would trust the salesperson on the floor without doing a research of my own and they won't allow me to test out every TV I would like to, so I went home (yes, again) did some more research from the technical aspect of it before finally buying the TV. I have jotted down a few key points that actually would make a difference in day to day life and would have made a difference in mine had I gone for another TV:
Sound Enhancement:
Yes, this particular model didn't have the fancy Dolby ATMOS but it did have something called the ClearAudio+ which is Sony's own sound management system and aces all across the internet reviews. ClearAudio+ fine tunes TV sound for an immersive, emotionally enriching experience that seems to surround you, Dolby ATMOS also functions similarly but at a more sophisticated level.
It did not seem like a massive loss especially for the amount I was willing to pay. This was way more than I should be getting and it is not just any other outsourced audio tuning software, hence, it functions flawlessly.
Connectivity:
It has the standard features such as Wi-Fi, Chromecast and Bluetooth connectivity which are basic needs in today's world. Bluetooth 4.1 makes life easier when you want to watch an action movie on a large screen at home while others are busy taking a nap.
Ease of use:
This section was one of the most important aspect when I was looking for a TV. My mom, who is 65 years old, can barely make a phone call or send a message over WhatsApp. But she can now look for her favorite cultural programs on YouTube. How? All thanks to Sony's smart remote which has a voice control feature.
With a press of a button all she has to do is speak into the remote in the language she's comfortable with and Google does its magic by launching her favorite program on YouTube. My 2 years old niece watches her cartoons on Netflix doing the same, and she can barely pronounce words properly. Hands down my favorite feature so far and I am glad that it works so flawlessly.
The rest of the operating system is as simple as using an Android phone, the interface is very user friendly and everything is placed keeping simplicity in mind.
Shortcut buttons to launch YouTube and Netflix, the bread and butter of entertainment media, are right there on the remote which takes away the effort of navigating through the system home page to launch either.
Processing speed:
I tried to overload the system by jumping from one app to another even heavier apps like Amazon Prime (which most TVs fail to launch) again and again but it never gave up and launched every app every time effortlessly.
Compared to other TVs I have seen from a friend's place the Sony X80G was fairly faster in terms of launching apps and moving from one app to another or even navigating around in a single app. It isn't the fastest TV Sony has to offer but for the price point I cannot complain.
Besides, it does perform well and at a steady pace. The only complain I have is that when you completely reboot the TV from the main switchboard it does take a while to restart, but there is absolutely never a need to do that unless you are moving the TV around. Otherwise turning it on using the remote like we generally would do is a flawless process.
Conclusion:
Overall, I am happy with the Sony X80G, I cannot praise Sony enough for how great the display quality is compared to others in the league, the pre-installed Android apps are more than sufficient as well as easy to use and Google Play store allows you to download and install new ones just as easily, the ease of use is absolutely comforting for anyone in the house and the speed does not disappoint either.
Sound quality is great too, I can say that I never had a complain watching a video or listening to music across any app provided. Sony is also one of the few companies that give a two years' warranty on their TVs.
On a moderate budget I would highly recommend opting for Sony X80G if you are looking for a long term and hassle-free commitment along with tons of effortless entertainment for everyone in the family.