LG Electronics (LG) is launching its TONE Free FN7 earbuds in the UAE – combining acoustic smarts with ultraviolet cleaning for enhanced peace-of-mind.
Industry Leading Audio
The FN7s feature technology from British audio specialist Meridian Audio, LG's trusted partner in delivering superior sound. Powered by Digital Signal Processing, a technology that Meridian has been perfecting for over 25 years, the LG TONE Free FN7s can recreate a realistic soundstage that simulates the experience of listening to loudspeakers, while also delivering vocals with pristine clarity, completely immersing the listener.
Meridian Audio's Headphone Spatial Processing (HSP) overcomes the challenges of regular earbud usage, such as a lack of 'crosstalk' between the left and right channels. By combining 'crosstalk', users can experience sound with a more realistic sense of space. Furthermore, a built-in equalizer drives impressive bass and treble tones to give the sound of a live recording.
Personalization
Accessible through the LG TONE Free app, available on both Android and iOS devices, Meridian Audio's EQ sound settings provide an elevated listening experience via four customized presets: 'Natural' for a clean, balanced sound, 'Immersive' for a more three-dimensional performance, 'Bass Boost' for extra power and depth, and 'Treble Boost' to bring greater clarity to vocals.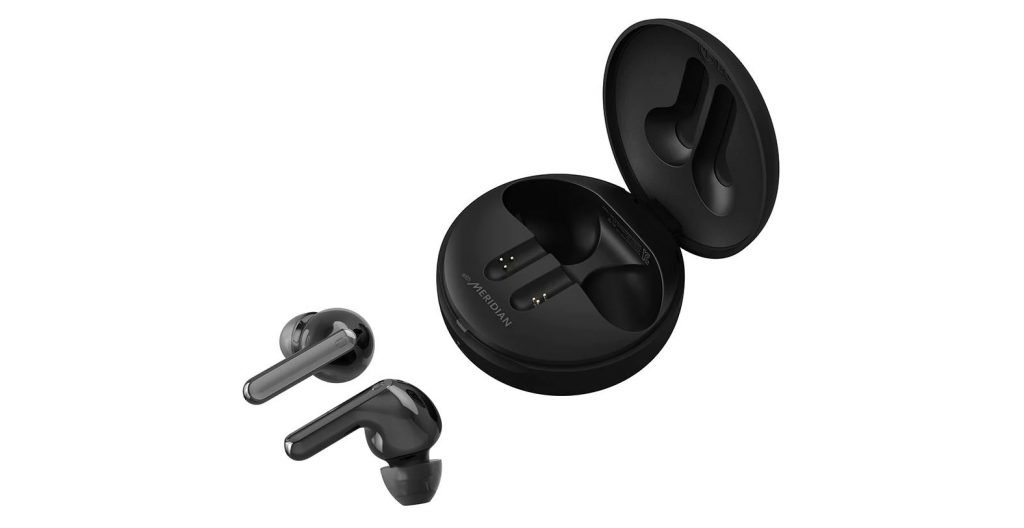 The FN7s also deliver fuller, richer bass with high quality silicone-infused drivers, dome featuring a stronger metal layer, and denser texture dampers for better resolution of mid-high frequencies.
ANC and Ambient Sound Mode
The LG TONE Free FN7 earbuds neutralize external sounds, using three microphones in each earbud which work to monitor soundwaves coming from all directions. Adjustable ear gels with a patented twist-fit Vortex Ribs design, deliver a tighter in-ear seal to minimize outside noise disruptions.
With Active Noise Cancellation (ANC) activated, environmental noises are now almost completely neutralized, making every note and voice sound clearer and more natural, without losing the details which can often result from turning up the volume to maximum.
For situations which require greater awareness of one's surroundings, users can activate Ambient Sound Mode for their FN7 earbuds. This proves ideal when having a quick conversation, listening to an announcement, or simply crossing the street.
Comfortable and Practical
LG's latest earbuds have been engineered to fit comfortably in each user's ears, thanks to head-centered weight distribution which keeps each earbud snug and secure. The flexible, hypoallergenic, and medical-grade ear gels also conform to the shape of the individual's ears for a more comfortable fit.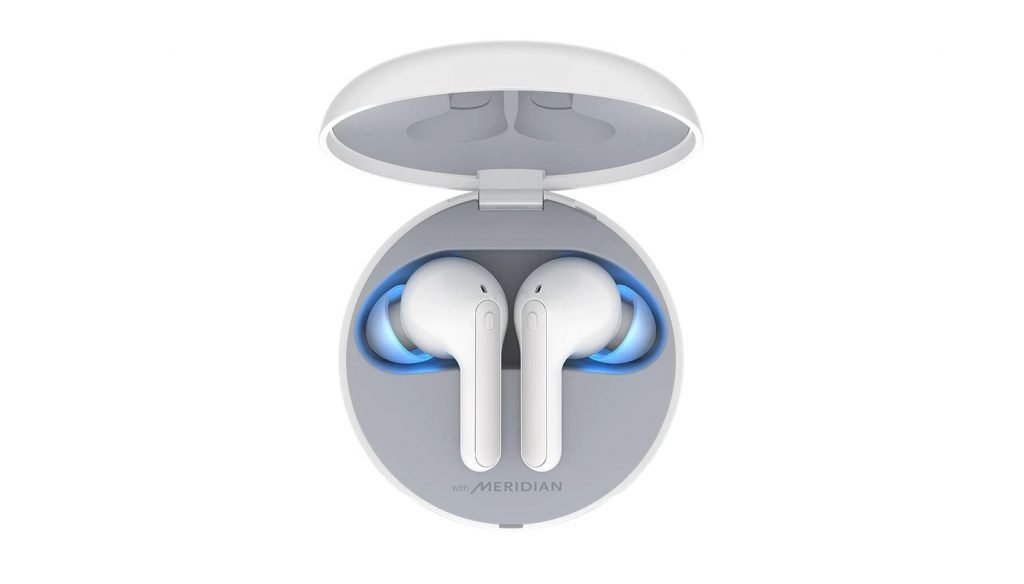 The TONE Free FN7s offer up to 21 hours of audio playback on a single charge – 7 hours with the earbuds and an additional 14 hours when recharged via the case. If in need of a quick recharge, users need only charge for a mere 5 minutes to get a whole 1 hour of play time back. The earbuds are also IPX4 rated – water and sweat resistant, capable of handling an unexpected splash or workout.
Seamless Calling Experience
The high performance microphones built within the FN7s also work to maximize call quality. The upper microphone detects external noise, the inner microphone cancels out unwanted sounds when the ANC function is activated, and the lower microphone picks up and amplifies the wearer's vocals, even in a crowded space. Whether videoconferencing for an important work meeting or catching up with loved ones over a call, LG's new earbuds ensure a smooth calling experience for users in every environment.
Self-Cleaning with Ultraviolet Light
As consumers further look to maintain health and hygiene measures, it is often unknown that headphones and earbuds can actually harbor a considerable number of bacteria. Colony-Forming Units (CFU) is a measurement used to estimate the volume of microorganisms that exist on the surface of a given sample.
The FN7s come with a compact charging case which when powered up, deploys LG's innovative UVnano technology to clean the earbuds. Using ultraviolet light, the case helps to keep the wearer's ears cleaner by eliminating 99.9 percent of E. coli and S. aureus bacteria on the earbuds' inner mesh. As well as easy maintenance, LED lighting on the top of the case also makes it easy to monitor charging level and UVnano status.
UAE Pricing and Availability
LG's TONE Free FN7 earbuds will be available in Stylish Black and Modern White at Sharaf DG stores across the UAE from early April, retailing at 799 AED.