ASUS Republic of Gamers (ROG) today announced the return of the new Zephyrus G14 gaming notebook that brings unparalleled power to an ultraslim 14-inch powerhouse.
The ROG Zephyrus G14 delivers powerful hardware in an ultraslim 14-inch body with up to an 8-core AMD Ryzen 9 5900HS CPU and dedicated GeForce RTX 3060 GPU. It comes with a 16:10 WQHD display with richer detail and comparatively lightweight which is only 1.7 kg (3.75 lb). More than 10 hours of battery life and the ability to charge from compatible Type-C power packs makes the G14 extra portable. The new AniMe Matrix display also enables users to show custom designs, unique animations, and live audio visualizations for extra flair. Or stay in the loop with status notifications about battery life, calendar, alarm and more.
A portable 14-inch powerhouse
The Zephyrus G14 changes the game for portability by packing unprecedented power into a 14-inch body weighing just 1.7kg. Its AMD Ryzen 9 5900HS CPU is tuned with lower power consumption and thermals that enable superior performance for ultra-slim laptops. Cutting-edge 7nm process technology puts up to 8 cores and 16 threads on a single chip, allowing you to muscle through heavy workloads. Add up to a GeForce RTX 3060 GPU that can unlock even more performance with ROG Boost, and move from fast-paced gaming to content creation in a flash. They're built with the award-winning Ampere-NVIDIA's 2nd gen RTX architecture -with new RT Cores, Tensor Cores, and streaming multiprocessors for the most realistic ray-traced graphics and cutting-edge Al features. This edition brings up the satisfactory power for demanding applications like video editing and 3D rendering, and for heavy multitasking like mixing gaming with streaming, recording and chats.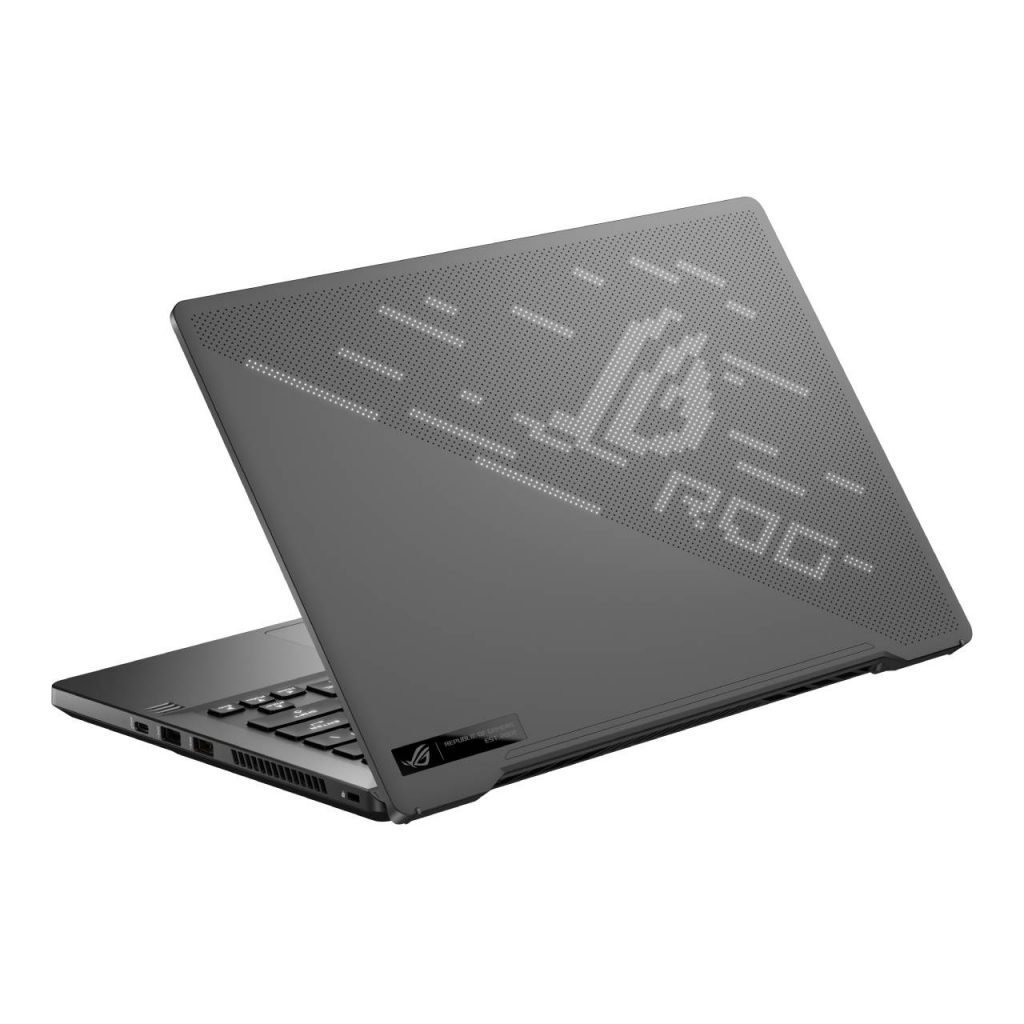 AniMe Matrix LED personalization
The striking dot matrix design on the lid is made with a precision CNC milling process that creates 6,536 perfectly spaced perforations in an incredibly small surface area. The unique pattern is stylish yet subtle, with the diameter of the openings carefully chosen to emit just the right amount of light from the 1,215 mini-LEDs that lie below on the AniMe Matrix display.
Derived from the role in the ROG world, Virtual Pet [OMNI] is not only a smart assistant, but also an indispensable existence in life. After being activated, the Virtual Pet can be displayed on user's laptop, with interesting animations to instantly reflect the current state of your system. In addition, Virtual Pet support devices with AniMe Matrix displays. After applying, you can enjoy the pet light effect on the AniMe Matrix display, which adds to the fun of using it. And through the function menu, you can set its display status, change detailed settings and make various adjustments to get more interesting functions.
Exceptional refresh and resolution
With 120Hz WQHD high resolution and Super-narrow bezels design give the ROG Zephyrus G14 an 85% screen-to-body ratio that draws you deeper into the action, keeping you fully engrossed in what's on-screen. Movement and animation are much smoother, and wide viewing angles keep the picture from washing out when more people gather around for split-screen gaming, watching videos, and working on projects. Zephyrus G14 panel use AMD Adaptive Sync technology puts an end to choppy gameplay and broken frames with fluid, synchronizing the display and GPU to eliminate tearing and make gameplay silky smooth.
Smarter Cooling For Faster Performance
In the Zephyrus G14, self-cleaning cooling keep critical components free of debris to maintain optimal thermal dissipation. The upgraded design features shorter anti-dust tunnels that leave enough room for full-sized fans while channeling dust away from heatsinks, heatpipes, and other cooling components to ensure long-term stability and reliability. The CPU, GPU, and VRM have their own pipes connected to shared heatsinks that ensure efficient cooling for any workload, including those that light up only one of the two chips. While dual Arc Flow fans spin 84 blades each to generate impressive airflow within the slim frame. ROG Armoury Crate software seamlessly switches between operating modes to optimize performance and acoustics for the particular task to put the user in the right mode for the moment.
Availability & Pricing
ROG Zephyrus G14 will be available from 25th March 2021 in UAE from major retailers. Price starts at 7,999 AED.