The ASUS ZenWiFi XD5 mesh system consists of ASUS AX3000 Wi-Fi 6 routers offering fast speeds, reduced latency, expanded device support, and extensive signal coverage. With the ASUS ZenWiFi XD5, you have the flexibility to choose from 1, 2, or 3 router configurations, allowing you to cater to the specific coverage needs of your home, with the remarkable 3-router setup blanketing areas of up to 5000 square feet.
Featuring the latest Wi-Fi 6 technology, the ASUS ZenWiFi XD5 brings a mesh system that not only delivers exceptional coverage but also boasts a simple and elegant design that seamlessly blends into any home environment. It has been crafted with user-friendliness in mind, ensuring that even those new to home networking can easily set up their network with ease.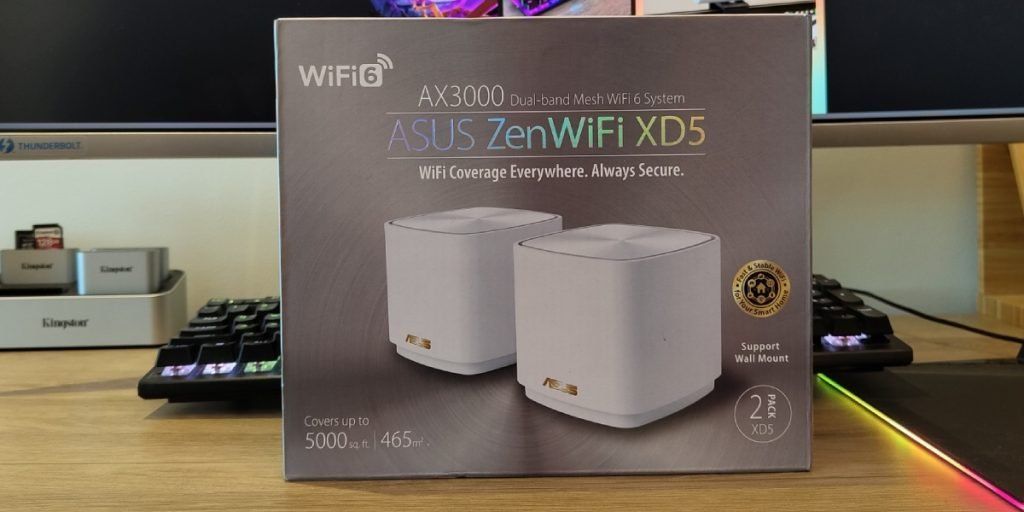 The ASUS ZenWiFi XD5 supports speeds of up to 3000 Mbps (2402 Mbps+ 574 Mbps). This router comes with a powerful 1.7 GHz quad-core processor, accompanied by 512MB DDR3 RAM and 128 MB of flash storage, enabling smooth and efficient operation, even with multiple devices connected simultaneously.
WHAT IS WI-FI 6?
Wi-Fi 6, also known as 802.11ax, represents the latest advancement in wireless network technology. Building upon its predecessor, Wi-Fi 5 (802.11ac), Wi-Fi 6 offers a substantial improvement in performance, delivering approximately 30% faster speeds. This is particularly advantageous in environments where multiple devices are connected to the same network.
One of the key enhancements of Wi-Fi 6 is its improved Multi-User Multiple Input Multiple Output (MU-MIMO) technology. This technology enables the router to communicate with multiple devices simultaneously, significantly enhancing network capacity and overall efficiency. With the advent of Wi-Fi 6, more devices can now be seamlessly connected to the network without sacrificing stability or speed.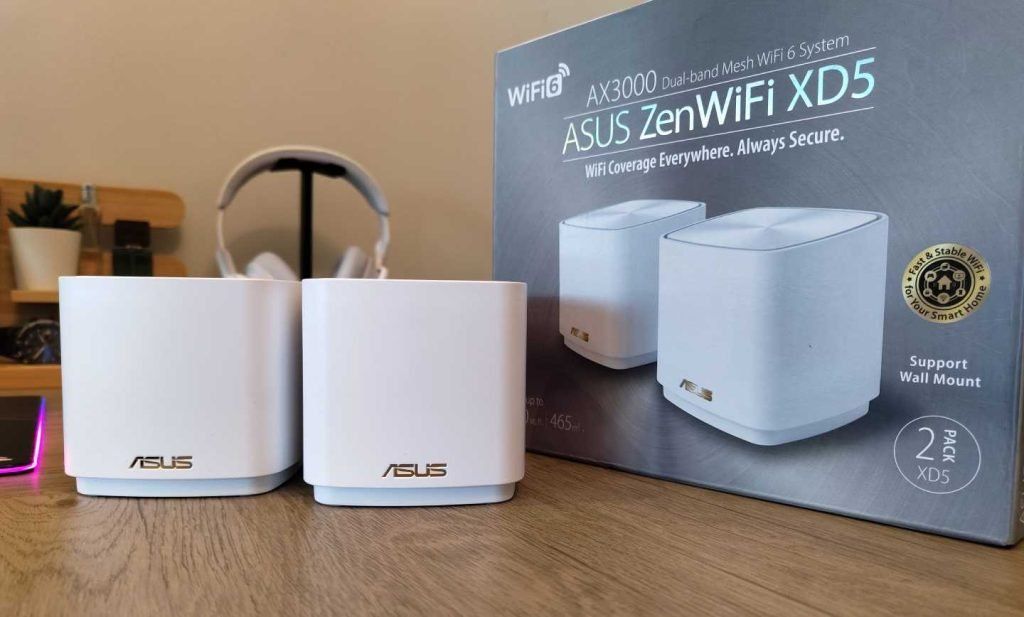 Another notable feature of Wi-Fi 6 is beamforming. This technology allows the router to intelligently direct wireless signals towards specific devices, optimizing signal strength and reliability. As households increasingly integrate wireless devices for home automation and Internet of Things (IoT) applications, innovations like Wi-Fi 6 become crucial in maintaining a robust and dependable network, particularly when fast and reliable connectivity is paramount.
In summary, Wi-Fi 6 represents a significant leap forward in wireless networking, offering faster speeds, improved network performance in crowded environments, and better support for a multitude of connected devices. It sets the stage for a more seamless and efficient wireless experience, catering to the evolving needs of modern households.
Specifications
| | |
| --- | --- |
| Wi-Fi Speeds | 802.11a: up to 54 Mbps 802.11b: up to 11 Mbps 802.11g: up to 54 Mbps Wi-Fi 6 (802.11ax) (2.4GHz): up to 574 Mbps Wi-Fi 6 (802.11ax) (5GHz): up to 2402 Mbps |
| AiMesh | AiMesh Primary AiMesh router AiMesh node |
| Antenna | Internal dual-band antenna x 2 |
| WiFi Encryption | WPA3-Personal, WPA/WPA2/WPA3-Personal, WPA/WPA2-Enterprise, WPS support |
| Processor | 1.7 GHz quad-core processor |
| Memory | 128 MB Flash 512 MB RAM |
| Ports | 1x RJ45 for Gigabits BaseT for WAN/LAN 1x RJ45 for Gigabits BaseT for LAN |
| Buttons | WPS Button, Reset Button |
| Power | AC Input: 110V~240V(50~60Hz) DC Output: 12 V with max. 1.5 A current |
| Weight | 307 g |
View full specifications here.
Packaging
The ASUS ZenWiFi XD5 comes in a clean white packaging with product photos, main features and specifications.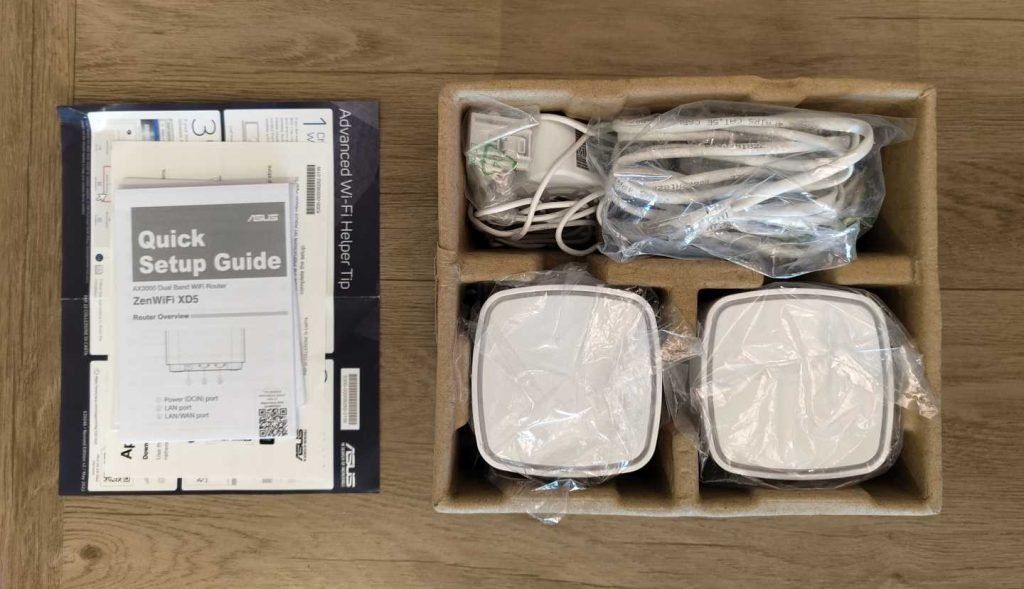 The package includes the ZenWiFi XD5 routers, ethernet cable, power adapter, quick start guide, warranty card and a screw pack for mounting. The RT-AX86U is designed to be vertical, with three detachable dual-band antennas at the top.
Design
The ASUS ZenWiFi XD5 mesh system showcases a design that effortlessly blends durability, functionality, and aesthetics. Constructed with high-quality matte plastic and the absence of external antennas further enhances its sleek and modern appearance, making it an ideal choice for mounting and placement in any environment.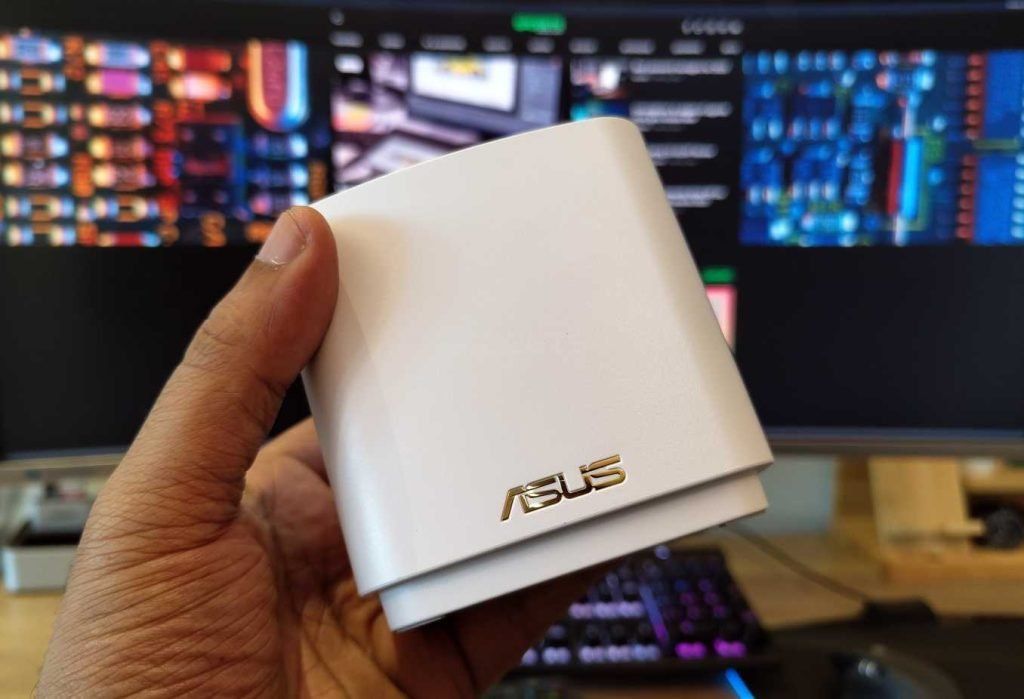 With compact dimensions and a mere weight of 307g, the ASUS ZenWiFi XD5 routers are remarkably lightweight and space-efficient. Their unobtrusive cube design allows for seamless integration into any setting, whether it be on a desk, mounted on a wall, or tucked away in a discreet location. The ASUS logo, embellished with a metallic finish, adds a touch of sophistication to the overall aesthetic.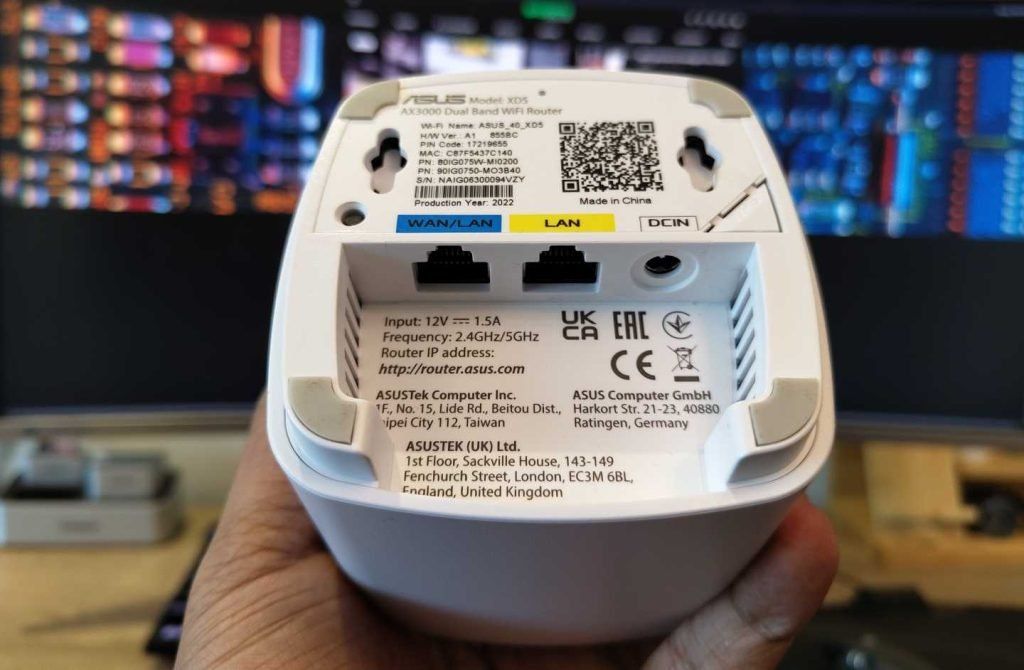 Located at the base of the router, you'll find a convenient arrangement of ports, including the WAN and LAN ports, power input, as well as the versatile WPS button, which can be assigned alternative functions.
Additionally, a Reset button is provided for easy troubleshooting and network management. Positioned at the front base of the router are a series of LEDs, each emitting a distinct color to indicate different connectivity statuses, allowing for quick and intuitive monitoring of the network's performance.
Software
The software and setup process of the ASUS ZenWiFi XD5 mesh system are designed with user convenience and efficiency in mind. Straight out of the box, the nodes come pre-synced, eliminating the need for time-consuming manual configuration. Getting started is a breeze. Simply connect the primary node to a power source and your existing network, and you're ready to proceed with the setup process.
To facilitate the setup, ASUS provides the intuitive "ASUS Router" app, available for download from both the Apple App Store and Google Play Store. This user-friendly app serves as your virtual guide, walking you through the remaining steps with ease and simplicity. From naming your wireless connections to configuring login details and exploring the extensive features of the router, the app ensures a smooth and hassle-free setup experience.
Setup
The setup process begins with turning on the primary router, which acts as the main node. The app will then seamlessly guide you through the necessary steps, prompting you to connect to a new network and specify your desired network name and password. For additional nodes, simply turn them on in proximity to the main node, and once the setup is complete, move them to their designated locations within your home.
With the ASUS ZenWiFi XD5, you have the flexibility to choose how you want to manage your wireless connections. You can opt to merge the 2.4 GHz and 5.0 GHz frequency bands into a single SSID, allowing the router to intelligently switch between connections based on signal strength. Alternatively, you can choose to keep the 2.4 GHz and 5.0 GHz connections separate, depending on your specific needs and preferences.
This router encompasses an array of advanced technologies found in ASUS routers, including ASUS AiMesh for seamless mesh networking, QoS (Quality of Service) for optimized network performance, and ASUS AiProtection Classic to safeguard your network against potential threats. Extensive configuration options for WAN, LAN, and Wi-Fi, as well as guest networks, further enhance the router's versatility and customization capabilities.
By setting up AiCloud, you gain the ability to remotely access resources from your router network from anywhere, at any time, offering convenient access to your files and data. Moreover, the ASUS ZenWiFi XD5 supports integration with Amazon Alexa, allowing you to control and manage the router seamlessly within your smart home setup through voice commands.
With its user-friendly software and extensive feature set, the ASUS ZenWiFi XD5 ensures a straightforward and comprehensive setup process while providing options to optimize your network performance and security.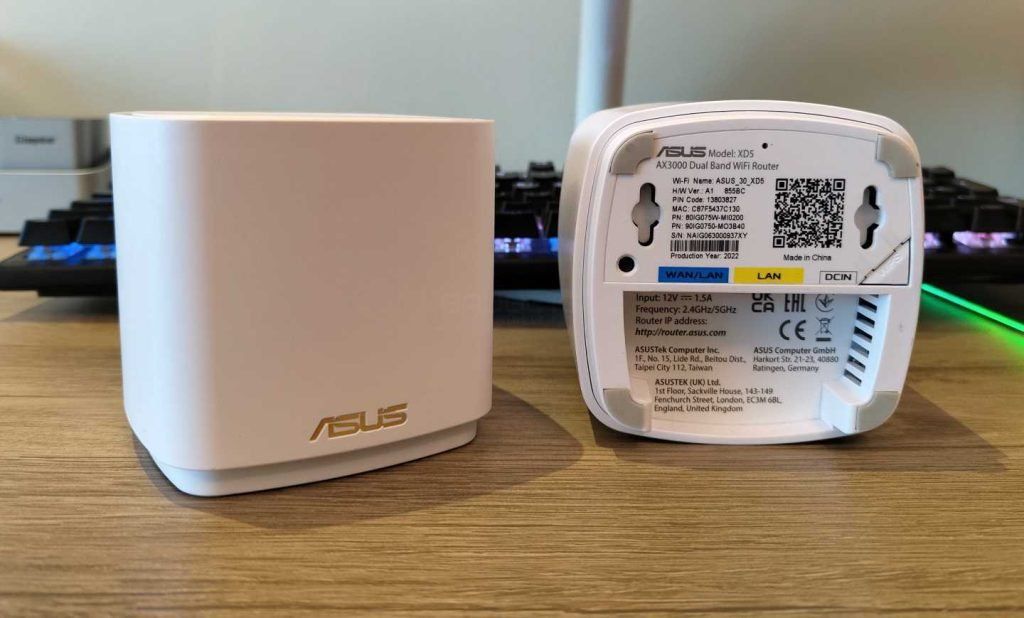 Features & Performance
The ASUS ZenWiFi XD5 comes equipped with dual-band Wi-Fi 6 technology, it offers a combined bandwidth of up to 1.5 Gbps (AX3000) by utilizing both the 2.4 GHz and 5 GHz bands. The 5 GHz 802.11ax network achieves remarkable speeds of up to 2,402 Mbps, while the 2.4 GHz 802.11n network delivers up to 574 Mbps.
This dual-band capability ensures compatibility with a wide range of devices, supporting the latest Wi-Fi 6 standard on 5 GHz networks and ensuring backward compatibility with older devices on the 2.4 GHz band.
When it comes to computing power, the ASUS ZenWiFi XD5 is powered by a 1.7 GHz quad-core processor, 512MB of RAM and 256MB of flash memory, and this router handles demanding networking tasks with ease.
One notable feature of the ASUS ZenWiFi XD5 is its advanced parental control functionality. With this feature, users can effectively manage and apply restrictions to specific devices on the network, providing a safe and controlled online environment for their family. This level of control adds an extra layer of security and peace of mind.
During our testing, we achieved impressive wireless speeds with the ASUS ZenWiFi XD5. On our test system, we managed to get speeds exceeding 600 Mbps on the 5 GHz band and over 120 Mbps on the 2.4 GHz band in our two-room apartment.
Verdict
In conclusion, the ASUS ZenWiFi XD5 stands as an impressive Wi-Fi 6 mesh system that caters to a wide range of living spaces, from small apartments to expansive villas. Setting up the network is a breeze, and users can enjoy decent network speeds that are well-suited for everyday tasks.
With features like WPA3-Personal Wi-Fi encryption and Ai Protection, the ZenWiFi XD5 ensures a secure network environment, safeguarding against potential threats.
However, there are a couple of aspects that could be improved. Firstly, the pricing of the ASUS ZenWiFi XD5 may be considered on the higher side, which could pose a hurdle for budget-conscious consumers.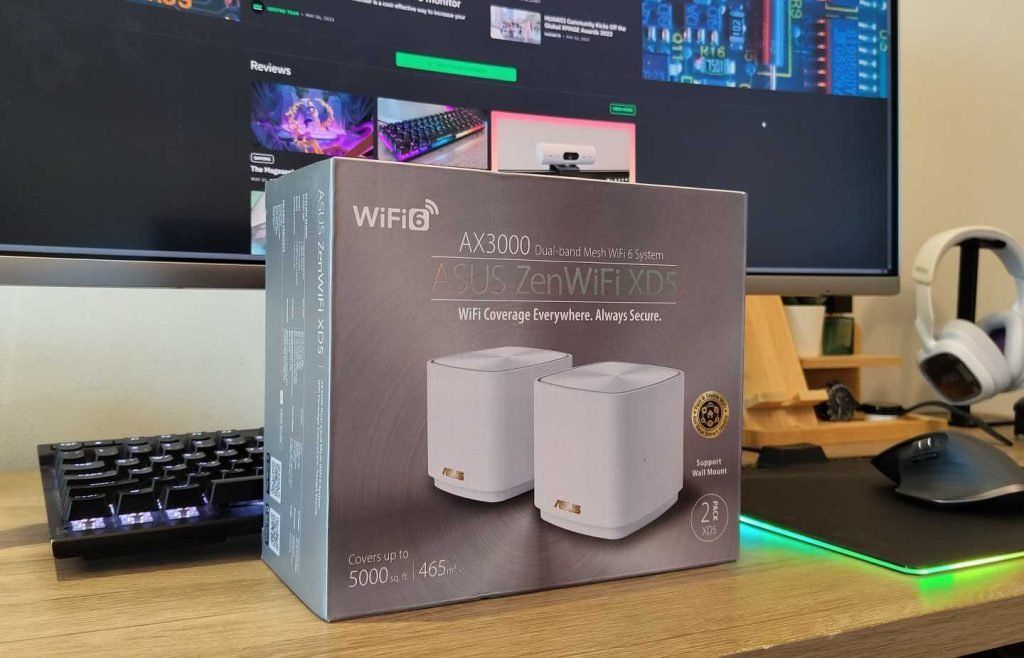 Additionally, the limited number of LAN ports at each point is worth noting. This limitation restricts the ability to connect multiple devices simultaneously, such as ordinary storage devices or printers via USB, which may be an inconvenience for those with specific connectivity needs.
Despite these drawbacks, the ASUS ZenWiFi XD5 is as a reliable and feature-rich mesh system that brings the benefits of Wi-Fi 6 technology to home networks. Whether it's for everyday use or accommodating a range of wireless connected devices, the ASUS ZenWiFi XD5 proves to be a worthwhile investment for users looking to enhance their home network capabilities.