TOZO, known for their cost-effective earbuds, has recently extended their product line into the realm of portable speakers, introducing the latest addition, the PA1 Bluetooth Wireless Speaker. We had the opportunity to evaluate a test unit, and happy to say that we were genuinely impressed by the sound quality and the array of features that this speaker offers, especially considering its affordability.
Specifications
Speakers
20W 67mm full range speaker
80mm×50 passive radiators
55Hz – 18kHz Frequency response range
Bluetooth
Bluetooth 5.0
AAC/SBC Bluetooth playback
10m Effective Bluetooth range
Bluetooth calling supported
Battery Life
4000mAh Battery capacity
25h Music play time (AAC, default setting, 50% volume)
Charging
<2.5h Cable charge time
USB Type-C charging port
Buttons
Power/Bluetooth/Play/Volume +/Volume-/Mode
Water resistance
IPX7 Water resistance
Weight and dimensions
590g 210×91×61mm
Packaging
Inside the package, you'll find the speaker itself, along with a lanyard strap, a USB-C charging cable, and some paperwork.
Design and Features: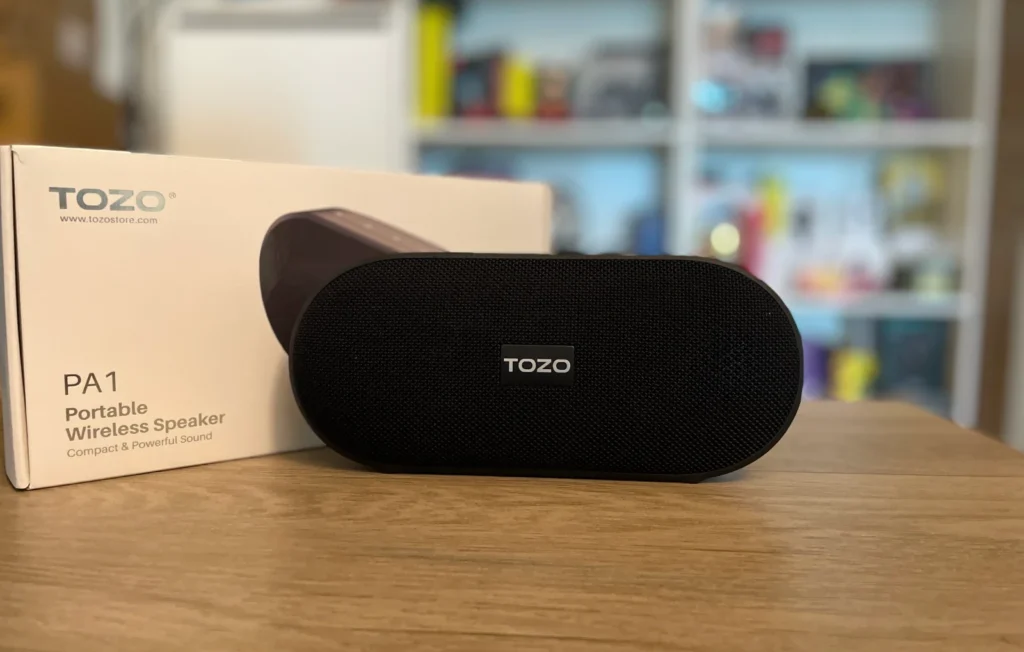 In terms of build quality, the PA1 comes in an all back color with a matte finish that gives it a premium feel. On top, you'll find buttons for power, Bluetooth pairing, volume control, play/pause, and EQ adjustments. There are three preset EQ modes accessible directly from the speaker: standard, treble plus, and bass plus. The TOZO app offers even more customization options, including additional preset sound signatures and the ability to create your own EQ settings.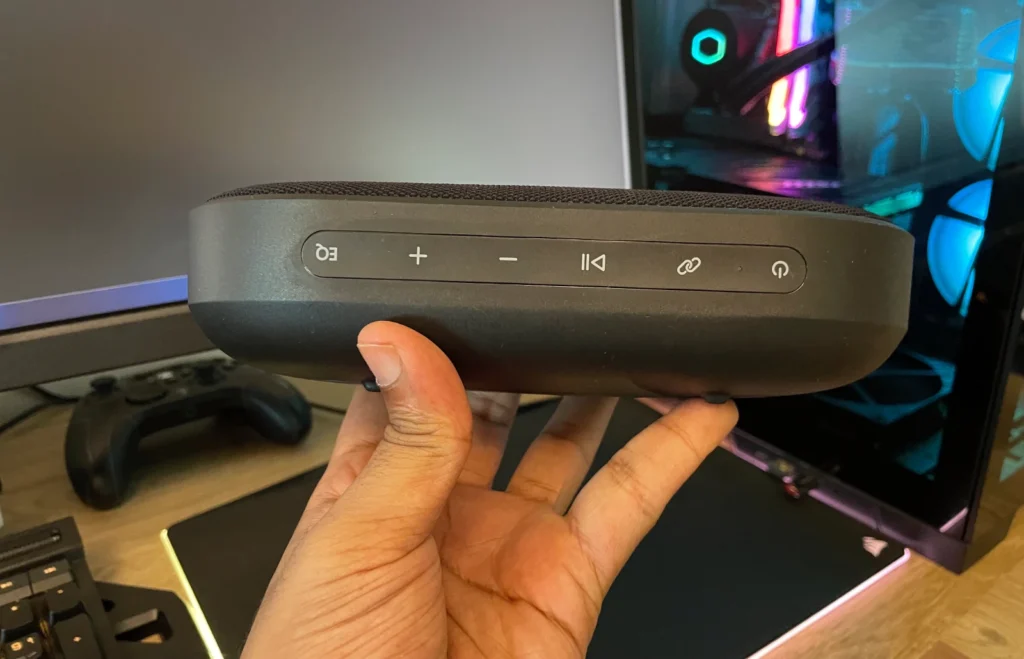 With 20 watts RMS and a 4,000 milliamp-hour battery, it promises 24 hours of continuous playback at 50% volume. At maximum volume, you can expect around five and a half hours of playback under ideal conditions. The IPX7 waterproof rating makes it suitable for pool parties and even a quick shower.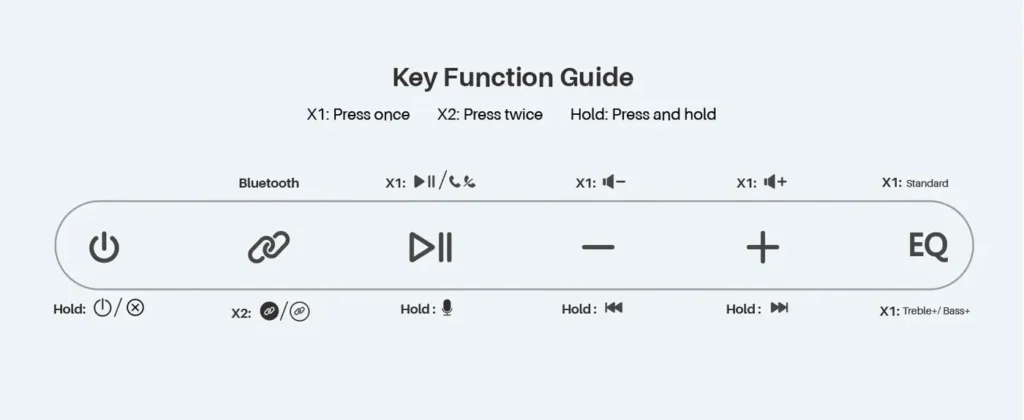 The PA1 supports true wireless stereo, with two of these speakers for left and right channel separation. It also includes a built-in microphone for calls, although the microphone quality could be improved, especially in terms of distance. The speaker features two 67mm full-range drivers in the front, delivering directional sound, which means that the best audio experience is when you're sitting in front of the TOZO logo.
The app is straightforward, focusing on speaker and EQ control, without unnecessary extras. The PA1 also features stands, allowing you to place it flat on a table or upright, depending on your preferences.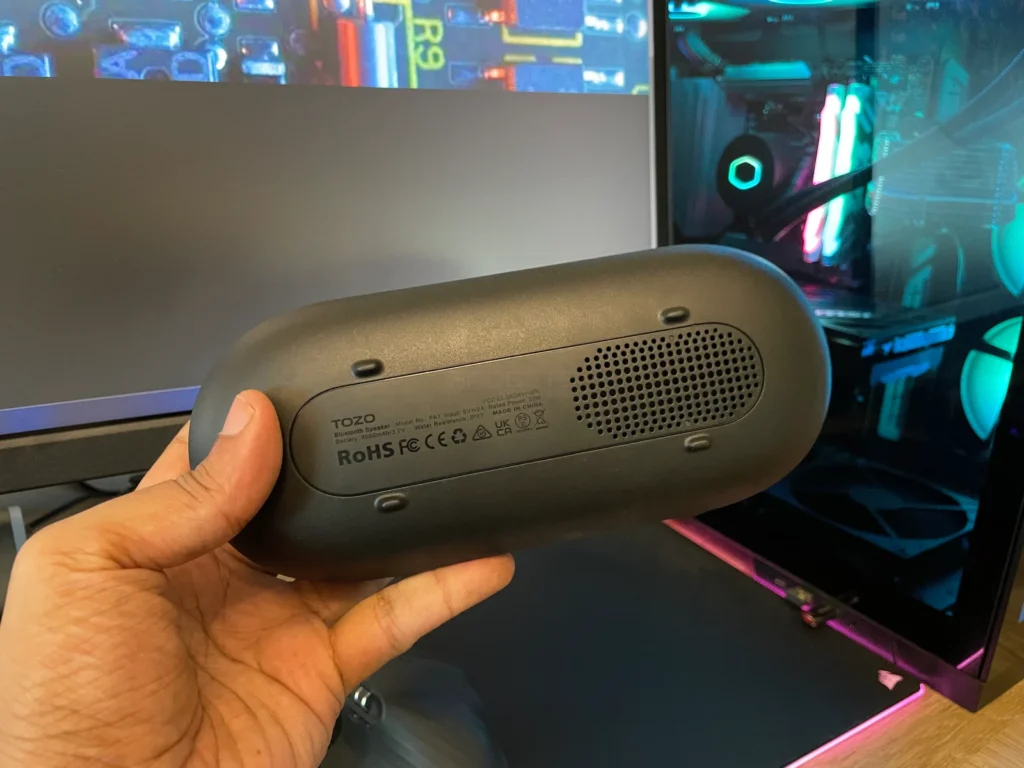 Audio Quality:
The audio quality of the TOZO PA1 is impressive, producing high quality, balanced sound. Even at maximum volume, the trebles maintain clarity and detail without distortion. The mid frequencies offer ample detail and clarity, making vocals sound natural and well-defined. When it comes to bass, this tiny speaker surprises with its punchy and enjoyable response. It can fill large rooms with top-notch audio quality that competes well with its rivals.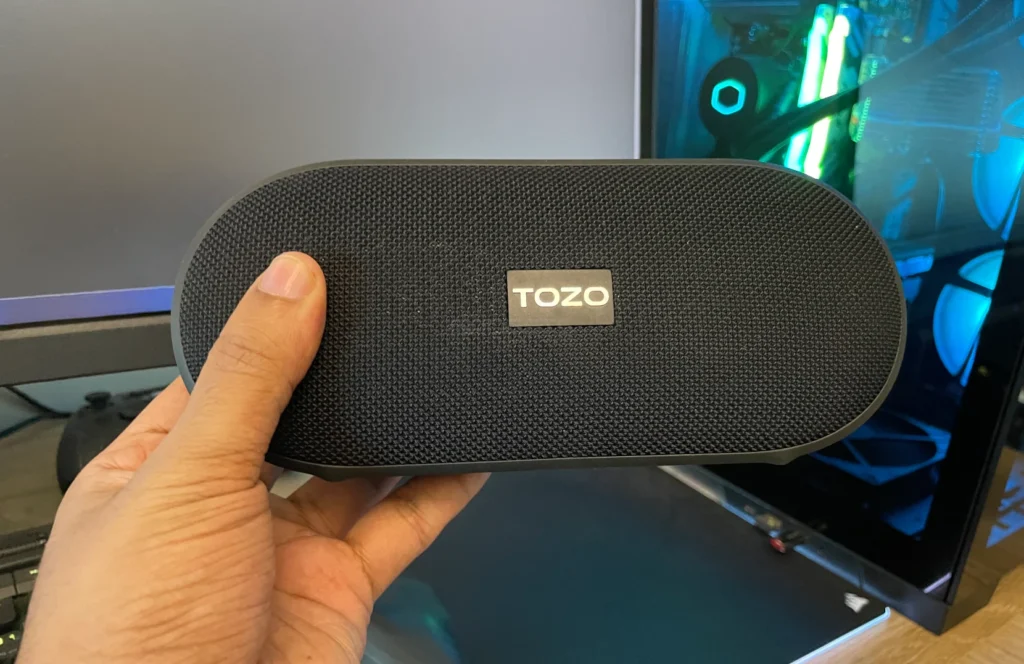 Verdict:
In conclusion, the TOZO PA1 is a strong contender for one of the best affordable Bluetooth speakers on the market. With its attractive design, impressive sound quality, and app-based customization, it offers a fantastic audio experience. Whether you're listening at low or medium volumes, this speaker delivers a well-balanced sound profile that's sure to please. If you're in the market for a quality speaker under $50, the TOZO PA1 is a highly recommended option.
Price:
The TOZO PA1 comes in at a reasonable $37.99 when using the coupon code 04VK4CPG (Normal price of 69.99), making it a solid choice for those in search of an affordable portable speaker that doesn't break the bank.
Frequently Asked Questions
Is the TOZO PA1 waterproof?
Yes, the TOZO PA1 has an IPX7 waterproof rating, which means it can withstand exposure to water. You can confidently take it to pool parties, use it in the shower, and even rinse it with water without any issues.
How do I customize the sound on the TOZO PA1? A: The TOZO PA1 provides three preset EQ modes directly accessible from the speaker: standard, treble plus, and bass plus. Additionally, you can download the TOZO app from the Play Store or App Store to access more sound signature presets and create your own custom EQ settings.