For people on-the-go, entrepreneurs, content-creators and freelancers the ViewSonic M2 offers great performance in a compact form-factor. The projector also supports HDR content and is 3D-ready
The ViewSonic M2 is an ultra-portable LED projector with a native 1080p resolution. With Wi-Fi and Bluetooth capabilities, as well as built-in premium dual Harman Kardon speakers, the ViewSonic M2 is a bright yet compact portable projector.
The M2 projector features a shorter throw lens that can display large images in small spaces, while its LED light source provides over 30,000 hours of usage time and 1,200 lumens of brightness. With its excellent reach ratio, it is able to display a 100 inch projection at a distance of just 2.7m, which excellent for both work and home usage.
Here is our ViewSonic M2 Review.
Specifications
Type
DLP LED
Brightness (Lumens)
1,200 LED
Resolution
Full HD (1920×1080)
Display Size
24 – 100 in / 0.6 – 2.54 m
Throw Distance
2.1 – 8.9 ft / 0.6 – 2.7 m
Throw Ratio
1.23
Aspect Ration
16:9
Ports
1x USB 2.0 Type A
1x USB 3.0 Type A
1x 3.5mm Audio Out
1x HDMI 2.0 (with HDCP 2.2)
1x Micro USB
1x MicroSD Card Reader
On Screen Display
Display, Image, Power Management, Basic, Advanced, System, Information (See user guide for full OSD functionality)
Internal Speakers
3W (x2) certified by Harman Kardon
Keystone
Vertical (± 30º) / Horizontal (± 30º)
The model we received for this review is the ViewSonic M2 VS17808
Packaging
The unit arrives in an elegant box with very little specifications on the outside. The outer sleeve is black with actual packaging in brown. Inside the box, the projector is enclosed in a cloth sleeve. The rest of the accessories can be found under the projector case in a separate boxes.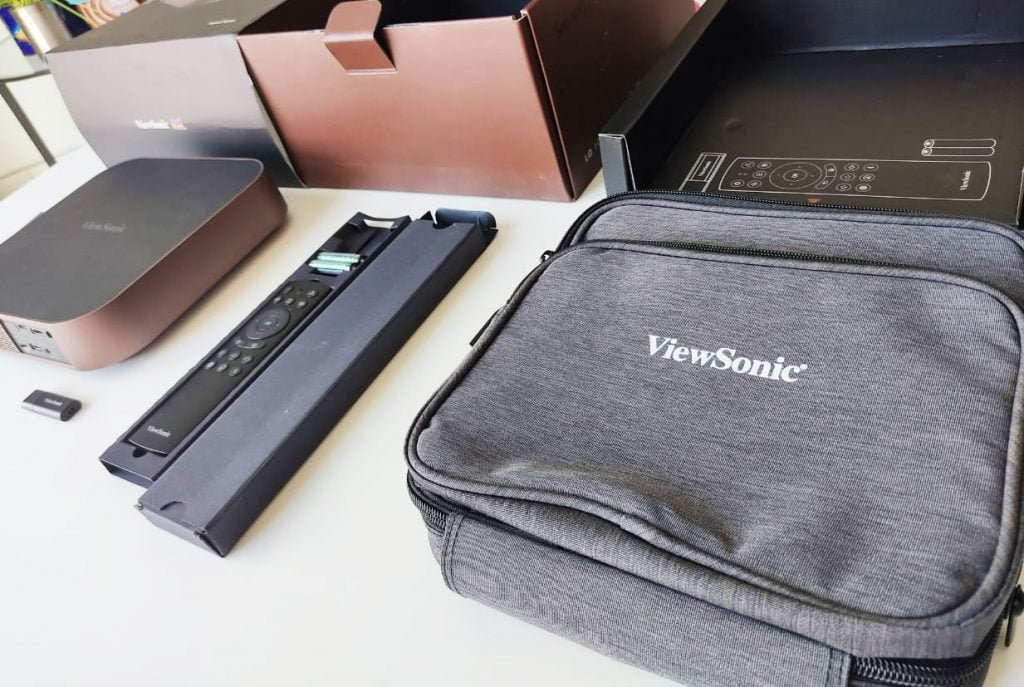 The accessory box contains:
ViewSonic M2 projector
Remote control with AAA batteries included
Carry bag
Power cord
USB Type-C cable
Quick Start Guide
Wi-Fi USB stick
For Wi-Fi connectivity, The included Wi-Fi USB stick needs to be installed in a dedicated bay at the bottom of the projector. What we found missing in the accessory set is an HDMI cable.
Design & Build
The ViewSonic M2 is very compact at just over 25 cm wide and long, and only 5.5 cm with the support stand folded.
The design is very elegant and minimalistic. There are no physical buttons on the projector, you can only control it with the included remote control or via the smartphone app.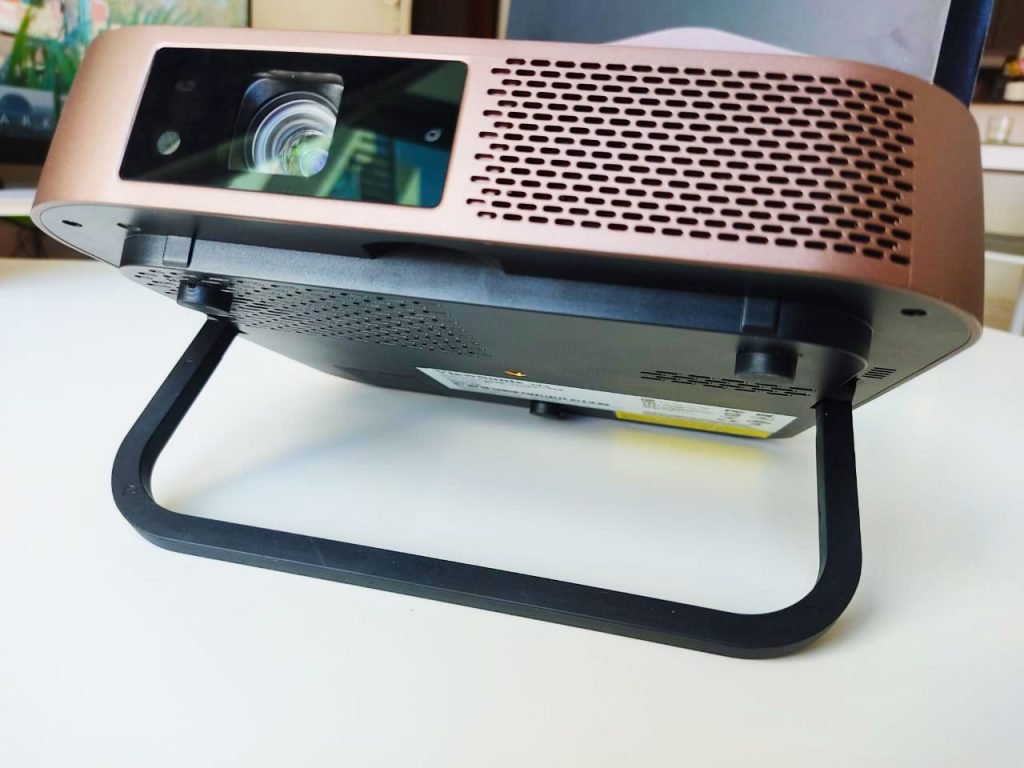 It looks premium with copper colors on the sides and black for the rest of the body. All parts are made of good quality plastic, and it almost seems like metal at first glance.
On the front side of the projector, we have the projection lens. Next to it we have the sensors for automatic image focus & configuration; a small camera on the right side of the lamp and two other sensors on the left.
However there are no lens cover for protection, so you have be careful while moving it around. The M2 also has a built-in function, called the 'Eye Protect', which automatically disables the image projection if it detects an object too close to the lens.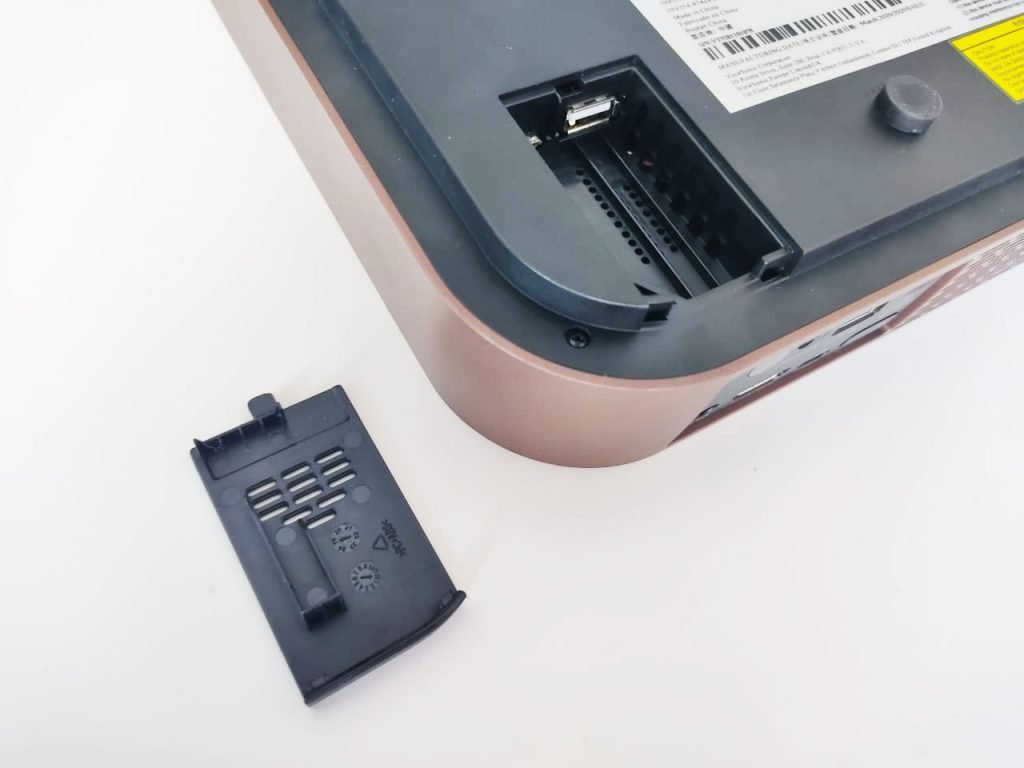 On the lower side is a 3W double speaker configuration from harman kardon. The lower side also has a dedicated bay for the included Wi-Fi stick for W-Fi Connectivity.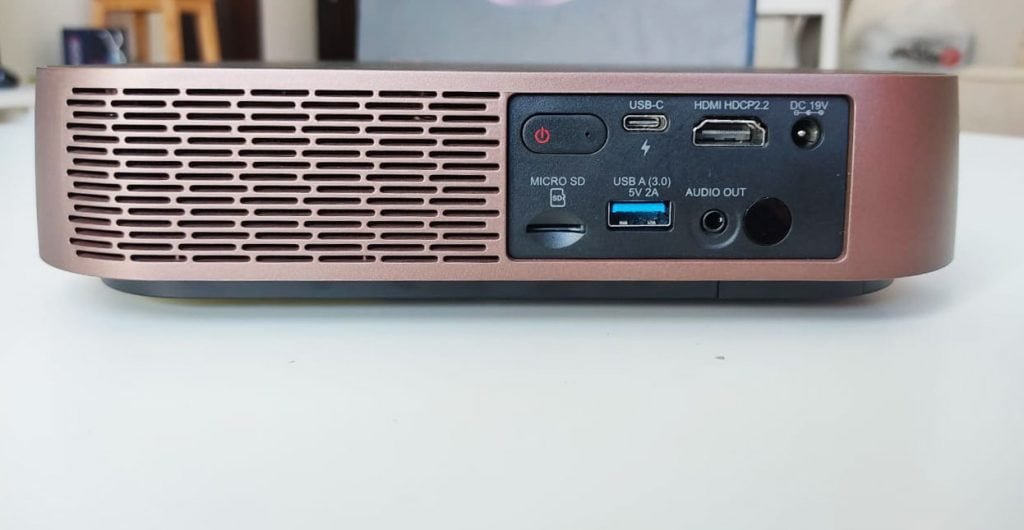 All the ports are located at the back of the projector. The ports available here are:
1x HDMI (HDCP 2.2)
1x USB 3.0 Type-A
1x USB Type-C (Data, video or to power the project via a power bank)
1x 3.5mm Jack (Out)
Micro SD card reader
Input for power
IR sensor for remote control
The ViewSonic M2 has an adjustable stand that allows you to place it at almost any angle. Additionally, this projector can also be mounted on a tripod for better placement in different scenarios.
Setting it up
The ViewSonic M2 is pretty simple and straightforward to setup. It starts with a guide to help you select the location of the projector (table, ceiling or in front of the user). It is a very simple system in which the projector will adapt the image by automatically calculating the focus distance and the position of the lens. The rest of the setup procedure is pretty standard such as selecting your preferred language, connecting to the Wi-Fi network etc.
The setup and use of the ViewSonic M2 is done through the remote control, as there are no physical buttons on the projector. Additionally, the projector can also be setup via your mobile device by installing ViewSonic vCastSender (both devices needs to be on the same wireless network).
The apps can be found here: Android, iOS
Once the projector is setup, it allows you to stream directly to the projector from your Android, Windows, Mac, or iOS device via the Wireless network or via casting.
A thing to note here is that the projector does not automatically pick up the connected source. It has to be manually selected through the source selection button on the remote.
Image Quality
While LED projectors may not offer high lumens as the tradition DLP lamps, it does offer a good lamp life of 30,000 hours on standard use, at 1200 lumens.
The ViewSonic M2 has a native resolution of 1080p, with maximum image projection size of 100 inches diagonally. The projector also supports lower resolutions starting at 480p, as well as different formats such as 16:9, 4:3, 16:10 and ultra-wide 2.35:1, with maximum refresh rate of 60 Hz.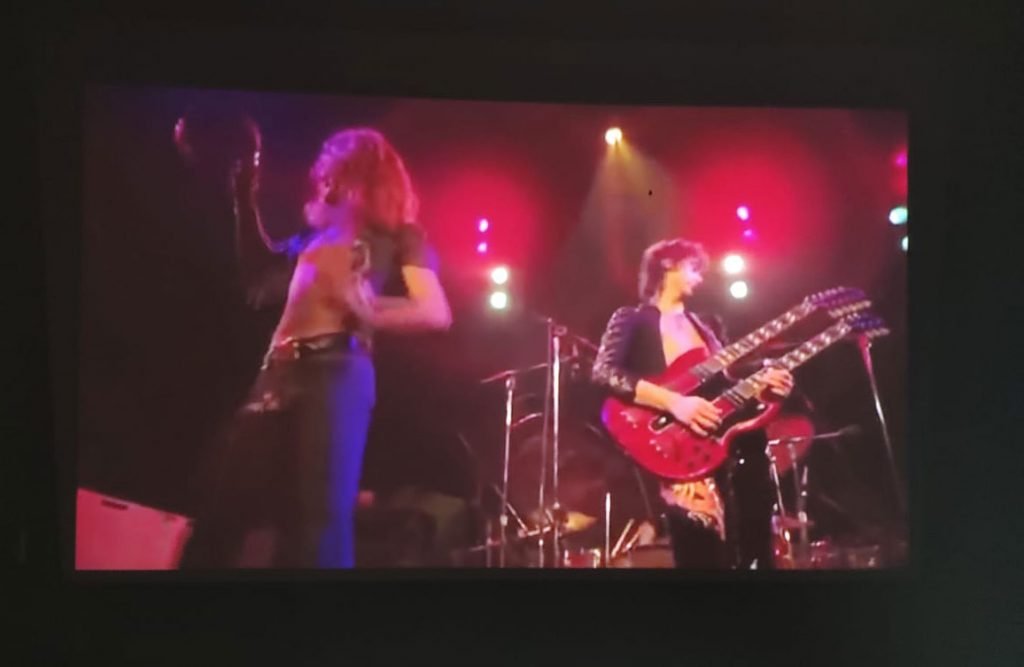 Expanding further on imaging performance, the RGBB lamp offers 10-bit color depth (1.07 billion colors in RGB). It uses its own ViewSonic Cinema Supercolor+ technology that enhances the vividness of colors and delivers a color coverage of 125% Rec.709. It also supports HDR10 content and Blue-Ray 3D content. It has FCC, cTUVus, ROHS certifications for blue light protection.
While the image quality is excellent in dark conditions, it looks somewhat washed out and dull in fairly lit environments.
Audio
Audio is powered by dual 3W speaker configuration from harman kardon and has detailed sound and a fairly high volume for use in small-medium rooms. External speakers and headphones can also be connected via Bluetooth or via the 3.5mm jack.
Menu & OSD
The OS is a variant of Android, a SmartTV-like UI where you can access the configuration options (voice control, power, audio equalizer, brightness, image mode etc.) and the available apps from ViewSonic.
Most of the configuration are also available in form of a smaller menu during playback mode.
Although a little slow, browsing through the options is fairly intuitive. There is also step-by-step tutorial to connect to Android, Windows, Mac, or iOS as long as it's connected to the same wireless network. There are also voice skill apps available for to control the M2 via Google Home and Amazon Echo.
As the OS is a variant of Android, there's no access to the official Google Play store for apps, instead you have access to the Aptoide store which offers only a limited number of apps.
Conclusion
The ViewSonic M2 portable LED projector makes for convenient presentations and content sharing via multiple multiple connectivity options such as HDMI 1.4, USB 2.0, USB-C and a MicroSD card reader. It also comes with a wireless Android screen mirroring feature that allows users to easily share content from the their mobile devices.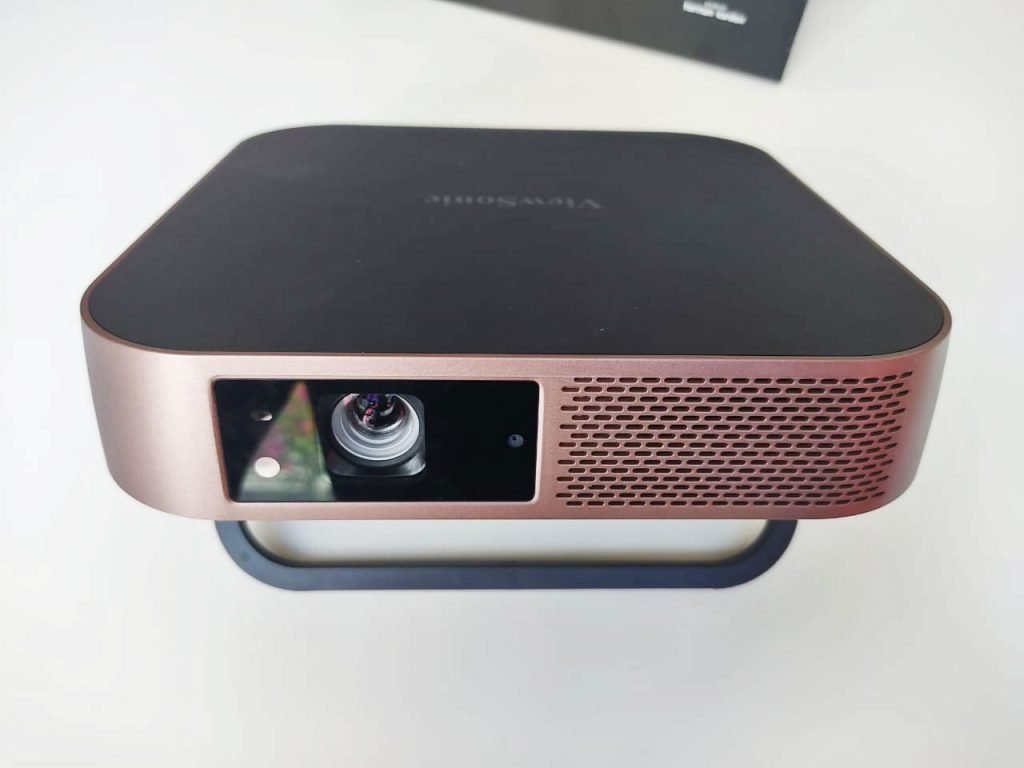 This may be the most versatile and best-performing LED projector at the moment for business professionals at this price point. As it uses DLP LED technology, it uses less power than traditional projectors thus generating very little heat and is silent. The projector can also be even powered by a power bank via a USB-C power bank.