ViewSonic's new X100-4K+ is a 4K UHD LED projector that is purpose-made to be the perfect home cinema projector. It's easy to set up (regardless of its huge size), designed for its purpose and projects an astoundingly clear image. However, the drab-looking UI, sluggish performance and some small design flaws does bring down the potential of this projector.
Specifications
| | |
| --- | --- |
| Native Resolution | 3840×2160 |
| Brightness | 2900 (LED Lumens) |
| Contrast Ratio | 4,000,000:1 |
| Light Source Life (Normal) | up to 30,000 |
| Lens | F1.8-1.825, f=12.62-15.13mm |
| Optical Zoom | 1.2x |
| Audible Noise (Normal/Eco) | 23dB/20dB |
| Local Storage | Total 16GB , (12GB available storage) |
| Speaker | 20W cube x2 |
| Image Size | 40"-200" |
| Throw Distance | 1.06m-6.37m , (100″ @2.65m) |
| Dimensions (WxDxH) with Adjustment Foot | 416x463x183mm |
| Weight | 7.60kg |
Packaging
The X100-4K+ comes in a large cardboard box with product graphics and logos on the sides. The box contains the projector, the remote, charging cable and quick start guide.
The contents of this package include;
ViewSonic X100-4K+ Projector
Remote Control (Includes Batteries)
Charging Cable
Quick Start Guide
Design & Build
The all-black projector is clearly designed for its purpose. With it being a home cinema projector, you don't want your projector to be very flashy or distracting, and that's exactly how ViewSonic has designed it. The professional-looking curved design makes it stand out from other projectors and the lack of any design garnishes are much desired.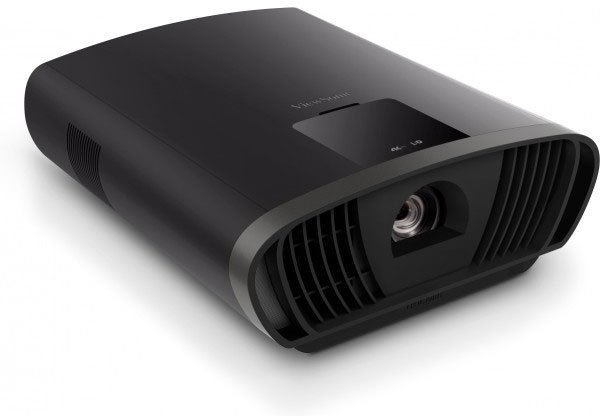 The more you use it, the more you appreciate the placement of various controls and ports around the projector. The top of the projector has a small compartment which houses all the lens controls and also has a led to show you whether the projector is active or not.
The sides contain the two 20 Watt cube speakers and also another compartment which houses the basic controls you get in all projectors.
The front of the projector obviously houses the projector lens and has 2 vents for airflow, the back is just one giant grille with 2 fans that provide silent and efficient cooling. The bottom of the projector has three small stands where 2 are adjustable and also have four holes for screwing to a ceiling mount.

The ports are sensibly placed at the lower sides of the projector, offering you easy access when you hang it from the ceiling, which is evidently how the entire projector is planned out. The X100-4K+ offers a large number of ports including:
HDMI 2.0/HDCP 2.2
LAN
S/PDIF Out
Wire IR
USB Reader 3.0(5V/2A)
RS232
Audio Out
Wi-Fi Dongle(Optional)
AUX
VGA
The remote control that comes with the projector is well-built but sadly poorly thought out. You don't see the same design sensibility of the projector, the audio controls and the rotating disk (arrow controls) are the major culprits here.
ViewSonic has obviously tried something new with these controls, but it falls short of being intuitive or an upgrade from the standard controls. The audio control is a small button that you can push upwards or downwards to adjust your volume, however, since pushing it into the remote control mutes the audio, you will find yourself muting the audio when you're trying to adjust it.
The arrow controls, which is in the form of a rotating disc, feels like an upgrade on paper but sadly it becomes a nuisance as it keeps doing things you didn't want it to do. It is a bit unfortunate since these two controls will be the ones you will likely use the most.
Features
The X100-4K+'s features are well made and work without a hitch. From all the features that combine to provide a spectacular viewing experience to small but useful features like the instant power on, the features are a huge plus for this projector.
Here are some of the features found on this projector;
Vivid details with HDR
Immersive 3D experience with 3D Blu-ray
True-to-life colors with Cinema Super COLOR +
ultra-silent cooling fans with efficient hyper-cooling and minimal vibration.
Enjoy your movies right away with Instant Power On
Take in images with more depth with Dynamic Black technology
Theater-Level Harman Kardon Speakers
Reduced motion blur with Frame Interpolation technology
ISF (Imaging Science Foundation) Certified Day and Night modes deliver optimized color in both bright and dark environments
Users can adjust the location of the projected image without moving the projector with Wide Lens Shift
Features like Wide Lens Shift and ability to connect with home automation systems like Control 4, Crestron, AMX, PJ Link and Network Control make it a perfect addition to a stress-free home cinema setup.
Projection & Audio
With the X100-4K+ being a home cinema projector, ViewSonic probably knows that the most important thing they needed to accomplish was a vibrant and crystal-clear projection, and they have clearly outdone themselves in that regard.
With a 4K resolution and 2900 Lumens of brightness, the projection is not only clear but impressively vibrant, blurring the line between TV's and projectors. The LED light source has 30,000 hours of life and also features HDR and supports 3D Blu-ray.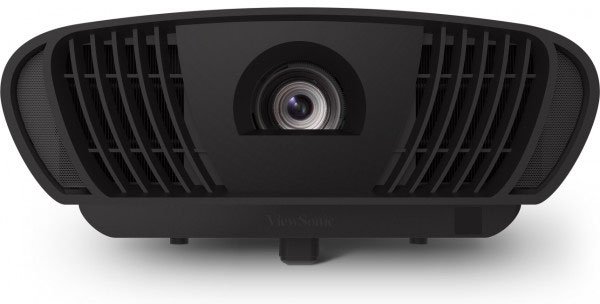 The X100-4K+'s OS is sadly a bit too boring, it's extremely easy to understand and use but the UI design feels very basic. Not only does the UI look basic, the performance feels sluggish as well. Changing the settings during viewing is a chore, and certain settings can only be changed through a separate setting window, which is a bizarre design choice. It comes preloaded with the Aptoide market and setups for Google Home and Alexa.
Since this is a home cinema projector, people are likely to already have a sound system, but regardless of that the two 20 Watt speakers housed in the projector more or less does the job well. It's certainly loud enough to fill a large room and there are settings you can change to configure the audio to match what you're watching.
Verdict
All in all, ViewSonic's X100-4K+ LED 4K UHD projector does everything it needs to do perfectly and to great quality. Certain poor design choices, slightly sluggish performance and a drab OS are some considerable setbacks, but with the amazingly clear and vibrant projection, professional design and purpose-made features. The good outweighs the bad and makes the X100-4K+ a perfect fit to any home cinema setup.
If you'd like to see more projector reviews, click here.