Zorloo, a consumer electronics brand based in Hong Kong, presents the Zophia Wire.less Earphones—a remarkable product that seamlessly blends the advantages of both wired and wireless audio experiences.
These exceptional earphones offer versatile functionality, enabling users to switch effortlessly between wired and wireless modes. By incorporating Bluetooth 5.2 technology with aptX support, and featuring a built-in USB-DAC on the detachable cable, the Zophia Wire.less Earphones deliver an unparalleled audio experience, especially for Hi-Res Audio and MQA file enthusiasts.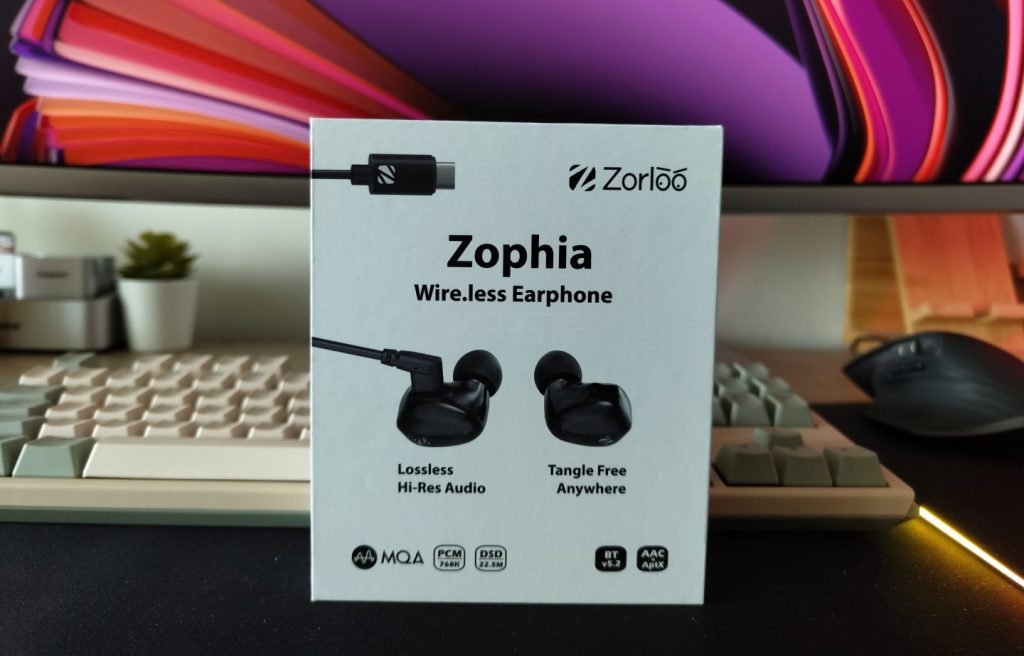 While the wireless mode allows for AAC and aptX audio codecs, it should be noted that Hi-Res Audio is exclusively available when using the cable connection.
Specifications
Drivers
6mm neodymium dynamic driver
Headphone Type
True wireless
In-ear wired
Connection
Bluetooth 5.2 / USB-C
Chipset
Bluetooth: Qualcomm QC3040
USB-DAC:
Zophia Standard: ESS Sabre 9270
Zophia MQA: ESS Sabre 9281ACPRO
Codec support
Bluetooth: SBC, AAC, AptX
USB-DAC:
Zophia Standard: PCM 384kHz, DSD 5.6MHz
Zophia MQA: PCM 768kHz, DSD 22.5MHz, MQA
Wireless Range
10m
Noise-cancelling
Echo cancellation for calls
Battery
Earphones
Up to 5 hours playback
Charging Case
20 hours
Weight
Earphones
6.2g x 2
USB-DAC cable length
1.3m
Colour
Black
Design
The Zorloo Zophia Wire.less Earphones arrive neatly packaged in a compact white box that showcases its distinctive features. Opening the box reveals a range of accessories, the charging case housing the earphones, three pairs of eartips, a charging cable, a Type-C cable, lightning to USB-C adapter and the DAC.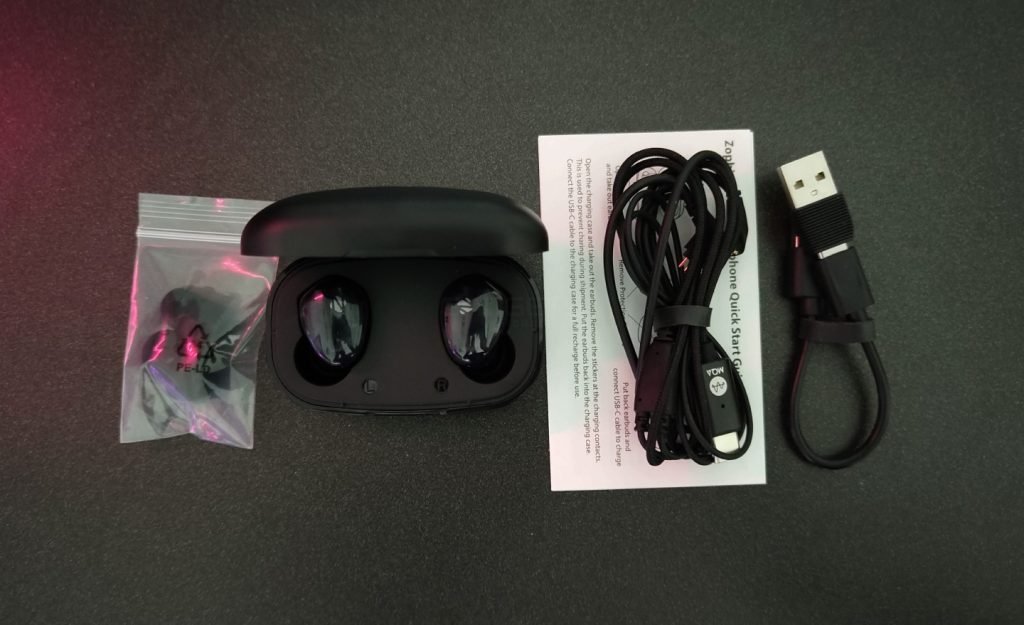 The charging case itself features a user-friendly design with four LED indicators, clearly displaying the charging status. Additionally, there are two LEDs on the case's exterior, providing convenient charging status updates for the earphones.
Crafted with meticulous attention to detail, the earphones exhibit a half translucent construction, offering a sleek and smooth touch. They strike a balance between weight and comfort. The earphones incorporate a black mesh to protect against the ingress of dirt.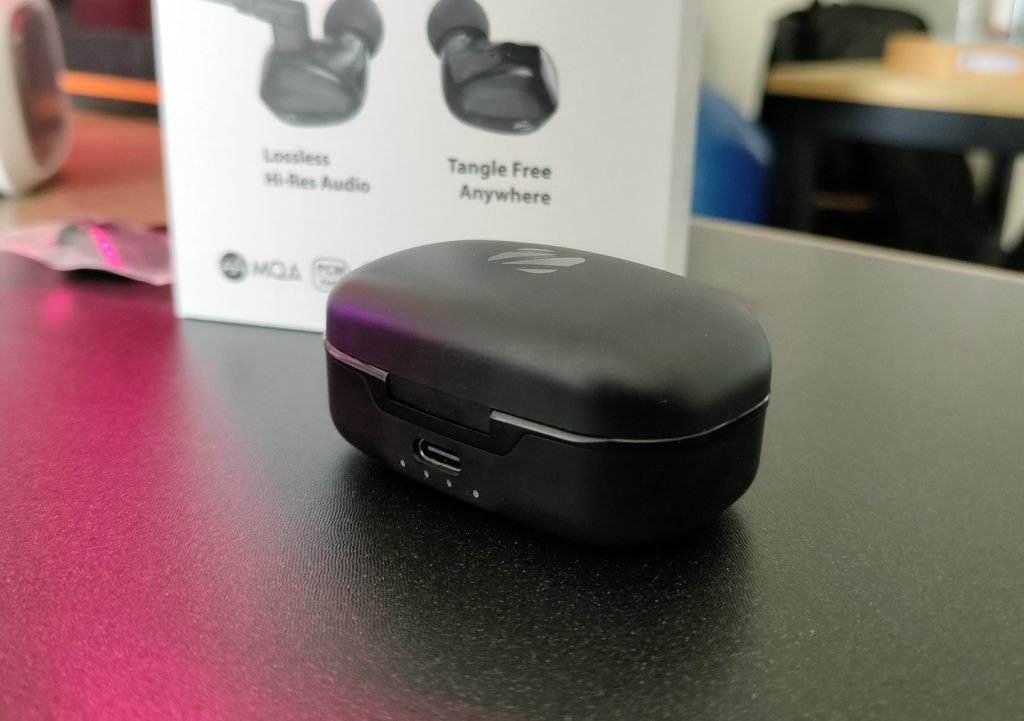 The Zophia Wire.less Earphones boast a blueish-black transparent resin shell, allowing users to glimpse the internal components. The design is elegantly minimalist, featuring a subtle logo printed on both sides, which remains inconspicuous and unobtrusive.
For added visual appeal and functionality, the earbuds incorporate color-changing LEDs that indicate various statuses. When paired, the LEDs flash white, and during pairing mode, they flash white and red.
All the drivers and electronic components are meticulously arranged within the custom 3D-printed resin chassis, ensuring optimal performance. The earbuds feature touch-sensitive surfaces, enabling effortless control of playback operations such as play, pause, and volume adjustment.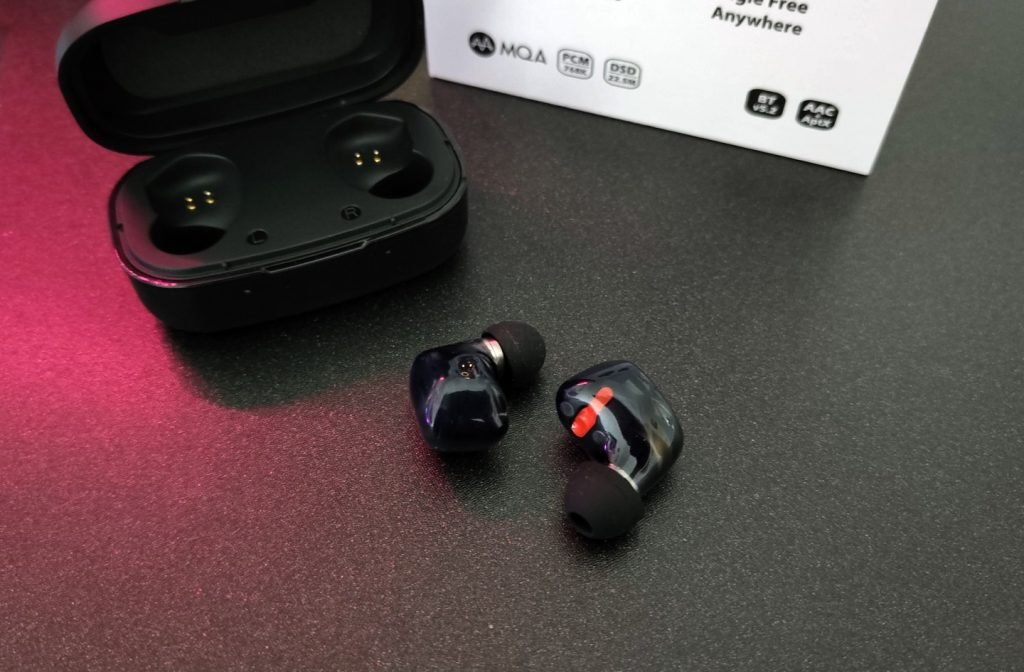 The Zophia Wire.less Earphones excel in terms of comfort, making extended listening sessions a pleasurable experience. Furthermore, they offer good noise isolation, effectively blocking out ambient noise while immersing you in your music.
Navigating the controls on the Zorloo Zophia Wire.less Earphones is intuitive and straightforward. Tapping the earbuds once adjusts the volume, with the right bud increasing it and the left bud decreasing it. Double tapping either earbud allows for easy play and pause functionality.
In addition to the standard controls, the Zophia Wire.less Earphones offer functional controls. A triple tap activates the phone's voice assistant, while answering and ending calls can be accomplished by double tapping the earbuds.
Performance
The Zorloo Zophia Wire.less Earphones offer excellent performance and versatile connectivity options. Supporting the AptX codec over Bluetooth 5.2, these earphones ensure that you don't compromise much on audio quality when using them in true wireless mode. With five hours of continuous listening time and an additional 20 hours provided by the charging case, you can enjoy a full day of wireless music playback.
These earphones feature a 4-pin receptacle interface that is backward compatible with the industry-standard 2-pin 0.78mm connectors. This allows you to connect the Zophia USB-DAC cable, which provides an enhanced audio experience.
Depending on whether you opt for the Zophia Standard or the Zophia MQA, the USB-DAC cable utilizes the ESS SABRE 9270C or the ESS SABRE 9281ACPRO respectively. By bypassing the built-in audio processing hardware of your mobile device, these DACs deliver superior audio quality. The Zophia Standard supports audiophile-grade sampling frequencies of up to PCM 384kHz and DSD 5.6MHz, while the Zophia MQA adds support for the MQA format, offering high-resolution, better-than-lossless audio found on platforms like Tidal. Furthermore, the Zophia MQA expands PCM support up to 768kHz and DSD support up to 22.5MHz.
Equipped with a single 6mm driver meticulously tuned for audiophiles, the Zorloo Zophia Wire.less Earphones deliver accurate response across the entire audio spectrum. The sound signature leans slightly towards brightness, resulting in clean and vibrant highs without any harshness. The midrange is also well-represented, with a slight inclination towards a bright presentation. The lows are impactful and possess sufficient strength, but achieving a perfect seal and fit with the provided ear tips is essential. The soundstage, while slightly narrow for some listeners' preferences, provides a close and intimate listening experience.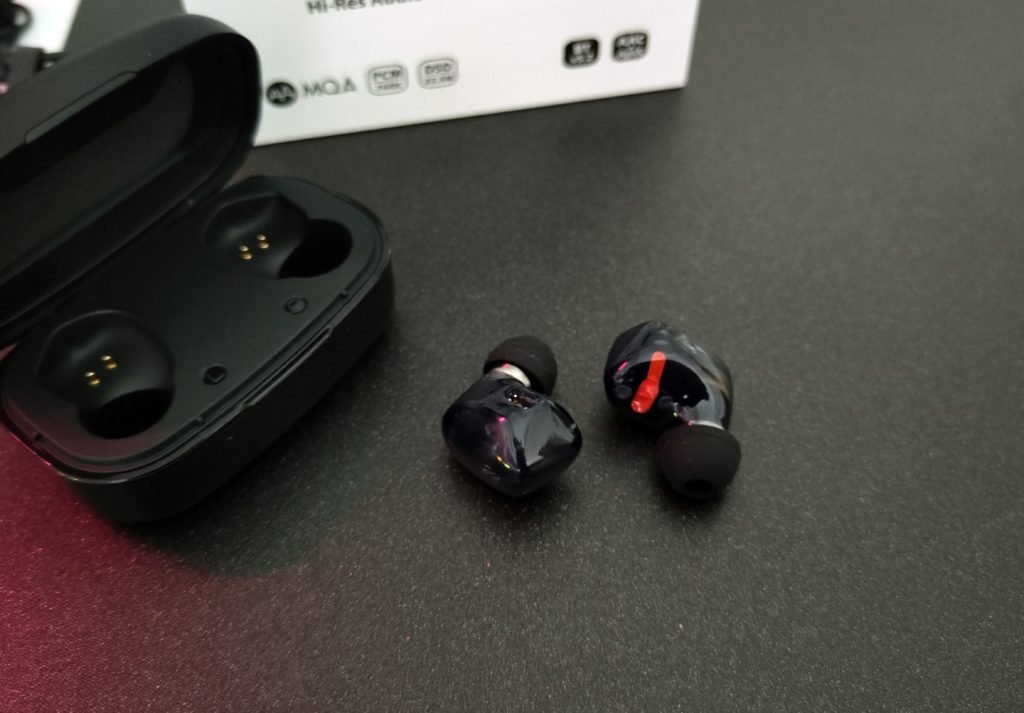 When using the wired mode with the ESS SABRE 9281ACPRO DAC, the audio quality of the Zophia Wire.less Earphones is further enhanced. The soundstage becomes slightly wider, offering better instrument and vocal separation. The reduction in noise and increased resolution result in a more detailed and immersive listening experience.
Surprisingly, the Zophia Wire.less Earphones do not emphasize booming bass typically found in most true wireless earphones. The sub-bass presence is modest, providing clarity and distinct bass notes without overshadowing the upper frequencies. While the sub-bass lacks significant impact, it remains consistently present throughout the listening experience.
Battery
The Zorloo Zophia Wire.less Earphones are equipped with a 350mAh battery within the charging case, providing an impressive 20 hours of additional battery life. This allows you to enjoy extended usage without the need for frequent charging.
Each individual earbud is powered by a 35mAh battery, which may seem relatively small in terms of capacity. However, it proves to be sufficient, delivering a consistent playing time of 5 hours on a single charge.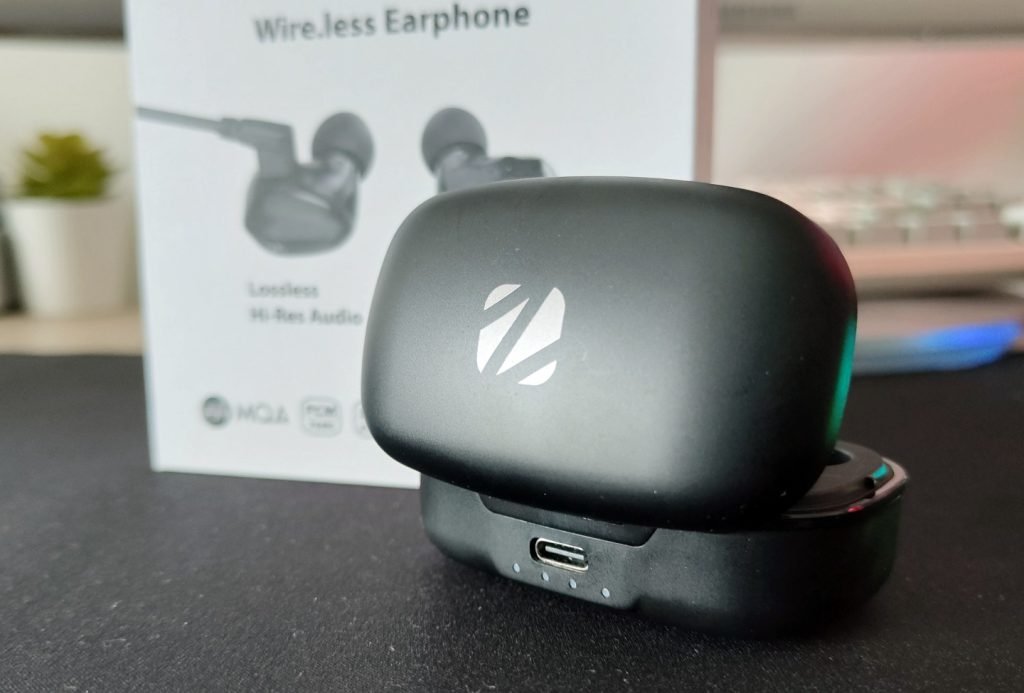 Verdict
The standout feature of the Zorloo Zophia Wire.less Earphones lies in its innovative design, offering the versatility of both wired and wireless functionality. This makes it an ideal choice for individuals with an active lifestyle, always on the move. The ability to switch to a wired connection serves as a reliable backup option when battery life runs low, providing peace of mind in critical moments. Whether you find yourself in need of a quick solution or prefer the added flexibility, the Zophia Wire.less Earphones deliver convenience without compromising on performance.
Overall, the Zorloo Zophia Wire.less Earphones impress with their versatile functionality, solid performance, and comfortable design. Whether you prefer the convenience of true wireless or the enhanced audio quality of wired mode, these earphones deliver a satisfying listening experience. With their combination of features, the Zophia Wire.less earphones cater to both audio enthusiasts and casual users seeking a reliable and enjoyable audio companion.