Read our review of the Huawei FreeBuds 4
In 2019, Huawei has set the benchmark by introducing the world's first open-fit Active Nosie Cancellation (ANC) earbuds with the HUAWEI FreeBuds 3 that brought the comfort of an open-fit wearing style while benefitting from the immersive sound quality boosted by ANC.
With the FreeBuds 4, it continues on that innovation with studio-quality sound, improved open-fit Active Noise Cancellation and air-like comfort that makes it super comfortable to wear.
Also one of the main advantages of The FreeBuds 4 is that they are also compatible with Android and iOS devices. Through the HUAWEI AI Life app, users are able to adjust settings or perform various controls such as wear detection, quick control, status query, noise cancelation and device management.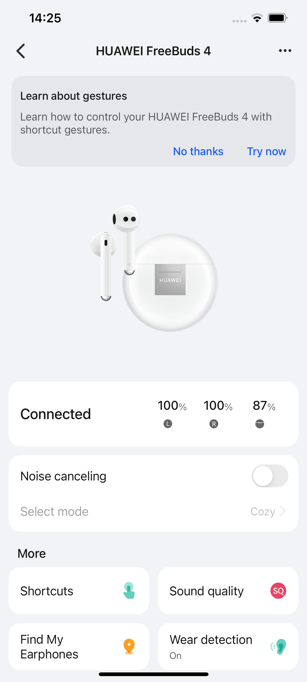 Of course, the HUAWEI FreeBuds 4 isn't the only wireless earphones available on the market. Competitors such as the Apple AirPods 2 and the Samsung Galaxy Buds Live also offer the same wireless experience.
Studio-quality sound
The FreeBuds 4 brings a new level of sound immersion thanks to its hardware that delivers great sound quality. Thanks to a 14.3mm driver that brings impressively clear bass, clear vocals and rich details. It also supports a frequency range of up to 40 kHz.
The Apple AirPods 2 brings the same wireless listening experience except that it doesn't support Active Noise Cancelation. However they do deliver a detailed trebles and a deep sounding low frequency bass thanks to its 14mm driver. The lack of Active Noise Cancelation is definitely a let down, considering that the earphones aren't able to block outside noise especially when you're in a noisy environment.
The Samsung Galaxy Buds Live's bean-shaped look also help with how it outputs sound to your ear. Featuring a similar open-fit type design, the earphones bring Active Noise Cancellation through 12mm drivers tuned by AKG to deliver spacious clear trebles.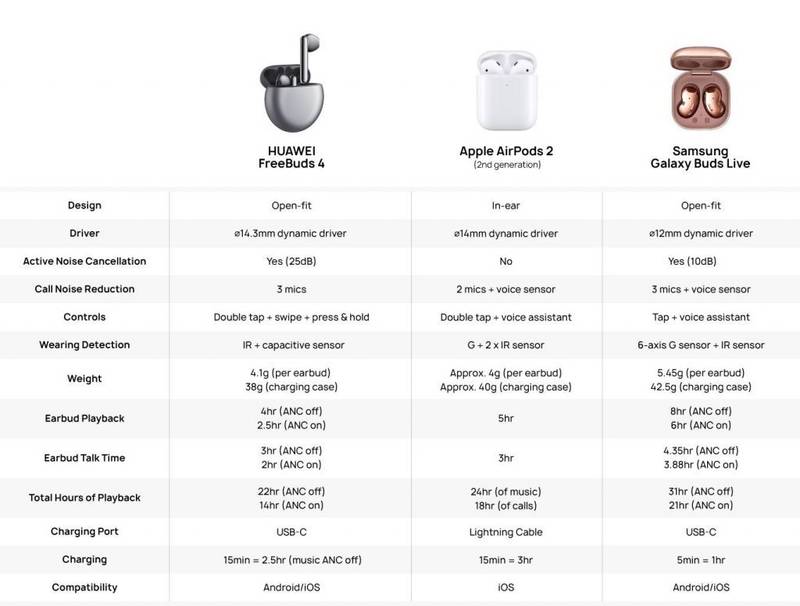 Open-fit noise cancellation
The FreeBuds 4 is equipped with Open-fit ANC 2.0 technology that improves noise cancelation at the hardware and software level. The earphones utilizes two microphones to improve noise cancelation, ensuring that it can pick ambient noise with greater accuracy to achieve the best performance. These microphones are also used to help avoid wind noise interference to improve sound pickup sensitivity to the internal microphone.
With the FreeBuds 4's open-fit design, Huawei has developed AEM (Adaptive Ear Matching) that intelligently detects the in-ear environment and optimizes the level of noise cancelation performance no matter the ear size or how it is being worn. Thanks to this relatively loose fit, the earphones brings a more pleasant wearing experience that less likely leads to a build-up of air pressure.
While the Samsung Galaxy Buds Live supports Active Noise Cancelation in a similar open-fit design, these earbuds can cancel out noise only unto 10 dB.
Air-like comfort
New enhancements on the FreeBuds 4's overall curvature was also done to achieve a better fit that translates into the most comfortable and pleasant wearing experience.
The Apple AirPods 2 largely retains the same design elements from the first generation AirPods, with a simple open-fit design that includes a stem that sticks out when worn. The stem houses the internal beam forming microphones that enhances the voice when in a call. The Samsung Galaxy Buds Live bring a more comfortable fit with its new glossy design. This design also allows for a more ergonomic fit.
In the end, choosing the right earphone is entirely up to what you need. We were really impressed by the FreeBuds 4 as it ticks all boxes – great sound quality, dual-device connectivity and active noise cancellation in an open-fit design.