We recently had the opportunity to interview Manish Bakshi, Managing Director at BenQ Middle East. Based out of Dubai, UAE, Manish Bakshi is responsible for BenQ's Operations of Middle East, Turkey and Africa.
What is the growth potential of the Smart Projectors market?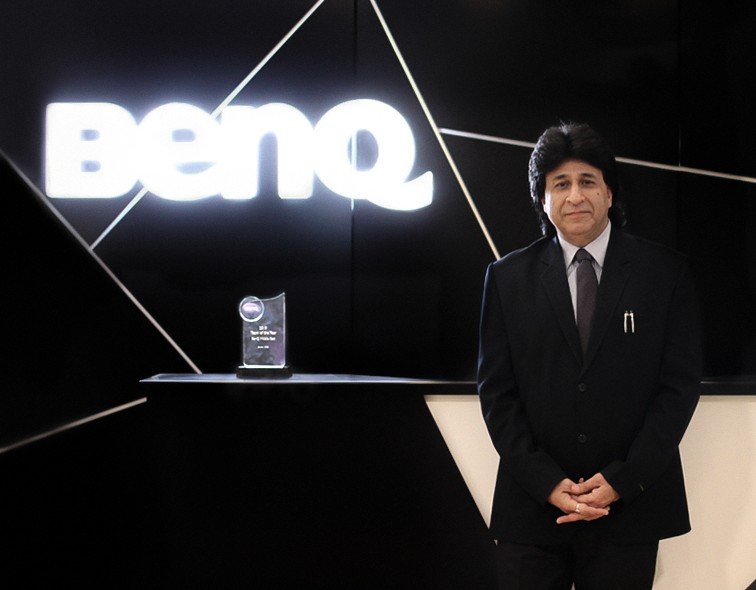 The Smart Projectors market boasts substantial growth potential, driven primarily by rapid technological advancements and an increasing demand for innovative and interactive display solutions across various industries. As businesses, educational institutions, and even residential consumers continue to embrace digitalization, the need for smart projectors as versatile and efficient tools for presentations, collaborations, and content sharing has significantly risen.
Companies like BenQ are at the forefront of this trend, offering state-of-the-art laser projectors that cater to diverse usage scenarios, such as golf simulations and real estate visualizations. With the ongoing development of features such as voice control, AI integration, and wireless connectivity, the market is expected to experience a considerable compound annual growth rate (CAGR) in the coming years. The growing popularity of home entertainment and streaming services further accelerates the demand for smart projectors in residential settings, pushing the industry to innovate and adapt to consumers' evolving needs.
What growth opportunities might arise in Smart Projectors industry in the years to come?
Numerous growth opportunities are anticipated to emerge within the Smart Projectors industry in the near future. Firstly, the integration of advanced technologies like AI, IoT, and state-of-the-art laser projection, as demonstrated by companies like BenQ, will enable projectors to become smarter, more adaptive, and user-friendly.
This could lead to a surge in demand from both corporate and residential sectors. Secondly, the adoption of 5G technology is expected to improve wireless connectivity, allowing for seamless streaming and data transfers, enhancing the appeal of smart projectors as a convenient and reliable solution for various applications.
Additionally, the increasing adoption of Augmented Reality (AR) and Virtual Reality (VR) in gaming, education, and other industries opens up new avenues for smart projector manufacturers to develop specialized devices catering to these sectors. BenQ's projectors offer a wide range of applications, from indoor golf simulations to museum displays, highlighting the versatility and potential of this technology.
What are the most significant challenges that the Smart Projectors market could face in the future?
The Smart Projectors market faces several challenges that could hinder its growth trajectory. One of the primary concerns is the high cost of smart projectors, which may deter potential customers, particularly in emerging markets.
BenQ is always focussed on developing more cost-effective solutions without compromising on performance and features to expand our customer base. Another challenge is the rapid pace of technological advancements, which necessitates continuous research and development investments. Manufacturers must keep up with the latest trends and technologies to remain competitive in the market.
Additionally, concerns regarding data privacy and security could also impact the adoption of smart projectors, particularly in corporate settings. Ensuring that devices adhere to stringent security protocols and data protection standards is crucial for attracting and retaining customers.
What are the main trends that are positively impacting the growth of the market?
Several trends are positively impacting the growth of the Smart Projectors market. The increasing emphasis on remote work and learning due to the COVID-19 pandemic has accelerated the demand for smart projectors as an essential tool for virtual meetings and presentations.
The growing popularity of streaming services and on-demand content has also fuelled the adoption of smart projectors in home entertainment systems, with companies like BenQ offering advanced laser projection solutions to enhance the viewing experience. Furthermore, the integration of voice control and AI capabilities allows for a more intuitive and personalized user experience, making smart projectors even more appealing to customers.
Lastly, the rise of eco-friendly and energy-efficient solutions has led to the development of low-power consumption projectors, catering to the growing demand for sustainable products in the market.
Tell us about recent activities or trade show you have participated and what was the key highlights of the show.
Recently, BenQ participated in the Integrate ME Exhibition, showcasing its latest laser projectors and demonstrating their versatility across various industries. The event highlighted the multiple usage scenarios that BenQ's cutting-edge projectors offer, ranging from entertainment and gaming to commercial applications such as real estate, museums, and healthcare.
The key highlights of the show included an immersive environment at BenQ's station, allowing visitors to interact with the products in realistic settings. In the Home Cinema scenario, the TK700STi projector transformed the home theater experience with advanced imaging quality and superior brightness. The Gaming scenario featured the X3000i projector, demonstrating how the technology could elevate gaming immersion and interactivity.
For commercial-focused scenarios, BenQ showcased its line of laser projectors tailored for Real Estate Development (LU9750), Museum (LU9800 & LU935ST), Meeting Room (LH730), and Medical Facility (LU9750). These projectors offered advanced features such as crisp visuals, superior brightness, and comprehensive connectivity options.
When combined with projection mapping technology, the projectors created immersive and engaging experiences applicable to various industries. Interactive experiences, such as the Education/Edutainment scenario with floor games and the Museum scenario featuring projection mapping, further engaged visitors. Overall, the Integrate ME Exhibition successfully highlighted the diverse applications and benefits of BenQ's latest laser projectors, showcasing their potential to revolutionize various industries and improve people's lives.
---
We would like to thank Manish Bakshi for his time in answering our questions!