We recently had the opportunity to interview Manish Bakshi, Managing Director at BenQ Middle East.
With next-gen hardware and gaming consoles around the corner, we wanted to know more about BenQ and their plans for next-gen gaming monitors.
Q1. Can you please tell us a little bit about yourself and your position at BenQ.
I joined BenQ Middle East in the year 2000 and have been in the field of business management for more than 25 years now. I have worked in all its avenues ranging from Product Development to Retail Operations and been managing the Middle East & Turkey Business Operations as the Managing Director at BenQ since 2012.
Q2. Next-gen consoles like the Playstation 5 & Xbox Series X should be launching Holiday 2020. Does BenQ have plans to offer monitors that are compatible with these next-gen consoles?
The arrival of new gaming technology in the market is always a cause of excitement for us here at BenQ, and the next-gen gaming consoles like the PS5 and the Xbox Series X are no exception. We aim to provide monitors which are not only compatible with these consoles but also make the gaming experience groundbreakingly immersive.
Products like the BenQ EW3280U & EX2780Q come equipped with our signature HDR Intelligence technology (HDRi), A New Vision of Intelligent Immersion, and high-quality surround sound provided by the BenQ treVolo speakers to provide an immersive experience for the gamers. We have been keeping an ear to the ground for feedback about our offerings, and I am glad to know that the gaming community is already looking towards us for high-quality display solutions.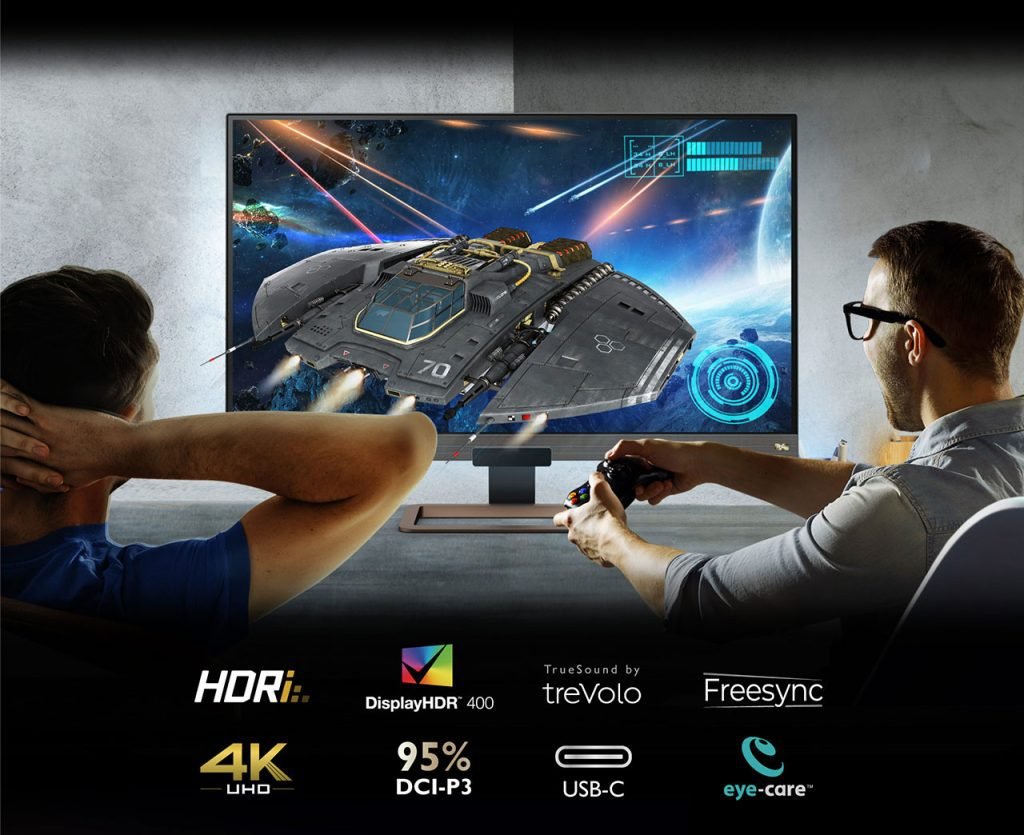 Q3. With next-gen consoles supporting up to 8K resolutions and the AMD RDNA 2 and Nvidia RTX cards around the corner, will we see a leap to 8K gaming in 2021?
BenQ has always kept fast pace with market. Technology innovation, R&D Investment, Launching Products that fulfil EU demand have been BenQ Hallmarks. In case needed to up the resolution, BenQ will do so.
Q4. What makes a great gaming monitor, be it for PC or console gaming?
Great Gaming Monitor needs "Low Lag", "Minimal Blurring", "High Recoil", "Fantastic Black Equalizer", "Color Vibrance", "HDR", "Light Tuner", "Shield". Immersive Gaming Experience
To put it simply – a monitor that can let the gaming hardware do its job with minimal interference and processing while also providing a high refresh rate, low response time, vivid colors to provide a mind blowing color experience makes for a great gaming monitor. All these elements are integral in order to achieve an immersive gaming experience, be it on a console or on a high-performance gaming PC. Developing and perfecting technology that can deliver on these expectations is something that our team is constantly pursuing.
As a step forward to ensure the protection of the users' Eyes, BenQ's industry-leading eye-care technologies also help reduce eye fatigue while ensuring greater user comfort after a long period of use.
Q5. What upcoming BenQ hardware are you most excited about?
MOBIUZ gaming monitors by BenQ are geared to transport you to alternate realities. Think of them as super stylish, high performance escape pods. MOBIUZ is the answer for gamers who aren't pro eAthletes, but who demand performance from their display.
We saw a need for monitors that make the most of high-budget AAA games. MOBIUZ features proprietary tech that lets users fully appreciate and benefit from the awesome graphics and full-range audio in today's hottest titles.
Inspired by the Mobius strip, these displays are engineered for endless immersion. They tackle the ideal gaming experience with a user-focused, three-pronged approach: graphics, audio, and comfort.
The IPS panel makes color look its best from any angle, so you can enjoy the view with friends. MOBIUZ is like a doorway into your latest challenge. It's tempting to say game graphics can't get any better than with HDRi. And yet, they can.
MOBIUZ monitors are equipped with the latest visual optimization tech. Best of all, you decide what's best for you. Black Equalizer improves visibility in dark scenes, without overexposing bright areas, so you can see everything hiding in the shadows. Color Vibrance refines images in-game so details, and targets, are easier to spot. And Light Tuner lets you choose from 20 color settings so games can look the way you want them to look.
There's nothing beautiful about blur, tearing, or artifacts. Debut MOBIUZ models EX2510 and EX2710 boast FreeSync Premium, 144Hz HRR (High Refresh Rate), and 1ms MPRT for completely seamless display. Plus, 99% coverage of the sRGB color space means you will never have to compromise on color.
BenQ is a global leader in eye-care for displays. This same tech is found in MOBIUZ. Brightness Intelligence Plus optimizes content based on environmental lighting and on-screen composition to ensure comfortable eyes during extended play. Low Blue Light filters harmful blue light and Flicker-Free eliminates distracting flickers. There's even eye-care for when you use your monitor for reading, homework, or work. ePaper Mode balances text and the background to make reading more comfortabe. And, for users who cannot distinguish red and green colors, Color Weakness Mode comes through with filters to help.
There's no mistaking EX2510 or EX2710 for a run-of-the-mill model.
Q6. Do you see a gap in the market that BenQ should move in to?
As mentioned before, BenQ is a Highly Technology Innovative company with Great, Expertise R&D. In case we will feel gap, it will immediately be filled up
Q7. Has the pandemic and disruption in business affected sales for BenQ?
Thankfully for us, the response around our products in Q4' 2019 and Q1' 2020 resulted in a stream of continuous orders during the pandemic to keep us going. The most significant impact during COVID for BenQ was quickly moving an office culture of concentrated labour to adapt to one utilizing telecommuting and decentralized teams to ensure productivity. As an effort to amplify flexibility for its personnel and better succeed in different cultures and markets, BenQ has been initiating efforts to remotely communicate and collaborate with decentralized teams sitting across the globe. There is a long establishment of the BenQ ME Decentralized structure in KSA, TR, and Egypt. Luckily, the UAE government approved 30% office attendance from 26th April' 2020. So, the effect of pandemic along with a fully closed office was short-lived.
Q8. We've recently written an article on the rise of PC shipments during the pandemic. Do you think this trend will continue into 2021?
Absolutely, many of the lifestyle changes caused by the pandemic are here to stay, and people preferring PCs over more portable computing devices is one of them. As it is very rightly mentioned in the article, the life cycle of a well-built PC is about 5 years; this gives people more time to warm up to the idea of making the most out of a well-built personal computer. The performance, longevity and scope of personalization are boons as we progress further in the post-COVID world. Using PCs for work and pleasure offer performance and flexibility, which is barely achievable with laptops, tablets and other portable computing devices. In my opinion, the rising PC trend is here to stay for good.
Q9. Service is a key aspect in a market like UAE. How focused is BenQ on providing quality after-sale service?
After-sales service is an integral part of our operations, especially in the UAE region. We go to great lengths to ensure that we can provide absolute customer satisfaction. In order to do so, we have a dedicated after-sales service team that works very diligently to extend support and resolve issues if any. It is actually a great example of how our Direct to Customer model proves to be of excellent efficiency since we can come to the aid of customers straight away, bypassing all the middlemen and unnecessary delays.
We would like to thank Manish Bakshi for his time in answering our questions!