Acer announced today that its eagerly-anticipated laptop, the Aspire Vero is now available for all fans and eco-conscious consumers in the GCC. The Aspire Vero is the first sustainability-focused product from Acer featuring post-consumer recycled (PCR) plastic and eco-friendly packaging.
Acer announced the launch of the pioneering green PC in May last year, whilst launching their "Earthion" platform which is dedicated towards tackling global environmental challenges as well as expanding Acer's sustainability efforts. The Aspire Vero sets a new global benchmark in PCs as a sustainably designed product. Taking its commitment to the earth further, Acer Middle East has also partnered with Matiti Green to plant 10 trees on behalf of the customer for every Aspire Vero sold.
Acer's Aspire Vero (AV15-51) is a step towards reimagining what the computer manufacturing process looks like. With a comprehensive eco-design concept and a unique, eco-iconic look, dispelling the myth that green designs have to be boring, its chassis is composed of 30% PCR plastic while cutting CO2 emissions by 21% for the production of that part. The keycaps also contain 50% PCR plastic, and the Aspire Vero's award-winning 100% recyclable packaging can be repurposed as a DIY laptop stand. From there, a thoughtful design helps to eliminate needless waste by making it easy to disassemble, repair, upgrade and recycle the computer or its components. The notebook stands out with unique yellow and volcano grey accents on its bumpers, and the text on the R and E keys have been inverted, calling out the 3 Re's: reduce, reuse and recycle.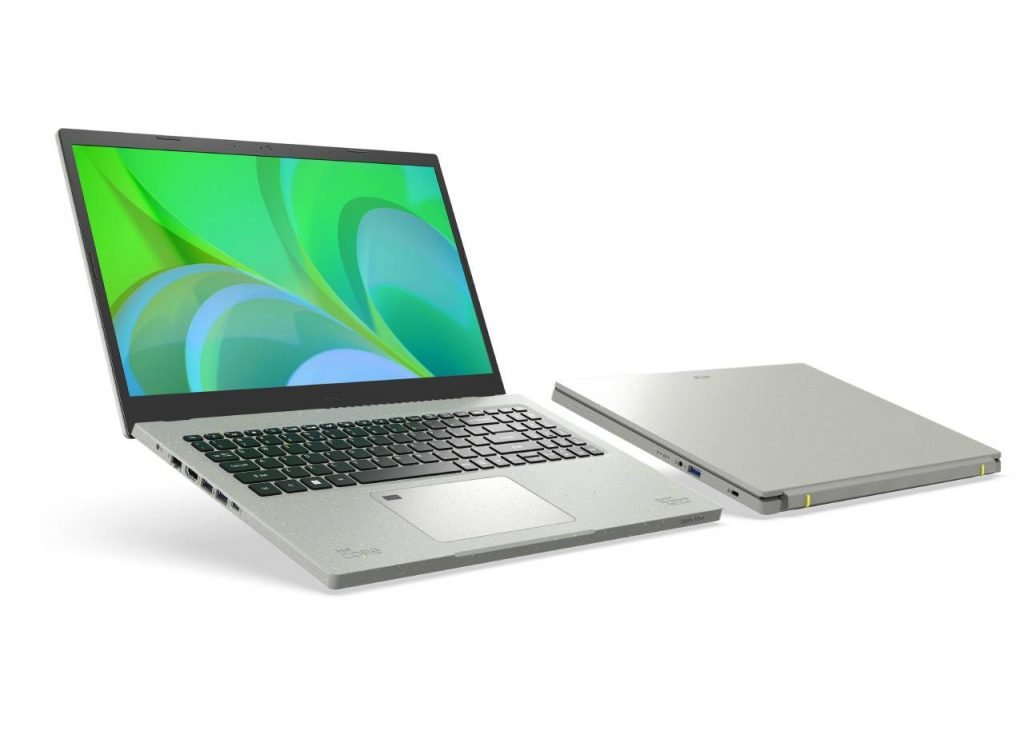 Acer has aimed for a smooth experience throughout, as Aspire Vero run the recently-released Windows 11 operating system, adding to it being incredibly easy to use, too. The green PC's 99% recyclable 15.6-inch FHD IPS SlimBezel PCR display is powered by 11th Gen Intel Core processors and Intel Iris Xe Graphics, so users can count on world-class performance and productivity when they need it. It also supports either 8 or 16 GB of DDR4 Memory as well as 512 GB or 1 TB of PCIe NVMe SSD storage, capable of withstanding content creators' ongoing demands and creative challenges.
On the other hand, while working on less demanding tasks, Acer's new VeroSense software gives users the option of selecting a usage mode that has been optimized for energy efficiency and battery life. Features like Wi-Fi 6, a Type-C USB port and two Type-A USB ports make for a more reliable usage experience.
With working from home becoming increasingly commonplace, the quality of a conference call is just as relevant. Our new generation of Acer TrueHarmony and Acer PurifiedVoice with AI noise reduction can now actively suppress background noise for both users and is compatible with external headphones and mics.
Prices and Availability
The Aspire Vero (AV15-51) version with Intel's i7 core processor, 1 TB SSD and 16 GB RAM will be available in the UAE at Sharaf DG here starting at AED 3,999
The Aspire Vero (AV15-51) version with Intel's i5 core processor, 512 GB SSD and 8GB RAM will be available across the UAE starting at AED 3,199
The Aspire Vero (AV15-51) will be available in Oman starting at OMR 339.9
The Aspire Vero (AV15-51) will be available in Qatar starting at QAR 3,199
The Aspire Vero (AV15-51) version with Intel's i7 core processor, 1 TB SSD and 16 GB RAM will be available in Kuwait starting at KD 344.9
The Aspire Vero (AV15-51) version with Intel's i5 core processor, 512 GB SSD and 8GB RAM will be available in Kuwait starting at KD 274.9