ASUS Middle East today announced a new lineup of B450 motherboards based around the AMD Socket AM4 platform. ASUS is boosting the utility and flexibility of this platform with a refreshed family of B450 motherboards that are tailor-made for PC builders of all skill levels who are looking for great performance at a solid value.
Every refreshed ASUS B450 motherboard now includes the BIOS FlashBack feature for easy firmware upgrades without a processor, and high-capacity firmware chips for the broadest possible AMD Ryzen processor support.
The motherboard lineup features extra RGB LED headers on select models, AI noise-canceling microphone software and compatibility with the ASUS Armoury Crate system management tool to configure Aura Sync lighting and system parameters.
The new ASUS B450 motherboards provide PC builders with more flexibility when configuring their next AMD Ryzen build, with the option to opt for a faster processor, a boosted graphics card, a bigger, future-proof power supply, or quieter, more robust CPU cooling. The motherboards can accommodate the latest Ryzen 3000-series processors, as well as the first- and second-generation Ryzen processors in the AM4 socket.
This refresh benefits almost every existing ASUS B450 motherboard from ROG Strix to Prime, and PC builders will find features and benefits to create a foundation for a solid-value build.
ROG Strix B450-F Gaming II
ROG Strix B450-F Gaming II gets quite a boost with this latest refresh. Its VRM now adopts an 8+4 discrete MOS design, with individual VRM components situated between an improved heatsink with high-grade thermal pads and an all-new backplate that's an integral part of the power-delivery cooling stack.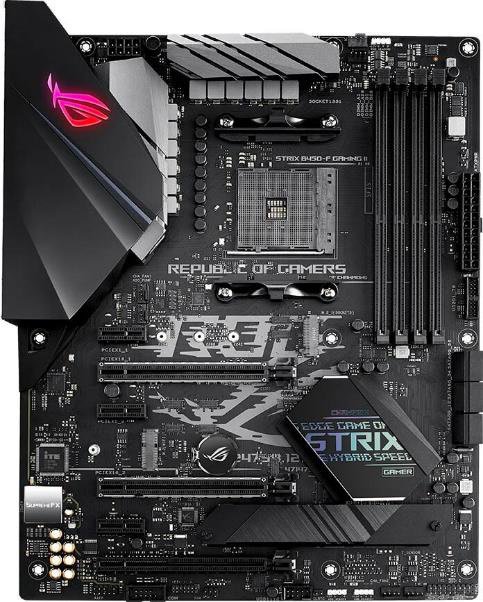 The four memory slots next to the CPU socket fit up to 128 GB of RAM and can be overclocked to speeds reaching 4400 MHz. The two M.2 sockets allow for plenty of solid-state storage and even NVM Express RAID arrays. The main M.2 socket now boasts an aluminum heatsink to cool high-performance SSDs. While this board doesn't include built-in WiFi, it does include an E-key M.2 socket for an easy WiFi 6 networking upgrade.
The rear panel features eight USB ports, including two superfast 10 Gbps USB 3.2 Gen 2 Type-A connectors and a USB 3.2 Gen 1 Type-C port. One USB port is dedicated to handle BIOS FlashBack, allowing for a firmware upgrade or reflash with nothing more than a PSU and a USB thumb drive.
Strix B450-F Gaming II's black PCB is enhanced by cybertext motifs and bright accents atop the I/O shield and chipset heatsink. The motherboard features two standard RGB LED strip headers, plus an addressable header with low latency functionality and configuration presets. ASUS AI Noise-Canceling Microphone software efficiently cuts down ambient noise for office meetings, online classes and games.
TUF Gaming B450-Plus II
TUF Gaming B450-Plus II features enlarged heatsinks that rest atop an upgraded 8+2 power stage VRM to cater to the demands of higher-end Ryzen chips.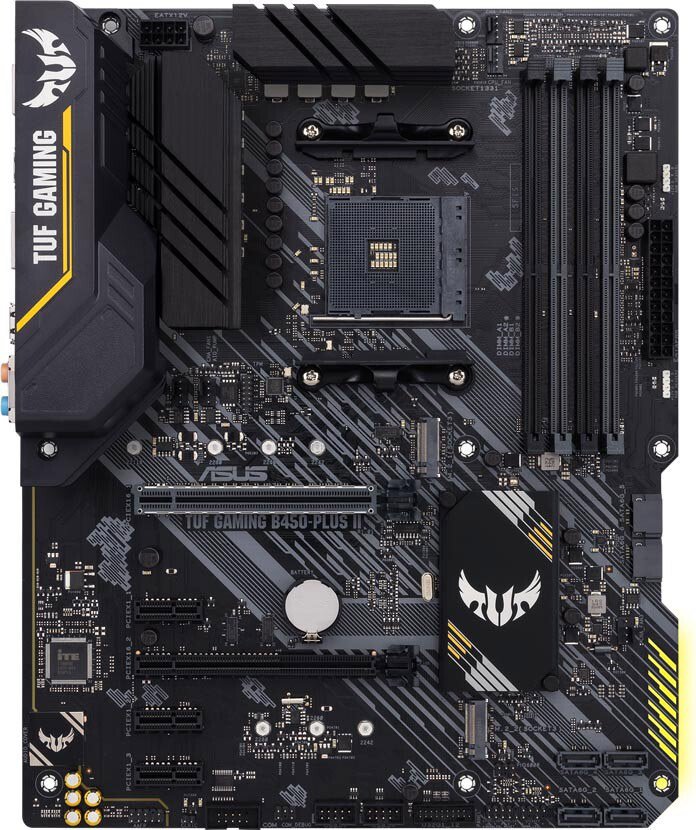 This full-size ATX board includes an extra M.2 socket, allowing users to install two SSDs for superfast storage, and the I/O port cluster includes USB 3.2 Gen 2 Type-C and Type-A ports.
Users who don't need dedicated graphics cards can pair TUF Gaming B450-Plus II with a Ryzen APU with Vega integrated graphics, with DisplayPort output for high-resolution monitors. Aesthetically, TUF Gaming B450-Plus II features eye-catching black-and-yellow stripes, with two RGB LED strip headers for additional customization options.
TUF Gaming B450M-Pro II
With its microATX form-factor, TUF Gaming B450M-Pro II is ideal for compact PC builders. Like the larger TUF Gaming B450-Plus II motherboard mentioned above, TUF Gaming B450M-Pro II features DisplayPort output, USB 3.2 Gen 2 Type-C and Type-A connectors and additional USB 3.2 Gen 1 ports.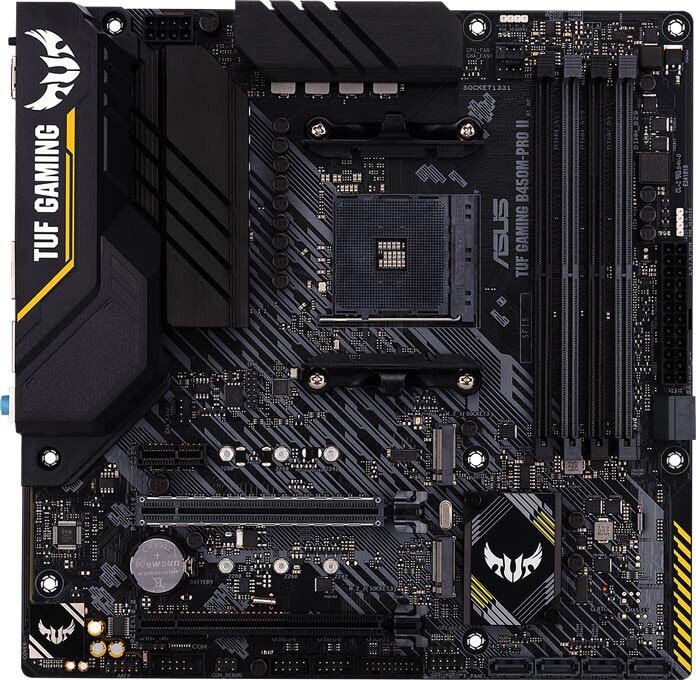 This board's TUF Gaming DNA extends to a pair of PCI Express 3.0 x16 slots, one of which is strengthened by a SafeSlot metal sheath. Large heatsinks atop the VRM keep things cool even under heavy CPU loads. The four DIMM slots can boost compatible DDR4 memory to 4400 MHz, and users can install as much as 128 GB of RAM if required. There are also two M.2 slots for PCIe SSDs.
TUF Gaming B450M-Plus II
TUF Gaming B450M-Plus II rounds up the refreshed TUF Gaming B450 lineup. This board is the ideal option for users looking for value and reliability.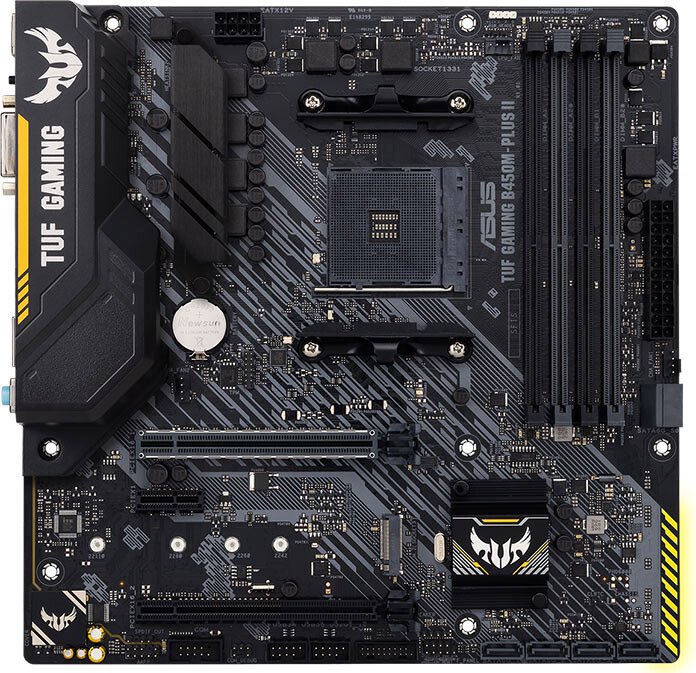 The main PCIe x16 slot is strengthened with ASUS SafeSlot technology, so it's ready for the heaviest of graphics cards. The M.2 socket is linked to four PCIe 3.0 lanes to support NVMe SSDs. An RGB LED header and Aura Sync support enable further visual customization.
TUF Gaming B450M-Plus II includes an abundance of handy software features: BIOS FlashBack ensures hassle-free firmware updates, AI Noise-Canceling Microphone software provides clear communication at all times, while Turbo LAN traffic shaping tools prioritize gaming packets for the lowest ping.
Prime B450M-A II
Prime B450M-A II pairs comprehensive functionality with a compact and understated design. Its VRM is situated under a heatsink to ensure reliable operation with a broad range of Ryzen CPUs. Four DIMM slots take in up to 128 GB of DDR4 memory, and the M.2 socket is complemented by six SATA connectors for versatile storage configurations.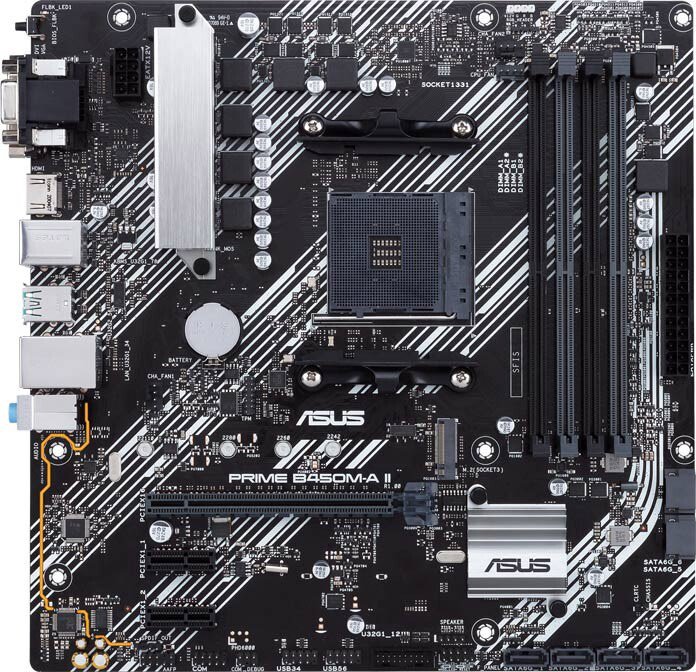 The back panel boasts upgraded USB 3.2 Gen 2 ports for 10 Gbps transfers, and there's a USB 3.2 Gen 1 header for fast front-panel connectivity. BIOS FlashBack makes both building around and maintaining this board easy. A 256 MB firmware chip allows for future upgrades and broad CPU support.
An RGB LED strip header with Aura Sync support is available for users looking to add some style to their build. Reliable cooling comes courtesy of Fan Xpert 2+ logic, three 4-pin PWM headers and fan overcurrent protection.
Prime B450M-K II
Prime B450M-K II sticks to the essentials to deliver a straightforward, reliable motherboard. Budget-friendly builds for general usage, home theater PCs, or even gaming builds can all benefit from this model's simplicity and affordability.
Its Digi+ VRM powers entry-level to midrange Ryzen CPUs. A total of 64 GB of RAM can go into this board's two slots, and the main PCIe slot has SafeSlot Core structural reinforcement. One M.2 storage device can be augmented with four more SATA ports.
The upgraded rear panel now boasts an HDMI port for broader display compatibility. BIOS FlashBack support comes paired with a 32 MB firmware chip to maximize CPU compatibility, and builders get an internal connector for two USB 3.2 Gen 1 front-panel ports. In addition, the one-stop Armoury Crate software eases configuration and tuning efforts.