Successor to last year's TUF FX505, the Asus TUF FA506 is one of the first laptops with the latest AMD Ryzen 7 4800H processor, which directly competes with Intel's 10th generation Comet Lake-H chips.
The Ryzen 4000 processor is the major hardware update of this generation. The new APU Renoir offers higher performance due to a number of significant changes introduced in the Zen 2 architecture compared to previous iterations of Zen and Zen+.
Just like their desktop counterparts (Ryzen 3000), these chips are based on Zen 2 architecture and built on an 7nm FinFET manufacturing process.
The AMD Ryzen 7 4800H is an 8-core and 16-thread processor, much more powerful and energy efficient thanks to the 7nm process, with a base clock speed of 2.9 GHz and up to 4.2 GHz in turbo mode. Compared to its predecessor AMD Ryzen 7 3750H, the new 4800H has twice the number of cores.
All this should guarantee a significant increase in CPU performance, both single and multi-threaded, compared to their predecessors and even the latest Intel processors.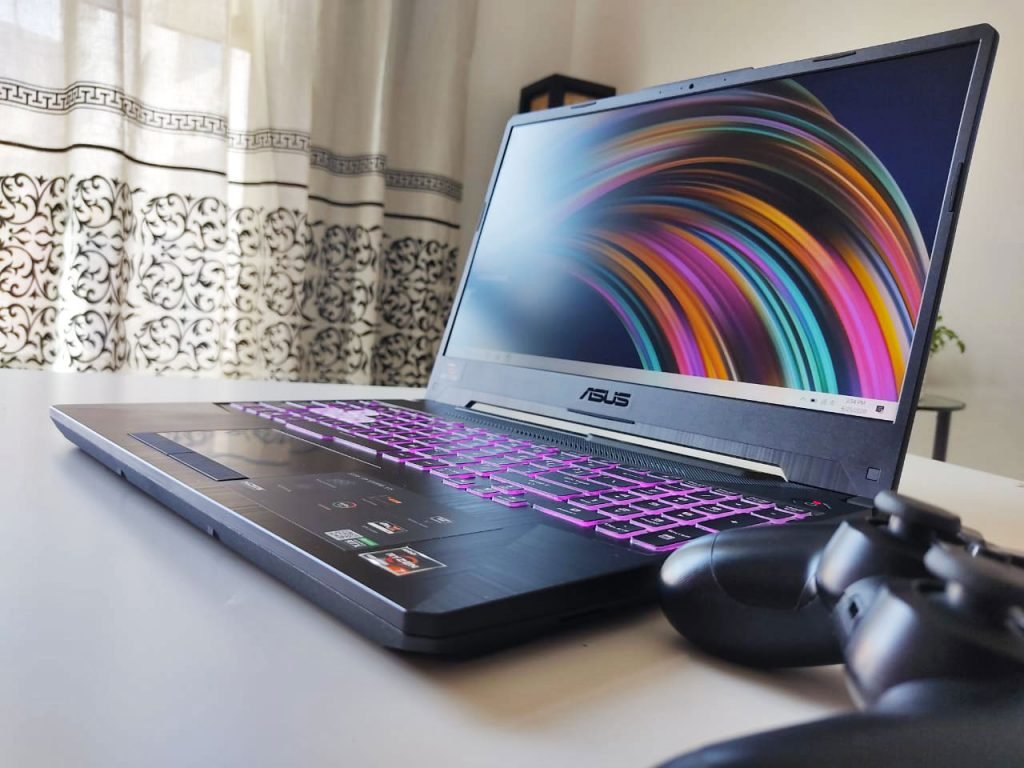 The FA506 comes with 16GB DDR4 memory clocked at 3200 MHz, Nvidia GeForce RTX 2060 GPU with 6 GB GDDR6 memory and a 1TB SSD for storage. The display is a 15.6-inch screen with a FHD resolution of 1920×1080 IPS panel with a refresh rate of 144 Hz.
The new TUF FA506 is also smaller, sleeker and more portable than its predecessors.
This is our first time reviewing a laptop with the Ryzen 4000 Renoir. Read more to find out what else the TUF FA506 can do.
Specifications
CPU
AMD Ryzen 7 4800H @ 2.3 GHz (up to 4.2 GHz Boost), 8C/16T, 7nm
RAM
16GB (2 x 8GB) 3200 MHz DDR4
2x SO-DIMM socket for expansion, total up to 32 GB SDRAM, Dual-channel
GPU
AMD Radeon Vega 7 + Nvidia GeForce RTX 2060 6 GB GDDR6
Storage
1TB PCIe Gen3 SSD
Display
15.6″ (16:9) LED-backlit FHD (1920×1080) 144Hz Anti-Glare IPS-level Panel
Ports
1 x COMBO audio jack
2 x Type-A USB 3.2 (Gen 1)
1 x Type-C USB 3.2 (Gen 2) with display supportDP1.4
1 x Type-A USB2.0
1 x RJ45 LAN jack for LAN insert
1 x HDMI, HDMI support 2.0b
1 x AC adapter plug
Kensington Lock
Connectivity
Integrated Wi-Fi 5 (802.11 ac (2×2)
Bluetooth® 5.0
Camera
Webcam HD 720p
Audio
DTS:X® Ultra
2x speakers
1x 3.5mm combo audio jack
Battery
48 Wh 3-cell lithium-polymer battery
230W power adapter
The model we received for this review is the ASUS TUF FA506IV
Packaging
The laptop comes in a brown cardboard box with a carry handle and the TUF gaming logo on the front. Inside, the laptop and the accessories are protected by cardboard compartments. In the box you will find: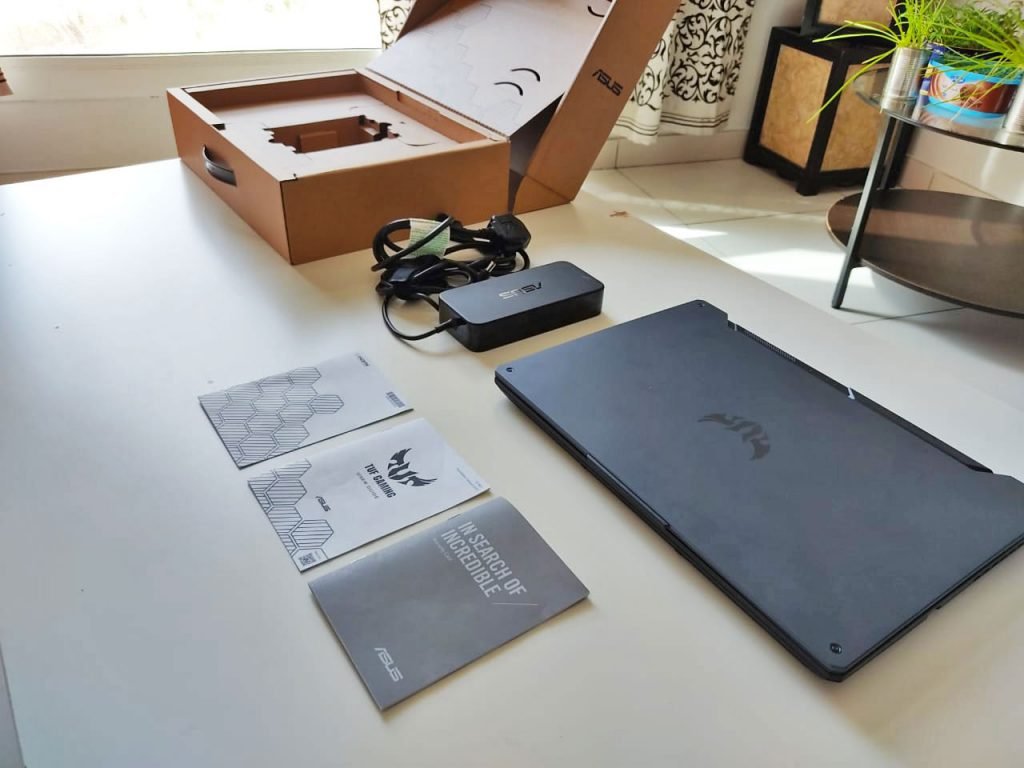 The ASUS TUF Gaming A15 laptop itself
230W power brick
Power cable
TUF Gaming backpack
User guide and warranty
Design & Build Quality
The FA506 comes in two color variants: Fortress Gray and Bonfire Black. Our model is the Fortress Gray.
With dimensions of 359.8 x 256 x 22.8 ~ 24.7 mm and a weight of 2.3 kg (battery included), it is relatively compact and makes it convenient to carry around with you. The ASUS FA506 also undergoes MIL-STD-810H tests, a military-grade durability certification, that guarantees it reliable and durable against drops, vibrations and extreme weather.
The FA506 has an industrial design and looks quite pleasing, it does not have any over-the-top design features like most gaming laptops. Most of laptop frame is made of metalized plastic, except the lid which is made of aluminum, and is completely painted black.
At the back, the ASUS TUF has a formidable look thanks to the red radiator grille which blends well with the overall design.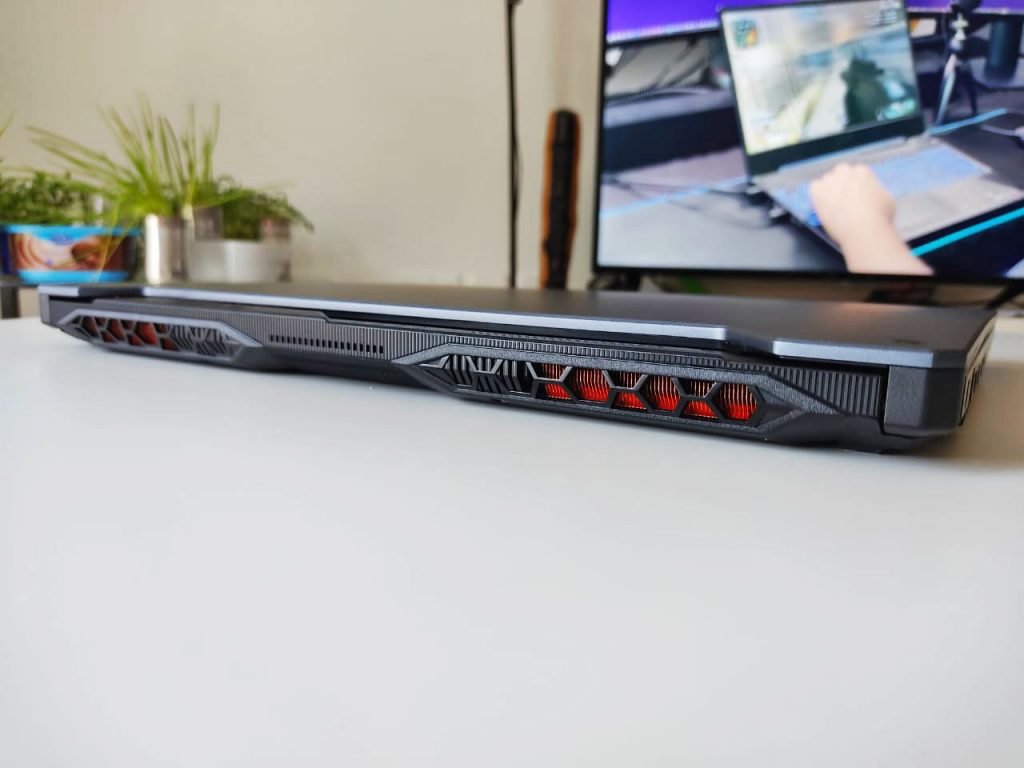 The build quality is really good except for the lid, which is quite easy to twist. The side frames of the display are narrow (only 7 mm). The display hinges reliably hold it in position and the laptop can be opened with one hand.
The base of the laptop has 4 non-slip rubber feet at each corner to anchor them on a desk. The notebook is well-built and quite stiff, it does not seem delicate.
Ports
The TUF FA506 offers a good number of ports and connectors except for a card reader.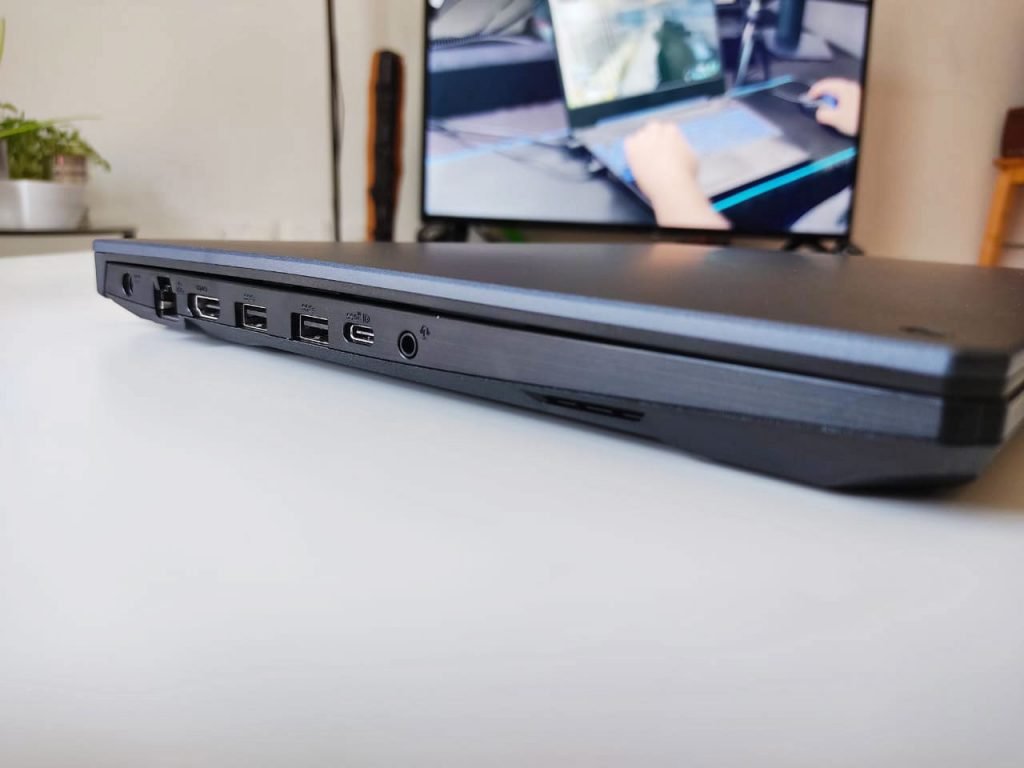 On the left side are Ethernet, HDMI, two USB 3.2 Gen1 Type-A and one USB 3.2 Gen2 Type-C port. The Type-C is combined with DisplayPort 1.4 and you can use it to connect an external monitor with G-Sync support. There also a separate combined audio jack for a headset or mic.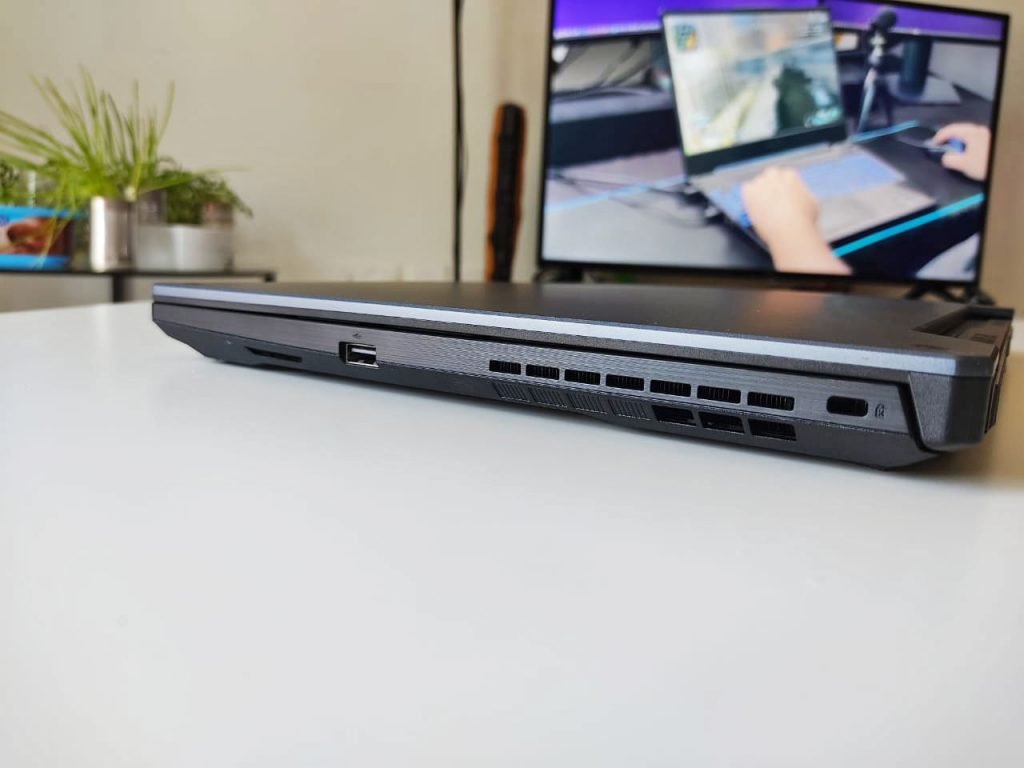 On the right is one USB 2.0 port and a Kensington lock slot. The remaining area is occupied by air vents.
Display
The display is 15.6-inch Full HD IPS panel with a 144 Hz refresh rate and adaptive-sync. This provides a smooth, clear picture without frame breaks. With adaptive sync, the display's refresh rate synchronizes with the GPU's frame rate to reduce lag, minimize stuttering and eliminate visual tearing for ultra-smooth and immersive gameplay. If you are coming from 60Hz displays, the difference is going to be tremendous.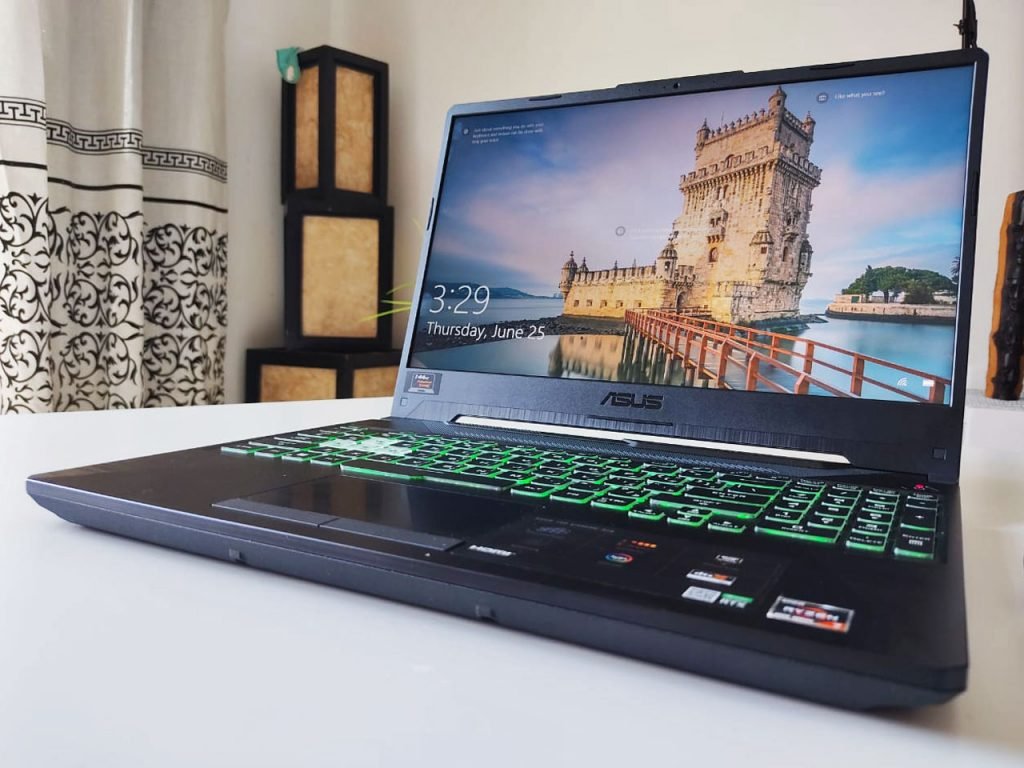 On the top bezel is the webcam and built-in microphones and the ASUS TUF logo on the bottom bezel. The screen has a matte surface with anti-glare coating and the viewing angles are good both vertically and horizontally.
While the display is great for gaming and movies, if you professionally work with graphics or video content, then this is not the best screen. With a maximum brightness of 280 nits and a contrast ration of around 1300:1, the display is bright enough for indoor viewing but rather difficult in bright outdoor environments. Also, the display does not support HDR content.
Keyboard & Trackpad
Keyboard
The TUF FA506 has a full-size, single-zone RGB, chiclet keyboard complete with numpad, air vents right above it and a trackpad below. The power button is separated from the keyboard to avoid accidental clicks. The keyboard design is really good and it's also worth noting the brushed metal finish here, giving it a sleek look.
You can easily switch through the illumination modes through the arrow keys. There are several modes to choose from, the ability to adjust the intensity and turn it off.
The WASD game buttons are highlighted separately. All keys are black except the WASD block, which is transparent and it glows more stronger when the backlight is on. The RGB lighting automatically turns off when you stop using it and looking quite striking when it turns on upon press any key.
The keyboard is pretty good and feels great while typing, the only complaint we have is that the arrow keys are too small. In addition, ASUS promises a durability of 20 million keystrokes.
While most of the keys while typing are almost silent, the larger ones (space, enter) do make an audible click when typing.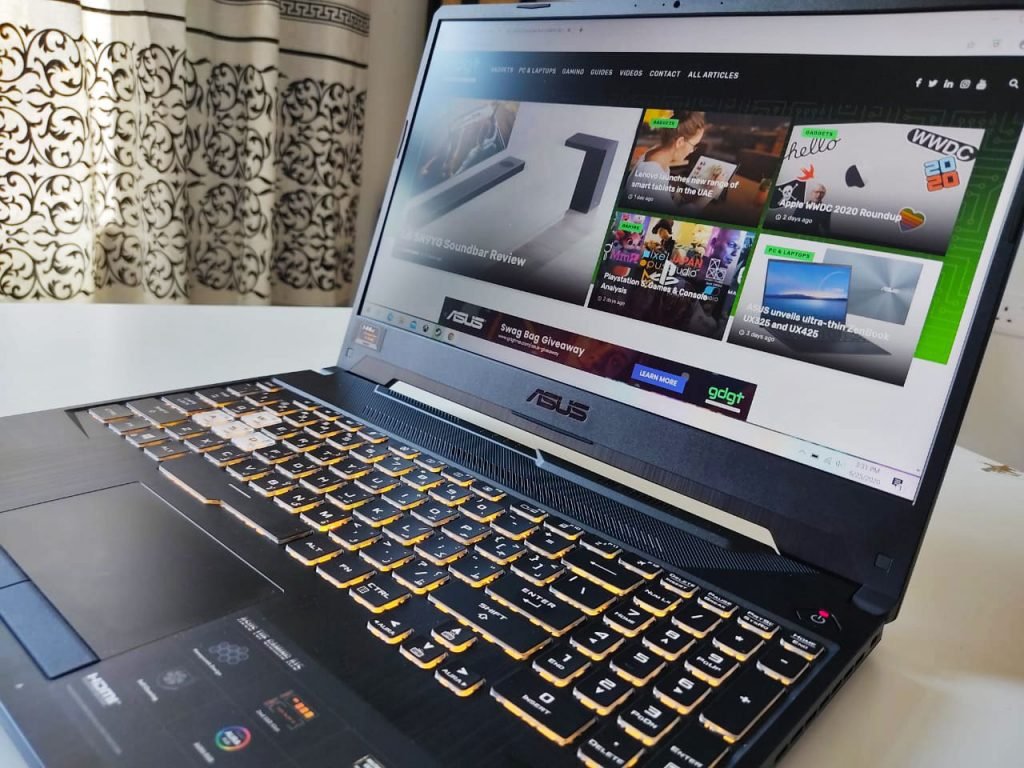 Touchpad
The ASUS TUF FA506 is equipped with a dedicated touchpad, and unlike most modern laptops, the touchpad buttons are placed in a separate block at the bottom.. Using the touchpad is accurate and convenient. It easily recognizes touch and gestures, while the buttons have a deep and even stroke feedback.
The touchpad can be turned off completely so that when playing with a connected mouse, it does not cause false clicks. The touch pad is large enough for normal use. The cursor moves clearly and I did not experience any difficulties with input. Multi-touch gestures are recognized and handled properly.
Software: Armoury Crate
The Armoury Crate app helps with controlling the fan speed in terms of CPU and GPU performance by switching through different power profiles and monitoring the system status. The app is also available on Android & iOS to remotely control these settings via your smartphone.
When plugged into a power source, the performance mode is automatically switched on and energy-saving silent mode on battery. There is also a turbo mode with increased fan speed and slight overclocking.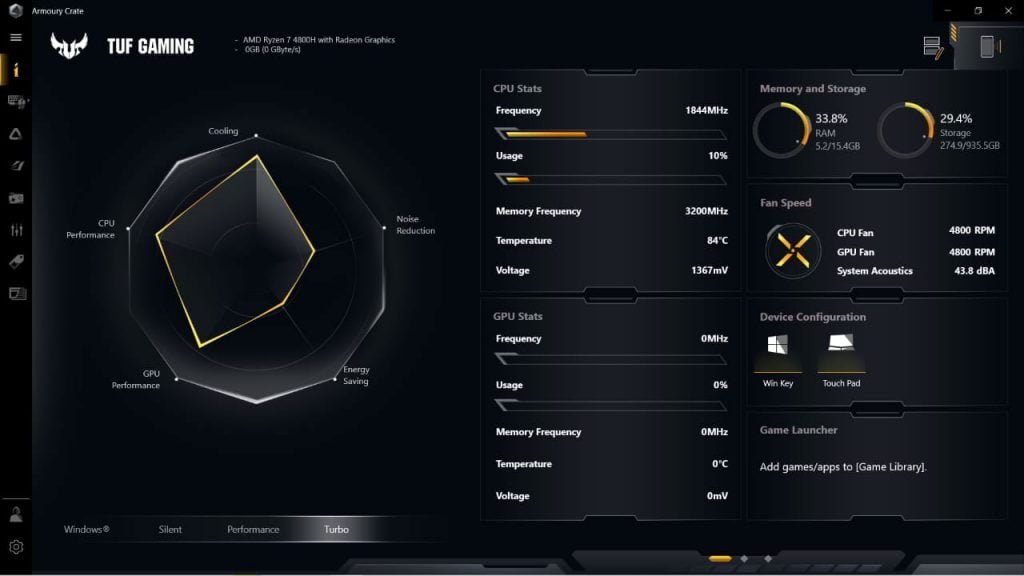 Armoury Crate also provides the ability to create custom performance profiles for individual applications and scenarios. Four pre-defined profiles are available by default; Windows, Silent, Performance, and Turbo. The app also contains settings for the RGB keyboard backlights.
Armoury Crate unifies system and lighting controls to put essential settings in a single utility app. Its customization options let you personalize aesthetic effects, fine-tune game profiles, and adjust audio settings to fit your preferences. With Scenario Profiles, you can define and custom preferences that automatically adjust performance and other settings when you launch your favorite apps and games.
Performance
The biggest disadvantage of AMD chips was the single-threaded performance being lower than Intel processors. This has improved significantly with the newer Renior lineup of processors. The Ryzen 7 4800H not only catches up with the competition, but also often gets better results in single-threaded applications. However, Ryzen shows it's true power in multi-threaded tasks.
CPU, GPU & RAM
First up, let's take a look at the CPU-Z for the processor details:
AMD Ryzen 7 4800H has 8 cores and 16 threads, 8 MB of L3 cache and a frequency of 2.9 GHz that goes up to 4.2 GHz and a TDP of 45W.
The new processor from AMD is able to perform its best in multi-threaded tasks and applications. Single-core performance compared to the previous generation of chips has improved significantly and as a result, The Ryzen 7 4800H is on par with Intel Core i7-9750H.
The Ryzen 7 4800H APU is also equipped with an integrated GPU, but in this review, we focus on the much more powerful and dedicated GeForce RTX 2060 card with 6 GB of GDDR6 memory.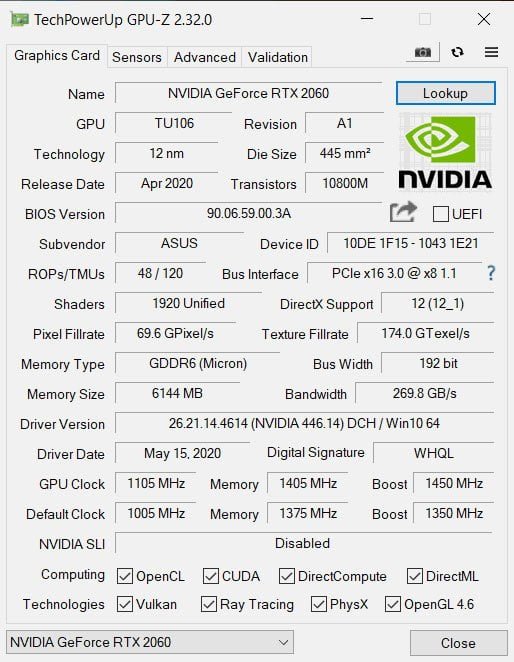 GPU-Z shows us that the RTX 2060 graphics card is based on the same TU106 core as the desktop model, it has 1920 Shader Units and a default clock frequency of 1005/1375 MHz, as well as 6 GB of GDDR6 memory.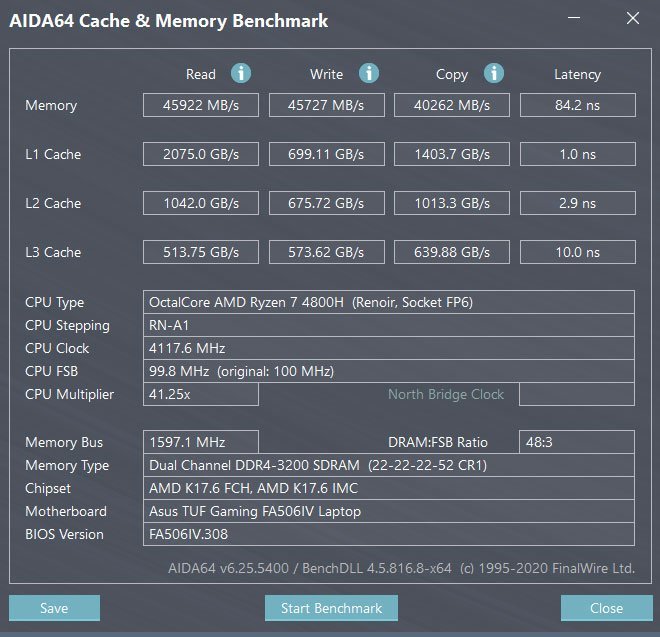 Thanks to the AIDA64 memory test we can see how the 3200 MHz dual-channel memory configuration has a read-write-copy rate of around 40-46 GB/s.
Benchmarks
In Cinebench R20 tests, the Ryzen 7 4800H's advantage over the competition is evident. Even when we loop the test, the results are very stable which means there are no problems in throttling.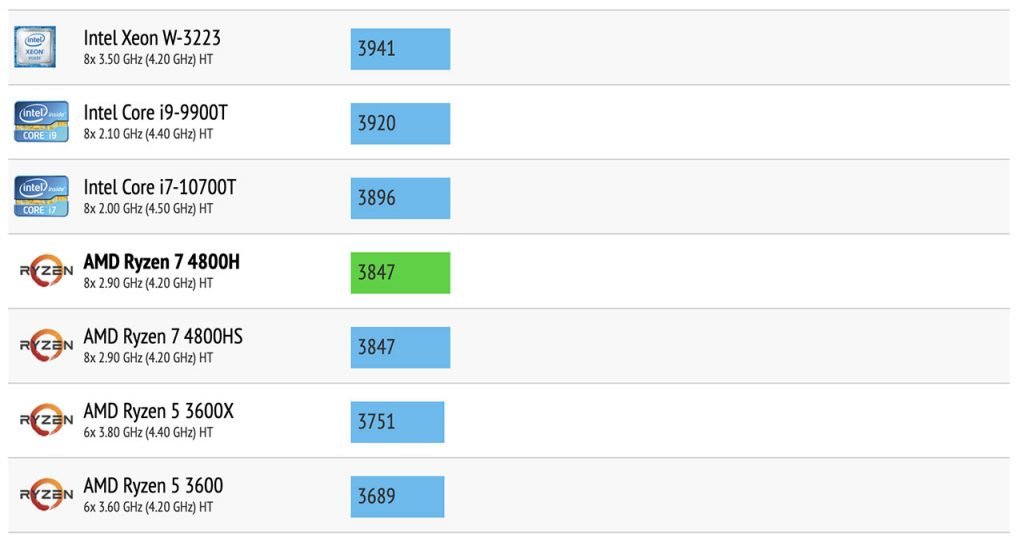 Cinebench R20 – Single Core: 472
Cinebench R20 – Multi Core: 3,847
On PCMark Benchmark, The TUF FA506 scored 5,376.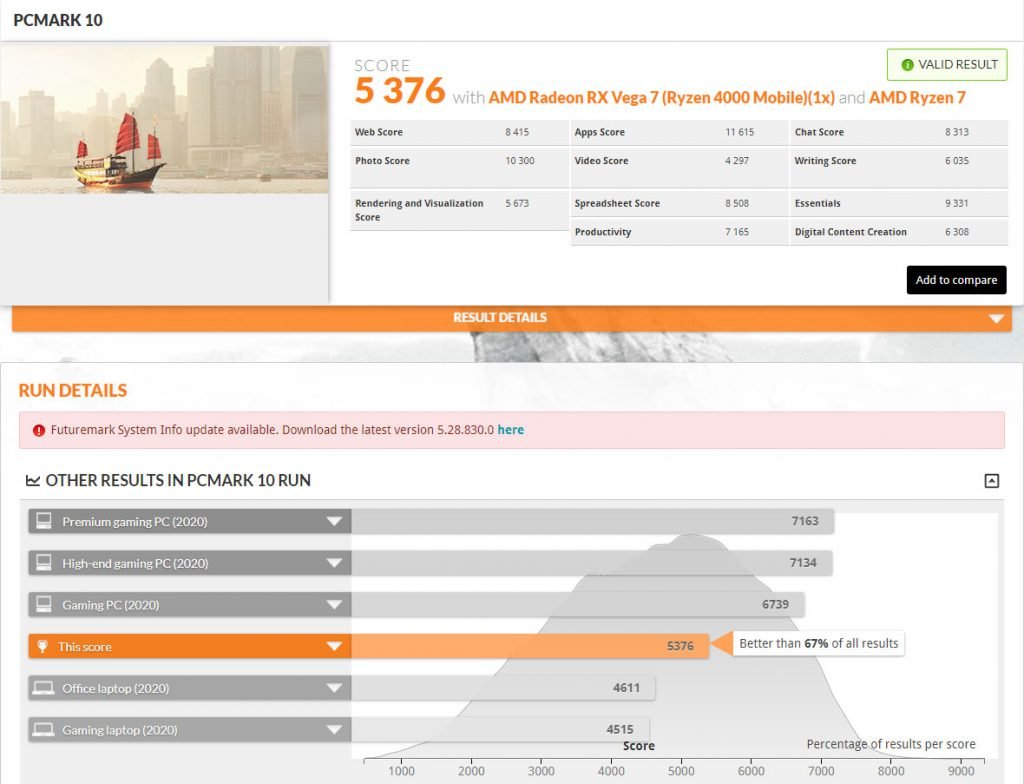 Next up, we have 3DMark benchmarks:
3DMark – Time Spy: 6,506
3DMark – Fire Strike: 15,324
3DMark – Sky Diver: 33,095
Gaming
Nvidia GeForce RTX 2060 in combination with AMD Ryzen 7 4800H provides a good gaming experience with FHD resolution at maximum quality settings in most games. Below are the benchmark results from a couple of games, unfortunately we have no comparison to previously tested notebooks. With that said, the FA506 can run all modern games easily at least 60-80FPS on very high to ultra settings. However, if you need to make the most out of the 144 Hz display, you will need to turn down some of the graphic settings.
Far Cry 5 – 84 FPS AVG
Shadow of the Tomb Raider – 74 FPS AVG
Just Cause 4 – 83 FPS AVG
AC: Odyssey – 46 FPS AVG
Witcher 3 – 56 FPS AVG
Doom Eternal – 112 FPS AVG
There is a slight increase in performance in Turbo mode, the difference is about 4-8% in most cases when compared with Performance mode. When it comes to gaming while on battery power, performance drops to 30-40 frames per second.
Storage
Storage is handled by a M.2 NVMe SSD manufactured by Intel with a capacity of 1 TB that offers good performance, and can be expanded further with another M.2 SSD and/or a 2.5-inch SATA III drive.
Temperature & Noise
Temperatures are stable even after prolonged use and the laptop, as a whole, does not overheat. Unfortunately, there is a lot of noise when running CPU or GPU intensive tasks or apps.
In most cases it is either fully quiet or very loud. In the silent mode, it's only a slight noise, which is not bothersome and you can comfortably browse the web or do some casual work. In turbo mode, when the CPU is on load, it's the opposite – the noise increases noticeably. Add GPU intensive tasks and the noise increases much higher. Although this also not unusual when it comes to gaming laptops, it's a bit irritating that it's either completely quiet or very loud.
During less demanding tasks, the laptop's plastic case, keyboard and palm rest remain cool. Only the central area of ​​the bottom panel is slightly warmer. Unfortunately, the situation is different when gaming. Although the keyboard and the area below the keyboard remain relatively cool, the middle and upper areas are already noticeably warmer. The bottom of the casing heats up even more which prevents using the laptop comfortably on your lap.
ASUS let you overclock a bit in Turbo-mode. It's activated through the Armory Crate app or through switching through modes using the F5 button on the keyboard. Turbo mode switches fans to a higher speed with a slight increase in the GPU frequency.
Upgradability
It is worth praising ASUS for including the additional SSD bay and removable RAM modules for expansion. You can easily remove the screws at the bottom of the chassis with a standard screwdriver to add in an additional M.2 SSDs and/or upgrade the RAM modules for up to 32GB of RAM.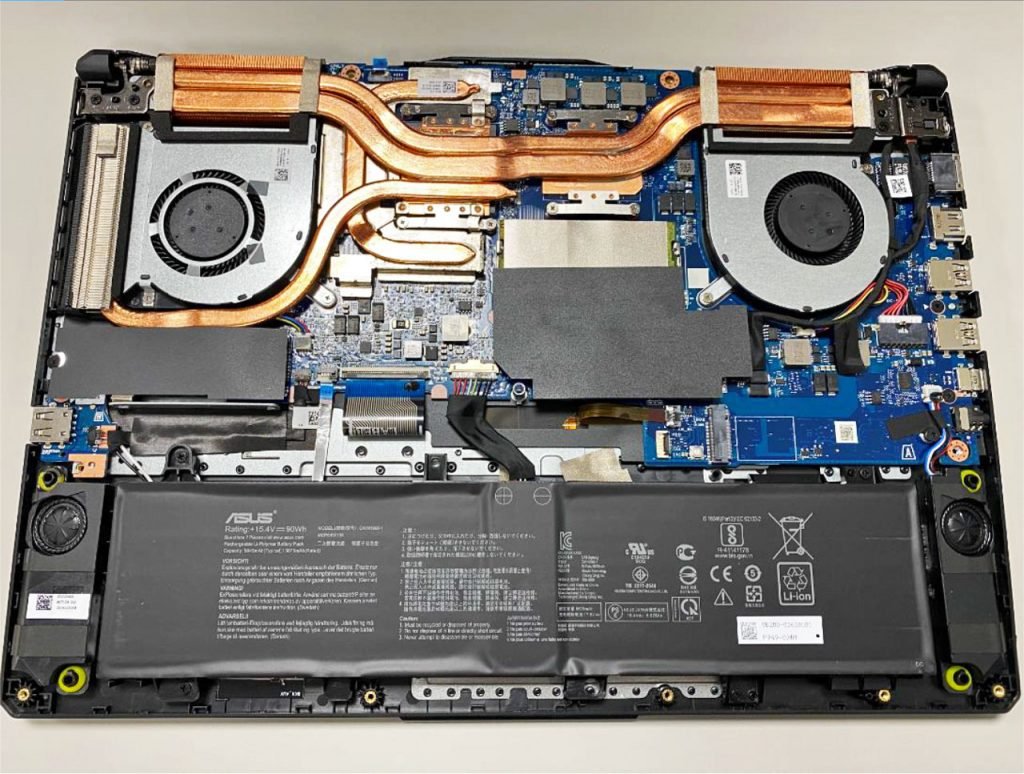 You can add up to three storage drives: in addition to two M.2 slots, there is a bay for a 2.5-inch drive. If you are looking for a good desktop replacement with lots of data storage, this is a very interesting option.
Audio
The ASUS TUF FA506 has 2W stereo speakers located on both sides of the laptop at the front, the sound is reasonably good, loud and clear. For better audio quality, there is also a headphone output that is powered by DTS: X Ultra technology which delivers high-fidelity 7.1-channel virtual surround sound for theater-quality audio with stereo headsets.
There are multiple preset modes for music, movies, and games to optimize your experience further, while a built-in equalizer lets you fine-tune your settings.
Battery
The ASUS FA506 has a 48Wh 3-cell lithium-polymer battery, which was enough for about 4 hours of casual usage (web browsing, text editing and some music) at 50% brightness.
We were able watch a Full HD video for almost 3 hours with Wi-Fi on and brightness set to 50%. However, gameplay time is poor compared to the competition. In this case, we managed to get about 50 minutes of play time on balanced mode.
Web browsing test (50% screen brightness) – 3h 25 minutes
Video test (50% screen brightness, Wi-Fi on) – 2h 50 minutes
Gameplay Test (screen brightness at 50%, Wi-Fi off, Just Cause 4) – 50 minutes
Charging the battery back from 0% to 100% takes about 1 hour 20 minutes. For longer usage time, we recommend the 90Wh variant which sacrifices the additional 2.5-inch drive bay for a bigger battery.
Summary
The Asus TUF FA506 is a good gaming laptop with great hardware at a fair price. With the latest AMD Ryzen 7 4800H processor on board which outperforms most Intel chips in its range, an updated display panel and various other improvements compared to the previous generation, the TUF FA506 gaming laptop may well be the best value for money for the coming months.
The Nvidia RTX 2060 allows you to comfortably play all modern games at Full HD in high to ultra settings without breaking a sweat. The display on the laptop is pretty good too, excellent contrast-ratio and high refresh rate of 144 Hz will delight esports and competitive multiplayer gamers.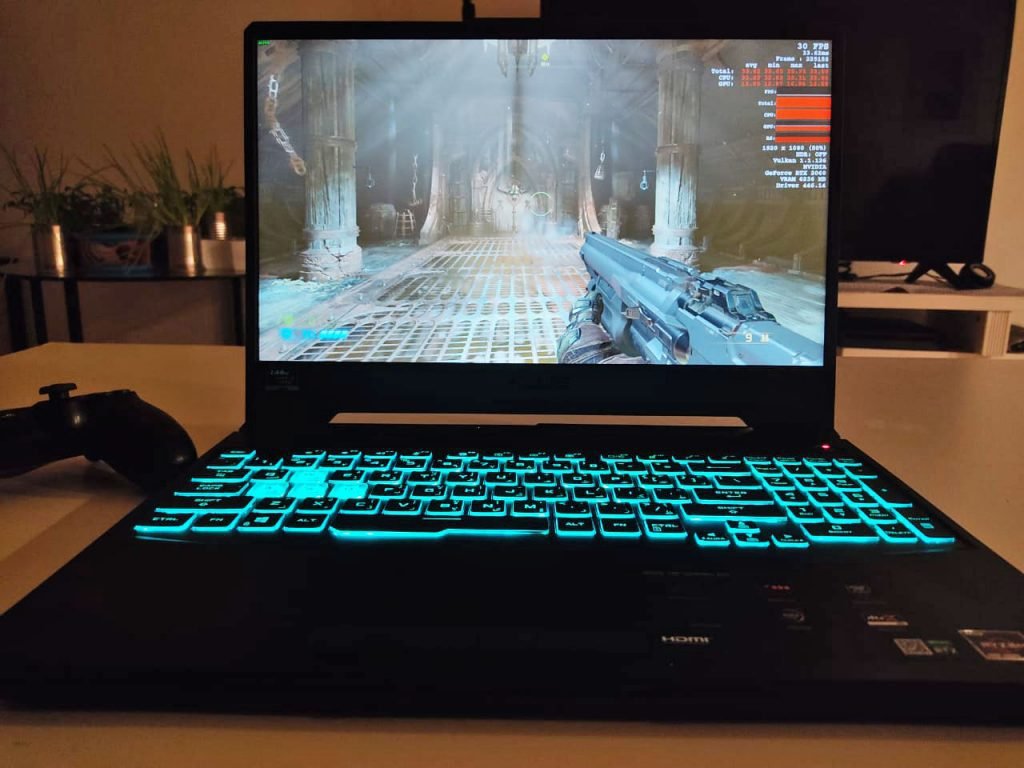 In terms of performance, we have zero complaints. While most other laptops with such a price tag have six-core processors at the moment, you simply will not find one with 8 cores apart from the TUF FA506. This is one of the most powerful processors we'll find in a laptop at this price level, leaving competitive Intel units far behind both in terms of performance and energy efficiency.
Thanks to its reduced bezels and weight of 2.3 kg (battery included), the TUF FA506 is a relatively compact and extremely portable to carry around with you, something quite remarkable considering the hardware inside. Equally noteworthy is its 1TB SSD, its 16 GB of 3200 MHz DDR4 memory, as well as the ability to expand its RAM and storage.
Although the new FA506 has a lot of advantages, it is obviously not without its flaws. However, these are only a few. One of the main issues is the processor overheating during extended load and the resulting reduction in clock speed. Another disadvantage as with most gaming laptops is the loud cooling system.
Hope you liked our review of the FA506. Please do let us know your opinions, suggestions and feedback in the comments.