The Asus ProArt X670E-Creator Wi-Fi caters to creators of all levels, offering dual 40 Gbps USB 4 ports, rapid 10 Gb networking, strong power delivery for AMD Ryzen 7000 CPUs, four SATA ports, and four M.2 sockets for lightning-fast storage.
With three PCIe slots, four SATA ports, and M.2 sockets featuring screwless M.2 Q-latches, it suits users who prefer M.2 storage. The 10 GbE port provides speedy access for LAN-attached storage, and the 40 Gbps ports can double as video outputs for USB4/Thunderbolt devices.
For audiophiles, it features a flagship-class codec, ensuring high fidelity. In summary, it's a versatile, high-performance solution for creators.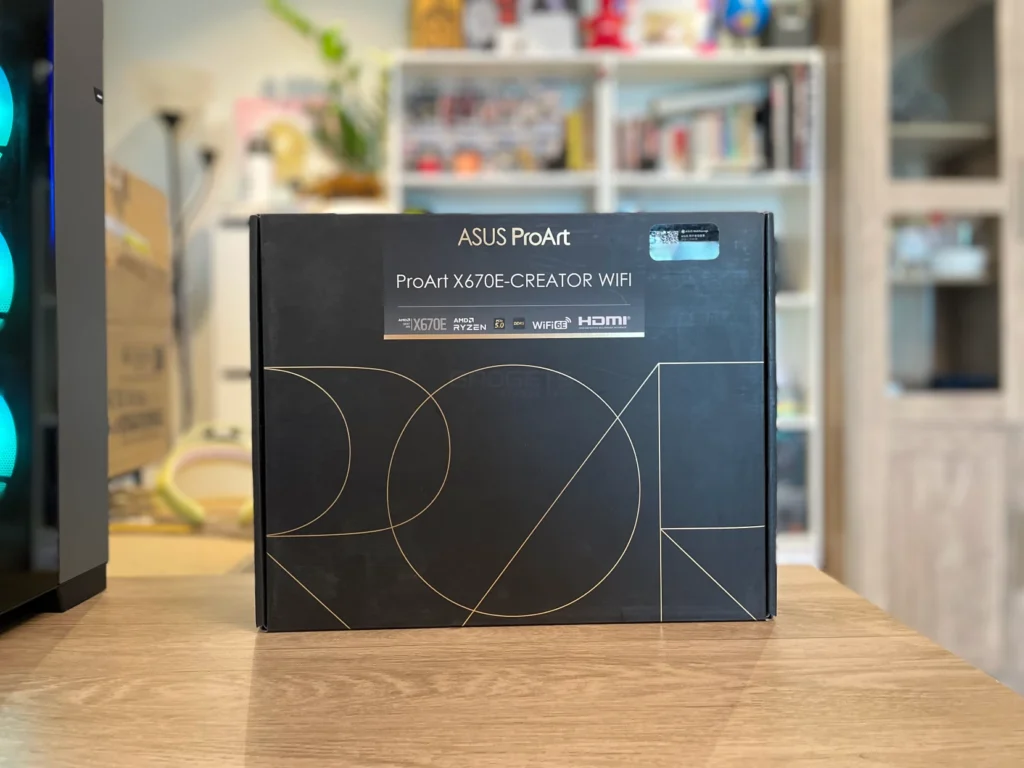 Packaging
The Asus ProArt X670E-Creator comes in a ProArt branded packaging and comes with the following accessories:
Asus ProArt X670E-Creator Wi-Fi motherboard
1 x DisplayPort cable
4 x SATA 6Gb/s cables
1 x ASUS Wi-Fi moving antennas
1 x Q-connector
1 x M.2 Q-Latch package for M.2 backplate
2 x Rubber Packages for M.2
1 x Rubber Package for M.2 backplate
1 x Screw packages for M.2 SSD
1 x ProArt ruler
1 x ACC Express Activation Key Card
1 x User guide
View full specifications here.
Design & Features
The ProArt X670E-Creator Wi-Fi is built on a sleek matte-black PCB, featuring heatsinks that flank the power delivery and cover the M.2 sockets and chipset. These heatsinks sport a refined black design with subtle metallic gold accents, lending the motherboard a tasteful and sophisticated look. The ProArt branding is discreetly placed on the translucent I/O cover and the chipset heatsink, along with the "power up your imagination" tagline on the central heatsink/shroud.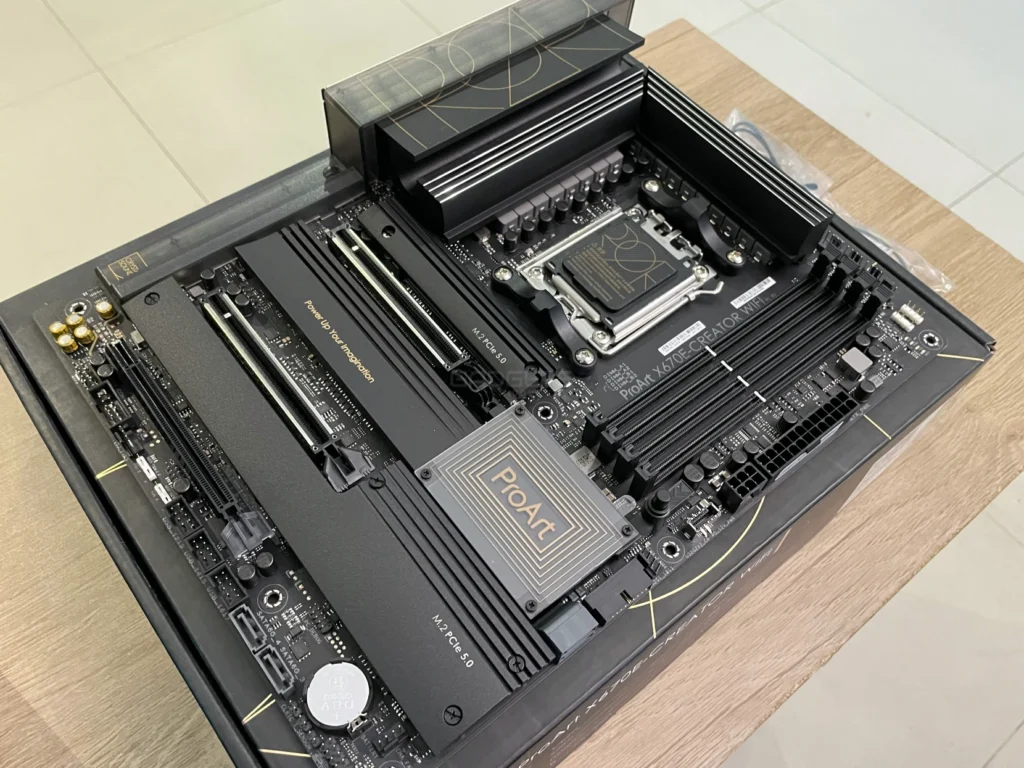 For enthusiasts interested in RGB lighting, this motherboard offers both RGB and ARGB headers (1x and 3x, respectively) for easy connection and control through the Armory Crate and Aura Sync software.
In the top left corner, you'll notice two 8-pin EPS connectors (one is required) to power the CPU, featuring the gold ProArt branding on the transparent I/O cover. The VRM heatsinks, with their substantial mass and surface area, ensure that the power delivery components operate well within specifications, even with high-end processors like the Ryzen 9 7950X.
Directing your attention away from the socket area, you'll find four unbraced memory slots, each equipped with a single locking mechanism. Asus specifies support for up to 128 GB of DDR5 RAM, with listed speeds up to DDR4-6400. However, it's advisable to refer to the QVL list to ensure RAM compatibility, as certain kits may not function correctly.
Above the RAM slots, the motherboard provides three of its seven 4-pin fan headers, including CPU_FAN, CPU_OPT, and AIO_PUMP, all of which support both PWM and DC-controlled devices. Each header delivers an output of up to 1A/12W, and with seven headers in total, you should have sufficient connectivity options. Management of these devices can be done through the Armory Crate or within the BIOS.
Continuing to the right, you'll encounter a CPU Overvolt jumper, allowing users to increase the CPU voltage for more advanced performance. However, it's essential to have sub-ambient cooling solutions in place to fully utilize this feature, as the benefits are most apparent with high-powered processors like our Ryzen 9 7950X.
Around the corner and along the right edge, you'll find the Q-LED feature, which performs component checks during the POST process. If an issue is detected, the corresponding LED (CPU, DRAM, VGA, or Boot) will remain lit, aiding in the identification of the problem area. Further along the edge, you'll discover a 24-pin ATX connector to power the motherboard, as well as an additional 6-pin PCIe connector for 60W charging (PD/QC4+) through the front USB Type-C port (otherwise, it provides 27W). The last feature on this half of the motherboard is the front panel USB 3.2 Gen 2×2 (20 Gbps) connector.
The power delivery system for our X670E-Creator motherboard is configured in a 16+2 setup. Power for the Vcore descends from the EPS connector(s) to the Digi+ VRM controller (ASP2206) and then flows down to the 16x MPS (Monolithic Power Systems) 70A MOSFETs, organized in a Teamed configuration. With a total of 1,120A available for the processor, this motherboard can effortlessly handle flagship-class processors, such as our 16-core/32-thread 7950X. Cooling for the VRMs won't be a limiting factor, even during overclocking.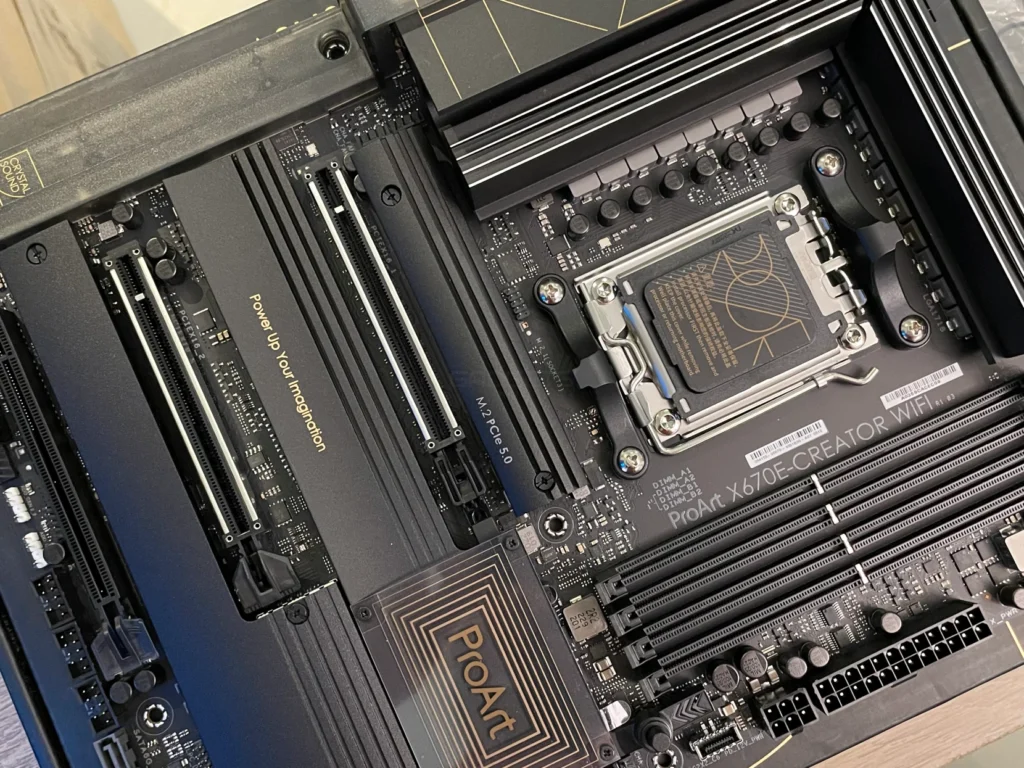 Moving to the lower section of the motherboard, beneath a translucent shroud, you'll find the Realtek ALC S1220A codec. While this codec lacks built-in amplifiers or DACs, it represents a premium option from the previous generation. Audio settings can be controlled using the Realtek software available for download from the Asus website, which is now accessible through the Microsoft Store.
In the center, three full-length PCIe slots are available. The top two slots support PCIe 5.0 and are reinforced to handle heavy graphics cards. The top slot runs at PCIe 5.0 x16, while the middle slot shares CPU bandwidth and operates at PCIe 5.0 x8. When both slots are in use, they run at PCIe 5.0 x8/x8. The bottom full-length slot connects through the chipset and operates at PCIe 4.0 x2, which is typically sufficient for most add-in cards.
Among the PCIe slots, there are four M.2 sockets. The top two, M.2_1 and M.2_2, support PCIe 5.0 x4 (128 Gbps) and are connected through the CPU, while M.2_3 and M.2_4 at the bottom utilize the chipset and operate at PCIe 4.0 x4 (64 Gbps) speeds. All M.2 sockets can accommodate up to 80mm modules, except for M.2_4, which supports up to 110mm devices. The motherboard also supports RAID0/1/10 modes for NVMe to enhance speed and redundancy.
Beyond the chipset heatsink and along the right edge, you'll find two horizontally oriented SATA ports (out of a total of four). The remaining two ports are situated along the bottom edge of the motherboard. If you're interested in RAID configurations for these drives, the motherboard supports RAID0/1/10 modes for added versatility.
The rear I/O section of our Creator board, typical of those in a higher price range, comes with the shroud pre-installed onto the motherboard. The board's clean black design with gold accents extends to the I/O plate. In total, there are 11 USB ports, including two USB 4 (40 Gbps) Type-C ports (also functioning as DisplayPort outputs), one 20 Gbps Type-C port, seven 3.2 Gen 1 (5 Gbps) ports, and a single USB 2.0 port used for the BIOS Flashback feature. Additionally, there are 10 GbE and 2.5 GbE LAN ports and Wi-Fi 6E antenna connections. For video output, there's a DisplayPort INPUT (utilizing the USB 4 Type-C ports) and HDMI output. The audio section foregoes SPDIF/optical and instead employs three 3.5mm analog plugs. Lastly, there's a convenient BIOS Flashback button to initiate a BIOS update without requiring a processor.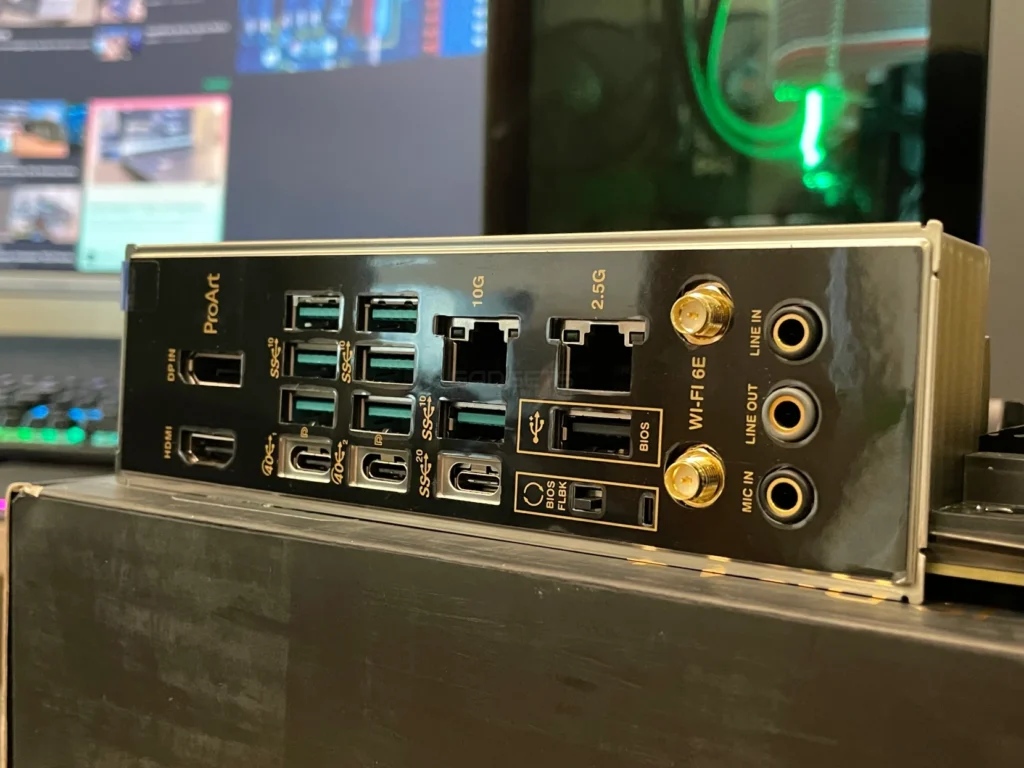 The rear I/O ports include:
2 x USB4 with Intel JHL8540 USB4 controller ports (2 x USB Type-C)
1 x USB 3.2 Gen 2×2 port (1 x USB Type-C)
7 x USB 3.2 Gen 2 ports (7 x Type-A)
1 x USB 2.0 port (1 x Type-A)
1 x DisplayPort (Input only)
1 x HDMI port
1 x Wi-Fi Module
1 x Marvel AQtion 10Gb Ethernet
1 x Intel 2.5Gb Ethernet
3 x Audio jacks
1 x BIOS FlashBack button
The front headers include:
1 x USB 3.2 Gen 2×2 connector (supports USB Type-C with up to 60W PD/QC4+)
1 x USB 3.2 Gen 1 header supports 2 additional USB 3.2 Gen 1 ports
3 x USB 2.0 headers support 6 additional USB 2.0 ports
Conclusion
The Asus ProArt X670E-Creator Wi-Fi stands out as a compelling choice for creators seeking advanced motherboard connectivity in the upper-midrange segment. It offers access to USB 4 (40 Gbps) support and a DisplayPort input, making it an ideal option for those requiring the latest connectivity features.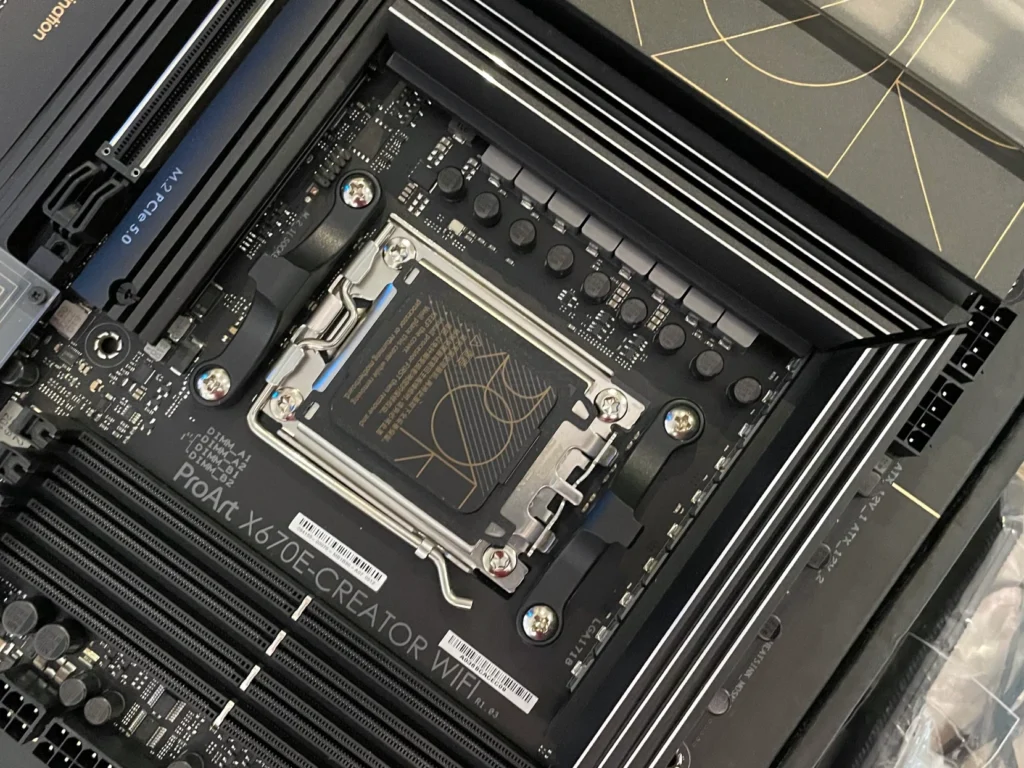 With ample fast storage, including two PCIe 5.0 x4 (128 Gbps) slots and two PCIe 4.0 x4 slots, as well as generous USB connectivity options, it caters to various peripheral needs. Notably, it's one of the most affordable Ryzen 7000 motherboards with a native 10 GbE port, ensuring swift LAN transfers.
However, users with storage requirements exceeding four SATA devices may need to explore expansion card solutions. In the competitive landscape, the ProArt X670E-Creator Wi-Fi offers a balanced feature set at a compelling price point, catering to the demands of creative professionals and users in need of abundant USB ports, high-speed Ethernet, and USB 4 with video pass-through.