The ASUS TUF Gaming Capture Box-4KPRO is a game-changing video capture and streaming device that's tailor-made for today's gamers. It streams and records in stunning 4K at a buttery-smooth 60fps with HDR10, and it handles pass-through resolutions of up to 2160p144, 1440p144, and 1080p240.
If you're a gamer itching to share your skills on platforms like Twitch or YouTube, the Capture Box-4KPRO has your back. It's equipped with variable refresh rate (VRR) passthrough technology, ensuring it plays nicely with the latest consoles and graphics cards, even when frame rates get a little wild.
But that's not all. Thanks to its speedy USB 3.2 Gen2 connection, you can process your video directly through the capture software, eliminating the need for pass-through signals. And for those who love capturing console parties or doing live solo commentary, you can easily connect your headset and controller via two 3.5 mm jacks, delivering crystal-clear audio to your team and audience for an immersive experience.
What's the ASUS TUF Gaming Capture Box-4KPRO all about?
Simply put, it's your bridge between your console and your PC. This little wonder connects your gaming console to your display and PC. You get to play your favorite games while streaming them in 4K at 144fps on platforms like Twitch or YouTube. Plus, you can record your gaming adventures in 4K, 2K, or 1080p directly to your hard drive.
What's really cool is that it has an onboard scaler that's got your back. It automatically syncs up the streaming resolution with your input resolution, taking the hassle out of extra adjustments during setup. It's all about convenience and getting you into the action quickly.
Specifications
| | |
| --- | --- |
| Video Input | HDMI 2.1 |
| Audio Mix Input | 3.5mm headset、 3.5mm Gamepad |
| Max Video Resolution (Passthrough) | 4K144HDR,4K120HDR,2K144HDR,1080p240HDR,1080i60HDR, 720p60HDR,576pHDR,480pHDR |
| Max Video Resolution (Recording) | USB 3.2 Gen2 Type-C 4K60,4K30HDR,2K120,2K60HDR,1080p120HDR,720p120HDR |
| Video Format(Recording) | NV12, YUY2, MJPEG, P010 |
| Dimensions | 10.5 x 8 x 2.1 cm |
| Weight | 161 g / 3.2 oz |
View full specifications here.
Packaging
The ASUS TUF Gaming Capture Box-4KPRO comes in a small TUF branded box with photos and specifications on the sides. The packaging contains: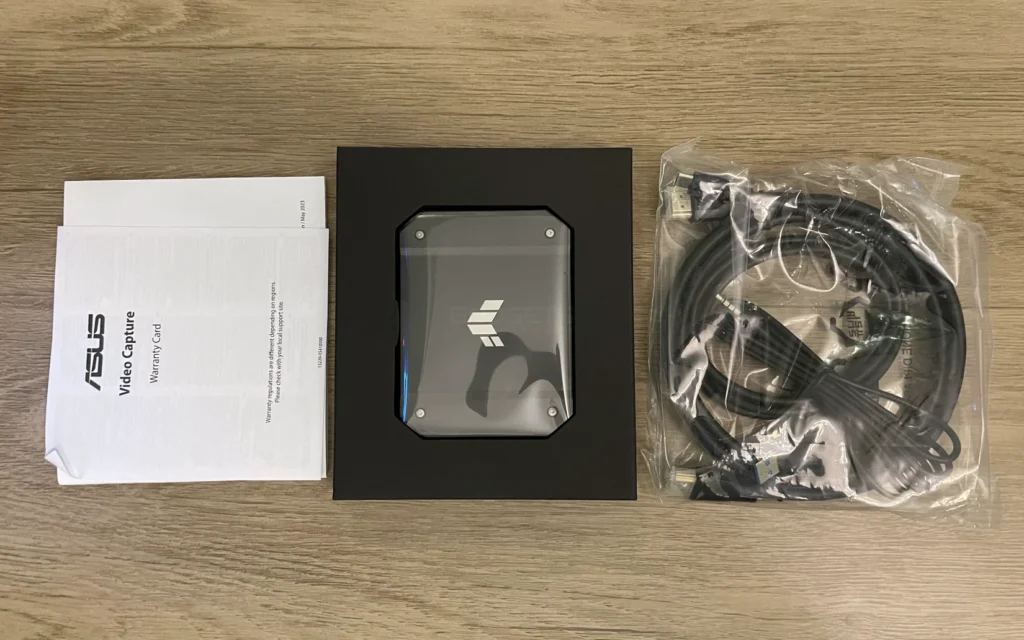 Quick Start Guide
HDMI 2.1 Cable
USB 3.2 Gen 2 Type-C to Type-A Cable
USB Type-A to Type-C Adapter
3.5 mm to 3.5mm Audio Cable
Design
This sleek device is crafted from durable aluminum, sporting a discreet black finish adorned with the TUF logo up top. It's got a minimalist vibe, with compact dimensions measuring 10.5 x 8 x 2.1 cm and weighing in at just 161g, making it incredibly portable.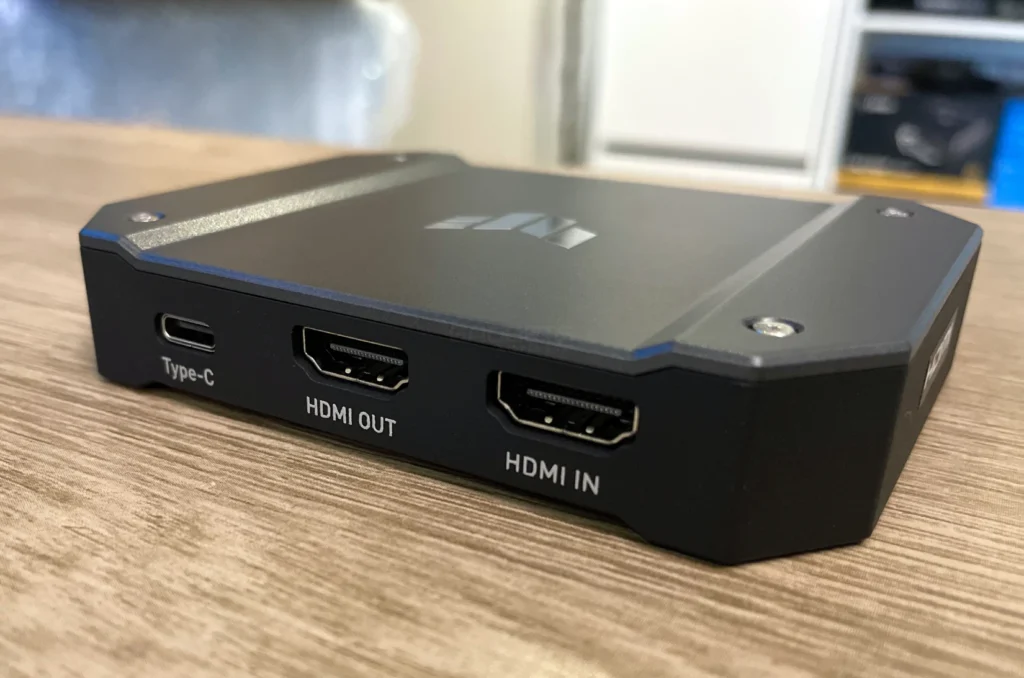 Its flat shape means you can place it practically anywhere you want. Around the back, you'll find HDMI input/output and USB Type-C 3.2 Gen1 ports, keeping your cables tidy. Up front, there are two 3.5mm ports – one for audio passthrough and one for a gamepad. It sits securely thanks to non-slip rubber feet at the base, and there's an LED RGB zone at the bottom to keep you informed about its activity.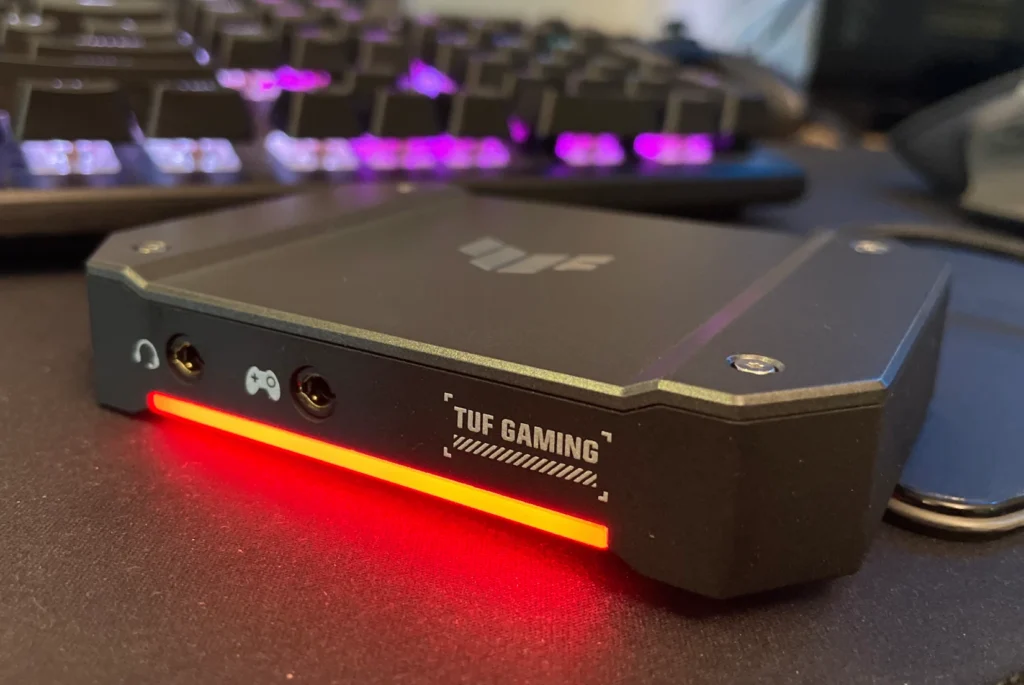 It's compact that it can easily slip into a carry case alongside your console or gaming laptop, and you'll only need a handful of cables to get everything up and running. This little box keeps things simple with just the essential ports, and it doesn't require any fancy software to start doing its magic.
Setup
Now, let's get into the setup of the ASUS TUF Gaming Capture Box-4KPRO. One fantastic feature is that it doesn't need an external power source. It draws power directly from the USB-C port, which adds to its versatility and user-friendliness.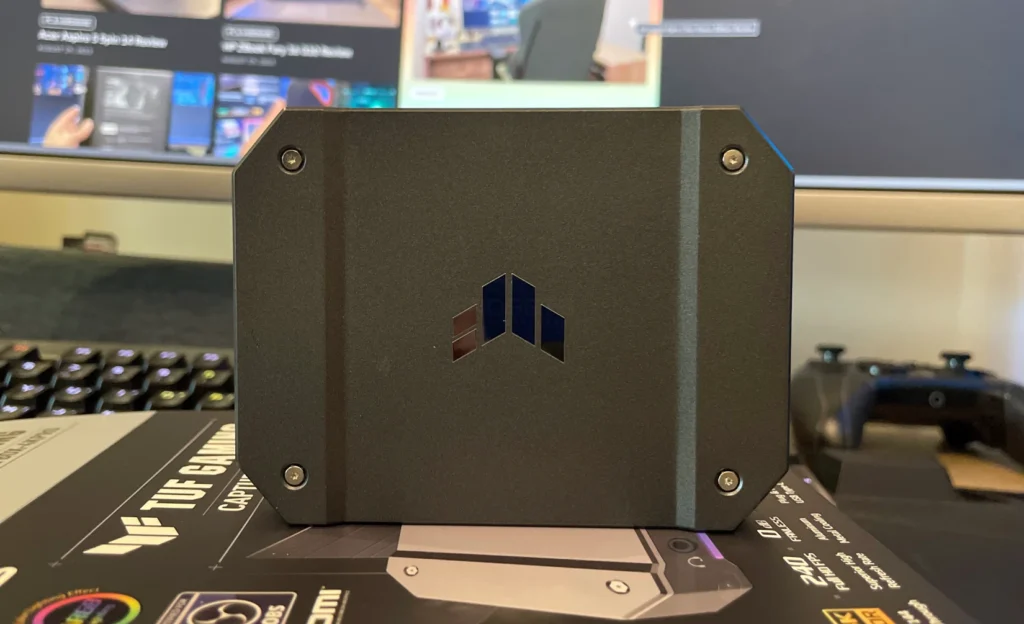 This nifty device lets you record and stream content from various HDMI sources like your gaming console, PC, or camera. You can enjoy smooth 4K60 streaming with HDR10 while still having your display running at a stunning 4K144.
Setting it up is a breeze:
Connect the HDMI cable from your source, like your gaming console, into the HDMI-In port.
Plug in the included HDMI cable from the Capture Box-4KPRO's HDMI Out to your Monitor/TV.
Finally, connect the USB-C cable from the Capture Box-4KPRO's USB Out to your PC/Laptop, and you're good to go.
The magic happens as the Capture Box-4KPRO takes your captured video and sends it over to your connected PC or laptop via its USB 3.0 interface. From there, you can either live-stream your content using software or save it for later editing and content creation.
If you're in a dual-PC setup, don't worry; the process is pretty much the same. Connect the HDMI cable from your gaming PC's GPU out to capture your gameplay and then send this footage to your streaming PC.
Software
Now, let's dive into the software side of things for the Capture Box-4KPRO. The device effortlessly shows up as a video input device in just about any software you throw at it. Whether you're using OBS, Teams, or any webcam-friendly software, it just works.
ASUS also offers its own software, the Video Capture Console, which is a free download. It's a user-friendly option for recording and streaming your gameplay without needing a tech guru's skills. Plus, it's got some neat tricks up its sleeve. You can tweak the lighting effects of your ASUS video capture devices' Addressable RGB (ARGB) elements and take full control of audio settings right from your PC or console. The software even keeps your device up-to-date with software and firmware updates.
And if you're a fan of OBS Studio for streaming, you're in luck. The Capture Box-4KPRO plays nicely with it, ensuring a smooth experience on popular streaming platforms. You might find yourself ditching the Video Capture Console Software in favor of OBS Studio for your streaming and capturing needs.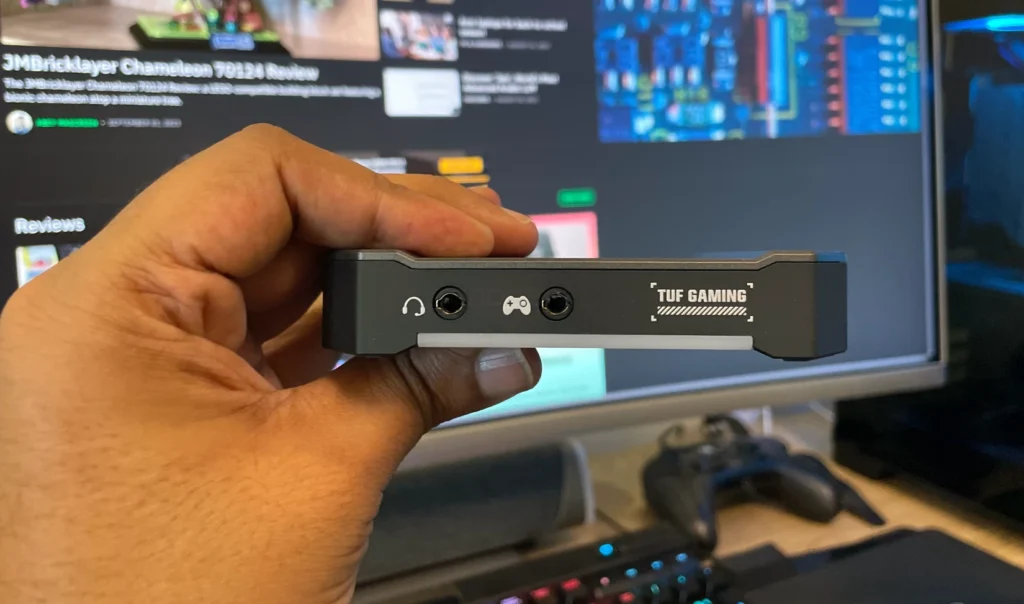 Capture and Streaming Performance
The ASUS TUF Gaming Capture Box-4KPRO handles recording like a champ, supporting 2160p60 HDR10 footage, while seamlessly passing through resolutions of up to 1080p240, 1440p144, or even 2160p120. It's quite the versatile performer.
When it comes to live capture video quality, it's right on par with what you see on your screen. No tearing or weird artifacts to worry about, especially when you're using VRR (Variable Refresh Rate) and your monitor's adaptive sync. Streaming performance is top-notch, consistently delivering high-quality captured video.
You can enjoy your games without any noticeable lags. You can play on your monitor while simultaneously recording or streaming, and it won't skip a beat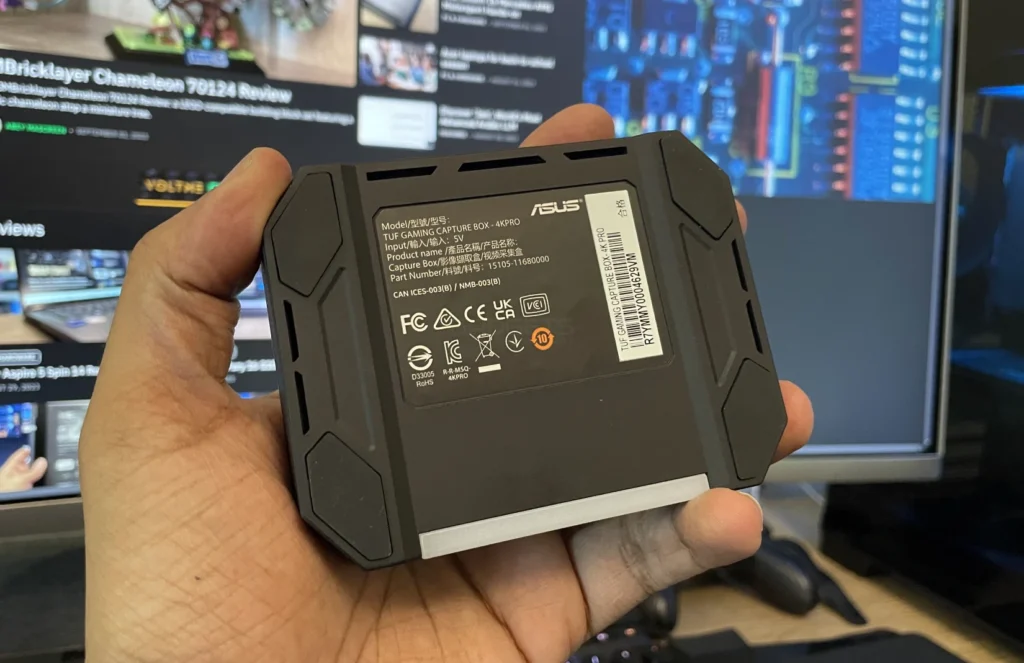 TUF Gaming Capture Box-4KPRO Conclusion
In conclusion, the ASUS TUF Gaming Capture Box-4KPRO proves to be a reliable and versatile companion for gamers and content creators alike. Its ability to handle 4K60 HDR10 recording while smoothly passing through various resolutions demonstrates its flexibility. It adds a whole new level of flexibility and ease to capturing gameplay compared to console-native recording.
Packed with features, this device delivers impressive video and audio quality, catering to gamers and streamers. Its compact design, versatile connectivity options, and seamless compatibility with OBS Studio make it a fantastic addition to your streaming setup. Plus, it's lightweight and doesn't need external power.
The TUF Gaming Capture Box-4KPRO is ready for next-gen gaming with variable refresh rate and high dynamic range support. Whether you're recording at 1080p240, 1440p144, or 2160p60, it keeps things responsive, allowing you to game comfortably while streaming.