The CORSAIR iCUE LC100 kit is a case accent lighting panel to light up your PC case with nine interconnected mini RGB lighting panels, and are configurable in custom layouts. The iCUE LC100 allows you to arrange the lighting in your own custom layout to make your case stand out.
The lighting setup can be extended using the LC100 Expansion Kit (sold separately) to create unqiue lighting configurations for even more intricate designs. Each panel houses nine RGB LEDs and are housed in a sturdy, light-diffusing casing for continuous and smooth lighting effects.
Key Features:
81 RGB LEDs with light diffusion: the starter kit includes 9 triangular RGB panels, each internally illuminated by 9 RGB LEDs that are integrated into a housing designed to diffuse the light
Lighting Node PRO: A controller is included in the starter kit, compatible with the COMMANDER CORE XT and COMMANDER PRO.
Magnetic anchor: Each triangle has a magnetic anchor so you can place them wherever there is a metal piece.
Create 3D designs: Eight connectors and two corner connectors are included to make it easy to create the layout of your choice.
Part of the iCUE ecosystem: LC100 lights are compatible with iCUE, allowing you to quickly and easily set up and create light effects.
Expandable up to 18 panels: 9 panels come in the starter kit, but 9 more can be added (with the expansion kit) allowing up to 18 panels with a single controller.
Specifications
| | |
| --- | --- |
| Control Scheme | RGB Lighting |
| RGB Channels | Two (via Lighting Node PRO) |
| Max RGB devices per controller | Eighteen (requires LC100 Expansion Kit) |
| RGB Strip diffusion | Yes |
| USB connection | Internal female USB 2.0 9-pin (Lighting Node PRO) 3-pin RGB Cable (LC100 Main Triangle) |
| System Requirements | Latest iCUE software, Windows 10 |
| Warranty | 2 years |
Packaging
The packaging comes in a newly designed stylish yellow-black packaging with photos and specifications on the sides. The box is hard and durable and the iCUE LC100 is well protected inside a plastic container to keep it safe during shipping.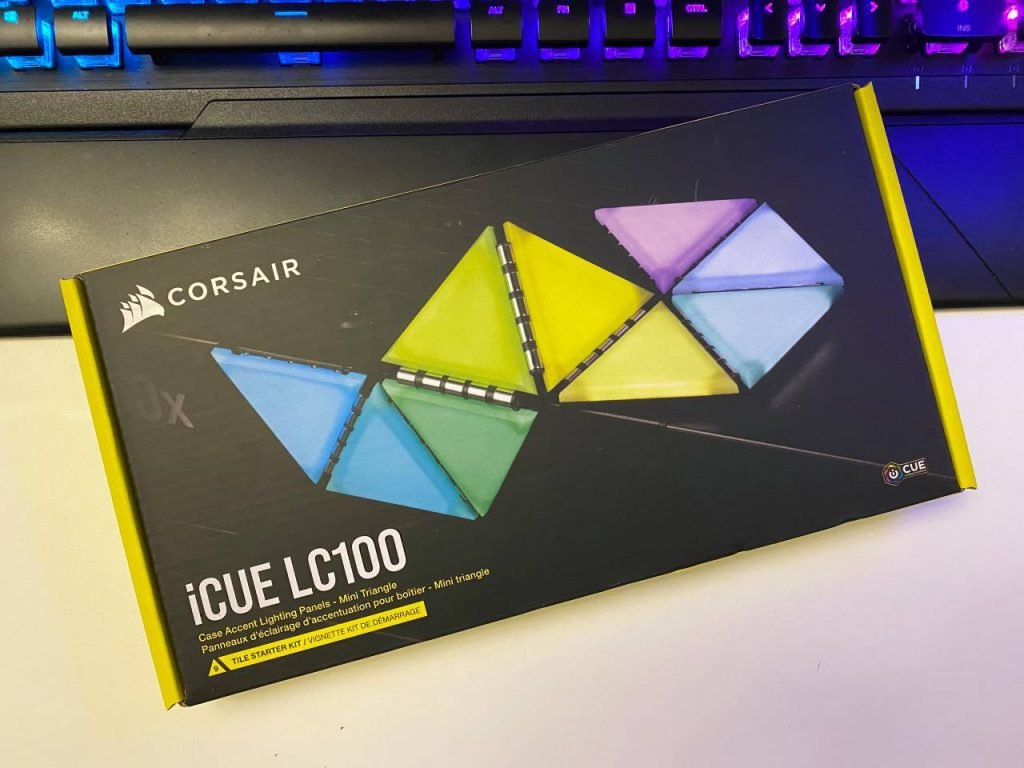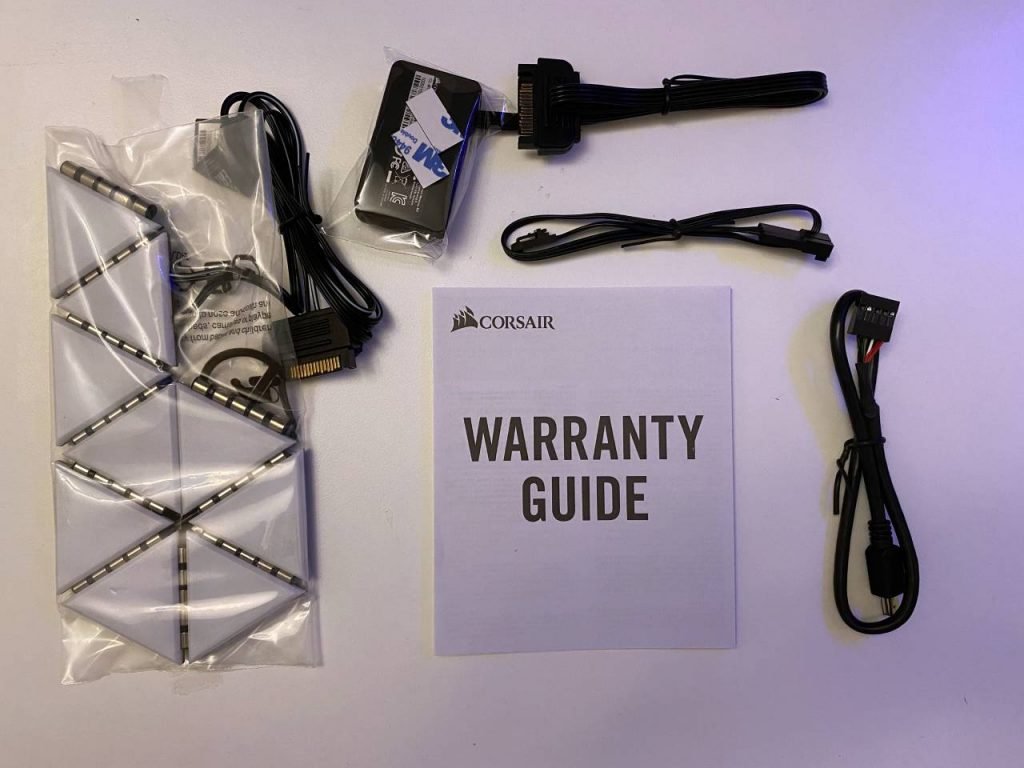 The packaging includes:
1x MASTER LC100 TRIANGLE
8x COMPANION LC100 TRIANGLES
8x 4mm CONNECTION RODS
2x 5.5mm CONNECTION RODS
LIGHTING NODE PRO (INCLUDED WITH LC100 STARTER KIT)
CABLES (INCLUDED WITH LC100 STARTER KIT)
Design
The iCUE LC100 kit consists of nine triangles and the corresponding controller. It can be extended by another nine triangles with the extension kit (sold separately).
Each module has contacts on either side to interlink multiple modules. The connection is made via magnetic rods, which also act as a hinge and adds flexibility. The triangular panels attach to each other magnetically and to any steel surface, making installation and reconfiguring a breeze.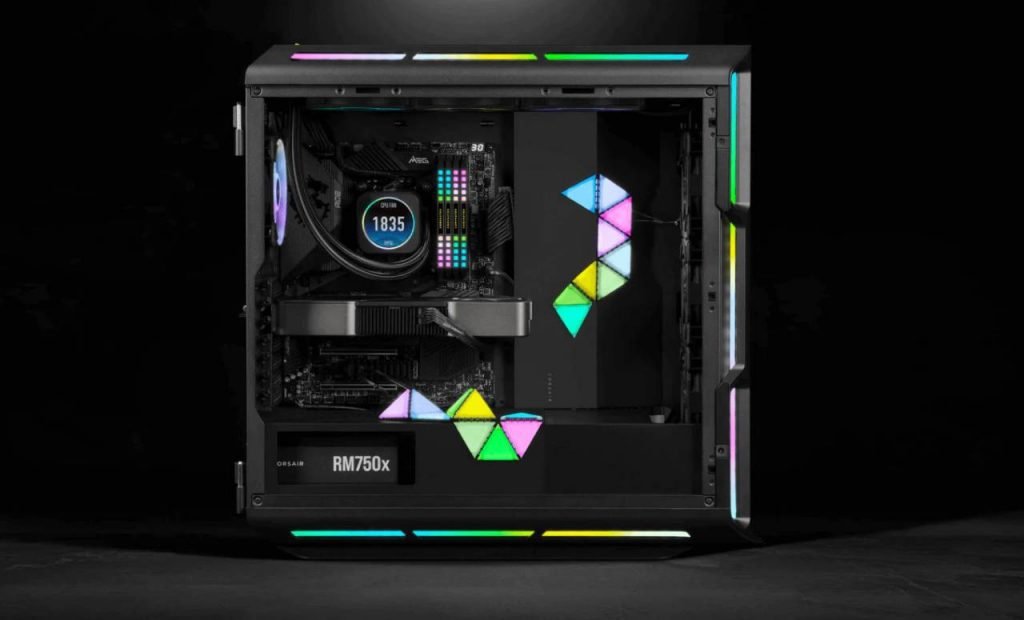 Inside each panel, there are 8 LEDs placed along the surface which, together with the semi-transparent white plastic, makes the lighting spread out constantly without seeing any uneven light on the panel.
iCue Software
Paired with the included Lighting Node PRO Controller, the iCUE software allows you to fully customize and sync your lighting across your PC setup. The app lets you choose the distribution of each of the panels in order to also configure their lighting effects, both custom ones and preconfigured.
Conclusion
The CORSAIR iCUE LC100 can be used to highlight areas of the case that would otherwise be neglected. The simple magnetic connectors make it easy to create impressive layouts and the colors are bright and the evenly lit. For RGB enthusiasts, the LC100s are a nice and creative upgrade to the case. However, the price can be steep for some at $129.99. With a lifetime up to 17,520 hours, the LC100 is also backed by CORSAIR's comprehensive 2-year warranty