The SteelSeries Rival 3 Wireless is the latest addition to the popular Rival series and utilizes the brand-new Quantum 2.0 Dual Wireless technology to provide ultra-low latency wireless connectivity with up to 400+ hours of battery life.
The new mechanical switches promise a durability of 60 million clicks and the Rival 3 Wireless comes with 6 buttons that are configurable via SteelSeries Engine. It also features a new TrueMove sensor developed specifically for precision wireless tracking.
| | |
| --- | --- |
| Sensor | SteelSeries TrueMove Air |
| Sensor Model | Optical |
| CPI | 100–18,000 in 100 CPI Increments |
| IPS | 400, on SteelSeries QcK surfaces |
| Max Acceleration (G) | 40G |
| Polling Rate | 1000Hz / 1 ms |
| Buttons | 6 |
| Switch Lifecycle | Rated for 60 million clicks |
| Connectivity | 2.4GHz / Bluetooth 5.0 |
| Compatibility | Windows, Mac, Xbox, PlayStation 4, PlayStation 5 and Linux. USB port required. |
| Measurements (LXWXH) | 120.60mm x 67.00mm x 37.90mm |
| Weight | 106g (two batteries), 96g (one battery) |
| Software | SteelSeries Engine |
Packaging & Design
The packaging is a white-orange carboard box, standard for most SteelSeries products, with photos and specifications. The box is durable and the mouse is well protected.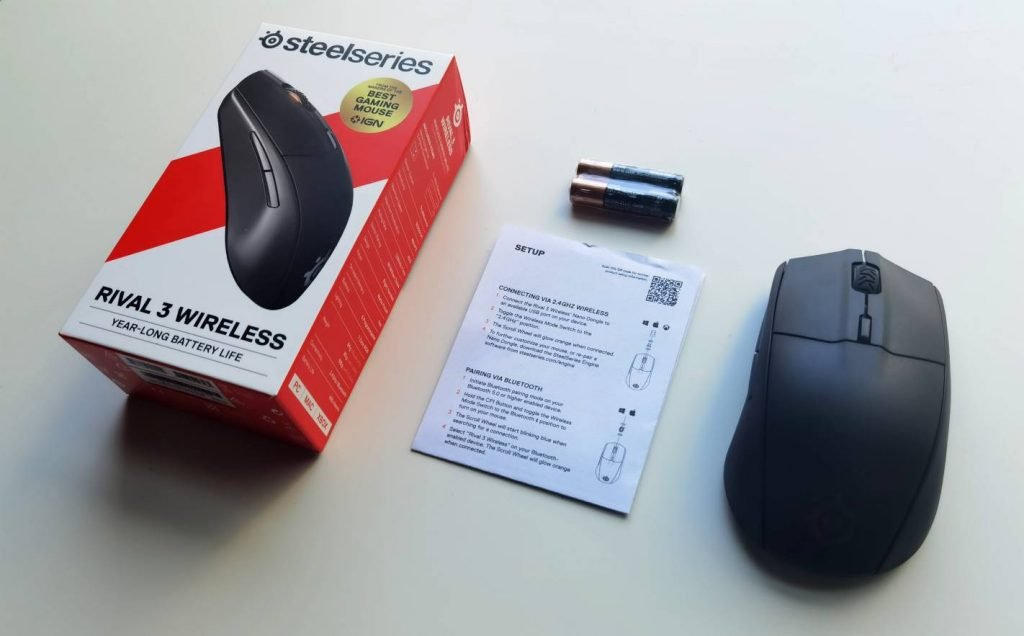 Inside the box, we find the Rival 3 Wireless mouse, batteries, wireless dongle and the instruction manual. You have to download the SteelSeries Engine software manually.
The packaging includes:
Rival 3 Wireless mouse
2x Duracell AA Batteries
Instruction Manual
Wireless dongle
The Rival 3 Wireless is comes in matte-black finish with a grainy texture and is made of good quality ABS plastic. Apart from the two buttons on the left, the design is pretty much ambidextrous and is intended for a claw grip or fingertip grip.
Measuring 120.60mm x 67.00mm x 37.90mm (L x W x H), the Rival 3 Wireless weighs just under 95g with 1 AA battery or 106 grams when used with dual batteries. The mouse feels somewhat heavy at the rear when used with both batteries, and can feel somewhat heavy when lifting.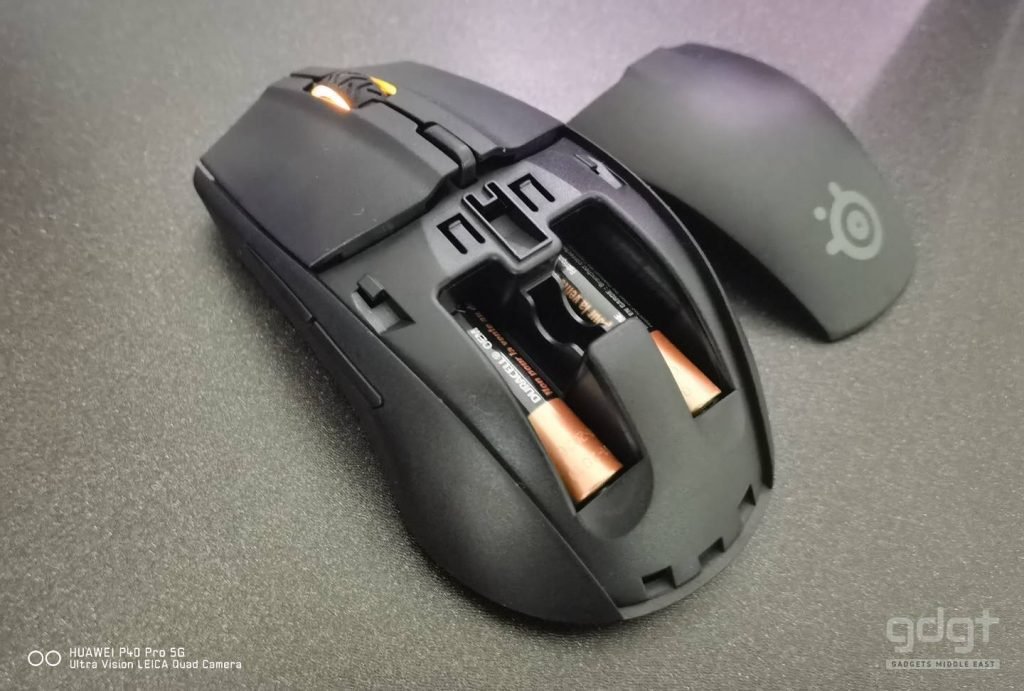 Something to note here is that the batteries are not rechargeable and there is no ports to recharge them or use the mouse with external power. It would have been nice to have this feature for continuous usage or for using the Rival 3 Wireless at full performance without disrupting battery life.
There are six buttons available for input, including the mouse wheel which can programmed via the SteelSeries Engine software.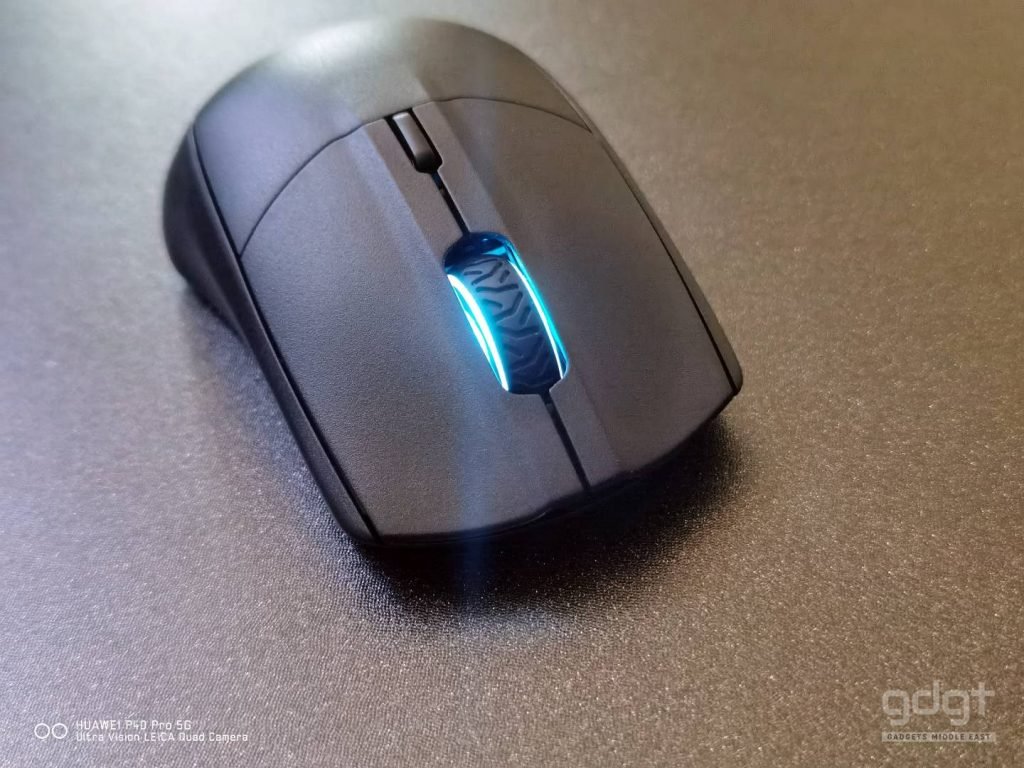 At the top are the two main mouse buttons which uses SteelSeries mechanical switches with a lifespan of 60 million clicks, which we found to be very responsive during our test, including the rubberized mouse wheel. There is only one RGB zone on this mouse which is within the mouse wheel. There is another button right below the mouse wheel for switching CPI profiles. The base cover is detachable and this area houses the two AA batteries and the wireless USB dongle.
On the left side are the forward and backward buttons.
At the back is the switch to shift between modes (Off,2.4Hz, Bluetooth). The three large PTFE at the base help with smooth, gliding movement. Overall, the construction is great and the Rival 3 Wireless is compact yet stylish.
Features & Performance
Under the hood, the Rival 3 Wireless, SteelSeries has developed a new optical sensor specifically designed for low-power applications called TrueMove Air. This sensor is primarily designed to maximize battery life.
While the new TrueMove Air sensor focuses on low power consumption, it still delivers significant performance thanks to specs such as 18,000 CPI, 400 IPS and 1000 Hz polling rate.
There is support for both Bluetooth and 2.4 GHz on the Rival 3 Wireless. In Bluetooth mode and High Efficiency mode, the RGB is disabled while moving and polling rate is reduced to 125 Hz which works for casual use. For more advanced usage like gaming or editing, you need to connect via the 2.4GHz connection for a better experience.
In our everyday test, the mouse performed well and with very good overall impressions. It can be easily adapted to your own preferences and skills with the SteelSeries Engine software. In addition, we never noticed any connection or delay problems.
The main buttons click very precisely and have a well-defined pressure point. The buttons are easily accessible and the matte surface offers a good grip.
Software
As with most SteelSeries products, SteelSeries Engine is used for customizing the Rival 3 Wireless. The software enables the creation of several profiles, adjusting CPI, polling rate, battery saver settings, acceleration/deceleration and more.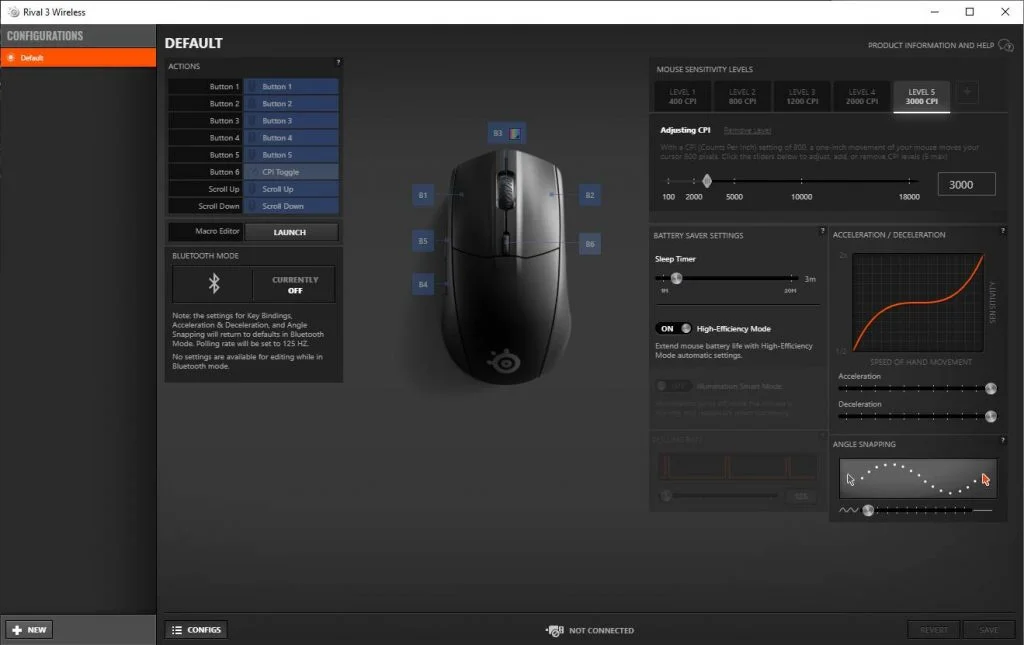 In terms of RGB, there are pre-built effects, but you can also create your own custom lighting profiles. Synchronization with other SteelSeries devices is also possible.
Some of the performance settings here can only be adjusted when on 2.4GHz wireless mode.
Battery
SteelSeries claims a battery life of 400 hours on the Rival 3 Wireless in Bluetooth mode or in "High Efficiency" mode which switches off the lighting and lowers the polling rate to 125 Hz.
During our week of testing, it lasted for about 250 hours on a combination of both Bluetooth and 2.4 GHz wireless mode with RGB Lighting on.
Something that is lacking here is a quick view of the remaining battery percentage. The only way to see this is to open SteelSeries engine where it is represented by four battery blocks.
To further optimize battery life, there is only one RGB zone on the Rival 3 Wireless. This lighting can be adjusted via SteelSeries Engine along with doubling as different mouse notifications such as low battery, Bluetooth pairing and so on. We recommend always leaving it off to extend usage time and the lighting does not add anything to the practical experience.
Verdict
The Steelseries Rival 3 Wireless is a worthy wireless successor to the Rival 3. The dual-wireless connectivity with a respectable battery life at this price point is something to consider for people looking to go wireless on a budget.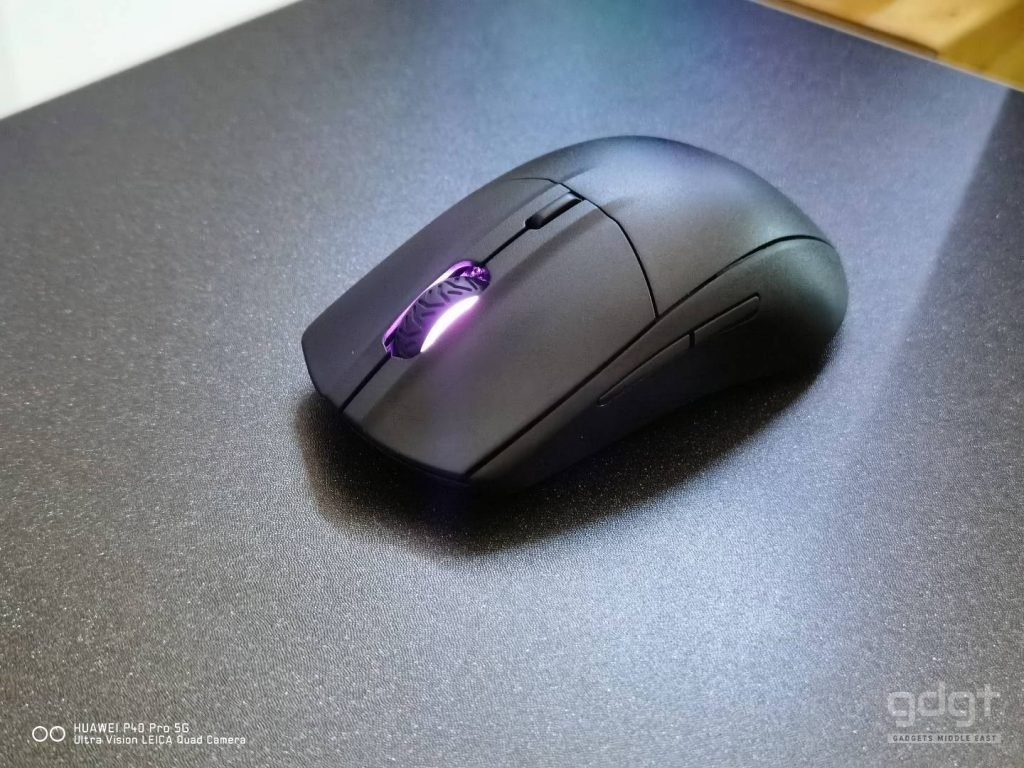 With that said, it would have been great to have a cable mode for uninterrupted sessions or for using the Rival 3 Wireless at full performance without disrupting battery life.