With Apple thinking about replacing Intel chips and Microsoft already embracing AMD, Intel had to make a big step forward to bring itself back into contention, and they possibly did. Tiger Lake is the 11th generation of Intel Core processors based on the new Willow Cove microarchitecture. It promises faster speeds, a longer battery life and better graphics.
| | |
| --- | --- |
| Architecture | x86-64 |
| Transistors | 10 nm |
| Integrated GPU | Intel Xe LP |
| L1 cache | 80 KiB per core (32 instructions + 48 data) |
| L2 cache | 1.25 MiB per core |
| L3 cache | Up to 12 MiB, shared |
Intel's new 10nm SuperFin transistor
The processor is set to be manufactured in Intel's third generation 10nm process called 10nm SuperFin. With this new manufacturing process, Intel has managed to fix problems with its original 10nm process while also giving it several iterations of performance in a single go.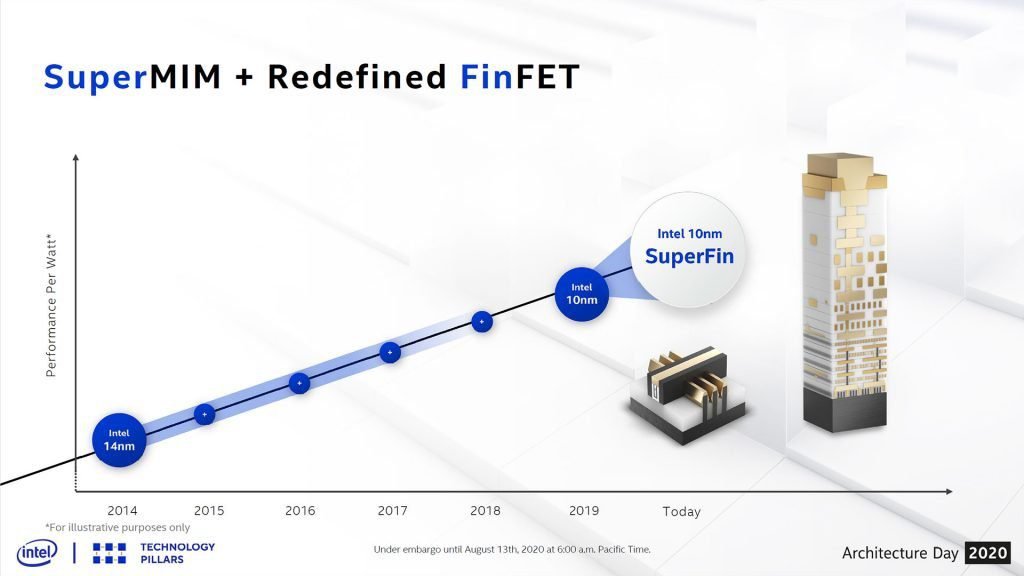 What are transistors? A transistor is a basic electrical component that alters the flow of electrical current. Transistors are the building blocks of integrated circuits, such as computer processors, or CPUs. Modern CPUs contain millions of individual transistors that are microscopic in size. And the main point to remember here is that a higher number of transistors on a CPU means better performance and better efficiency. This means that the smaller the size of a transistor, the better. This is why chip makers constantly try to reduce the size of transistor nodes.
Listed below are some interesting facts about the SuperFin transistor;
The SuperFin transistor was first developed to fix 10nm and was initially set to be named 10nm+ (for the performance improvements). Intel however gave it it's own proper name as they realized previous iterations had only achieved 1/3rd of the performance boost.
Since the Tiger Lake processors are based on the SuperFin technology, they will be able to achieve astonishingly high clock rates for a 10nm chip. (Which is why this process is very important).
Instead of developing a new process in the future, Intel has decided to Enhance the current SuperFin process. But this new process hasn't been named yet.
Intel's New Willow Cove Microarchitecture
The Tiger Lake processor is based on the Willow Cove Core microarchitecture. It builds upon the Sunny Cove architectural foundation and has redesigned caching architecture. It also has a Control Flow Enforcement technology to help protect against return/jump oriented attacks. All of these changes are also expected to have a dramatic frequency increase over previous generations.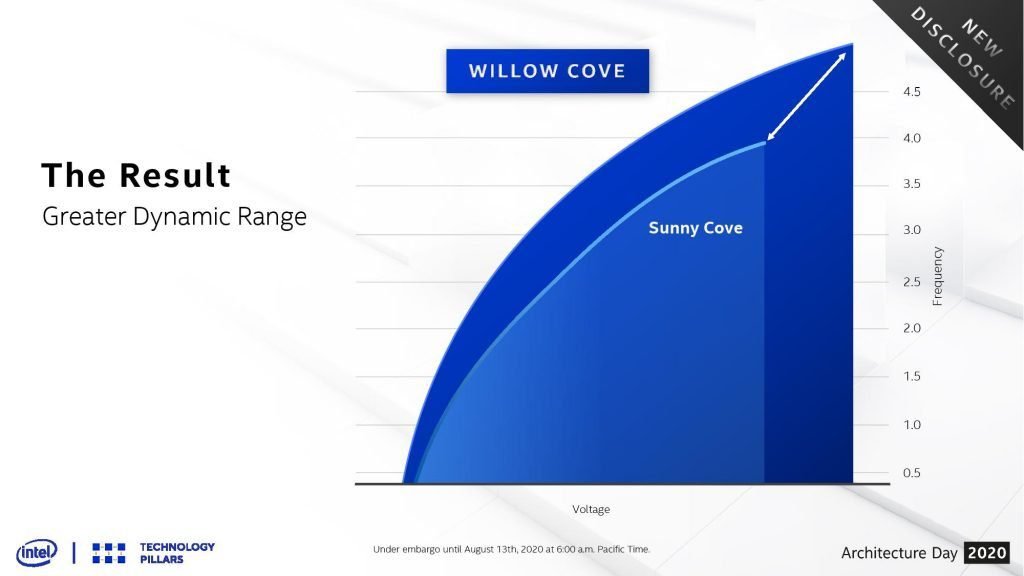 The graph above tells us that Willow uses less voltage to achieve better clocks than the previous generation. But we do have to keep in mind that this is entirely theoretical and that Intel does have a history of not achieving the numbers mentioned in their graphs.
The Tiger Lake Lineup
Now that we know all the things that are going to make up the processor, we can talk about Tiger Lake itself. Intel has a set of goals they aim to achieve with Tiger Lake, all at the same power envelopes and increased power efficiency;
Greater than generational performance in CPU
Disruptive performance in integrated graphics
Scalable AI for emerging client workloads
Increased memory & fabric efficiency for high bandwidth
Best in class set of IPs throughout the SoC (System On a Chip)
This all means that Tiger Lake will support DDR4-3200 and LP4x-4267 memory, but also support LPDDR5-5400 in the future. It will have better on-die bandwidth and caching, Thunderbolt 4/USB4 40Gbps support, PCIe Gen4 and better efficiency overall. Its also interesting to note Tiger Lake's increased power envelope, which can run from 10W to 65W.
Intel Xe Graphics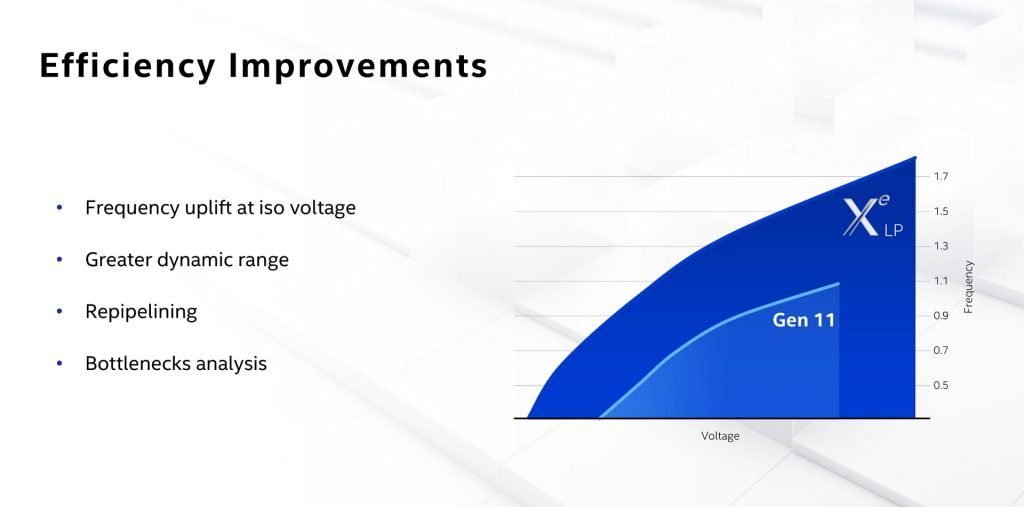 Another notable change is Intel's 12th generation graphics architecture called Xe being added to Tiger Lake, although it will be the Xe LP (Low Power) version. It makes large improvements in performance per watt efficiency, has up 96EUs with increased capabilities, 3.8MB L3 cache and increased memory and fabric efficiency for high bandwidth.